As I was folding clothes I found an unexpected guest – my Hammer Gel bottle (complete with gel still in it).  Apparently I had grabbed it out of my gym bag by accident when taking all of the clothes out and tossing them into the washer.
Amazingly though, the bottle was still sealed and the contents appear to be fine.  Nothing has grown yet on it, which seems like a variation of the 5 second rule.  Plus, I figure it's gotta be clean after the washer.  And it does look really clean and shiny.  It actually did a pretty good job at cleaning off some of the gel off the sides/top.  The important part of the bottle's aquatic and desert adventure is that it didn't open up.  Cause.that.would.have.sucked.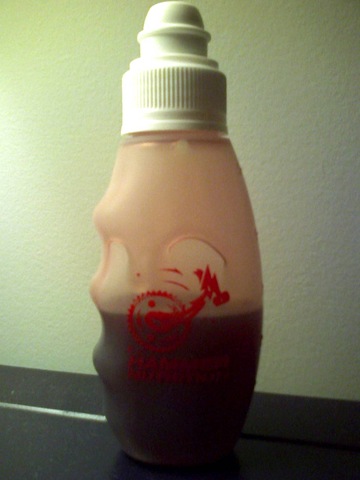 Either way, we'll find out if the contents are still good tomorrow, when I use it during my race.  I figure it's gotta be lucky if it made it through and didn't burst/break.  No reason to let perfectly good gel go to waste.