As part of a firmware update for all Wahoo's bike computers that's just been released, they've added Trailforks routing integration. This allows you to link your Trailforks account, and have Trailforks routes automatically pushed to your Wahoo ELEMNT series device. Essentially, offering the same routing functionality they've had for platforms like Strava, Komoot, RideWithGPS, and others for years.
Notably, this feature does not require the paid Trailforks Pro account to sync routes, which is good to see (at a time where it seems like every previously free service is now requiring paid something in order to use previously free core product features).
In any case, setting it up is pretty easy. First, ensure that you've got your ELEMNT series device, as well as the most recent Wahoo ELEMNT smartphone app. Updating only takes a couple of minutes, even if you haven't gotten around to updating your ELEMNT in quite some time.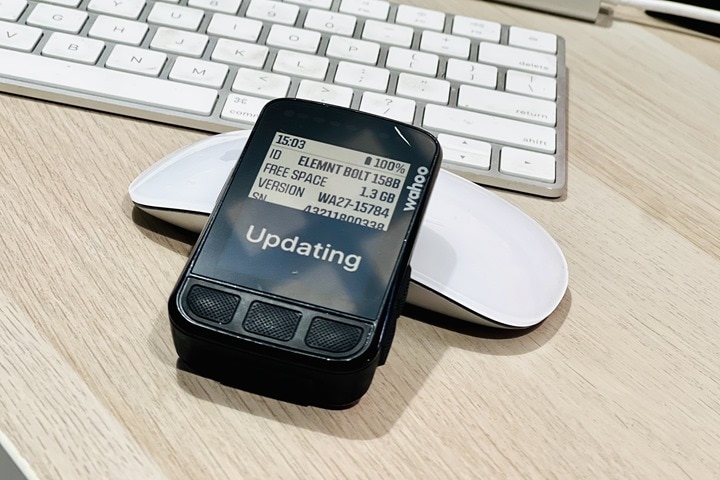 Once that's done, you'll crack open the ELEMNT app, go to the 'Profile' tab, and then 'Authorized Apps'. Within that, you'll see Trailforks. Simply tap-tap-tap to authorize it like any other app. You should end up with Trailforks having a checkmark next to it, indicating it's set-up/completed.
At this point, your Wahoo bike GPS will pull in all Trailforks routes automatically when it does the route sync. In Trailforks lingo, that's a bit messy. Specifically it'll pull in 'Routes' (from the general Trailforks database), 'Rideplans' (those are routes you created), and 'Ridelogs' (rides you did that can be followed as a route). Basically, anything in the 'My Wishlist" tab on the left side of the Trailforks app will show up on your ELEMNT device. Here's me adding a new route (named Schoorl) to that:
And then on the Wahoo unit, I tapped 'Sync' within the route page, and it went off and pulled that route down. In this case, I also have a variant of it that I did in Strava, so you'll see both. Interestingly, I could never get it to say 'Syncing with Trailforks' like it shows for Strava, Wahoo, etc… – even when I did my initial sync. Obviously no biggie – but let it be known I tried to get that magical picture. But still, it shows 'Trailforks' below for the unstarred route in the middle.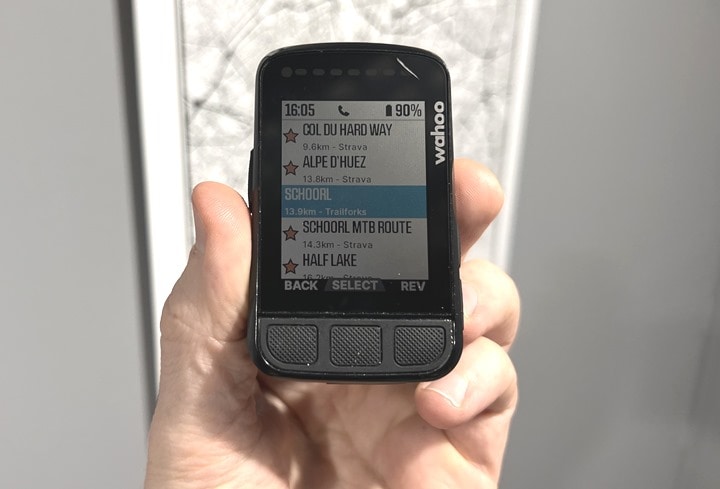 At this point, the route is on your ELEMNT like any other route. So in that sense, there's no difference between this route and anything else. It'll use the maps you've previously downloaded to your device for any data you see on the unit. This isn't layering in any extra Trailforks bits/data to your map sets, rather, the integration is purely about pre-created route importing. Nonetheless, it's good to see.
As for me, I don't tend to use Trailforks as my primary routing platform. It's not that anything is wrong with it, it's just that I live in a land where Trailforks frankly isn't used very much (the Netherlands). Most of the time I use Strava, followed by Komoot. However, I do occasionally dip my toe into Trailforks when I trail if I've exhausted the MTB options on Strava/Komoot. In fact I used it just about a month ago while travelling in Mallorca trying to find some trails in a portion of the island I don't know as well.
Thus, having this set up and ready on standby in case I need it, is handy.
With that – thanks for reading!