With the Samsung Galaxy Watch5 and Watch5 Pro, the company joins the ranks of other entities stamping products with the 'Pro' moniker. Sometimes that designation is deserved, and other times it's little more than marketing. This time around, Samsung appears to be courting portions of the adventure crowd with this new Pro model, which boasts not just significantly higher battery life, but also features specific to trails, like navigation from a .GPX file, a compass watch face, and Track Back.
The Pro model also differentiates itself with different materials, including a titanium case and a higher hardness level sapphire crystal display. However, as with the base model, it runs Google's Wear OS, which Samsung switched over to last summer/fall as part of a platform shift. While we've seen incremental feature updates to Wear OS, it hasn't resulted in significant battery savings for the platform. Thus, Samsung appears to be taking measures into their own hands by just stuffing a giant battery in there. The company is claiming up to 80 hours of smartwatch mode, and up to 20 hours of GPS-on time. While these numbers might seem paltry compared to the likes of endurance-focused watches from Garmin, Polar, and Suunto – they are, on paper anyways, a big step up from years past (or Apple's numbers).
In any case, this isn't so much an in-depth review, as an early review of the sports features and accuracy. As usual, this review isn't sponsored. I ordered and bought both the Watch5 Pro and Watch5 (base) units myself, and then simply picked them up at the store this morning. Since then, I've been putting it through its paces for the new sports features. However, longer-term testing is of course required, especially on the sleep and battery-related metrics.
With that, let's dive into it.
What's New & Pro: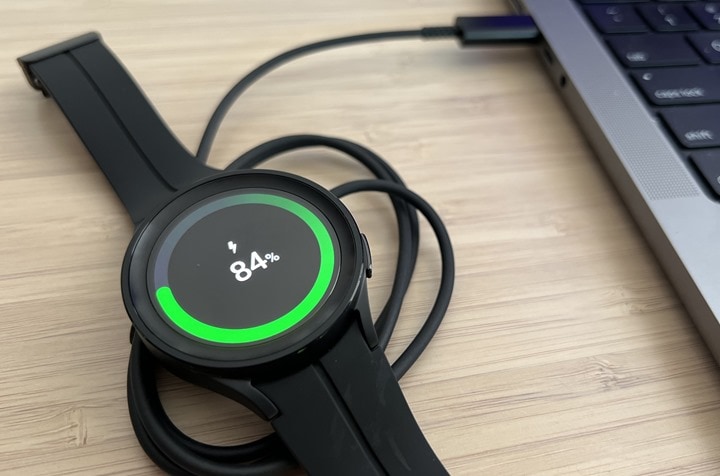 As with years past, there are multiple sizes of the Galaxy Watch series, each with differing batteries and price points. Here's the quick gist of things:
Samsung Galaxy Watch5 (40mm): From $299/299EUR ($349/EUR for LTE)
Samsung Galaxy Watch5 (44mm): From $329/329EUR ($379/EUR for LTE)
Samsung Galaxy Watch5 Pro (45mm): $469/EUR ($499/EUR for LTE)
There's a slate of different color options, and even a golf-specific one ($329). Oh, and the ship-date of these watches is set for August 26th, unless you live in the Netherlands, in which case it's apparently this morning instead.
All the Samsung Galaxy Watch5 units have the following core features:
– Included GPS, WiFi, Bluetooth
– Google Wear OS (operating platform)
– Removable/swappable bands/straps
– Speaker and microphone built-in
– Ability to play music, contactless payments
– New Optical HR sensor, ECG (where allowed by law anyway), and body composition measuring
– Body temperature sensor (for sleeping, this is new)
– New USB-C charging cable that's significantly faster
– Can charge from 0 to 45% in 30 minutes, can charge 8-hours of sleep in 8 mins
Of course, there's a slate of software features behind all that, some Google based, some Samsung based. As with Watch4, Watch5 requires an Android phone (previous Samsung Galaxy watches actually worked with the iPhone). Further though, like watch4 it also requires a Samsung phone for certain apps (such as the blood pressure sensing). So in effect, if you want to use all the features, this is basically a watch for Samsung phone users (just like the Apple Watch is only for iPhone users).
So what's the Pro version got that the base doesn't have? Ask and you shall receive:
– A bigger battery, which results in longer GPS (20 hours), and standby time (80 hours)
– Titanium bezel, plus a harder sapphire crystal display
– Ability to navigate a downloaded .GPX file (route)
– Ability to 'Track Back', to get back to the start of a course
– Magnetic compass watch face
– A different clasp system on the back
Now, it's worthwhile noting that both Samsung's size and weight measurements don't quite match reality. Here's a video deep-dive into that I did:
Hopefully, we'll see not just Samsung, but other companies become more transparent in this area.
Navigation & Sports:
Starting off first with the navigation bits, to load a course you'll need a .GPX file. The actual file, not just a route on a site. In my case, I used Strava to create a route, and then used the 'Export GPX' option, to get the file.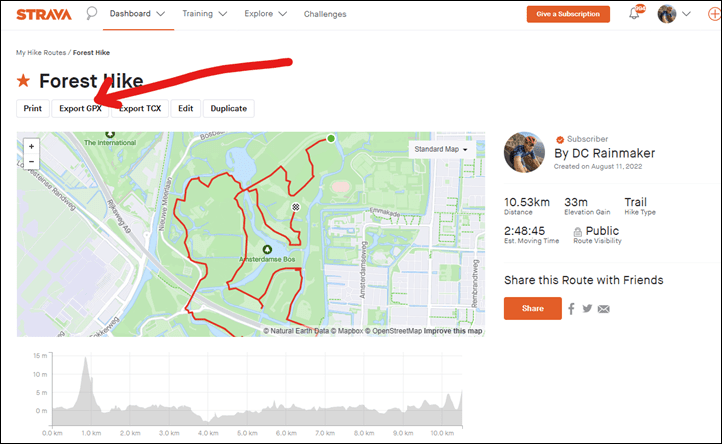 From there, I e-mailed it to myself (since that option is really only available on the desktop app), and then I saved it to my Samsung phone's file structure. Following which I then cracked open the Samsung Health app, and dove into the sport profiles area. Somewhat oddly, how you access the Routes feature varies each time you open it. The first time there's a tile that suggests you check it out. However, after that, it's buried deep in the settings. It took me many minutes to re-find it again, well hidden.
Here's some screenshots of the first route I did, my planned run….before I found out that the route feature only works with Hiking and Cycling, not running or other sport types.
Once found, you'll select the .GPX file you saved to your phone, and then it'll import it into Samsung Health. Samsung says you can also share these among your Samsung Health friends, which is kinda handy. Once on your account, it'll automatically sync to your watch.
Meanwhile, on your watch, you'll swipe a handful of times to the routes app/widget, which lets you select the course (it'll also show other saved courses you have if this isn't your first barbeque). There's an option to reverse/invert the course as well. You'll see a small map of the course, though you can't pinch/zoom/etc here.
With that, tap 'Start' and off you go. If you have cellular connectivity it'll enumerate the map tiles below the route, else, it'll just be blank (breadcrumb style). It'll show how far to the next turn, and give you audible turn-by-turn directions. It'll audibly tell you how many meters to each turn.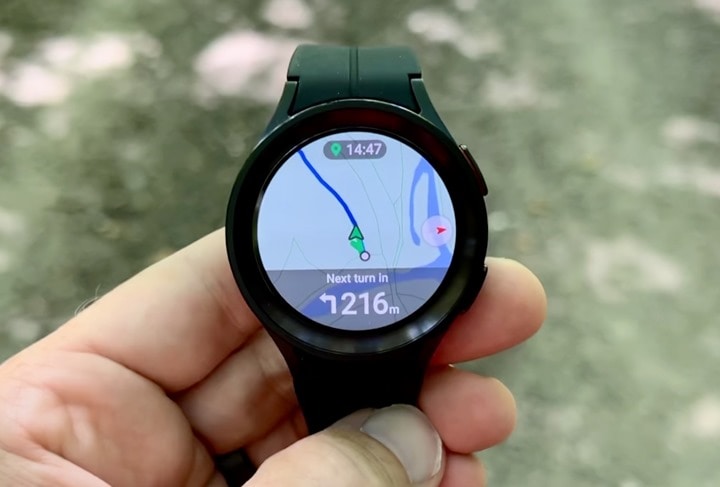 If you miss a turn, it'll notify you about 50 meters later (half a football field), which…is kinda a lot.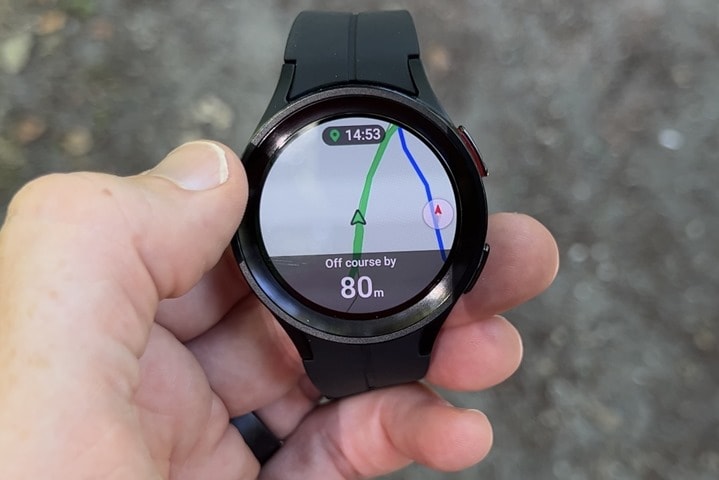 Further, it won't seem to notify you if you happen on a parallel trail that's within 50 meters (not that uncommon, such as on a different side of a stream), so you could go for quite some time before it notifies you. Overall, it works, but I wouldn't trust it for anything but very obvious trail routing. The latency on missed turns, combined with the detection for when you're actually back on the route (especially when I tried a lollipop course), seemed wobbly at best.
In addition to straight navigation, there's also Track Back, which lets you follow your existing track back to the start. This is not direct to start, but on the precise path you used to get there. So if you made any errors on the outbound, it'll repeat those on the return. To access this, you'll swipe to the mid-activity menu, and then select Track back: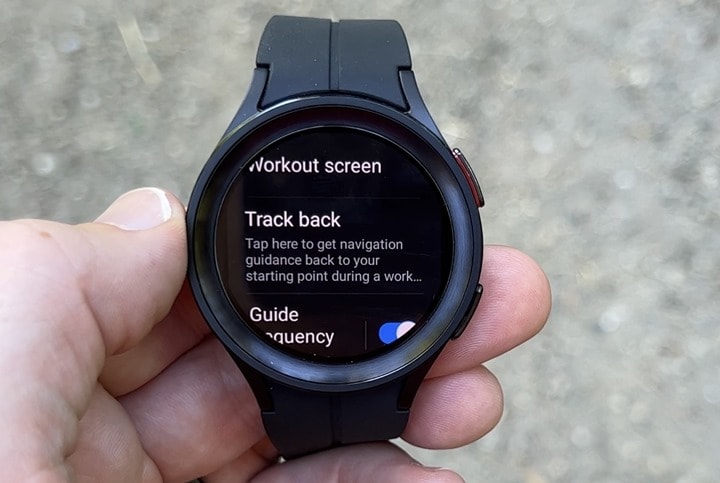 At which point, the navigation prompts are identical to regular navigation.
Next, there's the new compass watch face. This magnetic compass gives you quick access to…well…the compass. It's not enabled by default, so you need to both enable the Pro Analog watch face, and then tweak the complications to show it.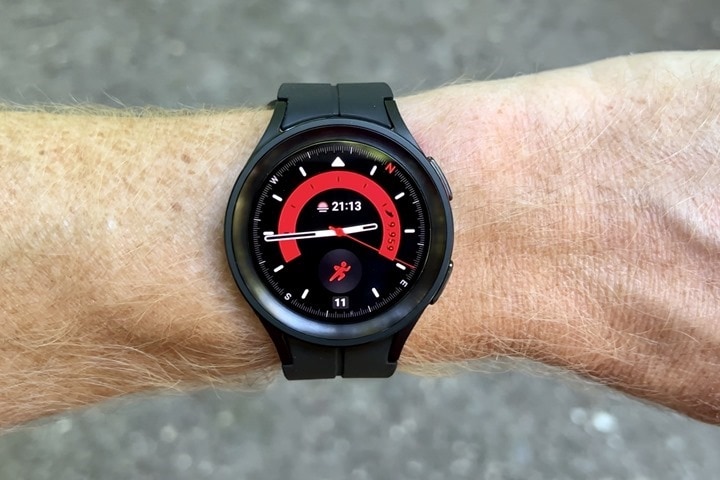 Once that's done though, it roughly works. Or, works roughly. As shown in the video, it easily gets confused and points the wrong way if you move it too quickly (and stays stuck). Hopefully this is a bug they can quickly fix. If you move slowly, it stays accurate.
Early Data: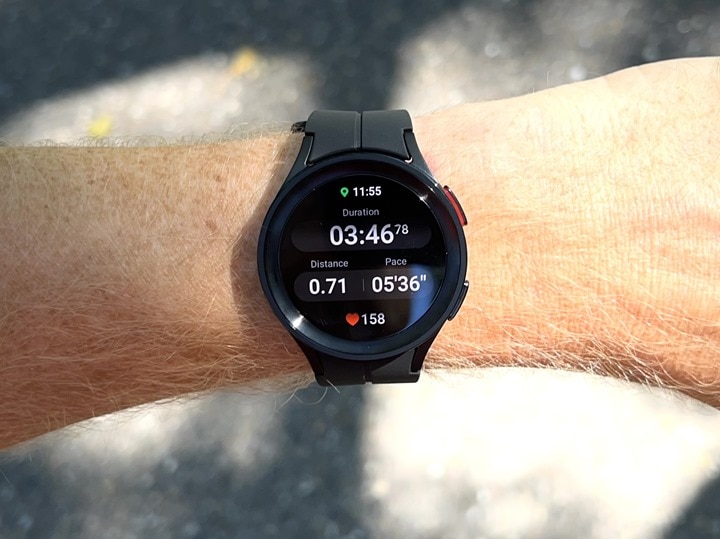 With the Pro features behind us, let's take a look at the accuracy of the optical HR sensor and GPS first on an interval workout of sorts. Obviously, this is just one workout, and certainly more are slated. However, Samsung outlined this being a new optical HR sensor package. It's a little fuzzy if it's just repackaging the existing sensor (since it appears visually identical), or if there is something actually new in the optical HR sensor.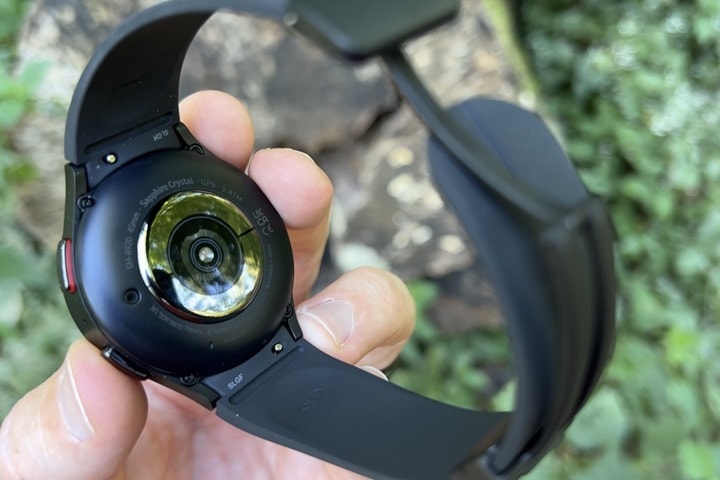 Either way, I aimed to give it a whirl and compared it to the Apple Watch Series 7 on the other wrist (using watchOS9 beta). Further, I had a chest strap (Garmin HRM-PRO), and heck, even the Whoop 4.0 and Oura V3 ring. Here's the HR chart:

As you can see, it's actually not that bad. I removed Oura from this screenshot because it's too messy (but you can see it here, it's not good this run, a rarity for me). The Samsung Watch5 Pro starts off a bit low/slow, and then quickly overcompensates with a spike. But once you got beyond that first minute or two, it settles out nicely and easily follows along. My plan was to do steady-state running, and then every 2KM do an interval. Then, at the end I'd do 4xVery Hard intervals. For the last four intervals, it was a bit latent on the peak, but not horrifically so.
Meanwhile, on the GPS side, I had the Samsung/Apple watch combo, plus also a Garmin Forerunner 955 and a COROS Vertix 2.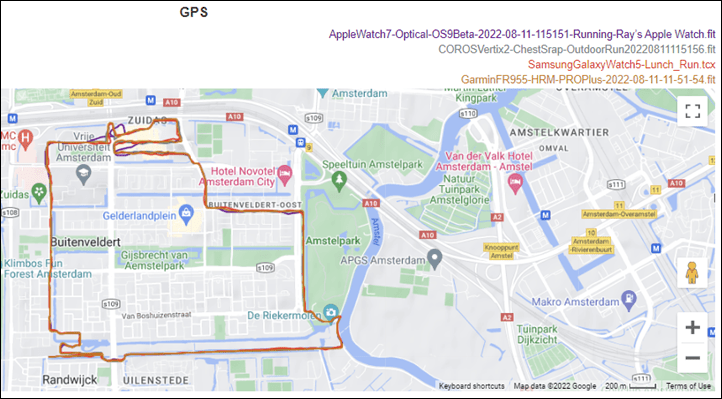 Starting off on a mostly easy path, the Samsung wasn't quite nailing it. It wasn't bad, but nowhere near as accurate as the others. It just wandered a bit…but fine, good enough for most.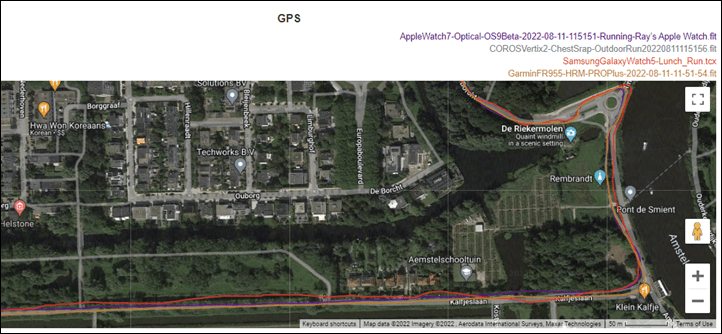 However, once I got into the downtown building district test with tall buildings and skinny streets, it had a rough go of life. Though, oddly, not nearly as bad of a go as the Apple Watch Series 7 did. I've never seen an Apple Watch have that horrific a failure of GPS, in 7 years of Apple Watch units. No idea what happened there, and if perhaps it's tied to watchOS 9 beta (most recent release two days ago), given I've never seen anything remotely this bad before from Apple. But yeah, not ideal.

Setting aside the building sections for both, the rest of the run was mostly fine, with just some wobbles. This is all largely an improvement from Samsung Galaxy Watch4.
Finally, an early look at the battery drain indicates it's falling short in GPS time. I left the house with the battery at between 99% and 100% (straight off the charge at 100%). When I finished the 50-minute run, it was 91%. So simple napkin-math says about 10%/hour, or 10 hours of battery life (versus the claimed 20 hours of GPS life). I didn't have always-on enabled, nor music, or anything else. In terms of regular battery usage, it's still too soon to tell, but right now I'm trending towards 50% per 24 hours, though obviously that's with GPS time, and a bit of other time for photos and such (but probably less than a normal person dorks with their watch in a day). This particular paired phone/SIM card doesn't get my usual allotment of notifications, so it lucks out there.
Again, this, as well as the sleep bits are items I'll be evaluating over the next few weeks.
Wrap-Up: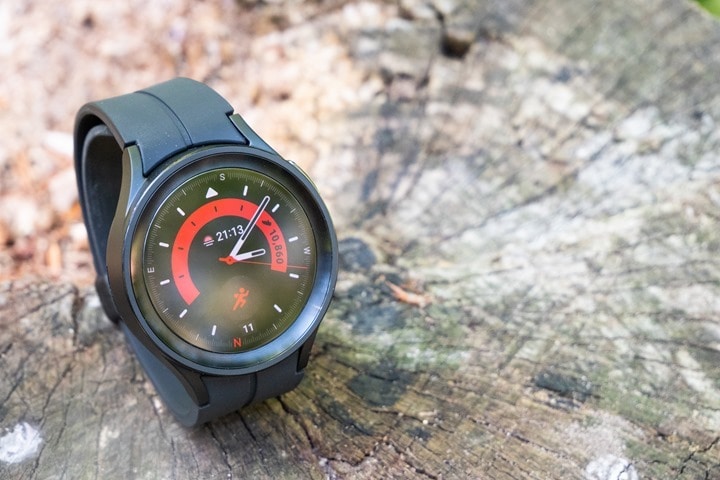 I suspect we're going to see more 'Pro' watches this fall. However, I'm not entirely certain this specific feature-set lives up to the 'Pro' moniker. If the baseline for whether something is 'Pro' is whether a professional would use it to get their job done, then from a hiking/trekking/outdoors standpoint, it'd be hard to convince me this unit would accomplish the same task as any of the watches I brought with me last week on my 8-day 170KM trek. The battery alone would have killed this in a single day.
But at the same time, I'm glad Samsung both recognizes the need for more battery (even if a bit chunky), as well as the ideals of having more outdoor features in their watches. While sometimes a bit perplexing, Samsung's Health app is actually quite deep in functionality, including a slate of structured workouts for a number of sports. In fact, it arguably has far more sports-depth history than almost any watch-maker app out there. At one point it even connected to almost every ANT+ sensor type and more (seriously, go read that craziness from 9 years ago). Those days are long gone, but there's still lots of interesting nuggets left behind from that era.
And perhaps, this is the start of a new era of Samsung focusing on the outdoors market. A market that Garmin and others have proven is vast, and based on the new Apple WatchOS9 features, it seems like Apple is seeing an opportunity there as well. All of which is good for consumers, either via extending competition, or simply offering more choices.
With that, stay tuned for a full in-depth review down the road.
Thanks for reading!
Found This Post Useful? Support The Site!
Hopefully you found this review useful. At the end of the day, I'm an athlete just like you looking for the most detail possible on a new purchase – so my review is written from the standpoint of how I used the device. The reviews generally take a lot of hours to put together, so it's a fair bit of work (and labor of love). As you probably noticed by looking below, I also take time to answer all the questions posted in the comments – and there's quite a bit of detail in there as well.
If you're shopping for the Samsung Galaxy Watch5 Pro or any other accessory items, please consider using the affiliate links below! As an Amazon Associate I earn from qualifying purchases. It doesn't cost you anything extra, but your purchases help support this website a lot. Even more, if you shop with TPC (The Pro's Closet), you'll save $40 on purchases over $200 with coupon code DCRAIN40! The Pro's Closet has been a long-time partner of the site here - including sponsoring videos like my cargo bike race, as well as just being an awesome Colorado-based company full of good humans. Check them out with the links below and the DCRAIN40 coupon!
And of course – you can always sign-up to be a DCR Supporter! That gets you an ad-free DCR, access to the DCR Quarantine Corner video series packed with behind the scenes tidbits...and it also makes you awesome. And being awesome is what it's all about!
Thanks for reading! And as always, feel free to post comments or questions in the comments section below, I'll be happy to try and answer them as quickly as possible. And lastly, if you felt this review was useful – I always appreciate feedback in the comments below. Thanks!