This past Sunday kicked off the first 8-stage Women's Tour de France Femmes avec Zwift. This year the race started in Paris, where the women completed loops of the same main Parisian circuit as the men, similar to what the women have done in La Course over the last decade. After Sunday's opener, the women are working their way eastwards, towards the Alps, before a finish this weekend.
For this post, I'm focusing on the sports tech of the women's teams, just as I did for the men's side. As you may know, I've been covering the geekier side of the women's peloton for many years of La Course, Giro, and Tour Down Under events. While these events have had varying levels of WorldTour status, the reality is all of them were largely attended by the same top WorldTour teams.
Simply put – the shift this year in sponsorship money, and teams' provisions, is astounding. In the case of all of the 14 WorldTour Teams, the main gear, team bus, and sponsorship/equipment levels were near identical. And even in the 10 Continental Teams (essentially a slightly lower tier), the gear was often the same as well. It was mind-bogglingly amazing to see this jump for the women's teams. Gone are the hodge-podge of unsponsored team equipment lineups, replaced with the latest top-end gear that the men also have.
With that, let's dive into it.
Power meters: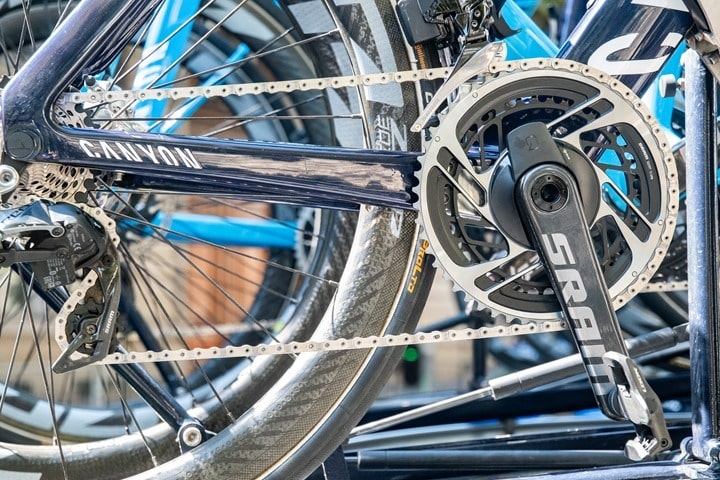 The area that's arguably seen the biggest jump is the power meter scene. In past years, only a couple of teams had consistent power meter strategies, with most teams leaving each rider to fend for themselves when it came to power meters. This year though, every single team had a single set of power meters across their bikes, and interestingly, a bit more variation than the men's teams.
For example, three women's teams had pedal based power meters, while no men's teams had any. Of course, as a reminder, that's purely due to sponsorships, and specifically, Shimano sponsorships. Generally speaking, Shimano sponsors the majority of drivetrains in the peloton, which in turn often leads to inclusion/sponsorship of their R9100P or R9200P power meters. However, with Shimano sponsoring less women's teams than men's, we see more variety in power meters.
And now, the team listing:
WorldTour Teams:
BikeExchange: Shimano R9100P
Canyon-SRAM Racing: SRAM AXS
EF Education-TIBCO-SVB: 4iiii
FDJ-Suez-Futuroscope: Shimano R9200P
Human Powered Health: SRAM AXS
Jumbo-Visma Women: Shimano R9100P
Liv Racing Xstra: SRAM AXS
Movistar Women: SRAM AXS
Roland Cogeas-Edelweiss Squad: SRAM AXS
SD Worx: SRAM AXS
Team DSM: Shimano R9200P
Trek-Segafredo Women: SRAM AXS
UAE Team ADQ: Favero Assioma Duo
Uno-X Pro Cycling Team: Shimano R9100P
Continental Teams:
AG Insurance NXTG: Garmin Rally pedals
Arkéa Pro Cycling Team: Shimano R9100P
Ceratizit-WNT Pro Cycling: FSA PowerBox
Cofidis: SRM (different variants)
Le col-Wahoo: Wahoo POWRLINK pedals
Parkhotel Valkenburg: Shimano R9100P
Plantur-Pura: Shimano R9100P
Stade Rochelais Charente-Maritime: ROTOR INSpider & INPower
St Michel-Auber 93: Stages (left-only)
Valcar Travel Service: FSA PowerBox
It'll be interesting to see next year if there's expansions of women's teams on power meter pedals given how many teams Wahoo sponsors. And likewise, if perhaps Garmin will push teams to use their pedals more (something they haven't really done to date).
Bike Computers: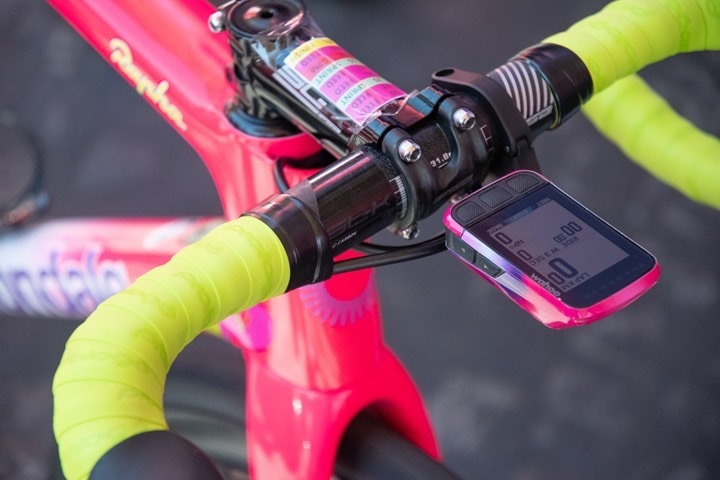 Next up are bike computers. This is another area that sees great improvements in consistency, as well as sponsorship. Garmin and Wahoo each sponsor a boatload of women's teams, and then that's rounded out by sponsorships from Stages and Giant. While the men's side does include a Hammerhead Karoo sponsorship (Israel Premier Tech), there wasn't a women's Israel Premier Tech team. There are however SRAM teams, and I'd take a gander that with the SRAM acquisition of Hammerhead earlier this year, that next season we'll see some or all of those teams transition to Hammerhead Karoo's.
WorldTeams:
BikeExchange: Giant/Stages M200
Canyon-SRAM Racing: Garmin Edge 530/Edge 1030 Plus
EF Education-TIBCO-SVB: Wahoo BOLT V2 & ROAM
FDJ-Suez-Futuroscope: Garmin Edge 830
Human Powered Health: Wahoo BOLT V2
Jumbo-Visma Women: Garmin Edge 830/130 Plus
Liv Racing Xstra: Garmin Edge 830, Edge 1040 Solar, Giant/Stages M200
Movistar Women: Edge 830, Edge 1040 Solar
Roland Cogeas-Edelweiss Squad: Edge 830, Wahoo BOLT V2, Mixed
SD Worx: Garmin Edge 830
Team DSM: Wahoo BOLT V2
Trek-Segafredo Women: Wahoo BOLT V2 & ROAM
UAE Team ADQ: Wahoo BOLT V2
Uno-X Pro Cycling Team: Edge 530/830
Continental Teams:
AG Insurance NXTG: Garmin Edge 530
Arkéa Pro Cycling Team: Wahoo BOLT V2
Ceratizit-WNT Pro Cycling: Wahoo BOLT V2
Cofidis: Wahoo BOLT V2
Le col-Wahoo: Wahoo BOLT V2
Parkhotel Valkenburg: Wahoo ROAM, Wahoo BOLT V2, SIGMA ROX
Plantur-Pura: Wahoo BOLT V2
St Michel-Auber 93: Stages M200
Valcar Travel Service: Garmin Edge 530
Phew, got all that? A very solid blend, split somewhat heavily on party lines between Garmin and Wahoo (like we see for the men), with a few Stages/Giant sponsorships tossed in for good measure.
Trainers: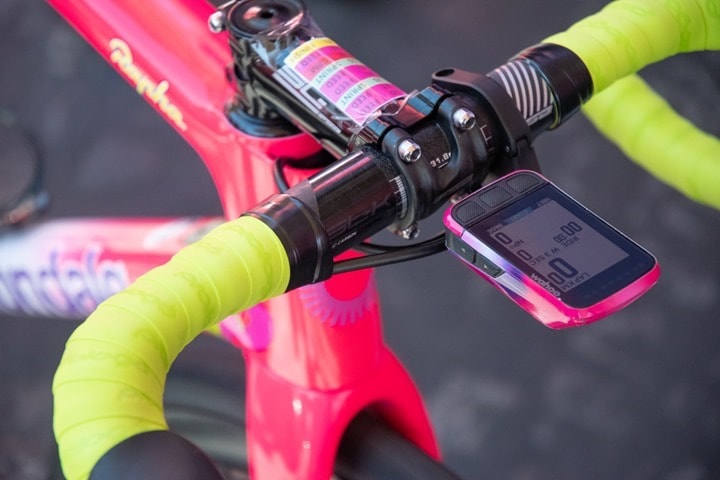 Now this trainer listing is very much not complete. Mostly because not every team used their trainers on Sunday (the opener). For the most part, teams use smart trainers on time trial stages to warm up, while Stage 1 in Paris was an approximately 2-hour long crit. That said, some teams did warm-up briefly on trainers, perhaps in part for sponsorship show (as one team mechanic mentioned to me). Interestingly, other teams I talked with somewhat ridiculed the idea of warming up for a 2-hour stage with a 5KM neutral start on a 90°F/32°C day atop a no-shade course on superheated pavement in the searing 2PM sun. Almost all teams pre-race were wearing either cooling vests, or simply sports bras and jerseys stuffed with ice packs.
One notable here is that Jumbo-Visma, Garmin/Tacx sponsored teams had Tacx Boost trainers, the lowest-end model that Tacx makes. Whereas the men have Tacx NEO 2T trainers (the highest-end model they make). Garmin/Tacx does supply the women's team with NEO 2T's, however, in talking with one of the mechanics they said they used the Boost trainers at the Tour because they were lighter (and presumably took up less space). While the women's teams do have full-size buses, they don't have quite as many secondary vehicles as the men, and thus have less space to distribute that equipment around. Meanwhile, for the other Tacx Boost team, Liv Racing isn't listed as either a Garmin or Tacx sponsored team, so looks like they just picked them up themselves.
In any case, for the full listing for those teams that were out there warming up:
WorldTeams Teams:
EF Education-TIBCO-SVB: Wahoo KICKR V5/2020
FDJ-Suez-Futuroscope: Elite Suito
Jumbo-Visma Women: Tacx Boost
Liv Racing Xstra: Tacx Boost + Roller
Roland Cogeas-Edelweiss Squad: Elite Suito-T
Team DSM: Elite Suito-T
Uno-X Pro Cycling Team: Tacx NEO 2T
Continental Teams:
Arkéa Pro Cycling Team: Elite Suito
Ceratizit-WNT Pro Cycling: Wahoo KICKR V5/2020
Cofidis: Elite Direto XR
Le col-Wahoo: Wahoo KICKR V5/2020
Plantur-Pura: Feedback Sports Omnium
St Michel-Auber 93: Elite Qubo
With that – I'll follow up in the next post with some more general thoughts from Stage 1, including a few photos (ok, maybe a lot of photos), out on the course, as well as before/afterwards.
Thanks for reading!