I've got a few minor tech tidbits from Eurobike still to sprinkle out in some posts. While this wasn't a big show for indoor trainers/bikes from the bigger brands, there were a surprising number of smaller brands showing off new trainers. Some at the show, and some not. And the same goes for power meters. No major new power meters were announced at Eurobike, but a handful of brands did minor updates to their lineups, including new variants.
Realistically, that's probably going to be pretty common for power meter companies going forward, in that the technology isn't likely to see the massive shifts we've seen over the last decade, and instead focus on more minor tweaks. As for trainers, I suspect we'll still see some more in the fall. I think many brands are trying to figure out if 2022-2023 is 'worth the effort' to launch a new trainer product(s).
In any case, here are the first of a few posts with leftover Eurobike stuff. Still more trainers to dive into, as well as other sports tech tidbits.
Bryton's new Smart Trainer: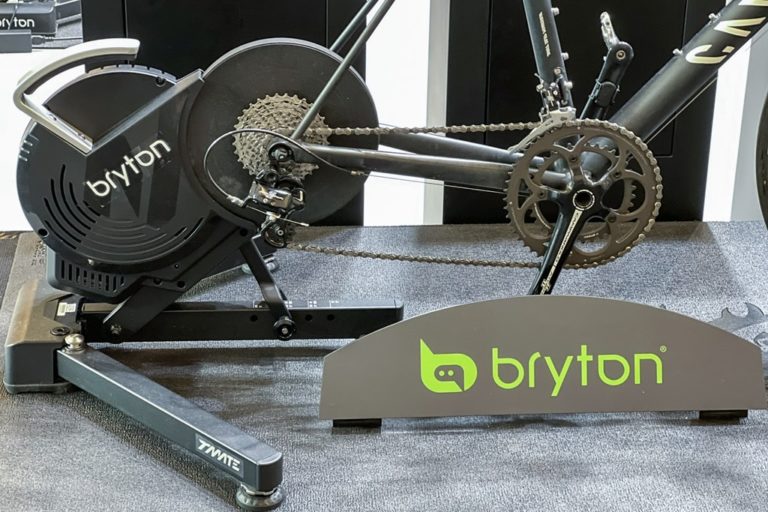 While much of the attention on Bryton at Eurobike was on their out-of-nowhere cycling radar unit, they also had a new smart trainer sitting nearby. Like the radar unit, details were hard to come by here. However, unlike the radar, I'm apparently allowed to talk about this one. Or at least, that's what my notes say.
This direct drive trainer doesn't appear to be any obvious re-brand of another trainer by any other companies, but, ya never know these days. A lot of trainers are being re-branded, or having a slightly tweaked case with different branding.
– Price: $899, cassette not included
– Availability: Autumn, globally (no geographic restrictions)
– Connectivity: Concurrent ANT+ & Bluetooth Smart
– Flywheel weight: 6.8kg (that's actually reasonably beefy for this price point)
– Total weight: 22kg (weight of trainer)
– Max Resistance: 2,200w
– Claimed rocker movement: 8°
– Status LED's: Yes, power, ANT+, and Bluetooth Smart
– Collapsible legs and handle: Yes, you can see that it can be folded in, with a handle atop
– Adjustable height: Yes, if you look below the cassette, that supporting beam can be adjusted just like a Wahoo KICKR
As noted, the Flywheel weight is 6.8kg, which is a fair bit more than the 5.4kg of the Wahoo KICKR CORE and even more than the 6.2kg of the recently announced Elite Justo. In general, the heavier the flywheel, the more realistic the inertia feel is. Though, there are some exceptions to this rule.
I didn't have a chance to test the whole movement thing and see how it feels. But, Bryton is certainly moving the same direction as everyone else in terms of integrating subtle movement into the trainer.
Like most things, I'm sure at some point it'll meander into the DCR Cave for a test. Bryton is probably better positioned in terms of distribution than ZCycle even TrueKinetix for wider availability, though I don't suspect we'll see them join the availability ranks of Tacx/Elite/Wahoo (and to a lesser extent, Saris). Those three brands have simply been around longer, and in local bike shops longer, such that they've established those retailer/distributor relationships over many years. Still, as always, more competition is absolutely better here.
Stages Adds Shimano R8100/R9200 Compatibility: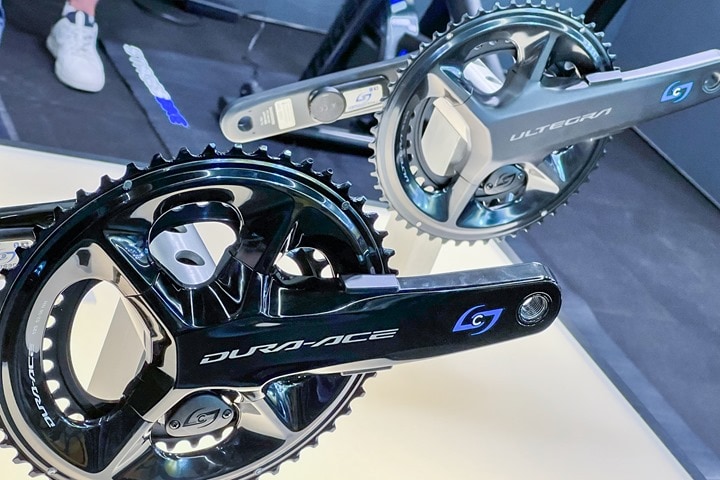 Next up there's Stages Cycling, which launched their Shimano Ultegra R8100 & Dura-Ace R9200 crankset compatibility, meaning, you can get a Stages unit atop the Shimano one, in case you don't want to either pay for Shimano's power meter (or don't deem it accurate). Now technically speaking, Stages has already been selling the left side (single-sided) variant of this combo-dish since last fall. This adds the new right side/dual-sided option.
Semi-notable is that Stages is using a slightly different design than past Shimano right-side units, on the right side. This new design has a bit of a cradle on the backside. It's barely noticeable from the front side, but really only easily seen when the crank is off the bike and on a stand:
The design was first rolled out on the Stages Campagnolo Super Record cranks, where you can see the 'arms' reaching around here: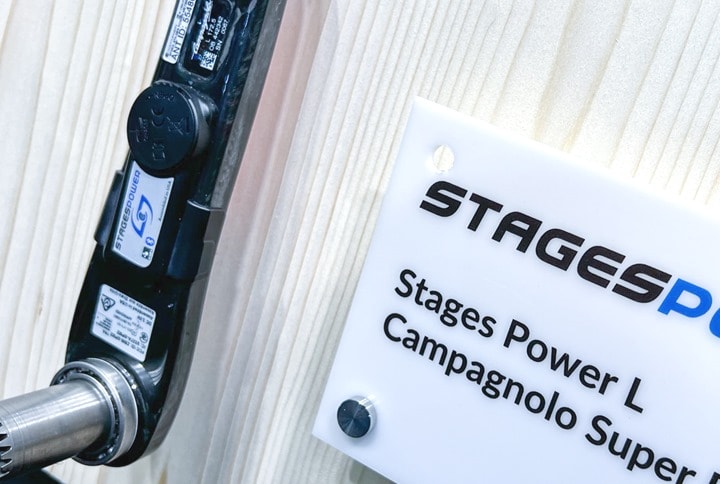 The new units are priced as per the below nifty table:

It sounds like I'll have a Stages dual-sided variant of one of the cranksets above to test here in a few weeks, and put it through the paces.
Oh, and since some will ask, just this Monday I finally got my hands on the Shimano R9200P power meter (meaning, Shimano's power meter, not the Stages one). Testing has begun already, with a few rides completed. More in a bit.
ROTOR INpower 2022 Update: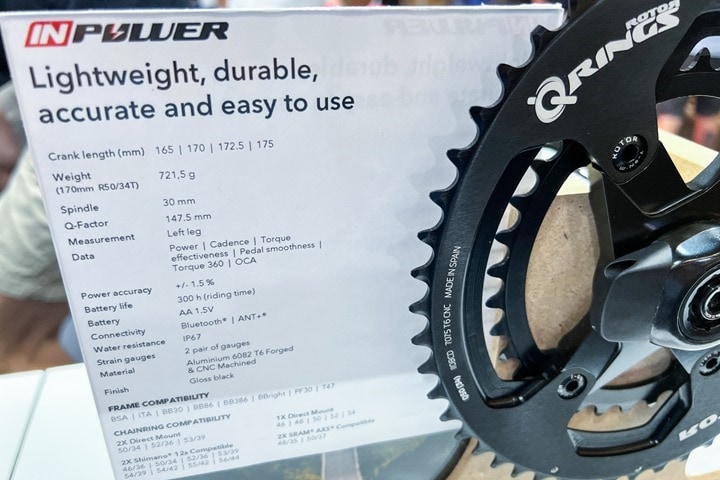 On the team of very minor updates, we've got a minor tweak from ROTOR, who have updated their INpower power meter, which is their single-sided power meter (2INPower is their dual-sided unit) The updated model is mostly cosmetic though, changing some outside visual aesthetics, as well as some internal components to deal with chipset shortages. However, they said that functionally it's the same, and none of the critical components (like strain gauges) have changed.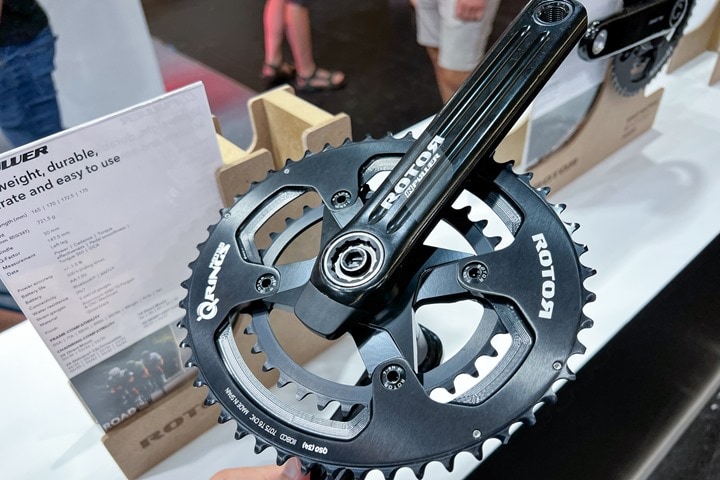 So while it might look somewhat different from the outside, it's same-same from a consumer standpoint. However, the company did note that a new smartphone app is coming later this year that is completely revamped, both internally and visually, and promises to be (and I quote) "much more stable" than the previous app. The new app also allows recording of data, including now pushing to Strava and TrainingPeaks, as well as editing of data fields.
As the power meter wars have largely died off, at this point crankset manufacturers like ROTOR are making power meters less so to get someone to buy just their power meter, and more so to keep people on their cranksets that need a power meter. Meaning, there's little reason a happy Shimano/SRAM user is going to jump to ROTOR just for their power meter. But inversely, the lack of a power meter would keep someone from jumping to ROTOR cranksets, if they wanted ROTOR.
Still, ROTOR has historically gone above and beyond when it comes to app metrics for their power meters, with all sorts of advanced pedaling efficiency bits. None of these metrics integrated with head units (except a very unique force-vector Polar integration that's now discontinued), but, they were there for those that wanted them on their phones.
In any case, the new ROTOR INpower Road 2022 is set to be available from July 25, 2022 starting at a price of 499EUR.
—
With that – thanks for reading, and stay tuned for plenty more!