Today, as part of announcing watchOS 9, Apple rolled out a massive slate of new sports and fitness features including running power, triathlon mode (including automatic transitions), custom workout support, and plenty more.
Apple's annual Worldwide Developer Conference (WWDC), which is traditionally held in June, is where the company outlines the slate of both platform and developer changes coming to each of their platforms (iOS, iPad OS, watchOS, etc…).  For this post, I'm going to be focusing on the Apple Watch specific ones, which utilize watchOS. WatchOS is the platform that Apple Watch hardware runs.
Now, while these features are announced today, they won't hit public release until usually the September timeframe. It's between now and then that developers can utilize the time to update their apps using beta versions of the software. And then typically, Apple releases both new iPhones and new Apple Watch editions in the September-ish timeframe.
Of course, somewhat confusingly for consumers, the numbering for watchOS versions doesn't actually match the recent Apple Watch versions, for context:
Most Recent Apple watchOS 8: Released in October 2021
Most Recent Apple Watch 7: Released in October 2021
Upcoming Apple watchOS 9: Approximate release September 2022
Upcoming Apple Watch 8: Approximate/assumed release September 2022
In any event, keep in mind that WWDC is primarily about developers. Just like Google and Microsoft's respective developer conferences, thus, the features and focuses here are heavily developer-driven. That said, each year Apple has shifted more and more of their public keynote towards outlining consumer features as part of the device platforms. And that's certainly true this year as well, where the overwhelming majority of the keynote was focused on consumer features, not developer ones.
Apple has announced that this update will come to the Apple Watch Series 4 and higher this fall, which means that it'll also force Apple to decide on a successor to the Apple Watch Series 3 as their budget watch (priced at $160ish).
New watchOS 9 Features: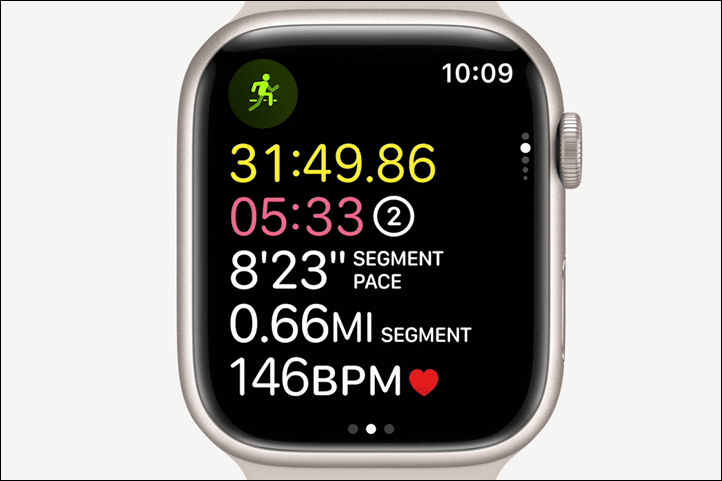 Now, while Apple always announces new hardware bits as part of the new Apple Watch editions, most of the software features tend to be outlined here in June at WWDC, rather than September. So basically at this juncture we tend to know about 80-90% of the new software features for the next version of Apple Watch. However, only a small portion of these are highlighted in the keynote itself.
Instead, over the coming days/weeks/months new watchOS beta editions are going to be released and updated, and it's then that we'll see even more detail on how things work.
With that, let's dive into it, first with the general features:
– Adding Four new watches faces: Astronomy display with current cloud coverage, 'Lunar calendar' with special events included, 'Play Time' is a more playful watch face, and 'Metropolitan', with a dynamically stretching font.
– Adds refreshed SIRI UI, and new banner notifications design
– Podcast app lets you discover and follow new podcasts
– Redesigned calendar app
– Support for dogs & cats in Portrait Faces
– Expanded keyboard language support
– Kids can now control Home devices from their wrists (if approved)
But of course, you're probably here for the sports and fitness features. So with that, we'll start in the sports side and those specific to the Workout App, which is the native app on the Apple Watch that you start a workout from:
– Workout App: Adding three new running form metrics for efficiency: Vertical Oscillation, Stride Length, and Ground Contact Time
– Workout App: Can now see heart rate zones during the workout zones
– Workout App: Can now create new custom workouts, including repeats based on distance or time intervals
– Workout App: New alerts for heart rate zones, cadence, and other metrics (not shown yet)
– Workout App: New Running Power support, now natively tracks running power
– Workout App: Revamped data pages with more data per page
– Workout App: Can now race against past routes, which are saved to workout app
– Workout App: Triathletes gets workout support including auto-switching between swim/bike/run and triathlete tracking time
– Workout App: Adding kickboard swim detection
Wow. That's a massive increase in sports and fitness features. Starting off with the running power pieces, this is natively tracked at the wrist, joining companies like Polar and COROS. And in the process, yet again illustrate Garmin's miss last week on not doing it natively on the wrist and simply using a Connect IQ app in the Forerunner 255 & Forerunner 955. You can see the running power here: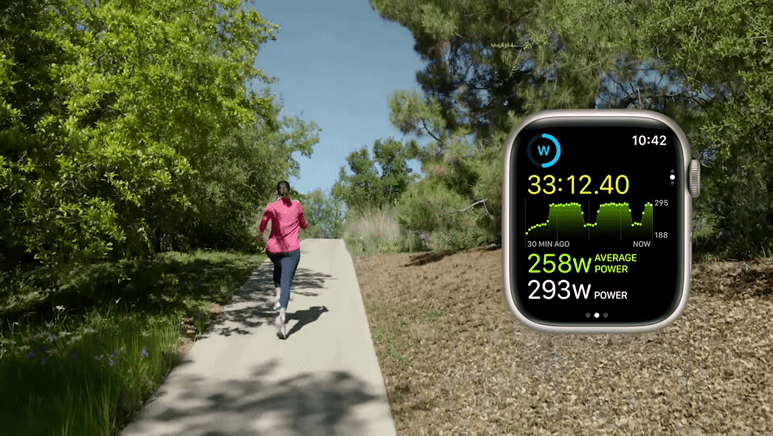 Of course, we don't know yet how accurate this is, but again, there is no standard on accuracy or how to measure running power. And anyone claiming their device is more accurate than another is simply trying to sell you something. At the moment, the best we can hope for is consistency to itself.
In conjunction with that, Apple's added running efficiency metrics, including Vertical Oscillation, Stride Length, and Ground Contact Time. While stride length isn't typically that complex or new in watches, GCT and VO are more complex – and I believe the first time we've seen it from the wrist. Most other companies measure it at the chest strap or pod. Apple created animations demonstrating the 'complexity' of this and their algorithms, which they say use machine learning and sensor fusion by leveraging both the accelerometer and the gyroscope to separate out torso movement from arm swing.
Following that, Apple rolled out a slate of new features including heart rate zones: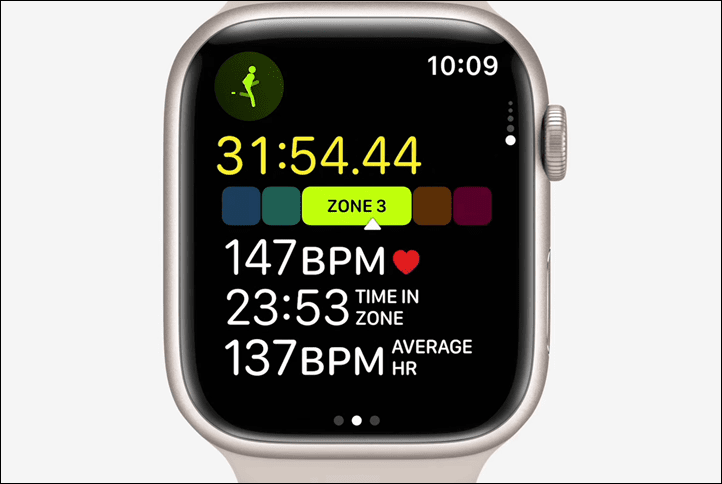 As well as the ability to create alerts on different metrics. And with that, also fully custom workouts using your own distance or time intervals:
After that they showed what is essentially a Virtual Pacer type function, where it'll snap to frequently used routes to show how you compare against those, allowing you to race against your last or best time: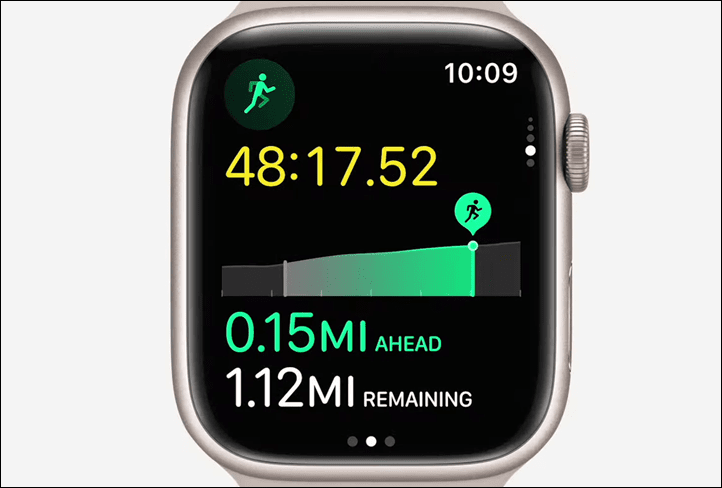 However, for triathletes, the biggest news here is a true triathlon mode, including tracking not just transition times but automatically transitioning from swim to bike to run. We saw Wahoo introduce this on the Wahoo RIVAL watch nearly 18 months ago, but no other companies have followed suit, till now: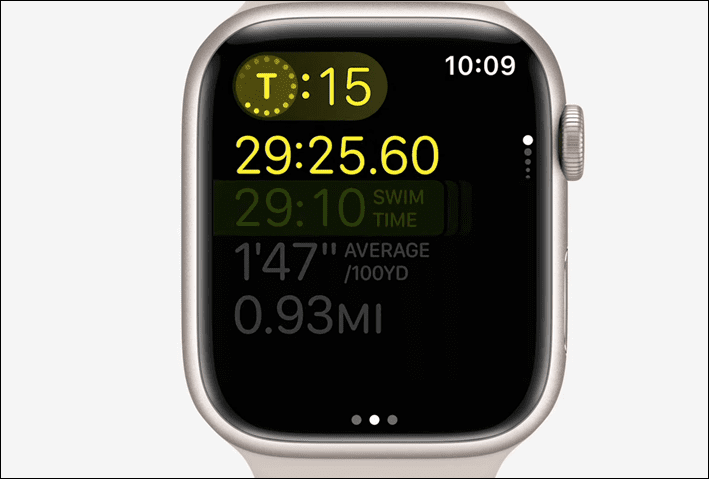 Next, moving into more general health and fitness aspects, starting in iOS 16 the Fitness app will be available to all iOS users, not just Apple watch users. That means everyone can track general activity data.
Next, Apple is adding support for tracking sleep stages.  This includes how much time is spent in each stage: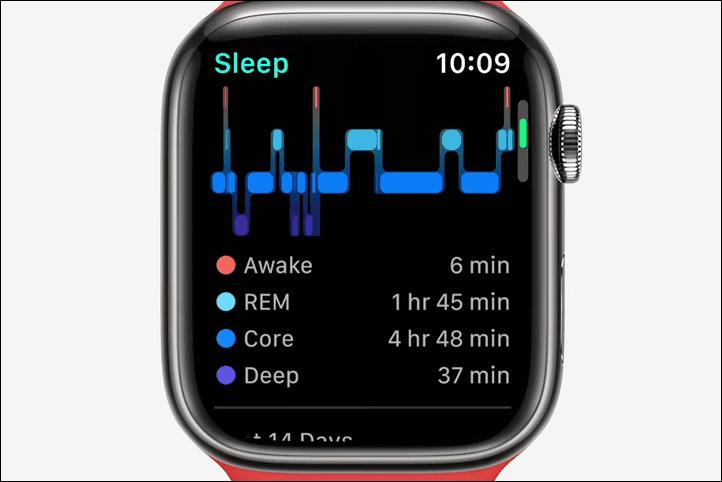 Apple says they clinically validated this against polysomnography with the largest study ever assembled. But didn't include a link or details on what that is. Further, if a user signs up for Apple's Heart & Movement Study, it will now contribute sleep stage data via the app.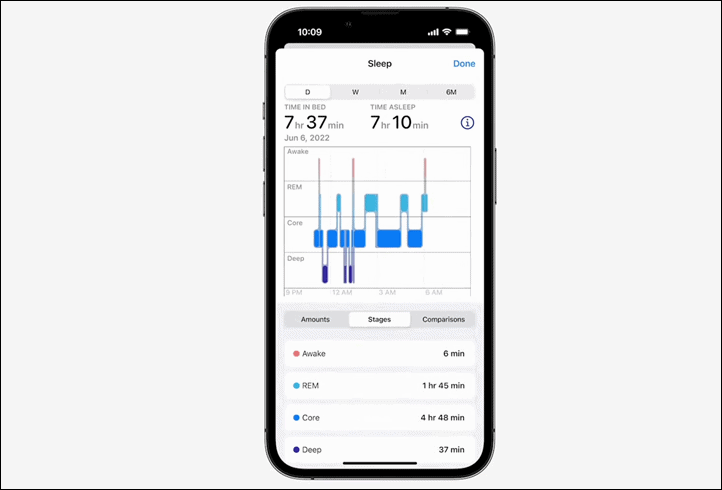 Apple then announced a huge new feature: Atrial Fibrillation history. This now tracks detailed specifics about your heart when in AFib, via AFib history, so it shows exactly how much time you spend in AFib, as well as trends around which day of week/month/etc.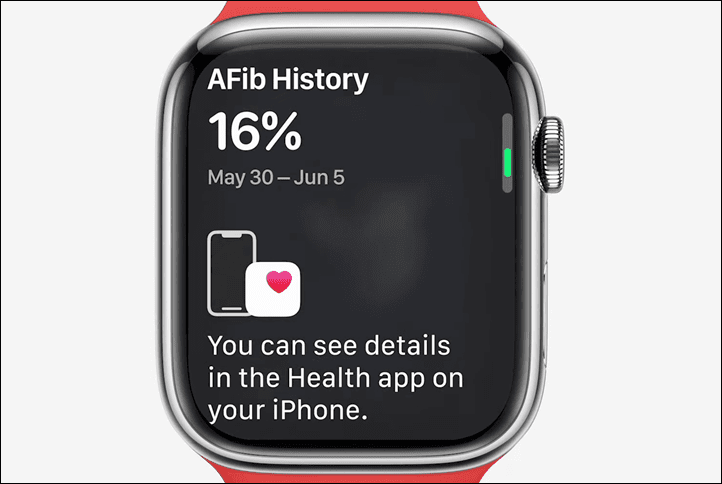 Apple Watch received FDA clearance for that just hours prior to the event.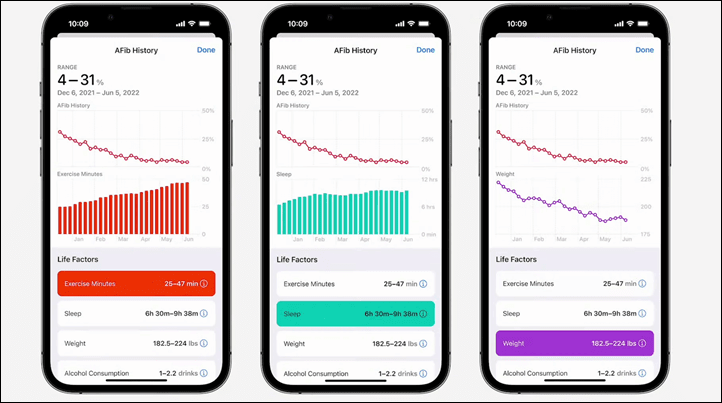 Next, Apple Watch will now track medications and help log those medications quickly from the watch itself, as well as remind users to take medications by alerting them based on their med schedule.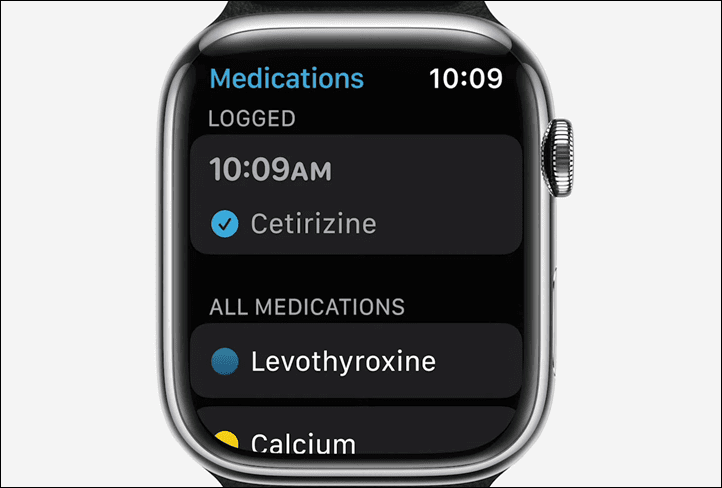 The companion iPhone app can also scan in your medication's label to automatically figure out the name and schedule. It'll also automatically notify you of any interactions, like not drinking alcohol or any medications that shouldn't be taken together.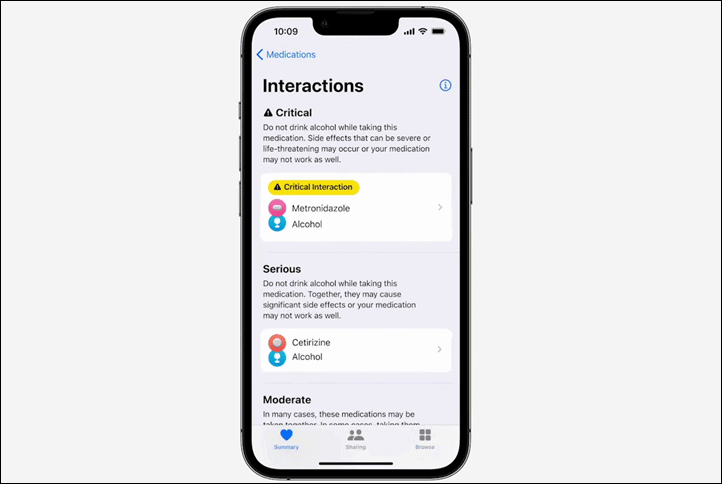 And this is also sharable within the family to allow others in the family to assist with medications.
Going Forward: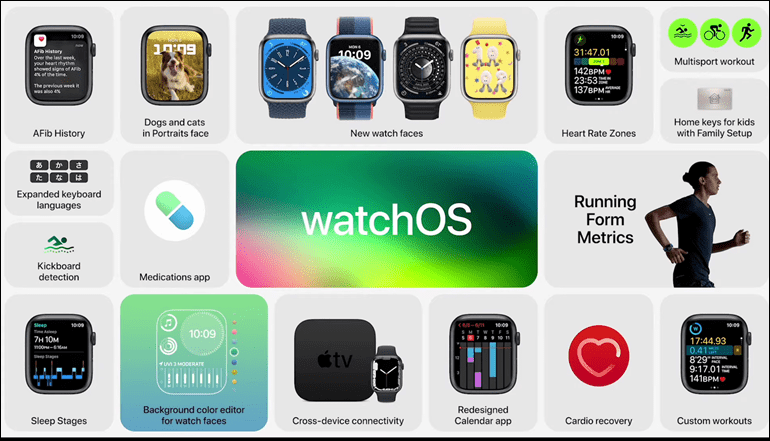 This is by far the most significant sports and fitness-focused update the Apple Watch has seen in years. Not only is Apple adding in more common features like custom workouts, they appear to be going straight to the core of endurance sports companies like Garmin/Polar/Suunto/COROS, with the addition of full triathlon support, running power, running efficiency metrics, heart rate zones, and more.
Further, the addition of full sleep stages might also imply longer battery life in an Apple Watch Series 8 down the road. Or, it might not. Either way, it implies more data to compete against their more data-focused competitors.
I'm looking forward to trying this out though, and seeing how some of these features stack up in real-life. Stay tuned!
Thanks for reading!