I hadn't really planned a post around this. It was a last-second idea while headed out for a run. Since I don't normally have hills near where I live/run, this was a good opportunity to try out something that a bunch of you asked about: Whether the DJI Mini 3 Pro would properly track downhill, as would be the case of downhill skiing, mountain biking, downhill cycling, trail running, and frankly anything else where you ended up lower than you started.
And in particular, that's the specific piece that's historically been problematic. See, many DJI drones in the past couldn't autonomously descend below their starting elevation. That elevation would be seen as '0 meters', even if it was actually at 1,000m. Basically, it saw that as the floor, and wouldn't go below the floor. As you can imagine, that's a problem if you're trying to track a skier down a hill. In fact, that's how one of my very first drone sports tracking videos came about 6 years ago (certainly not as polished as today, but conceptually the same idea).
In any case, the video above explains how it works these days with the DJI Mini 3 Pro, while running. I've previously shown the cycling speed bits here (up to 40KPH), so practically speaking, you can combine the downhill and regular obstacle-avoidance together in other sports arrangements.
That said, the main limiter on the DJI Mini 3 Pro in tracking downhill scenarios won't be the downhill, or the speed, it'll be the speed if in the trees. Most DJI drones (and even the Skydio drones), will slow down the closer they get to trees/obstacles. So in my test, I was largely away from dense trees. Whereas if I was trying to descend fast below the tree-line in the Alps, it likely wouldn't work well, as the density of the trees/brush would be challenging. If the forest was a bit more sparse, it'd be easier.
In terms of transport, the Mini 3 Pro is super light and small enough that it fits in my CamelBak. Despite it being pretty warm out, for this run length, I didn't need the full capacity of the hydration bladder, so I only filled it about halfway. My particular CamelBak is long since discontinued, and I believe the newer ones have a bit more storage capacity. Of course, this is also basically the smallest CamelBak model they make/made.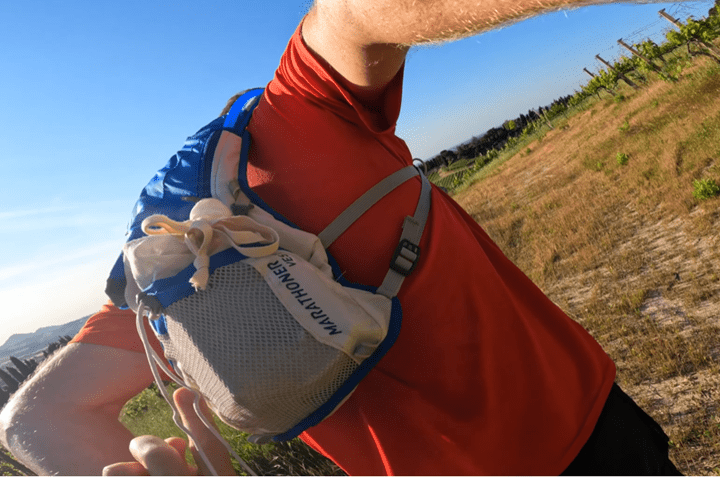 Because DJI requires you bring a controller with you, I stuffed that in there too. You could use the DJI RC (as I did), or the DJI RC-N1 with your phone. I'm preferring the DJI RC over the RC-N1 for Active Track, because there's less likelihood of bumping the cable between the remote and your phone (which would end poorly). Sadly, the days of phone-only control for DJI drones are long gone. The drone itself is 250g, and the DJI RC (with screen) is 392g, while the DJI RC-N1 (uses your phone) is 387g. They're just about the same size physically.
In my case, while both these items just fit in the mesh pocket as-is, I ended up stuffing them in a super lightweight bag. This served a number of purposes. First, it helped keep the pieces exactly where I wanted them, in terms of movement. Second – and most importantly, it allowed me to tie-off that bag to the CamelBak, so in the unlikely event it somehow bounced out, it wouldn't fly and hit the ground. And third, if I was concerned about rain/water, I could have put this in a thin grocery store plastic bag. Below you can see the bag. And since I know people will ask – the watch is the FR945LTE. Been playing with the LTE bits again lately.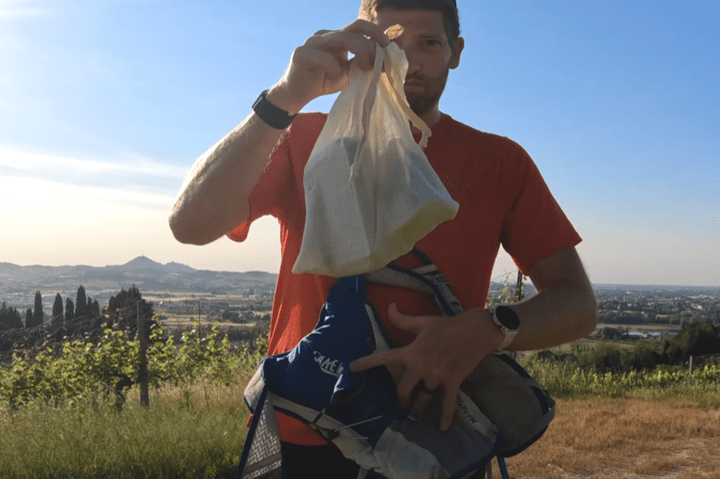 Do ensure you've got the gimbal protector thingy on your drone when running. Given it'll be bonking around constantly, the plastic gimbal piece ensures it stays in exactly the right spot and doesn't bounce around needlessly for tens of thousands of steps. People have been running with smaller DJI Spark & Mini series drones for a long-long time, so there isn't something to worry about.
When I'm cycling, I've been stuffing the Mini 3 in one side pocket of my jersey, and the DJI RC in the middle pocket, leaving the last side pocket for my phone. You can easily then fit nutrition bars/etc around it all as padding. I've done multi-hour rides this way with the Mini 3, and I don't even notice it, given how lightweight it is.
Finally, in terms of getting Active Track shots, I'd go with 'Trace' shots (from behind) unless you're super comfortable with the landscape and lack of obstacles to do the parallel (side or front) or POI (Point of Interest) shots. Remember as a tip that POI will actually work/follow while you move, and it will slowly rotate around you at the speed you set. And parallel will also work to track at any angle you set relative to you. However, both modes are susceptible to the lack of side obstacle avoidance sensors on the DJI Mini 3. So use with caution, as it'll happily fly sideways into a tree.
And, if you're jurisdiction/law allows, and if in a deserted area without others, and if you've set your max distance/height limits reasonably, there's always the option to either leave the controller with a friend or stump, and have it follow you while you get the shot you want, before returning to it. I always ensure that my max distance and max height limits are set small enough so that if a unit goes awry (even while I'm holding the controller), I don't have to go miles to find/get it.
With that, hope all those that asked about this find it helpful.
Thanks for reading!
Found This Post Useful? Support The Site!
At the end of the day, I'm an athlete just like you looking for the most detail possible on a new purchase. These posts generally take a lot of time to put together, so if you're shopping for the DJI Mini 3 Pro with DJI RC or any other accessory items, please consider using the affiliate links below! As an Amazon Associate I earn from qualifying purchases. It doesn't cost you anything extra, but your purchases help support this website a lot. Even more, if you use Backcountry.com or Competitive Cyclist with coupon code DCRAINMAKER, first time users save 15% on applicable products!
And of course – you can always sign-up to be a DCR Supporter! That gets you an ad-free DCR, access to the DCR Quarantine Corner video series packed with behind the scenes tidbits...and it also makes you awesome. And being awesome is what it's all about!