Hammerhead and Suunto have just announced what they describe as potentially the first step towards a deeper partnership and collaboration. This first step puts heatmaps onto the Hammerhead Karoo series, while concurrently sending completed Karoo rides to Suunto's platform (as if you completed them with a Suunto watch).
The new heatmaps are a massive step up not just for Hammerhead, but compared to any other heatmap/popularity type solution I've seen on-device. I used it this past weekend to do some freestyle routing nearish to my planned route, all without ever stopping to fidget with other maps or devices. These heatmaps act as a layer atop the existing map, allowing you to decide which countries/states you want to download in terms of both the base maps, but also the heatmap layer.
Meanwhile, on the activity sync, any completed rides that you do on your Hammerhead Karoo series will automatically upload to Suunto's platform, once you've connected your account. This essentially populates your Suunto App with Hammerhead data, but also updates aspects like training load and even pushes those workouts to 3rd party platforms not supported natively by Hammerhead (such as Today's Plan).
With that, let's dive straight into it.
Hammerhead Heatmaps: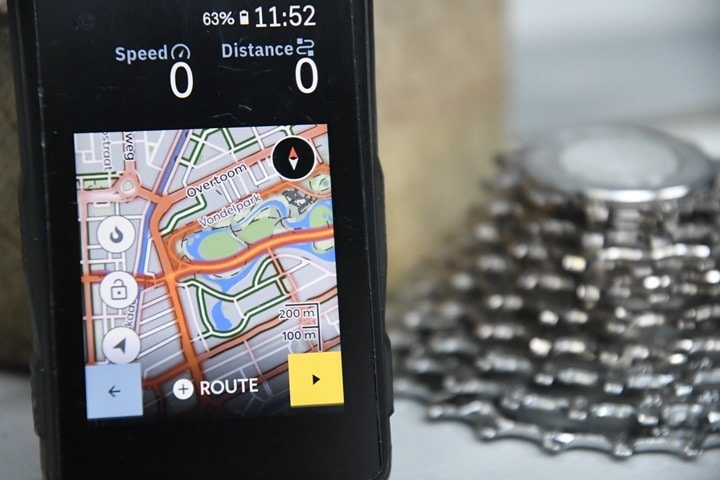 First up is the ability to add heatmaps to your Hammerhead Karoo. In order to do this you're gonna need to do things:
A) Update your Hammerhead Karoo to the latest firmware (as of today)
B) Have a Suunto account
C) Connect your Hammerhead account to your Suunto account
After which, you can then download the heatmaps you want.
Once you've updated your Karoo, you'll see a new option in the menu for Suunto Heatmaps: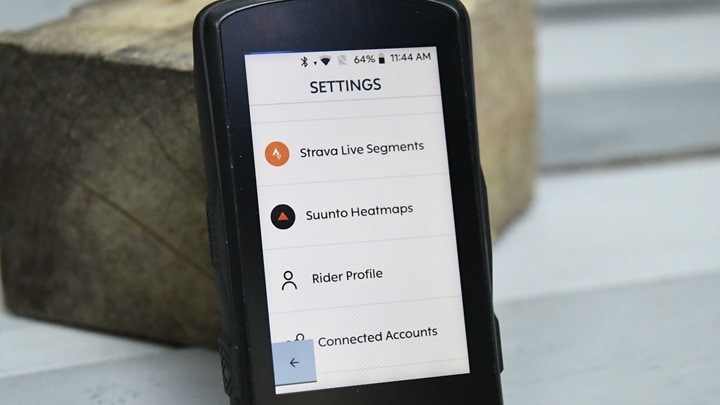 However, when you tap on it, you'll see that you need to zip over to the Hammerhead Dashboard/site to authenticate your Suunto account – in the same way you'd connect to Strava or TrainingPeaks.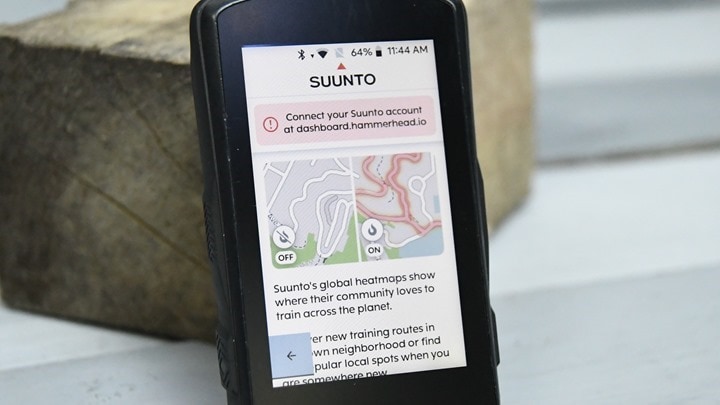 That only takes a second to complete this: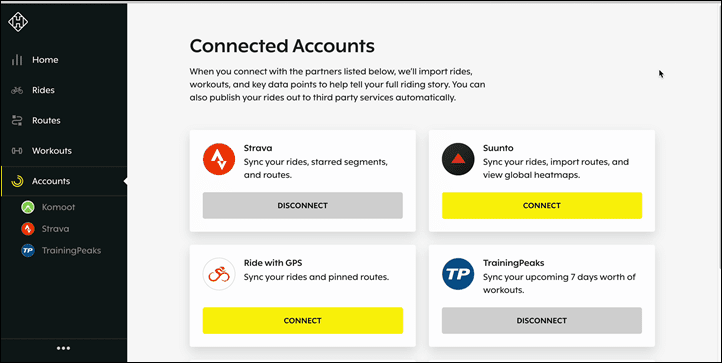 Once you've done that, it unlocks the feature. At this point, you'll see a listing of countries/regions, and specifically the maps you've already downloaded. So you can see you've got those base/normal maps downloaded – divided up as usual: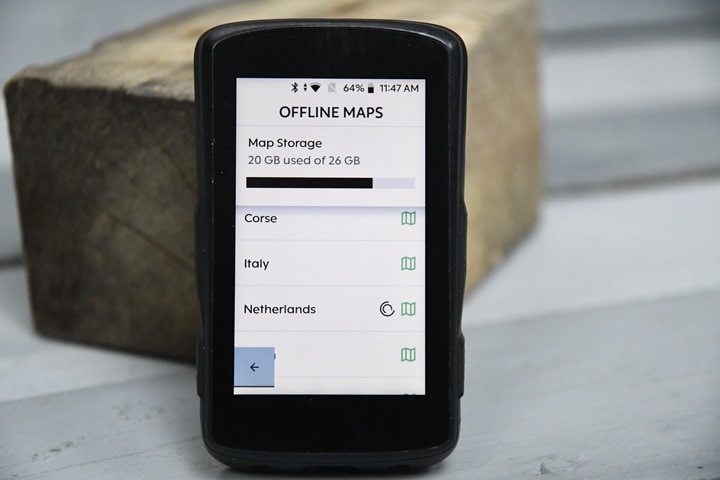 But then I can tap any one of them to add the heatmap for that region as well: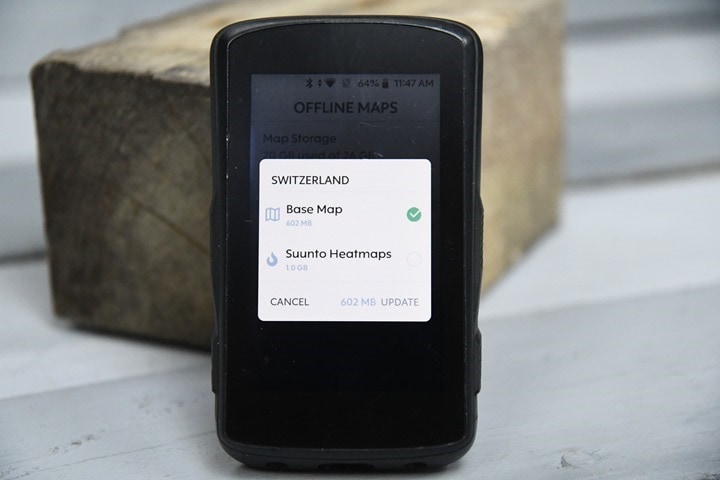 And the sizes definitely aren't small. In fact, they're often more than double the size of the basemap, depending on the country/state and the overall cycling amount that occurs there relative to the rest of the road network. Once you tap it, it'll go off and complete the download pretty quickly using WiFi like normal.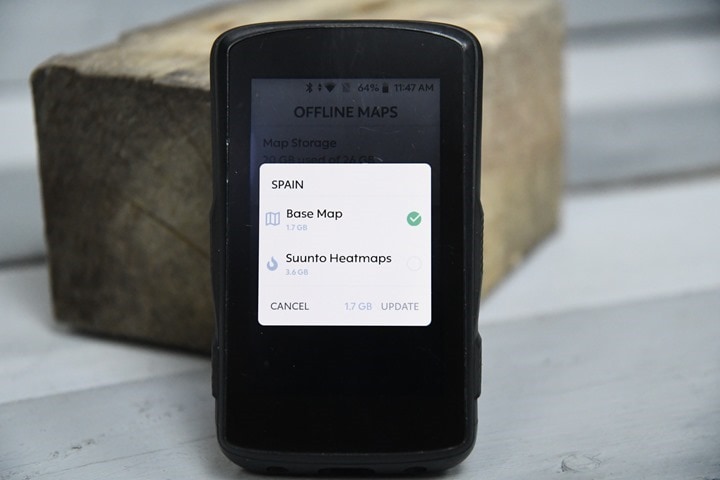 After that, you'll get the green check mark. Hammerhead and Suunto say they haven't quite decided on the update/refresh cadence/cycle for the heatmap, but certainly that's something they say they'll formulate over time.
In terms of out on the road usage, it's flippin' awesome (see my video at the top for some mid-ride action). Not only is it awesome while I'm riding a planned route to see how popular that route is, but it's also incredibly useful (more useful) to glance at nearby roads and see what other popular routes I'm missing. Meaning, perhaps I always ride the same road to a given area, without realizing that just over the fence is a far more frequently traveled by cyclist route. Maybe I should check that out instead?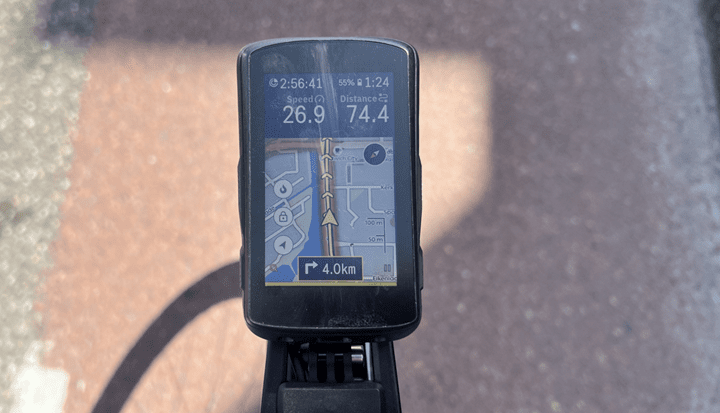 In fact, it was great this past weekend on my 90km 'Great Tulip Adventure' when I wanted to go off and explore some distant tulip field off my planned route. I'd just glance at the Karoo screen and validate that there was some quantity of cycling occurring in that area. And it didn't disappoint.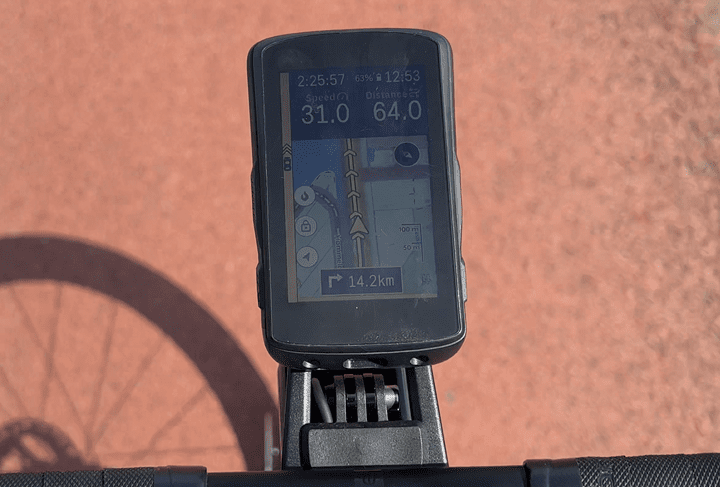 You can also toggle the heatmap layer at any time by just tapping the little heat/fire icon.
The degree to which this is just so much better than anything out there can't be overstated. For example, Garmin has their purple popularity routing lines. But they're often hard to read, and realistically don't give a great representation of the actual quantity of cycling heat that occurs. It's less heat-map, and more 'Purple People Went Here' map. So I can't really compare how popular two options are easily at a glance.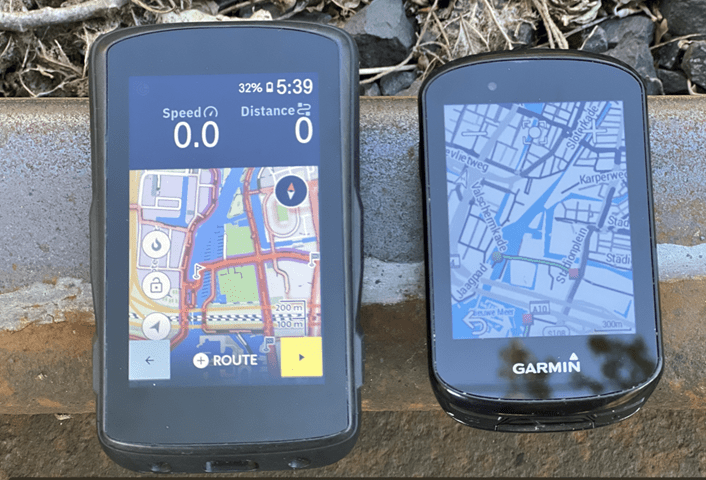 Sure, you'll still see improper heat like any other heatmaps – such as people leaving on their devices while driving down the highway, but at least around me, that's far outweighed by the decade+ of millions of GPS tracks from Suunto users riding their bikes on actual bike pavement. Above, you can see the faint lines of the highway overpass near the railroad tracks – yet it's easy to see the bright-lava of the bike paths/roads.
Now, a couple of quick notables/caveats/whatevers:
At this time the heatmap won't influence any routing decisions by Hammerhead. Meaning, it doesn't leverage that heatmap data at all, it'll continue to utilize its existing internal trail/routing algorithm for that. At least for now.
Once you link up your accounts, your Hammerhead data will contribute to the Suunto heatmap, depending on the privacy of your Suunto account settings.
The existing Hammerhead dataset (of obviously boatloads of rides), is not being pulled into Suunto's heatmap dataset, as that would violate GDPR and other privacy rules. Perhaps we'll see Hammerhead leverage their own dataset, or maybe the much larger SRAM dataset (from people configuring SRAM AXS connected accounts). But that too would require some privacy permissions.
You don't have to enable the heatmaps if you don't want them, but just want the Suunto sync bits. Heatmaps are downloaded manually per region as shown above, not automatically.
In any case, it's all super cool as implemented – and is thus far my favorite cycling thing of 2022 I think. Admittedly, the bar is pretty low in 2022 since there's been almost no major cycling tech announcements to date. But hey, I still think this is cool even with that caveat.
Suunto Workout Sync: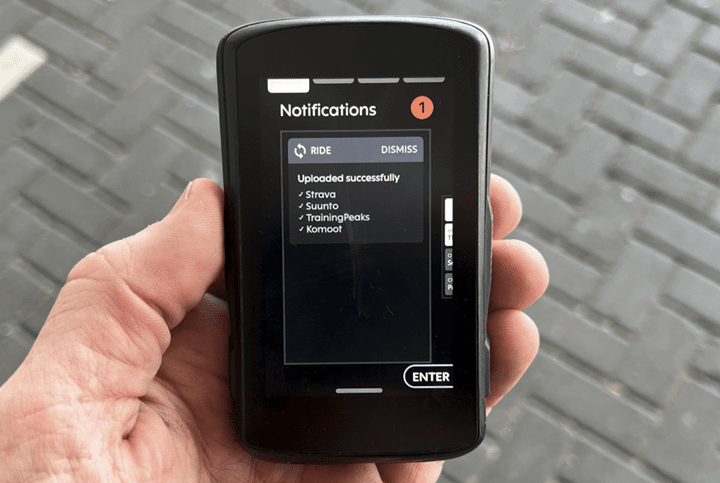 Next up, we've got the other half of the equation, which is the Suunto workout sync. Once you've connected your Suunto & Hammerhead accounts together, it'll automatically push your completed Hammerhead workouts to Suunto's platform. This is ideal on a boatload of levels, namely the fact that a bike computer tends to be better at being a bike computer than a watch is a bike computer. Which…I think makes sense the way I wrote it.
Point being, there are countless cycling-focused things the Karoo does better than any Suunto watch does – such as navigation, or sensor support, or structured workouts controlling a trainer. However, there's also plenty good reason to want those rides in your Suunto account, especially if you're treating that as the master repository for your training information and training load.
So, once you've synced the two accounts and done a ride, you'll notice on the Hammerhead Karoo ride summary page a new Suunto icon, indicating it'll get pushed there. As always, you can toggle that on/off if you want on a per ride basis: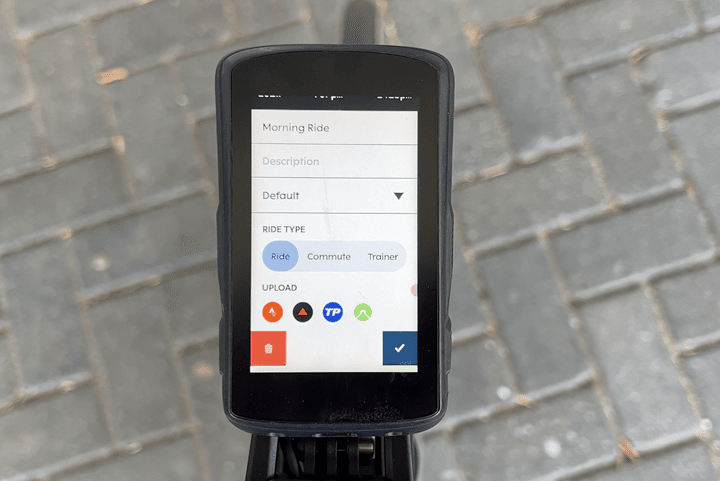 Once you hit save/upload, it'll push the .FIT file over to Suunto. A few seconds later I got notification on my phone that it was uploaded: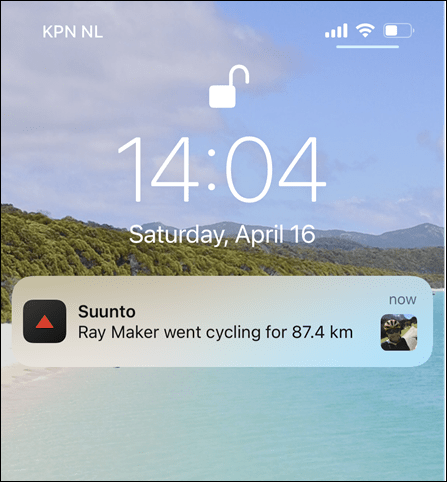 Cracking that open, you can see it's almost identical to the data you'd get from a native Suunto watch. For example it pulls in all the TrainingPeaks related metrics, and you'll get your total training load stats. Suunto will even calculate those for non-power meter or heart rate sensor users. Meaning, Suunto will do the math just like it would on normal watch activities using more basic parameters to estimate it.
However, one minor gap that I noticed is I don't get any calorie information in the Suunto activity. Suunto and Hammerhead say that should be working though, and are looking into getting whatever bug caused that fixed.
Now the next piece might be a huge carrot for a lot of folks, which is the expanded partnerships via the Suunto connection. See, on the Hammerhead platform there's only about 6 current partners (Strava, TrainingPeaks, RideWithGPS, Xert, Komoot, and now Suunto). Whereas Suunto says they've got roughly 200 companies that have data connection links that you can authorize (again, you control your data/integrations). An example would be Today's Plan, which isn't supported on Hammerhead natively, but is supported on Suunto: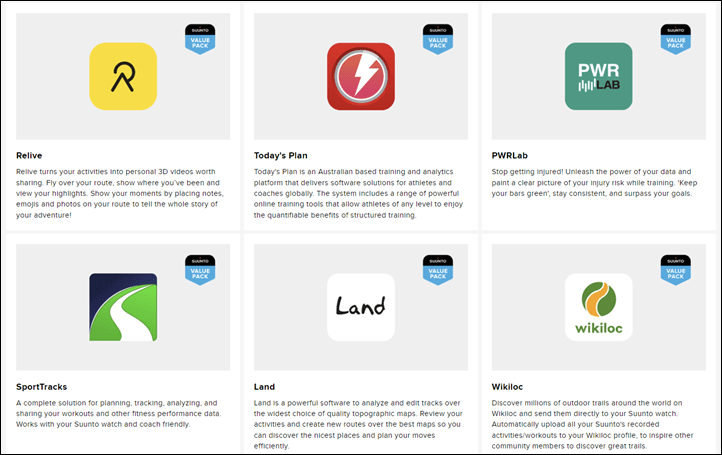 But Suunto points out there's boatloads (like 199 other) companies that are smaller, that this enables, that might be of more interest. They also note that they won't pass along any files to partners that Hammerhead already has connections with. Meaning, it won't re-send it to Strava, since Hammerhead can already sync to Strava. So duplicates shouldn't be an issue.
The one catch though? These workouts won't show up/push back to your watch.
Meaning, Suunto doesn't have any sort of true-up to sync the data from the platform to the watch, updating your training load or status. Thus if you plan/want to look at those values on the watch, you'll still need to record those rides on your watch.
Wrap-Up: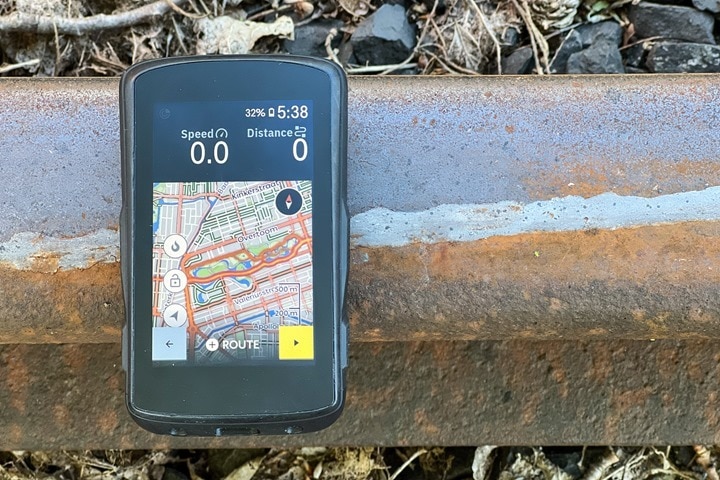 Overall, I think this is crazy cool stuff – especially the heatmaps part. It just works so well and is so useful, namely if you want to explore/meander a bit. Obviously, if you have a pre-planned route, you're likely to follow it. But I can think of many times  – even just in the past couple months, where I had planned routes that didn't work out for any number of reasons (namely, me picking the wrong road). So to be able to quickly glance at the map and see 'Oh, people are mostly actually over there a few hundred meters' is massively useful.
In terms of where this partnership is headed, in a conference call with both companies on the line, they noted that they see this as a first step. They said dependent on how this is received over the next few months, they'll consider next steps for how they might improve it – or build it out further.
One thing that came to mind in my discussions was: "What's in it for Suunto?". In other words, it's clear what's in the relationship for Hammerhead (they get a bunch of heatmap data well beyond what they have today). And it's clear what's in it for consumers (again, the heat data and sync to Suunto). But what does Suunto get out of it?
Suunto answered that essentially they get the beginnings of a whole-ecosystem offering for bike+watch. They recognize that many people simply want to ride with a bike computer on their handlebars – no matter how good their watch may be. And to that end, they said that previous to this, if someone wanted to choose a watch platform that had integration with a bike computer, it crossed Suunto off the list. Whereas Garmin & Wahoo have offerings in that area. So from Suunto's perspective, this helps them compete in that checkbox a bit. Obviously, there's still work to do around the data sync bits, but again, it's a good starting point.
And ultimately, it's been quite a while (if ever) since we've seen any sort of integration of this level between two major device makers. The last thing I can think of that falls vaguely into this camp (but not both device makers), is the partnership between TrailForks and Garmin, supplying TrailForks mountain bike data. But again, that's not a perfect scenario.
Still – as I said earlier, I'm excited to see where this goes. And once again, Hammerhead is showing the fast pace of software development on their units, easily surpassing others in this realm for update speed. One might even say…they brought the heat.
With that, thanks for reading!
Found This Post Useful? Support The Site!
At the end of the day, I'm an athlete just like you looking for the most detail possible on a new purchase. These posts generally take a lot of time to put together, so if you're shopping for the Hammerhead Karoo 2 or any other accessory items, please consider using the affiliate links below! As an Amazon Associate I earn from qualifying purchases. It doesn't cost you anything extra, but your purchases help support this website a lot. Even more, if you use Backcountry.com or Competitive Cyclist with coupon code DCRAINMAKER, first time users save 15% on applicable products!
And of course – you can always sign-up to be a DCR Supporter! That gets you an ad-free DCR, access to the DCR Quarantine Corner video series packed with behind the scenes tidbits...and it also makes you awesome. And being awesome is what it's all about!