Despite being a busy holiday weekend around these parts, we packed in quite a bit of sports tech and sportiness, with thankfully sunny weather to help keep sanity in check. Plus, tons of products in the hopper for upcoming releases or announcements to get through, so the backlog is starting to grow a wee bit.
1) On-site Cargo Bike Fixer
As you may remember from last week, we left off with me pushing a cargo bike a few kilometers with another cargo bike splayed atop it (in the middle of the night), to get some repairs. Unfortunately, when said bike shop was only able to make the most urgent of repairs the next day due to a large workload. Thus, the previously planned repairs we had got delayed.
Instead, a DCR Reader (thanks!) recommended a local dude who pedals his own cargo bike to come and fix your cargo bike. All for very reasonable prices (roughly the same as any bike shop here). So, I scheduled with him to come Friday to sort out all the outstanding general maintenance items that I'd been deferring for a few weeks…months…long time.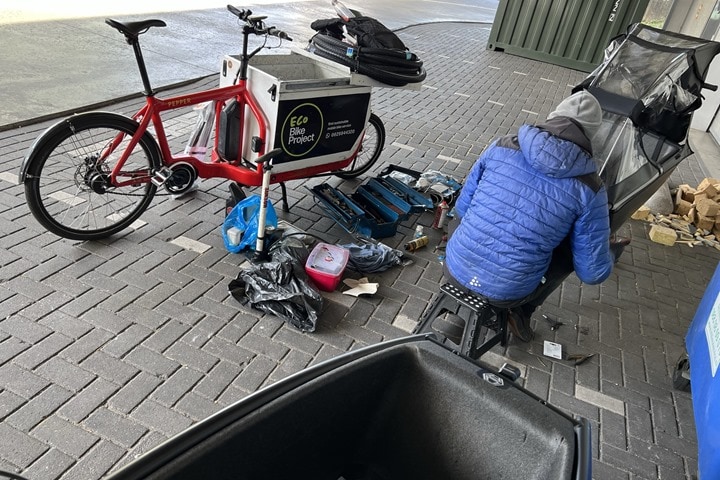 He'd come and tidy up both cargo bikes (again, we have no car, this is our minivan for a family of five + dog). While none of these tasks are tremendously difficult, they all fall in the 'solid pain in the butt' realm in that they're very different than normal road-bike tasks I'd do myself. And the cost of bike mechanic labor is so inexpensive in the Netherlands, that it just makes sense for someone else to do it both more efficiently and more properly.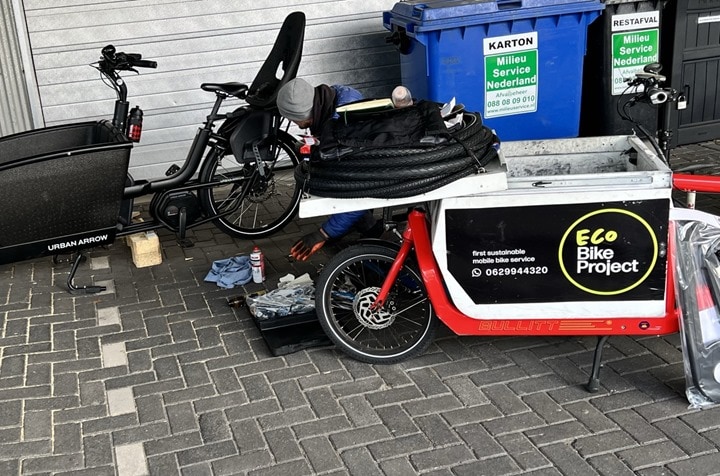 Anyways, he did a slew of tasks on both bikes, getting them ready for the summer season. Which, frankly isn't any different than the winter season in terms of day-to-day mileage– except sometimes we'll do much longer day-trips on them (like 50-70km rides out to the beaches and back). Plus, he fixed a bunch of little things that we've gotten used to, but friends riding the cargo bikes might not appreciate.
2) A New Trainer?
Later that afternoon we met up just outside of town slightly with some DCR Readers coming from Germany, which had offered to bring us some American grocery goodies not available in the Netherlands (thank you!!!). After which we hit up the big restaurant supply store for a few oddities. We have access to that via our business license. It's the same chain we used to shop at in Paris with our bakeries there (for Friday night date night), except this time we're not buying 500 eggs at a time.
Oddly, this restaurant supply store also sells other office-supply-ish sort of stuff. Notably, exercise equipment, including this price winning pedaling thing: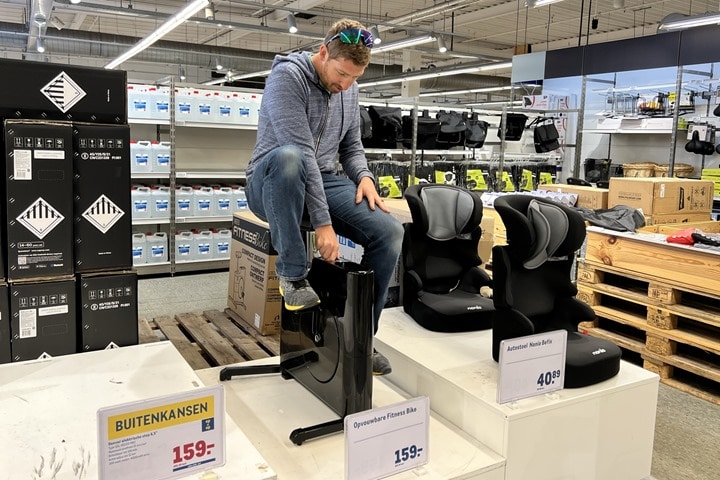 I gave it a few seconds of pedaling, along with toying with the resistance. To be fair, the ride feel was not as horrendous as I expected. It was actually moderately smooth. And the resistance was clean too. Everything else about it was mostly non-awesome, but hey – what'd you expect when buying an indoor bike at a restaurant supply store?
3) The Great Tulip Ride
It's very much true that there are tulips everywhere in the Netherlands this time of year. However, when most people envision the giant tulip fields of the Netherlands, they're heavily centered around a town about 20-30KM from Amsterdam. That's where the massive Keukenhof gardens are that attract millions of people each year during their short 7-week window. But it's also surrounded by many other tulips fields that have nothing to do with the gardens.
And as pretty as the gardens are, the characteristic tulip fields you're thinking of are outside of the Keukenhof walls. So each year around now I try and make a ride down there. From Amsterdam that ends up being in the 75-100KM range, depending on my exact routing. This time I went a bit further south first, and then looped up through it.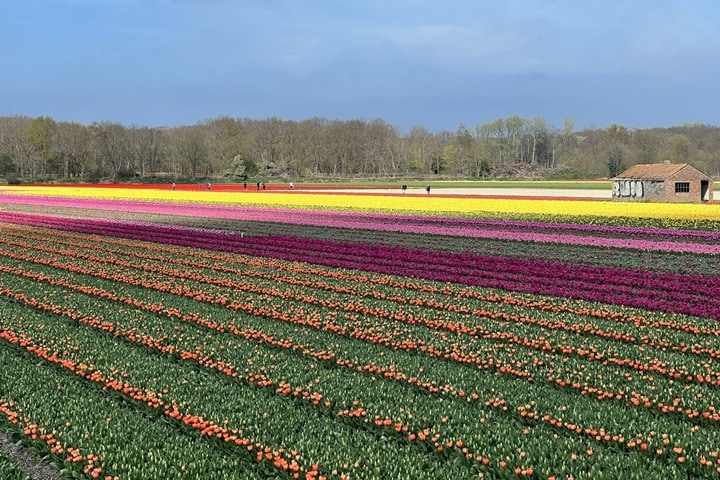 The surrounding fields were pretty much at peak tulip right now. There isn't one specific variety planted, so both the gardens and fields are largely designed to have a constant flow of different varieties blooming from late March till early May.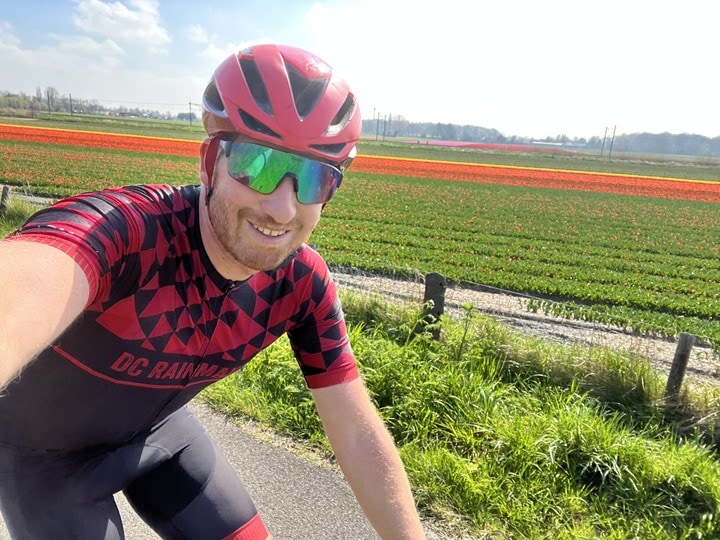 Still, this year this week seemed to be about the pinnacle of weeks I've seen in a while. Very little has died off yet, and most things are right at their fullest, with some still to come.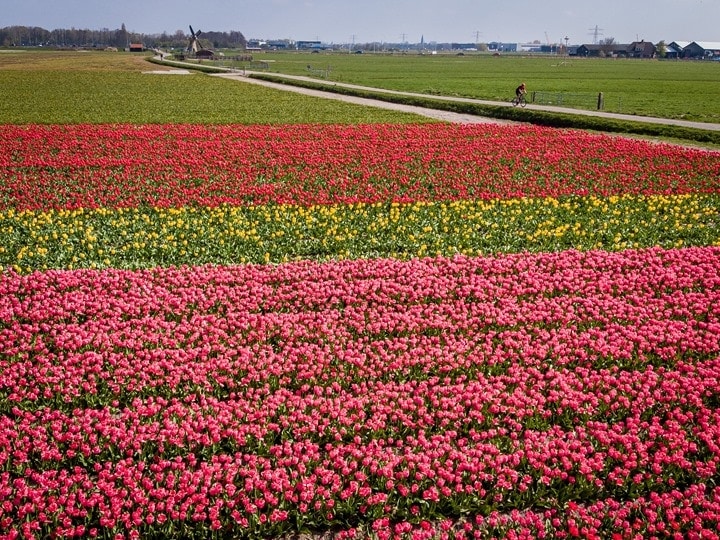 My ride ended up about 90KM all-in. I did some pausing around the 70ish KM marker to grab some nutrition, since I didn't bring anything except a bottle of water: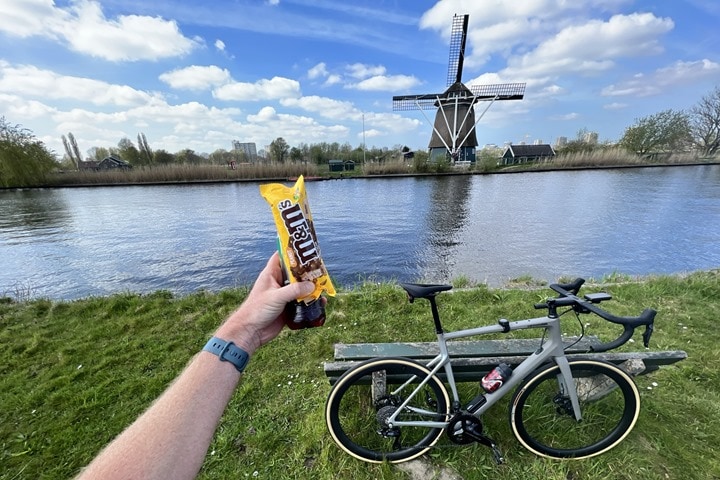 (Sometimes I put extra watches on the frame when I need to collect power meter or other non-GPS data, as was the case here when I don't want to have said watches in photos/videos of my handlebars.)
This M&M Ice Cream bar and the random bench were on-point, both food-wise and visually. Also, more on the bike and otherwise tech later in the week. Was out testing lots of things from different companies. I'd say I had about half of the unsaid things fail in some way. Some minor failures, some massive failures. Either way, a number of e-mails to companies going out this morning. Though, one new thing did succeed in a very solid way. So props to them.
4) The Easter Bunny & Dinner
Of course, being Easter, we had all the bunny things to do. The night before, The Girl made bunny footprints across the backyard:
While I stuffed our reusable plastic easter eggs with raisins and small chocolates. I also worked on my first bread. I know, I've missed the entire bread-making craze that started two years ago when everyone was in their first lockdowns. But we had three little-littles then, and without daycare or school, ain't nobody got time for that. This time I was following a recipe from one of the YouTuber channels I watch, and it largely turned out good: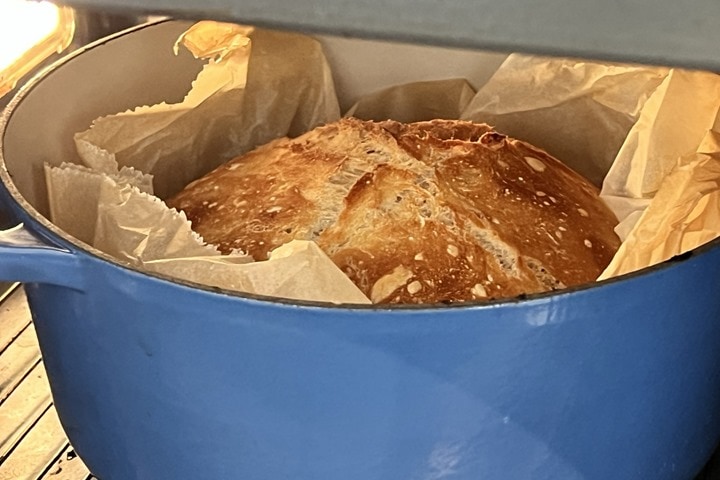 I should have stopped baking after I took the above photo, but went 10 minutes more (the recipe had recommended 15-20 mins), so it was a bit darker than I wanted. But inside wasn't too bad for a first attempt.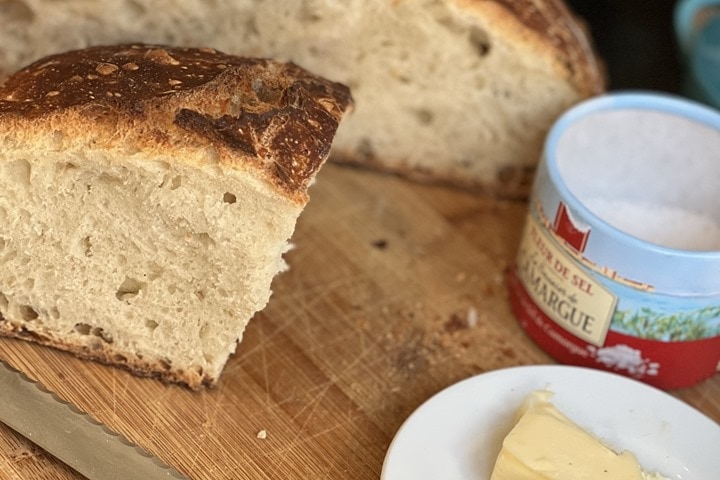 Meanwhile, Easter itself was a hit, with happy ducklings finding the eggs. This is their post-egg-finding negotiation session for splitting up the goods.
And then later on we had another family over with kiddos, and the adults got to enjoy the outside table with all the good things that The Girl cooked:
Having nice weather definitely made the weekend!
5) Peloton Bike + Guide
This section, not to be confused with Peloton Bike+, is the base Peloton Bike, plus the Peloton Guide. In any event, I got in a few rides this weekend on that bike as usual, but also a few more workouts with the new Peloton Guide. That's the little webcam/Kinect-looking thing that sits atop your TV and monitors your progression through core/strength exercises.
First up though, was 45 minutes or so on the Bike, doing some structured intervals:
Then it was short core workouts. While The Girl loves core workouts and strength training, it's not really my cup of tea. I'll begrudgingly do it. I'd basically rather do 90-minutes of intervals on a trainer than a 15-minute core workout.
So, I picked up the Peloton Guide a few weeks ago and have been giving it a poke. It's actually better than I expected.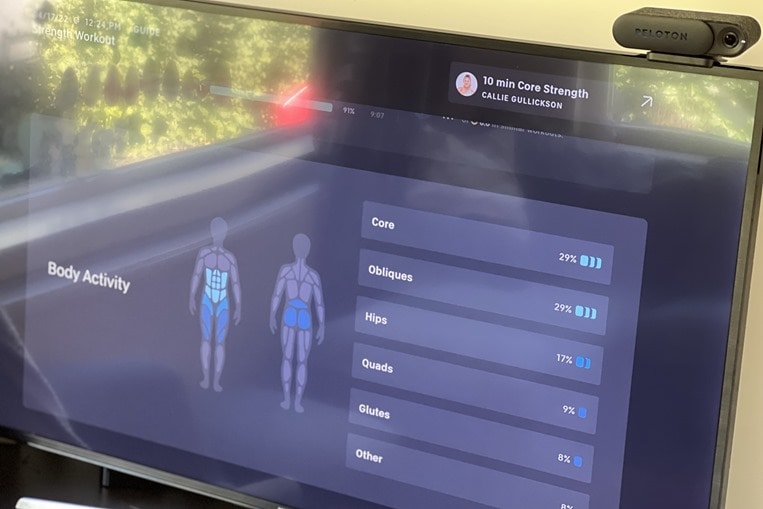 There are features that it's missing (such as monitoring your form), as well as a lack of rep counting. But once you use it, neither really mattered at this point. While it doesn't explicitly count reps (e.g. do 10 reps and it'll count 1, 2, 3, …), it counts movement. So it watches what you're doing, and if you're not doing something, you don't get credit for that set.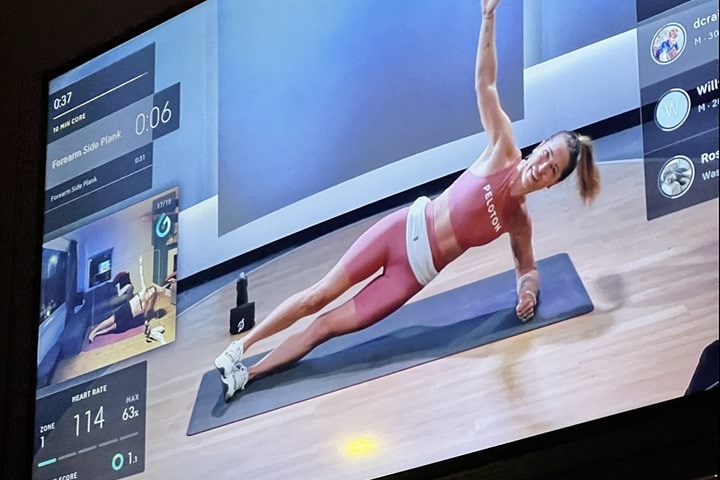 I have a full in-depth review coming soonish. Maybe this week, maybe next week. We'll see.
With that, I've got lots of stuff in the hopper for this week to get cookin' on, so best get movin' on that!
Thanks for reading!