With things slowly getting back to some portion of normal here in the Netherlands, it's probably time to bring back the '5 Random Things I Did This Weekend', perhaps even with some element of consistency too. But, given things aren't entirely back to normal yet, we'll slow-roll into this with 'A Few Random Things' instead. Don't want to be seen as getting ahead of ourselves.
Plus, most of my random things this past weekend involved just a lot of swearing at the installation of some smart window blinds, and everything associated with it. So, we'll skip that section, and instead focus on, well…everything else.
1) Cross Town Lunch Date
By and large, dining at restaurants has been closed in one way or another since last fall here. There's been pockets of allowances pre-Christmas, but most things have been closed until about a month ago. Except flower shops. Those have been consistently open forever. Can't be the Netherlands without flowers!
Thus, it's only been the last few weeks that we've been able to even eat outdoors at restaurants (indoors just opened up this Saturday in fact). And this past Friday, The Girl and I took advantage of some sunny weather to enjoy one of our favorite spots in the city. We typically try and get away for daytime dates, since otherwise we'd have to arrange for a babysitter for all the kiddos. And that's virtually impossible right now.
In any event, we cycled across the city, with The Girl in the cargo bike, and me pedaling it.
I'll save the picture for the return. The restaurant, De Kas, is in a greenhouse, though, as of Friday indoor dining wasn't allowed yet. So we were outside on the terrace. Here's what that looked like: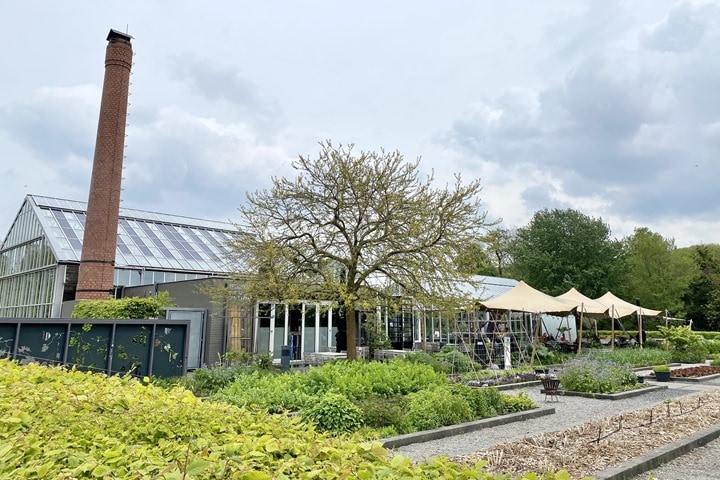 Their 'thing in life' is that they grow almost all their own produce, either at the greenhouse, or at their farm just outside the city. They also have a handful of other growers in the fields around them for a few specialties. Though it's not purely vegetarian, but heavily vegetable-focused.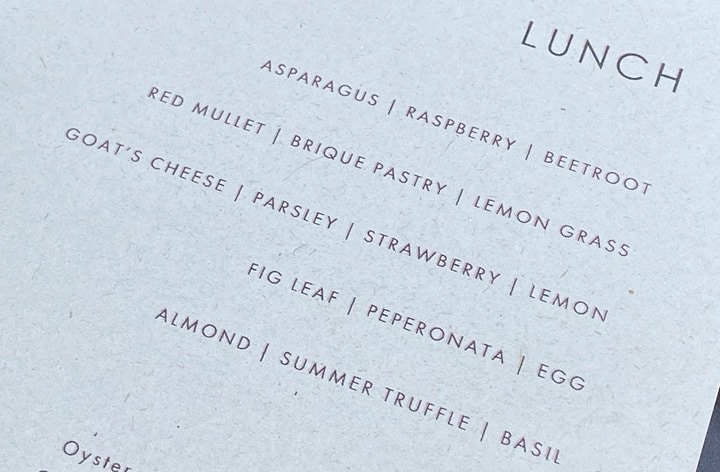 I didn't really take many pictures this time. So here's just two:
Mainly though, the money-shot was this photo on the way back. It's of a certain someone continuing the lunch date on the way back to work.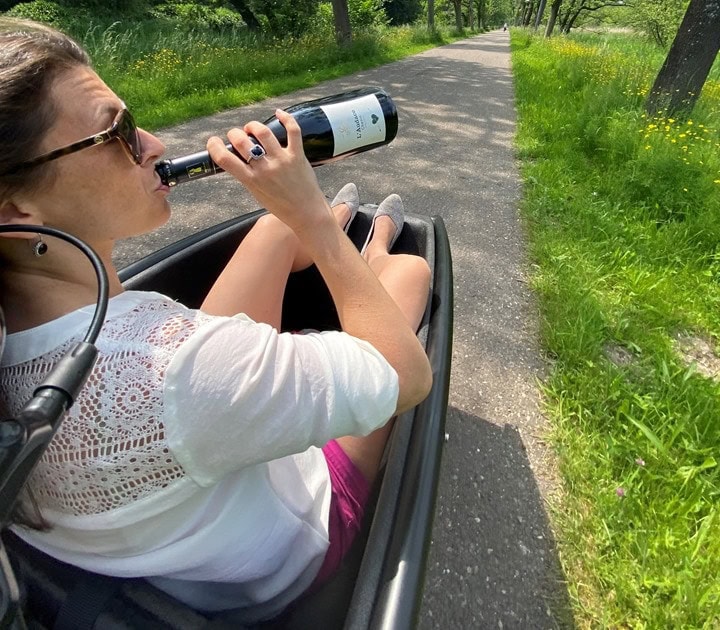 I don't think anything useful work-wise was accomplished the rest of the day Friday.
2) DCR Supporter Quarantine Corner Episode
Actually, I stand corrected! You know what was accomplished Friday? The Girl finishing up the editing of the DCR Quarantine Corner Episode 24 – for DCR Supporters. This one was unique, as we actually filmed it from the bike!
For those not familiar, the Quarantine Corner it's a lighthearted video series about some of the behind the scenes bits from the world of DCR. Think of it as an extended version of the sorta-not-so-weekly DCR newsletter, skewed towards mostly non-technical stuff, with both The Girl and I. Generally, the goal is to shoot the Quarantine Corner in a single take with minimal fuss on lighting/video/etc. It started over a year ago, shooting from the kitchen table during lock-down, then moved to the Gondola at the DCR Cave last fall, and then back home to the shed for the winter with renewed lockdown.
But this time, we took it outside! With The Girl and I mic'd up, we chatted about a wide range of topics, here's the official topic list.:
– Kicking off next to Amsterdam Central Station
– Special (fur) guest Lucy
– Where is everyone?
– 1 week, 3 watch reviews!
– Garmin Forerunner 945LTE
– Hooray for Emergency Assistance integration in sports devices!
– Photoshoot at Rijksmuseum
– Garmin Forerunner 55 – That'll do Donkey
– Cargo Bike Suspension techniques
-Tour de Vondelpark
– Suunto 9 Peak – Gifting you a GPS cheat sheet!
– Return of the Ray and Bobbie running day dates
– After almost an entire year, we ate at a restaurant again. It was glorious.
– 4 weeks into it… children's blackout blinds still aren't finished.
– Minimal amount of bloopers (sorry!)
Here's about 4 minutes (out of the full 30+ minute episode, with a few bits from the first chunk montaged together for this teaser). Most videos are 18-24 minutes long, with the occasional late-night-too-many-drinks-in-the-shed longer video.
I think we'll shoot some more Quarantine Corner episodes from the bike this summer, exploring different parts of the greater Amsterdam area – and maybe elsewhere.
You can sign-up here for access to the QC episodes (including all past episodes and everything else special), via becoming a DCR Supporter. Plus you get an ad-free DCR, and a few other tidbits here and there. Oh, and you can watch an extended montage of a bunch of episodes over the past year there as well.
3) A Farmland Loop: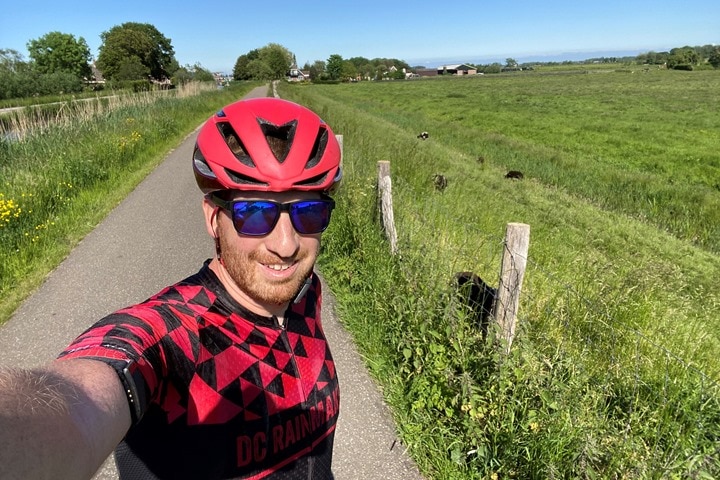 My plan yesterday was relatively simple: Just go for a ride.
I mean, I suppose it was more detailed than that: Just go for a ride with the Wahoo BOLT V2 for at least a couple of hours.
Then I decided that I could also do a few more: Just go for a ride with the BOLT V2 for at least a couple of hours, and while I'm at it, test LTE power-saver burn rates on the Garmin FR945 LTE and with the Suunto 9 Peak too.
But wait, why stop there? Just go for a ride with the BOLT V2 for at least a couple hours, and while I'm at it, test LTE power-saver burn rates on the FR945 LTE and with the Suunto 9 Peak too, while also linking up the Supersapiens unit I'm testing to the Edge 530.
And then I decided I should get a bit more optical HR data for the Mio Pod maybe-review: Just go for a ride with the BOLT V2 for at least a couple hours, and while I'm at it, test LTE power-saver burn rates on the FR945 LTE and with the Suunto 9 Peak too, while also linking up the Supersapiens unit I'm testing to the Edge 530 via Connect IQ, and of course having the Mio Pod record heart rate data.
But of course, in reality, here's what happened:
1) The Supersapiens Connect IQ app wouldn't talk to the sensor, via my phone, for a slew of potential reasons that might be 'Ray issues'.
2) The Mio Pod simply wouldn't stay on for more than 2 minutes, because, it always does that.
3) The BOLT V2 crashed 45 mins into the ride, rebooted, and then crashed and powered off (permanently).
4) I couldn't use the Edge 530 as a backup to route my Strava route, because my Edge 530 won't sync Strava routes the same day, it only has 2-day delivery/shipping service or something (I'm serious, I don't know why, it's been that way a long time, I just haven't gotten around to troubleshooting it.)
5) The FR945 LTE in power saver mode? Oh, that actually worked flawlessly. In fact, better than flawlessly.
6) Also, the Suunto 9 Peak performed perfectly.
In short, this was something of a typical ride. I had many mission objectives, and individually, most of them seemed to fail in some way or another. Though, I think only the Supersapiens one is one that may be a 'me issue'. In short, Supersapiens is only available for certain EU countries right now, and thus, they briefly mentioned something about having a US Garmin Connect account is blocked for pass-through. Though, I did have it working just fine on my FR745. So while I could load the app, it wouldn't talk to my sensor (which it has to do via the phone).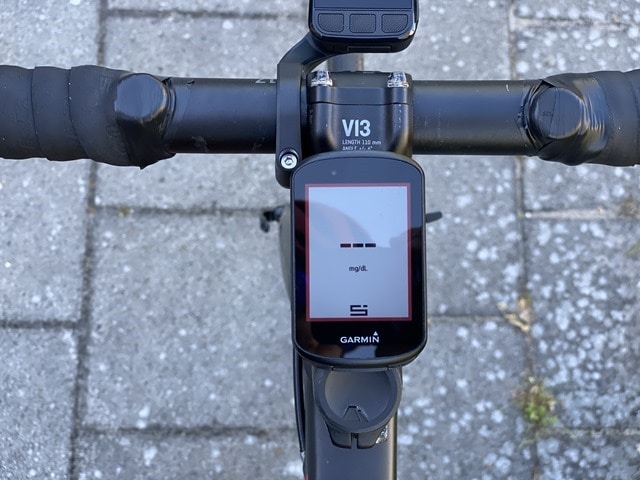 So, I wouldn't blame that entirely on them yet. Mind you, it's someone's problem to solve that isn't named Ray, but I haven't decided whose problem yet. As for a Supersapiens review? Sometime later this summer. I think I've got enough patches for two months or so. I'm about a week or so into it right now, and simply have far more questions than now (which, is normal). Also, I saw the UCI banned it today, so that's less than optimal for them.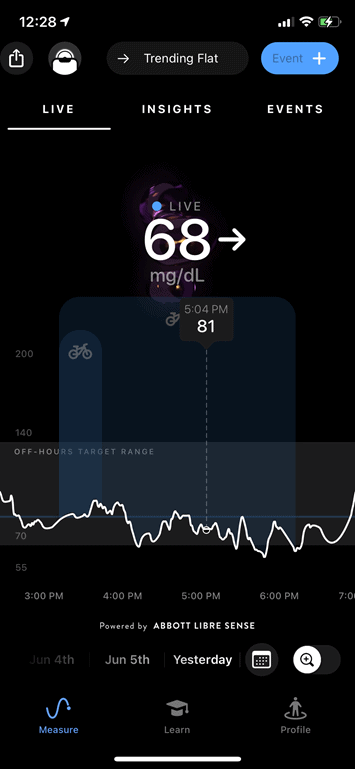 A number of you reached out after seeing some of my Instagram stories on Supersapiens, so I've got a slew of great contacts for talking more in-depth about that and similar technologies once I get to that point. But again, right now I just want to collect a bunch of data.
As for the Wahoo BOLT V2, I don't know. I sent the debug data over to them. I don't think it likes the Netherlands (well, I know it doesn't). I also don't think it likes me.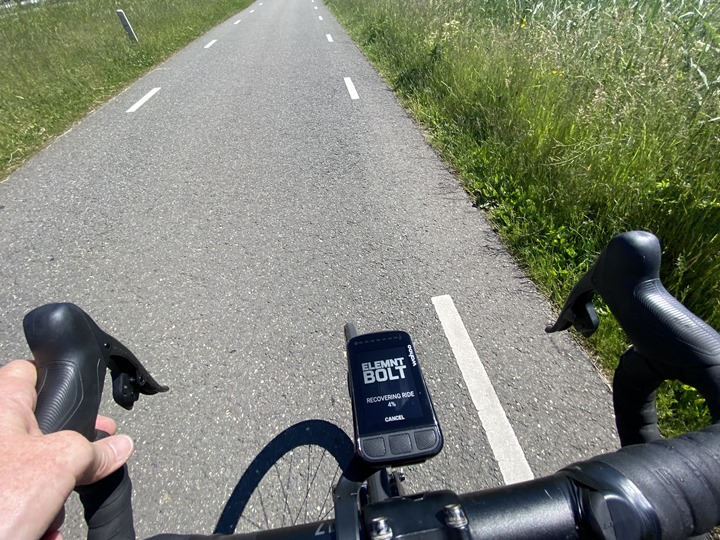 On the Mio Pod, I frankly don't even know why I'm trying anymore. I've been trying for about a year, even went out and bought another unit. It's just horribly inconsistent with itself on whether or not it 'stays' on. I sent them a note too, so we'll see if they have any answers. Though honestly, I'm not really sure the value prop is there, even when it does work (compared to the always-works and more functional Polar Verity Sense).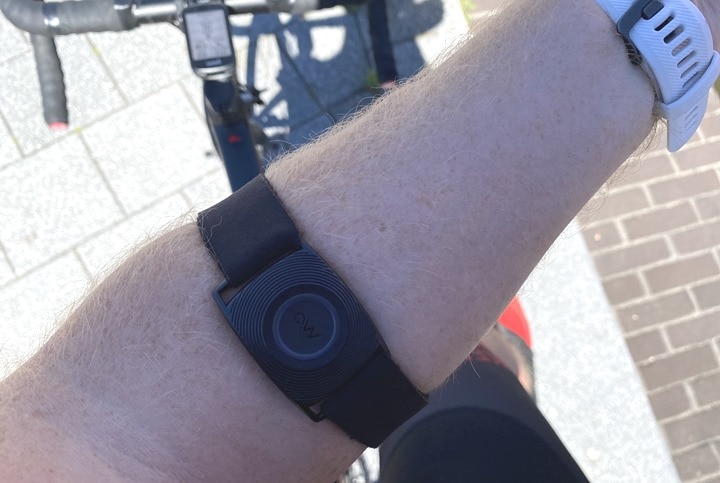 But the ride itself was great. Obviously, I had a route planned (about 68KM), but without a way to route it, I just kept checking the Strava app on my phone occasionally, and then free-styled the rest. Super nice day out, and ultimately ended up at 80KM of Dutch countryside and towns.
And as for the Forerunner 945 LTE? I had plopped it into LTE-only mode, but in particular a LiveTrack low update rate mode, that only updated the LiveTrack every 5 mins (as opposed to every minute).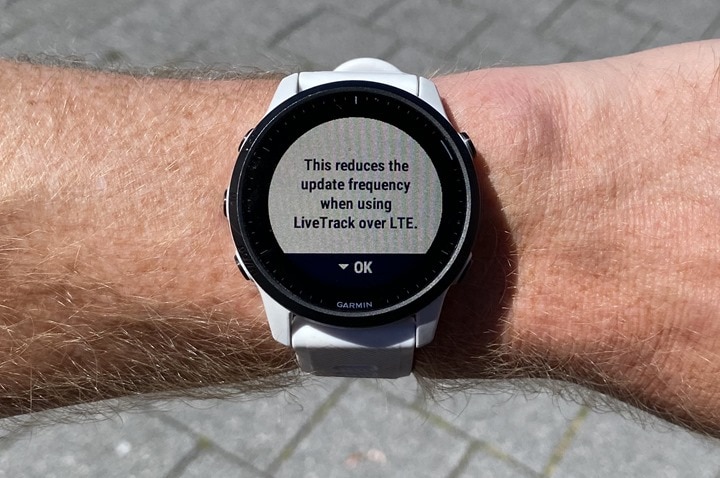 It didn't change any of my data at all (still every 1-second), and instead just batched that data update together for LiveTrack every 5 mins, but even backfilled all the data within that five mins. This nearly doubled my battery life, with it showing a time of ~23 hours of capacity with LTE-on this way (versus 9-12 hours of LTE-on of what I'd normally see at 1-minute intervals). That's huge!

And thus I had one successful tech thing. Oh, I suppose the Polar Verity Sense worked too. It always does. And as noted, the Suunto 9 Peak seemed good too (though, I haven't looked at HR data yet).
—
With that, we'll wrap things up. I've gotta continue installing smart blinds. Plus, I can't have this post growing into a complete '5 Random Things' on the first return day. That'd be getting just a bit too excited.
Thanks for reading!