It's been a crazy busy last week, and this weekend was no exception. So let's dive right into it!
1) Cycling The Tulip Fields
Friday afternoon The Girl and I grabbed our bikes and headed 1-2 hours south. To tulip fields we headed. While most of the major fields were in their prime 1-2 weeks ago, we still got to see some very solid tulipage! Here's a picture I shot of both of us just riding along:
The photo was shot with the DJI Mavic Air, which easily fits in my back jersey pocket.
Of course, we also shot a lot of random cell phone photos as well. Can never have too many of those:
The weather was perfect for the ride, though definitely a wee bit windy at times. Especially since it was virtually all headwind, all the time. Which, I suppose I should be used to by now. And I am I guess, but it doesn't mean I have to like it. Still, getting out and riding with The Girl made up for the headwinds. Also, we had a brief moment of cyclocross: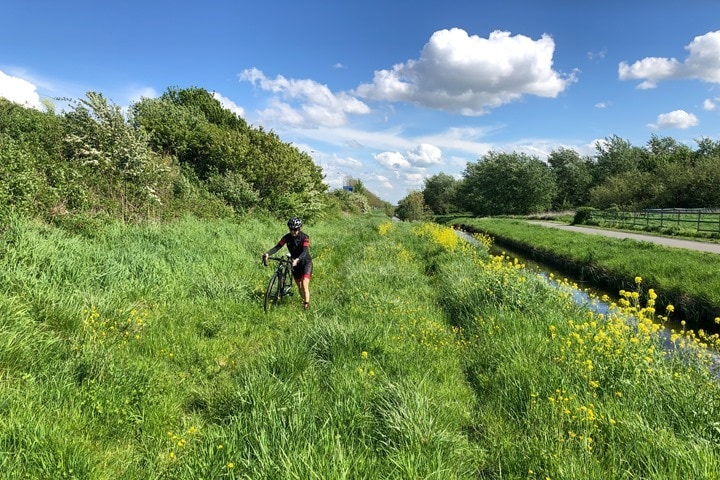 So yeah…that happened.
2) King's Day Celebrations!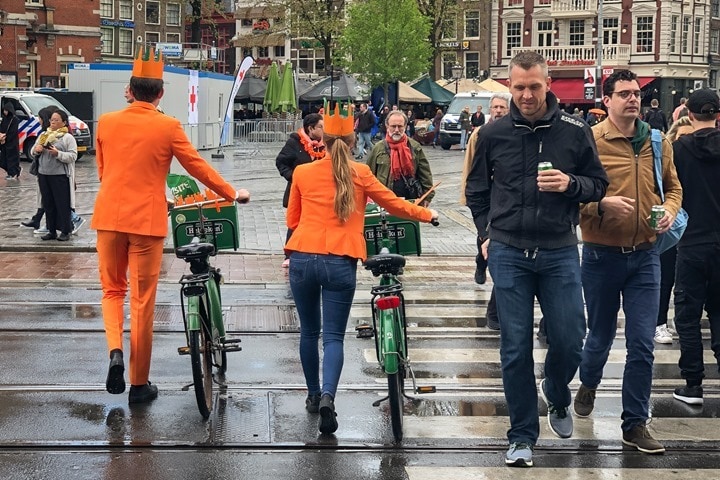 This past Saturday was King's Day in the Netherlands, which is roughly on-par with festivities as Independence Day in the US.  There's copious amounts of grilling, beer, and general trouble.  In the case of the Netherlands, most of that somehow seems to occur consolidated onto boats on canals – which, makes it even better. The weather wasn't super ideal when we got deeper towards the city's canals, so a bit spartan at that time of day still.
One of the coolest traditions though, is the whole city seems to turn into one giant 'everyone's' market where people stake their claim to a few square meters of street and sell all sorts of random things. It's like one national yard sale, except people line up side by side on specific streets or parks, usually having about one dinner table's worth of goods on a tarp or blanket. On this day, there is no need for a selling permit or license, you just have to get out early and claim your space! Here's what it looked like in Vondelpark:
Throughout the city everyone is allowed to sell their used goods, but there are specific areas of town that are designated as "kid zones". In these areas the kids get priority and they are supposed to be the ones selling their own used toys/clothes/etc. (which is usually incredibly cheap), or they can set up a game station, or food and beverage sales (for example, we mostly saw pancakes, hot dogs, and lemonade). We picked up a few things for 2-3 euros that would normally cost 50-60EUR new. And parents are happy to get toys out of their house. Though, I guess we failed ourselves at that scheme.
The kids are super crafty, as there are plenty of games  – most of them seemingly created from leftovers found around the garage. Usually you pay a Euro or so to play, and then have the chance of winning some sort of prize – all in good fun.
Definitely one of our favorite days of the year here for sure.
3) So…much…writing
7 In-Depth Product Reviews in 7 days. That's what I'm in the midst of. Typically, I do about one a week, sometimes less. But it's not just 7 written product reviews, but the detailed product review videos as well – each of which usually takes 4-8 hours to film and edit.
In many ways, finishing up these 7 reviews in time for the various embargos will be roughly akin to that British Airways 777 that lost engine power while on final approach to Heathrow, ultimately landing on airport property, though not entirely on the runway. Like that, I'll make the airport – but there might be some skid marks along the way. I suppose any landing you can walk away from…is a good one.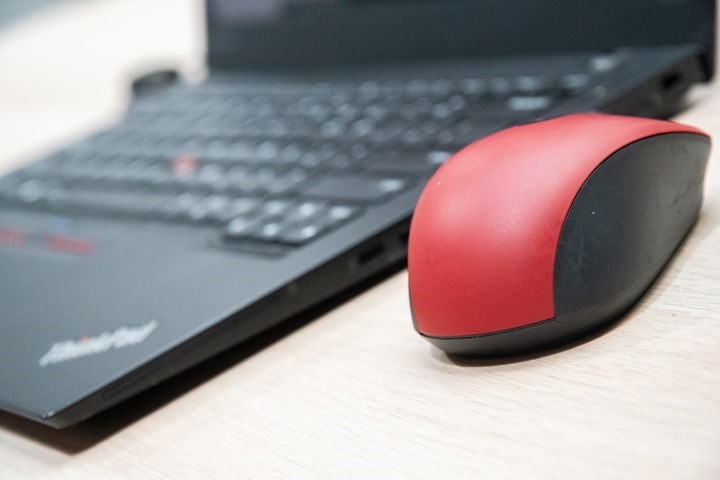 Because I can't show you what I'm writing, you'll just have to know that thousands upon thousands of words were written. The longest of the reviews right now is at 8445 words (and the accuracy section isn't yet added). The least wordy one sits at 5002 words, again, minus the accuracy sections as well.
4) An Evening Lakeside Run
I went out Saturday evening for a short run, about 40 minutes. This one was a fully structured workout I had made beforehand. There frankly wasn't a ton of specific structure to it in terms of an ideal training benefit. I was more focused on the technology side of things. It was a 10-minute warm-up, followed by a 5-minute build, followed by 4×400, then 4x200m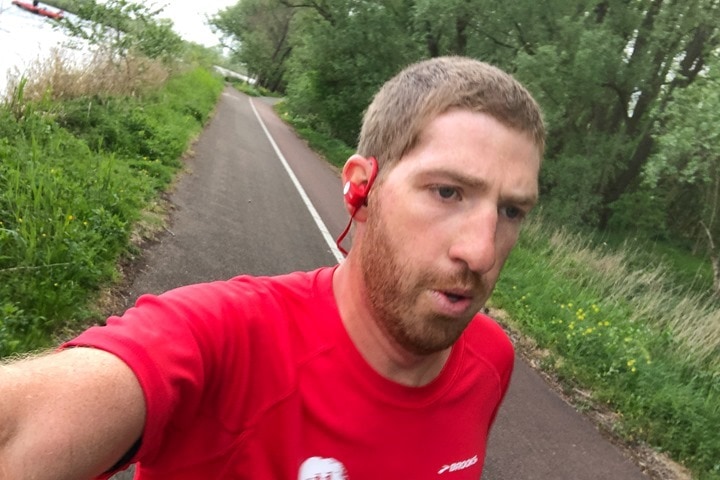 The secondary goal was avoiding angry cows. Really big cows: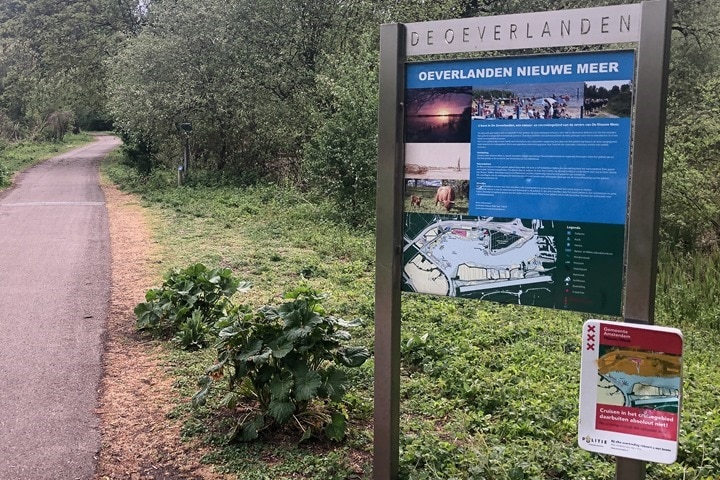 This section of the lake park allows these large fuzzy cows to roam free, including on the bike and running paths. I've seen them a number of times, but tonight was not that night. Instead, I just saw a lot of bunnies. Like, someone's been busy number of bunnies.
Oh, and the run was nice! Ended up at 38 minutes, and would have tripped it over to 40 minutes, but was running a bit behind – so just finished up things then and called it a night.
5) So…much…shooting
I generally try and mix things up when it comes to reviews and where I shoot stuff. So I roughly have things divided up into a few locations for this week's reviews, and one of those locations for Sunday was the track. The track is essentially across the canal from Olympic Stadium, and it's great how quiet it is virtually all the time. Sometimes there are some football games in the interior, but there's fencing such that balls don't hit people on the track.
In my case though, I was shooting off to the side. I was even using the Arsenal camera utility thingy I mentioned buying last summer. This was actually the first time I've used it for any real purpose (beyond just toying with it). I was specifically using the ability to livestream the video to my phone and adjust focus. My camera (Nikon D500), doesn't support any sort of continual focus for video, so you have to set it and hope for the best. So this saved me a bunch of time.
Then later I spent another hour getting various shots off to the side with the automated 3-axis slider. Syrp finally released firmware and an updated app for the slider pieces I bought years ago, that makes them match the newer units they have. At this point the older system is awesome and a million times faster to use. I didn't use the Arsenal thingy here as I was just doing it all manually.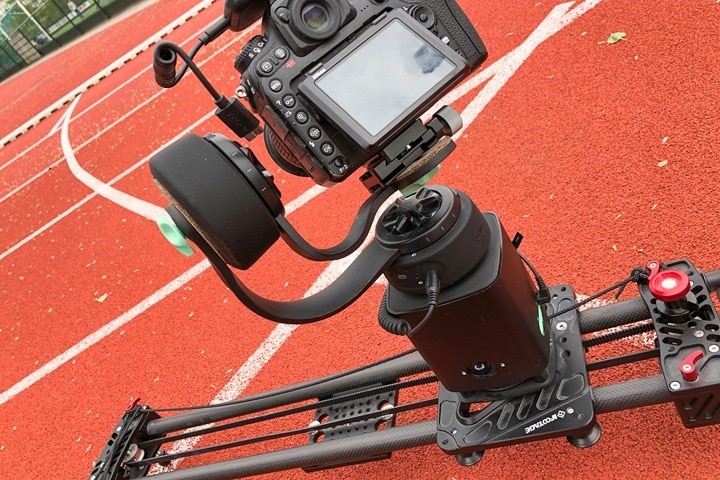 I'd rinse-repeat this whole thing a bunch more times all day Sunday. Doing mostly photographic/video shooting stuff in the day, and then editing of videos/photos after the light had gone, and more textual writing as well.
With that – my 32-minute timer for this post that I've allocated has buzzed, and I need to get back to finishing those 7 reviews. Texts are all done (minus final accuracy sections), now just photos. Soooooo many photos to take.
Thanks for reading – and see ya back here tomorrow!