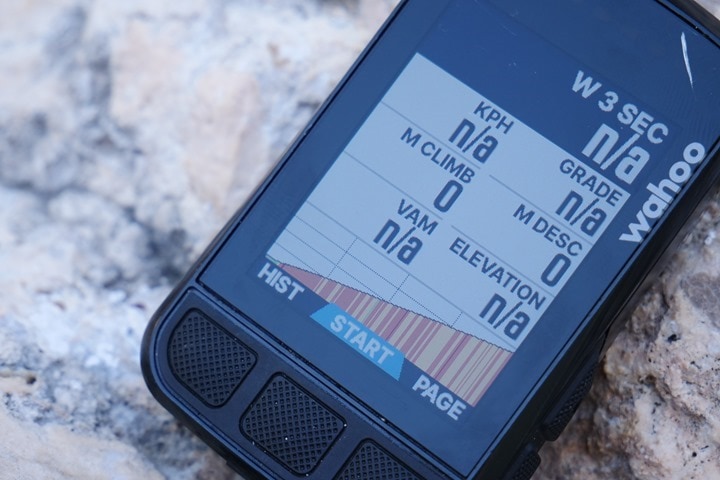 Wahoo has introduced what I presume to be the first step in a larger set of changes around climbing information, to compete with Garmin's ClimbPro and Hammerhead's Climber features. This first change adds gradient coloring for pre-planned routes (and re-routes) for upcoming climbs, as well as total ascent remaining for the entire route.
You can see the climb ahead in the same way as before showing the elevation profile, except now the elevation profile itself has color-coding for the gradient of each chunk within the profile. This works for all routes loaded onto the Wahoo ROAM or Wahoo BOLT V2 (since those are the units that support color). And on the BOLT V2 which has built-in elevation data, it also works anytime you re-route, since the unit pre-plans those reroutes automatically, and has elevation/grade information for the roads ahead.
Here you can see I've loaded up a route, and it shows the elevation profile along the bottom of what's coming up: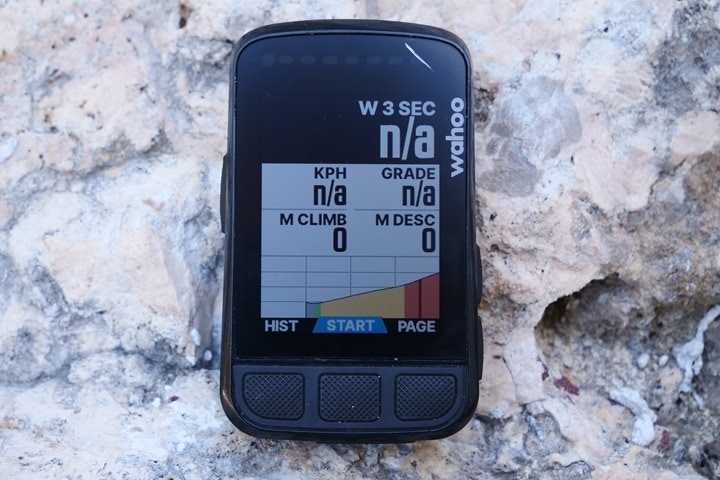 I can then zoom out to see larger chunks of this rather long and painful route: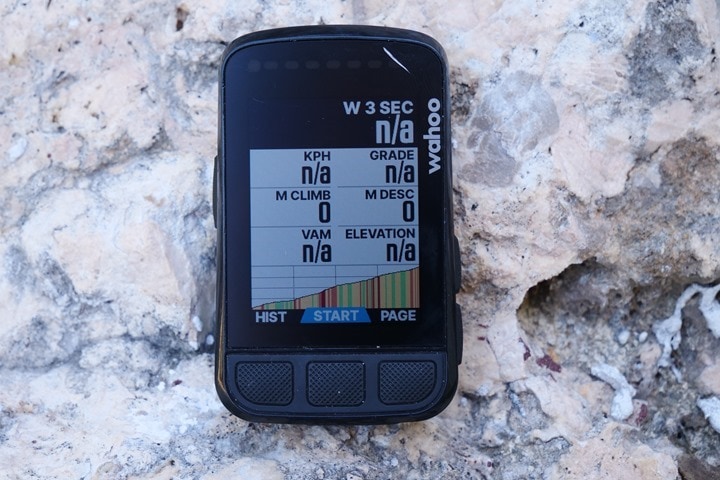 If we look at the cue-sheet, we'll see the total elevation remaining for the day (route):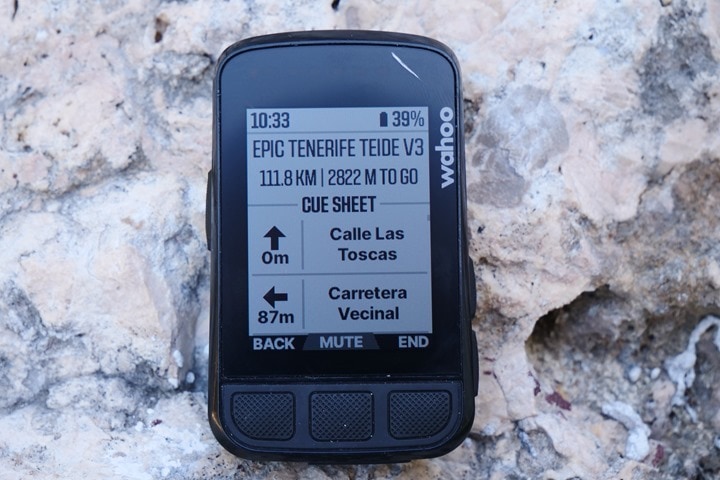 You'll also see colorization of the small grade/gradient data field (seen below in the video), as you ride along, in case you're using that data field on a page without the elevation profile displayed. This is a nice touch not seen on any other unit.
Unlike Garmin/Hammerhead's solutions, there's no information about each climb displayed (such as distance to top, ascent remaining per climb, or listings of climbs), this is purely recoloring the elevation profile and counting down the total elevation. Still, it's definitely a good step forward. It might sound trivial, but it's a heck of a lot easier to see what type of pain will be inflicted up ahead with gradients clearly colored, than just a squiggly black line representing the elevation profile.
Here's the coloring for each level:
Green: 0-3.9%
Yellow: 4-7.9%
Orange: 8-11.9%
Red: 12-19.9%
Brown: 20% (I assume this color matches what's in your cycling shorts when you see this grade)
Since I'm currently traveling this week without a bike (or even elevation) to go ride some climbs, here's a video from GPLAMA where he strolls along quiet country roads making the Wahoo unit change color.
Overall, this seems like a good first step, and hopefully we'll see Wahoo quickly iterate on adding more features to Summit before it warms up for the summer, when many people spend time doing longer climb-related cycling antics.
With that, thanks for reading!
Found This Post Useful? Support The Site!
At the end of the day, I'm an athlete just like you looking for the most detail possible on a new purchase. These posts generally take a lot of time to put together, so if you're shopping for the Wahoo ELEMNT ROAM or Wahoo ELEMNT BOLT V2/2021 or any other accessory items, please consider using the affiliate links below! As an Amazon Associate I earn from qualifying purchases. It doesn't cost you anything extra, but your purchases help support this website a lot. Even more, if you use Backcountry.com or Competitive Cyclist with coupon code DCRAINMAKER, first time users save 15% on applicable products!
And of course – you can always sign-up to be a DCR Supporter! That gets you an ad-free DCR, access to the DCR Quarantine Corner video series packed with behind the scenes tidbits...and it also makes you awesome. And being awesome is what it's all about!