If you've been around this site long enough, you know that one of my life-goals is to reduce the quantity of certain types of messages that end up in my inbox. Not merely the notices that I'm apparently heir to Nigerian Royalty, but also those messages from readers like you implying you're in some sort of state of confusion and frustration. Neither scenario is great.
And currently, the most common more-than-daily messages I'm receiving both here on the site and YouTube is "Why is my Fenix 7 missing all the features you talked about?". Notably the ability to configure data fields from your phone, stamina, and other more advanced functions. These features are outright missing for people that have just turned on their watch for the first time.
And the reason is simple: Your new watch is actually kinda old. And with it, it's got old firmware on it. Really old firmware. Like…firmware from last year on it (seriously).
Take for example this Fenix 7 base unit I bought a week or so ago. The firmware that arrived on it was version 6.55. Roughly speaking, that puts it in the November timeframe. Which, is ironically the same timeframe that Garmin was already producing Fenix 7 units on the assembly line.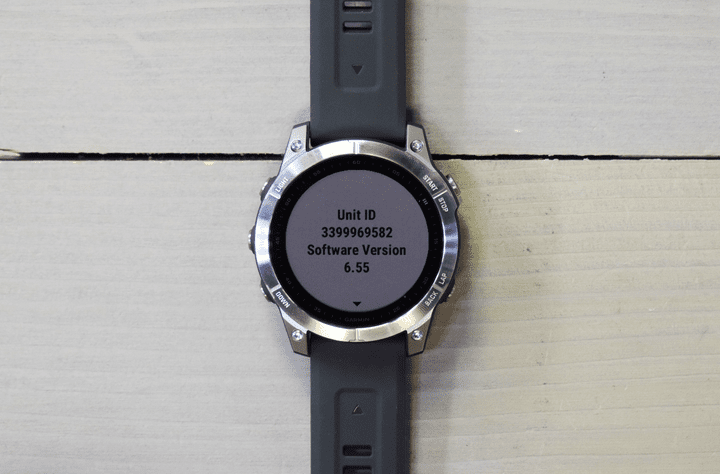 Some people are also getting units with an even older firmware of 5.35. So what's the problem here?
The actual current production firmware for the Fenix 7/Epix series is 7.24 (as of today).
When the Fenix 7/Epix released/announced back on January 18th, the production version was 7.20. The difference between 6.55 and 7.24 cannot be overstated. There is a vast ocean of changes there. Like watching one of those photo-a-day for 20 years on YouTube videos. And that even sets aside the main watch firmware doesn't include updated versions of the wireless (e.g. ANT/BLE) and optical HR sensor firmware versions, nor any GPS chipset bits either.
Now, normally what happens is that after you pair it up to your phone via Bluetooth, Garmin will download the latest firmware version behind the scenes using Bluetooth. But the problem is this will slowly trickle over. Once it's copied to your watch, it'll find a time when you're not doing much (sitting around quietly at a desk or such), and then offer to install the firmware. It'll no longer try and install at 2AM – more on why here. Point being, this entire waiting around period can take upwards of a day for most people.
The Quicker Way:
Now, while your watch will slowly download that update behind the scenes, the absolute fastest way to get it done is to use WiFi to force a sync, and then manually choose to install it. Except, that doesn't work. Not yet anyways. See, even if you set up your phone and configure WiFi, it won't seemingly sync to Garmin's servers via WiFi until you're on a later version of software. I tried, it just gives a connection error (see that in the video).
Instead, if you want instant-gratification, you're gonna have to install Garmin Express for your desktop computer (Windows or Mac), which is the fastest way to update things. But hey, on the bright side it's also the fastest way to update the maps (since the watch's own WiFi is much slower). Once installed, just connect your watch to the computer and it'll show up.
Then, go ahead and add it to your Garmin Connect account (since by now, you've probably already created that with the phone). Once that's done, it'll ask to set up any WiFi networks, and then finally, it'll go off and get all the updates: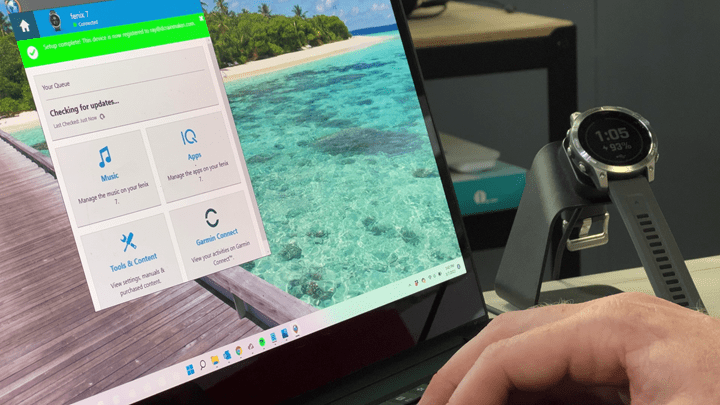 From there, unplug it, and you'll be immediately offered the ability to install the latest update: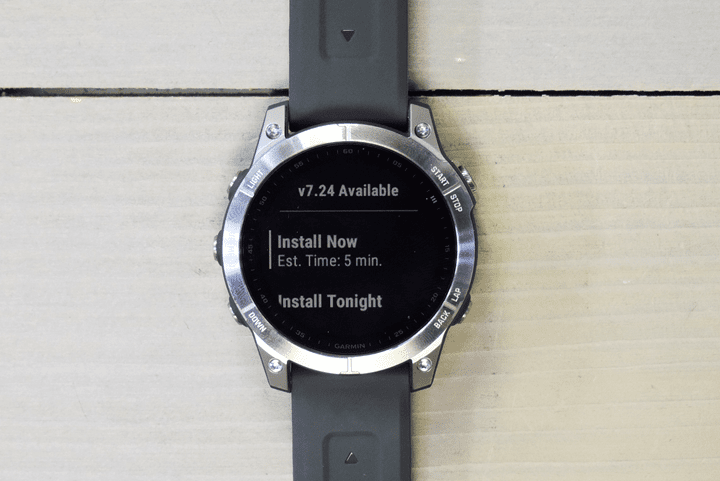 Roughly five minutes later, and you're done!
Normal WiFi Update:
Now, outside of the first update to 7.24, you can normally force-update your watch using WiFi and this two-step-tango process. Here's how:
1) Hold the middle left button to get to Settings > Connectivity
2) Choose Wi-Fi
3) Then select Wi-Fi Sync
4) If you haven't already added a Wi-Fi network, it'll prompt you to do so
5) Let it sync
Now, the WiFi sync process may take a few minutes to finish. You can exit out of it if you'd like, or just wait. Once done, it'll say it's complete. Then, go back to the Software Update menu:
1) Hold the middle left button to get to Settings > System
2) Select 'Software Update'
3) Choose "Install Now", and you'll see the software update ready to install
If not, there's no newer version. You can usually find the current version available listed at the top of the Garmin Forums. As of this writing (March 7th), it's 7.24.
But why?
So the next question is why does this firmware version gap happen? Well, in the age of product announcements being timed to instant retail availability, that requires companies stockpile products ahead of time. Which in turn means companies manufacture said units ahead of time. In most cases for big companies like Garmin, we're talking months ahead of time for marquee launches. Others like Apple and GoPro are the same – starting production easily 1-3 months before the product is announced.
Of course, software development continues to march forward on the watch firmware. Bugs are squished, and features are refined, sometimes even features taken out (as was the case for another watch recently). However, also notable is that in an app-connected world, the app itself marches forward as well. So in this case, the new phone configuration feature for your data fields/pages did work long before product launch, but it was dependent on having a specific Garmin Connect Mobile version from that same time period – like having two matching puzzle pieces. Thus, the latest Garmin Connect Mobile isn't compatible with the November watch firmware for that specific feature (but is compatible for countless other features).
The problem here is that unlike GoPro and Apple, which force you to update the firmware upon setting it up, Garmin doesn't. And while it's nice that they don't force you, they also don't even hint or suggest you update the firmware. Which is what gets everyone all confused. Nobody is aware that they're missing 4+ months of software updates and features. This is where Garmin could do better with the app-side first (when you're pairing up your watch to your phone in most cases). Here they could note to the user the firmware needs to be updated (as GoPro, Apple, Samsung, and others do).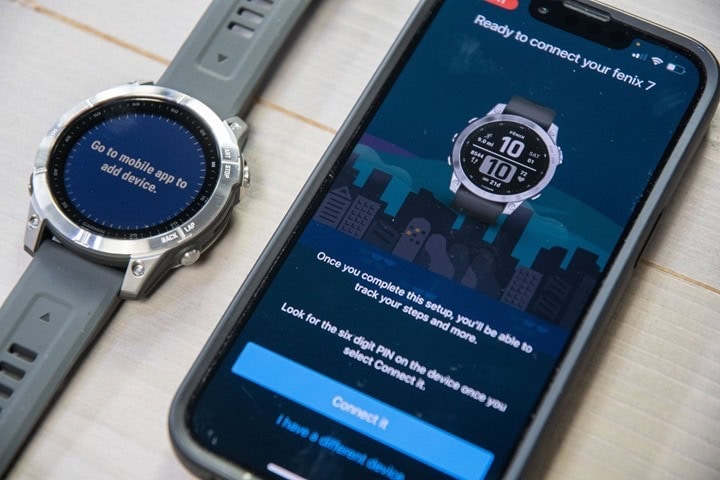 And then secondarily, Garmin should make it *easy* to update the watch firmware version on the watch itself, on-demand. Right now, the update occurs on Garmin-time. Which is like island time, but without the coconuts and fruity-umbrella drinks. Sure, on a Fenix/Epix watch you can do the WiFi check in one menu, and then go to a different settings menu to install it, but most people wouldn't know to do that two-step tango.
Ideally, there would be another option within the existing Software Updates menu: Check for Updates. Because as outlined above, doing a WiFi sync effectively does the same thing, but then still requires a manual install after the fact. Oh, and since we're asking for things, if I may, this would be on every Garmin device going forward. A quick and simple instant-gratification check from the menu that everything is up to date. Easy-peasy.
With that – thanks for reading!
–
Oh, and if you've just picked up a Fenix 7 or Epix units, then first get your units updated, and once that's done, you can check out either of my two beginner guides. These are both long-form guides that walk you through using the watches step by step, including details of how the new features work.
Or of course, either of my in-depth written reviews, the Fenix 7 one here, and the Epix one here.