Back in August Garmin released a minor firmware update for the Forerunner 945 multisport GPS watch. On paper, firmware update 7.80 was about as boring as they get. The release notes only contained a handful of items, none of which appeared to be even glance-worthy. Here's the official list:
"Forerunner 945 – System Software version 7.80 Change Log

Improve GPS ephemeris downloads
Fix a barometer issue that could lead to inaccurate elevation
Other minor improvements and bug fixes

Updates can be installed through Garmin Express or the Garmin Connect Mobile app.
This update is live as of 11:15AM CST 8/19/2021"
However, behind that curtain of mundane was actually a significant technical and customer support change that wasn't oddly listed (in my mind, it should have been): Disabling the watch from gathering temperature data during a pool swim. Now – I didn't say that it was a significant change to consumers. In most cases, you'd probably never have noticed unless I mentioned it. But as of that firmware version, the FR945 will no longer gather temperature data during a pool swim. It'll however continue to do so in an openwater swim.
Turns out though, despite not being listed, someone did notice this change. And as usual, all broken roads lead to the Garmin Forums, where they posted their lack of fishbowl weather recording capabilities near immediately. And a short bit later, one of the Garmin customer support folks posted the reason why this was removed:
"The ability to measure water temperature readings during a pool swim activity was removed in version 7.80. After through testing and investigation, we have discovered that having the barometer-thermometer (a combined electronic part) powered on during exposure to chlorine dramatically accelerates the failure of the part. Therefore to give customers the best experience and product longevity we decided it was very important to make the change to turn off this part during pool swimming. " –Garmin-Brooks
I found this randomly super fascinating (as did the DCR Reader who flagged it to me, thanks Tom). Not because I generally care about recording the pool temperature, but just about the logistics of figuring this out from a support standpoint. Garmin has recorded pool swim temp data on units with a barometric altimeter for years.  Here's what it typically looks like for pool swims, summarized down at the bottom (this on a FR945 pool swim a while back):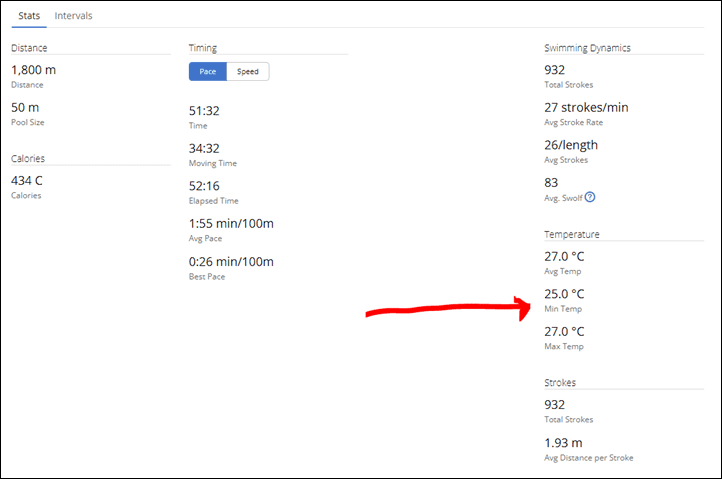 I tried to figure out exactly how far back Garmin supported pool swim temperature, and used the filtering options in my Garmin Connect account to see when it started. It wasn't available on the Fenix 2 or FR910XT (despite having barometric altimeters, which in turn have temperature sensors). Nor the later 920XT or Fenix 3/3HR. Ultimately, the first swim files I can find in my history that have pool water temp is from the original Fenix 5, back in February 2017.  Meanwhile, the first Forerunner I see it in my files is the FR645 Music in March 2018.
But that trip down memory lane is beside the point. The point is this little line:
"After through testing and investigation, we have discovered that having the barometer-thermometer (a combined electronic part) powered on during exposure to chlorine dramatically accelerates the failure of the part."
They go on to note in another short comment that:
"Open water swimming is unaffected this is only tied to pool swimming."
Meaning, as specified in the original comment, this is due to chlorine and not saltwater. Meaning, you'll still get openwater swim temperatures just fine, and indeed, my openwater swims show that's true.
Of course, anyone who has been around the endurance watch scene long enough knows that the barometric altimeter port/inlet can often be the cause of altimeter-related issues (from many brands). Companies take great pains to try and ensure that the port on the watch leading to the sensor itself can easily be cleared of debris (such as dried sweat/salt, mud, etc…). Else, you get inaccurate altimeter data.
But there's also been numerous cases on certain watches where there seemed to be a tie-in with people who swam a lot, and people who had more frequent barometric altimeter failures. With some people going through 2…3…4 watches via the support/return process (sometimes Garmin, but not always). But there's never been a clear tie-in that I've heard to the chlorine in the water, and specifically having that part powered-on with chlorine causing issues.
I reached out to Garmin, curious if they'd expand any more on this. While they declined to, they did agree with a part of the e-mail where I said to them that this seems to be one of those things that "you only learn at scale".
Meaning that this isn't something any company would easily figure out unless they had vast scale or data points, or past experience with a very specific edge case (e.g. chlorine on a given component). Undoubtedly someone will say "they should have tested it", the reality is – there's simply no company in the GPS watch industry with deeper experience in watch components and altimeters. While Apple sells more units these days, they've only had a barometric altimeter on the Apple Watch for a couple of years in three models. Garmin, Suunto, Polar, and others have had it for more than a decade on dozens upon dozens of models. For example, here's a swim in 2012 on a Suunto Ambit 2, that's recording the temperate during a pool swim: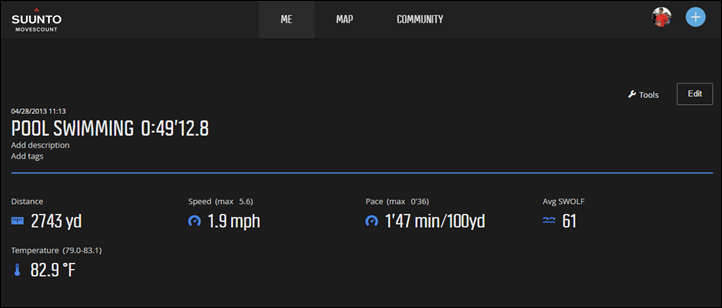 Had this been a problem historically, they'd have caught it years ago. Thus, clearly something changed with the exact component being used in the FR945 (or, a batch of watches in that timeframe). Components change all the time in watches as component suppliers update said components with newer versions. If this was a problem across the industry, someone would have realized it by now and shut off pool swimming temp.
The whole at-scale thing reminds me a bit of one of my favorite endurance sports tech quotes, from James Meyer, one of the co-founders of Quarq power meters (now part of SRAM). He said, paraphrased, 'When you build your first 100 power meters, you think you know a lot. Then when you build your first 1,000 power meters, you realize how much you didn't know back at 100. Then when you build your first 10,000 power meters, you realize how you didn't know back at 1,000, and so on'.
Undoubtedly, based on Garmin's "extensive testing" comment, there are probably massive e-mail threads and documents within the company now on how to test components on watches with probably not just different chlorine levels (and being powered on), but also other water salinity levels. And since this thing is something that isn't just 'test once and be done', but rather longer-term life stuff – I'm sure there's even more tests on how they onboard new components from suppliers in this area.
And also undoubtedly, I'm going to take a guess that every other company in this space is now forwarding this post around, looking up in their customer service databases around barometric port failures, to see if there are patterns around pool swimmers and higher rates of failures. I wouldn't be surprised to see the pool temp data field disappear not just from other Garmin wearables, but from others' watches in the market. Many companies in this space use the same component/suppliers. On the Garmin side, I noticed my FR745 no longer records pool temp data, which is a watch that likely shares most of the exact same components as the FR945.
And, in the Garmin Forums, Garmin worded it slightly differently on a recent Fenix 6 firmware beta release. Albeit, folks with the most current production version are still seeing pool temps. So either this change is still incoming, or changed direction.
"Our Fenix 6 series engineers have chosen to disable the temperature sensor for the Indoor Swim APP only. The intention is to improve reliability of your temperature sensor along with other sensors." -Garmin-Chris
Will this meaningfully impact many people? Nah, not really. Some have argued that having a separate activity profile for ocean-fed pools (which aren't chlorine) would still be useful. And true enough, it would. Though I could see it's probably a bit confusing from a user interface standpoint.
In any event – I found this interesting, and I figured I'd share it.
With that – thanks for reading!