Today Apple has launched their Apple Watch Series 7 slate of watches, including the largest display in the Apple Watch lineup to date. This is combined with WatchOS 8, which was announced back in June. Meaning that while many new features discussed today are launching atop Apple Watch Series 7, most of the software-focused ones are available on the Series 3/4/5/6/SE watches. Below I'll call out which features are unique to Series 7, versus everyone else.
However, unlike every past Apple event, Apple did not specify exactly when the Watch 7 would be available, other than to say "later this fall". This hints at what's been reported by Bloomberg and others that Apple has struggled with manufacturing of the new watch (supposedly due to the new display). Of course, Apple isn't immune to all the supply chain challenges that every other company is facing, which undoubtedly plays a part in it. However, they did outline pricing, which is detailed below.
Apple Watch Series 7 Details: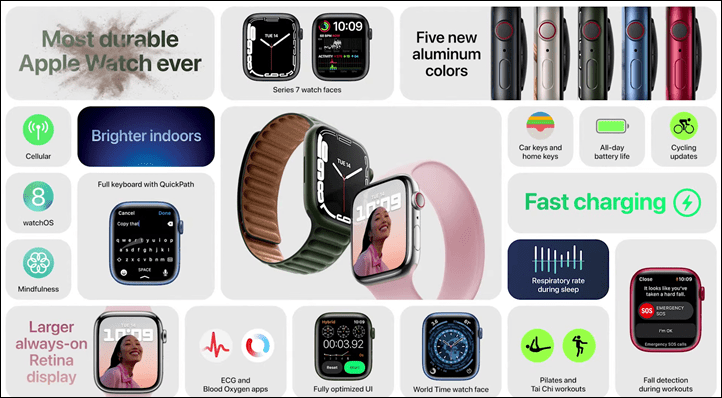 Here's the down and dirty on what's new in Apple Watch Series 7:
– Expanded the display: The Series 7 has the largest display to date, some 20% larger than the Series 6, or 50% more screen area than the Series 3. This means the base model went from 40mm to 41mm, and the larger unit went from 44mm to 45mm.
– Reduced the bezel: Apple says the bezel (or borders, as they called them) are down to 1.7mm, or 40% thinner than the Series 6, the actual watch dimensions though remain nearly identical to before.
– Increased the brightness: Apple says it's 70% brighter than before indoors, and called out specific scenarios such as glancing at your wrist without moving it to check the time.
– Increased durability: Apple says it's the most durable Apple Watch to date, including a new crack resistant front crystal that Apple says is 50% thicker than previous models – which they demonstrated twice using a mountain biker crashing directly onto the wrist/watch
– Added IP6X Dust Resistance: In the event you find yourself on the wrong end of a playground sandbox fight. It still has WR50 water resistance
– Larger user interface buttons: While the external buttons haven't changed any, the buttons used within the menus have been increased to take advantage of the larger display. Apple noted areas such as the stopwatch, alarms, and activity menu as examples of this.
– More text on the screen: The larger screen means that in text messages, Series 7 can fit up to 50% more text than before
– New full keyboard: With the larger screen Apple has crammed in a full keyboard onto the display, including both tapping letter to letter as well as swiping between letters.
– New Watch Faces: Apple has included a few new watch faces, including one that's larger and more data-driven for activity/fitness tracking
– Battery life remains 18 hours: Yup, still.
– New charger design: The new charging design results in 33% faster charging than Series 6
– Fast Charging: The new charging design can go from 0% to 80% in 45 minutes, or 8 hours of sleep tracking in 8 minutes. As one who has oft battled with late-night right before sleep charging, 8 minutes for 8 hours is a brilliant way of phrasing it.
– Charger comes with USB-C cable: As opposed to previous USB-A charging cable.
Here's a quick look at some of those new things, starting with the difference of the display compared to the Series 3, despite the watches not being much different in physical size: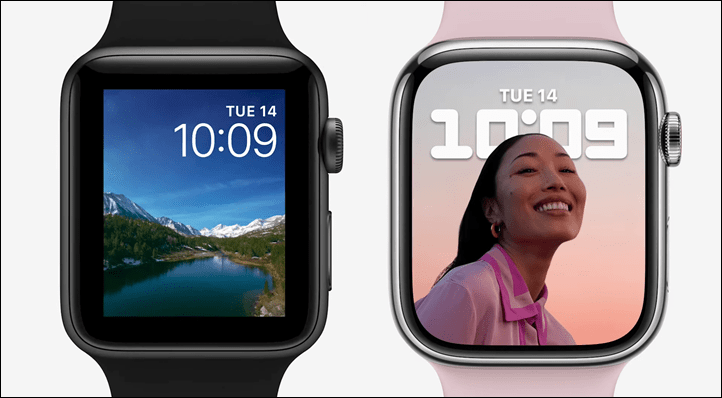 Here you can see larger text buttons in both the activity app and stopwatch, it's also in other areas too, but these were highlighted.
Next, you can see the difference the screen makes in terms of text messages (or just text in general), side by side with the Series 6: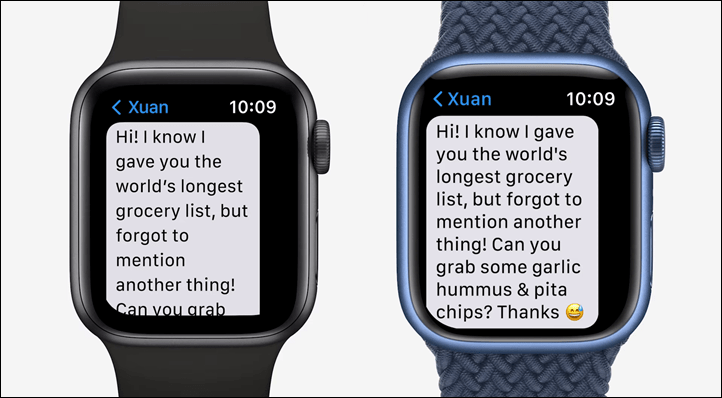 Speaking of texting, here's the new keyboard: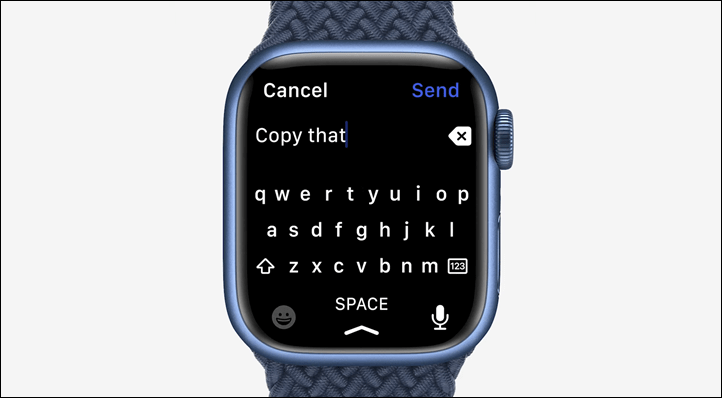 And one of the two new watch faces, this is the activity-focused one: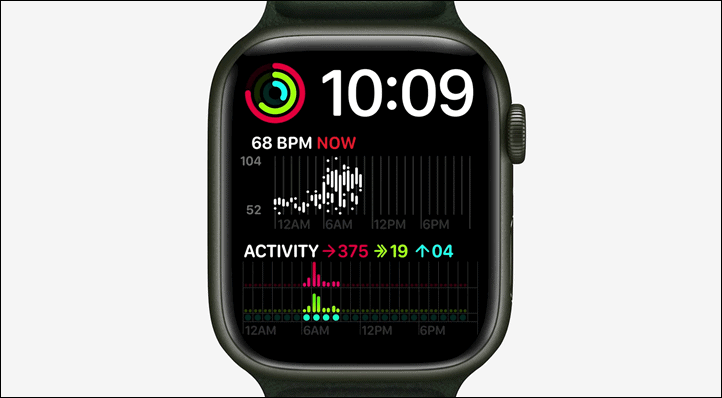 Here's the new charging puck. It's not clear if existing pucks will continue to work with it or not (Update: The new charging puck is compatible with older watches, but isn't going to make older watches charger faster, that's specific to the Apple Watch Series 7). It looks pretty darn similar.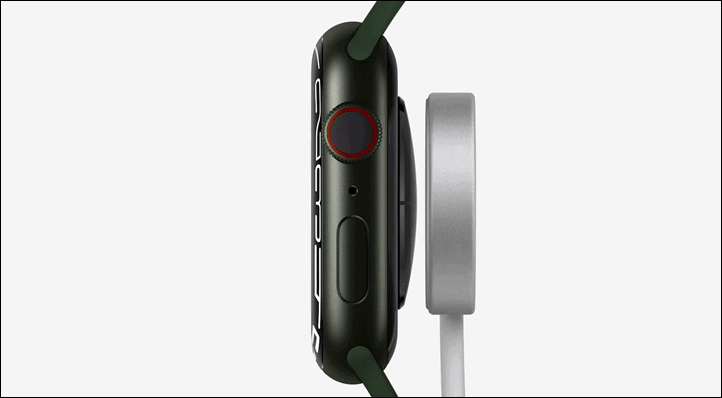 They also showed a mountain biker splatting on the ground, and thus, I'd be remiss if I didn't include that:
Finally, from a colors standpoint, there's basically a pile of different options. First up there's the five core Series 7 color models: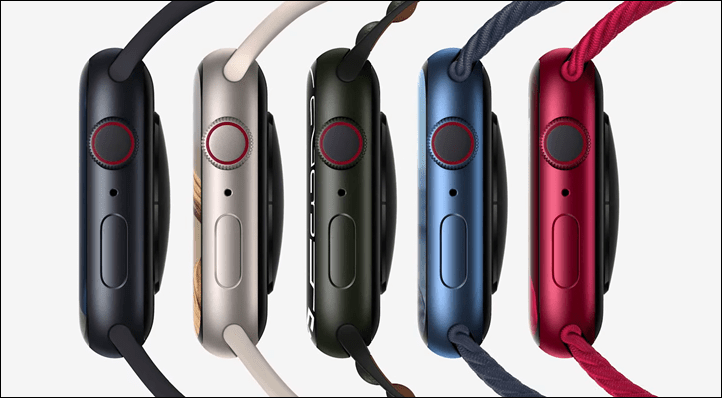 Then there's three new stainless steel colors:
And two new titanium colors: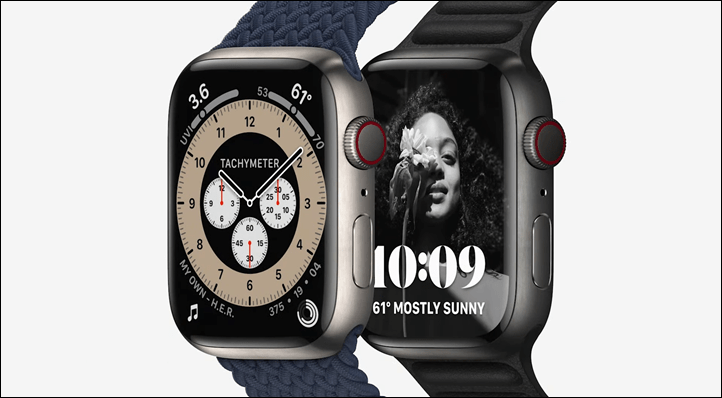 Plus new Apple Watch Nike models: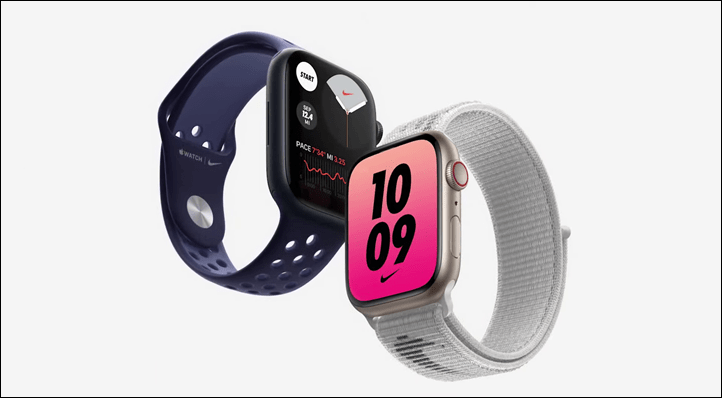 And then the new Hermes models: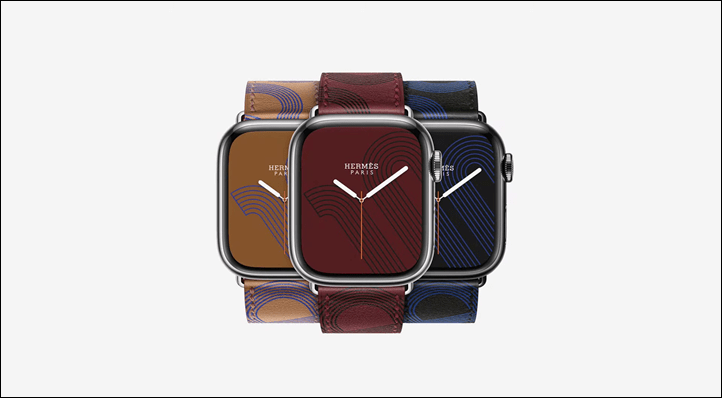 Oh, and there's a boatload of new bands. Most notable is that Apple says all existing bands are compatible with the new Apple Watch Series 7. This was somewhat notable because if you listen closely to the presentation, when he says this compatibility line, the voice was clearly added later and doesn't quite match the remainder of the recording. This is likely a nod to some rumors that swirled in the last week saying they wouldn't be compatible.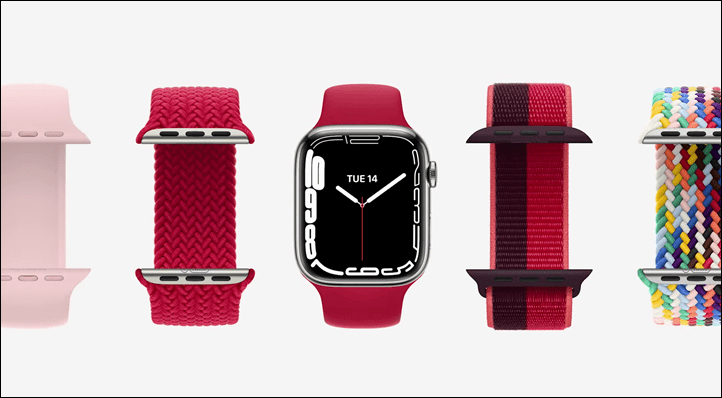 And as usual, Apple highlighted all their recycling and environmental efforts on a single slide, handy for me to insert here: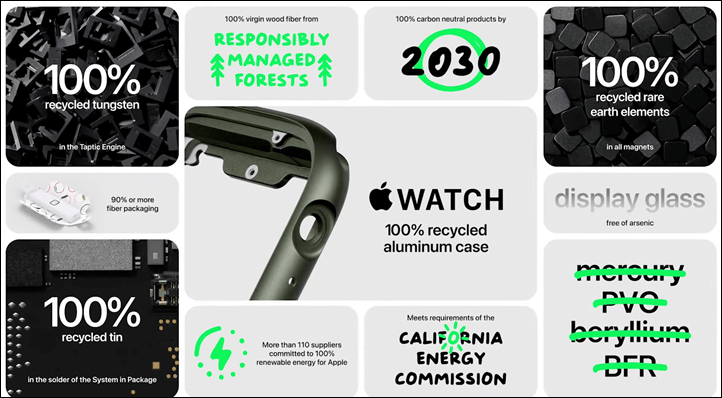 Lastly – pricing. Apple says the Series 3 will remain in the stable, as well as the SE. Then the Series 7 comes in to replace the Series 6, with Apple basically keeping the same separated lineup as last year of the Series 3 and SE + the newest model. Pricing also remains the same:
– Apple Watch 3: $199
– Apple Watch SE: From $279
– Apple Watch Series 7: From $399
And again, all of these are simply noted as being "available later this fall", without any specific date. Normally Apple releases the watch about 10 days after the event, but clearly that's not going to be the case this year.
WatchOS 8 Updates:
WatchOS 8 will land on your wrist on September 20th, well before the Apple Watch Series 7 does. Apple noted three specific WatchOS 8 features in the keynote that they hadn't previously disclosed, that includes:
– Will automatically detect bike riding: The unit will automatically detect cycling and start logging a working, similar to other sports
– Added Fall Detection During Workouts: They specifically called out cycling within the keynote as a new fall detection area
– Added new e-bike workout support: This will (attempt) to more accurately calculate calories when using an e-bike. E-Bikes typically provide assistive power at varying levels, which means that Apple has to try and figure out based on a boatload of variables (gradient/wind/power level/etc…) how much effort the bike is contributing versus you. Seems awfully complex, but they can use heart rate as the backstop instead to treat it more like an indoor cycling workout
And then just as a quick reminder from back in June, here's the quick and dirty on what's coming to all Apple Watch Series 3/4/5/6/7/SE units:
– Adding two new workout types – Tai chi & Pilates: This typically means some sort of basic calorie algorithms for that support, as well as occasionally some sort of data fields specific to a given workout type. We don't have the complete details yet here though.
– Added more sleep tracking features: This includes time to sleep, average heart rate, and blood oxygen levels (plus the respiration rate in the next bullet).
– Added respiration rate during sleep tracking to Apple Watch: This will track your breaths per minute, and then surface that through trends and Apple Health. Note that Apple Health already supports respiration rate today (as do most other wearables).
– Adding new Mindfulness app replacing Breath: This adds new animations, reminding users to calm down for a second, including some guided meditation.
– Adding new portraits watch face: This will automatically use your portrait mode photos, and allow you to then use the digital crown within that watch face to make the photo feel 'alive' by having it slightly tweak the composition.
– Revamped Photos app on Apple Watch: Will now support sharing photo memories directly from the watch via messages and e-mail.
– You can now blend a message that's dictated, scribbled (handwriting basically), and emojis all in one. It's like the burrito of messages, for when you simply can't get through a single text message without changing mediums.
– Added support for Find Me items directly from the wrist: This allows you to leverage the find devices from the Find My network
– Added multiple timers on the watch directly
– Added support for HomeKit enabled extended detail notifications on Apple Watch: Specifically doorbell previews and package detection (coming via new extended HomeKit features, for HomeKit enabled accessories/cameras)
– Added Home Keys support via HomeKit: Allows you to unlock doors using your Apple Watch, with supported accessories/platforms/systems.
– Added support for UWB car keys: This would be for unlocking your expensive car
– Added support for ID cards via Wallet: This includes Apple Watch support as well.
– Added support for the always-on display to more apps: They've showed music, maps, and calculator. As a reminder, only certain apps have historically been able to use Apple's always-on screen, not including most 3rd party apps. It sounds like that's changing going forward, but we'll have to see the details there.
– Added 'Focus' concept to Apple Watch, which is part of the larger Apple ecosystem update that basically tells your contacts when you're doing something that needs focus (a new variant of do-not-disturb).
Got all that? Good, there's undoubtedly more things too that will have snuck in along the way, but that's a good starting point of the key ones.
Wrap-Up: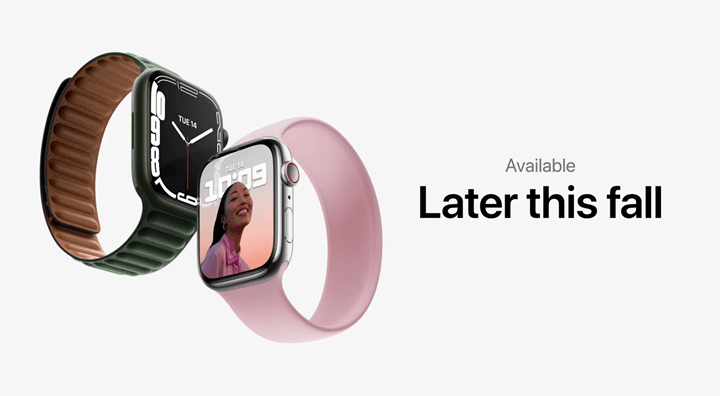 Ultimately, from a sports & fitness standpoint, the Watch 7 includes minor updates over the previous Series 6. Of course, from a more general watch standpoint those updates are more substantial, notably the display and battery charging aspects. The bulk, if not all, of the sports/fitness features are tied to Watch OS8, which means everyone is getting them.
Apple didn't mention any GPS or heart rate sensor changes, but then again, they don't often mention those in the keynote unless it's driving a key new feature (like ECG did). However, I'd assume there are at least some changes. Apple has revamped their optical HR sensor in minor or major ways most years. GPS has seemingly been more tied to specific WatchOS versions than anything else.
As usual, I'll have a full in-depth review once units start shipping.
With that – thanks for reading!