Why yes, it's that time of year again – '5 Random Things' time! While we had a few random things posts this past summer, I think the weekend slate is now diversified enough to get back to semi-regular '5 Random Things' status. Thus, let's dive right into it with the usual blend of tech and non-tech.
1) Final Samsung Watch4 Shooting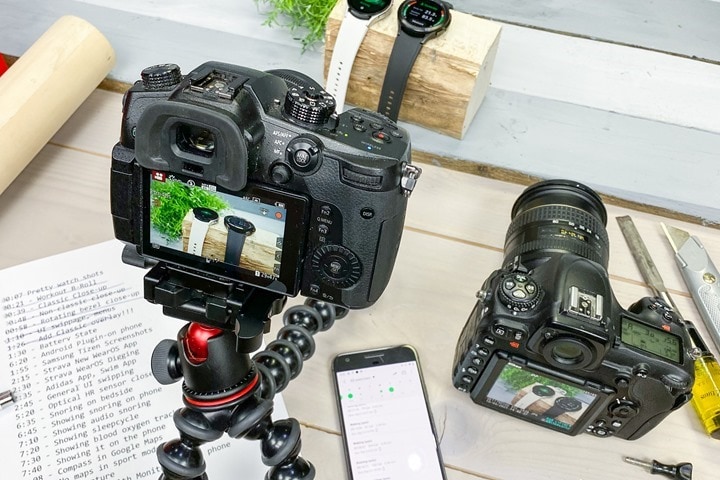 There's almost nothing I hate more in video production than shooting b-roll. Except perhaps integrating said b-roll. But mostly just shooting it. Whereas inversely, I actually enjoy the 'A-Roll' (talking) portion. Mainly because it feels like I'm accomplishing something. Whereas the b-roll portion is just basically trying to go through a long list of shots I need to accompany the talking portion, wherein I invariably still need a few more later.
In any case, that was my Friday evening, and then a bit more later after the kids went to bed. And still a bit more later on Saturday and on Sunday. Because one never has enough apparently.
In actuality, I shot the main portion of this Samsung Watch4 and Watch4 Classic video more than two weeks ago – but have procrastinated since. On the bright side, I have two more weeks of data from wearing it daily, and the data (inclusive of most recent updates) continues to mirror that of my first week of data: Mostly good, except when it isn't. And when it isn't, it's solidly bad – mainly HR giving up, but some GPS wobbles too.
I'll have my video out this afternoon (for realz, I've just gotta do one final voiceover section). And hopefully my written review shortly (inclusive of both Watch4 and Watch4 Classic).
Update – it's out! Watch it here:
2) Peloton Ride
For the most part, on the weekends during P3's nap time, I ride the Peloton Bike (original, non-Plus). Namely because it's entirely silent, but also because it's right on the same level as her. And most importantly, as always: It just works every time. So this time I did a random 45-minute workout and called it done:
I normally/often do power zone workouts on the weekend, but I needed some screenshots of a workout that wasn't power zone for something, so, non-PZ workout it was.
Meanwhile, if I'm doing an evening weekend trainer workout, it'll likely be Zwift or TrainerRoad. If I'm at the DCR Cave it's also mostly Zwift or TrainerRoad, except some days when I'm just feeling mindless, in which case it'll be on the Peloton Bike+, since I don't have to think about it.
In general, while I do weekend outdoor rides occasionally, I don't tend to as much. Given I have the flexibility of this being my job, I do longer outdoor rides on weekdays, so that I can save that time for being with the kids on the weekend. Plus, the bike paths/routes are basically desolate mid-day on a weekday – so that's kinda nice. 🙂
3) Bike Shopping
Saturday afternoon we wandered down to Utrecht to a large bike store to shop for kids' bikes. While our two favorite local bikes shops are great for all my performance bike needs (hardware and service), neither has kids' bikes. And shopping for kids' bikes is mostly a game of having lots of size and color selection. So we went to Mantel, which is a huge bike shop that has a few different locations. In theory they'd have a large selection of kids bikes, but in practice, that was a bit more limited in the much smaller sizes we needed.
However, what they lacked in kids' bikes they made up for in store awesomeness – complete with a test track inside: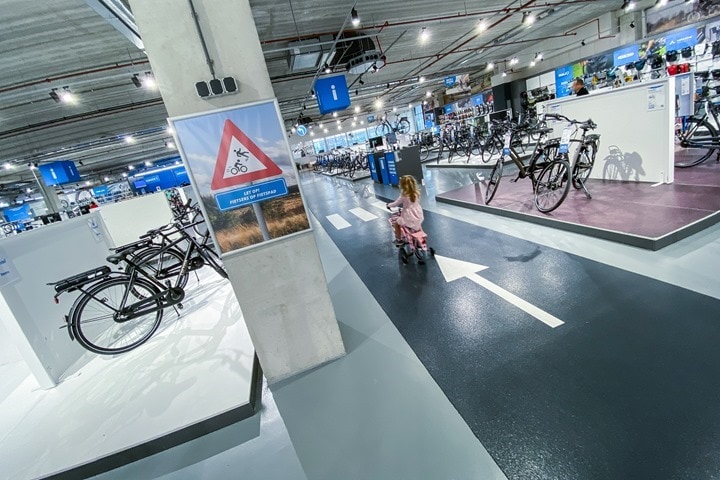 All three kids had lots of fun on this loop, while older kids (and kids at heart) dodged and weaved their way around too. Certainly the loop isn't really designed for doing a full-send on an adult bike, but for kids it works out. Albeit, P2 took one corner a wee bit hot and relocated a portion of a display rack. The bike she was testing for size had training wheels on it, and she's never ridden a bike with those before.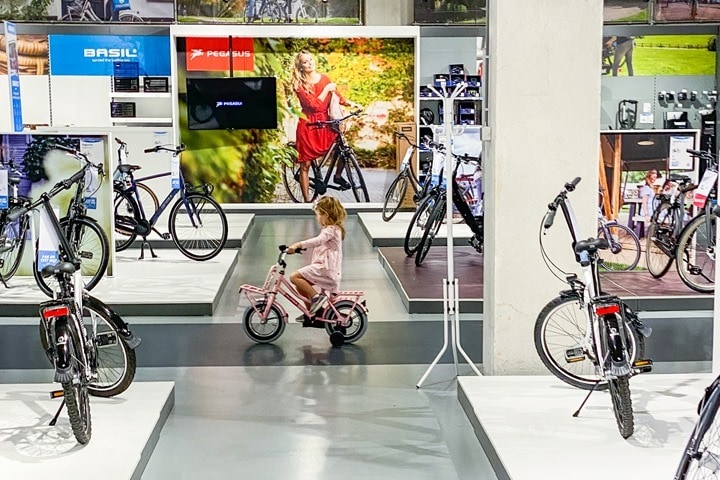 The store also has a very large selection of mainstream bike computers: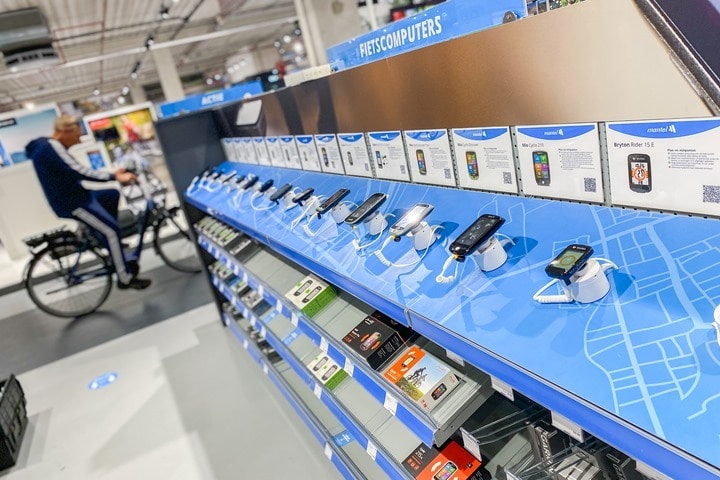 After an initial look at Mantel, we wandered over to Decathalon, and didn't find much in the way of bikes. But I did find severed wrists with no-name watches. This is the only pic I took inside the store. I love Decathalon for lots of things, but like most places, their selection of bikes these days was sparse.
So back to Mantel we went!
They had all three major indoor smart bikes: Wahoo KICKR Bike, Tacx NEO Bike, and Stages SB20 Bike. Though, lacked a Wattbike ATOM (likely because Wattbike is mostly self-distribution). Also, you could ride an Elite Suito-T box (the Suito-T is simply a Suito without the cassette pre-installed).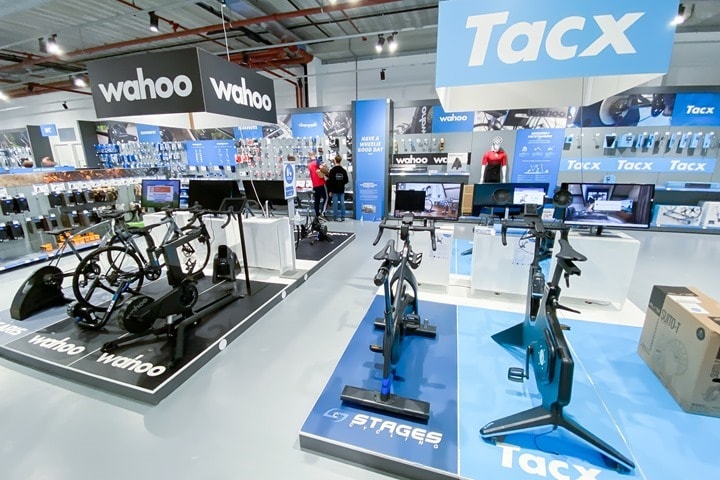 I was surprised to see the Saris H3 on the test station too (far left). Mostly because I can't remember the last time I saw a Saris trainer on-display in a bike shop around here. For whatever reason, Wahoo & Tacx marketing seem to do a much better job at getting bike shops to create Zwift stations in their stores.
In any case, P2 picked up her new bike.
And P1 has to wait for it to come in stock in a few weeks (hopefully). P3 tried many bikes herself: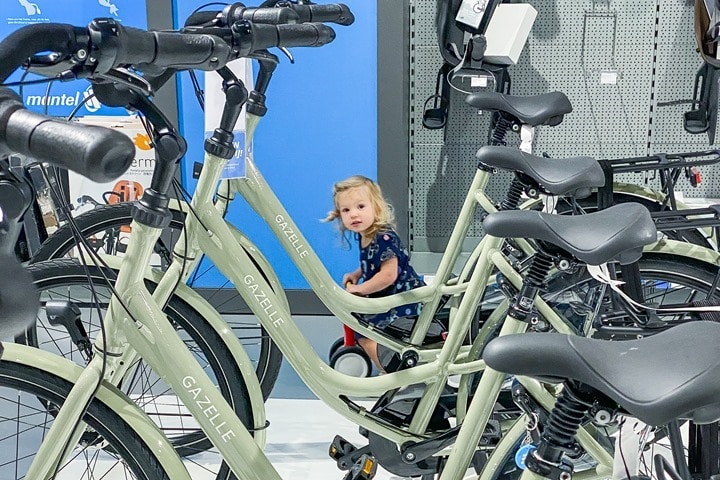 But she has an entire fleet of bikes she can utilize for now at home.
4) Pizza Oven By Bike
For those that have been following along on Instagram the last few weeks, you'll know that a pizza oven acquisition has occurred. Granted, there may be some (additional) strings attached to it from The Boss, but hey, it's here! DesFit and I even brought it on our Eurobike RV trip two weeks ago – and made roadside rest stop pizza too!
After unloading it from the RV rental, it had been at the DCR Cave. So P3 and I made a quick trip down Sunday afternoon to relocate it back home for dinner. She was pretty excited about it, and alternated between petting it and doing a dance the whole way home.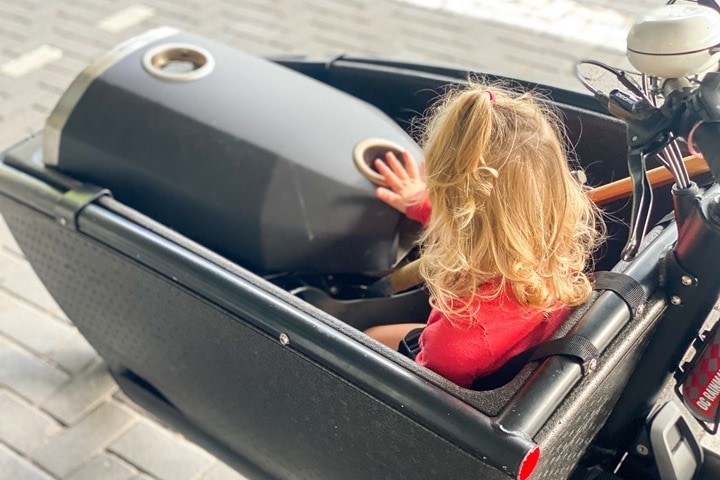 I'll have a proper review on it later, but, I specifically bought the Ooni Fyra 12, which uses little wood pellets. While there were gas ones (with an extra accessory), that started increasing the price pretty quickly. Plus, I've already got a gas grill + pizza stone, thus going gas would somewhat duplicate there. Here's a photo from a different evening, since I took no wide-shot pictures of it last night: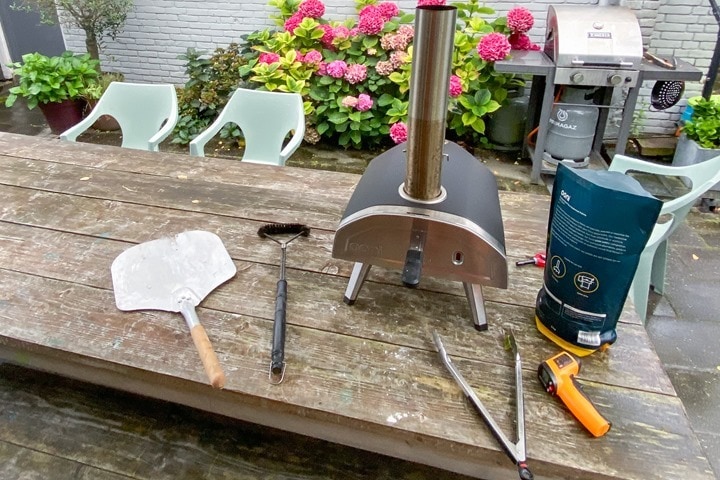 I just took fire pictures last night, cause obviously, fire pictures are the best kind of pictures.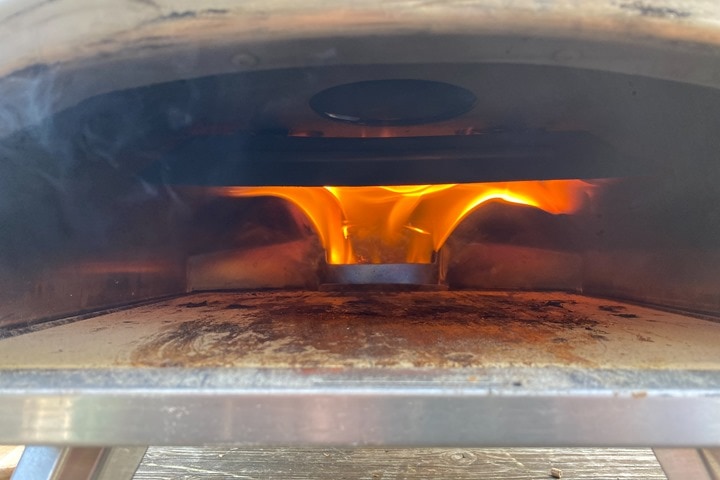 So far, it's silly easy. I've both made dough as well as bought dough. For this weekend it was a last-minute decision, so I went with store-bought dough, versus previous pizza evenings have been with homemade dough. Sorta like making fresh pasta at home, making the pasta/dough from scratch is a great weekend activity. But for a weeknight dinner with kids, having a reliable pizza dough from a store saves a bunch of hours – as getting the oven up to temp only takes about 15 or so minutes. Plus, it gave me an excuse to buy another infrared thermometer – like socks, one can never have too many of those around.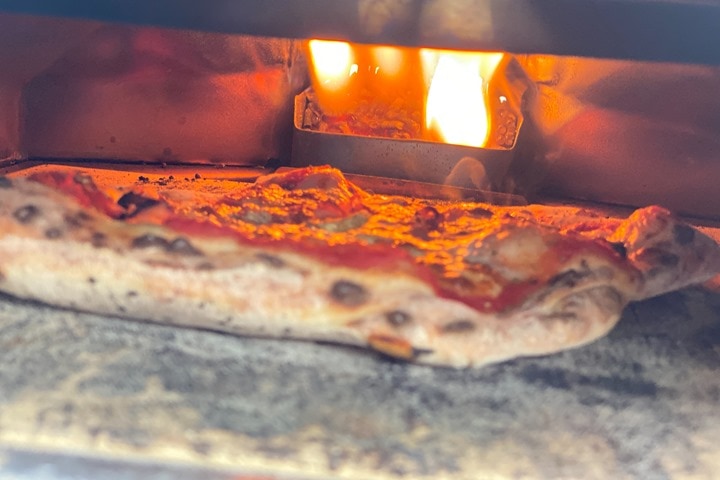 Also, I entirely forgot to take pictures of any of the pizzas coming out this time. Though, I can say there were zero accidental calzones – so that's a solid improvement!
5) Late Night Unboxing
After pizza time, it was back down to The Cave for some quick late night unboxing. As is often the case, September is busy around these parts, and the timing of product reviews and wrist real-estate is carefully choreographed. One device gets the boot, another goes on. More on that specific later.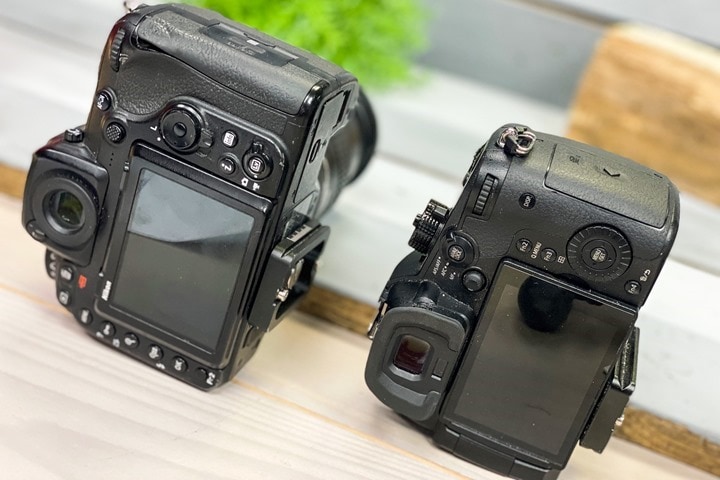 I find shooting dual-cameras is the easiest here, as I just go back and forth as I work my way through the box. I use a Panasonic GH5 for the video side, and my trusty but well aged Nikon D500 for the photo side. Sooner or later the D500 will die, and then I'll have to decide which camp I want to move towards going forward. Until then, I'll just keep on clickin'.
With that – thanks for reading, and stay tuned for what's looking like a very busy remainder of the month, inclusive of this week.