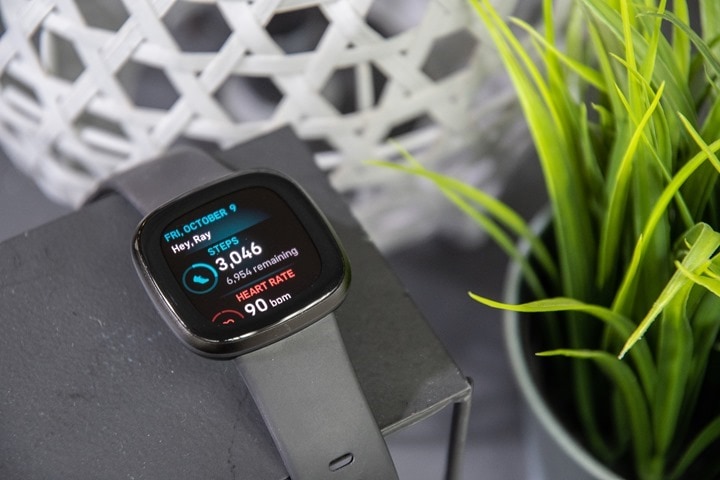 While the Fitbit Sense earned all the news back a few weeks ago for its pile of new health sensing features, the reality is that the company will probably sell more Fitbit Versa 3 units than Sense units. And the Fitbit Versa 3 is essentially a Fitbit Sense that's $100 cheaper, minus a couple of features you probably won't use very often after the novelty likely wears off (namely, ECG and EDA scans). After finishing my In-Depth Review of the Fitbit Sense, I  switched it out for the Fitbit Versa 3. So I've got a pretty good feel for how they differ…and where they're basically the same watch.
The Versa 3 adds built-in GPS compared to the previous Versa units, plus a handful of health tracking features/metrics (that are also now rolling out to previous versions), but the Versa 3 gains the polish of the latest version of FitbitOS. And probably more meaningful to some are the additional phone and text capabilities slated to come this winter, as well as Google Assistant integration later this year.
In this review I'll dive through all the new features, what works well (and doesn't), and help you decide whether or not this is the right unit for you. In the case of the Fitbit Versa 3, I went out and purchased it myself. So if you find this review useful, simply hit up some of the links at the end of the post. Or, consider becoming a DCR Supporter. With that – let's cover all the newness.
What's New: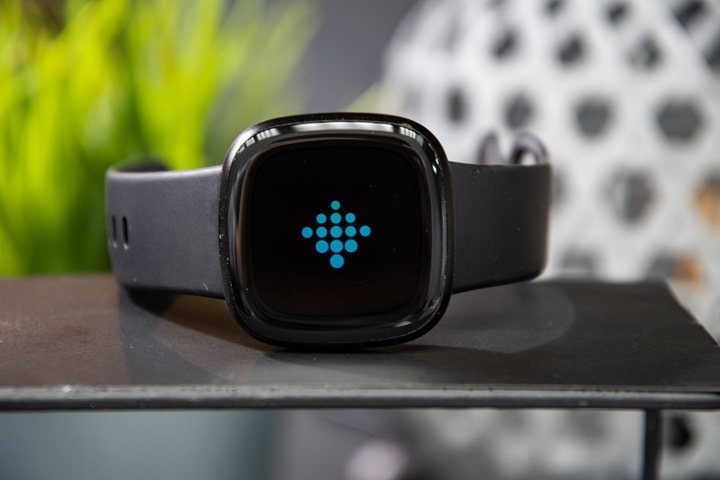 To consolidate all the marketing stuff down into actual new features, here are the differences between the Fitbit Versa 3 and the existing Versa 2. Keep in mind there are a handful of features like the SpO2 watch face that are also being concurrently rolled out to the Fitbit Versa 2. So while it was announced with the Versa 3, the Versa 2 gets access too now. Same goes for the breathing rate, HRV, RHR, and Skin Temp, Woot.
– Adds GPS internally
– Added Breathing Rate (per minute), while you sleep*
– Added Heart Rate Variability (HRV) Tracking*
– Added SpO2 Detailed Tracking with watch face (also now available to older units though)*
– Added new PurePulse 2.0 optical HR sensor (new sensor)
– Adding Google Assistant later this year (previously had Amazon Alexa, still does have that)
– Added ability to take calls from wrist using mic/speaker (planned Winter 2020-21)
– New AMOLED display with integrated ambient light sensor
– Display is Corning Gorilla Glass 3, and bezel is polished stainless steel
– Changed accessory bands to have better quick release system
*But wait, it's a bit more complex than that. The Versa 2, Versa, Versa Lite, and Ionic with the Health Metrics dashboard for Premium users now (soon to all users), also have the following now:
– Breathing Rate
– Heart Rate Variability
– Resting Heart Rate
– Skin Temperature
– SpO2
In other words, all the new metrics are also now available on the existing Fitbit Versa/Ionic series watches for Premium users now and everyone else soon.
The differences between the Fitbit Versa 3 and Fitbit Sense are:
– Fitbit Sense adds ECG Functionality
– Fitbit Sense adds New Stress Management Tracking
– Fitbit Sense adds High/Low heart rate notifications
– Fitbit Sense adds EDA Scan app for tracking electrodermal activity
– Fitbit Sense has dedicated ski temp sensor (versus estimated temp in Versa 3)
– Fitbit Sense has minute by minute skin temp variations (Fitbit Versa 3 has less granularity, but still has skin temp variations)
– Also, the Fitbit Sense is a bit heavier due to the ECG & EDA sensors
Plus, things that were on recent Fitbit units are also here as well:
– Music storage built-in (Pandora & Deezer offline, Spotify is still phone control only)
– 24×7 HR Tracking, Steps, Sleep, Sleep Stages, and usual activity tracking
– Always-on Display Capable (but cuts into battery life claims)
– Supports Fitbit OS App Store
– Includes Active Zone Minutes (was rolled out last year in some devices)
– Water-resistant to 50 meters
– NFC Contactless Payments via Fitbit Pay
Also, for lack of anywhere else to mention it – note that the Versa 3 (like the Fitbit Sense) only permits the above music streaming services. You can no longer add your own music to the device (like MP3 files). In the case of Spotify, it's only music control on your phone, not offline Spotify support on the watch.
As for battery life, the company claims 6 days of battery life with the non-always on screen setting selected. And, before we dive too far, here's the full pricing list for the Fitbit lineup this year: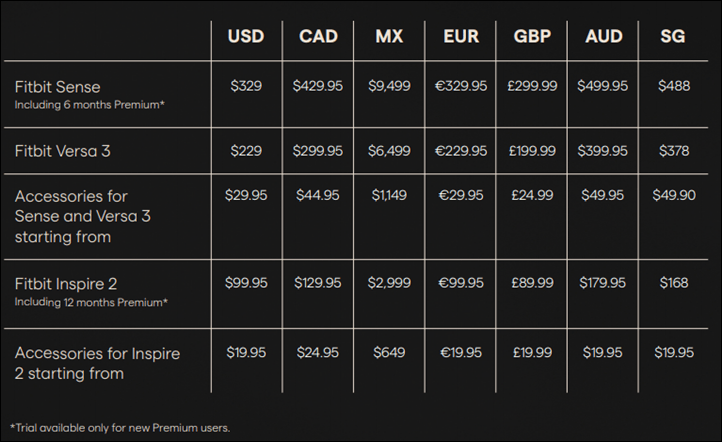 I'll dive into the nuances of the Fitbit Sense vs Fitbit Versa 3 later on, though the TLDR version is just get the Versa 3 if you can't decide. The ECG function launched today for the Fitbit Sense, though I suspect it isn't likely something you'll use often. And the EDA scans are at best questionable. And that's basically it.
Now that the overview of new is done, we'll start with the usual review bits and then dig deeper and deeper in each section.
In the Box: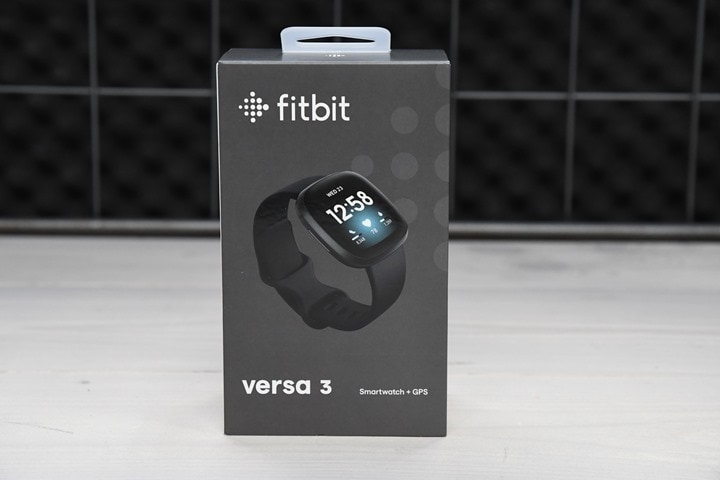 Here's the Fitbit Versa 3 box, which, looks identical to the Fitbit Sense box except that it's a different color. Still, I like it. It's a clean and easy to understand box.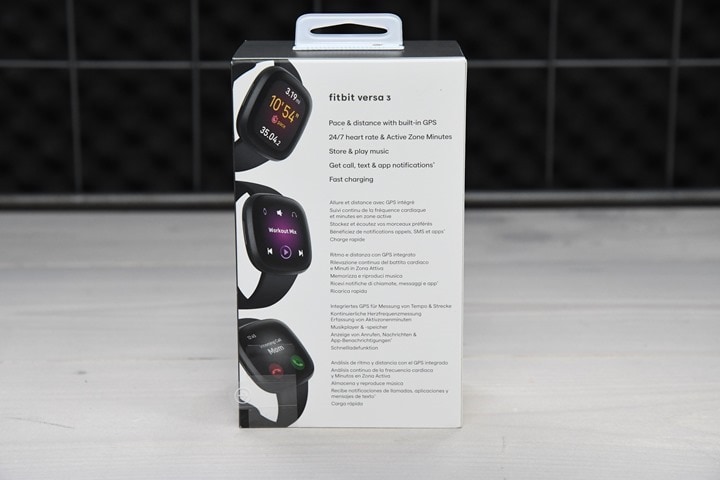 Inside, you'll find both the small/medium and medium/large straps in the box (one is on the watch, the other is detached). So basically you get two straps to cover both sizings. I used the small/medium strap without any issues.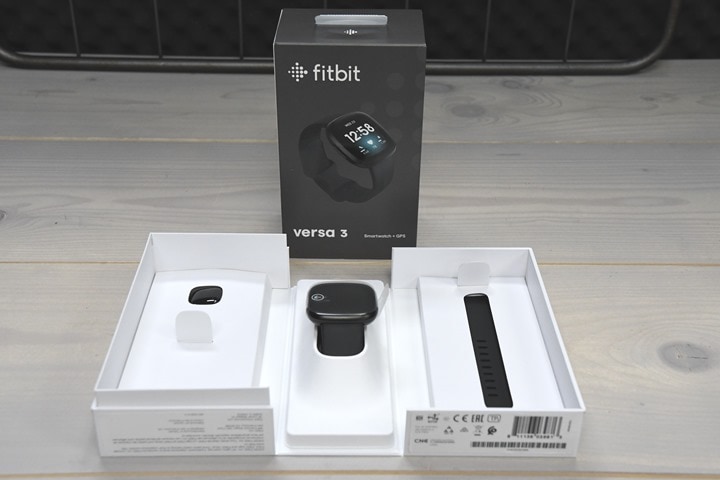 Take all the stuff out of the box and you'll find the charging cable and quick-start manual floating around in there too: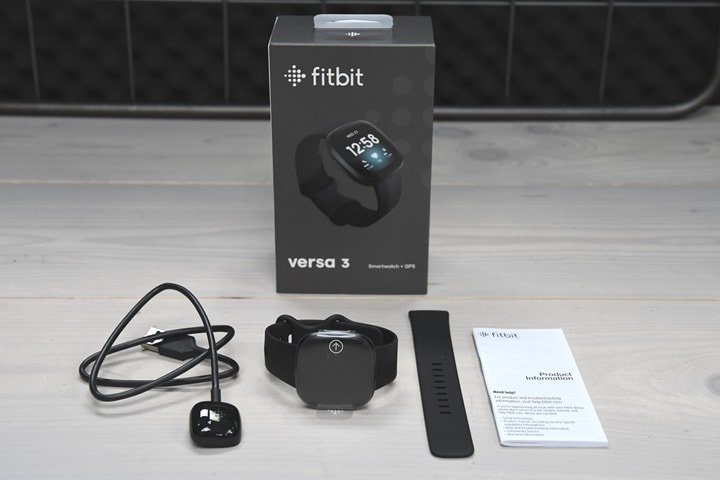 Here's a closer look at the charging cable, which is the same as on the Fitbit Sense. It's a new cable for Fitbit though prior to this fall.
And here's the extra longer strap: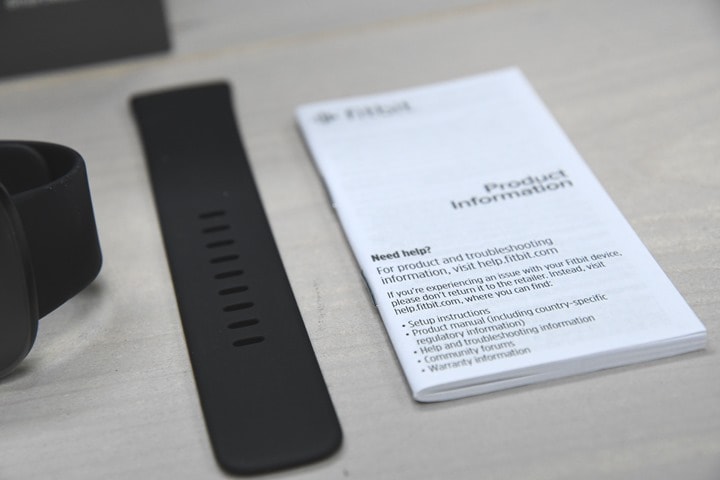 Here's a quick look at the clasp as well as the back of the sensor:
With that, let's get it setup.
The Fitbit Basics: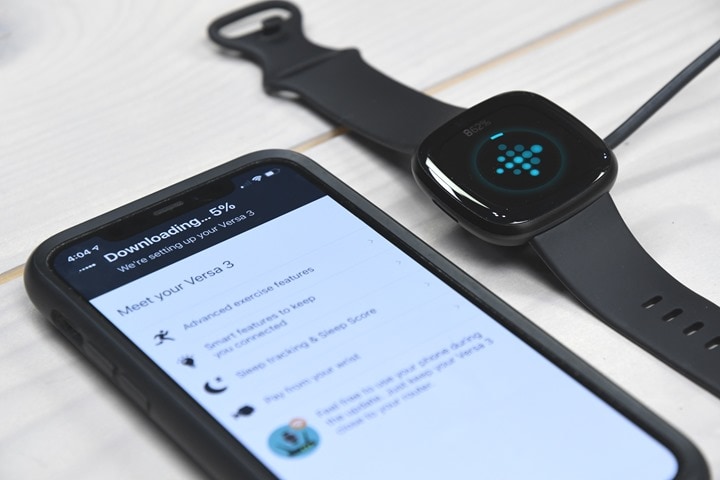 In most ways, the Fitbit Versa 3 hasn't changed appreciably from the Versa 2 in areas like step counting, 24×7 activity tracking, and related aspects. Those all remain basically the same. Which, also remain basically the same as any other Fitbit in the last decade. What has changed here with the Fitbit Versa 3 (as well as the Fitbit Sense) is a slightly refreshed user interface.
Still, if you're new to Fitbit in general, this section will probably be useful. Plus, while there are aspects of the Versa 3 I dislike, the Fitbit ecosystem is still far more complete from an activity tracking standpoint than Apple's is, especially around reporting and social areas.
In any case, starting with the physical pieces, the watch maintains the semi-iconic Fitbit squircle shape (a square + circle). It's identical to the Fitbit Sense in this regard – you'd almost never been able to tell them apart unless looking at the back of them. Sure, some people might think of it as Apple Watch-esque in terms of bezels and such, but I think for the most part it's unique.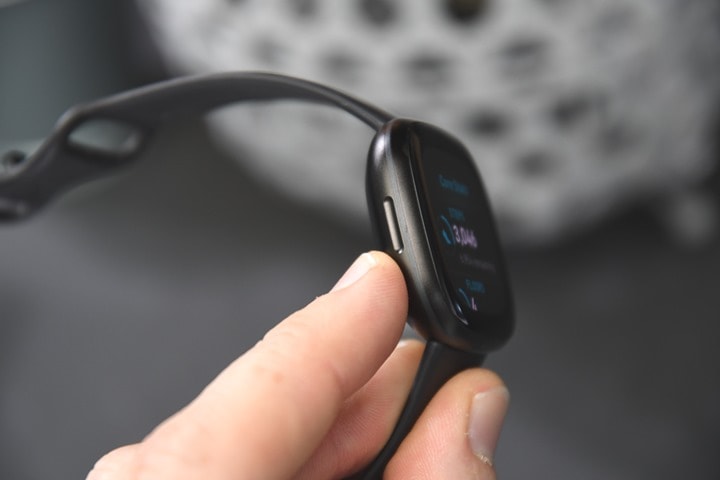 On the left side there's a small indent, which is actually a hidden button. As I said in the Sense review, I've found this button largely awkward, namely because it's on the underside/lower portion of the watch, so you have to reach under the lip of the watch to use it (preferably with your other index finger, but potentially your thumb works too).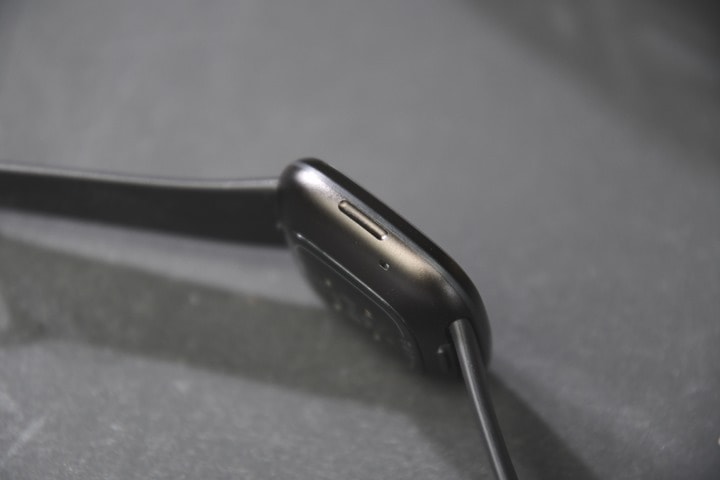 Some people got all upset about my comments about the horribleness that is the Fitbit Sense hidden button last time. Saying I was doing it wrong and such. And then people's units arrived, and they all basically said some variant of the same thing: It's not awesome.
And now 2-3 weeks-on using either the Sense or Versa 3 (with its hidden button), and my opinion is basically the same: It still sucks. Except, I simply subconsciously interact with the watch less, since I know most interactions with it usually result in some failed press/tap/swipe/touch. As it did with the Sense. Thus, here's my bet for 2021: The button comes back.
I can virtually guarantee it will. Fitbit will put on a strong face now, but the feedback is overwhelmingly against it (I know, 12 people do apparently like it).
In any case, moving along. The stock band on the Fitbit Versa 3 is non-awesome. As I noted in the Sense review, it's basically this half-Apple Watch sport style band, and half not. Which ends up just dragging the hairs on your wrist into the clasp and making a mess of things. The good news is you can spend money on other Fitbit bands to resolve that issue.
On the back is the new PurePulse 2.0 optical HR sensor, which is also identical to that on the Fitbit Sense.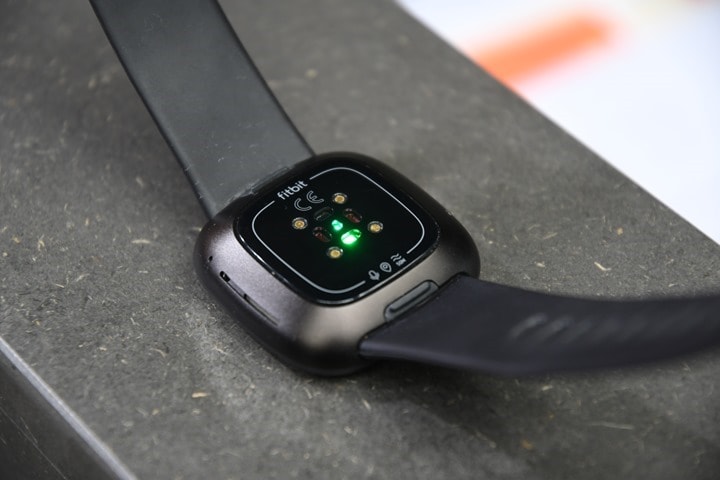 The only differences though between the sensor suite on the Sense and the Versa 3 is that the Sense also has a skin temperature sensor nestled in there, as well as the ECG connectivity on the bottom (plus one on the watch face). But from a heart rate standpoint, it's identical. At left below is the Versa 3, and at right is the Fitbit Sense.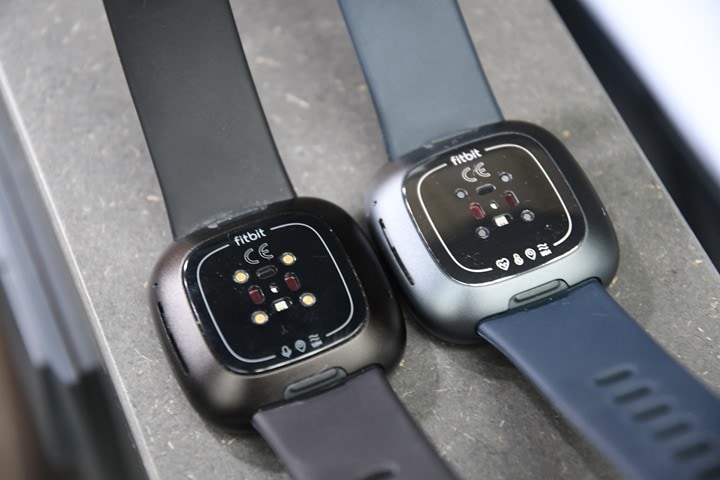 The Fitbit Versa 3 sees aspects of the user interface refreshed a bit, though, all of this is built atop FitbitOS. The changes aren't major, but minor user interface updates that clean things up a bit – which look good. To begin, you can swipe-down to access smartphone notifications, or swipe from the left to access the control center:
With the smartphone notifications you can't respond when on iOS due to Apple limitations (though my understanding is on Android you can respond). But you can dismiss them. And then sometime this winter you'll be able to answer calls on the Fitbit Versa 3 by using the microphone in the watch if your phone is within range. Note that there's no cellular connectivity inside the Versa 3.
Next, you can customize watch faces within the Fitbit smartphone app. There are lots to choose from, both from Fitbit itself and 3rd parties. And once I no longer need the SpO2 watch face, I've definitely got my eye on that Moose Elk Large Fuzzy Animal one below. After all, Canadian Thanksgiving is coming up next week…
In my case, I was primarily using the Fitbit SpO2 watch face, since that's what's required to get SpO2 readings into the Fitbit Versa 3 at this time. Though, Fitbit says later this year that functionality will get rolled into the native watch firmware, so you can actually use whatever watch face you want.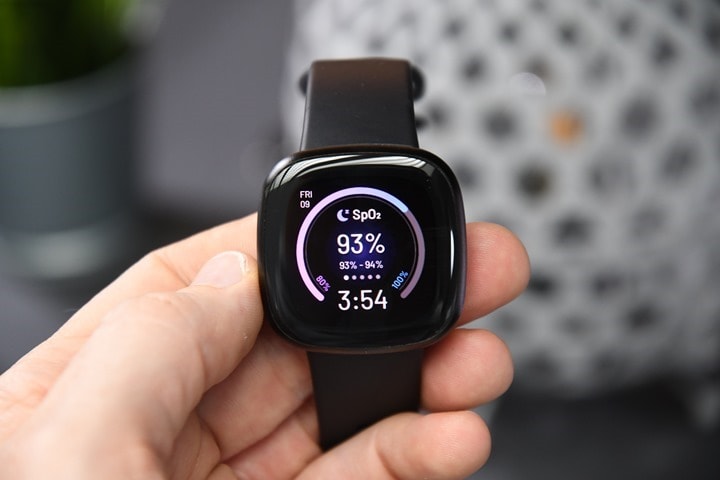 To access apps on the Versa 3 you'll swipe from the right. Within a Fitbit smartwatch, everything is essentially an app. So for example, going and doing a workout means you open the Exercise app up. And it's here that 3rd parties can also get into the game, such as a Starbucks app or such. There's plenty of apps out there, but in general most of the apps on the Fitbit platform are pretty limited. That's of course true on many wearable platforms, but I feel it's especially true on Fitbit.
Being a Fitbit, the main thing you're gonna want to do is track your daily activity. And the dashboard for doing that on a Fitbit is one of the best out there. There's basically two ways you can access that. The first is by swiping upwards, which shows your core stats – things like steps/calories/distance/floors, and active zone minutes, as well as the progress towards your goals each day: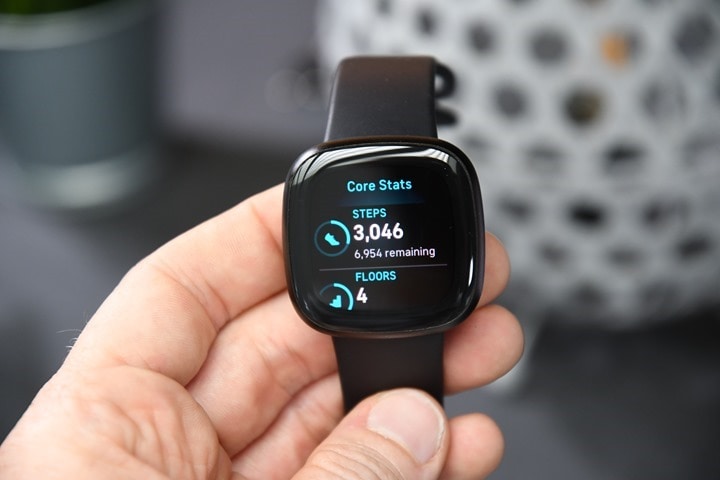 The goals can be defined within the Fitbit app for most of the core categories.
The second way to view the data is via the 'Today' screen/app, which shows a bunch more data including sleep, heart rate, hourly activity, weight tracking, and more.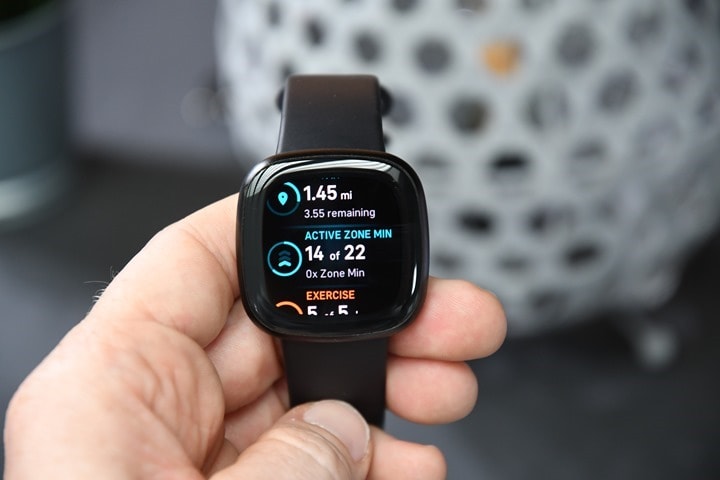 Of course, all of this is available via the Fitbit app too, where you can dig well beyond just today's stats, into historical stats.
For example, you can see your trending of steps (or any other metric like heart rate or floors), for days/weeks:
I've always liked the Fitbit presentation of daily heart rate (24×7), as it makes it easy to see the day over day trends atop each other.
Sleep data is also compiled in the app in a similar manner. The unit will automatically track both nightly sleep as well as naps. In fact, you can see a nap on the charts below. You can also see a break-down of the sleep phase/stage data, as well as a sleep score.
I've found the Versa 3 to be pretty darn accurate in terms of the time I go to sleep/wake up. As far as sleep stages/phases go – that's a bit tougher to know without fancy medical gear.
You can however see that sleep data on the watch itself:
Finally, a brief note on battery life – it's pretty much right where Fitbit says, I'm seeing about 5ish days with GPS activities in there. Also, on charging, I find it takes roughly an hour to complete a full charge. Yesterday I went from 8% to 92% in an hour +/- 5 mins.
Now, let's dive a little bit deeper into some of the health metrics pieces.
Advanced Health Features/Data: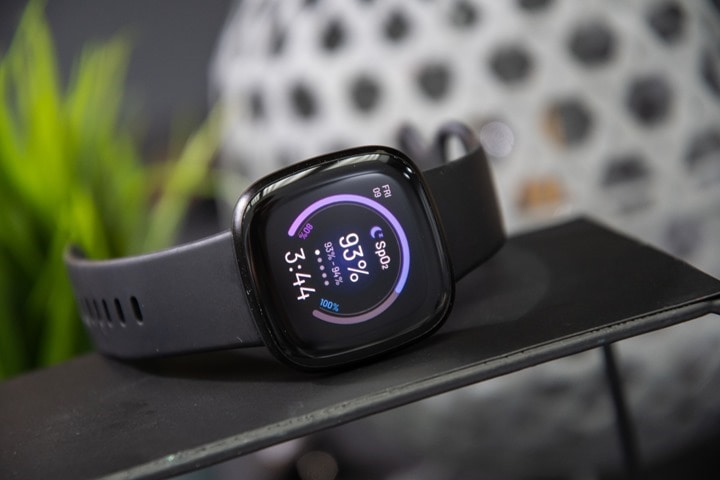 There's a lot of questions on which features are in the Versa 3 compared to the Fitbit Sense, so while I wrote a similar section to this in my Fitbit Sense review, I'm going to revamp that here for the Fitbit Versa 3, so you can see *exactly* the data you're getting with the Versa 3.
At a high level, the key differences between the two watches are:
– Fitbit Sense adds ECG Functionality
– Fitbit Sense adds New Stress Management Tracking
– Fitbit Sense adds High/Low heart rate notifications
– Fitbit Sense adds EDA Scan app for tracking electrodermal activity
– Fitbit Sense has dedicated skin temp sensor (versus estimated temp in Versa 3)
– Fitbit Sense has minute by minute skin temp variations (Fitbit Versa 3 has less granularity, but still has skin temp variations)
Both watches leverage the newer 'Health Metrics' dashboard, which has expanded details for Fitbit Premium users (paid subscription service). It's here you can see your breathing rate, heart rate variability, skin temperature, and SpO2 data. I'll go through these individually, and also point out some minor nuances to the SpO2 data that you get on the Sense/Versa 3 with and without the watch face.
Now one final bit of complexity is that two weeks ago Fitbit announced that all users will get the new "Health Metrics Dashboard…for free in the coming months", which was/is a Premium feature. So as of this very second, some of the things you see below in-depth aren't on the free version, and some are. Getting exact clarification there is tricky.
In any event, if you crack open the Fitbit app and look at the Health Metrics dashboard, here's what you've got. First up, is the breathing rate chart. This is one that's been heavily looked at by many wearables companies in the COVID19 era as a key indicator to watch (specifically a spike in breathing rate). But, it's also been practical before that, with other companies implementing it.
Like all these metrics, Fitbit doesn't really tell you what to do with this data, nor make any medical claims or suggestions. They basically say 'here's some data'. And with the Fitbit Sense, that sorta annoyed me. You're basically paying an extra $100 for all this extra data without any indication what to do with it (and, aspects like EDA were incredibly confusing). With the Versa 3, at least you're not paying extra for the added ECG/EDA data since you're not getting it. So my annoyance is slightly less here.
Next, after Breathing Rate, there's HRV – heart rate variability. This commonly used metric is the basis for the vast majority of higher-end wearables recommendations systems. Companies like Garmin, Polar, Whoop, and others all base specific recommendations data on it.
In the case of Fitbit, no recommendations come from it, so it's basically just…extra data points. The data shown here is the average HRV value each night.
Next, there's skin temperature. Or more specifically, skin temperature variation. This is a good example of where things differ between Versa 3 and Sense. Both show the nightly metric (at left with Fitbit Versa 3), but only the Sense shows the actual minute by minute line of your sleeping skin temperature shifts (at right with Fitbit Sense):
As I noted in the Sense review, it was interesting to match certain nights with room temperature shifts (like, when a window was opened two nights). But beyond that, I'm not terribly certain what to do with the data.
Next, there's SpO2 measurement. At present this requires the Fitbit SpO2 watch face to be enabled in order to get SpO2 data, which is only collected while you sleep (unlike other wearables which can take values whenever you want). Note that while there are many potential uses for SpO2 in medical settings, and at high altitude – there's far less data on how to actually use it with general day to day life. And Fitbit notes clearly this isn't an approved medical device.
Now, when the first slate of reviews (including my own) came out for the Fitbit Sense, Fitbit got slayed for the stupidity and annoyance of having to use a finicky watch face (excluding the use of other/better watch faces). And my testing here of the Fitbit Versa 3 found the same. The first three days the SpO2 watch face wouldn't work at all. And then you can see in the charts above two other days where it failed also. And then one day it stayed stuck on trying to read my SpO2 values all day long.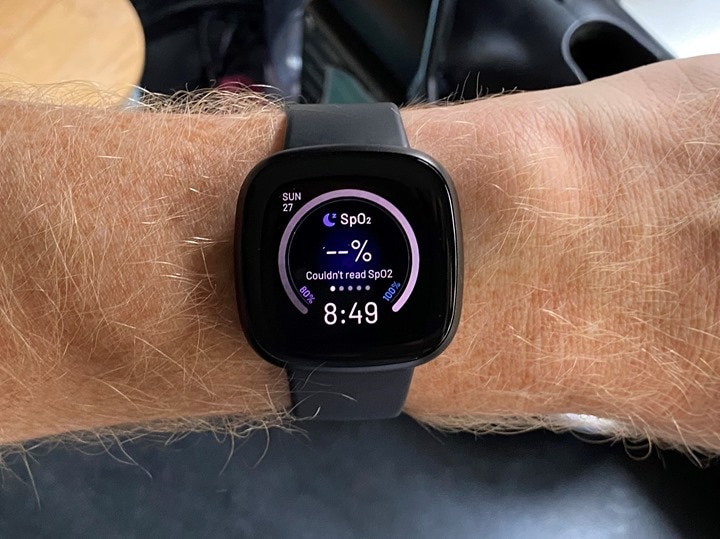 It's a hot mess.
On the bright side, as a result of the torching by almost every reviewer, Fitbit has announced that sometime later this year they're going to pull that functionality into the watch natively, so you won't be dependent on the watch face. Whether or not that solves other technical issues we'll have to see.
As far as overall accuracy – I don't know. But given I live at sea level and am pretty darn healthy by most accounts, it's pretty unlikely my SpO2 reading floats at 92-95%. The Apple Watch and Garmin watches peg me quite a bit higher. In the case of Fitbit, you'll see this data on the watch face all day, from the previous night: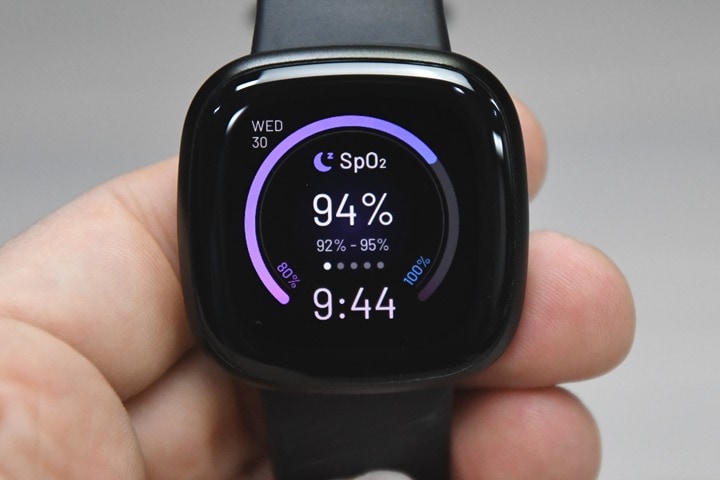 Also, I've seen some confusion on the SpO2 watch face versus the SpO2 variation. The difference is without the watch face you'll only get SpO2 variation (seen below left), but with the SpO2 watch face you'll get the exact amount each day (seen below right).
Finally, there's resting heart rate. I've long talked about the value of this for endurance athletes, but also really anyone else. Essentially I like to track RHR as an indicator for when I might be far too fatigued or perhaps getting sick.
That said, I do find that (for years) Fitbit's algorithms tend to place my RHR values pretty darn high. Given I can easily sit down on the couch right now and pull a 45bpm RHR spot-check, it's curious to me that they lean much more heavily towards the mid-50's for me.
In any case – there's lots of data here to look at, but by and large you won't get clear guidance on what you should be doing based on that data. I'd think that's kinda sorta why you'd pay for Fitbit Premium, but I haven't seen any clear 'Do this now' type guidance in there based on any of the advanced health/sensor metrics.
Sport Usage: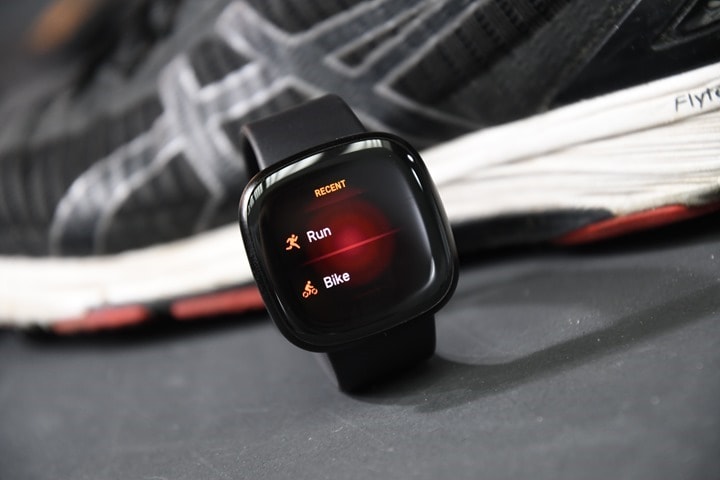 The Versa 3 has two ways to track a workout. The first method is by just letting the watch automatically decide when you're doing a workout after crossing a certain threshold, such as 15 minutes of cycling. That's what I use each morning for dropping off the kids by bike. I don't bother to start a GPS activity, but it tracks it as a cycling activity behind the scenes (sans-GPS track, which is fine).
The second option, and the one you're gonna wanna use if you want to review all the details since it includes usage of the now incorporated GPS chip, is by going in and starting an actual workout under 'Exercise', within the Fitbit apps.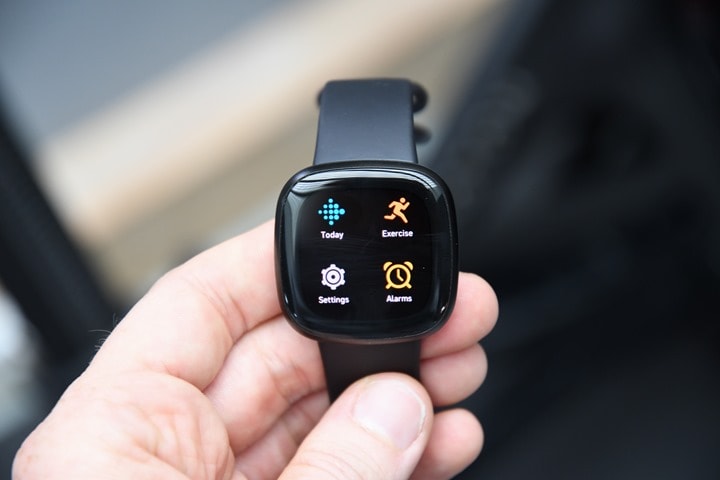 Once launched you'll choose a specific sport mode, like cycling or running or yoga. Some of the modes have GPS enabled, while others are simply for indoor use. Depending on the mode, the metrics will differ of course (such as with pool swimming). Most of the indoor ones are basically just collecting heart rate sensor data (and calories/zone minutes too).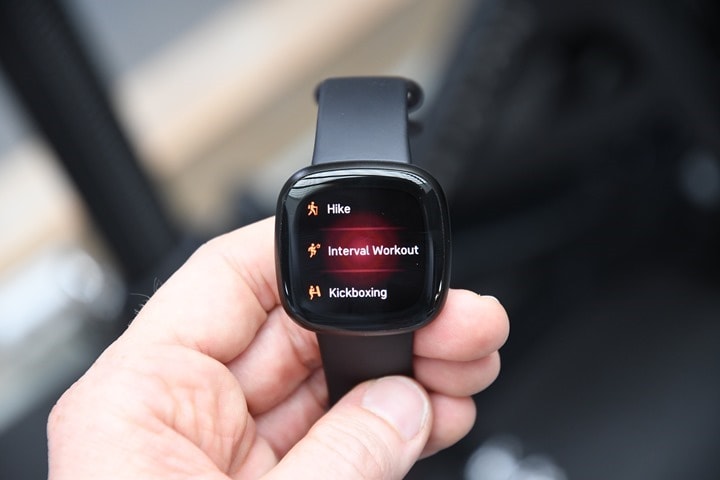 From a sport selection standpoint there's: Run, Bike, Bootcamp, Circuit Training, Elliptical, Golf, Hike, Interval Workout, Kickboxing, Martial Arts, Pilates, Spinning, Stair Climber, Swim, Tennis, Treadmill, Walk, Weights, Workout, and Yoga.
After you've selected a sport, you can customize various aspects of it. This includes things like the exact metrics you want displayed (on a three-panel data field, which you can tap to iterate the middle metric). None of these are super-advanced metrics, but they are the core metrics you'll likely want (Elapsed Time, Distance, Pace, Pace Average, Heart Rate, Calories, Steps, Time of Day, Lap Time, Lap Distance, Active Zone Minutes).
You can also tweak settings like auto pause (so it pauses recording if you stop at a stoplight), as well as auto lap and GPS enablement.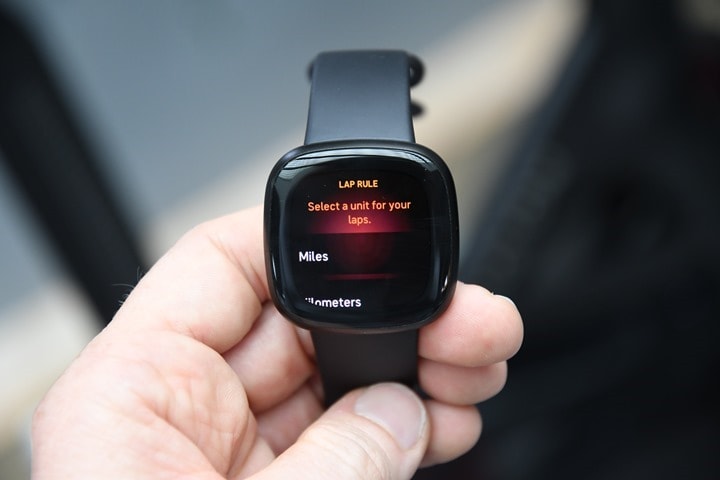 While you won't see anywhere as much sport-specific customization as you would on a sport watch from Garmin/Suunto/Polar/COROS, you will see slightly more than you'd get from an Apple Watch with the default app.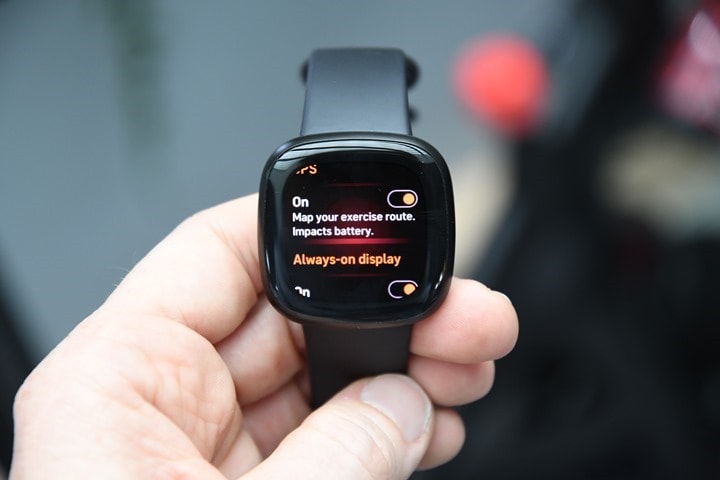 Remember that the display being on/off is configurable within the settings, as is brightness too. I used both the dim and normal modes for all my runs and even on bright sunny days I didn't have any issues seeing the screen. Taking photographs was tougher, but that's often the case with AMOLED displays while running. Again, you can iterate the middle metric by simply tapping on the screen, which mostly worked even in wet runs. Not perfectly, but mostly.
Moving along, assuming you've selected an outdoor activity – then you'll get a confirmation once GPS signal has been locked, indicating you're ready to start the workout.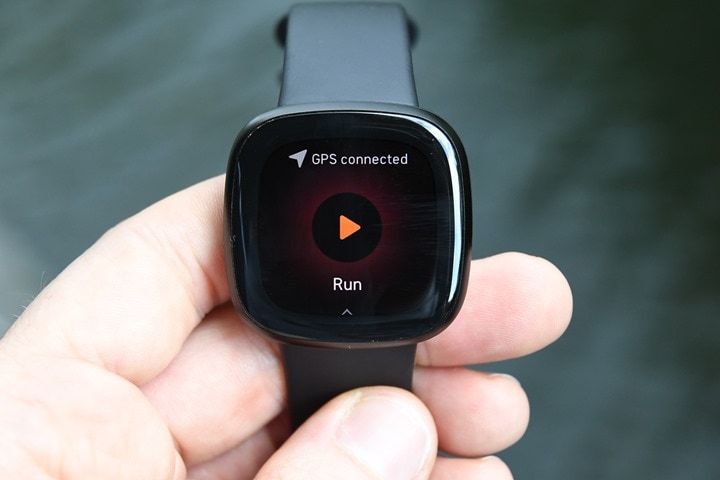 As you're working out you'll see the upper and lower metrics stay the same (the data updates obviously, but the field doesn't change). Whereas the middle larger metric you can change by tapping.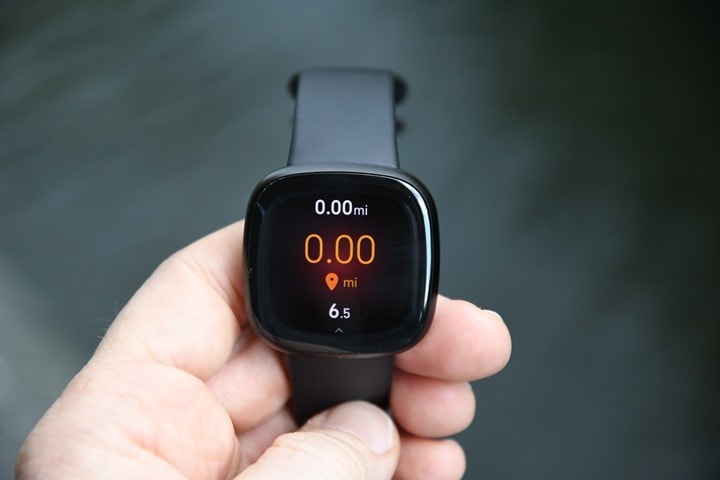 After you're done with your workout you'll get a summary of your workout details. It's not fancy, and is on the lower end of what most companies do these days – but hey, it's there.
Back in the Fitbit Charge 4 era they introduced the concept of Active Zone minutes and Intensity Zones. Essentially this is partially a rebranding of the American Heart Association and World Health Organization's goal of 150 minutes of exercise per week. Other wearables have long done this based on the same 150-minute goal. These Active Zone minutes are based on a combination of age and heart rate, whereby in higher (more painful) zones you get more minute credits than in lower zones. It's like earning frequent flyer miles, whereby more expensive tickets get more miles. Here's an example chart from that support page explaining how it works:

I don't think it's a bad concept, and that segues right into the next bit which is the Heart Rate Zone definitions. You'll see these zones in numerous places throughout the device, usually next to that triple-up-arrow icon you see in the chart above (which means Active Zones). For example, while in a workout you'll get notifications each time you change zones. You can lightly customize the upper and lower bounds of the more intense zones within settings on the app (tap your profile pic in the app, and scroll way down for like 5 years to Activity & Wellness, then Heart Health).
(As an interesting side note, the Fitbit Versa 3 doesn't offer high heart rate notifications like the Sense does – something I noticed as I was digging into this page compared to my Fitbit Sense review.)
You can also see the zones within the Fitbit app afterwards looking at your workout summary information. This includes pace or heart rate zones, which is pretty cool, and was introduced last spring. So cool in fact that in recent weeks we saw Garmin, and just last week Strava, mirror this functionality in their smartphone app.
In the app you can also look at pace splits for laps (even on the map), as well as other metrics from your workout:
And then if you've got Strava or other 3rd parties apps connected, it'll automatically sync those to it (except indoor workouts, only workouts with GPS get data synced).
Now as you've seen elsewhere in the review, aside from the new health features, there hasn't been much changed for other aspects (including sports). So if you're looking for changes like adding support for heart rate straps or cycling sensors, those don't exist. Which is unfortunate, because Apple supports heart rate sensors – which, spoiler, given the accuracy of the Fitbit Versa 3 optical HR sensor – they should seriously consider implementing as well. Also, it won't broadcast out to 3rd party apps/platforms, so if you have a Peloton bike for example, the Fitbit won't connect to that directly for heart rate (though, you can connect the Peloton workouts to upload to Fitbit):
Of course, the challenge with that as you can see at left above is that basically I get two workouts, one recorded on my Fitbit Versa 3, and one recorded from Peloton (using a chest strap).
Nonetheless, for most sport usage in terms of getting basic information about your current distance, pace/speed, or similar metrics, the Fitbit Sense does so in a fairly easy to understand manner. If you're looking for features like complex structured intervals or navigation/routing, this isn't really the watch for you sport-wise.
GPS & Heart Rate Accuracy: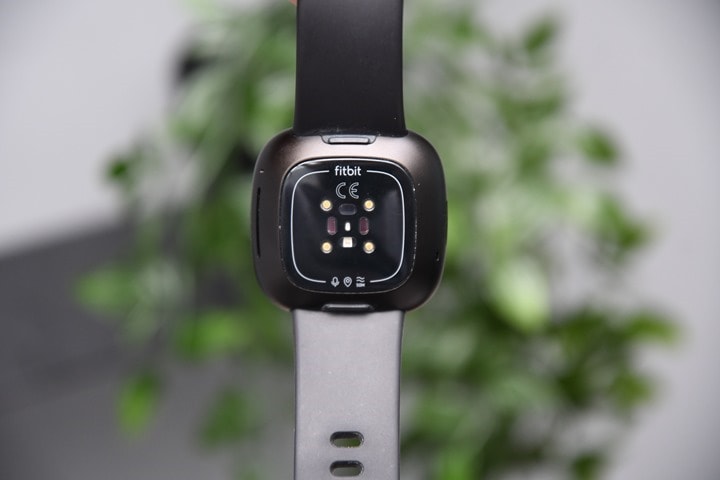 For better or worse (definitely worse), the Fitbit Versa 3 shares the same optical heart rate sensor as the Fitbit Sense. So, if you've read my Fitbit Sense review's accuracy section, you know how this story ends. But since then, Fitbit has dug into my Sense data quite a bit (as well as my Fitbit Versa 3 data) to see what's up. So, you can skip all the data here if you want and just read this summary section, which would be that I find the Fitbit Versa 3/Sense heart rate sensor accuracy not good at all, whereas the GPS accuracy is mostly just fine.
So why the bad accuracy on the Fitbit Sense/Versa 3? Well, I had an entire conference call with them about it, with their engineers digging into it. And in short, it's me. As a human. I'm broken. However, not my testing, nor my device. Just me.
The official statement is as follows:
"We test our devices across a wide variety of people of different ages, races, sex, skin color, and weight to ensure they work well for our users. While a majority of users will experience better heart rate tracking on Versa 3 and Sense when working out, results can vary from person-to-person. Everybody is unique, however there are many commonalities, and many factors can contribute to different experiences for individuals, including fitness level, lower than average resting heart rate, and how you move. We are working toward identifying what makes your data unique relative to our broad testing panel." – Fitbit
To distill that down to likely the most important parts, it's these two – "including fitness level, lower than average resting heart rate".
I get it, they've completed a ton of testing/validation and concluded that this sensor works best for most people compared to the previous sensors. And, I wouldn't mind if the new sensor was only 'slightly' worse than the original one for me. But unfortunately, in my case I'm seeing drastically worse data. As a result, this sensor doesn't work as well on me. And for some of the other fitness-focused reviewers that have provided actual data, the results are pretty mixed at best.
In any case, let's look at some data – because while I can simply tell you that it's bad, it's better to look at comparative data instead.
To begin, we're actually going to go with an outdoor Vo2Max test I did earlier this week, taking a look at both HR accuracy and GPS accuracy. For GPS accuracy, the test started off mostly in the trees for the warm-up, since GPS accuracy was less important at that point in the test. This is compared against a Garmin FR745 and a Polar Vantage V2. Here's that data:

At a high level we see some slight differences. So zooming into a few spots during the warm-up we see some slight variances from all three. In general, the FR745 is on the path the most, with the Vantage V2 close behind, and the Fitbit Versa 3 a bit more variable but still not too bad.

As we hit the straightaway (but under tree cover), the Polar and Garmin are pretty much a wash, whereas the Fitbit is generally off deeper in the trees picking mushrooms or something. To be fair, mushrooms seem like a better life choice than a Vo2Max test.

Making a 90° turn, the Polar nailed this one, with the Garmin & Fitbit devices undercutting the turn.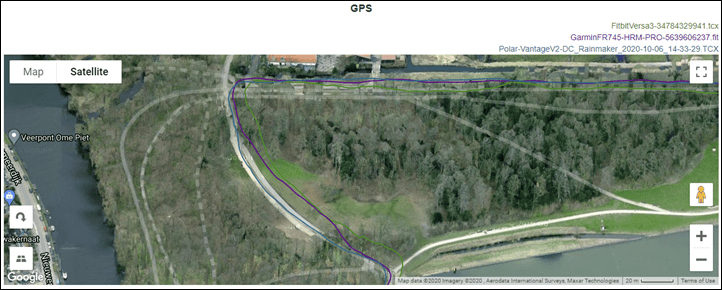 However, after that point in the wide open bike path with nothing on either side, the Polar was off by quite a bit – more than a two-lane roadway away, the Garmin spot-on, and the Fitbit just very slightly off by perhaps 2 meters.

Meanwhile, taking a look at the HR accuracy during that run tells an oddly similar story. The Fitbit Versa 3 is plotted in green below, against a Polar OH1 optical sensor on the bicep, a Garmin HRM-PRO chest strap, and a Polar Vantage V2 GPS watch on the other wrist.

As you can see, the HRM-PRO had the most correct and gradual build-up of data at the beginning, but the optical HR sensors were too far behind in general. Both the Fitbit and Vantage V2 watches had trouble at the 6-minute marker when I did a short warm-up sprint, losing tracking entirely in the case of the Fitbit. Which happened again with another sprint at the 12-minute marker.
Below, the slight stutter from the purple line of the HRM-PRO was simply me adjusting it at the 3-minute marker. It's been interesting to see how much more visible the adjustments of the strap is on the HRM-PRO than other chest straps.

For the most part for the first 10 minutes the units are fairly close, however, as the intensity of this run increases, the Fitbit Versa 3 optical HR begins to fall apart. If you look below you can see the Fitbit in green basically loses the plot entirely the last 6 minutes of the test at the highest intensities. The Polar Vantage V2 also spikes a bit, but only briefly in comparison.
And just before the VO2Max test ends, we see the biggest difference here, with the Vantage V2 overestimating me at 194bpm, versus the chest strap at 182 and the OH1 at 187. Meanwhile, the Fitbit Versa 3 is at 169 – a *massive* difference at these heart rate levels (well, really any heart rate levels, but especially these levels).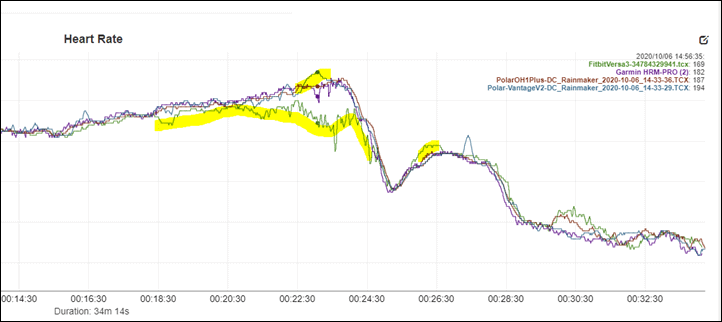 Next, let's look at a track workout. Cause everyone likes a track workout for both GPS testing and HR testing. This time against the Apple Watch Series 6, Garmin FR745, and Fitbit Versa 3. In this case, I was using the Vantage V2 with the Polar OH1 Plus for the heart rate portion.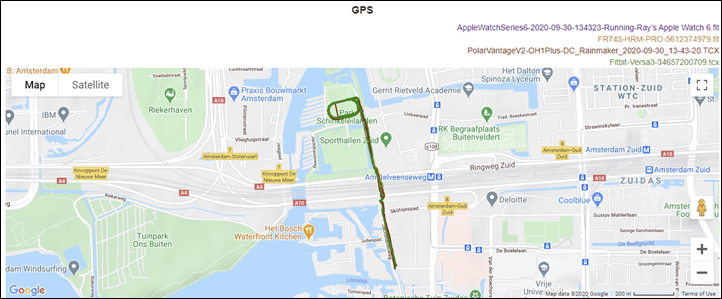 As the test began, all units correctly managed to mostly plot the route down the middle of the tree-lined path:

And they all kinda-sorta made it out of the massive pile of bridges/tunnels/overpasses without any massive incidents. Not perfect by any means, but the Apple Watch was definitely the winner here.

Meanwhile, over at the track things were actually pretty good. You'll see a single red line across the infield – that's my fault. After one of the intervals I hit the pause instead of lap button on the Polar Vantage V2, and then realized it about a 100m later. But everyone actually stayed roughly in the track, which is good. The Fitbit was a bit more variable in one section – but not a massive difference for most people.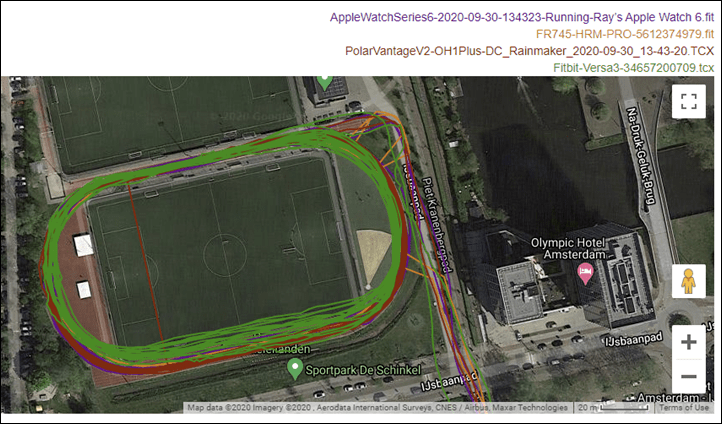 The FR745 was in running track mode, so it's even scarier how close it is. It only shows the exits/entrances, as I was curious if I could start it off-track (the answer is yes, but you just can't quite get too close to the track on the arrival, or it snaps in like it does below).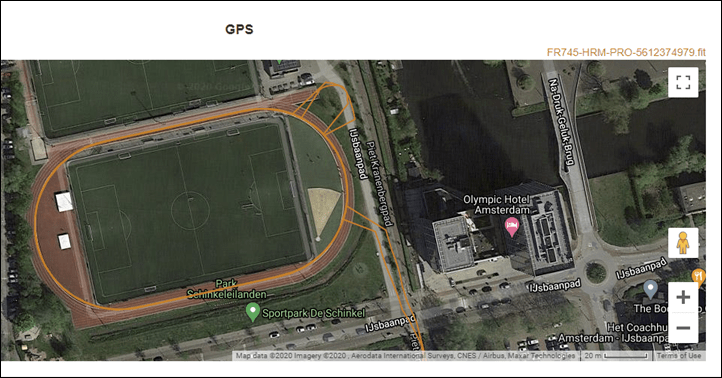 Now when it comes to accuracy of the heart rate during this hard interval workout, the Fitbit Versa 3 didn't do horrendously bad. It wasn't good for sure, but it wasn't dumpster fire bad like my track workout with the Fitbit Sense.

Still, you can clearly see the green line is often solo in this chart, especially on intervals. And it's easy to say 'Yeah, but it's close-ish', and sure, compared to the previous one it is. But t's still 10-15bpm off, which, with any other product I've reviewed in the last decade would be considered unacceptable.
Moving along again, this time to an easier run. The Fitbit Versa 3 spikes a few times around the 21 and 26-minute markers, both times after stopping at lights/etc and resuming running again – indicating it likely has an issue around cadence/motion lock when big shifts happen (such as the sprints and high-intensity pieces).
From a GPS accuracy standpoint, all units were actually pretty good on this city run. With only the Fitbit Versa 3 struggling occasionally (although, not hugely):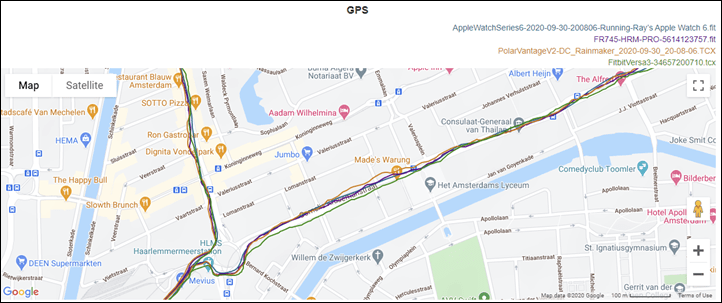 They all correctly managed to plot their way through the Rijksmuseum building underpass, though the Fitbit and Polar units did slightly hose up a turn shortly thereafter back into the park – both of them going off into the water and buildings.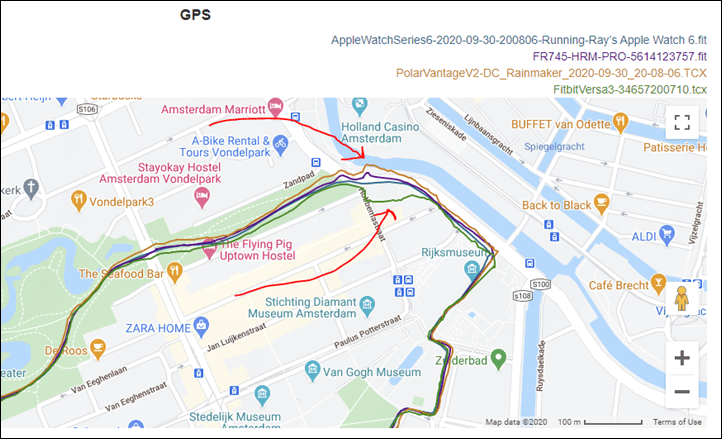 Changing scenery again, what about an outdoors ride? Well, it's unlocked complete dumpster fire status – though, the Polar Vantage V2 was in that dumpster with it. Note the sections between the two lines are when I realized I had a conference call, so I stopped to take it on the side of the road.

I could analyze all these sections, but you can see pretty clearly it's bad. Really bad. And to be fair, many optical HR sensors struggle with cycling outdoors, and this is no different. But again, a great example of why having the ability to pair an external HR strap would resolve this (as every other vendor except Fitbit allows).
On the bright side, GPS accuracy was perfectly fine: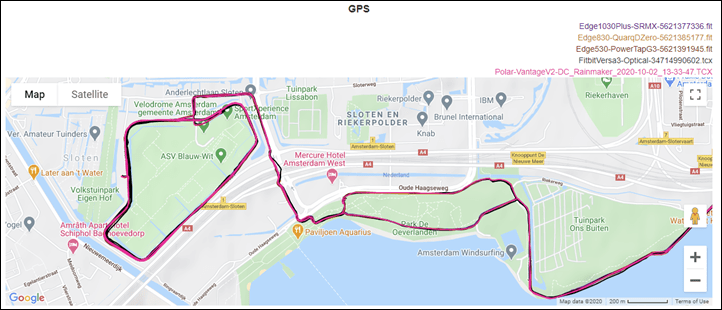 For this route, I was over at an outdoor cycling track, that loops around and around. So it's a good test of repeatability, and things were spot-on then.
Finally, as for an indoor cycling workout – heart-rate wise that handled much better. Not perfect, but probably acceptable for most people. A bit laggy here and there, but generally OK. And also matching another couple of indoor cycling workouts I did with it as well.

It likely handles better for indoor cycling as there aren't the cadence/motion aspects associated without outdoor cycling or outdoor running, which are key factors in optical HR sensor failures.
So ultimately, as was the case for the Fitbit Sense, the Versa 3's GPS tracking is fine for most purposes from an accuracy standpoint. Sure, I could quibble with a few things, but realistically that's not what you should be focusing on here.
It's the optical HR sensor that's far tougher and far less accurate, and for reasons I outlined at the beginning of this section, it's unclear when that might change. Fitbit says they've got people working on these exact HR algorithms day and night, and like past Fitbit products it uses machine learning to chip away at improving accuracy. But there's always a balance in that fixing something to address one portion of the population could break it for another. Unfortunately, at the moment, I wouldn't recommend the Fitbit Versa 3 if you're paying close attention to heart rate accuracy.
(Note: All of the charts in these accuracy sections were created using the DCR Analyzer tool.  It allows you to compare power meters/trainers, heart rate, cadence, speed/pace, GPS tracks, and plenty more. You can use it as well for your own gadget comparisons, more details here.)
Product Comparison:
I've added the Fitbit Versa 3 into the product comparison database, allowing you to compare it against other products that I've reviewed in the past.
For the purposes of below I've compared it against the Fitbit Sense, Garmin Venu SQ, and Apple Watch SE –  which are the ones most people will be comparing it against from a sports/fitness standpoint. I'll likely add in the latest Samsung Galaxy Watch Active 2 down the road.
Note that with all these watches – but especially the Apple Watch, there are many cases below where "with 3rd party apps" can be used.  The same is largely true of Garmin, Samsung, and somewhat with Fitbit.  But the Apple Watch tends to offload more core fitness functionality to 3rd party apps than the others. I've tried to thread the needle of apps that I roughly know exist where I've listed that.  But it's not perfection in terms of knowing every app on earth.  Ultimately, I don't think any consumer does (or should). Plus, we've actually seen a pulling back of wearable apps from companies over the last year (basically, they stop updating them). Making it even harder to know an up to date app from a dysfunctional one dying on the vine.
Function/Feature

Fitbit Versa 3
Fitbit Sense
Apple Watch Series SE
Garmin Venu SQ
Copyright DC Rainmaker - Updated November 17th, 2022 @ 6:14 pm New Window
Price
$229
$329
$279
$199/$249 with Music
Product Announcement Date
Sept 2020
Sept 2020
Sept 15th, 2020
Sept 23rd, 2020
Actual Availability/Shipping Date
Sept 25th, 2020
Sept 23rd, 2020
Sept 18th, 2020
Sept 23rd, 2020
GPS Recording Functionality
Yes
Yes
Yes
Yes
Data Transfer
Bluetooth Smart
Bluetooth Smart/WiFi for music
Bluetooth Smart
USB, BLUETOOTH SMART, WiFi
Waterproofing
50m
50m
50m
50 meters
Battery Life (GPS)
12 hours (6 days standby)
12 hours
6hrs GPS on time (18hrs standby)
14 hrs (just GPS), up to 6hrs GPS+Music
Recording Interval
1-second
1-second
Varies
1s or Smart Recording
Dual-Frequency GNSS
No
Alerts
Visual/Vibrate
Visual/Vibrate
Vibration/Audio/Visual
Vibrate/Visual
Backlight Greatness
Great
Great
Great
Great
Ability to download custom apps to unit/device
Yes
Yes
Yes
Yes
Acts as daily activity monitor (steps, etc...)
Yes
Yes
Yes
Yes

Voice Integration

Fitbit Versa 3
Fitbit Sense
Apple Watch Series SE
Garmin Venu SQ
Has Mic/Speaker
Yes
Can make/receive calls
With phone's cellular
Voice Assistant
Amazon Alexa

Music

Fitbit Versa 3
Fitbit Sense
Apple Watch Series SE
Garmin Venu SQ
Can control phone music
Yes
Yes
Yes
Yes
Has music storage and playback
Yes
Yes
Yes
Yes
Streaming Services
Pandora, Deezer
Pandora, Deezer
Apple Music
Spotify, Amazon Music, Deezer

Payments

Fitbit Versa 3
Fitbit Sense
Apple Watch Series SE
Garmin Venu SQ
Contactless-NFC Payments
Yes
Yes
Yes
Yes

Connectivity

Fitbit Versa 3
Fitbit Sense
Apple Watch Series SE
Garmin Venu SQ
Bluetooth Smart to Phone Uploading
Yes
Yes
Yes
Yes
Phone Notifications to unit (i.e. texts/calls/etc...)
Yes
Yes
Yes
Yes
Live Tracking (streaming location to website)
No
No
With 3rd party apps
Yes
Group tracking
No
No
No
No
Emergency/SOS Message Notification (from watch to contacts)
No
No
Yes
Yes
Built-in cellular chip (no phone required)
No
No
Yes (with cellular version)
No

Cycling

Fitbit Versa 3
Fitbit Sense
Apple Watch Series SE
Garmin Venu SQ
Designed for cycling
Yes
Yes
Yes
Yes
Power Meter Capable
No
No
No
With some Connect IQ apps
Speed/Cadence Sensor Capable
No
No
No
Yes
Strava segments live on device
No
No
No
No
Crash detection
No
No
Yes via 'Fall Detection'
Yes

Running

Fitbit Versa 3
Fitbit Sense
Apple Watch Series SE
Garmin Venu SQ
Designed for running
Yes
Yes
Yes
Yes
Footpod Capable (For treadmills)
No (but has treadmill functionality)
No (but has treadmill functionality)
With 3rd party apps
Yes
Running Dynamics (vertical oscillation, ground contact time, etc...)
No
No
No
No
Running Power
No
No
With 3rd party apps
No
VO2Max Estimation
Yes, via app
Yes, via app
Yes
Yes
Race Predictor
No
No
No
No
Recovery Advisor
No
No
No
No
Run/Walk Mode
No
No
With 3rd party apps
Yes
Track Recognition Mode
No
No

Swimming

Fitbit Versa 3
Fitbit Sense
Apple Watch Series SE
Garmin Venu SQ
Designed for swimming
Yes
Yes
Yes
Yes
Openwater swimming mode
No
No
YEs
No
Lap/Indoor Distance Tracking
Yes
Yes
Yes
Yes
Record HR underwater
No
No
Yes
Yes
Openwater Metrics (Stroke/etc.)
No
No
Basic stroke type only
No
Indoor Metrics (Stroke/etc.)
Yes
Yes
Basic stroke type only
Yes
Indoor Drill Mode
No
No
No
No
Indoor auto-pause feature
No
No
Yes
No
Change pool size
Yes
Yes
Yes
Yes
Indoor Min/Max Pool Lengths
10m/y-100m/y
10m/y-100m/y
1y/m to 1,500y/m+
13M/15Y TO 150Y/M
Ability to customize data fields
Yes
Yes
Very limited
Yes
Captures per length data - indoors
Yes
Yes
Yes
Indoor Alerts
Yes (distance)
Yes (distance)
Yes (goals)
Yes

Triathlon

Fitbit Versa 3
Fitbit Sense
Apple Watch Series SE
Garmin Venu SQ
Designed for triathlon
No
No
Not really
No
Multisport mode
No
No
Yes
No

Workouts

Fitbit Versa 3
Fitbit Sense
Apple Watch Series SE
Garmin Venu SQ
Create/Follow custom workouts
No (Premium Coached only)
No (Premium Coached only)
With 3rd party apps
Yes
On-unit interval Feature
No
No
With 3rd party apps
Sorta (Pre-loaded)
Training Calendar Functionality
No
No
With 3rd party apps
Yes

Functions

Fitbit Versa 3
Fitbit Sense
Apple Watch Series SE
Garmin Venu SQ
Auto Start/Stop
Yes
Yes
Yes
Yes
Virtual Partner Feature
No
No
Sorta (Pacing feature)
No
Virtual Racer Feature
no
no
No
No
Records PR's - Personal Records (diff than history)
No
No
No
Yes
Tidal Tables (Tide Information)
No
No
No
No
Weather Display (live data)
Yes
Yes
Yes
Yes

Navigate

Fitbit Versa 3
Fitbit Sense
Apple Watch Series SE
Garmin Venu SQ
Follow GPS Track (Courses/Waypoints)
No
No
With 3rd party apps
No (but some 3rd party apps can)
Markers/Waypoint Direction
No
No
With 3rd party apps
No
Routable/Visual Maps (like car GPS)
No
No
With 3rd party apps
No
Back to start
No
No
With 3rd party apps
YEs
Impromptu Round Trip Route Creation
No
No
With 3rd party apps
No
Download courses/routes from phone to unit
No
No
With 3rd party apps
NO

Sensors

Fitbit Versa 3
Fitbit Sense
Apple Watch Series SE
Garmin Venu SQ
Altimeter Type
Barometric
Barometric
Barometric
GPS
Compass Type
N/A
N/A
Magnetic
Optical Heart Rate Sensor internally
Yes
Yes
Yes
Yes
SpO2 (aka Pulse Oximetry)
Yes
Yes
No
Yes
ECG Functionality
No
No
Heart Rate Strap Compatible
No
No
Yes
Yes
ANT+ Heart Rate Strap Capable
No
No
No
YEs
ANT+ Speed/Cadence Capable
No
No
no
Yes
ANT+ Footpod Capable
No
No
No
Yes
ANT+ Power Meter Capable
nO
nO
No
No
ANT+ Lighting Control
nO
nO
No
Yes
ANT+ Bike Radar Integration
No
No
No
Yes
ANT+ Trainer Control (FE-C)
No
No
No
No
ANT+ Remote Control
No
No
No
No
ANT+ eBike Compatibility
No
No
No
No
ANT+ Gear Shifting (i.e. SRAM ETAP)
No
No
No
No
Shimano Di2 Shifting
No
No
No
No
Bluetooth Smart HR Strap Capable
No
No
Yes
YEs
Bluetooth Smart Speed/Cadence Capable
No
No
No
Yes
Bluetooth Smart Footpod Capable
No
No
No
Yes
Bluetooth Smart Power Meter Capable
No
No
No
No
Temp Recording (internal sensor)
No
No
No
No
Temp Recording (external sensor)
no
no
No
Yes

Software

Fitbit Versa 3
Fitbit Sense
Apple Watch Series SE
Garmin Venu SQ
PC Application
-
None
Garmin Express
Web Application
YEs
Yes
None
Garmin Connect
Phone App
iOS/Android
iOS/Android
iOS only
iOS/Android/Windows
Ability to Export Settings
No
No
No
No

Purchase

Fitbit Versa 3
Fitbit Sense
Apple Watch Series SE
Garmin Venu SQ
Amazon
Link
Link
Link
Link
Backcountry.com
Link
Link
Link
Link
Chain Reaction Cycles
Link
Link
Link
Link
Competitive Cyclist
Link
Link
Link
Link
REI
Link
Link
Link
Link
Wiggle
Link
Link
Link
Link

DCRainmaker

Fitbit Versa 3
Fitbit Sense
Apple Watch Series SE
Garmin Venu SQ
Review Link
Link
Link
Link
Link
And again – don't forget you can make your own product comparison charts comparing any products using the product comparison database.
Wrap-Up: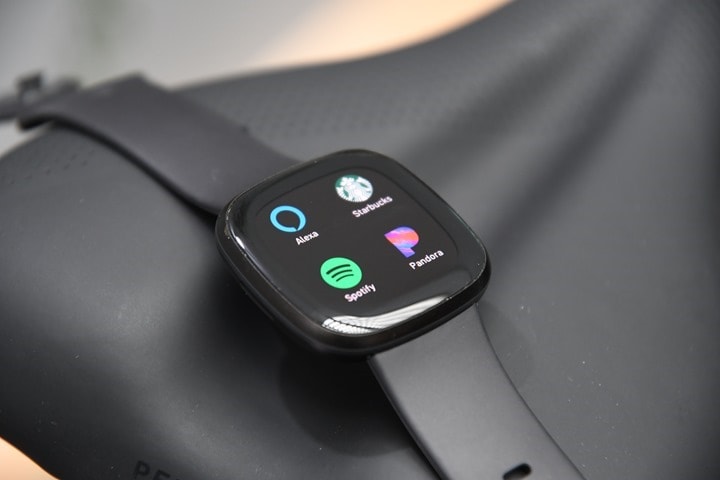 The Fitbit Versa 3 is a modest upgrade from the Fitbit Versa 2, at least today. Down the road with slated smartphone integration updates like taking calls from the wrist or Google Assistant, it'll become a more advanced unit. But today almost every new health-focused feature has actually been rolled out to the existing Fitbit smartwatches, which, is a good thing for consumers – even if it's probably a bad thing for Fitbit Versa 3 sales (since it significantly lowers the reasons to buy a Versa 3).
Like most wearables, viewed version to version these changes seem minor – and they are. But, viewed in the greater lens over time everything is an evolutionary update. For example, the Versa 3 now includes GPS whereas the Versa 2 didn't. The Versa 3 also gets Fitbit's latest FitbitOS version, whereas the Versa 2 won't get that upgrade. Though, with the impending Google acquisition approval likely due soon based on recent news, the value of a newer FitbitOS will mostly evaporate as the company focuses on WearOS as previously announced (by Google).
The biggest challenge I have with the Versa 3, aside from the list of 'coming soon' features, is simply the accuracy of the heart rate. It's simply hasn't been good for me. It sounds like Fitbit is optimistic that over time they'll be able to improve that. But in total it just seems like there's a lot of things that I need to wait over time for – be it features or getting accuracy to the same level as the previous unit.
Now, perhaps those aspects don't matter to you. Perhaps you're upgrading from a much older unit and you want to remain in the Fitbit ecosystem, which is very good at the social fitness and activity tracking side of things. In that case, the Versa 3 represents an option to have a Fitbit smartwatch without having to splurge for the higher end Sense. Of course, for a while there will undoubtedly also be Versa 2 deals available (albeit, without the built-in GPS, it uses your phone's GPS instead).
With that – thanks for reading!

Found This Post Useful? Support The Site!
Hopefully you found this review useful. At the end of the day, I'm an athlete just like you looking for the most detail possible on a new purchase – so my review is written from the standpoint of how I used the device. The reviews generally take a lot of hours to put together, so it's a fair bit of work (and labor of love). As you probably noticed by looking below, I also take time to answer all the questions posted in the comments – and there's quite a bit of detail in there as well.
If you're shopping for the Fitbit Versa 3 or any other accessory items, please consider using the affiliate links below! As an Amazon Associate I earn from qualifying purchases. It doesn't cost you anything extra, but your purchases help support this website a lot. Even more, if you use Backcountry.com or Competitive Cyclist with coupon code DCRAINMAKER, first time users save 15% on applicable products! Or, with TPC (The Pro's Closet), you'll save $40 on purchases over $200 with coupon code DCRAIN40!
And of course – you can always sign-up to be a DCR Supporter! That gets you an ad-free DCR, access to the DCR Quarantine Corner video series packed with behind the scenes tidbits...and it also makes you awesome. And being awesome is what it's all about!
Thanks for reading! And as always, feel free to post comments or questions in the comments section below, I'll be happy to try and answer them as quickly as possible. And lastly, if you felt this review was useful – I always appreciate feedback in the comments below. Thanks!