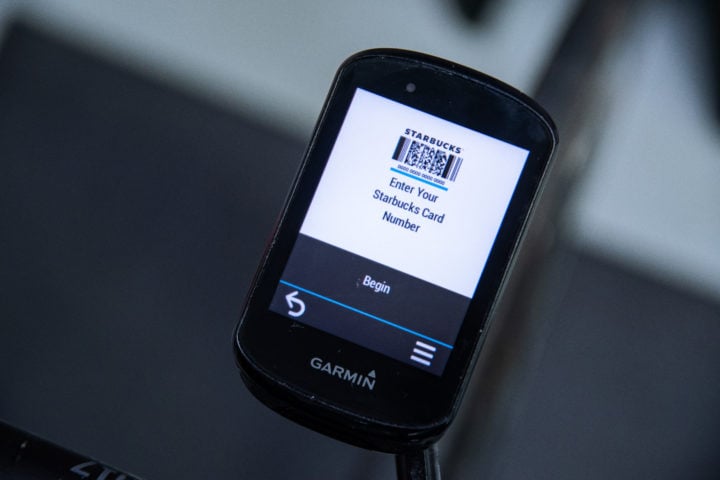 It's Tuesday, and there's been a handful of things I've been meaning to post some quick tidbits about. Items that slipped out over the last few days (or weeks) but didn't really deserve a full post of their own. But with COROS's new watch band announcement, I figured I'd roll them all together and call it Macaroni. Or enchilada. Or sushi roll.  Mmm…it's time for lunch.
Which, is a perfect and totally unplanned segue into my first item:
Starbucks Card added to Garmin Edge & Watches:
If you live in the US and Canada, you can now load your Starbucks card atop your Garmin Edge device, or Garmin wearable. Basically, anything that supports Connect IQ and in turn supports the Starbucks app. Which, turns out to be most devices made in the last few years, for the Connect IQ version required for the app. You can see the full list of compatible devices here.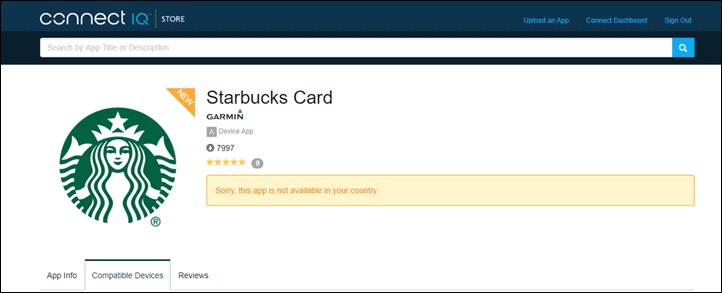 You'll load the app just like any other. Again, if you're in the US & Canada. If you're not, then you're probably not drinking Starbucks as much anyway. Here in Amsterdam, Starbucks are mostly only in the more tourist focused areas (and train stations). Which, was pretty much the same where we lived in Paris too. Either way, one thing you quickly learn is that your Americana Starbucks card is worth approximately nothing elsewhere. Each country is their own little Starbucks card island.
Once loaded, this is what you'll see on your Edge device: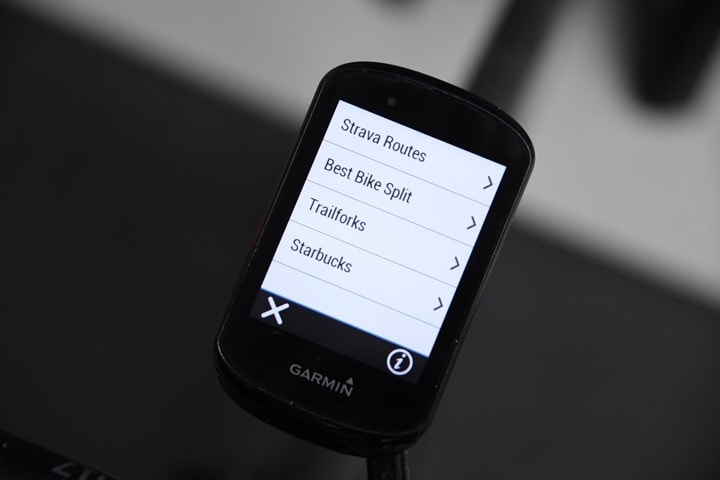 You'll simply manually type in the card number you have. In fact, there's no behind the scenes app connectivity or anything. It's just type in a number, and it creates a barcode.
You'll crack open the app on the Edge (located under 'Connect IQ'), and then it'll show the barcode of the card – just like your phone does today. The 'trick' here is that Garmin doesn't even need to put NFC in their Edge devices for this to magically work, since it's purely just basic barcode scanning.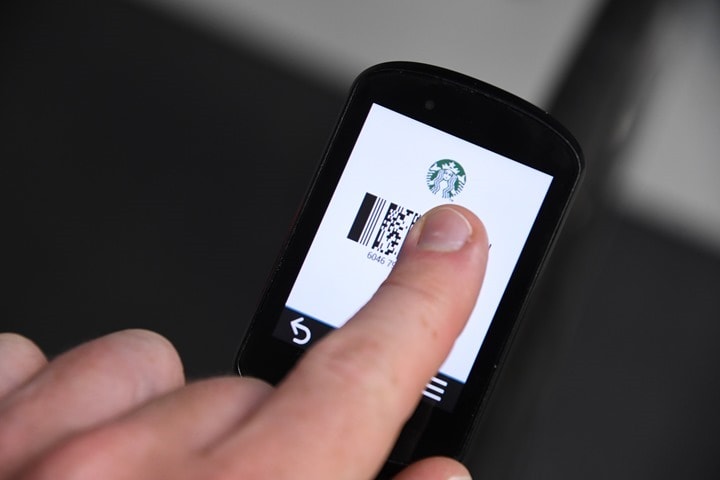 Now, as I alluded to earlier, I can't actually test this at a real Starbucks, since the nearest US or Canadian Starbucks to me is thousands of miles away. But, given it's simply scanning an image of a barcode, it's gonna be pretty hard to screw up.
Of course – the main appeal here is simply stopping by Starbucks after a run or a ride and grabbing something without another thing with you. That'd be super common for me on trips in the US, where after an early morning run I might swing by a Starbucks for a sandwich and drink during the cool-down while headed back to the hotel. This way I get the Starbucks points I'll never use, and also pay for the purchase too. In fact, I'd say that's exactly how MOST of my early morning runs in the US go.
So while it's easy fodder to make fun of, it's practically pretty useful.
The COROS VERTIX Mojito: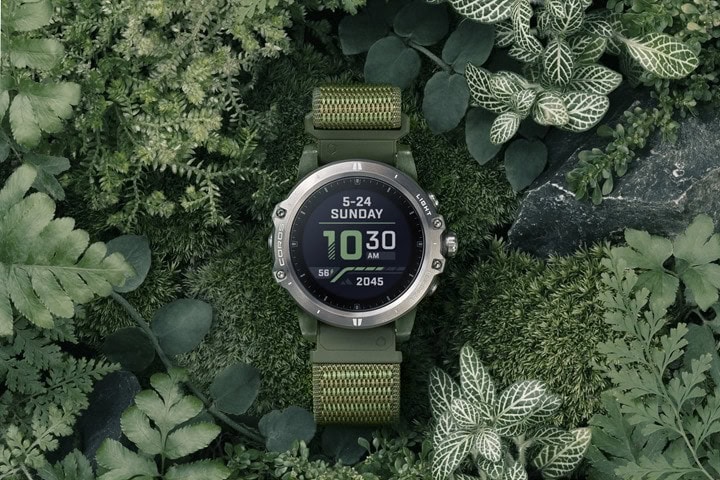 Not one to be outdone on the drink front, COROS has launched a new Mojito themed VERTIX. In addition to that they've added another color called 'Space Traveler'. No drinks are served on that edition.
The Mojito one is apparently limited edition, with the company saying they're making only 200 Mojitos worldwide. It'll have a sorta translucent body (kinda like the icebreaker edition), which allows you to see inside. It's unclear if I'll also find fresh mint bits in there. The strap will be a new hook and loop lightweight nylon material. The battery life remains the same at 60 hours in normal GPS mode, and 150 hours in UltraMax mode. Here's a gallery of both the Vodka Tonic and Space Cadet options:
All the features remain the same from a technical standpoint. The price however will set you back, as this Mojito will be much more than any bar you'd normally visit  – coming in at $599. It'll start shipping next week.
Oh – and if you can't justify this Mojito, you can still pick up one of the new nylon bands. They'll start shipping immediately for the 46mm units (VERTIX, APEX PRO, and APEX 46mm), and then in August for the APEX 42mm edition. Colors will be Black, Amber, Navy, and Green. All of which are reasonable color names (no 'Arctic Winter with a Touch of Spring Floral'), and all cost a reasonable $29USD.
Note: I don't plan to review the Mojito edition. Unless it comes with this packaged to it. Also, 'Merica, since when did you start making mojito steak rub?!?
Zwift Hardware Survey:
Finally, I've got a few tidbits from something that Zwift sent out back a few weeks ago to some number of subscribers. The survey basically asks you 2,328 questions about whether or not you want a Peloton bike for Zwift – aka a Zwift Bike, aka the thing Zwift has been not so quietly working on.
Now technically, Zwift hasn't officially stated whether or not they're working on a bike or smart trainer. Though, they did tell their smart trainer hardware partners last year that they'll be competing with them (in a round-about way). To which they then confirmed in a statement. Given everything in the original job postings, and everything you'll see below – it's pretty clear they're working on a bike (and probably a smart trainer).
In any case, a DCR reader first alerted me to the survey, which I then went and fished back out of my e-mail trash bin to take it myself and see what was in there question-wise. Interestingly, the questions varied from person to person.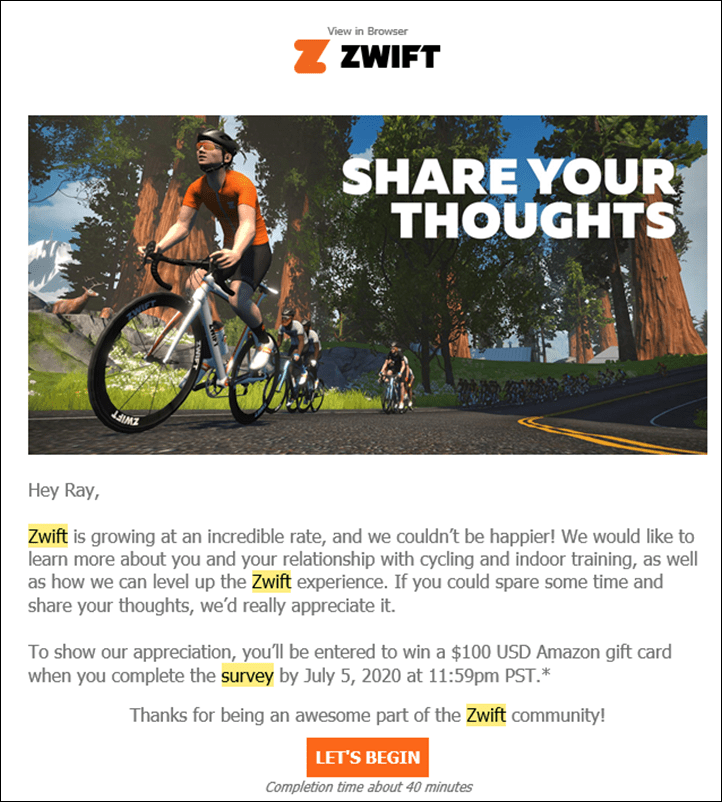 In any case, for me, the first hints about bike like stuff the survey hit on was handlebar position. Obviously, this could be useful for other accessories, but ultimately, they'd be looking at the most common places people put their hands while riding: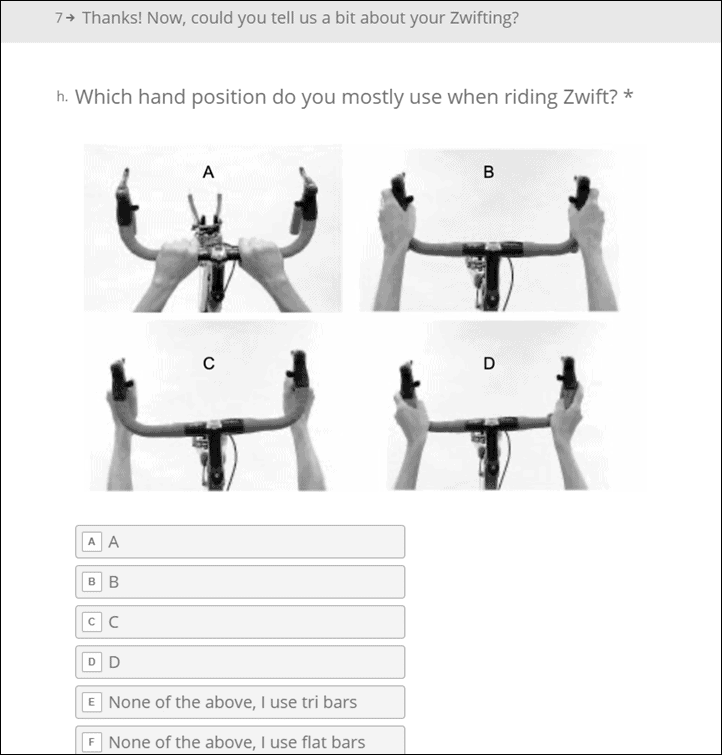 Next, they start asking me how big my room is that I Zwift in. This will undoubtedly be used on PowerPoint slides to show a pie chart of people's rooms. Though, realistically any smart bike will simply fit on a standard trainer mat. Just like every bike (smart or otherwise) does today.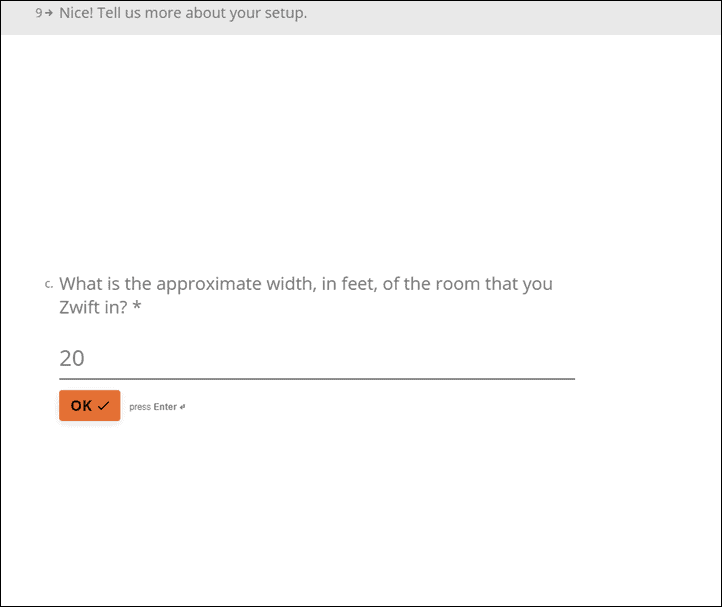 Next, we take a slight diversion towards trainer land. This makes sense, as much as there's appeal to selling a $3,500 or so smart bike, the reality is the bulk of Zwifters won't be spending that cash on such a machine. So, offering something at lower price points is logical.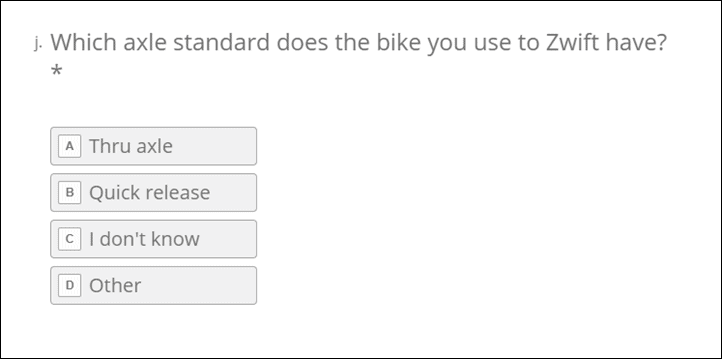 Then it asks about accessories. I checked all the boxes. Again, this isn't specific to building a bike, but it's super useful. This is also just as useful for Zwift to build-out their online store, or to figure out where to focus on bundled promotions, etc…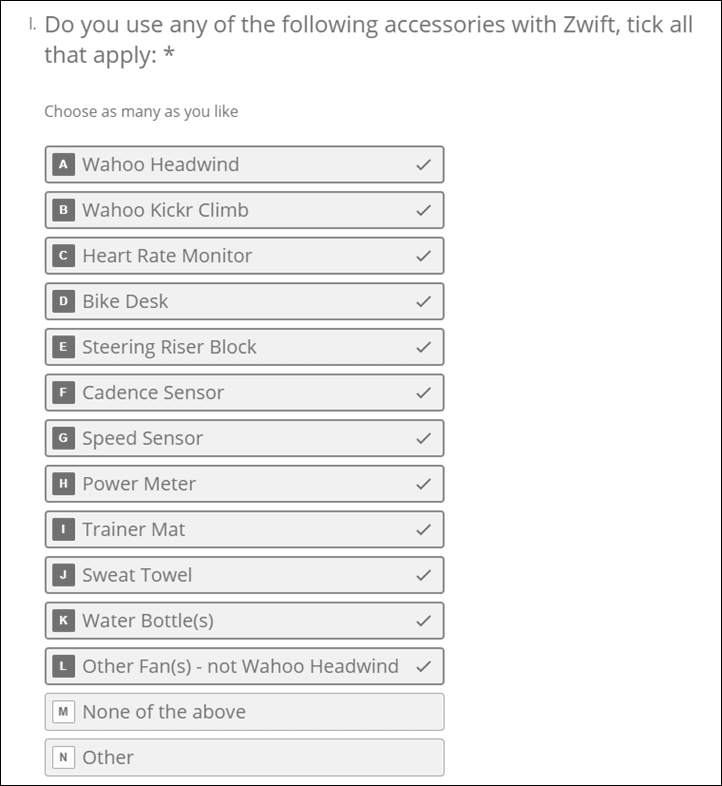 Then there's the towel rack question. Or, I suppose gels, or M&M's.

Then we're definitely back in the smart bike realm with a question on pedals. Some bikes, like the Peloton bike, include pedals, while others like the Wahoo/Tacx/Wattbike either don't, or include a clips/strap type setup.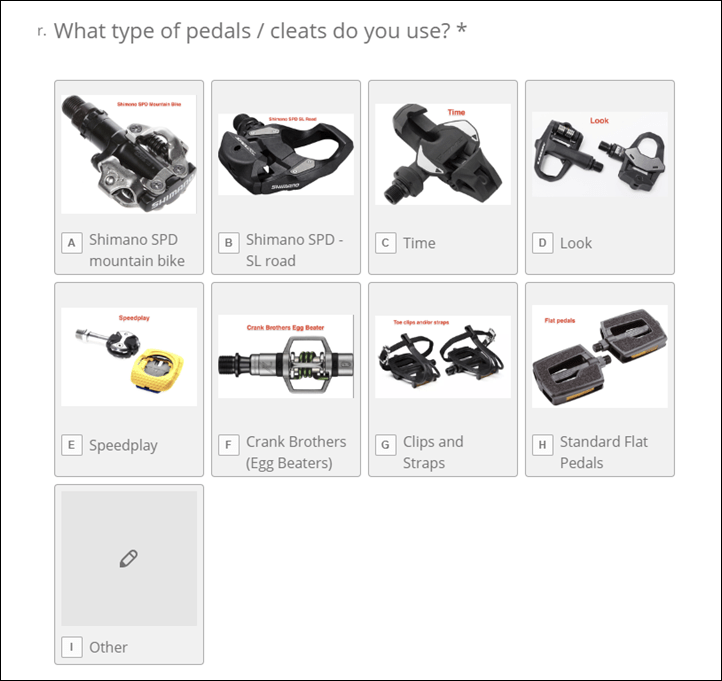 Now, shortly after this question, the survey told me I was no longer needed. Basically, since I was answering honestly, it probably decided I had waaaaay too much gear for my own good, and was no longer useful to them.
However, some of you sent me the questions you got – and they got super interesting. Namely, these two:
So, yeah, there ya have it – Zwift asking the question as point-blank as possible: Would you buy a smart bike with a large screen that runs Zwift?
Of course – this sort of data would also be useful to Zwift's partners (or competitors). But they already know that. One only has to look at Peloton's success to see that. At just shy of a million bikes sold (as of late April, they're undoubtedly over that now), they've more than proven out the 'just works factor' concept.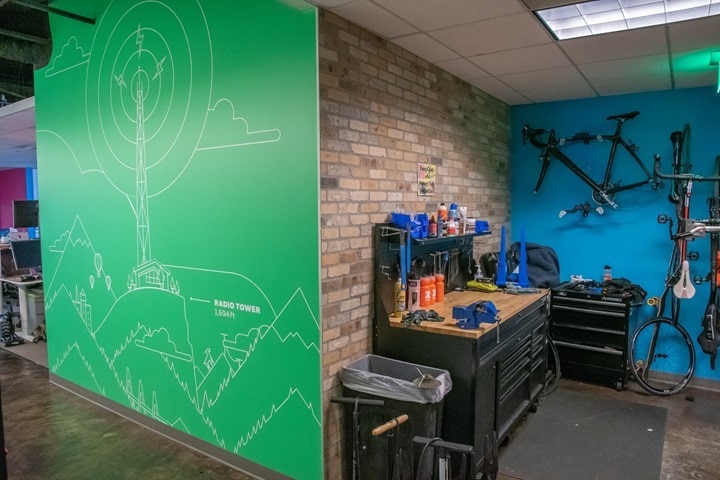 Now, as I've said numerous times before, I think Zwift building a smart bike is a smart thing for Zwift as a business, and probably good for the consumers that buy said Zwift hardware. The biggest challenge Zwift has today from a hardware partner/perspective is just getting everything set up initially, there's so many moving pieces that it can be challenging for new users. But also for regulars. One only needs to look at the crashes and fiasco's I've had in the last three weeks with the Zwift app on varying hardware, some of which undoubtedly would be smoother if Zwift 'owned' everything end to end.
That said – what's good for Zwift likely isn't necessarily good for consumers at large (or long term). Ultimately, there will be features in whatever Zwift makes that are unique to Zwift's hardware, otherwise, there's little reason to buy it (unless they simply undercut on price, which is unlikely). Whether or not Zwift makes those features available to leverage for competitors is a big question. For example, smart bikes have been out almost a year now, with buttons dedicated to steering – and Zwift hasn't enabled those for anything. That's fine in the sense that steering is super limited today within Zwift anyway.
But what happens when we look at gear shifting display in Zwift? That's only available for a single smart bike (Wattbike ATOM) and only on Bluetooth Smart (not on ANT+). Why hasn't that been available to any other smart bike company? On one hand, it could simply be that Zwift is 'too busy' dealing with the surge in demand. But one also has to consider the possibility that by making these competitor bikes less appealing, they in turn make their own bike more appealing down the road. Plus, in the grand scheme of 'too busy', telling the smart bike companies which data field to populate is trivial.
Obviously, Zwift isn't going to cut-off competitors' hardware. That's silly. Today, 100% of Zwift's customers are on competitors' (err…partners') hardware. But it's equally silly (naïve) to presume that Zwift won't make choices that limit what partners can access or do. Or limit how customers may access parts of Zwift on certain hardware. And if there's anything we've learned in technology – it's that competition is good for consumers.
Still, I can't wait for a Zwift Smart Bike with a built-in display. In other words, I can't wait for a Zwift variant of a Peloton bike – something that 'just works', every single darn time, without fiddling.
Until then, I'll be out measuring the size of my Zwift room on my non-existent yacht. Towel holders not included.
Thanks for reading!