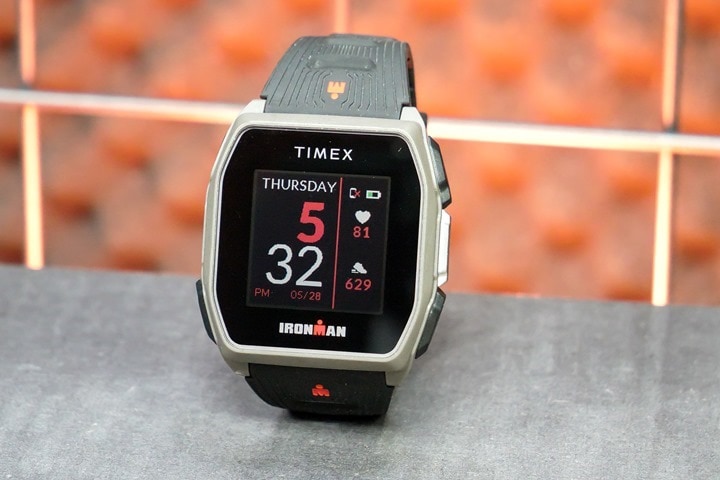 If you had asked me late last year for a list of surprisingly capable devices I expected to find on my wrist in Spring 2020, I certainly wouldn't have said a $129 GPS watch from Timex. But here we are, and after nearly a boatload of runs, rides, and daily use – I've got more than enough information to splay across a full in-depth review.
However, in some ways how Timex got to this position is just as interesting as the device itself. And it's also semi-critical to understanding how a company with only a handful of dedicated staff for this product line could spit out a watch that easily competes with Garmin or Fitbit's budget offerings – and in fact, likely eclipses some of them in certain areas. Even if, yes, you think the Timex has a slightly more 'vintage' look.
The answer? Huami. Well, actually, Amazfit (which Huami owns). Yes, the same Amazfit that makes budget wearables and swanky smart mirrors. About 18 months ago the two companies released a press release that almost nobody noticed. Turns out, it had a purpose. See, while the watch exterior and design is definitely Timex – much of the software is very much Amazfit. All of the app is Amazfit, and all of the analytics. And these days, those pieces are just as important as the wearable itself.
But, we're probably getting ahead of ourselves a wee bit. A lot actually. So first off – this GPS enabled, touchscreen equipped activity tracker has a claimed 20-hours of GPS-on line and 28 days of standby life. I'll tell you straight up those claims are somehow accurate. Despite its size, the battery lasts forever (trust me, I tried to let it die – I gave it nearly a month sitting off to the side on my desk as I misplaced the charger for weeks – it's virtually impossible to kill. Those last 10% last forever).
However, before we talk about that – let's get this thing unboxed.
What's in the box: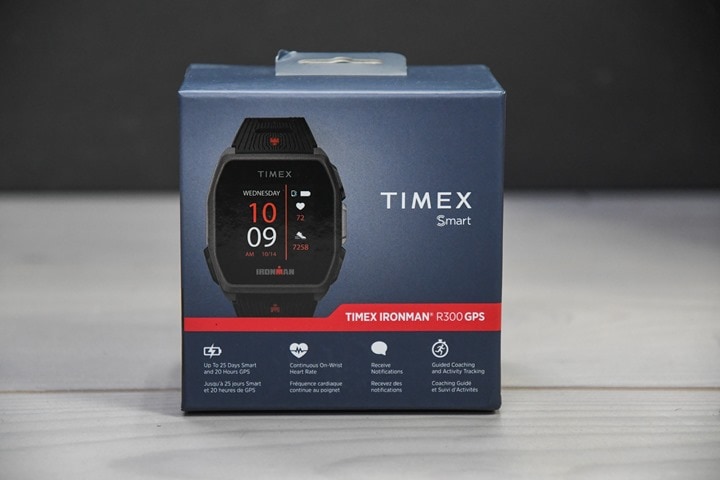 I appreciate simplistic packaging, and the R300 delivers in that sense. It's got a clean description of what's in the box on the outside, and everything is accurately portrayed (some companies make their watch face screen imagery appear like it's an 8K OLED screen on the box, when in reality it's a dot matrix printer).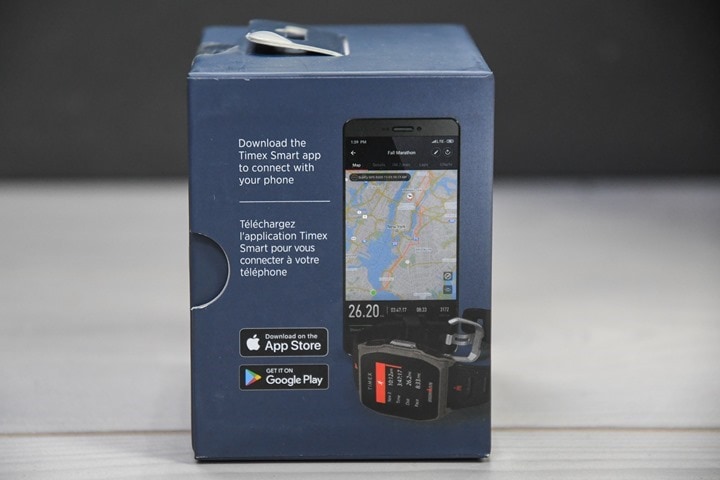 Crack it open, and the watch is chillin' there looking at you.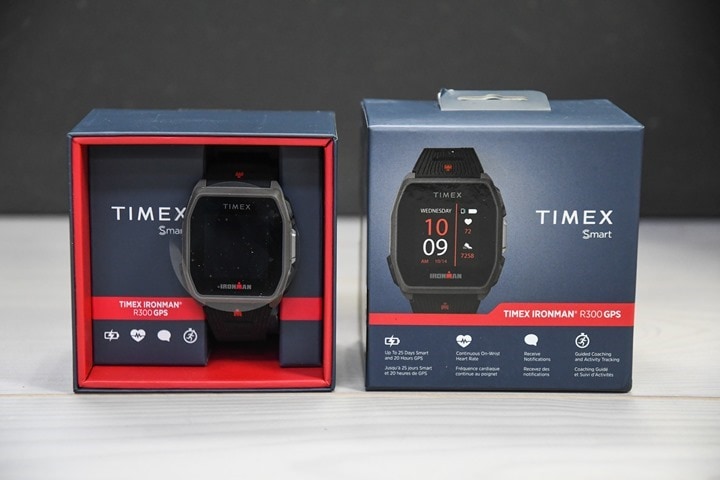 Under it are two things – The charger and a quick-start piece of paper: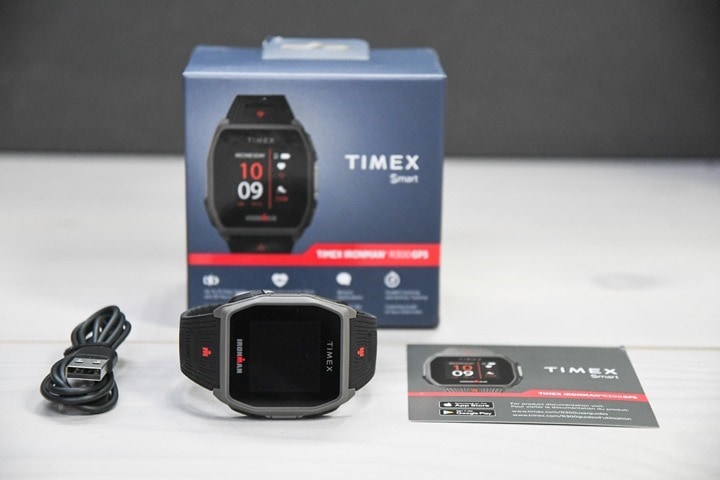 Here's a closer look at the charger: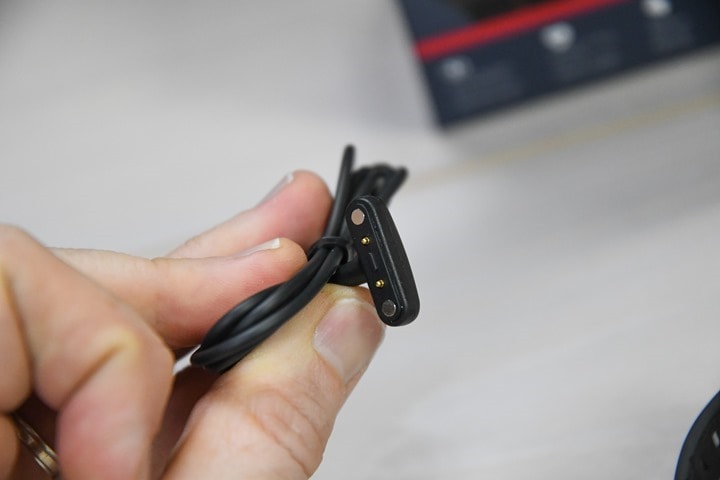 And then the quick-start paper.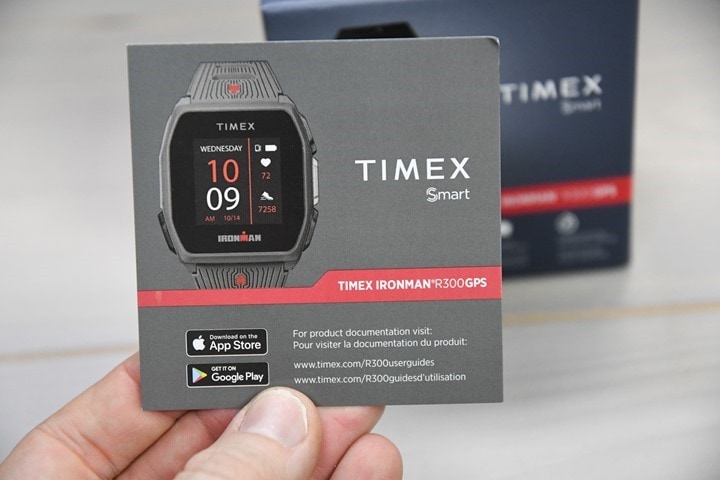 Oh, and the watch itself, of which the front of the watch is actually mineral glass, and not plastic, surprisingly enough.
As for the weight? It comes in at at cool 43g:
So, with that, let's start diving into the basics.
The Basics: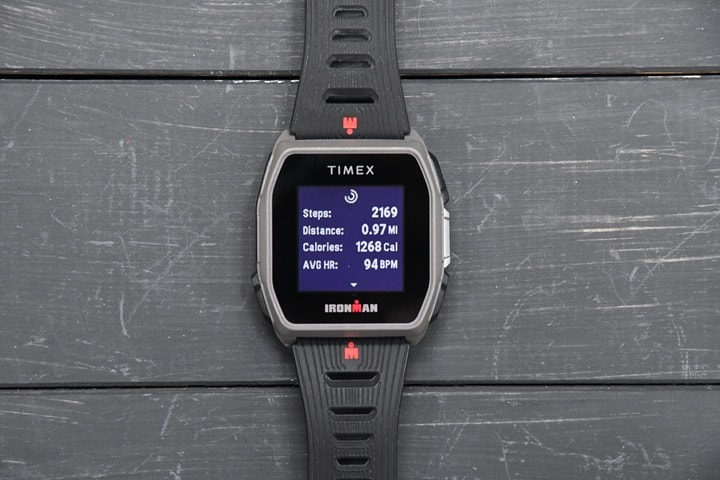 The interface on the R300 is heavily button-based, but it does actually have a touchscreen.  First though, there are four buttons – one on the left, and three on the right, that you use to navigate your way around the fairly simplistic menu.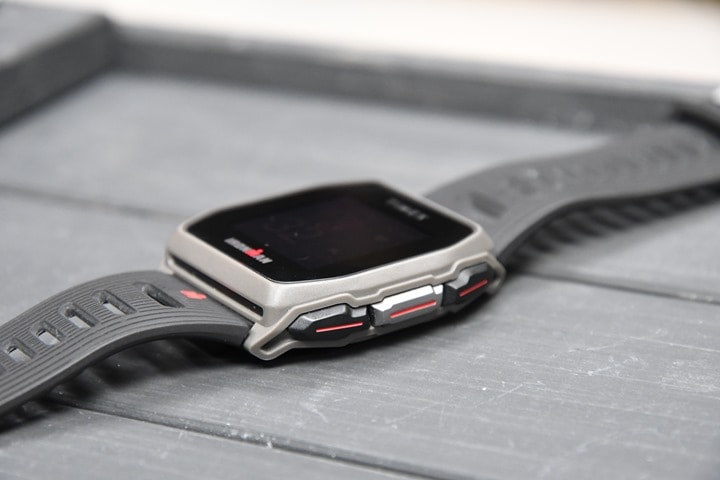 But there's also a touchscreen that works like any other touchscreen on a wearable, complete with swiping gestures. You can toggle it on/off entirely if you want, or, off during workouts.
Meanwhile, on the back of the watch is a dual-LED optical HR sensor. Nothing fancy looking, but as we'll see later, looks can be deceiving.
The watch uses a standard 24mm strap with a stainless steel buckle. The strap can be detached to swap out for your own, there a gazillion on Amazon. I had no issues with the stock strap. Also, the entire unit is water-resistant to 50m.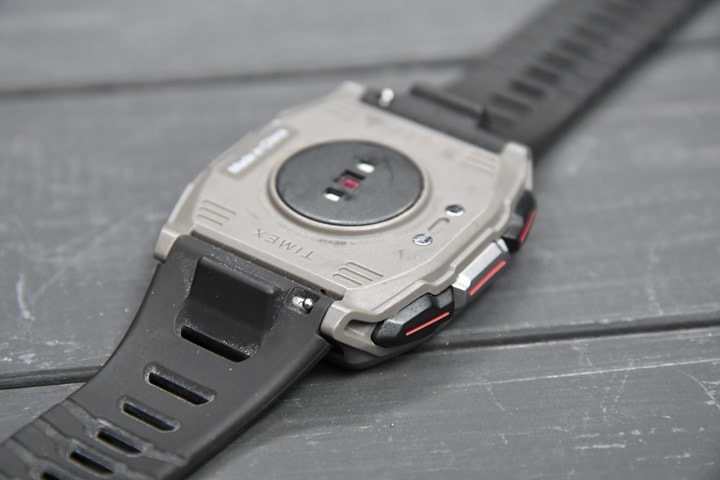 The default watch face shows you the current time/day/date, as well as your current heart rate and steps for the day. You'll also see battery status (it lasts forever, seriously), and smartphone connection status.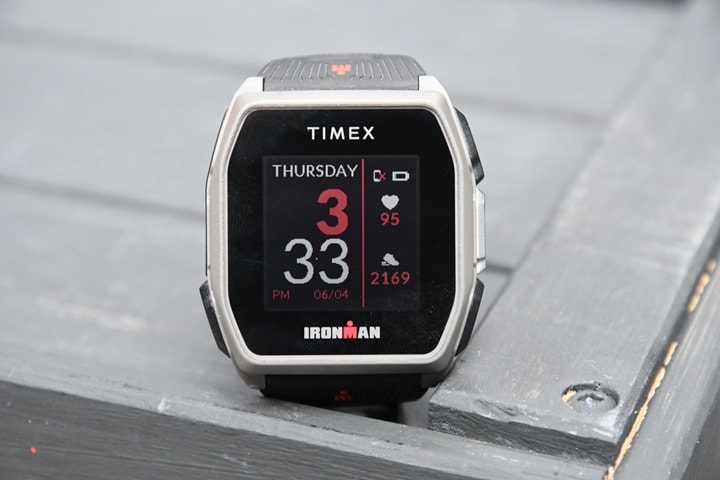 But you can also pick from dozens of other watch faces as well:
When a button is pressed the backlight will illuminate and stay on for 5 seconds after the last button press. Gone is the Indiglo coloring that Timex was famous for. Don't worry Timex, the world thanks you for moving on to a normal backlight.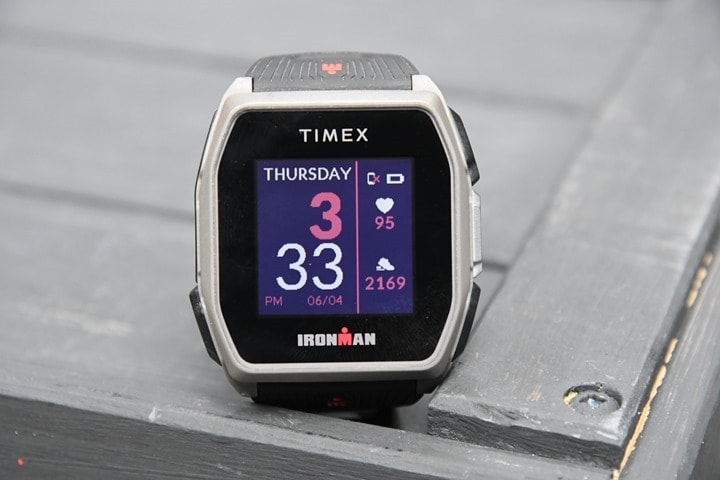 So diving into the user interface a bit, the first thing you'll realize is that anytime you interact with the watch you need to press one button to wake it up. Sure, it's always awake, but it's basically not paying attention to you. So the first button is saying 'Yo watch, listen to me!' Kinda like talking to Siri or Alexa. Then any subsequent button press after that it'll listen to.
When you press the up button, it'll show you the Airplane Mode & Do Not Disturb mode options. These are simple: On or off (individually):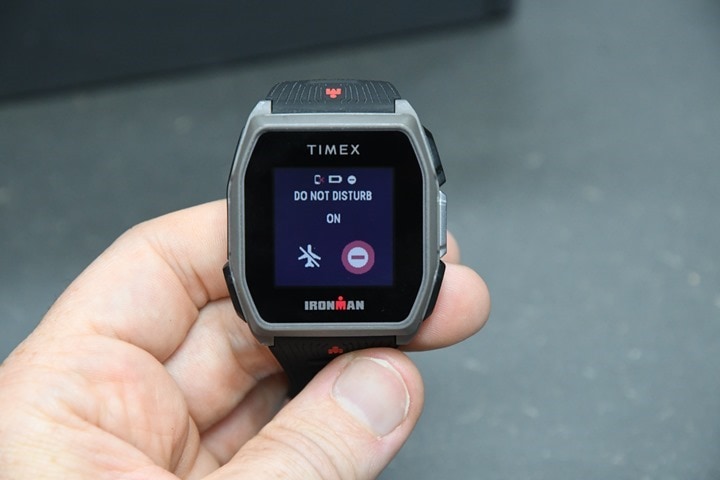 If you press the left button (back basically), it'll do nothing. But, if you double-press it, it'll give you the weather (assuming it's connected to the Timex app):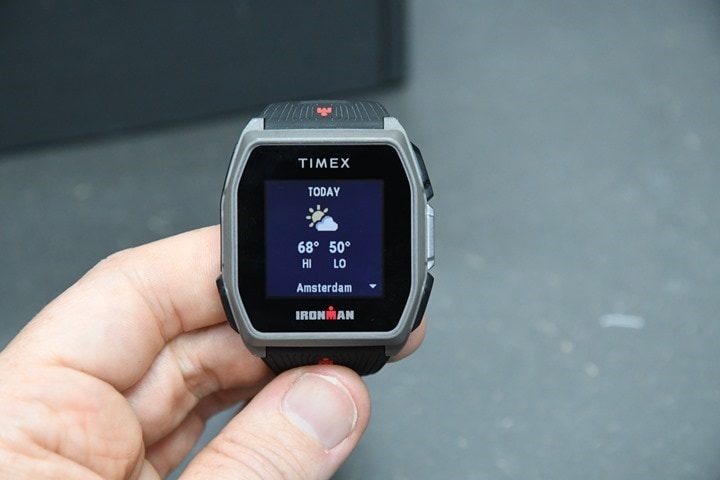 Meanwhile, pressing the bottom button lets you see any missed smartphone notifications: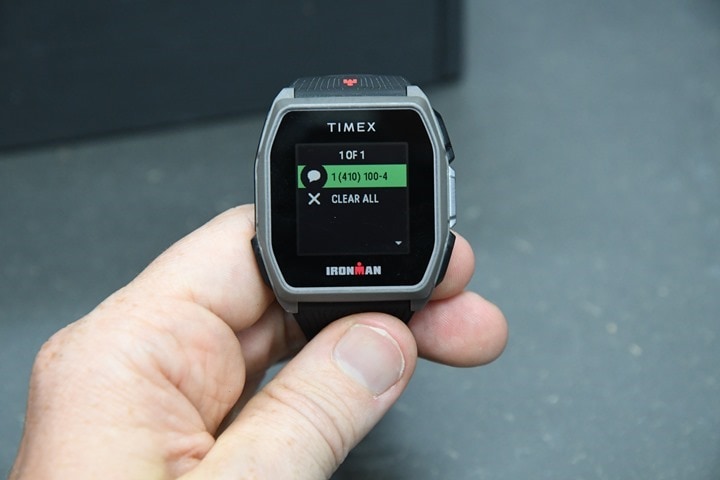 Finally, the vaunted middle button. No relation to the middle finger. This button gets you to the good stuff. It's here you'll be able to start a workout, open a structured workout, review past workouts, control music on your phone, look at daily activity stats, set alarms, create timers, and access settings. In other words, it's where you do just about everything that matters.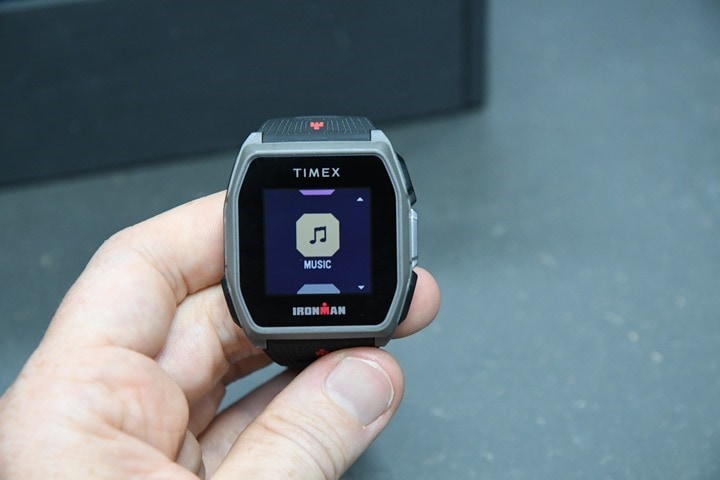 Now – before I forget, this watch has the attention span of a gnat. Seriously. If you don't press a button within 10 seconds, it'll reset all the way back to the watch face screen. So, if you're distracted for a second doing something and don't press a button on the menu, it's like being reset in Mario Bros. Obviously, this impacts me trying to take photos for a review more than most people.
In any case, I'll skip the workout, coaching, and review options as we'll talk about those later in the sport section. So that leaves us next with the Activity bits, which is where we can see Steps, Distance, Calories, and Heart Rate. First in a summary screen, and then individually.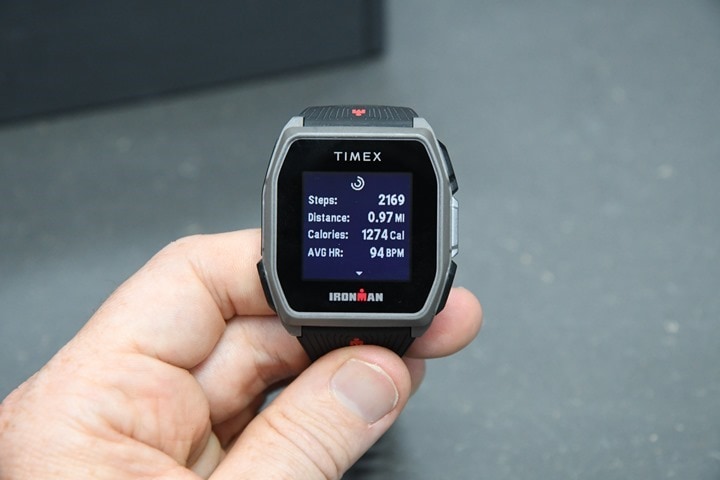 When viewed individually, you also get a progress bar around the outside edge, showing each metric against your goal metrics for the day.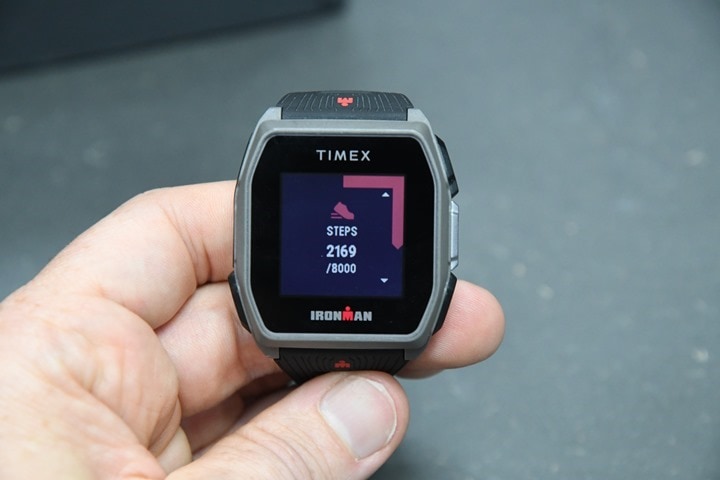 All of this same data can also be viewed in the smartphone app as well. It also even auto-recognizes certain activities and puts them on the data page, you can also sort and view by month or week too:
Next there's sleep data. This isn't viewable on the watch itself, but instead on the app. The metrics here are pretty much the norm for activity trackers, but it does also give some minor suggestions here and there – which is more than many wearable apps actually do. And again, you can look at all sorts of historical stats and averages too.
The watch is also constantly recording your heart rate, so you can see those stats as well, albeit with slightly less historical type averaging than the other metrics. Though, inversely, it gives you zones, which is kinda interesting when looking at things by day (some other companies also color the chart too, but this breaks out those at the bottom as well):
When it comes to any of these metrics goals, they can be customized through the app pretty easily, as well as heart rate zones:
Also, randomly, in theory the watch & app will even figure out if you're eating, brushing your teeth, or taking a bath – and log that too. Though, it didn't seem to do so for me. Realistically, if this worked and Whoop got together with Timex, it seems like then they could auto-populate that 'Did you have sex last night?' option in Whoop's journal for you automatically.
Next, within the app if you've got other Timex R300 GPS friends (or, I suppose enemies), you can connect up to them and sync data. Regrettably, I don't have any friends or enemies with the R300:
There's also a ton of configuration options, primarily related to various alerts and smartphone integration. And I think it's in here that the Timex R300 kinda shows its cards a bit into how much they're able to leverage the Amazfit platform to get all of these features that simply wouldn't be there with a company the size of Timex by themselves:
Finally, from a data portability standpoint, most of your daily metrics can be exported to Apple Health (though, fwiw, GPS activities don't properly show up there). You can also export workouts to Strava & RunKeeper, but we'll talk about that in the sports section.
There is a method to export data entirely out of the platform using the AmazFit platform. This is actually about the only super-obvious place where you see the underbelly of what Timex has done, as the site dumps you out into an Huami site: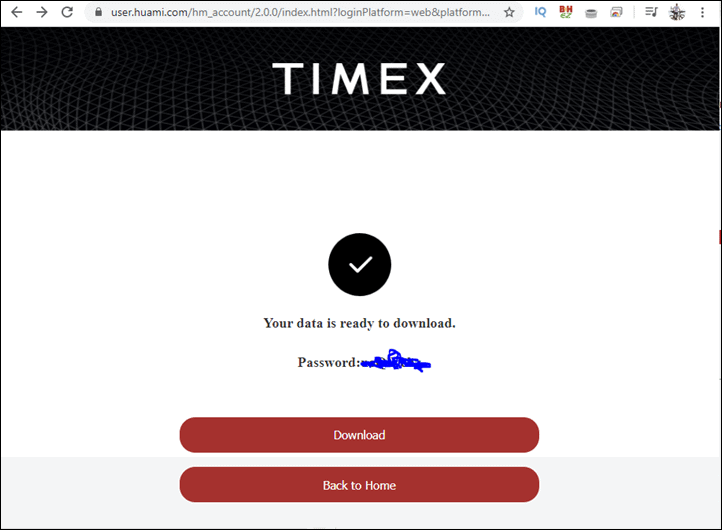 Ultimately, though that AmazFit partnership is what makes the bulk of this app quite a bit more refined than Timex would be able to put forth on their own. This is obviously something developed by a large team of people, rather than just a couple of individuals. Which isn't to say it's perfect, but for $129? Having a pretty cohesive app is hard to find at that level in most cases.
Sport Features: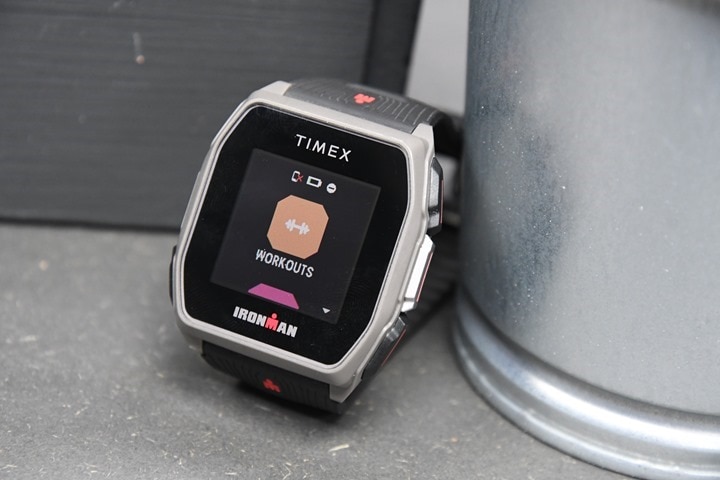 To begin, yes, it's 'Ironman' branded. Timex has had a licensing agreement with Ironman since…well…forever. And like virtually every past product (except one, a decade ago), you wouldn't really use this to track an Ironman race by 2020 standards. For example, it doesn't support openwater swimming…or, any swimming for that matter. Nor does it support connecting to any sensors (be it heart rate or cycling sensors). But for most people at this price point, that's probably fine.
To start a sport you'll press that middle button, which then allows you to select 'Workouts'. This is where you go if you just want to track a given workout (but don't have a structured workout/plan to follow):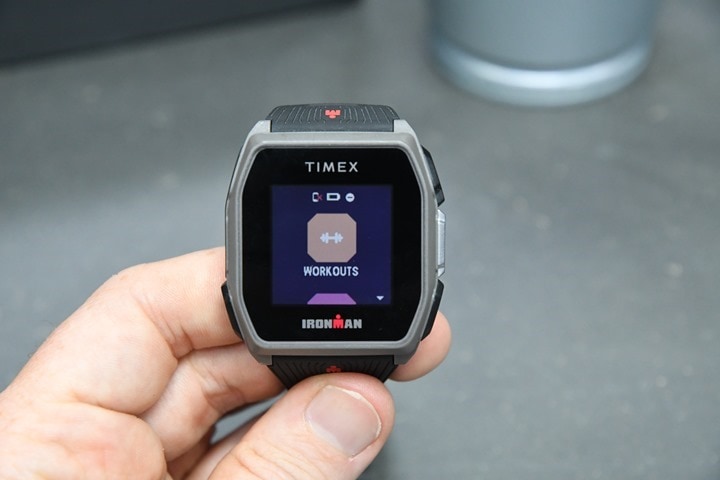 After that you'll select which sport you want. Your choices are: Outdoor Run, Treadmill, Cycling, Indoor Bike, Walking, 'Any Sport' (and then 'Race Modes' and 'Settings')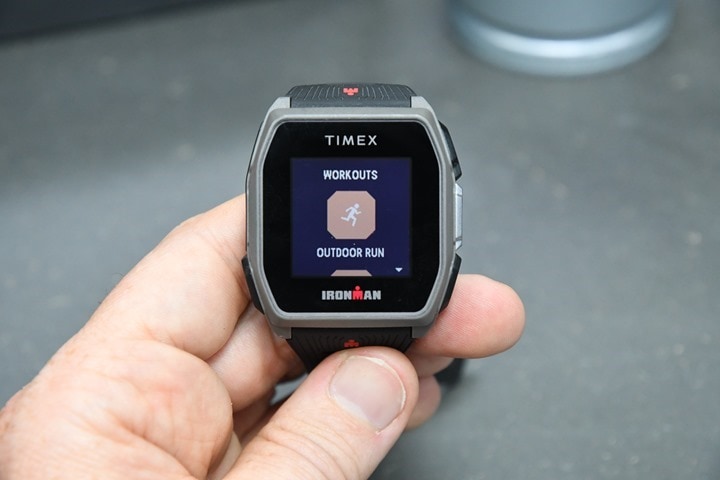 In my case, we'll just choose Outdoor Run to keep things simple. Basically, they all work the same way, except the outdoor ones have GPS and the indoor ones don't. Once you've selected the sport, if outdoors, it'll go off and find GPS: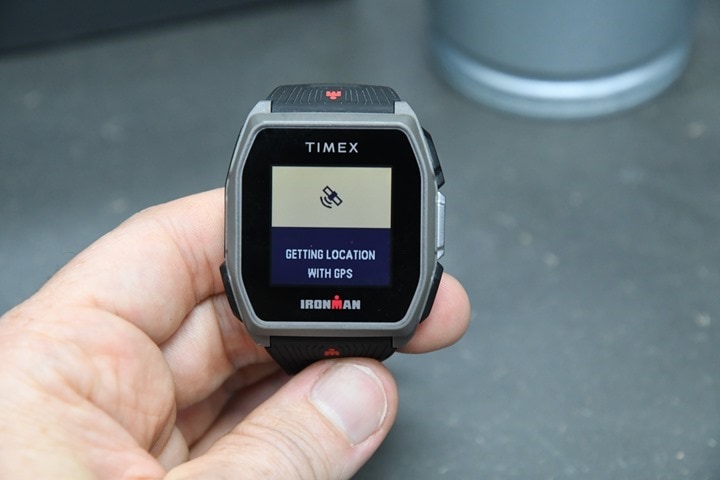 It's pretty quick in most cases, clearly leveraging satellite cache data from the smartphone (like most companies) to speed it up. You can technically skip this, but that'd be a poor life choice, as it'd reduce accuracy of your data.
Once ready you'll hit start and it'll start recording. You'll see the data pages as configured here, and you can iterate through them by pressing the up/down buttons. Here's some examples from a ride yesterday:
Now, you can very lightly customize these pages, via the watch itself (oddly, not in the app – where there's customization of everything else). To do so, you'll go into 'Sport Settings', and then choose the Display options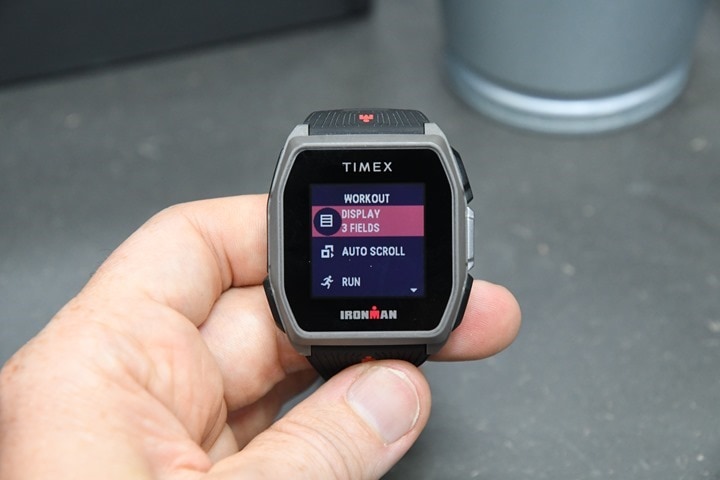 There you can change from 3 to 2 to 1 data fields per page, and then specifically customize a single data field in only the three-field mode.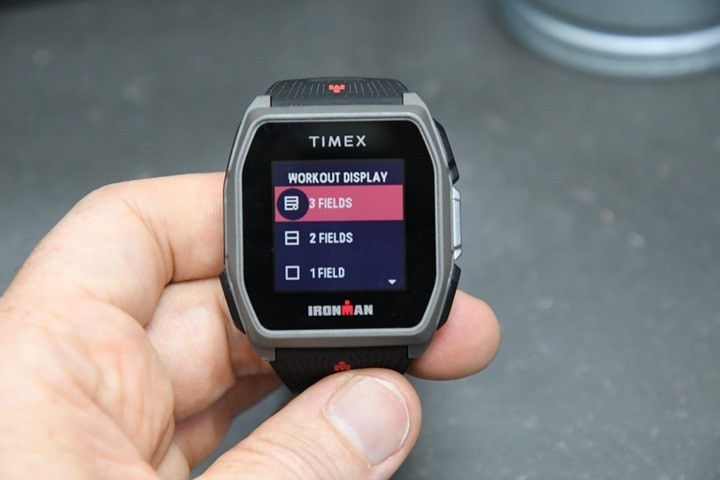 You can set it to: HR/Distance, Heart Rate, Distance, Pace, Speed, Cadence, Calories, Time of Day, Elevation.
This setting is global across all sports. You can also enable auto-scrolling of data pages (globally), and then on a per-sport basis you can toggle Auto Lap as on/off (per mile/kilometer only), auto-pause as on/off, and alerts for Distance, Time, Pace/Speed, Heart Rate, Cadence, Eating, Drinking, and Walk/Run.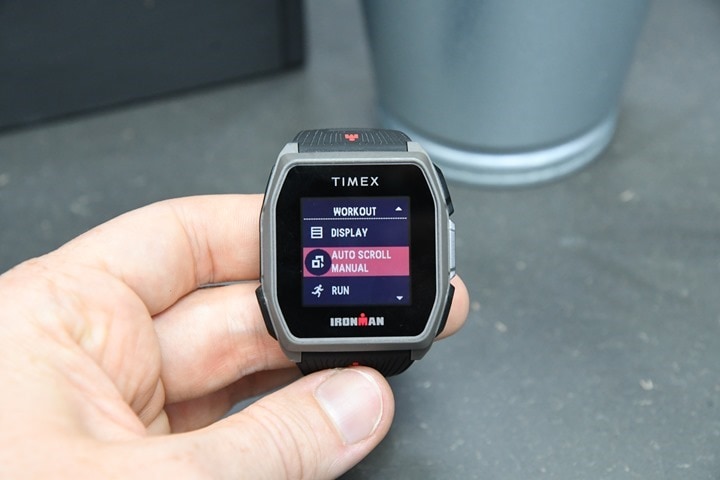 For the eating/drinking alerts they can be configured for either time or distance as the trigger.
Anyway, back in the workout, it'll show your metrics as you run – including your zones. You can hit the up/down buttons to iterate through the data fields. The overall feel is very Fitbit-like in terms of 'This is not Burger King, you do not get to tweak much of your fields, take it or leave it'.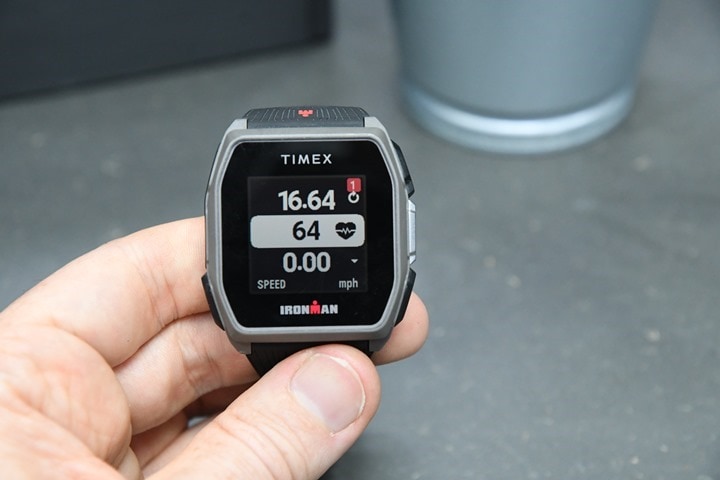 And to be honest – this is the piece that surprises me the most here. For a watch that offers so much functionality, it oddly skips what should be the easiest thing to increase appeal to more serious athletes (customization of data pages). I'm not asking for anything crazy here, but something more than just a single line would be in-line with the remainder of the features.
Speaking of serious athletes, there is the ability to add structured workouts to the watch. These fall under the 'Coached' labels within the app and watch. First, you'll go and select a 'Coached' workout on the app and sync it to the watch. They've got a few categories, namely running, HIIT, and the peculiarly named 'Triathlon'.
You can edit the workouts, or even create your own with a handful of metrics.
Once you've tapped them they'll sync to the watch, where you'll find them within the 'Coached' section of workouts: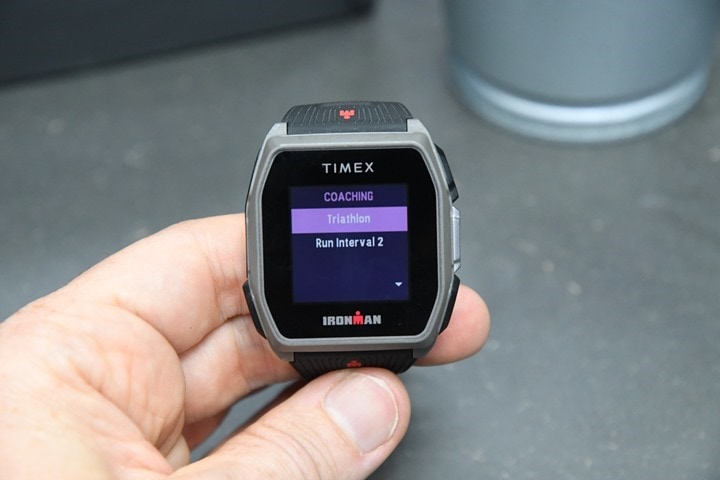 However, this is where things get a bit weird. Next, you'll open one up, and at first you'll be like 'Boom', this is great! It'll show each portion of the workout and the specific target (if applicable).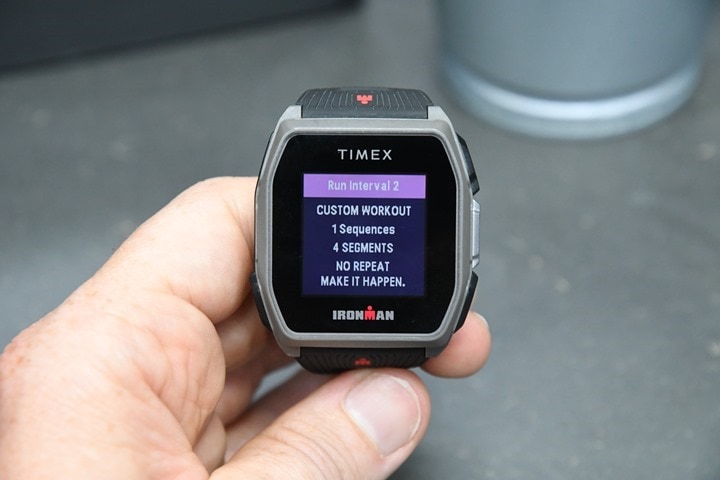 And, for something like running with set distances (such as 'Run 1 Mile interval'), it'll show the interval duration as a progress bar and your progress towards that.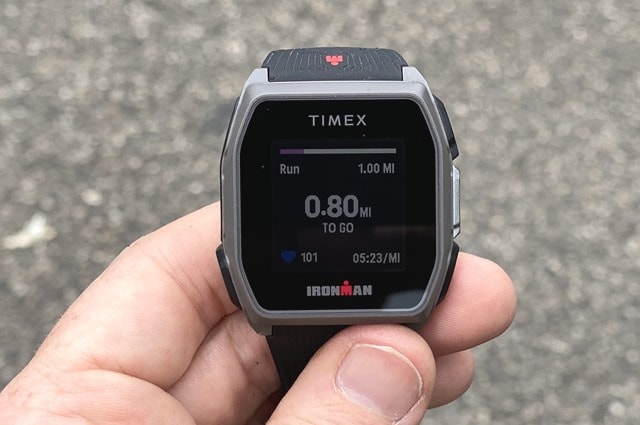 Except, right around now a little birdie in/near your head might go 'Wait, when did it get GPS?'. Because, now to think of it – it never asked/told me it was finding GPS. It just started the workout straight up, as if it was an indoor workout.
And sure it enough – it doesn't actually get GPS. Mostly. Kinda. Sorta. Actually, it does. It just doesn't tell you (or use it afterwards). So, to test this theory I did a ride down a smooth section of pavement, so that the accelerometer-based sensors that might be used for a running workout wouldn't catch my running distance. And, in doing so I found that it correctly identified the ground I covered distance-wise at the right speed (despite the watch being kept still).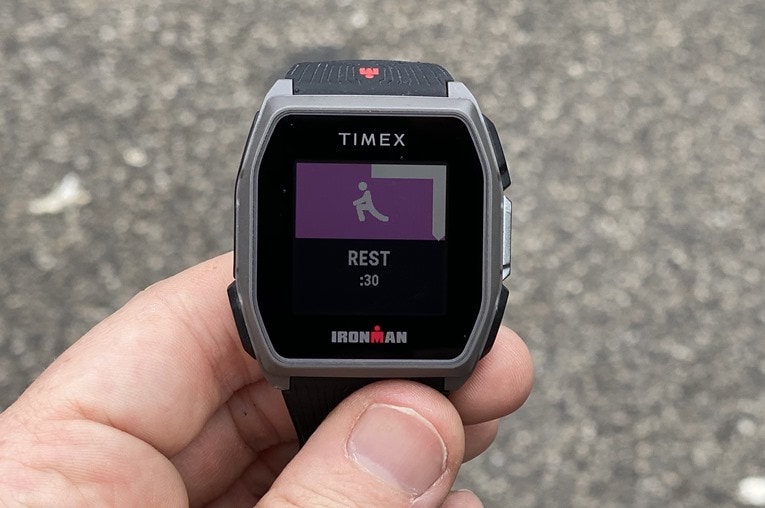 So, this tells me GPS is definitely being leveraged behind the scenes for these. Except, one problem: It doesn't show-up afterwards. When you do any 'Coached' workout, there's no GPS track of it. So you might have gone out and done a rockin' 90-minute workout using the interval function, doing mile repeats, but there's no GPS track for that recorded to the app (and thus, not on Strava). Everything appears as an indoor workout.
To which you say: Ok, fine, but you said something about a 'Triathlon' mode?
Yes, you mean this: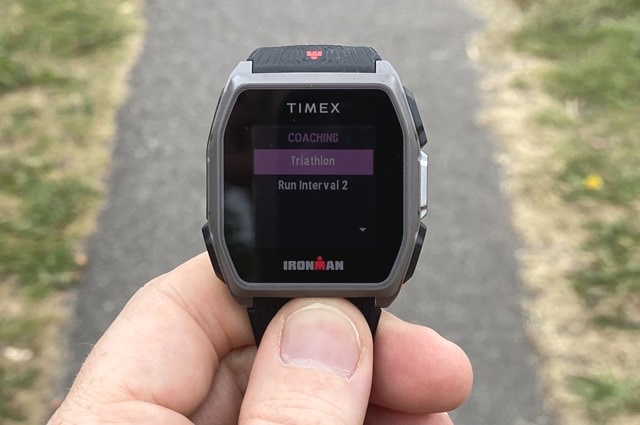 So, let's do that mode! And yes, it'll iterate through each of the sports: Swim, T1, Bike, T2, Run.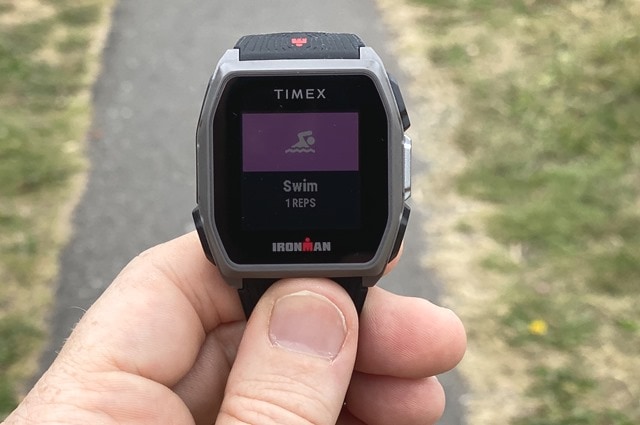 But the distance? Same as before: It pretends not to use GPS, but does actually turn it on. But, you can't see that anywhere. In the app, it'll simply create a variant of an indoor workout, label the sections – but not even tell you the distance for each section. Just a total distance. When it sends the file to Strava, it simply sets the workout type as "Other Workout" and gives it a total indoor distance. Also, it doesn't track anything in swim – just your heart rate.
So no Timex, I don't count this as a multisport watch or a triathlon watch. To be fair – I didn't expect it too either.
But I also don't really understand why the coached workouts don't properly enable GPS. This seems like such an easy no-brainer. It's leveraging that data already, just actually record the track points in the file and show a proper 'Waiting for GPS' splash screen before starting?
In any case – again, the watch costs $129 – so I guess it is what it is. And for all of my structured workouts I simply did them manually anyway (and if you turn-off auto-lap, you can manually lap using the upper right button). So it wasn't a huge deal to me and the way I used it.
Now, there is a race mode. This has two main aspects. The first is to race against past activities (either running or cycling), effectively a virtual pacer.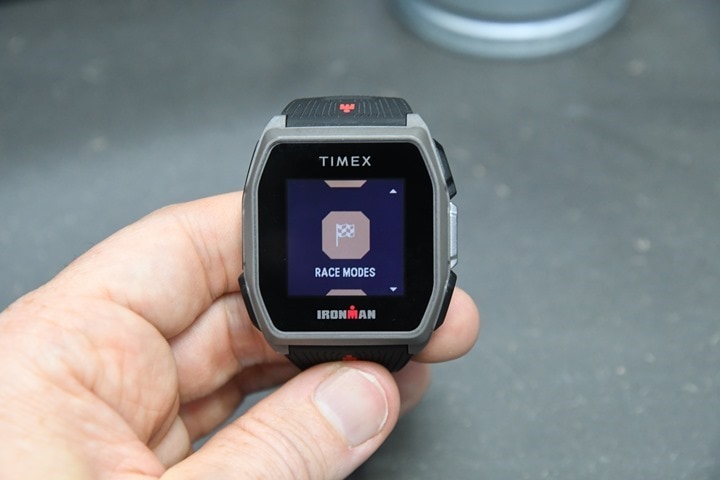 And the second is to race against a specific distance duration (e.g. 10KM) – so more of a 'Are we done yet' type of thing: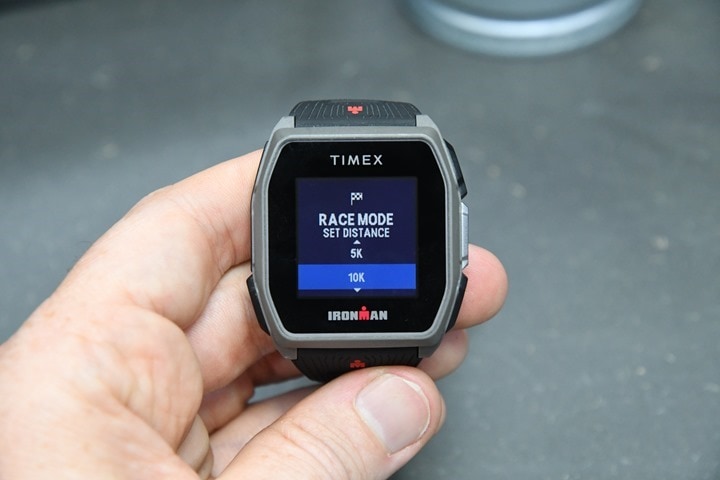 Finally, after a workout, you'll get a ton of information in the smartphone app. Here's a gallery of all those pages:
And afterwards it'll sync to Strava automatically if configured, as well as RunKeeper. In my case, I just synced it to Strava and that worked without issue.
In fact, it was actually super important to sync to Strava (or RunKeeper) because it's the *ONLY* way you can get an activity file out of it if you wanted to download it to some other platform. There's no 'Export File' option, which is sorta bizarre (ok, it's really bizarre). I can't remember the last time I tried a device that didn't have some sort of simple file export/e-mail option for workouts. Timex also says TrainingPeaks integration is coming, but that's been the case for a few months now.
Still, I get it – the price point is low here and while there are some missteps in the sports side that make you cock your head a bit, overwhelmingly for the majority of people using this to track their runs and daily fitness, this easily fits the bill – and does so surprisingly accurately.
GPS Accuracy: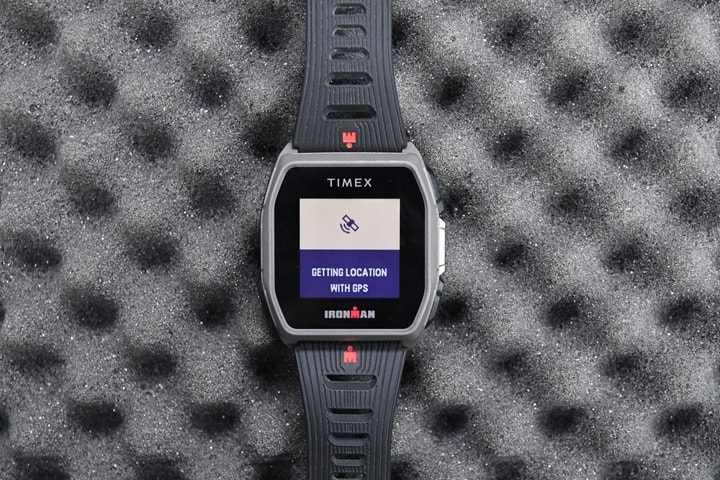 There's likely no topic that stirs as much discussion and passion as GPS accuracy.  A watch could fall apart and give you dire electrical shocks while doing so, but if it shows you on the wrong side of the road?  Oh hell no, bring on the fury of the internet!
GPS accuracy can be looked at in a number of different ways, but I prefer to look at it using a number of devices in real-world scenarios across a vast number of activities.  I use 2-6 other devices at once, trying to get a clear picture of how a given set of devices handles conditions on a certain day.  Conditions include everything from tree/building cover to weather.
Over the years, I've continued to tweak my GPS testing methodology.  For example, I don't place two units next to each other on my wrists, as that can impact signal. If I do so, I'll put a thin fabric spacer of about 1"/3cm between them (I didn't do that on any of my Timex R300 GPS activities however, all workouts only had a single device per wrist).  But often I'll simply carry other units by the straps, or attach them to the shoulder straps of my hydration backpack.  Plus, wearing multiple watches on the same wrist is well known to impact optical HR accuracy.
Next, as noted, I use just my daily training routes.  Using a single route over and over again isn't really indicative of real-world conditions, it's just indicative of one trail – that's why I use routes all over the place.  The workouts you see here are just my normal daily workouts.
First up, we'll start with something that's a blend of easy and challenging – a run through the forest. In this case, it's got some wide open areas around fields, but also some fairly tree-dense locations. It's compared against a Garmin Instinct, a Polar Grit X, the Polar Vantage V. Here's that data set: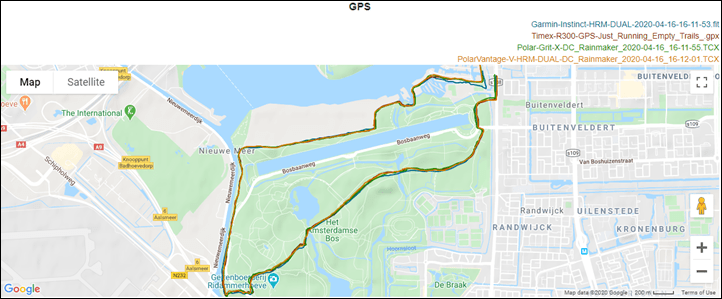 At a high level, things look kinda similar between them. Though, at the beginning there's clearly some misalignment coming from the Garmin Instinct:

Thankfully that mess doesn't last very long and the units all form a pretty close pack. There's a couple of points below where the Vantage V is off in the woods a bit more, but the Timex R300 is surprisingly sharp here on the running path, as ran.

In fact, there's probably no better example of how good the GPS is than this section here, where unquestionably the winner was the Timex R300 GPS. A unit that is at minimum 1/2 the price of any other unit on this run (and 1/4th the price in others).

Which isn't to say it was absolutely perfect. There's a few wobbles, but compared to the others? Easy winner.
However, a short bit later things weren't quite as on-point, from anyone. This taller tree section caused everyone to be off-path. Nobody was horrible, and nobody was perfect. It was all kinda 'meh'.

But hey, once we got out to the fields, then it got acceptable by everyone again:

Distance-wise at the end of the day, they were all fairly similar. The Timex doesn't write its distance to the file as a summary field, but it's recorded distance was in the middle at 8.80km – so right in the middle of the pack.

Now, let's increase the difficulty by going on tighter trails for hill repeats…eight times in a row. This will look at how well it can maintain the same exact loop over and over again (all, on trails). In this case I swapped out the Polar Vantage V for an Apple Watch Series 5. Just to mix it up. Here's that data set:

Ok, again, at a high level it's fine. And initially, as I was leaving the city, it was mostly fine by everyone, save an itty-bitty-bit of offset coming from the Timex R300, where you can see it just slightly cutting across the docks in that squiggle section (technically, they're house-boats, but hey…).

The rest of the trail there was fine. So let's go straight on down to the hill.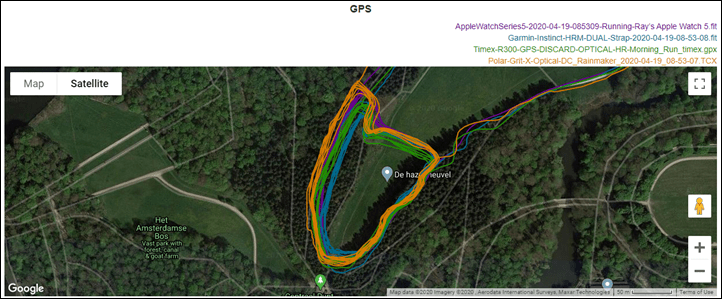 That's kinda pleasing in a visual sort of way. The right side of this circle is where I went up each time, and the left side is where I went down each time. Interestingly, there are two observations here:
A) Going up, they're all very very close. Within a few meters of each other on all the loops
B) Going down, they're a bit more spread out, but also aligned in groupings unto themselves
In other words, it seems like going downhill causes some 'drift' for each given unit, which is why we can see the colors more easily than not.
So who was closest? Well, it's tough – but I'd say it's a tie between the Grit X and the Apple Watch, with the Timex close behind. Which isn't to say the Instinct was far off. We're really talking just 5-7 meters off to one side at most. Very small differences.

Now, keep in mind my hills are pretty darn small here. Look, that's all I've got. It's not the size of your hill, but how you use it. Or, something like that.

Note that at present we don't show negative elevation values on the DCR Analyzer graphs, though this would be a case where it would be helpful. The hill starts below sea level. The three non-Timex units are all pretty close when you look at the scale here. The Timex however was slightly above the rest. But the actual data in the watch was very consistent – even if slightly offset by 10m. Again, because of the scale of these graphs, for those of you that don't live in the Netherlands with pancake-flat elevation, being offset by 10-meters would never have been noticed on your normal routes.
Next, let's switch over to some cycling. This is a big ol' loop around the area. None of the terrain is super difficult from a GPS standpoint, though there are plenty of buildings and bridges – especially earlier on. Here's that data set.

At a high level, things look basically identical.
And, at a medium level – they're still identical:

And a low level, they're still virtually identical. Even going under this gigantic highway overpass all units are basically the same. No wonky outliers here. In fact, I'd say the Timex R300 was the 'cleanest' track here under this overpass.

Honestly, this entire track is watching four lines all within a meter or two of each other at all times.

So yeah, kinda boring.
Here's another boring set. This one was headed to a local cycling track of sorts (a dedicated loop about 2KM long only for cyclists). That's always fun to do with GPS devices, to see how well it handles the same route over and over again. In other words, can it do it exactly the same numerous times? Here's that data set:

Now, as you can see above, it basically looks the same.
But, let's zoom into that track section. Ok, yeah, still looks the same.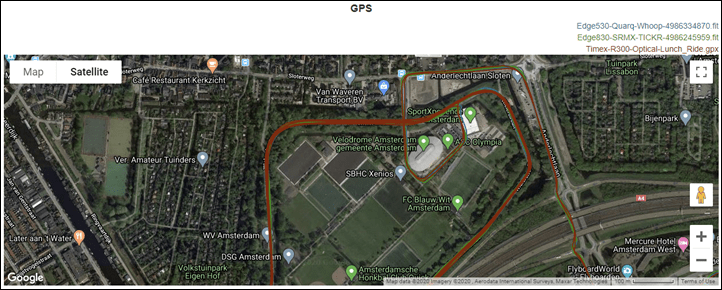 So…more zoom!

Ok, now we can see a bit of separation, and a bit of off-roading. But, even in this example both the Edge 530 & Edge 830 are occasionally off-track too. I think it's fair to say that while all very similar (and totally acceptable for Strava), the tracks of the Edge 530/830 are a bit sharper on the road than the Timex. But again, we're really nitpicking at this point.
We can see the same at the other end of the track too: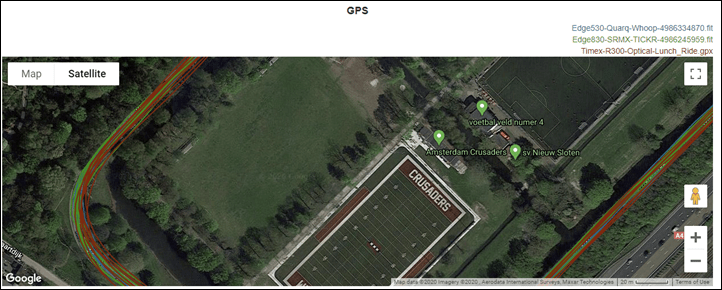 Ultimately the accuracy from a road cycling GPS standpoint is solid. No complaints.
And from a running standpoint, the same is true as well. And in many cases, it's beating higher-end units. For example, on this run last week, it *easily* beat the high-end Garmin Fenix 6 Pro GPS accuracy-wise, whereby that watch was off in the river (way in the river). And the same goes for other watches like the Polar Grit X too.
Look, I'm sure there's cases where the Timex R300 can manage to totally screw up, but I haven't found it yet in many, many, many workouts. It's just spot-on.
(Note: All of the charts in these accuracy sections were created using the DCR Analyzer tool.  It allows you to compare power meters/trainers, heart rate, cadence, speed/pace, GPS tracks, and plenty more. You can use it as well for your own gadget comparisons, more details here.)
Heart Rate Accuracy: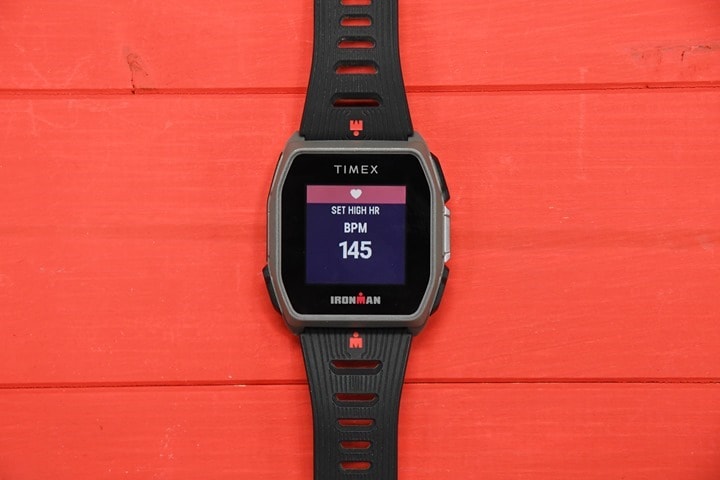 Next up we've got heart rate accuracy.  This roughly falls into two buckets: 24×7 HR, and workout HR.  As is usually the case with most devices these days, I see no tangible issues with 24×7 HR (it's exceptionally rare that I see issues in this realm, given how easy it is).  It works well across both normal daily routines as well as things like sleep.  Speaking of which, I talk about RHR values and 24×7 monitoring here and why it's interesting.
Before we move on to the test results, note that optical HR sensor accuracy is rather varied from individual to individual.  Aspects such as skin color, hair density, and position can impact accuracy.  Position, and how the band is worn, are *the most important* pieces.  A unit with an optical HR sensor should be snug.  It doesn't need to leave marks, but you shouldn't be able to slide a finger under the band (at least during workouts).  You can wear it a tiny bit looser the rest of the day.
Ok, so in my testing, I simply use the watch throughout my normal workouts.  Those workouts include a wide variety of intensities and conditions, making them great for accuracy testing.  I've got steady runs, interval workouts on both bike and running.
For each test, I'm wearing additional devices, usually 3-4 in total, which capture data from other sensors.  Typically I'd wear a chest strap (usually the Garmin HRM-DUAL or Polar H10, but also Polar H9) as well as another optical HR sensor watch on the other wrist (lately the Whoop band, Polar OH1 Plus, as well as the Mio Pod). Note that the numbers you see in the upper right corner are *not* the averages, but rather just the exact point my mouse is sitting over.  Note all this data is analyzed using the DCR Analyzer, details here.
We're going to start with something simple here first, a relatively stable run without a ton of variance. Here's that dataset.

Honestly, that's boring. It's perfectly accurate. As one would hope for basically a stable run. In fact, the ramp at the beginning was also the most accurate of the bunch too! Even more so when you consider it did better than the chest strap (which incorrectly spiked).
For fun, here's another flat and stable run from last week:

Again, very good overall, a few minor blips here and there where it'd spike, but it's spiking way less than I saw the recent Polar Grit X spike. For a $129 heart rate sensor, nothing comes close.
So, given that's boringly accurate, let's increase the difficulty. This time a mostly even run, except for hill repeats in the middle. Obviously, that's challenging because the intensity is similar to intervals, but also going downhill increases cadence which in turn usually gives optical HR sensors more difficulty. Here's that data set:

So, as you can see in that first 20 mins or so that while it's close – it's got about half a dozen spikes here and there. Nothing major, at worst about 10bpm high (which, is high, though it only happened briefly). And the remainder were 3-5bpm. I would occasionally see this elsewhere over the past two months in testing, but it was rare. It always spiked high, but never low.

Now, let's look at the hill repeats. These were non-stop loop efforts, so basically up one part of the hill, then looping down another trail. Rinse, repeat. And by and large, out of the 8 sets, they're near identical on all but one. Only one set (#4), it goes a bit sideways for some reason. I don't know why. However, I do know that on one of those sets I was trying to record some video going – so it's plausible it's that one set that it caught.

Next, for the post-hill parts, you can see it follows the similar pattern of pre-intervals, where it's going a bit wonky spiking. For this portion, I was just running trying to get home, so no filming there.

Next, it's full-on interval time! This first bump you see is more of a kick up in pace than a true interval. Basically a build. But after that, those are legit intervals at approximately 6:10-6:20/mile (3:45-4:00/km). Nice cruisin' pace.
You can see here that the Timex R300 gets off to a rough start oddly, where it drops entirely for no particular reason. And then about two mins later it locks into place and life is grand again. And after that point it's actually quite stable and very close to the other units (except the Whoop and Charge 4, which got wonky). I can't reiterate enough how impressive this is. These weren't easy intervals, and the R300 HR sensor nailed everything here:

Again, look closely at the core intervals. And look at the Whoop 3.0 strap (I've highlighted it in yellow) which starts at $180 (that's the minimum buy-in price). That is literally just a heart rate strap. Yet here's a $129 wearable that has GPS, a screen, and a gazillion other features and it nails this. Like, perfectly nails this run.

What about an outdoor ride. No prob – I've got data there too. Except, it doesn't always end well for the Timex R300 (but sometimes it does). First up, is this ride here where you can clearly see it just lost the plot about 40% into the ride, and then never recovered. It also wasn't on-point for the first 10 minutes either.

I mean, I could somehow analyze that further, but life is short: It was a disaster.
However, it's not always that way.
For example, check out this ride from last week, intervals actually, doing loops around a circuit. Here's that data set, compared against a Wahoo TICKR X, Mio Pod, Whoop 3.0 strap, and Polar Grit X. As you can see, it was basically the same the entire time – save one couple-minute stretch after the intervals as I easy-pedaled back home.

Within the times that it's close, you'll see that it's nearly spot on. There's only a few nuanced times where it seems to blip a bit higher (always higher, almost never lower), and is a bit wobbly when it does so. Mind you, if this was a $699 GPS I'd probably be harsher. But in the case of outdoor cycling, I've mostly given up on using optical HR sensors on the wrist. So if I was using this, it'd be totally acceptable in my book.

So ultimately, I'm very impressed with the Timex R300's HR sensor. I had joked above that the sensor on this is far better than the Whoop sensor (and hey, with better battery too) at a lower price point. But it's kinda hard to overstate that.
Not so much with respect to Whoop – but many optical HR sensors I test. This is in the ballpark of any of the better sensors I've used on watches from Garmin, Polar, or Apple. No watch is perfect. None. Each optical HR sensor has their quirks and nuances. And I can find complete failures on all of them. Just as the R300 GPS does above.
But when I saw the price, and then saw the sensor on the back of the watch – I assumed I'd be soon doing graphs of dumpster fires. But that's clearly not the case here. It's very clearly quite close to these high-end units (and in some cases, surpassing them – if not almost always equaling them). So kudos Timex (and AmazFit) on nailing this one.
Product Comparison Tool:
I've added the Timex R300 GPS into the product comparison tool, which allows you to compare it against any watches I've reviewed to date.  For the purposes of the below table, I've compared it against the existing Fitbit Versa (usually $149), the Apple Watch Series 3 (often on sale for $199), as well as the Garmin Forerunner 45 (on sale for $149 these days).
It's a tricky unit to compare against because it's priced so far below the others. So, when the others aren't on sale – it stands totally alone when looking at sports watches from reputable companies. When the others are on sale, the decision (such as against the FR45) is much more difficult.
But you can easily mix and match against any other products within the database here, by creating your own product comparison tables.  Note that in some cases nuanced features (like the specifics of how different watches track training load or recovery), doesn't really fit well into product comparison tools designed to host hundreds of watches:
Function/Feature

Timex R300 GPS
Garmin Forerunner 45/45S
Apple Watch Series 3
Fitbit Versa
Copyright DC Rainmaker - Updated November 17th, 2022 @ 10:19 am New Window
Price
$129
$199
$169-$179
$149
Product Announcement Date
Feb 2019
Apr 30th, 2019
Sept 12th, 2017
March 2018
Actual Availability/Shipping Date
Apr 2019
Early May 2019
Sept 22nd, 2017
April 2018
GPS Recording Functionality
Yes
Yes
Yes
via phone
Data Transfer
Bluetooth Smart
USB, Bluetooth Smart
Bluetooth Smart
Bluetooth Smart
Waterproofing
50m
50 meters
50m
50m
Battery Life (GPS)
20 hours GPS (and 28 days standby)
13 Hours
5hrs GPS on time (24-48hrs standby)
N/A
Recording Interval
Variable (every few seconds)
SMART RECORDING (VARIABLE)
Varies
1-second
Alerts
Audible/Visual
Sound/Visual/Vibrate
Vibration/Audio/Visual
Visual/Vibrate
Backlight Greatness
Good
Great
Great
Great
Ability to download custom apps to unit/device
No
Watchfaces only
Yes
Yes
Acts as daily activity monitor (steps, etc...)
Yes
Yes
Yes
Yes

Music

Timex R300 GPS
Garmin Forerunner 45/45S
Apple Watch Series 3
Fitbit Versa
Can control phone music
Yes
Yes
Yes
Yes
Has music storage and playback
No
No
Yes
Yes
Streaming Services
No
No
Apple Music, Spotify (but not offline yet)
Pandora, Deezer

Payments

Timex R300 GPS
Garmin Forerunner 45/45S
Apple Watch Series 3
Fitbit Versa
Contactless-NFC Payments
No
No
Yes
Yes (with certain editions)

Connectivity

Timex R300 GPS
Garmin Forerunner 45/45S
Apple Watch Series 3
Fitbit Versa
Bluetooth Smart to Phone Uploading
Yes
Yes
Yes
Yes
Phone Notifications to unit (i.e. texts/calls/etc...)
Yes
Yes
Yes
Yes
Live Tracking (streaming location to website)
No
Yes
With 3rd party apps
No
Group tracking
No
No
No
No
Emergency/SOS Message Notification (from watch to contacts)
No
Yes (via phone)
Yes
No
Built-in cellular chip (no phone required)
No
No
Yes (with cellular version)
No

Cycling

Timex R300 GPS
Garmin Forerunner 45/45S
Apple Watch Series 3
Fitbit Versa
Designed for cycling
Yes
Yes
Yes
Yes
Power Meter Capable
No
No
No
No
Speed/Cadence Sensor Capable
No
Yes
No
No
Strava segments live on device
No
No
No
No
Crash detection
No
Yes
No
No

Running

Timex R300 GPS
Garmin Forerunner 45/45S
Apple Watch Series 3
Fitbit Versa
Designed for running
Yes
Yes
Yes
Yes
Footpod Capable (For treadmills)
No (but can track indoor run)
YES (ALSO HAS INTERNAL ACCELEROMETER)
With 3rd party apps
No (but has treadmill functionality)
Running Dynamics (vertical oscillation, ground contact time, etc...)
No
No
No
No
Running Power
No
No
VO2Max Estimation
No
Yes
Yes
Yes, via app
Race Predictor
No
No
No
No
Recovery Advisor
No
no
No
No
Run/Walk Mode
Yes
Yes
With 3rd party apps
No

Swimming

Timex R300 GPS
Garmin Forerunner 45/45S
Apple Watch Series 3
Fitbit Versa
Designed for swimming
No (but is waterproof)
NO (PROTECTED THOUGH JUST FINE)
Yes
Yes
Openwater swimming mode
No
N/A
YEs
No
Lap/Indoor Distance Tracking
N/A
N/A
Yes
Yes
Record HR underwater
N/A
N/A
Yes
No
Openwater Metrics (Stroke/etc.)
N/A
N/A
Basic stroke type only
No
Indoor Metrics (Stroke/etc.)
N/A
N/A
Basic stroke type only
Yes
Indoor Drill Mode
N/A
N/A
No
No
Indoor auto-pause feature
N/A
N/A
Yes
No
Change pool size
N/A
N/A
Yes
Yes
Indoor Min/Max Pool Lengths
N/A
N/A
1y/m to 1,500y/m+
10m/y-100m/y
Ability to customize data fields
N/A
N/A
Very limited
Yes
Captures per length data - indoors
N/A
N/A
Yes
Indoor Alerts
N/A
N/A
Yes (goals)
Yes (distance)

Triathlon

Timex R300 GPS
Garmin Forerunner 45/45S
Apple Watch Series 3
Fitbit Versa
Designed for triathlon
No
No
Not really
No
Multisport mode
No
No
Yes
No

Workouts

Timex R300 GPS
Garmin Forerunner 45/45S
Apple Watch Series 3
Fitbit Versa
Create/Follow custom workouts
Sorta (Yes but not with GPS)
Yes
With 3rd party apps
No (Premium Coached only)
On-unit interval Feature
Sorta (race mode, but not intervals per se)
Yes
With 3rd party apps
No
Training Calendar Functionality
No
Yes
With 3rd party apps
No

Functions

Timex R300 GPS
Garmin Forerunner 45/45S
Apple Watch Series 3
Fitbit Versa
Auto Start/Stop
Yes
Yes
Yes
Yes
Virtual Partner Feature
Yes (past efforts only)
Virtual Pacer
No
No
Virtual Racer Feature
Yes (specified distances)
No
No
no
Records PR's - Personal Records (diff than history)
Via app
Yes
No
No
Tidal Tables (Tide Information)
No
No
No
No
Weather Display (live data)
Yes
Yes
Yes
Yes

Navigate

Timex R300 GPS
Garmin Forerunner 45/45S
Apple Watch Series 3
Fitbit Versa
Follow GPS Track (Courses/Waypoints)
No
No
With 3rd party apps
No
Markers/Waypoint Direction
No
No
With 3rd party apps
No
Routable/Visual Maps (like car GPS)
No
No
With 3rd party apps
No
Back to start
No
No
With 3rd party apps
No
Impromptu Round Trip Route Creation
No
No
With 3rd party apps
No
Download courses/routes from phone to unit
No
No
With 3rd party apps
No

Sensors

Timex R300 GPS
Garmin Forerunner 45/45S
Apple Watch Series 3
Fitbit Versa
Altimeter Type
GPS
No
Barometric
Barometric
Compass Type
N/A
None
N/A
N/A
Optical Heart Rate Sensor internally
Yes
Yes
Yes
Yes
SpO2 (aka Pulse Oximetry)
No
No
No
Heart Rate Strap Compatible
No
Yes
Yes
No
ANT+ Heart Rate Strap Capable
No
Yes
No
No
ANT+ Speed/Cadence Capable
No
Yes
no
No
ANT+ Footpod Capable
No
Yes
No
No
ANT+ Power Meter Capable
No
No
No
nO
ANT+ Lighting Control
No
No
No
nO
ANT+ Bike Radar Integration
No
No
No
No
ANT+ Trainer Control (FE-C)
No
No
No
No
ANT+ Remote Control
No
No
No
No
ANT+ eBike Compatibility
No
No
No
No
ANT+ Gear Shifting (i.e. SRAM ETAP)
No
No
No
No
Shimano Di2 Shifting
No
No
No
No
Bluetooth Smart HR Strap Capable
No
No
Yes
No
Bluetooth Smart Speed/Cadence Capable
No
No
No
No
Bluetooth Smart Footpod Capable
No
No
No
No
Bluetooth Smart Power Meter Capable
No
No
No
No
Temp Recording (internal sensor)
No
No
No
No
Temp Recording (external sensor)
No
No
No
no

Software

Timex R300 GPS
Garmin Forerunner 45/45S
Apple Watch Series 3
Fitbit Versa
PC Application
N/A
Garmin Express (PC/Mac)
None
PC/Mac
Web Application
N/A
Garmin Connect
None
YEs
Phone App
iOS/Android
iOS/Android
iOS only
iOS/Android/Windows
Ability to Export Settings
No
No
No
No

Purchase

Timex R300 GPS
Garmin Forerunner 45/45S
Apple Watch Series 3
Fitbit Versa
Amazon
Link
Link
Link
Link
Backcountry.com
Link
Link
Link
Link
Chain Reaction Cycles
Link
Link
Link
Link
Competitive Cyclist
Link
Link
Link
Link
REI
Link
Link
Link
Link
Wiggle
Link
Link
Link
Link

DCRainmaker

Timex R300 GPS
Garmin Forerunner 45/45S
Apple Watch Series 3
Fitbit Versa
Review Link
Link
Link
Link
Link
Remember, you can mix and match and create your own product comparison tables here, for watches not seen above.
Wrap-Up: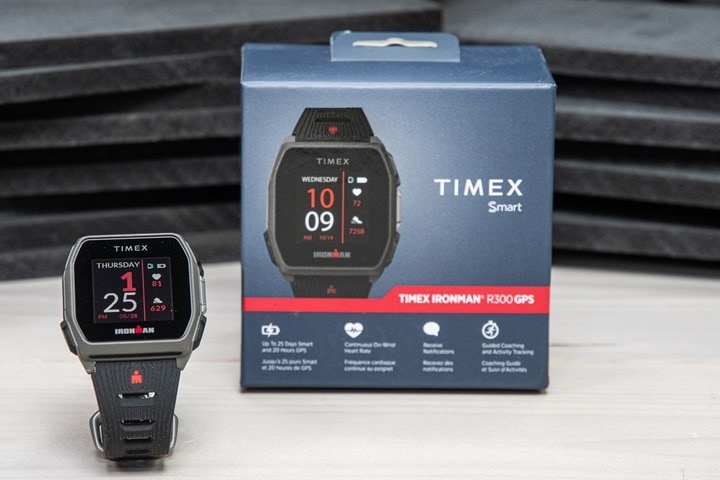 Overall, for $129 I came away pretty darn surprised at how good this watch is. It's got a ton of features packed into it, and probably more importantly – it's actually accurate. This isn't just a quick plastic piece of junk knock-off with a Timex logo on it – it's easily matching the GPS performance and heart rate accuracy of watches that cost $600-$800.
It just doesn't have all the features of those watches. Nor, would one expect it to. But it does have most of the features of the $200-$250 watches out there today. And in some ways, that's probably the more important takeaway. And of course, that depends on Huami and their Amazfit platform to pull off. I don't particularly see that as a huge problem for most consumers, though some might. For me, I think it's a huge boon for Timex to be able to get a platform of that level without having to build it themselves.
Of course – as noted throughout the review, the unit isn't perfect. The entirety of the 'Coached' workouts pieces is confusing and needs some polish applied, not to mention the lack of basic workout exporting to other platforms beyond Strava and RunKeeper is a problem (especially since the exporting to Apple Health doesn't include any GPS information).
On the flip side, Timex easily delivers on battery life. Whatever magic they have inside that watch to get them that battery life is clearly working, so I can't complain there.
Ultimately, if you're looking for a budget GPS sports watch and the Timex look appeals to you – then this is certainly an option to consider with only a handful of minor downsides.

Found This Post Useful? Support The Site!
Hopefully you found this review useful. At the end of the day, I'm an athlete just like you looking for the most detail possible on a new purchase – so my review is written from the standpoint of how I used the device. The reviews generally take a lot of hours to put together, so it's a fair bit of work (and labor of love). As you probably noticed by looking below, I also take time to answer all the questions posted in the comments – and there's quite a bit of detail in there as well.
If you're shopping for the Timex R300 GPS or any other accessory items, please consider using the affiliate links below! As an Amazon Associate I earn from qualifying purchases. It doesn't cost you anything extra, but your purchases help support this website a lot. Even more, if you use Backcountry.com or Competitive Cyclist with coupon code DCRAINMAKER, first time users save 15% on applicable products!
And of course – you can always sign-up to be a DCR Supporter! That gets you an ad-free DCR, access to the DCR Quarantine Corner video series packed with behind the scenes tidbits...and it also makes you awesome. And being awesome is what it's all about!
Thanks for reading! And as always, feel free to post comments or questions in the comments section below, I'll be happy to try and answer them as quickly as possible. And lastly, if you felt this review was useful – I always appreciate feedback in the comments below. Thanks!