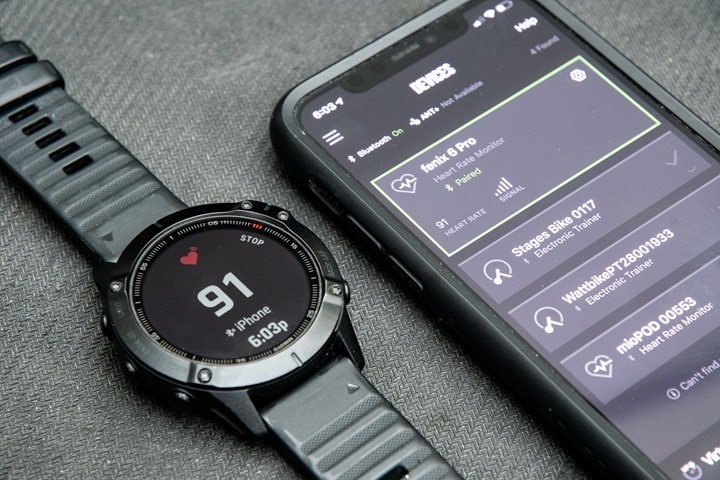 Slipped into yesterday's most recent Garmin Fenix 6 series public beta is a new feature that slightly revamps heart rate re-broadcasting. This is where you can broadcast the heart rate from your optical HR sensor, on the back of your watch, to 3rd party apps. Up until this point, Garmin has only supported ANT+ broadcasting (and has done so forever), with the exception of the new Virtual Run profile they added earlier this year to a handful of watches. That Virtual Run profile also broadcasted over Bluetooth Smart, but was a bit overkill if all you wanted was heart rate for Zwift or TrainerRoad on an iPad.
Now though, when you enable optical HR broadcasting, it'll do both.
I'm just going to super-duper quickly run through this. Mostly because I've already gotten entirely distracted by one sparkly object post in the last 24 hours, and now this sparkly feature beta has distracted me too. All taking me away from my actual goals this week of the Peloton & Stages Bike Reviews.
Quick Guide:
Now, in order for this to work you'll need to be on the latest Garmin Fenix 6 series public beta, which was released yesterday (again, for beta). It's also available for MARQ here too. I don't see a FR945 variant of that, I'll poke and ask if this is planned there. This is the same beta cycle that's added the sleep tracking a few weeks ago, and some other widget updates. You can download the beta here.
Next, with that all updated, you'll need to use the 'Broadcast Heart Rate' option. The other 'Broadcast while in an activity', doesn't seem to work. So for that main option, that's located under Settings > Sensors > Wrist Heart Rate > Broadcast Heart Rate: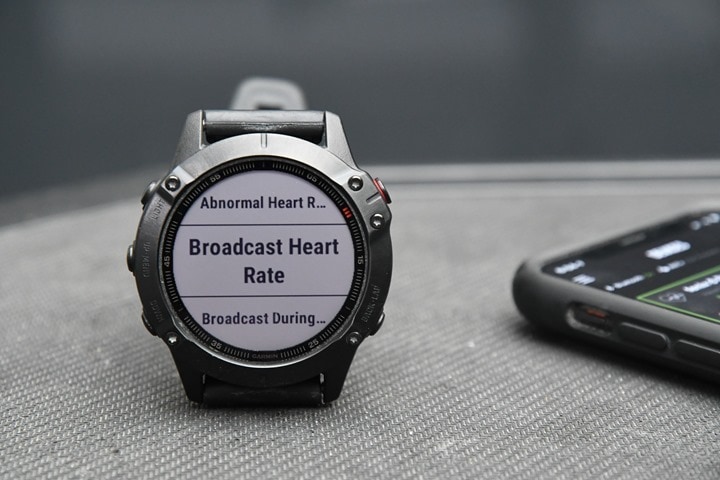 Once you initialize that, you'll get a slightly revamped screen. Previously there was no start button, nor did it tell you what device was connected. Now both are shown. However, before you press 'Start', it'll say 'Off: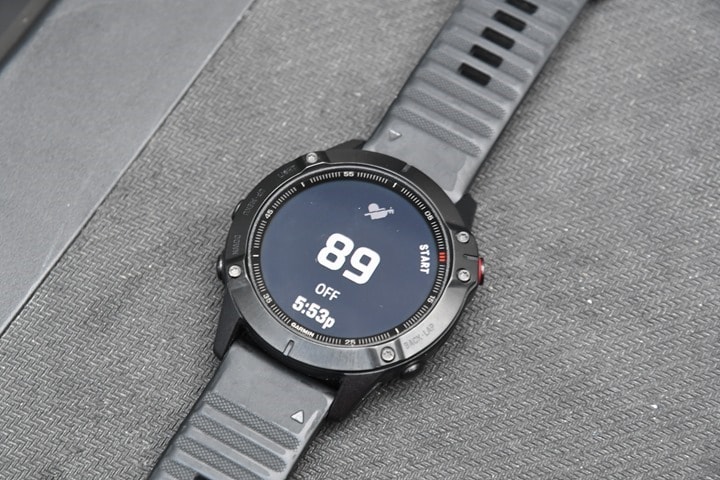 And then once you press 'Start', it'll show the Bluetooth icon and exactly which device it's currently connected to via Bluetooth Smart (there remains unlimited ANT+ connections). So, let's say on my iPhone I open up TrainerRoad. Here I can see the Fenix 6 Pro, and then I can see my heart rate in the app: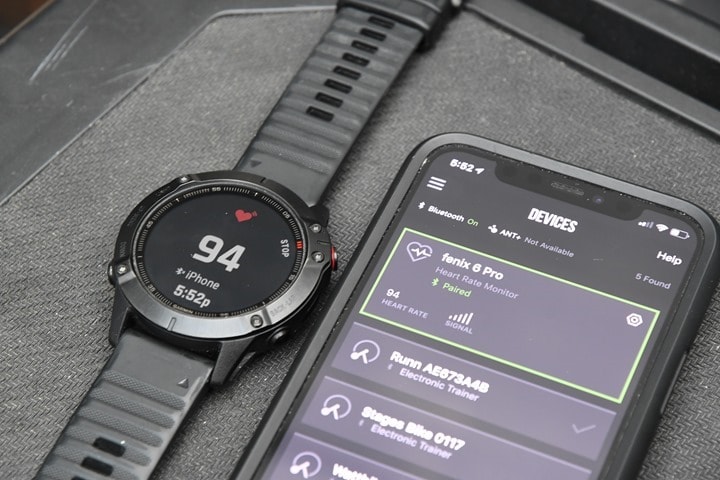 But what's *really* cool is they're allowing two concurrent Bluetooth connections (and unlimited ANT+ connections). I was able to validate this two different ways. First was on Zwift. In this case I had TrainerRoad running on my iPhone connected via Bluetooth Smart to the Fenix 6, while then pulling up Apple TV and connecting to the Fenix 6 and seeing HR there:
I then tried this on the Peloton bike. What's cool there is that it supports both ANT+ & Bluetooth Smart sensors, so you can actually see both sides of the connection. The numerical one is the ANT+ side (29080), and then the name one is the Bluetooth side (Fenix 6 Pro):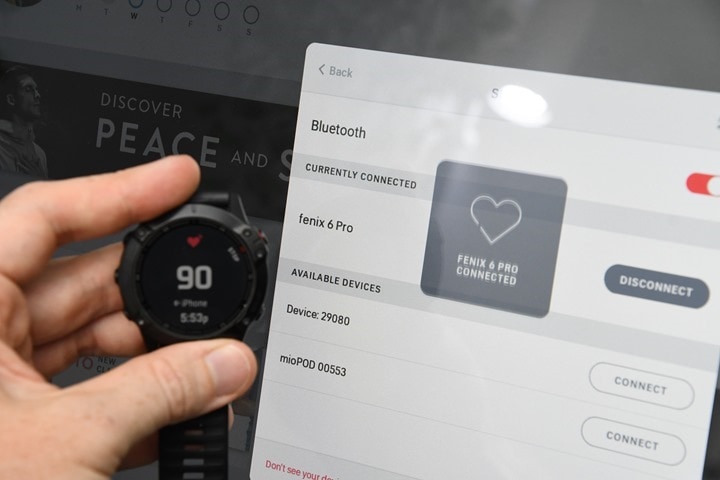 Now..going for broke, could I get three concurrent BLE connections?
Nope.
I tried. I tried having Zwift, TrainerRoad, and Peloton all connected at once, and it didn't work. The Peloton bike actually booted the Zwift session out (see how it says 'No Signal'). What's funny about this is I was standing right next to the Apple TV with Zwift, while the Peloton bike was 20 meters away through numerous walls in another part of the cave. Peloton be like: I eat you for lunch Zwifty!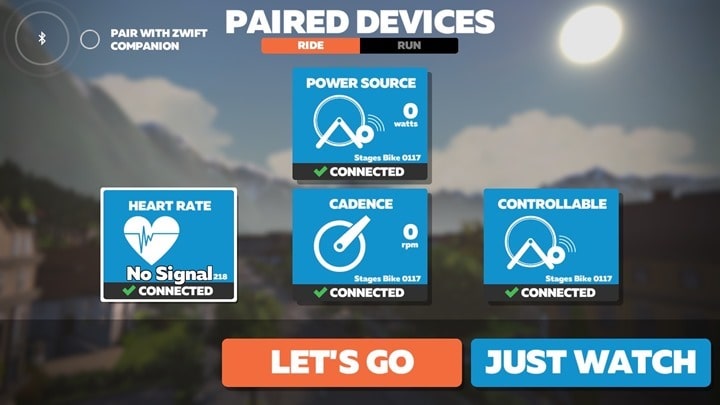 Now somewhat oddly, the 'Always Broadcast HR in Workout' mode doesn't work. I tried. It still only broadcasts ANT+. This is notable because if you use Zwift or TrainerRoad or anything that will sync back to Garmin Connect, that doesn't contribute to training load. So it's 100% likely that you'd want to both broadcast over Bluetooth Smart while recording the session on your watch so you got 'credit' in training load/recovery.
[Update – the next day: Garmin reached out to say that this not working is a bug. It should work. They said a workaround in the meantime is to simply add the 'Broadcast HR' option as a quick-access control menu. Then, start your workout like normal, then just long-hold to access the controls menu and toggle on the broadcast. When initiated that way it'll do dual ANT+/Bluetooth.]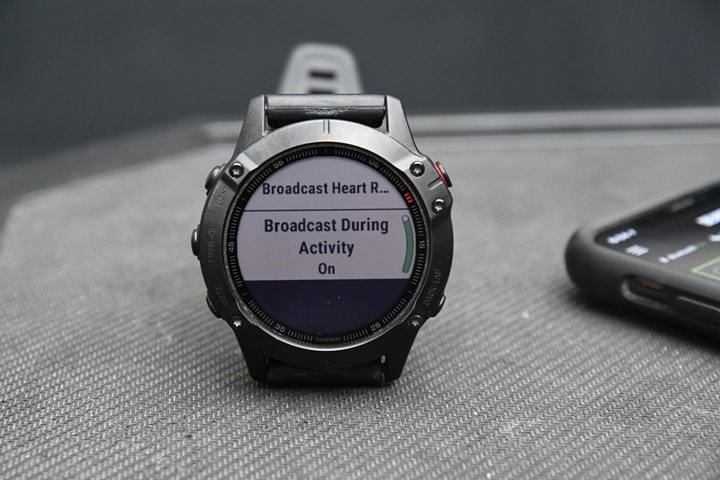 You can see here that once I go via that, the Bluetooth option is no longer present on Peloton, just the ANT+ (29080) connection: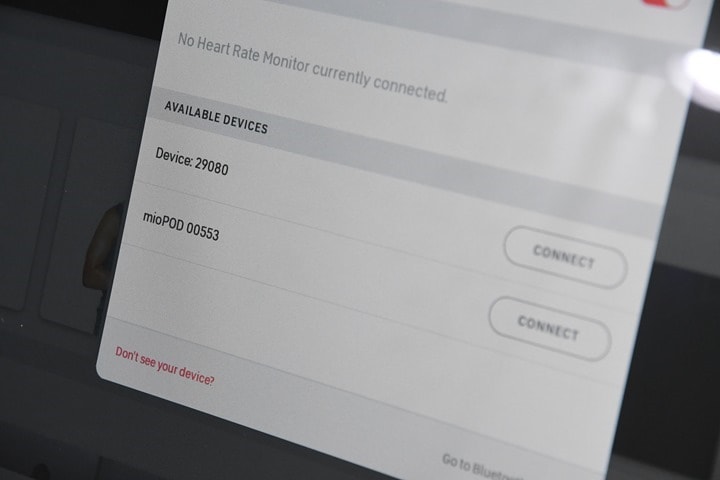 And the connection stopped updating on TrainerRoad too (see how it shows 84bpm on my wrist, but 91bpm on the watch). I presume there's some disconnect logic that takes longer before TrainerRoad drops the connection entirely: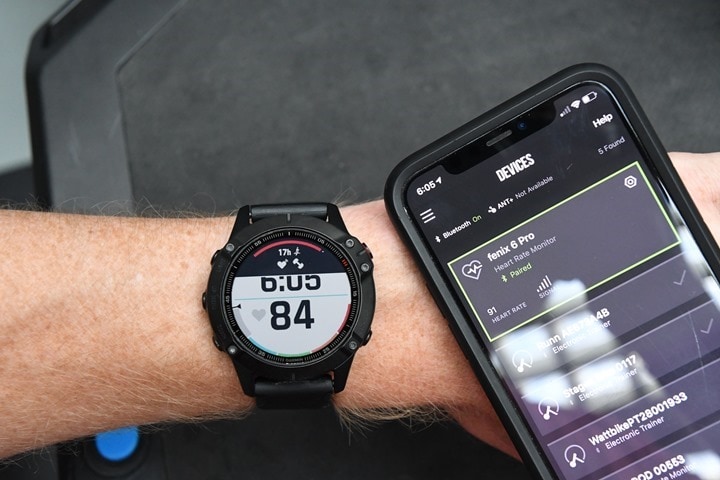 Still, it's a good second step (assuming first was the Virtual Run profile).
Wrap Up:
While some of this sounds geeky, the reality is that it's not. It's every day usage for people that don't want to wear, deal with, or buy a heart rate strap. And Garmin is closer than anyone else now in making that incredibly simple for both ANT+ & Bluetooth Smart, which covers basically anything you'll need equipment/app wise.
Still, there are two gaps.
The first is the minor one – it doesn't seem to work in 'Workout' mode. I presume that's a much easier fix, but then again, it might not be. It might be tied to using Bluetooth in a different mode there to connect to sensors. I don't know, maybe I'll ask Garmin.
But the second gap is bigger: Devices.
Right now the Virtual Run profile only ever made it to the FR245, FR945, and Fenix 6. I want to see this dual ANT+/BLE broadcasting mode as the baseline for any device that has the hardware chipsets to support it, just like Garmin did for ANT+ broadcasting years ago on even the least expensive Vivo wearables. Hopefully this gets to that point. Obviously there may be limitations on chipsets why an older Fenix 5 series device might not have the right stuff inside to pull this off, but certainly anything like a Vivoactive 4, Venu, or FR45 should.
Here's to hoping!
With that, thanks for reading!