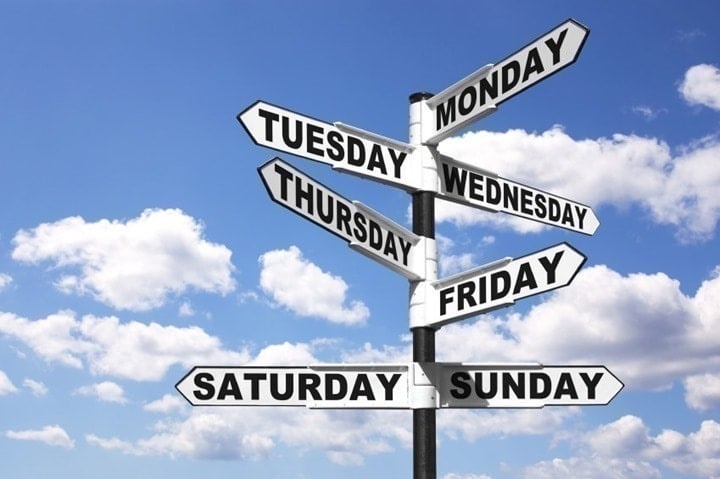 The Week in Review is a collection of both all the goodness I've written during the past week around the internet, as well as a small pile of links I found interesting – generally endurance sports related. I've often wondered what to do with all of the coolness that people write, and while I share a lot of it on Twitter and Facebook, this is a better forum for sending it on to y'all. Most times these different streams don't overlap, so be on the lookout at all these places for good stuff!
So with that, let's get into the action!
Sports Tech Deals of Note:
A new slate of sports tech deals began over the last few days. These are typical deals that Garmin does *every* single year, usually starting about a month out from Father's Day. Suunto also often jumps in the fray (and others too).
Product

Sale Price

Amazon

Other site

Sale Notes

Apple AirPods with Wireless Charging Case - $50 Off!
$149
Amazon
⚡ I use AirPods primarily when I'm travelling just to listen in airports, planes, etc... I don't tend to use these for workouts due to them falling out. Personally, I just use the basic model.
Apple Airpods (2nd Gen) - $30 off
$159
$119
Amazon
I use AirPods primarily when I'm travelling just to listen in airports, planes, etc... I don't tend to use these for workouts due to them falling out.
Apple Airpods Pro - $30 off!
$249
$219
Amazon
Garmin Edge 130 Plus - 25% off!
$199
$149
Amazon
REI
This is the first time we've seen the Edge 130 Plus on sale. The 'Plus' variant is notable compared to the regular unit for having ClimbPro on it, plus a handful of other tweaks. $149 is a good deal for it.
Garmin Edge 130 Plus Bundle - 20% off!
$199
Amazon
Competitive Cyclist
This is the first time we've seen the Edge 130 Plus on sale. The 'Plus' variant is notable compared to the regular unit for having ClimbPro on it, plus a handful of other tweaks. This bundle includes a heart rate chest strap as well.
Garmin Forerunner 45/45S - $40 off
$199
$160
Amazon
If you're looking for a runners focused watch, this is a pretty good deal, about 20% off. The FR45 basically packs all the features of the previous generation FR235...just now in the FR45 series.
Garmin Forerunner 935
$499
$269
Amazon
⚡ Sure, it's not the latest edition, but the FR935 is the staple of many triathletes and runners, and it still an incredibly solid watch. We saw this a bit lower last summer on Amazon Prime Day ($239) - but beyond that, this is pretty darn low. Also, I say $100-$200 off, because the 'base' price fluctuates a bit these days. Sometimes retail is $399 sometimes $499.
Garmin Instinct - $100 off
$299
$189
Amazon
Sure, the new Solar variants came out last summer with a few new features, but at their core the Instincts are mostly the same. $189 is still a strong price for this watch.
Garmin RVR315 Varia Radar - Save 20%
$120
Amazon
Competitive Cyclist
I believe this is the first sale of the Garmin Varia RVR315 cycling radar. This unit doesn't have a taillight, so it's a bit smaller as a result. Same radar tech though, and compatible with Garmin/Stages/Hammerhead/Wahoo bike computers.
Garmin Vivoactive 4/4S - $100 off
$299
$249
Amazon
This is Garmin's current offering to compete with the Apple Watch series (alongside the Garmin Venu), and this is a good price, though, it does go lower from time to time (not since Black Friday 2020).
GoPro Hero 9 Black - $50 off
$399
Amazon
REI
⚡ This is the camera I use for all my daily shooting during sports. Actually, I've bought a few of them. Note that if you're a GoPro Plus Subscriber, then it's a bit cheaper at $349 from GoPro directly, but otherwise, it's $449.
GoPro Max - $50 off
$499
$449
Amazon
REI
DCRAINMAKER.COM Posts in the Past Week:
Here's all the goodness that ended up on the main page this past week:
Wednesday: Garmin Varia RTL515 and RVR315 Cycling Radar In-Depth Review
Thursday: Garmin Launches Strava & Komoot Route Sync: Works on devices a decade old
Thursday: FORM Swim Goggles Adds Openwater Swimming with Garmin & Apple Watches
Saturday: How To: See Map Overlays of Varia Radar Data, with Vehicle Counts
I suspect for this week ahead we're going to see a bit more variety in the subject matters. I don't plan dates for announcements, they just happen when they happen. Outside of some Monday announcements, it's gonna be a review focused week!
YouTube Videos This Past Week:
Here's what hit the tubes over on the You of Tube, definitely don't forget to subscribe there to get notified of videos the second they hit!
Stuff I Found Interesting Around The Interwebs:
Here's a not-so-small smattering of all the random things that I stumbled on while doing my civic duty to find the end of the Internet (and in this case, some of these are from the past few weeks…as my backlog is a bit longer):
1) Wanna build your own power meter? Now you can: If you ever wanted to channel your inner Keith Wakeham, you've got your opportunity. This company is well known in the power meter industry, and makes OEM products for a few different major players. I'm not super clear on the business motivation here, aside perhaps marketing and maybe trying to help a few power meter start-ups leverage their products. But it's a fun story nonetheless.
2) The story of a Dutchman trying to build a mountain: While this post was only this week, the backstory predated my arrival to the Netherlands. That said, I'm totally game for a mountain around here somewhere!
3) Fitbit to build ventilators: Interesting. Keep in mind the Google acquisition of Fitbit has not yet closed, so it's not clear what – if any, say Google had in this. It's also not super clear to me how much demand still exists for ventilators given how many companies have stated their intentions to build them.
4) Behind the scenes on returning broadcast football to TV shows: This is fascinating for a lot of reasons. Technical, logistics, etc… But I think the biggest takeaway here is that this changes the landscape forever. While much of broadcast TV sports is done by hiring local crews that staff a remote truck that effectively plugs in the side of a stadium, the reality is that there's still a lot of people that travel around. Like every other element of business, companies are going to realize they can do this remotely – even if those people are now in a building with good connectivity versus their homes.
5) Uber sells Jump to Lime: Jump was their bike-sharing scheme. I used it a few times in Paris, though I wouldn't call myself a huge user of that specific platform. Ultimately, I think the challenge is there's just too many platform options in some cities, coupled with some cities being super-resistant to making bike-sharing platforms easier. And of course, COVID-19 was simply the knife to the heart of many efforts that relied on people constantly touching and sharing the same space or objects. Still, COVID-19 has also showed us how valuable cycling can be as a replacement for short-distance journeys using other methods.
6) Apple continues to extend wearables lead: However, the real story here is that Garmin has surpassed Fitbit on sales of smartwatches, selling over a million units in Q1. For reference, the singular requirement of a 'smartwatch' by these analysis firms (I asked) is that it must support 3rd party apps. Which is a debatable, but probably fair line in the sand to draw.
7) The 20 Fastest Road Bikes In the World (according to Strava): I dipped into this a bit back earlier this year in the Strava annual report, but Cycling Tips decided to do it justice with all sorts of fascinating analysis. Note the caveats (which the author does a great job outlining), as always, but I think it still begins to paint a clear picture. [Yes, this is from last month, it was in my bucket to share since then.]
8) Remember AirDog autonomous sports drones? Before there was Skydio, there was AirDog. I even wrote a few reviews about them. Super cool stuff at the time. Ultimately though, they just couldn't compete with the likes of DJI, and lacked the capital to dance solo like Skydio. In any case, they were sold to a US company. Exactly how they'll be used is highly fuzzy. Sounds like an IP purchase to me. (Thanks Mārtiņš)
Sports Tech Device Firmware Updates This Week:
Each week I quickly highlight some of the new firmware, app, software, and website service updates that I see go out. If you're a sports technology company and release an update – shoot me a quick note (just one-liners are perfect, or Tweet it at me is even better) and I'll make mention of it here. If I don't know about it, I won't be able to post about it. Sound good?  Oh – and if you want to get a head start on things, this page is a great resource for watching Garmin and a few other firmware updates.
Garmin Edge 820/520/Edge Explorer Firmware Update: Pile of bug fixes
Garmin Fenix 5 Series Firmware BETA Update: ANT sensor improvements and other bugs
Garmin Fenix 5 Plus Series Firmware BETA Update: Random performance improvements
Garmin Forerunner 735XT Firmware Update: Bug fix
Garmin Vivosmart 4 Firmware Update: Algorithm improvements
Garmin Vivoactive Firmware Update: Bug fix
Garmin Vivoactive HR Firmware Update: Same bug fix
Stages Dash M50 and L50 Firmware Update: Added ANT+ trainer control, new data field types, and a boatload of other tweaks
Wahoo ELEMNT/BOLT/ROAM Firmware Update: Bug fix related to speed/cadence sensors
—
Thanks for reading!