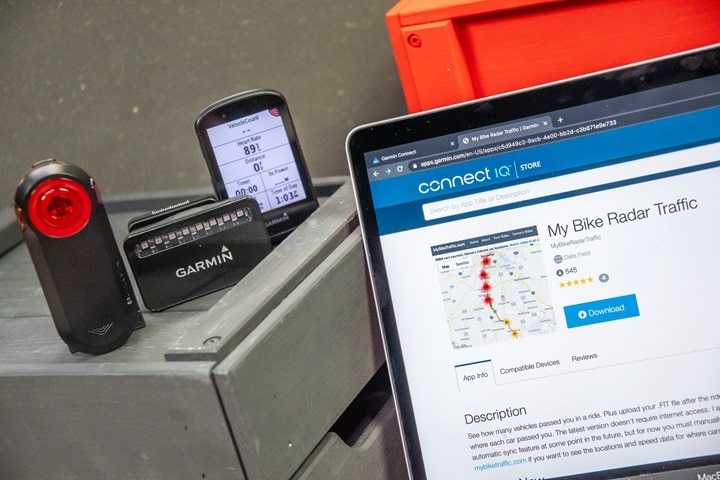 As part of my Garmin Varia RTL515 & RVR315 radar review last week, a few eagle-eyed readers spotted a unique data field within my Garmin Edge device: The 'Vehicle Count' field. Except, more meets the eye here than just a simple vehicle count. In fact, that data field is quietly logging not just the count of vehicles, but the exact spots. Atop that, it's even logging estimated speeds and range/distance of the vehicles.
But all that functionality isn't some hidden Garmin field you simply couldn't find. Nope, it's a Garmin Connect IQ field, and it works with *any* Varia radar and most newer Garmin units. By newer, I mean anything made in the last ~3 years. That limitation is because only those devices support the newer Connect IQ version that in turn supports 3rd party apps accessing Varia Radar data.
Now, I show how it all works in the below super-efficient weekend-sized video:
Or, you can just keep on scrolling for the step by step instructions. Trust me, it's silly simple.
Oh – and finally, it's worth noting that this whole app/site is done by just a single guy. He was hit by a car (at high speed, from behind) a few years back and after the incident he was curious how frequent the traffic really was on his presumed low-traffic road. It's a great example of 3rd party developers being able to do cool $h!t on platforms when companies give them the tools to do it.
Quick Setup & Use:
This part is easy, simply head over to the Connect IQ app store and search for 'My Bike Radar' (or, just search for radar, there's only a few apps, you'll find it). Or, just click this darn link.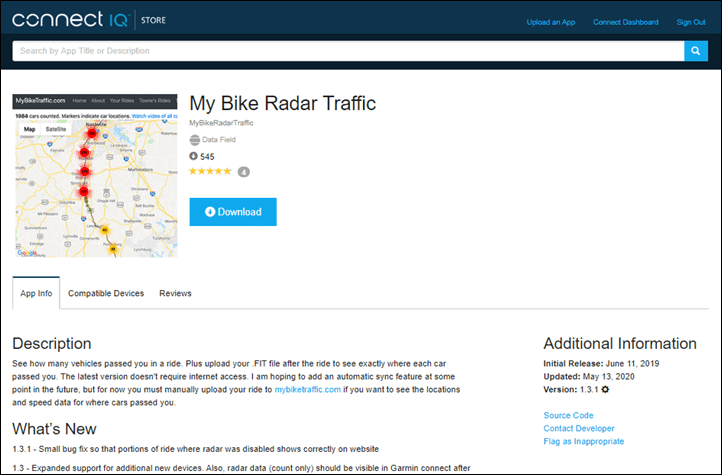 Some devices, like the Fenix 6, aren't listed for some reason [Update: Now they're listed as compatible]. Fear not, the developer was kind enough to publish the .PRG file on their site, so you should be able to manually install it there.
Once installed on your device, you'll need to add it to a data page. Any data page will do, but it has to be loaded somewhere. I just stuck it down on one of the main pages. This is no different than configuring any other metrics/data fields, so go to the same settings field where you would have added cadence fields, heart rate, and so on:
Obviously, I just want to be clear, you need a Garmin Varia radar here. Any radar will do, it doesn't matter. So as long as you have one of these units, you're good to go:
RVR315: Smaller Varia radar pod with ANT+ & Bluetooth, no taillight
RTL515: New 3rd gen Varia radar taillight with ANT+ & Bluetooth
RTL516: New 3rd gen Varia radar taillight with ANT+ & Bluetooth [STVZO compliant for German market]
RTL510: 2nd gen Varia radar taillight with ANT+
RTL511: 2nd gen Varia radar taillight with ANT+ [STVZO compliant for German market]
RTL500: 1st gen Varia radar with ANT+ (looks rectangular)
RTL501: 1st gen Varia radar with ANT+ (looks rectangular) [STVZO compliant for German market]
(TDLR: Any Garmin radar)
And of course, probably also obvious, you need that radar turned on and paired up to your Garmin. With that, Now, go out and ride. Really, it's that simple.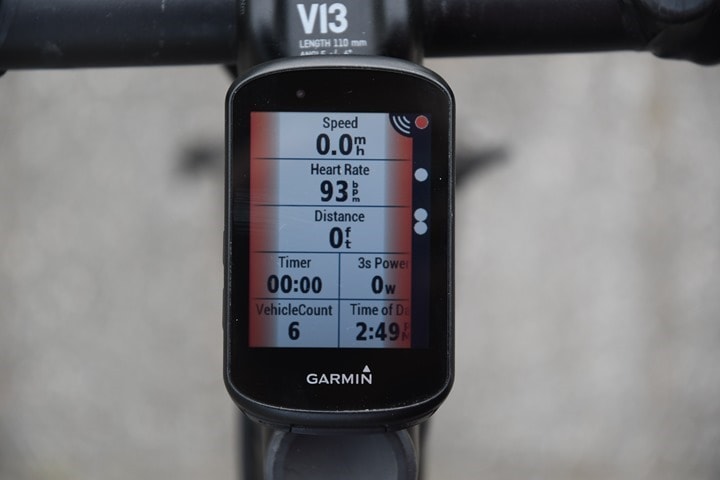 While riding it'll show you a simple vehicle count. This is how you know the field is working. There is a specific threshold of 30 meters for a vehicle to count, meaning, it as to come within 30 meters of you, or it won't register the count. That makes sense, and reduces false-positives for vehicles that may have turned off before it got to you. It also reduces overcounting cars that by, slow down out of range, and come back again. It's not perfect, but it's pretty darn close.
Inversely, in denser traffic areas with multiple lanes, it likely slightly undercounts cars because a car 2-3 lanes over could potentially hide behind another car. But that's more of a core Varia radar thing than this app's issue.
Ok, so good – ride is done. Save the ride and then let's head inside.
Looking at the data: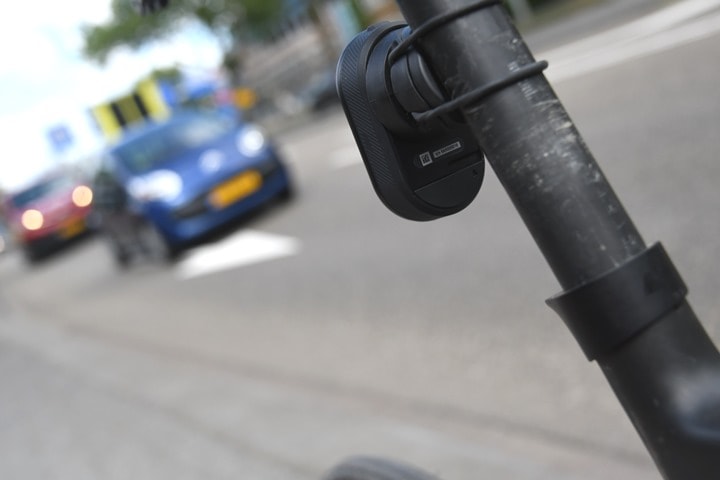 What's cool here is that there's two levels of data, depending on how much effort you want to put into it. If you just do nothing, the file will sync to Garmin Connect, and within that file is all this extra radar data goodness. On Garmin Connect, you'll see the exact vehicle count as a chart within your activity:

And, there's a simple counter as well: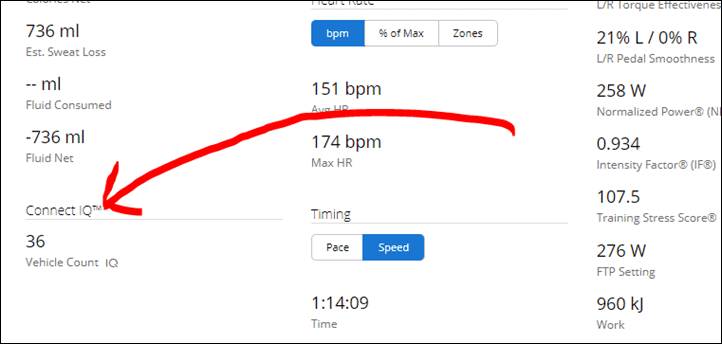 And yes, even in Garmin Connect Mobile on your smartphone too:
But I hear ya, you want the map goodness you see up above. For that, you'll need to either connect your device to your computer to get the file, or, download the file from Garmin Connect on the web (after opening the activity, select the gear icon at the right, and then choose 'Export Original' to get the .FIT file, which is inside a .Zip file).
Once that's done – head over to MyBikeTraffic.com – which is the site the developer of the Connect IQ app made to plot the data. It's there you can upload the file and check out the data inside. The site can store multiple data sets. In an ideal world, the developer would connect their CIQ app up to the site and it'd all happen in the background, but for now, this is good enough. Here's what a file looks like once loaded: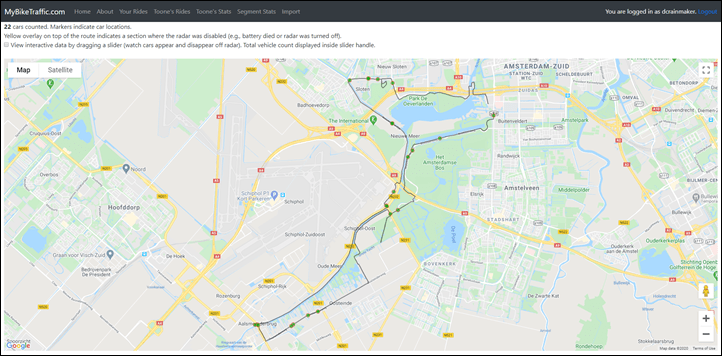 At first you say, it's just a map? But it's a map showing every car interaction there is. You can move your mouse over the map to find the cars, or, hit the play button at the top.
And in fact, I can then click on any car and see the details of that radar moment, including an estimated takeover speed. The speed for straight single-lane roads like I was on is likely pretty darn accurate. However, the more lanes you get, or if you have overpasses or such, then the speeds might be impacted by math angles a bit.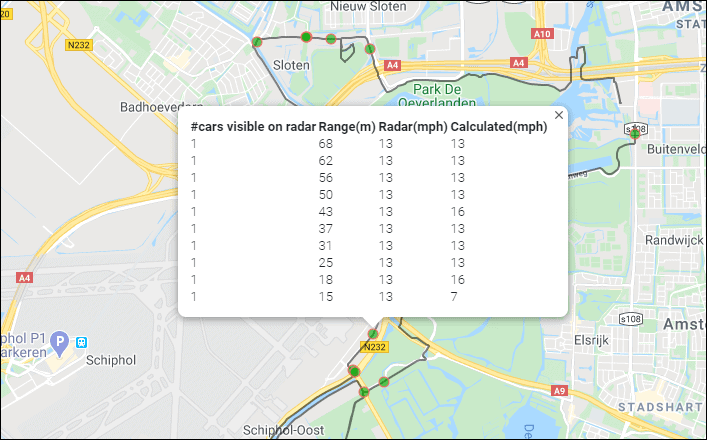 In addition to all that, you can see summary stats about your rides:

One thing the app doesn't account for is grade-separated bike paths, which is because Varia doesn't account for it. For example in the ride above (shared here), less than 10 of the total vehicles were actually on the same piece of pavement as I was. That's because the vast majority of the time when a car passed me, I was on dedicated bike paths, and the car was nearby, but separated. Still, if you never ride on dedicated bike paths, it's super accurate.
I haven't gotten around to uploading all my rides to the site, but it also has summary stats too: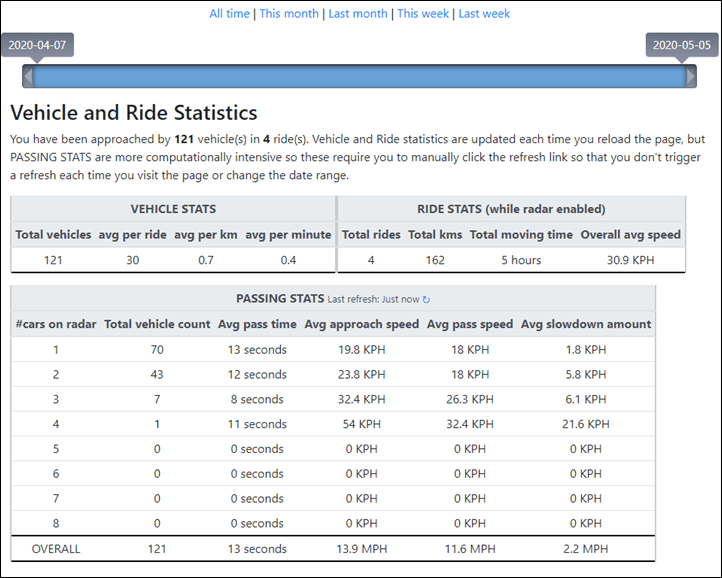 There's also some way to upload a video time-lapse (from a VIRB, but perhaps it works on others), and then align it to the data and…something happens. I haven't dug out a VIRB to see what though yet.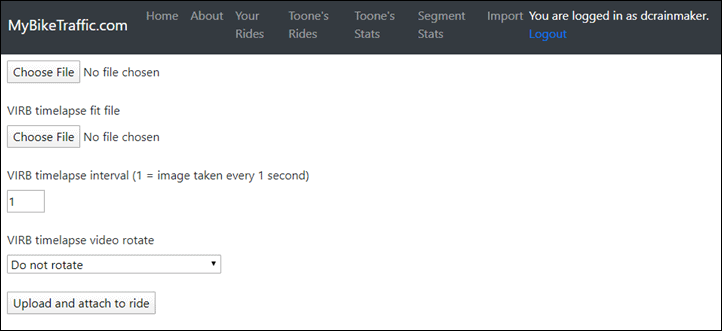 Maybe one of you will give it a whirl and I can add a few details about it. Deal?
Wrap-Up: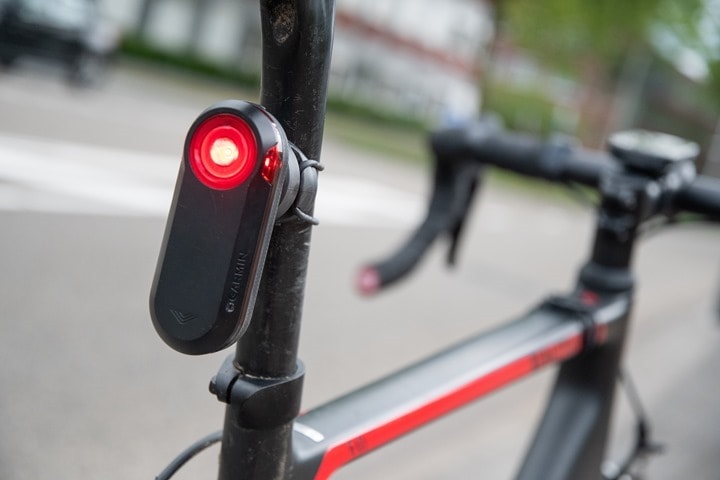 Here's the thing: This is super cool. And it's now been installed on all my Garmin cycling devices. It's just gonna be on my 'baseline' set of data things I use. Why not?
However, what it really needs is broad platform support. This data field and logging just needs to be baked into every Garmin unit. And perhaps the radar data is already being logged deep inside the .FIT file, I don't know (nobody has noticed it thus far, if so). But either way – it should be. How cool a concept from a safety standpoint is that, to start logging not just take-over traffic but also take-over speeds.
And there's zero reason this has to be a Garmin-only thing. It'd be trivial for Hammerhead, Wahoo, and Stages (all of which already support the radar), or now even the RideWithGPS app, to write this data to the field. It's just the generic ANT+ radar data they already have.
But it's exactly the sort of thing that I'd like to see Strava start collecting and leveraging. There are tens or hundreds of thousands of Varia radar units out in the world these days quietly riding on roads and are really the ultimate data point on how busy a road is from a traffic standpoint, for cyclists. Why then can't Strava leverage that in their recently touted upcoming new Route Builder to have an option that says "low car traffic"?
Sure, there's some data imperfections around highways that might parallel a bike path triggering false positives. But Strava has more than enough data already in their billions of uploads to deal with that. Plus, it's the perfect beta feature.
With that – go forth and start logging radar data. Here's to hoping someone uses it!