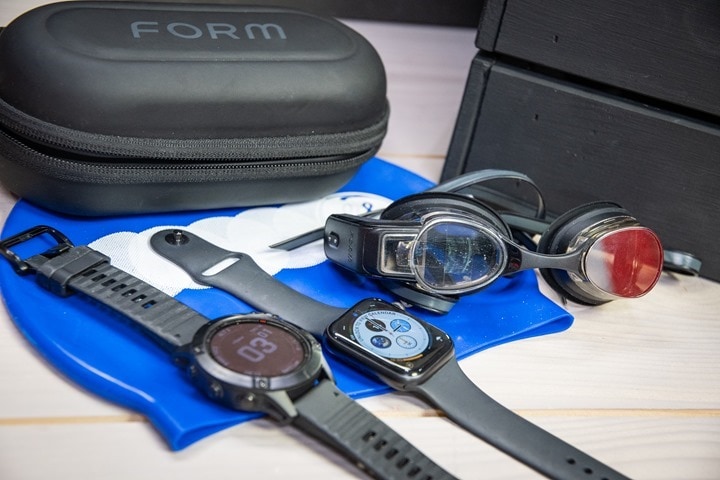 Today, FORM, maker of the heads-up display swim goggles, announced that it's partnering with Garmin and Apple to bring openwater swim support to their goggles this summer, if you've got a compatible Garmin or Apple Watch. The move is notable because some saw FORM as stepping on Garmin's toes a bit, given that both companies make devices to track your swim data in the pool (the same could be said about Apple, but likely to a lesser extent).
This post will be a quickie, since it's more news than pure hands-on (that'll come later). But I did get a chance to chat with the FORM folks about how it works, and I think it's a good example of using existing platform developer API's/options provided by wearable companies to shim in solutions – even if a partnership wasn't there. In the case of FORM, they did this work without any added partner aspects, instead relying on the development tools of both Garmin and Apple.
But first, an explainer.
The Quick Overview:
The FORM swim goggles, up until this point, are entirely targeted at pool swimmers. They do a fantastic job of tracking your swims, and have a bunch of algorithms that in my testing seem to do a better job at not making mistakes on pool tracking. Whether or not this single-use device is worth $199 and appreciably better than any wearable is a different question (unless of course you're a swimmer's-swimmer, in which case wearables are sacrilege in the pool).
The challenge though has been attracting folks that swim beyond the pool, namely, openwater (where else would you swim?).  The FORM goggles don't have GPS in them, so while it could endlessly count strokes, that wouldn't really solve much for distance/pace/etc tracking. They also can't measure your heart rate, though, last year they added support for the Polar OH1 pod, which can clip right on the side of the goggles and transmit your heart rate that way.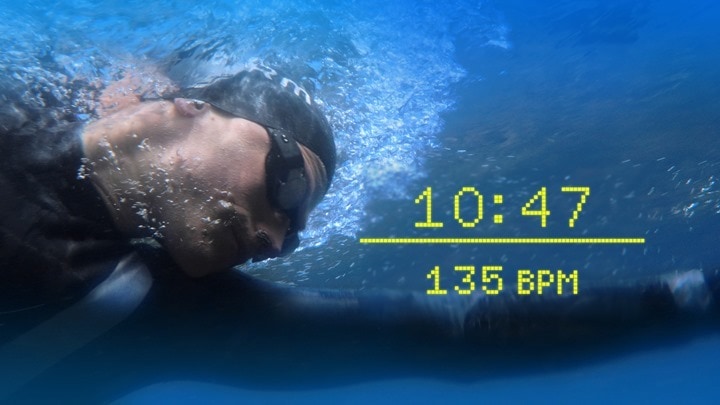 So how to solve the openwater piece? Two apps:
A) Garmin Connect IQ app
B) Apple Watch app
In the case of both apps, they can then leverage the native GPS capabilities of those watches as well as the built-in optical HR sensors in both watches, via the Bluetooth connection, to the watch from the goggles.
While that Bluetooth signal won't go more than a few centimeters, there's enough time between each stroke when your arm is above the water and you're breathing that it works out, according to FORM.
So, in the case of Garmin, they've developed a Garmin Connect IQ data field. This means it'll work in the swim mode, but also within a triathlon too – and it knows to just track the swim mode. Here's what the field looks like. Super simple, similar in concept to other connected 3rd party accessories that have used the data field: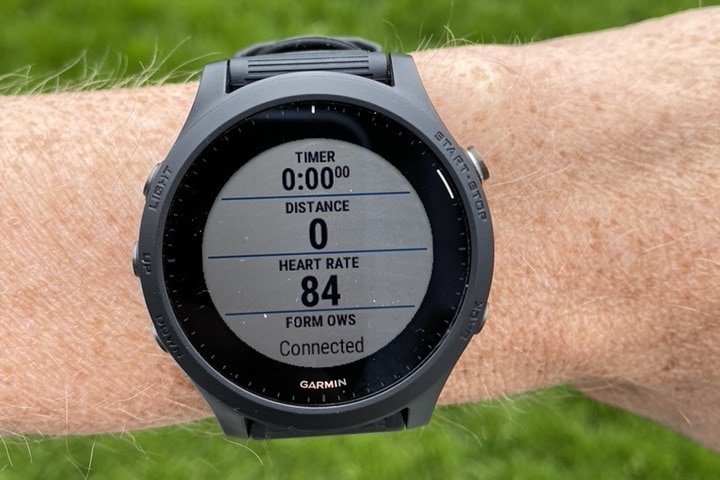 While on the Apple Watch, they've developed their own app that'll pair with the goggles and will be offered via iOS if you've installed their iPhone app: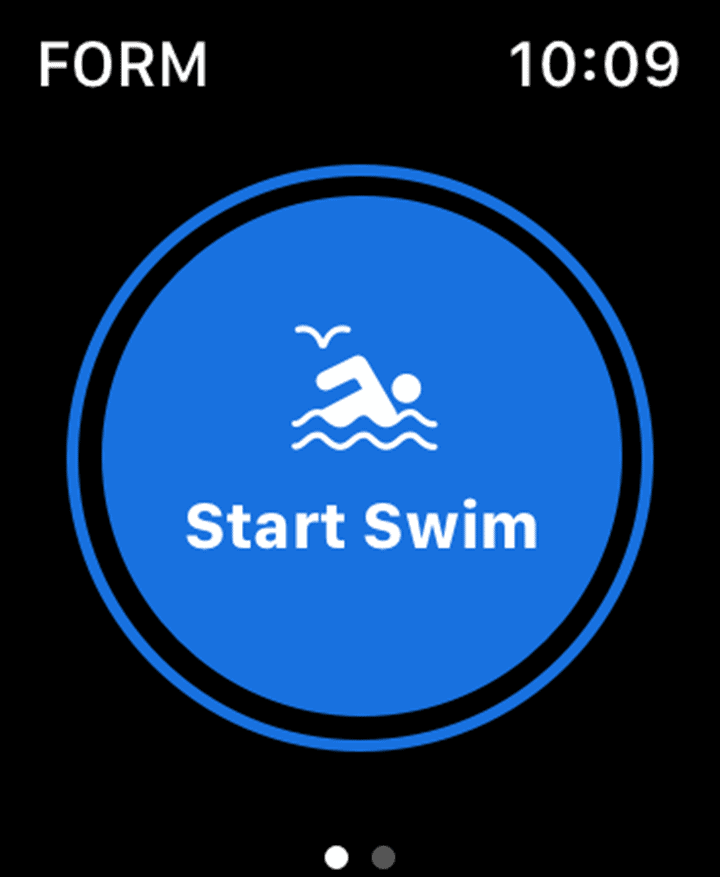 While swimming, you'll see your total swim time on the upper line in the goggles, and then on the lower data portion you'll see your distance, heart rate, and pace (per 100m/yards). That will be rotating through on that lower line: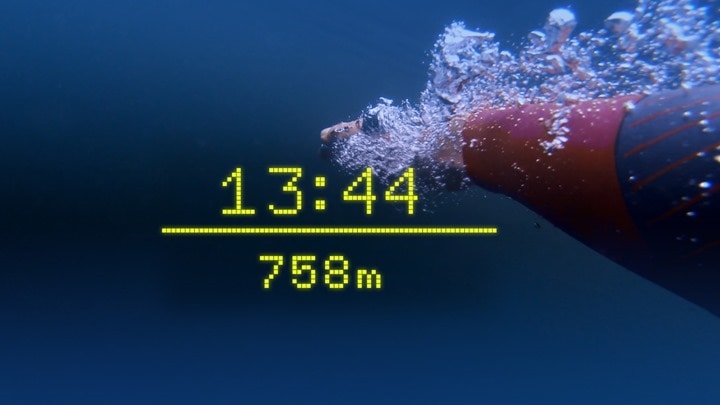 Nothing on your Garmin watch changes, so you'll swim as normal, and if you want to use the data on that watch, that'll work as normal. In the case of the Apple Watch, they're leveraging their own app – so you'll use that instead. The only recommendations they have is that it helps to keep the display on the same side as you breathe (left vs right), or, if you're bilaterally breathing – then that's no problem. Also, they found for some watches keeping the display on the same side of your head as the watch is (i.e. right side with right wrist) helps too.
In some ways, it's probably like Bluetooth headphone connectivity. Mileage will vary based on the exact watch. I suspect by launch they'll have any gotchyas listed. The company says they've got retry/wait intervals built-in, in case people stop at buoys or such to wait for a group and the watch loses connectivity. It won't ever end the swim, just put it into a 'retry connection' state on the goggles if the data gets too stale.
When you stop the swim on your Garmin watch, it'll automatically end the session on the FORM goggles too. And for triathletes, once you press lap to end the swim and continue to T1, it'll also end the swim on the goggles. Post-swim from a Garmin device it already sends that data from Garmin to FORM. And, on FORM's app, you'll see the openwater swims displayed there too: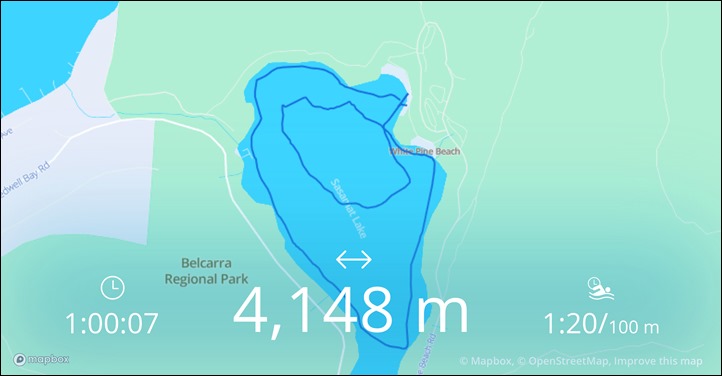 Ok – so there ya go, everything I know about. Oh, wait, here's what it'll be compatible on:
– Garmin Forerunner 945, Garmin Fenix 5 Plus Series and Fenix 6 Pro Series
– Apple Watch Series 3, 4, and 5
(Note: The reason the non-Pro Fenix 6 series isn't supported is that it has much smaller memory for Connect IQ data fields than the Pro does. FORM says they're trying to find ways to perhaps make it work with the Fenix 6 – but they don't want to make any promises there. Also, as for why not other watches like the FR935 or original Fenix 5 series, they don't support Connect IQ data field connectivity via Bluetooth Smart.)
Again, this is slated for mid-summer by the sounds of it, so I'll have to wait till probably June or early July to get some legit testing of it.
As for whether or not this is a needle mover for FORM, I'm not sure. I think it's a mover if people were on the fence. Or, if they were big openwater swimmers but didn't like the challenge of trying to frequently view data on a watch while openwater swimming (it's a tricky wrist move/glance thing, in my experience). So for those folks, and folks that were on the fence – this is a huge win.
With that – thanks for reading!