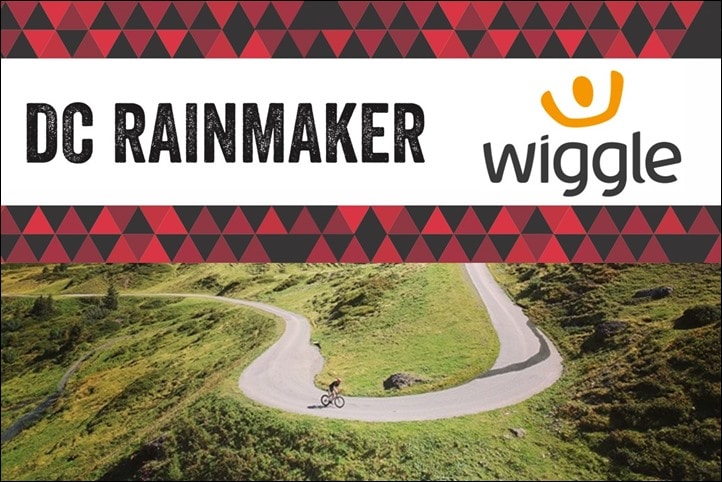 I'm excited to announce a new partnership here on the site – this one primarily focused for Europeans, as well as Australian and New Zealand readers (and other places Wiggle delivers). A perfect fit for right now given I've spent the last week in Australia for the Tour Down Under, and of course I live in Europe. Combo-dish achievement unlocked!
Of course, many of you are familiar with Wiggle, and some of you may have noticed that over the last month or so I've been adding in links to Wiggle from product reviews as well as the sidebar. Plus, I've got their links covered in various sale postings and product recommendation round-ups. There isn't a company in the European and AUS/NZ market that has as many of the sports tech products I review as Wiggle (nope, not even Amazon – where you oft won't find trainers). Still, atop that, I'll work with Wiggle to get missing sports tech products added to the lineup.
From trainers to GPS bike computers, watches to action cams, and plenty more! Aside from the massive selection. For you, here's some of the biggest benefits:
Free shipping on everything over 9GBP for UK orders, and varying similar minimums for EU orders. For AUS/NZ orders, free trackable shipping for over $99.
Lowest price, and price matching. If you find a lower price, they'll match it.
First time customer? You'll get 10GBP off your first 50GBP order!
Repeat customer? Then you'll save with their Wiggle Loyalty program!
If you spend 500GBP you'll save 12% on qualifying items automatically (becoming a Wiggle Platinum customer), and if you spend 100GBP you'll earn yourself 5% off qualifying items.
Free Haribo candy with every order
…and best of all: You help support the site and content here!
Many of you have asked about supporting the DCR site here, and certainly you can become a DCR Supporter. But, if you just wanna go about buying your cycling toys as normal, you can simply use the link on the sidebar or in any product review.
Oh – and as usual, no retailer/company/anything gets a say in what I write/post/etc. Nothing has changed there, just like it didn't when I brought onboard Clever Training for the US side of the house back some 8 years ago. If a product sucks, I'll say it (usually in painstaking detail). But if it's good, I'll tell you that too. You're free to purchase either great or sucky products after reading a review. As long as you use the Wiggle link – I'm happy. 😉
Using Wiggle is easy! You'll find a link on the sidebar (look to your right if on desktop), at the end of all product reviews, the floating sidebar on all product reviews, or this page right here. I've made it easy to remember too, just remember: dcrainmaker.com/wiggle!
As long as you use one of these links, then it'll support the site! I appreciate it!
With that – thanks for reading!