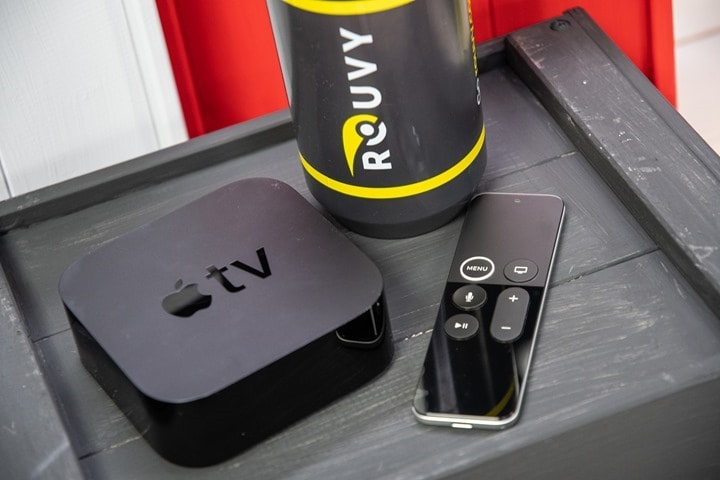 Rouvy has now joined the club of apps offering Apple TV support for their indoor training suite, alongside Zwift, FulGaz, and to a degree – Road Grand Tours. While Apple TV support may not be critical for less graphically intense apps like TrainerRoad that can easily run on your phone, it's ideal for more graphically demanding apps like Rouvy or Zwift, because they can leverage the hardware to easily bring a higher quality experience to folks at a lower price point than an expensive PC or Mac computer.
Up till now, if you wanted a big screen experience for Rouvy, you basically had to invest in fairly capable computing hardware, plus a way to get it on a  TV. Sure, you could have used an iPad, but you'd still need to find a way to get it on a big screen TV. Now, you can pickup a simple Apple TV and immediately be in business.
And, if you've got a Mac handy, you can also run it on that now too! For today's post I'm just focusing on the Apple TV bits, since that's frankly what's most interesting to me.
Oh and technically this is a public beta period. That's good news though – because it means you can try it all for free, versus the usual subscription cost.
The Quick Overview:
For those not familiar, Rouvy (in another lifetime called Virtual Training) has primarily focused in recent years on their outdoor courses where you ride on a video recorded outside in some amazing location (or, also, some non-amazing locations). However, in the last year their work has been heavily tuned towards what they call Rouvy AR (for Augmented Roads), which is roughly akin to what the rest of the world abbreviates AR for: Augmented Reality. The idea there is taking those same outdoor videos, but overlying a 3D avatar of yourself along with other competitors.
So think Zwift meets real-world rides. Roughly. Kinda. Sorta. Sans-elevator music.
I dove into that all last year when they first announced it, so hit up that post for more details.
In any case, if you've got an Apple TV that supports apps (so anything you bought in the last couple years) then you can go ahead and search in the app store for Rouvy. Once you type the 'v' in Rouvy, it'll be the only one left: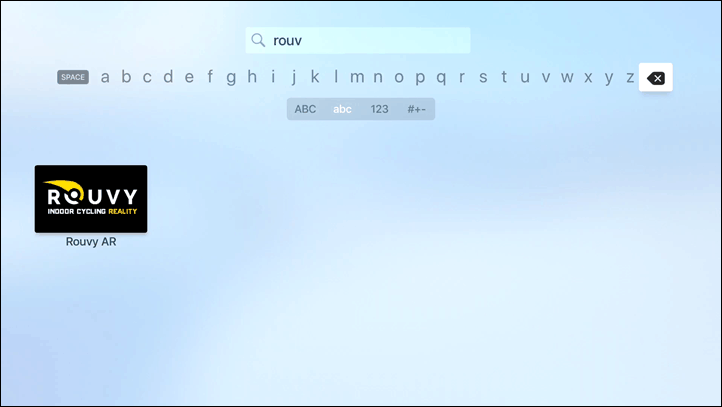 However, somewhat entertainingly, if you continue typing the full word 'Rouvy' out, then Road Grand Tours has cleverly put that somewhere in their app parameters, so they then show up too: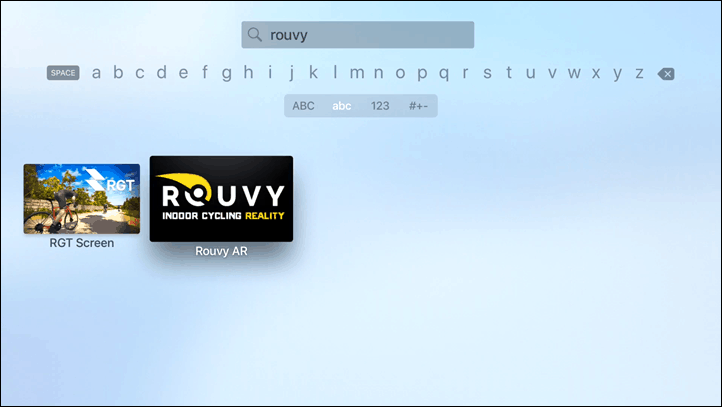 In any case, the app is free to download and supports streaming of up to 1440p – if you've got an Apple TV 4K unit as well as a 4K TV (note that 1440p is less than 4K however). If you live in Japan and have an 8K TV, I'm happy to provide you my shipping address to fully test out this scenario over a long period of time.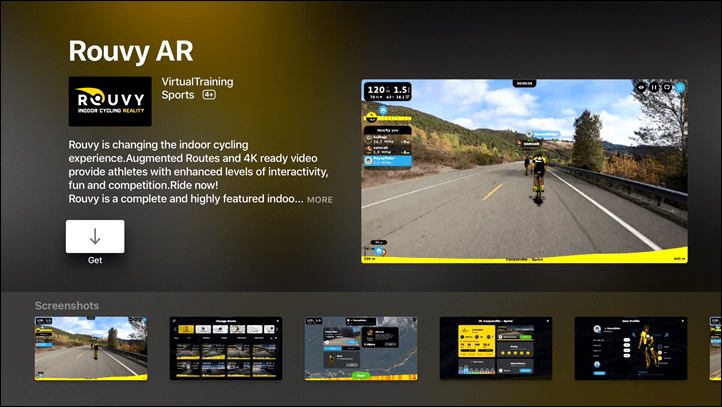 The app is free to download and only takes a few seconds (or at least, it does on my fast WiFi). Once downloaded go ahead and open it up and login with your Rouvy account. If you don't have an account you can create a free account for the beta period on their site.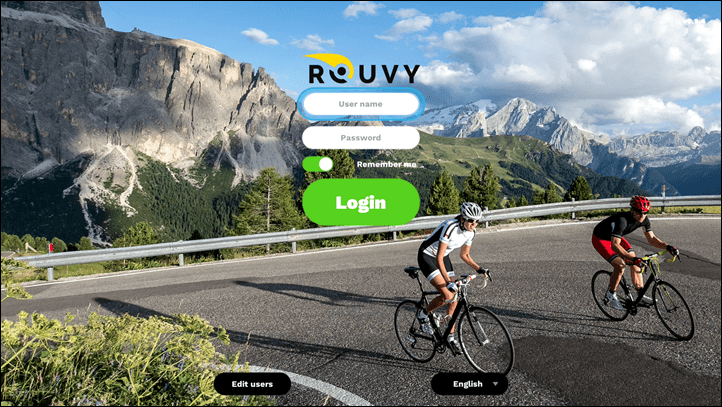 Once you're all signed in you'll find yourself at the main dashboard. It's here that you can select a course to ride, tweak your opponents, and connect to your smart trainer/sensors.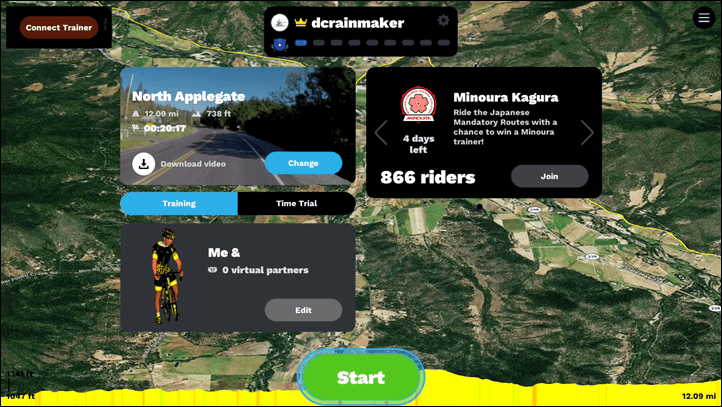 To pair up sensors hit the 'Connect Trainer' button, which will bring you to the below for sensor pairing. Remember that Apple TV has a two-sensor limitation, so you'll want to use the cadence signal from your smart trainer so that those are considered a single 'sensor' (cadence/power/trainer control), and thus leaving a secondary sensor for your heart rate.
With all that done, go ahead back to the dashboard and pick the course of your choice. They've got them all categorized at the top, and you can search as well as filter from the menu system.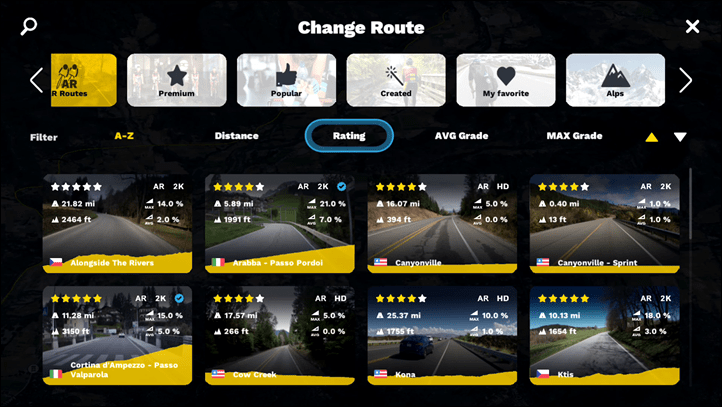 In my case I selected one called 'Lava Beds'.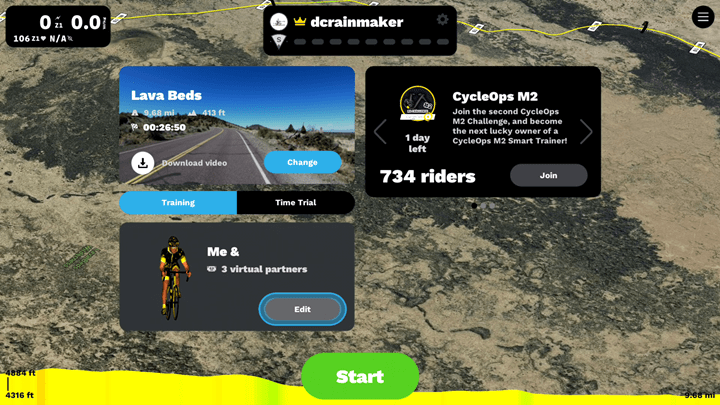 Don't forget that if you want to add more competitors, you can do that via the 'Edit' button near the virtual partners section. This allows you to pick various past performances.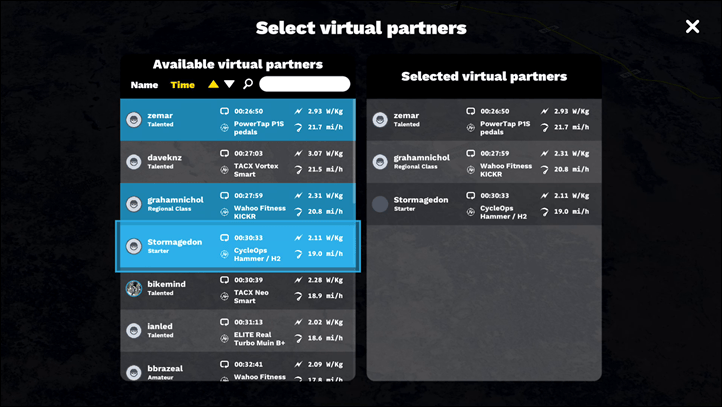 Also, there are a few different settings options. For example you can tweak your avatar a bit. This section definitely isn't as polished as Zwift, but you get the basics.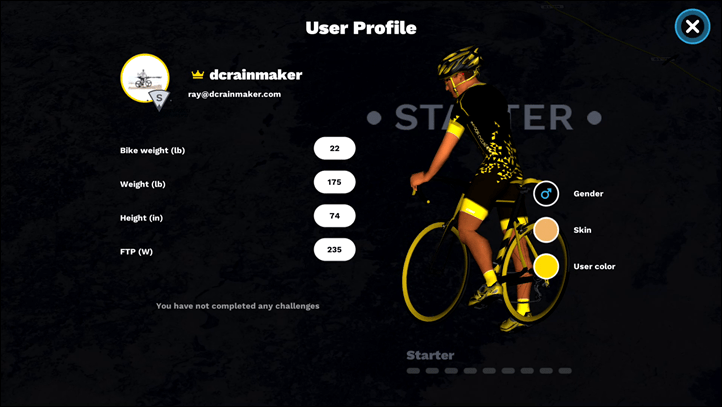 And then there's also the ability to change a handful of settings, depending on how your TV is connected. Also, I took the below screenshot before they added three additional settings for: Enable Warm-up, Enable Cool-down, and Enable/Disable Sounds.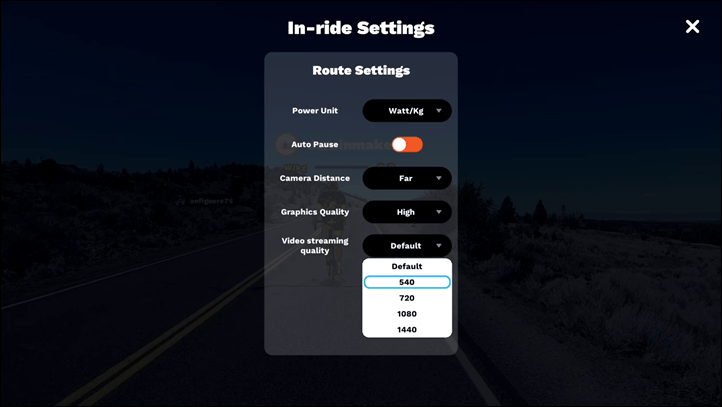 Oh and before we get too much further, note that there are some beta limitations that you'll quickly discover. For example, they don't have non-FTMS trainer support, which means Tacx NEO series trainers need not apply (those aren't FTMS yet, though Tacx is working on that). There's also the usual limitation on Apple TV of no ANT+, but I suspect with virtually all trainers and sensors being dual ANT+/BLE , that's probably not an issue. And not all languages are supported yet. The full list is here.
With all that set, we'll set out and begin. Once you're up and pedaling you'll see your avatar in the middle of the screen (with your name atop it), as well as any others that you're competing against at the time.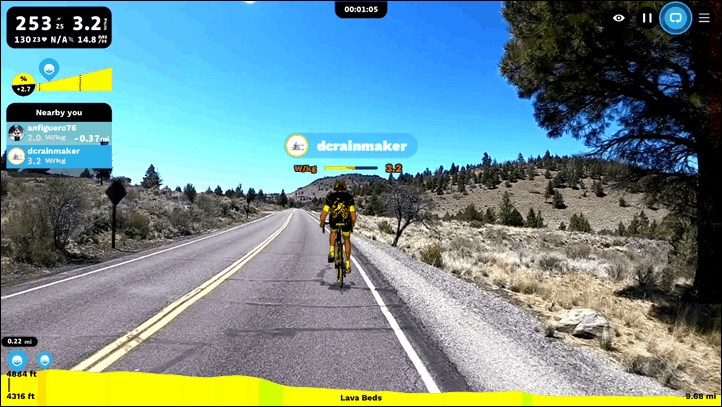 For example, you can see below in a different race some of my competitors that are digitally overlaid into the scene: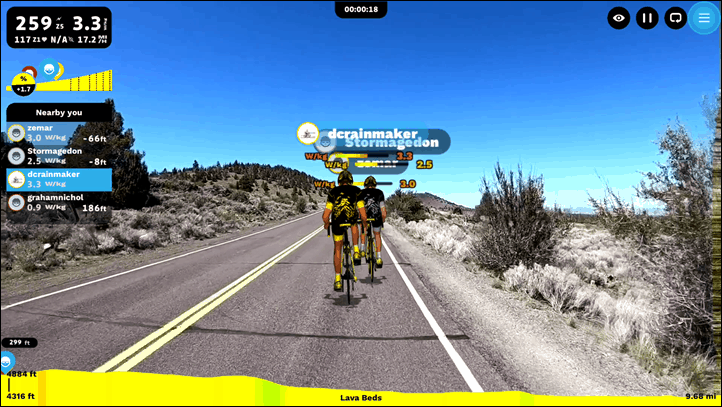 Because this is a real outdoor video, you can't change the video to the side or such (it wasn't shot in 360 or anything). However, you can change whether or not your cyclist is visible at all, so effectively whether you see yourself or see your own view. Here it is with it toggled off.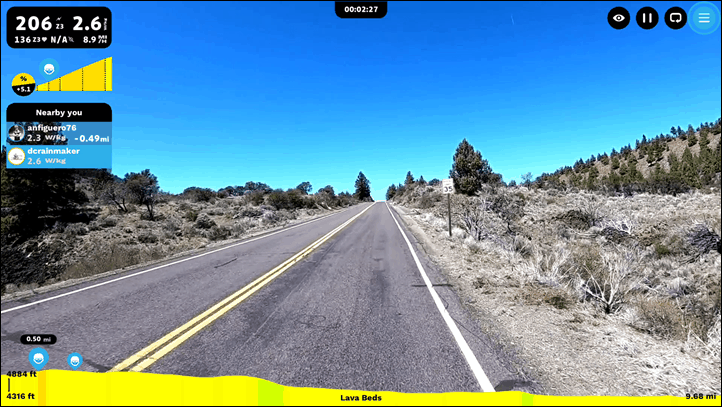 You can also switch to a map profile view to see where you are on the course as well as your competitors: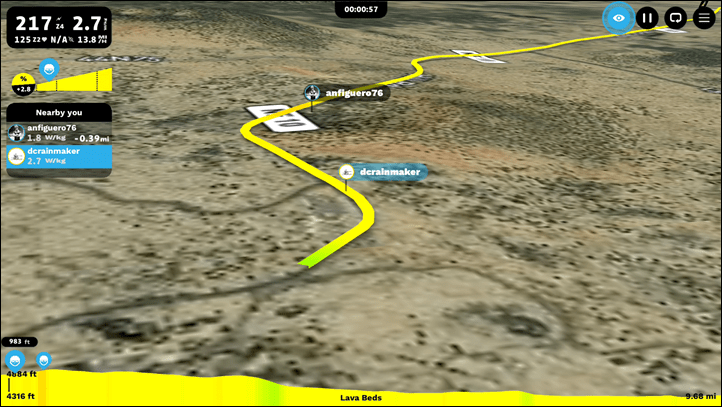 Back to the view of myself, you'll notice you've got your wattage, heart rate, incline, speed, and a pile of other stats around the edges of the screen, including the gradient at the bottom.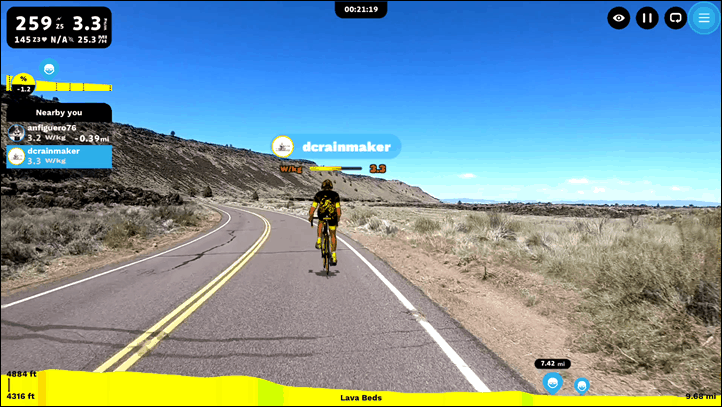 I think in some respects having the information so scattered about the screen is what differentiates slightly compared to Zwift which consolidates all of the textual information towards the top of the screen. You will see your HR (if enabled) towards the bottom on Zwift. Compare the two side by side:
And if I were to offer a bit of advice to Rouvy –it's to continue the work on cleaning up the UI a little bit. Consolidate and eliminate would be my suggestion. Remove things like the icons in the upper right corner unless a button is pressed. Consider making the elevation overlay smaller. I also think with respect to the AR aspects, that the rider seems a bit too tall to me, for this particular road size. But maybe I'm wrong.
And in fact, if you look at their promo video (around the 2:15 marker), you'll see how it looks on videos that have real-life humans in the video itself, compared to the AR overlay. At a quick glance you wouldn't realize one of those isn't like the rest.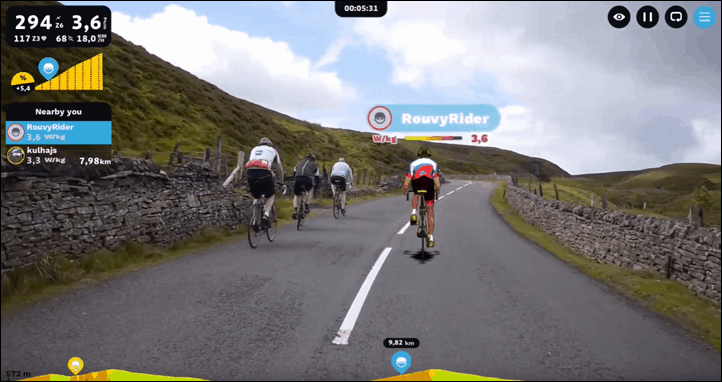 In any case, as with last years release, Rouvy can do overlays onto these roads – such as finish banner that you see here – that's digitally laid into the video scene.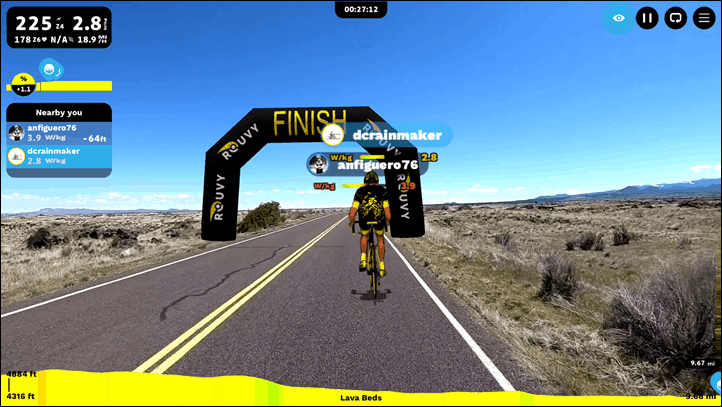 After your ride is complete you'll get some stats and it'll upload to any sites that you've configured to sync to, such as Strava.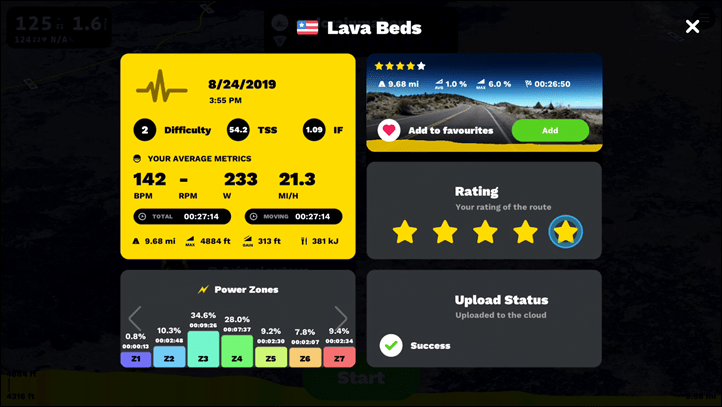 Overall it's definitely worth a whirl if you haven't used it before, especially in the free beta period. Like I said above, I think there's a bit more polish around the UI that can be done. I suspect one thing that might be hurting them a little bit is the yellow/black color scheme (no matter the business) can sometimes come across a little bit dated. If you compare it to the FulGaz Apple TV app the overall UI design is very similar, but not having the yellow makes it feel a bit more subtle and modern.
Also of note that I didn't mention anywhere is that Rouvy says that this is technically considered AR2.0, and in particular they've done work around the elevation smoothing.  They sent over this screenshot which illustrates how they've added far more levels of gradient to incline shifts, which should make things feel a bit smoother than in the past.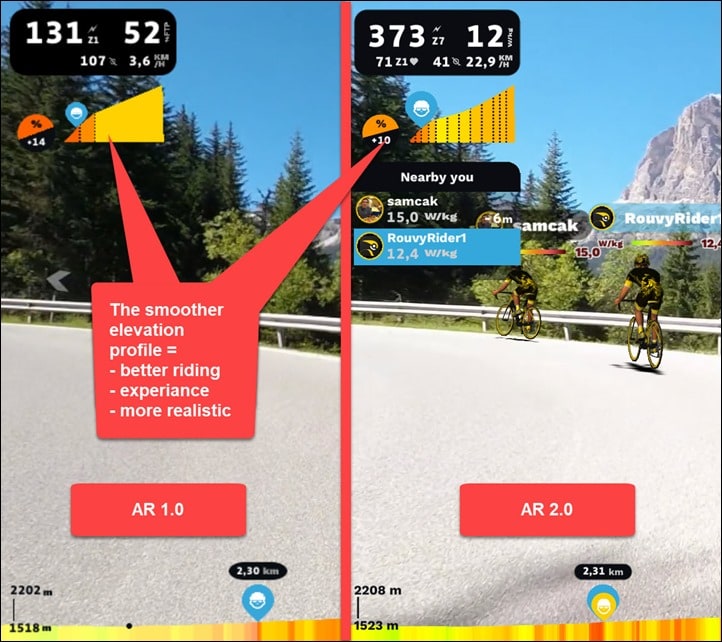 Note how on the left the gradient chart shows basically just three chunks, whereas on the right with 2.0 it shows 12 chunks, assuming I'm able to count.
Again, technologically cool stuff here, and now they're on every platform out there, sans the gaming ones (Nintendo, Xbox, and PlayStation). But hey, maybe next year.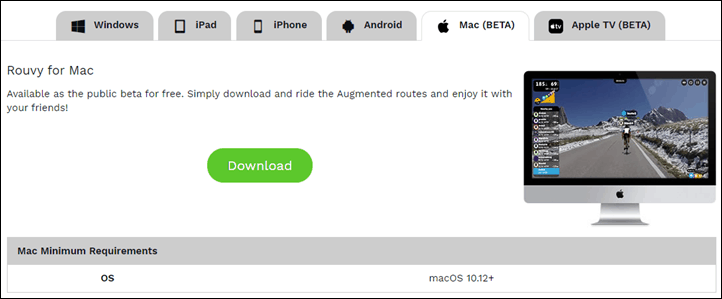 With that – thanks for reading!