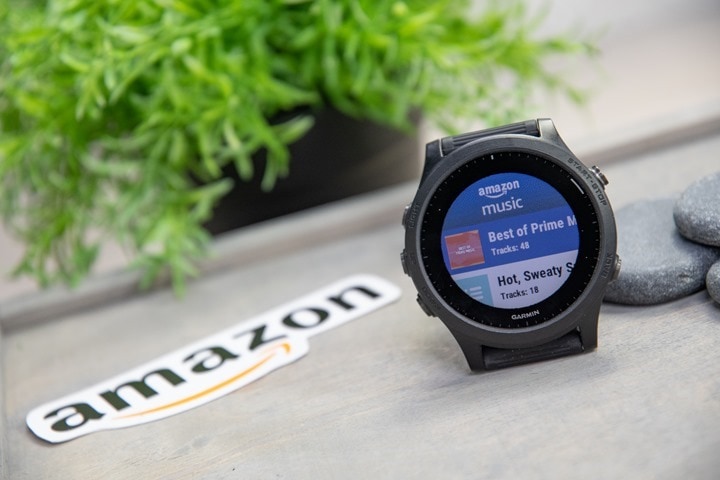 When Garmin first got into the music wearable industry some 18 months ago, I don't think anyone would have sat back and said: 'Garmin will become the most widely supported music streaming services wearable on the market'. But oddly enough, as of today, that's actually what's happened. No wearable on the market today supports as many music services as Garmin does for offline use (no, not even the Apple Watch).  And as of today, Garmin's list now includes Amazon Music.
If you've got Amazon Music (of any variety), you can now offline sync it to your music-enabled Garmin watch. That allows you to go for a run without your phone and listen to Amazon Music. And somewhat unexpectedly, there's actually another first here: The first company to support Amazon Music offline. No other company except Amazon's own app has that capability.
Now many of you know that I'm a huge Spotify user. I listen to Spotify all day long. Except, when I don't. Which is when the kids are streaming Wheels On the Bus, or The Girl is streaming Jack Johnson. In which case, I'm listening to Amazon Music. As I type this, I'm listening to Amazon Music. I don't pay extra for the Unlimited variant, I just have the one that comes free with Amazon Prime.
If you're looking for a video run-down of everything, here ya go:
With that, let's cook on to getting it all configured. Don't worry, it's painless. Oh, and if you're looking for my previous guide on setting up Spotify on a Garmin wearable, that's here.
Getting It Set Up: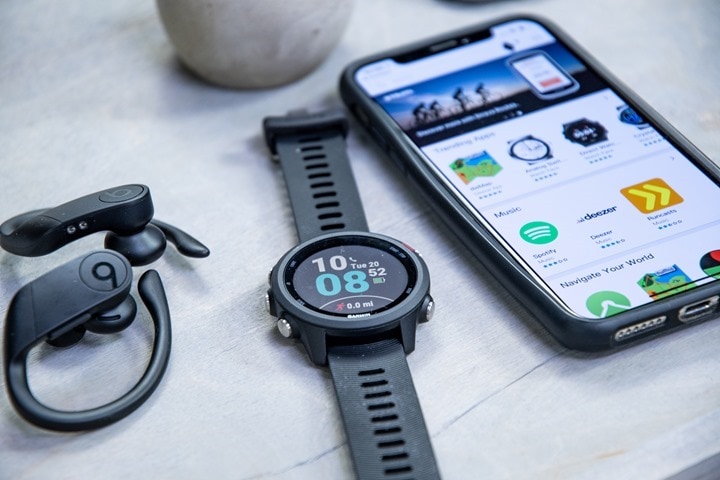 I'll first preface this section by noting that this these photos probably make it more complex than it really is. Basically, you just download the app from the Connect IQ store and then follow the prompts to authorize your account. That's it. But, for the sake of making things super clear and non-short, here goes.
First up, here's the list of compatible watches. In a nutshell, it's every Garmin music-enabled wearable ever made, and will undoubtedly be any future watches as well.
Garmin Forerunner 245 Music
Garmin Forerunner 645 Music
Garmin Forerunner 945
Garmin Fenix 5 Plus Series
Garmin MARQ Series
Garmin Vivoactive 3 Music
You'll need that watch handy, and if your battery level is below 50%, then you'll want a charging cable handy to sync music (not required for setup though). And finally, you'll need WiFi already setup on your device to make this work. As with virtually all wearables, it can't be something like a Starbucks hotspot or hotel wifi.
First up is pulling up the Garmin Connect IQ app store for your device, be it on your mobile phone or the Garmin Connect site (if on desktop), then searching for Amazon Music. You can use either the Garmin Connect Mobile app on your phone, or the Garmin Connect IQ app. Two methods, same result: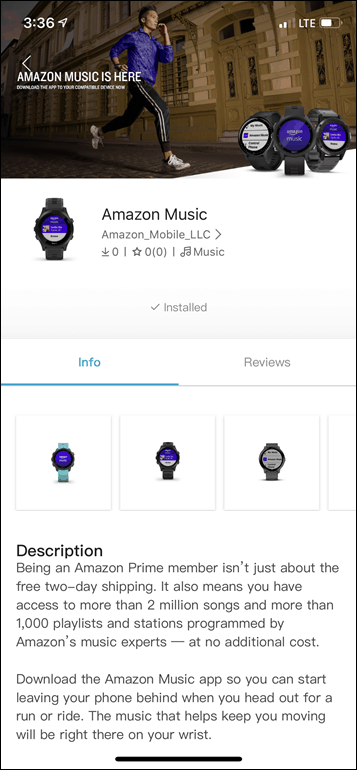 Once that's done you'll click to add it to your device, and in a short bit it'll sync to your watch, which you can then confirm there. At this point you can go ahead and access it on your watch by scrolling up to the Music menu (it should show up by default there, but if it doesn't for some reason you can go into the Widget Settings on your watch and add it to the widget roll).
Then depending on how much you've used music on your Garmin it'll either show up immediately in the sources list, or you'll need to change your music source to Amazon Music: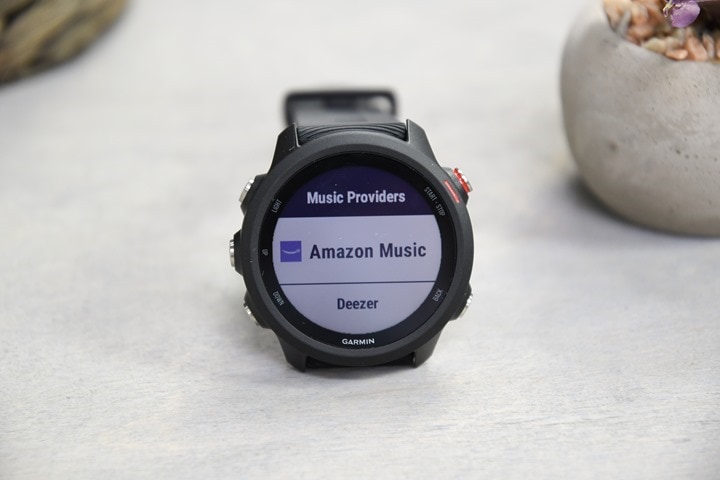 You'll want to be sure you've got Garmin Connect Mobile still running in the background of your phone somewhere. It's how the watch talks to Amazon. Minor note, you do need to have gotten time via GPS at least some time in the last forever. Meaning, as long as you've done a workout then you're good to go. But if you just got the watch it'll ask you to check GPS to get time (it doesn't care where you are, it just wants the time – smartphone synced time isn't trusted enough).
Once you've opened up Amazon Music it'll then give you a code to enter in online at Amazon: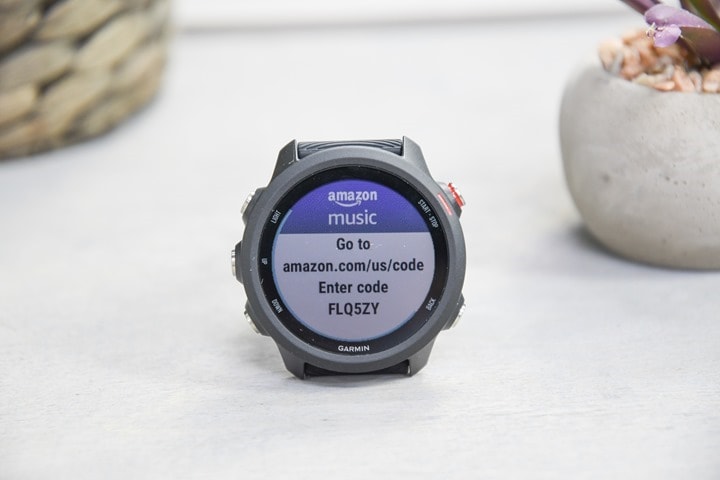 You can use a desktop or smartphone for that. It'll ask you to sign-in to your Amazon account if you're not already signed in: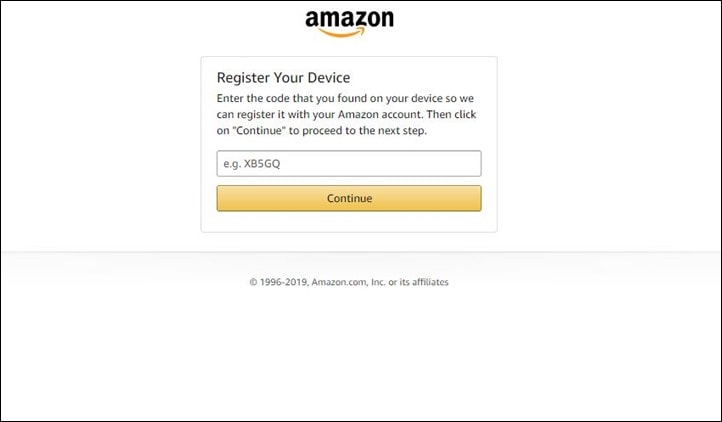 Then it'll confirm Garmin has access to your Amazon music account: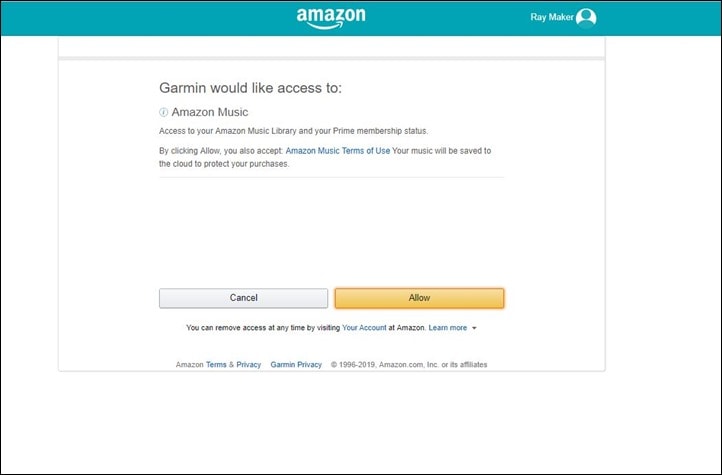 Once you've done that, Amazon will tell you you're good to go: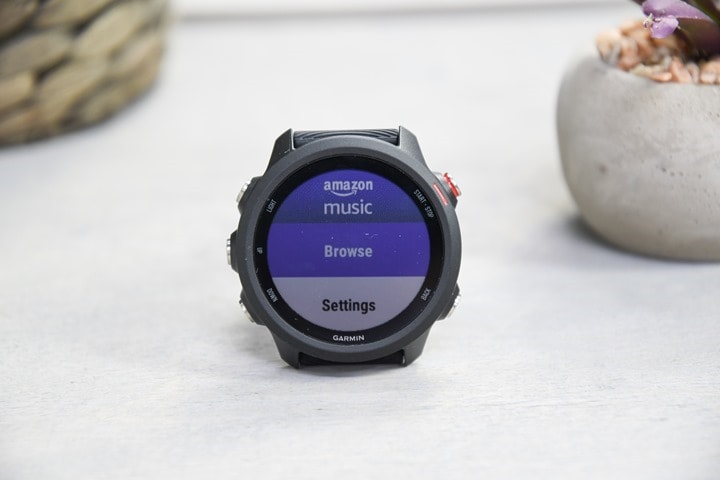 Within about 10-15 seconds, the watch will get its golden ticket (authorization) and then it'll bring you to the screen to download music. At this point you're ready to roll!
General Use: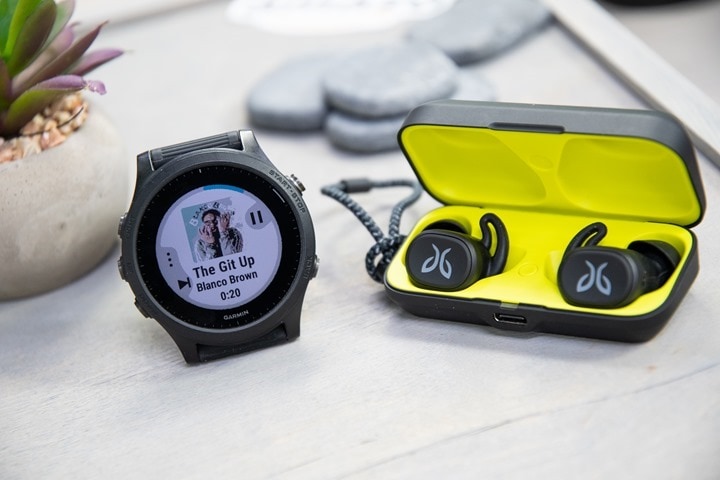 The app allows you to download any music you'll find on Amazon (or at least, I haven't found any blockers yet). You'll start by hitting the 'Browse' button on the main app. This gives you a slew of ways to start your music search. Again, Amazon Music Unlimited is not required, only a regular Prime Membership is. Though, there is a free 30-day trial if you want that.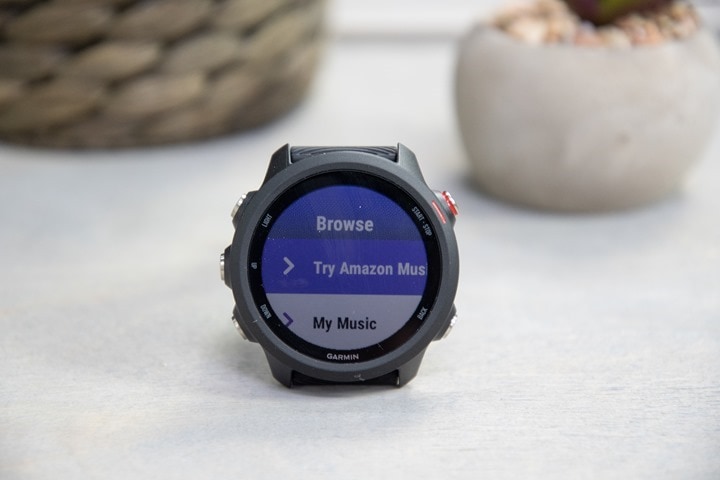 The app methods are as follows:
– Try Amazon Music Unlimited: If not already on that paid tier, it'll offer a deal to get you to sign-up
– My Music: Anything you've saved within the regular Amazon Music app on your phone/computer/etc…
– Playlists: This gives you recently played playlists, as well as sorted by moods/genres, and top playlists
– Charts: Top Songs, Top Albums, Top Playlists
– Recommended: Tracks, playlists, and albums recommended by the Amazon magic music machine
– New: Self-explanatory
We'll just go with downloading something I've already selected as part of my account by choosing 'My Music'. This will enumerate the various playlists that I've saved via the other Amazon apps. It'll allow me to choose my Playlists, Artists, Albums, Genres, Tracks: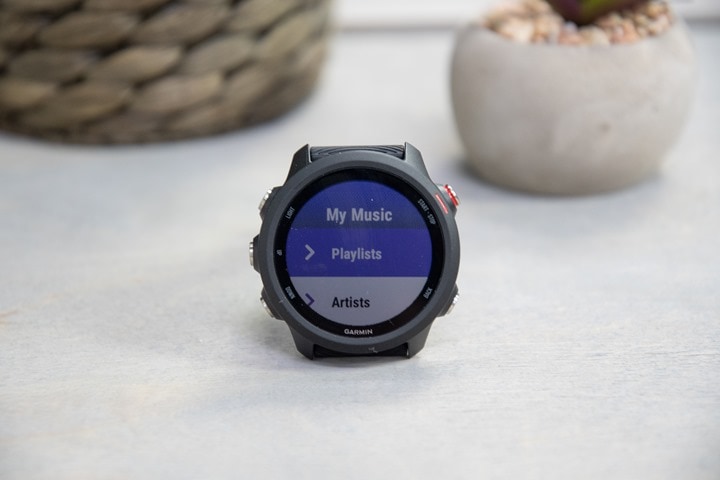 I'll select Playlists, and then it shows me those from my account: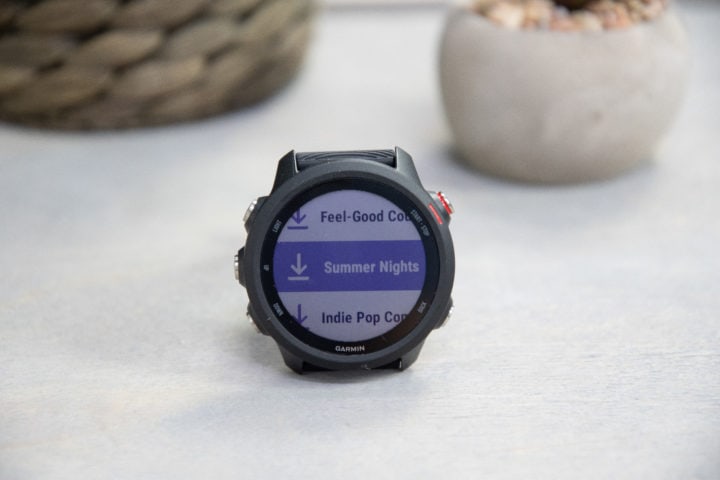 The down arrow means to download the playlist, so once you tap it, it'll go ahead and start searching for WiFi: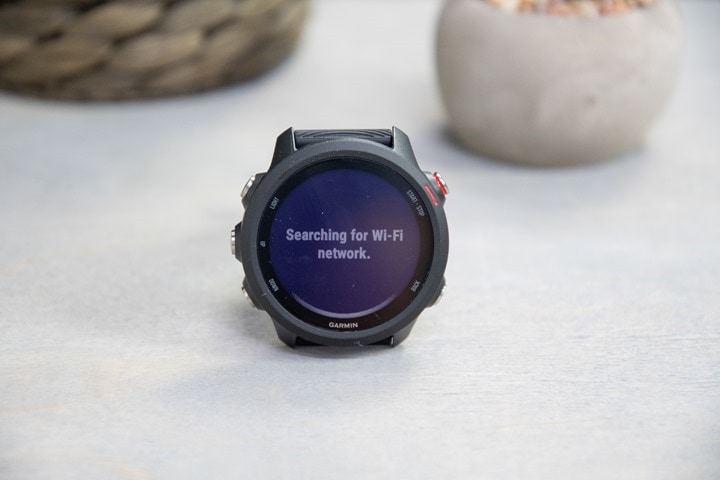 If however, your battery is below 50%, it'll require you plug in. I've always thought this Garmin limitation (same for other Garmin music streaming platforms) is a bit too conservative. I'd prefer something like 25-30%, and then simply cut me off at 10-15% battery remaining.
In any case, once you either plug in or juice up, then it'll show you the status of downloading: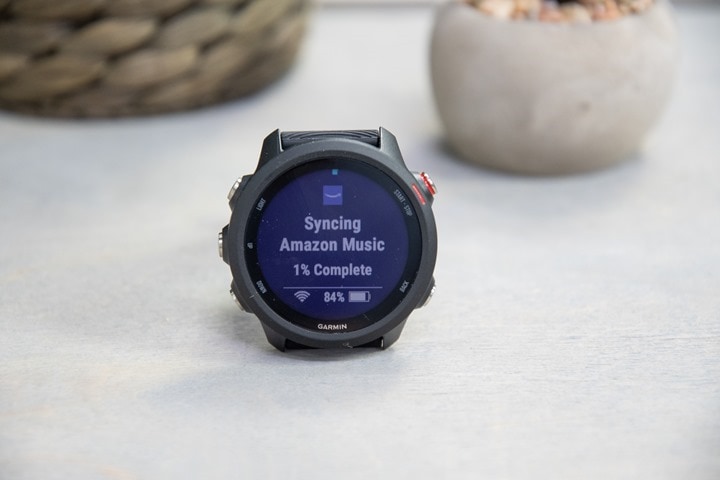 I've found Amazon Music on Garmin devices slower to download than Spotify on the same device (even when done back to back). On Amazon Music I'm getting about 3-5 songs per minute (download speed), whereas Spotify is nearly double that at about 10 songs per minute. However, there are numerous times when I've only gotten 1-3 songs per minute on Amazon Music.
This is testing across all of the compatible Garmin devices (for realz, I loaded it up on all of them): MARQ Athlete, FR945, Vivoactive 3 Music, Fenix 5 Plus, FR645 Music, and FR245 Music. And this is with average download speeds for both home and office being 450-500Mbps. Garmin says this is somewhat expected, and that download rates vary between music services based on a slew of factors including encoding rates.
Either way, just a heads up on that.
Once downloaded you'll see the playlist listed at the top of the Amazon Music app: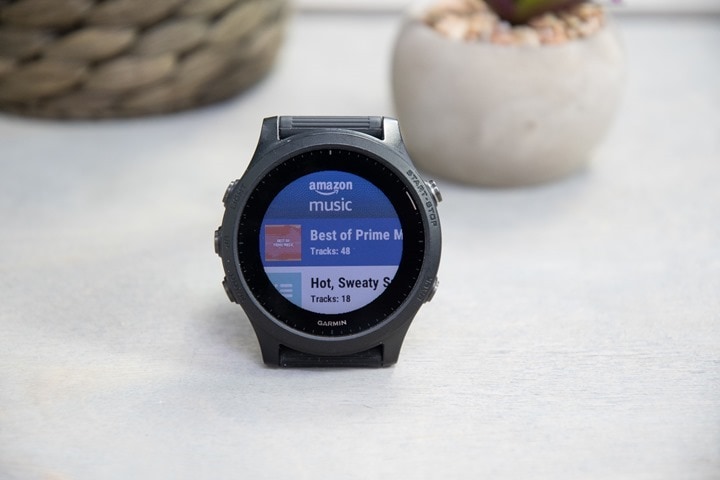 You can simply select it to start playing it. At this point, if you've got your headphones connected, it'll automatically begin playing. If not, it'll ask you to connect them: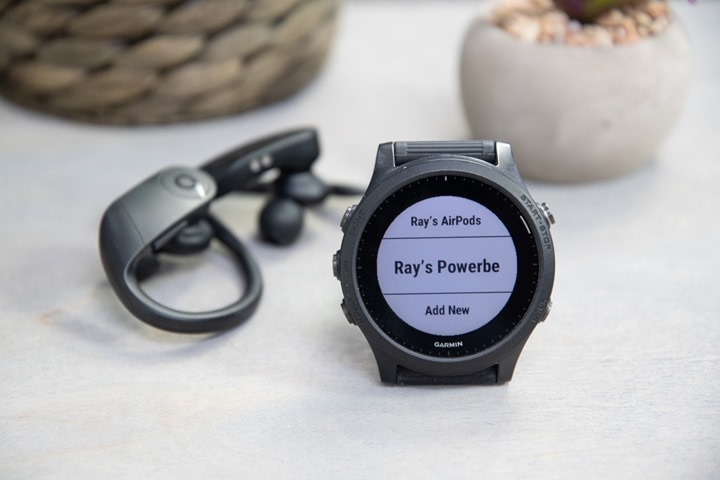 And then it'll start playing: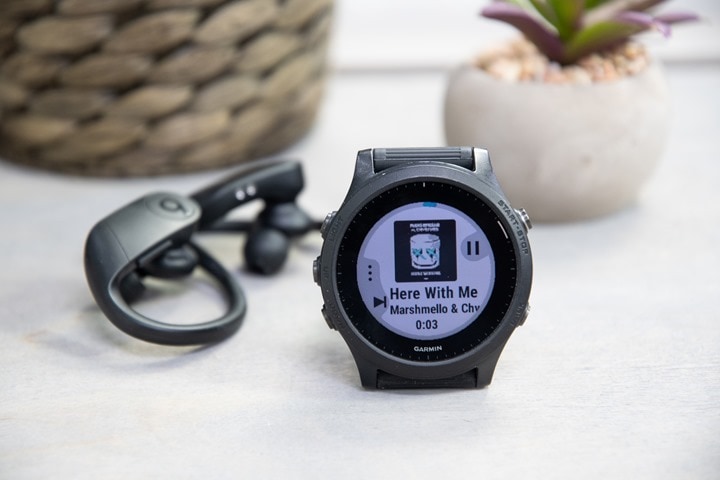 From here on out the controls/etc are all the same as any other music you've got on your watch. Skip/play/pause, etc. Unlike Spotify however, you will get album covers for all songs: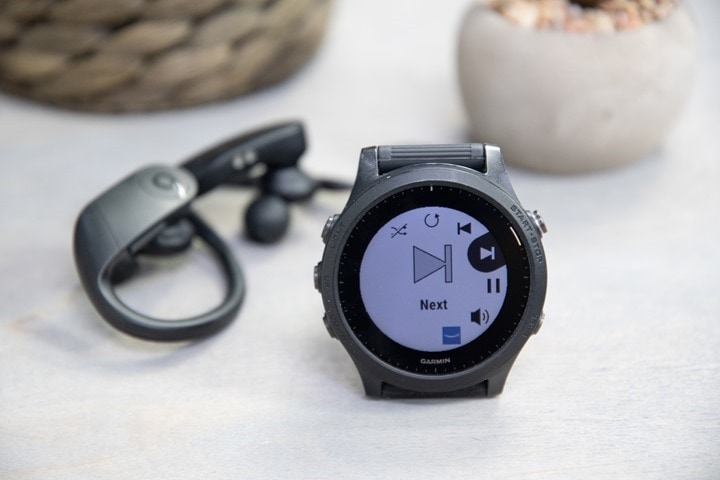 When Spotify gave a presentation at the Connect IQ Summit back in April, they noted they made the specific choice to not include album covers as it didn't convey anything to the user except to remove real estate for song title/etc. While perhaps true, I'd argue the album cover conveys the artist's emotion, and that's a huge part of music. So I like the album covers, even if they look like they were rendered on a Commodore 64 and take away text space. Here's side by side Spotify vs Amazon Music (different songs obviously).
Finally, if you want to update your playlists with the latest music, simply choose the 'Sync' option. This will go out to Amazon and grab any new/extra songs added to any playlists you've already downloaded.
All in all, it 'just works' for me. No complaints here on functionality for the most part. I will note that every once in a while I'll go to download a playlist from some sections (not in 'My Music') and it'll say that playlist was only available for Amazon Music Unlimited peoples. It's like a passive-aggressive thing. Feels tacky (since the first option anytime I browse for new music to download is already an Amazon Music Unlimited ad), but shrug.
Wrap-Up: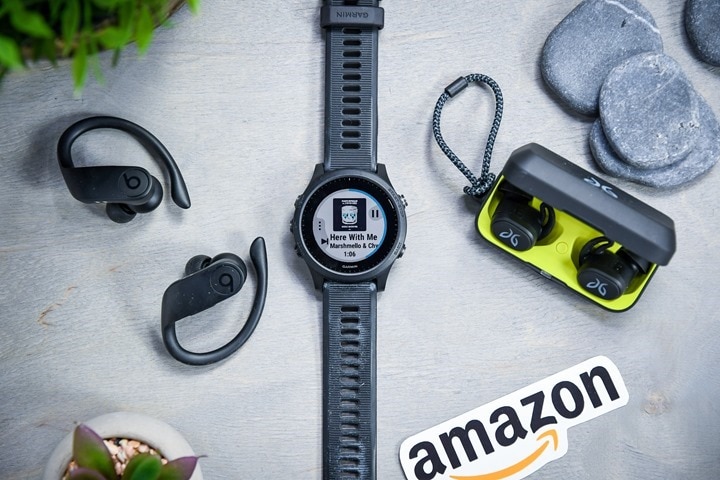 We've seen a pretty impressive transformation by Garmin over the last 18 months. They've gone from a company that didn't even have a music wearable in the market, to one that now has half a dozen devices and supports more music streaming platforms than anyone else. They've got a dedicated music industry team onboard, and the fruits of that are starting to show.
From Spotify last fall to Amazon today, these are major platforms to sign-up. But I get the impression Garmin is only just beginning in this space. It likely starts with having some level of neutrality in their devices, they're able to more easily convince these platforms to give it a whirl. But in talking to some of them, it's also simply because Garmin's underlying music provider interface is simply more advanced and more easily adoptable to these streaming platforms.
Which of course, doesn't mean Garmin's solution is perfect either. All of these options require downloading your music via WiFi ahead of time. None of them support cellular on-demand streamed connectivity, even Garmin's own Vivoactive 3 Music LTE. There's gaps in hardware and battery conception that make that more difficult for Garmin than other watches that advertise only a day or so of battery life.
Finally – if you've got Amazon Prime already (which boatloads of people do), this is kinda a no-brainer to get music on your watch that doesn't cost anything extra. I've added it to my devices, merely to mix things up a bit. It probably won't become my daily driver, but, I like having it there just for the variety.
With that – thanks for reading!