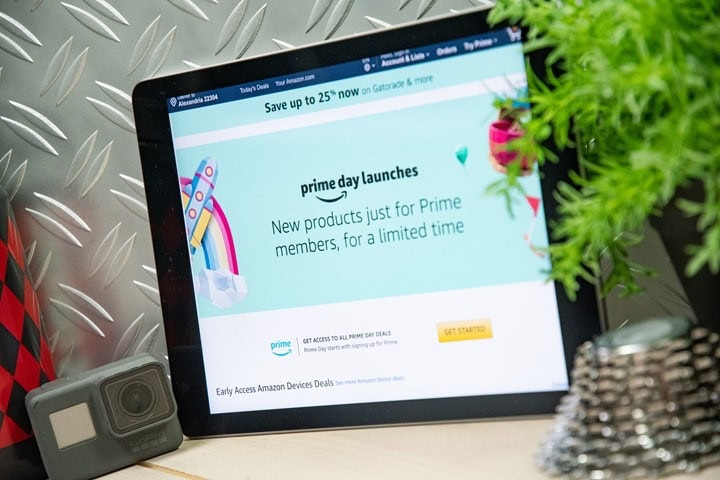 Ok folks,you know the drill – today's the best day of the year short of Black Friday for deals, sports tech and beyond. What started just a few short years ago as an Amazon-only thing has oddly enough spread beyond Amazon, with other retailers and companies matching as well. One could easily just call it mid-July day, or Bastille Day Morning After. Whatever floats your boat.
I'll be updating this list all day long as things come in and out, as well as via Twitter. Remember – things will come in and out. The whole point of Prime Day is short term sales. Stuff usually only lasts an hour or two. If you see something you like – grab it, it'll soon be gone (and figure out how to return it later if need be). Also, I know a number of sports tech companies are indeed participating – both with and without Amazon, so I'll definitely be highlighting those as I see them.
Now, despite it being known as 'Amazon Prime Day', the fine folks from Seattle aren't terribly good with singulars versus plurals, and this year it's actually two days – today (July 15th) and tomorrow (July 16th). And of course, any of the links you find here will likely support the site – so I very much appreciate that. And if you see anything else on Amazon you want, simply hit one of these links first and then search on Amazon and it'll still help support the site. Easy-peasy!
You'll need to be an Amazon Prime member, but you can use the free trial if you don't have membership. Oh – and one more pro-tip: Most of the time Amazon will repeat sales during Prime Day – so if you missed out, check back every 3-4 hours, sometimes it'll show up later on.
Sports Tech Deals:
These are all the deals on products that I've reviewed, had hands-on time with, or otherwise dorked with.  Note: I'll be trying to to include Euro deals as best as possible throughout the day, though sometimes it's a bit tricky to find them across so many Amazon EU sites. The ones with the little ⚡ next to them are what I'd consider exceptionally good or rare deals. All the deals are very good, but these are 'Buy now, ask questions later' type things.
⚡ Apple Watches: 30-40% off Apple Watches: This includes the Apple Watch Series 3 down to $169-199, and the Apple Watch Series 3 LTE down to $224. Holy balls. Also, if you're looking for a new iPad for your indoor training, some are upwards of 40% off.
Apple AirPods – $15-$20 off: This is the latest version, which has been working fairly well for me with the latest Garmin watches for music playback. And here's the wireless charging case variant as well.
DJI OSMO Action – $30 off, down to $319: This is DJI's first action cam that came out a bit over a month ago, and the first time we've seen it on sale.
DJI Mavic Air – $120 off, down to $679: I often mix and match this or the DJI Spark as my favorite drone for taking with me on travels and rides. Easily fits in back jersey pocket.
Elite Direto 2018 Edition – $639: This is a flash sale of 20% off for this super popular trainer (normally $799). While the new Elite Suito was just announced yesterday, it's actually not a direct replacement for the Direto, as the Direto has a power meter in it, which the Suito lacks. Solid deal if you want a trainer immediately.
Fitbit Wearables- $30 off Charge 3 & Versa: Pick your tracker, it's the same $30 off each one!
⚡ Fibit Ionic – $50 off: This GPS capable unit includes music and contactless payments as well.
Garmin Edge 820 Mapping Cycling GPS – $229 – 34% off: While this unit was recently overtaken by the Edge 830 – it's still a really solid cycling GPS with mapping/navigational capabilities.
Garmin Fenix 5 – 33%, down to $399: There's a slew of models here, so you kinda need to poke around at which colors/etc, but basically they start at $399 for the non-Plus edition. These lack music/payments/etc.
Garmin Fenix 5 Slate Grey with Black Band only – $349: This particular duck is available only on Garmin.com and only in this specific configuration. But it's $50 cheaper than above.
⚡ Garmin Forerunner 35 – down to $89: If you're looking for an entry-level running GPS watch, there's no better deal on the market than this right now.
Garmin Forerunner 645 (non-music) at $269: If you're looking for a running-specific watch with lots of features, this is still Garmin's top-end unit that's purely running focused.
⚡ Garmin Forerunner 645 Music down to $299: Very strong deal, especially if you were looking at the Garmin FR245 Music, as the FR645 has more functionality in it.
Garmin HRM-DUAL Strap – $61: This is only about $10 off, but it's never ever on sale, so there's that for ya. This is the newest strap released a few months back that does not just dual ANT+/Bluetooth Smart, but dual-Bluetooth Smart. So you can pair to both Zwift and another device via Bluetooth concurrently. It's also my go-to strap these days.
⚡ Garmin Vivoactive 3 – down to $149: Damn, that's probably the best deal of the day here.
Garmin Vivoactive 3 Music to $178: Or, for $28 more you can get music storage onboard, including offline Spotify support.
Garmin Vivofit Jr 2 – 40% off, down to $47: This appears to be only certain editions of it, but still, a solid deal. My oldest Peanut loves wearing hers, even if she doesn't fully understand it yet. Any parent I talk to loves it though (it's used in some ways more for chores and stuff than straight activity tracking). Full post here on how it works, it's better than you'd expect.
Garmin Wearables: 30-50% off many Garmin watches: This includes the Fenix 5 series, Forerunner 35 (down to $89!), the Vivoactive 3 (down to $149!), and even the Garmin Forerunner 645 Music among many others.
⚡⚡ GoPro Hero 7 Black at $299: I'm seeing this coming in and out, so you'll need to keep checking back for it. Seems to show up every few hours as I see a bunch of people snag one, and then it disappears again. On the flip-side, the below deal at $349 including an Amazon $50 gift card is likely the same for most people anyway.
⚡ GoPro Hero 7 Black $50 off ($349) &  $50 Amazon Gift Card included: It's kinda like getting cash back. It's also my main action-cam go-to.
GoPro Hero 7 Black – $50 off and 32GB SD card included: Not from Amazon, but slightly different than the deal above.
GoPro massive accessory package: I got almost this exact same package earlier this winter. The price is normally $25, but it's set as 'Upcoming' for a deal later today.
Polar H10 ANT+/BLE Strap – 20% off: This includes the latest strap from Polar which now includes transmission over ANT+ & Bluetooth Smart.
⚡ SanDisk MicroSD Cards for Action Cams – 30-60% off: I use plenty of SanDisk cards for my action cams and drones. Seriously, I have a disturbing number of them. My personal sweet spot is 128GB, but I often buy 256GB cards.
Scosche Rhythm 24 & Rhythm+ – $20 off either: Both are great little optical HR sensors that transmit both ANT+ & Bluetooth Smart. The R24 also has onboard storage capabilities.
Suunto 9 GPS – 25% off, down to $399: If Suunto is your jam, then this is a reasonably solid price for this unit!
Wahoo Fitness sensors – 20% off: This includes the dual ANT+/BLE TICKR HR strap, RPM cadence sensor, speed sensor, and BlueSC dual speed/cadence sensor.
⚡ Withings Body+ Smart WiFi Scale – nearly 50% off to $49: Definitely one of my favorite smart scales. Can't go wrong here. (Keep checking back on this one, I suspect we'll see it again on Tuesday).
European Deals:
Generally speaking most Amazon EU sites (UK/DE/IT/ES/FR) will ship within the EU without issue. Generally being the operative word. If Amazon lets you, then you're all good. If it doesn't, then sometimes sneak around to the other Amazon sites and occasionally it'll work there instead.
Garmin Wearables: 30-54% off many Garmin watches: This includes the Fenix 5 series, Forerunner 35 (down to 79GPB!), the Vivoactive 3 (down to 149GBP!), and even the Garmin Forerunner 735XT triathlon bundle and the Vivomoves are here. This DOES support shipping to mainland Europe.
⚡ Garmin Edge 820 – 50% off, down to 189EUR: Dang, that's a very sweet deal on this unit.
⚡ Polar Vantage V – 50% off! That's a slamming good deal, down to 220GBP. Also shippable to mainland Europe.
Polar Vantage M – 36% off: Also a good deal, note too that both the Vantage V & Vantage M will receive the vast majority of the new features from the Polar Ignite, later this year.
Polar A370 – 55% off: This is their activity tracker that can also leverage your phone's GPS.
Other Stuff:
Things in this bucket are basically the things I'm buying or have bought that may or may not have to do with sports tech, but I know a lot of you are curious about other tech-type purchases I make – such as photography or foodie contraptions or such. All of these are of course on sale.
⚡ Apple iPad – 24% off, down to $249: This is exactly what I use – exact model and all – for all of my tablet based stuff. So that includes Zwift, TrainerRoad, Sufferfest, and many other apps when my main screens are busy.
Amazon Echo Dot – 56% off: We have Echo Dots at both home and studio, just the simple $22 version is all we need and also keeps the kids happy playing music.
Anker Battery Packs – up to 46% off: I'm kinda a battery pack hoarder. I've got a small fleet of Anker and RAVPower battery packs always handy. I'll likely stock up on a few more…for reasons that realistically make no sense.
Bose Soundlink Around-Ear Headphones – 31% off: I'm super tempted to pick up a pair of these mainly so I can get away from the AAA batteries of my existing Bose headphones. Still undecided on them. Will let ya know if I do here.
DJI OSMO Pocket – $30 off: I wouldn't recommend this for sports usage, but I do actually use it a bunch at trade shows and around events. It's a incredibly small stabilized camera.
Elgato Green Screen – 20% off: This is what both myself and GPLama use for any green-screen content we do. Lama uses his way more than I do. 🙂
Elgato Cam Link 4K – 23% off to $99: This little USB accessory allows me to record/stream cameras, but also is what I often use to record Zwift from Apple TV & my laptop.
KitchenAide 5QT Mixer 48% off: The foodie in me would happily pickup another one of these, despite the fact that we have a few already (look, we ran two bakeries). They're complete work-horses for us – having produced likely hundreds of thousands of cupcakes and still chugging along. Like this section said, nothing to do with sports tech, everything to do with my belly.
⚡ SONOS ONE – $129 (from $199): This is a really solid deal, though seems to be in and out in terms of availability, so definitely keep checking back on this one for sure! We use SONOS units around the home and absolutely love them. I'd happily pick up another as soon as I see this live again.
—
With that – thanks again for reading (and using the above links)!