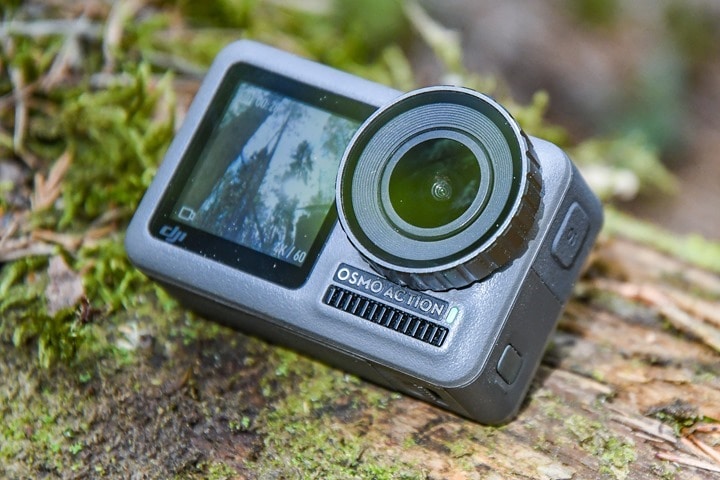 The day has finally arrived that everyone predicted would eventually come: DJI has announced an action camera. For realz this time, not a small hand-held gimbal that's sorta like an action camera but not, not another drone that can be action-like, but now – a bona fide action camera – complete with 'Action' as half its name.
The DJI OSMO Action is almost identical to the GoPro Hero 7 Black. But the term 'almost' is the important part. In some areas, such as the ability to shoot at 4K/60 without a fisheye look (or with, if you really want), it's better. Whereas in other areas, such as its wireless connectivity and smartphone app, it's not as competitive as GoPro. But no matter which side of the fence you end up being on, the resultant is great for consumers: Legit competition in the action cam market.
Of course, there have been many entrants to this market over the years – but nobody has been positioned the same way that DJI is. To say the company owns the consumer drone market would be the understatement of the year. There's no company that's built just the right adjacent market to storm in and take GoPro's lunch.  At the same time – GoPro has a loyal following – and for good reason: They make solid action cameras, with the Hero 7 Black last fall being by far the best they've ever made. It's become my daily driver for action cams. The question is – does the DJI OSMO Action hold a candle to the GoPro Hero 7 Black? For that, I set   to find out.
Note that this media loaner unit was sent to me to test, and after this review I'll send it back just like always. In fact, there's already a preaddressed FedEx shipping label in the box back to DJI. Further, I don't take any money from any companies I review (or trips or whatever else). If you find this review useful – simply hit up the links at the bottom to help support the site.
The Quick Summary: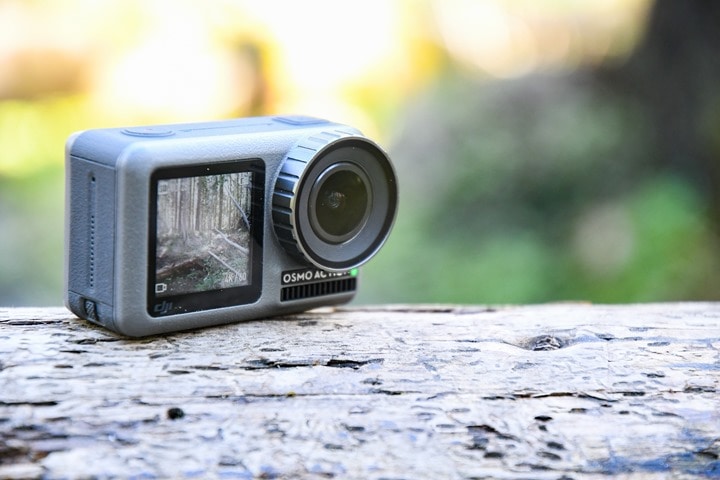 Don't got time to read 8,000 words or so? No worries, I've got you covered. Watch one action-packed video, and then scroll a bit of text – and you're all caught up. Sounds good, right? Good, then hit the play button below. After all, this is an action cam – not a textbook.
So let's assume you watched the above video (or at least hit the play button before getting distracted), then here's the core bits you need to know
– Can shoot 4K/60FPS with Stabilization enabled
– Has what DJI calls 'RockSteady' stabilization – roughly equal to GoPro's HyperSmooth, and works in all 16:9 modes
– Contains a 2.25" rear color touchscreen display, AND, a 1.4" front-facing color screen
– Has slow-mo modes up to 240FPS/120FPS for 1080p and 720p
– Has WiFi for connecting to your smartphone and downloading footage
– Can record HDR video in 4K/30 – but no stabilization
– Has quick shot modes for saving your favorite settings
– Has removable front lens, which DJI then makes ND filters available for
– Removable battery lasts 91 minutes in 4K/30 with RockSteady, and 1hr 56mins in 1080P/30FPS without RockSteady
– The unit is waterproof down to 36ft/11m without a case, though a dive case accessory exists
– Utilizes the same sensor as the DJI Mavic Air, and supports video recording at 100Mbps
– Can take 12MP photos in still, burst, timed, timelapse (photo or video actually), and AEB (JPEG+RAW)
– Oddly, burst mode is limited to a mere 7 shots.
– Pro settings for changing white balance, ISO, exposure for all video and photo modes
– USB-C charging port
– USB-C microphone adapter coming soon (existing OSMO Pocket adapter is *not* compatible…I tried)
– Price: $349, and available from today
Got all that? Good, let's get right into things, because as with most products, the devil is in the detail.
The Basics:
In many ways, DJI basically just built a GoPro Hero 7 Black. Most of the specs – and even hardware aspects – are identical, though some of the nuanced differences are important. In some areas, DJI ups GoPro, while in others, DJI falls short. Fear not, we'll cover all of those. First though, let's start with the exterior of the camera itself. From the front you've got a removable lens and a secondary forward-facing display screen:
With the lens removable, you can easily swap out the front glass for ND filters, which the company also sells. These filters can be used in different environments (such as super-bright snow covered mountain days, or underwater coral reef days), to get the most accurate color and depth possible. GoPro actually supports this as well, though most people don't realize it.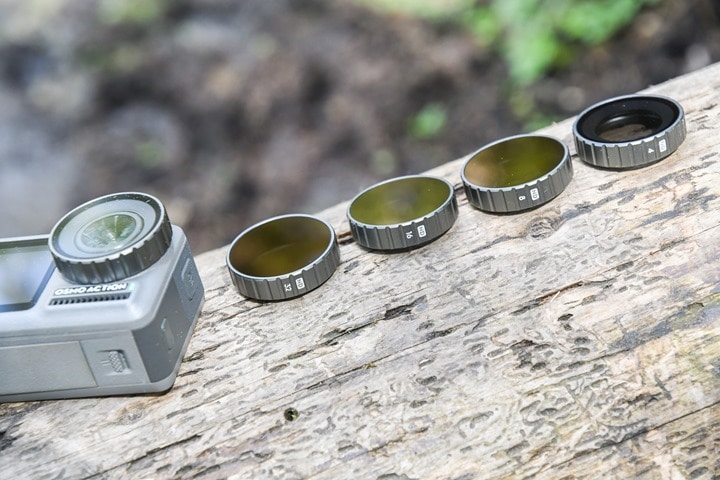 Next to it though is probably the most notable feature of the DJI OSMO Action, the front-facing screen. This screen shows you the camera's view in one of two options. First is where it fills the entire picture screen center-weighted (but crops the image), and second is where it doesn't crop but leaves black bars. The actual recorded video is the same on both settings. Here's the difference (note the black bars and space to sides of me):
Even as a super-seasoned GoPro user, there are times where my framing just isn't perfect. Perhaps a bit too high or a bit too low. That's even more true when cropped in a Linear mode to remove the fisheye look (or other zoomed option). So this sort of feature is actually super useful, again, especially as one who is often using the camera pointed at myself.
The 1.4'" front-facing screen isn't a touchscreen, whereas the 2.25" rear-facing screen is. And the two screens aren't on at the same time. To switch between the screens you'll simply double-finger tap the back screen, or long-hold the QS button on the side.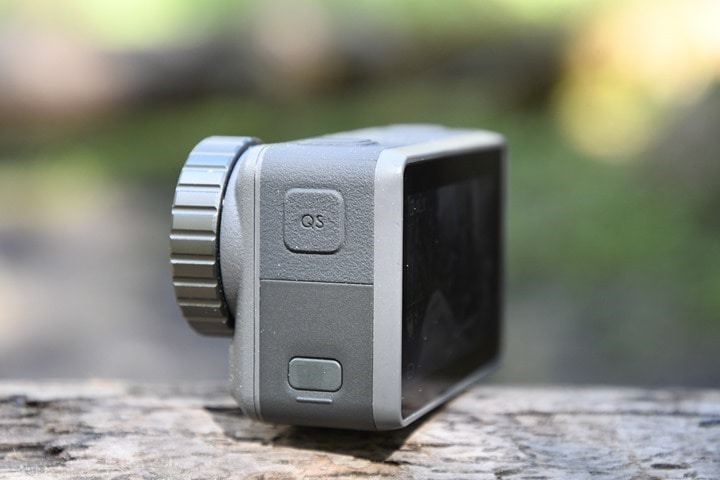 Wondering about that QS button I just mentioned? It allows you to iterate through either specific modes (e.g. video/photo/etc…), but more importantly customized modes. You can basically create custom presets with specific settings like exposure, white balance, resolution, frame rate, stabilization, etc… and then assign a QS name to them for quickly pulling them up. It's somewhat like what Garmin had back with their savable pro settings on their VIRB action cameras.
The touchscreen on the back is where you'll set up anything on the camera. However, you can use the top two buttons as well though for turning it on (DISP button), and the red recording one for starting/stopping recording (or taking photos).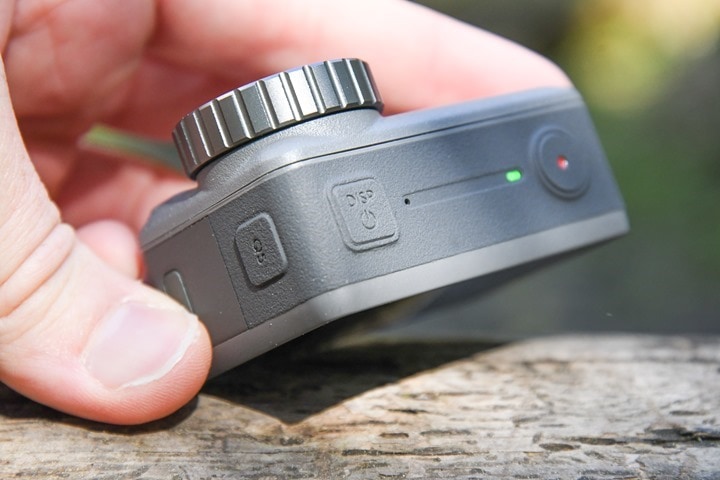 If you swipe from the left, you'll access your gallery of past photos/videos, whereas if you swipe from the top of the display you'll get the general settings (WiFi and related type stuff). This is an area that while it might be intuitive to experienced users, I'm guessing will be confusing to most new users.
If you swipe from the right, you'll get camera settings – such as configuring ISO or switching into manual mode, as well as color options. Additionally, you'll see the option to turn on 'Dewarp'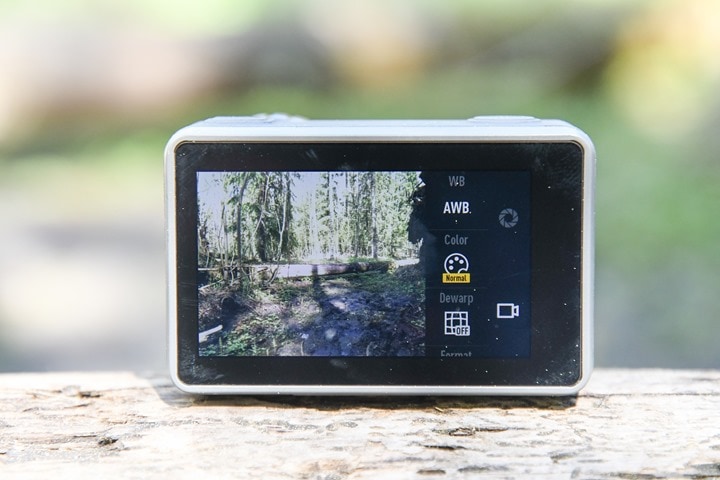 The Dewarp option is essentially what GoPro has called linear mode. And collectively the two options are what the rest of the world calls 'non-fisheye', meaning, it just looks like a regular flat video/photo without any warping/super-wide look to it. However, the key difference (and this is really important for a lot of people), is that on the DJI Action OSMO you can enable this at *any* resolution or framerate, even 4K/60. Whereas the GoPro Hero 7 Black limits you to 2.7K/60 for Linear mode.
There's a tiny bit of cropping that occurs when you enable it. Here's the difference side by side. Notice the building's walls and how they're more straight in the Dewarp-on version: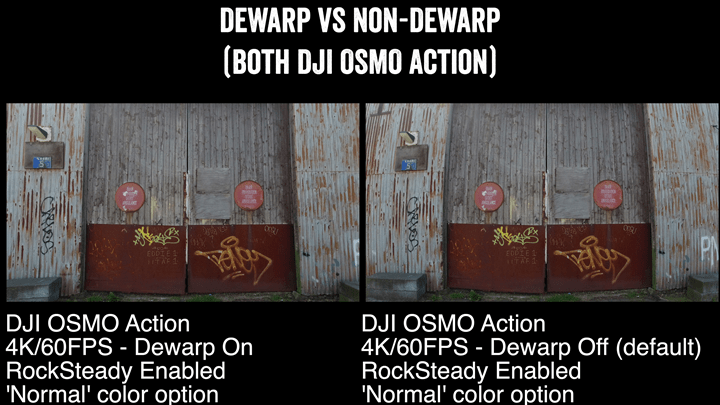 This feature alone though might make me a convert to the DJI camera. I often shoot fully in 4K, and want to have my footage match between the action camera and the DSLR. This does exactly that.
Note, for pro mode settings you can configure: ISO, ISO MAX, Shutter, and EV (Exposure). While for overall mode settings you can configure color (Normal, D-Cinelike), Dewarp (On/Off), White Balance (Auto, Custom in 100K increments from 2,000-10,000K), video format (.MP4 or .MOV). Again, another example of DJI really nailing the white balance bits. On a GoPro you can only choose from a few preset options, which make it hard for me to perfectly match GoPro footage indoors in a studio without shooting in ProTune and then reconverting the footage (which is a pain in the ass). Well done DJI, well done.
However, now we'll talk about something less well done: Changing resolutions
To do this, you'll swipe up from the bottom – which gives you this horribly designed menu: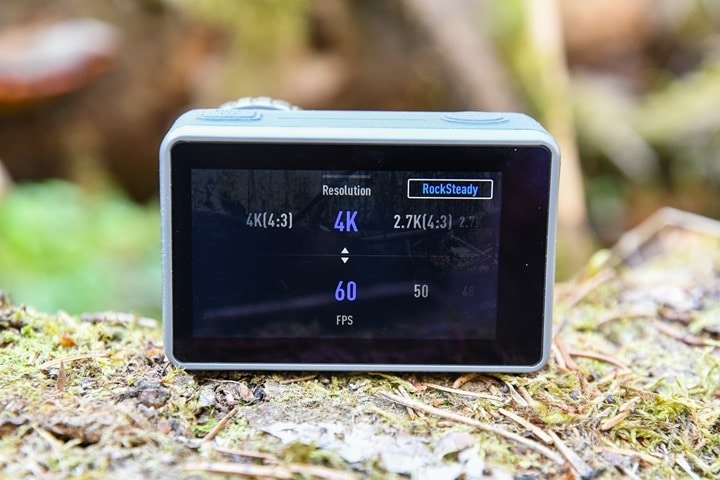 I say horrible, because who on earth puts blue text on a black background? And it gets even worse outside or at any non-direct viewing angle (in other words, how you're likely to always use your action camera). For comparison, look at the same interface on the GoPro Hero 7 Black: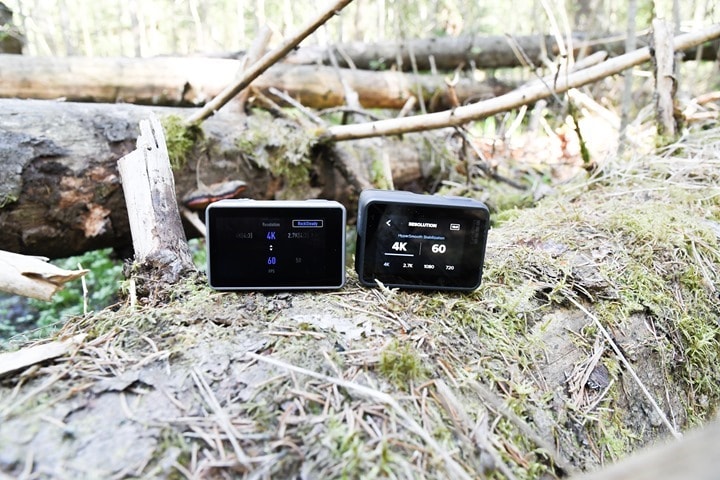 To change resolutions you swipe the upper half, while to change frame rates you swipe the lower half. The 'RockSteady' option at the top will remain illuminated as long as that combination works.
In any case, you've got mostly the same resolutions as GoPro here (for the Hero 7 Black) – though it lacks at the higher end slow motion options (no 2.7K/120 like on GoPro), and basically the same resolutions for their stabilization software as well. The DJI OSMO Action resolutions/frame rates are as follows:
4K 16:9: 60/50/48/30/25/24 (RockSteady for all)
4K 4:3: 30/25/24 (No RockSteady)
2.7K 16:9: 60/50/48/30/25/24 (RockSteady for all)
2.7K 4:3: 30/25/24 (No RockSteady)
1080P: 240/200/120/100/60/50/48/30/25/24 (RockSteady for 60FPS and under)
720P: 240/200 (No RockSteady)
We'll get back to the RockSteady bits in a little bit. Finally, when in normal shooting mode, you can see the exact frame rates along the bottom, RockSteady enablement up top (RS), the time remaining on the SD card in the upper left corner, voice control enablement and battery in the upper right corner, and the exact mode in the lower left: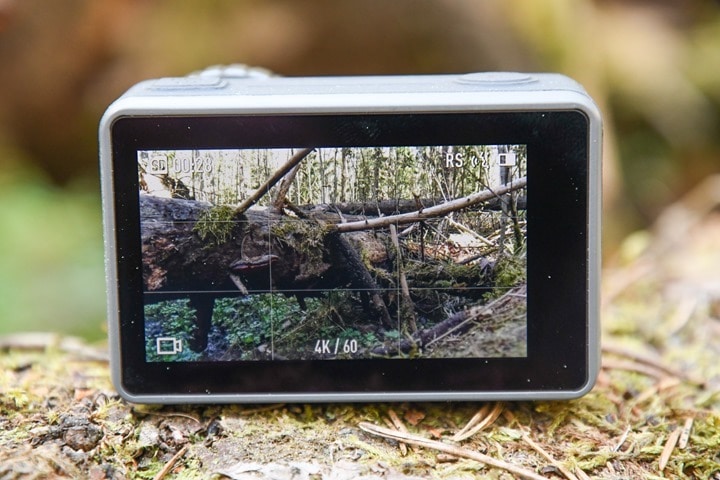 To change modes you'll tap the QS button, which iterates through the different video/photo options. Note that it doesn't iterate through all of them though, just the ones you've set up: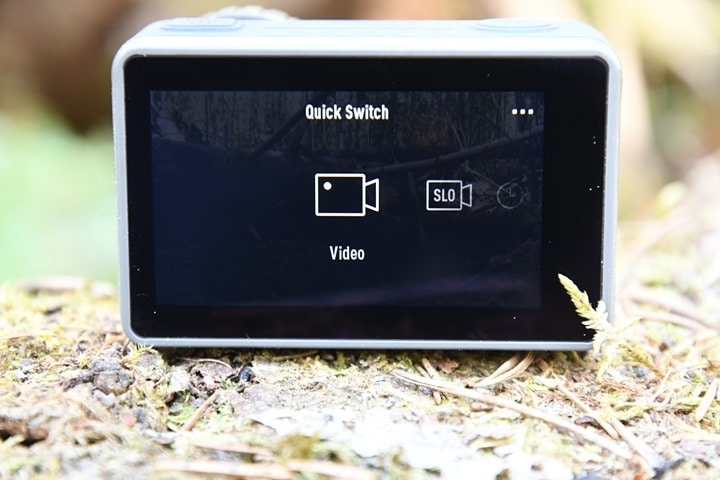 To add/change/remove the modes you want shown, click the little '…' in the upper right corner, which then shows the other modes and allows you to toggle them.
In total these modes are:
Video Modes:
– Video
– HDR Video
– Slow Motion
– Timelapse
– HyperLapse
Photo Modes:
– Photo
– Burst
– AER
– Timed
Custom Modes:
– C1/etc… as you've set them up
I'll cover both the video and photo modes in the following sections. And, speaking of things for later, I've got an entire section down below dedicated to the smartphone app (for better or worse), so let's wrap up things back on the outside of the camera. First, in order to access the battery you'll need to unlatch both of the locking door bits. Yes, two locks, seen below: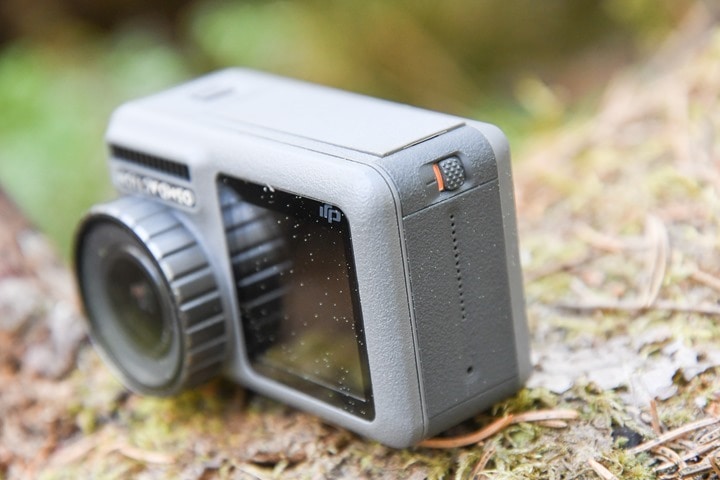 Once you've done that, the battery will either pop-up or fall out, depending on your current relationship with gravity.  What you probably didn't expect though is that the battery door is attached to the battery. Essentially the OSMO battery is like your college days where you took home the beer glass as a souvenir:
The battery is 1300mAh at 3.85V, and has the following claimed battery lives:
4K/60 (RockSteady enabled): 91 minutes
1080p/30 (RockSteady disabled): 1hr 59 mins
These battery run-times do seem about right from my testing.
Next, in order to access the charging port and micro-SD card door, you'll pop-up the little hinge on the outside. This door swings open, and then fully detaches if you want it to: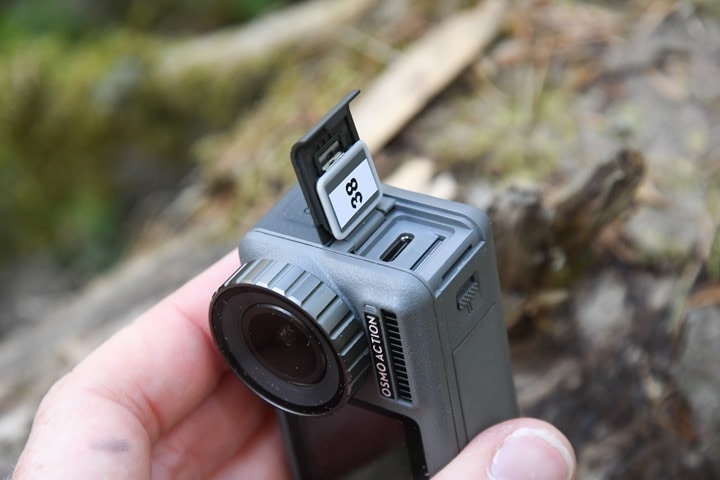 Essentially, this is 100% identical to GoPro, with even the hinge being virtually indistinguishable. Which makes sense, GoPro's design was brilliant. Mostly so they can charge you $20 for when you lose this small 20 cent door.
The USB-C port allows for charging of the camera battery, as well as where you can attach certain accessories – such as the USB-C mic adapter. The microSD card slot accepts card sizes up to 256GB, which I have tested without issue.
Got all that? Good, let's get into using it for its intended purpose: Action videos.
Video, HDR, & RockSteady (Stabilization):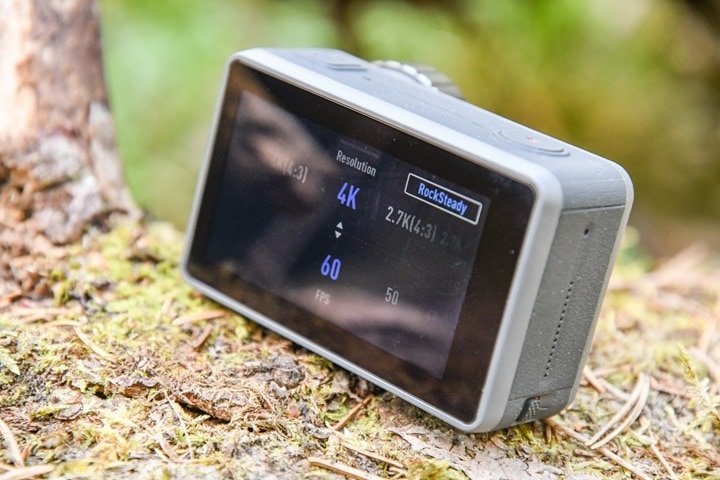 There's no question that if we look last fall at the Hero 7 Black release, the introduction of HyperSmooth was a game changer for the company. I don't mean this in the marketing sense, but rather for the fact that many found Sony's optical stabilization better than GoPro's previous electronic image stabilization (EIS). In effect, prior to last fall, the term EIS kinda got a bad rap (and mostly, for good reason). However, that's changed, and DJI essentially matches GoPro in this respect, using EIS to achieve basically the same level of semi-gimbal like stabilization.
However, unlike GoPro, this wasn't DJI's first fake-gimbal barbeque. In fact, the exact same underlying concept that you'll find in the OSMO Action is found in the DJI Spark, released some two years ago. In that scenario the companies blend a 2-axis gimbal with EIS to fake a 3-axis gimbal.  And in all but the most extreme scenarios it works perfectly fine.  Of course, in the DJI Spark the output resolution was limited to 1080p, though the sensor was capable of much higher (and the company used that extra resolution to make stabilization better).
With the OSMO Action, the company is re-using the sensor from the Mavic Air, which is 4K capable, but now at 60FPS versus the Mavic Air's 30FPS. It retains the 100MBPS throughput though. And of course, unlike the Mavic Air, there's no physical gimbal here – this is all EIS all the time. But because EIS has a bad name, DJI decided to rename it just like GoPro did. Instead of GoPro's HyperSmooth, DJI went with 'RockSteady'. Whatever the name, it frankly works great.
You'll see the 'RockSteady' logo displayed in the resolution/frame rate picker: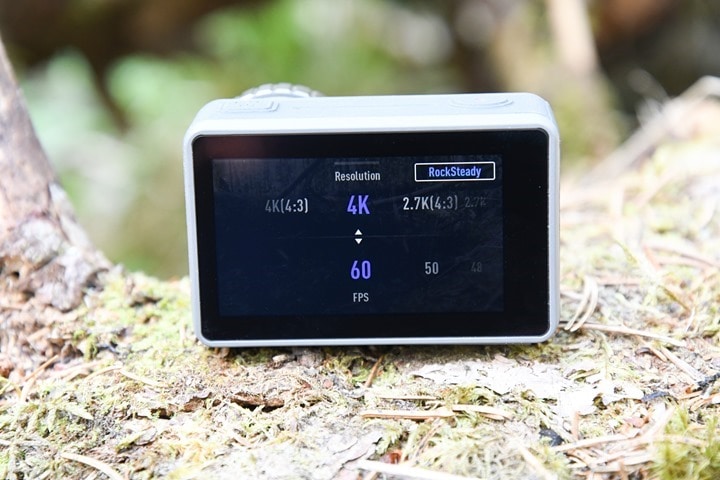 In general, RockSteady is enabled in all most non-slowmo speed modes except the higher end 4:3 modes. But for most people you're shooting in 16:9, and even at 4K/60 it works just fine (matching GoPro). However, unlike GoPro, you can shoot in this mode even in Dewarp mode – so your videos look clean and flat.
For slow motion modes, you'll see the option is disabled, such as 240FPS on 1080p: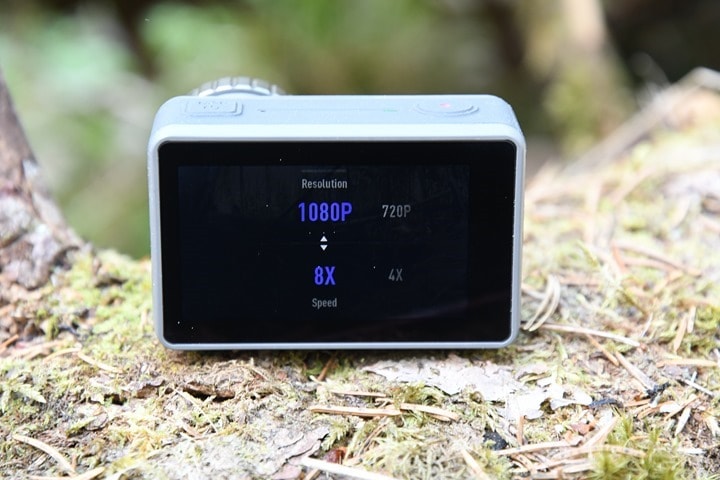 Of course, you can disable RockSteady if you want. Perhaps you find some artifact in how it handles motion that doesn't work for you. Just simply tap the RockSteady words on the screen and it turns off.
Speaking of RockSteady being off, one area that it doesn't work on is the new HDR video functionality. This falls inline with what we saw on the DJI Mavic 2, whereby you can film HDR – which is High Dynamic Range. This is limited to 4K/30, and doesn't allow RockSteady at all. So you'd probably want to save using HDR for cases where you knew that there wasn't going to be significant bumps or other things that made the footage jumpy.
So how does DJI's RockSteady compare to GoPro's HyperSmooth? I'm glad you asked. I've got a quick and tidy little video below that goes through tons of scenarios and footage. Road cycling, mountain biking, running, walking, etc… There's a big index at the front.
As you can see, it's near identical. It's actually kinda interesting to watch on the back of the display how the DJI OSMO Action if you just sit somewhere and quickly tilt the camera a tiny bit. You can see it 'catch-up' about .5-.75 seconds later. Ultimately, the stabilization of the camera seems spot-on, and seems to be on-par with GoPro in terms of stability in most cases, with the added bonus of being able to switch into dewarp mode for non-fisheye 4K/60 footage.
(If you'd like to look at the original files, I've uploaded a Dropbox share of most of them here.)
What about low-light footage? As you can see above in the full comparison video, in general it's not awesome – at least not in regular mode. But neither is a GoPro. As with both cameras, it's really best to focus your action related activities on days with good light. As GoPro used to somewhat not-really-kiddingly tell their sponsored athletes (and probably still does): Only come back with sunny day footage.
Next, we need to talk about lens angle, or viewing angle as it may be. This is how wide the lens is. In the case of the OSMO Action, you'll notice it's substantially less wide than that of the GoPro Hero 7 Black in 4K/60 wide. Here's the two side by side: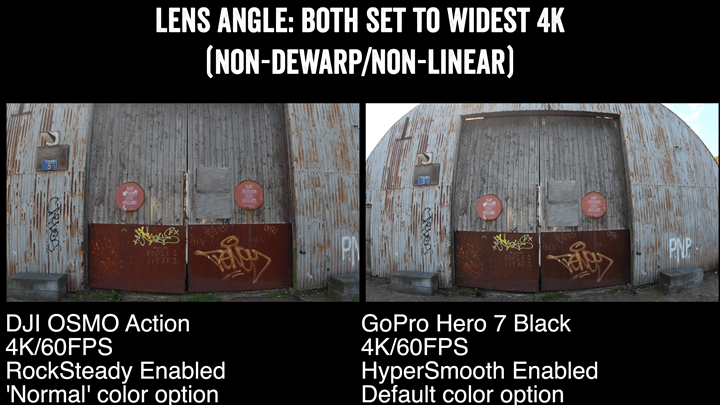 But, it gets even more dramatic in GoPro's SuperView mode, which is offered at lower resolutions. Here's that comparison: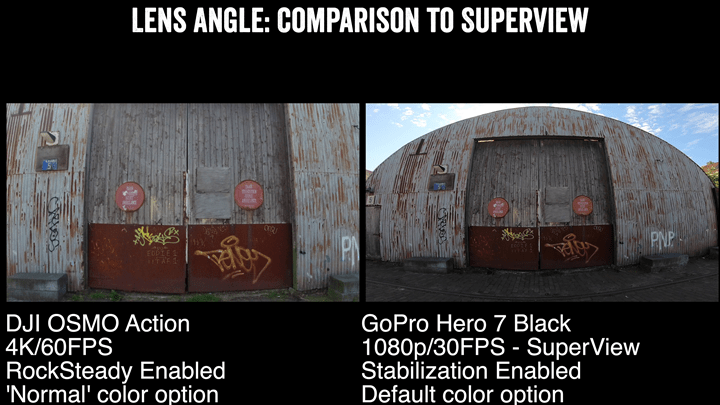 Note that DJI doesn't change the viewing angle (or offer zoom) in any mode. There's an itty bitty bit difference between 1080p and 4K, maybe a couple degrees at most. Either way, while I appreciate DJI's ability to offer linear-type modes, I do wish it was still a bit wider. There's lots of sports scenarios where having a wider lens gets more of the action. After all – that's one of the key factors that made GoPro famous.
Finally, last but not least is HyperLapse mode. This mode will not be available at launch, but I did get to test the feature in beta. There's no specific timeframe for when the feature will be released to production. Essentially HyperLapse is a timelapse that is super-stabilized using the onboard accelerometers. Additionally, it often does some smart logic for pauses in the video, allowing you to stop and look at something and have that video frame pause a bit longer so that viewers can read it.
In the case of the OSMO Action beta feature, it allows you to specify a rate (up to 15x), as well as a resolution (only 2.7K and 1080p):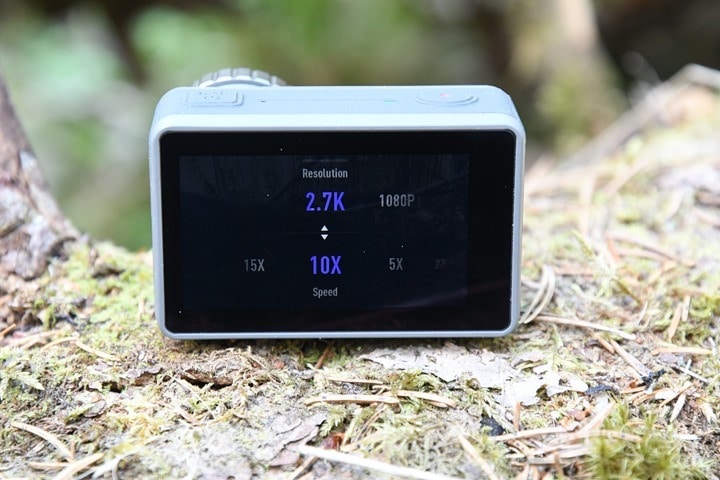 So far though on HyperLapse (in beta), things look pretty positive. Looking forward to seeing it released whenever that happens.
Photos: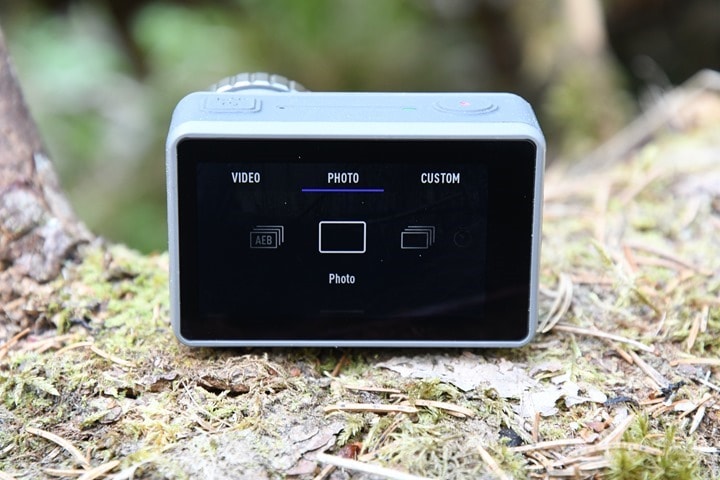 Like most action cams, the OSMO Action has the ability to take photos in a variety of modes: Single shot, timed shots, burst mode, and AEB (Auto Exposure Bracket). In addition, there's the timelapse video and timelapse video + JPEG option (which exports both a video and individual photos at set intervals).
When in any photo mode you've got two core framing options: 16:9 or 4:3, which you can set and will remain the default for future photos. Below that you've got the ability to set-down a customizable count-down timer (from 1-second up to 10-seconds). Meanwhile, if you swipe from the right side you've got the ability to configure some additional camera settings, including exposure (+/-) and ISO max. Or, you can go into full manual mode and configure ISO, ISO Max, Shutter Speed, and EV.
Further, on both auto and manual mode you can change the white balance (auto, custom), turn Dewarp on/off (removes fisheye effect), and change the file type (JPEG, or JPEG+RAW). All of this is virtually identical to the video portions you saw above.  And, as expected, to take a photo you simply tap the red record/shutter button and you're done.
If you want to quickly shift between photo modes, you can actually tap the lower left corner rectangle (supposed to be a photo) on the rear screen, which brings up the photo modes menu. For example, if you switched to AEB, then you can change how many stops of exposure bracketing (+/- in 1/3rd increments) and the number of photos (3 or 5):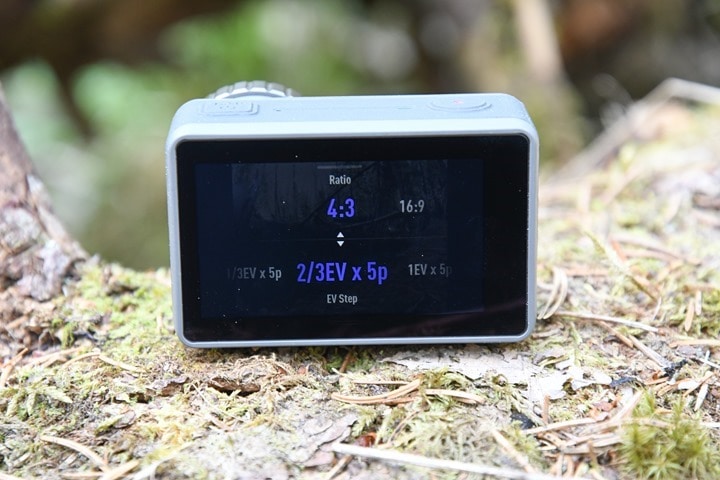 Likewise, if you go into burst mode, you can configure how many photos you're going to take: 3/5/7, which frankly – is super low compared to GoPro: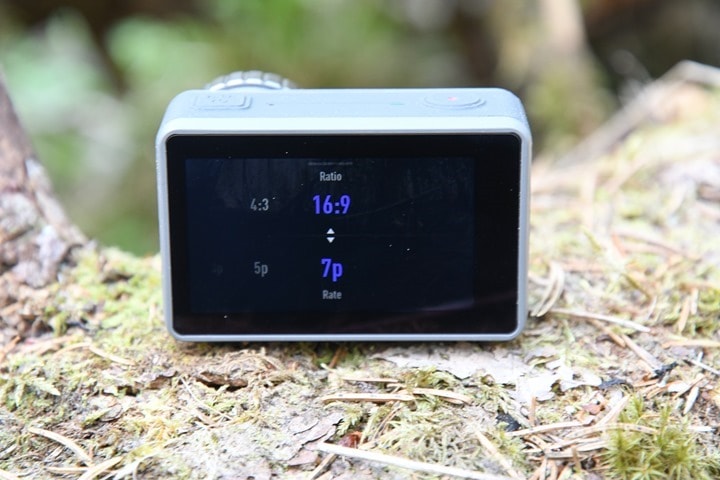 GoPro's burst tops out at 30photos per second, and Garmin is in the same ballpark. For DJI, there's no difference in the number of photos it can take in burst mode between 4:3 and 16:9.
Lastly, in timer mode, you can simply select how often the interval is, with a minimum of 0.5s, and then in 1-second increments from there: 1s, 2s, 3s, 4s, 5s, 8s, 10s, 15s, 20s, 35s, 45s, 65s, 125s. Apparently it counts numbers just like my two-year-old. How on earth did they get to 125-seconds? I could see 120 seconds (2-minutes), but who was like 'No, we need 5 more seconds – it's a world of difference!'? Umm…ok.
Quirky counting aside, the functionality works just fine – and that's true of photos in general. I took quite a few photos and some came out well, but some less so. From a responsiveness standpoint, the camera responded instantly. The only downside is again the super-low burst rate. That's like GoPro Hero 2 levels (even if that).
Nonetheless, here's a complete gallery of photos from the camera. All of these are unedited/untouched and straight from the camera:
For those that want to look at some of those in high-resolution, I'll be uploading a ZIP file sometime today with the JPG+RAW (where applicable) variants of all of those.
DJI Smartphone App:
We'll just get this out of the way right away: The smartphone companion app is without question the weakest point of the OSMO Action ecosystem. The app is the exact same app that DJI used for the OSMO Pocket mini-gimbal, except now the shortcomings of the app become more apparent in an action camera setting. Be it clunky wireless pairing/connectivity, or inability to transfer certain video types to your phone, most of it feels half-baked.
What's ironic about this is that many would argue GoPro (DJI's only meaningful competitor here) also has a clunky app. But I think it's slowly gotten better, at least in terms of reliability, in the last year or two – and that's especially true of the Hero 7.  When the DJI App is viewed in light of the GoPro app, it becomes clear how often the basics fail. Still, let's start at the beginning: Connectivity.
To connect to your OSMO Action you'll connect to the WiFi network from your phone: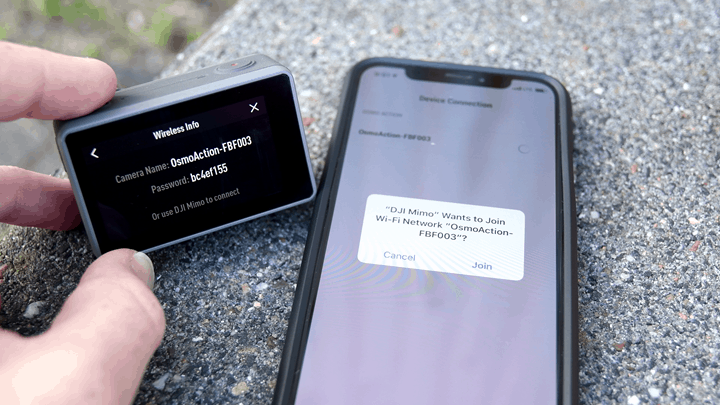 This isn't super unusual, but the challenge is the OSMO Action has to be fully powered on and ready to record. It can't be in standby. Compare that to a GoPro (anything in the last half-decade) and it goes into a standby mode where your phone actually initially connects to it via Bluetooth, tells the camera to wake-up and turn-on WiFi, and then you're off to the races. All without ever touching the camera, as long as the camera was powered on (even for a second) at some point in the last 8 hours.
Where this starts to become a legit challenge is when you place your camera in a hard to reach location, intending to stop/start recording later. For example – on the front of your car, or perhaps up in a tree for a unique angle while you do a ski or bike jump. Once the OSMO Action goes to sleep a minute later (it's configurable, but then you lose the battery saving features) – it's all over, there's no method to connect it again.  And the same applies for mundane things, like wanting to download videos/photos from your camera while it's still in your backpack squished under the airplane seat in front of you (like me at this exact moment).
But, let's assume you do connect to it, you've got two basic paths to take: Download stuff, or control the camera. For controlling the camera, you can change virtually all the modes and options directly from the app as you can from the camera itself. In this sense, it's just like any other DJI drone or gimbal product – the actual control of it is great once powered on.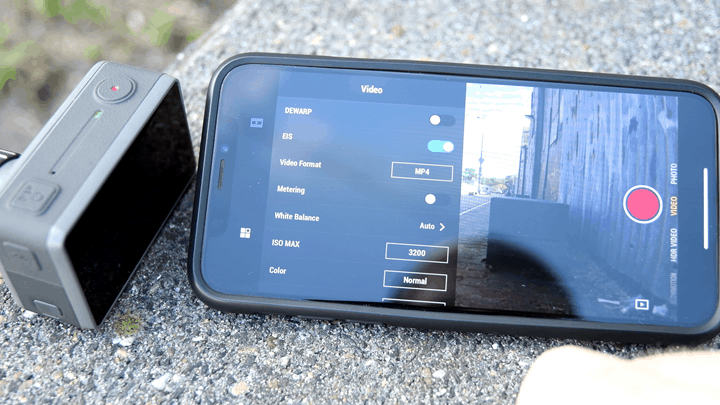 Then there's the download bits. That's where things fall apart again.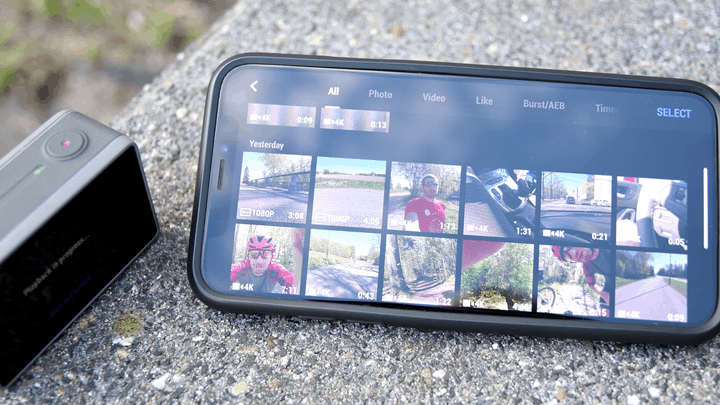 Want to download 4K/60 footage? Nope, you can't. You can convert it to 1080p, or not download it at all. GoPro has no such restriction as long as your phone has the space for it.  And some footage, you can't even download that at all. It just hard-blocks and says nope.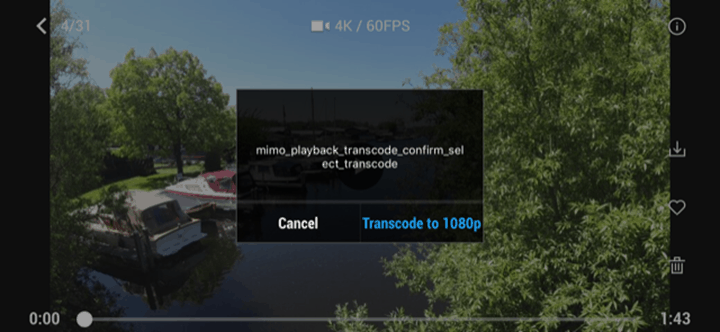 Once downloaded it'll go into your camera roll automatically, as well as into DJI's movie maker function, which allows you to slice and dice video clips together.
Note that DJI doesn't have any live streaming at this time for the OSMO Action, a slightly odd omission not because GoPro has it, but because DJI's other products already have it. Their drones can stream via their respective apps, and have been able to for years. It's as if the two teams refuse to share code bits with each other.  I've gotta imagine there's far more cases of people planning to live stream with an action camera than a drone (though, both are admittedly low in quantity).
In any case – the good news out of this entire section is that this stuff is the easiest to fix. Out of all the problems a product could have, no problem is better to have than lack of smartphone app features. Dev time and testing time for that is cheap and quick. Hopefully we see DJI take some of these things to heart.
Audio/Microphones: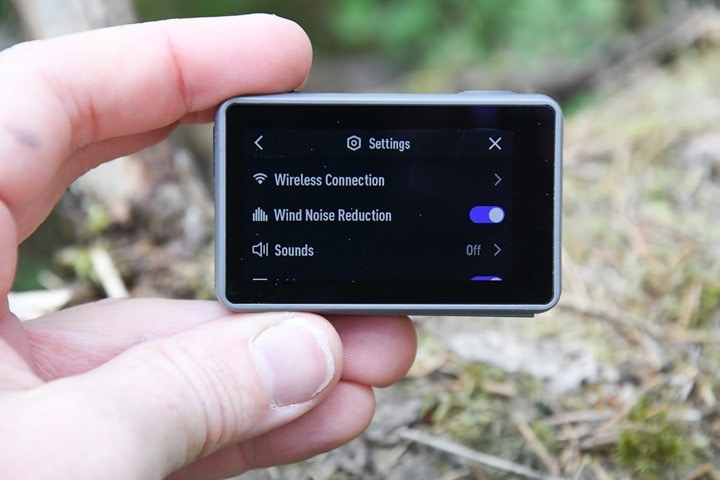 The OSMO Action follows near identically to that of the OSMO Pocket when it comes to microphones: It has two of them, and roughly sounds about the same in most situations. While GoPro has gone with three mics (to assist with noise cancellation), DJI has decided to stick with their duo instead. And if I were to give you the spoiler edition: It sounds about the same.
Neither GoPro or DJI action camera is perfect, and both can find certain wind-specific situations which solidly suck and sound horrific. But, both cameras can also hold their own in the vast majority of situations.  But let's back-up. There's one mic hole located just to the right of the top-left button (power/display), and then another mic located on the right side towards the top.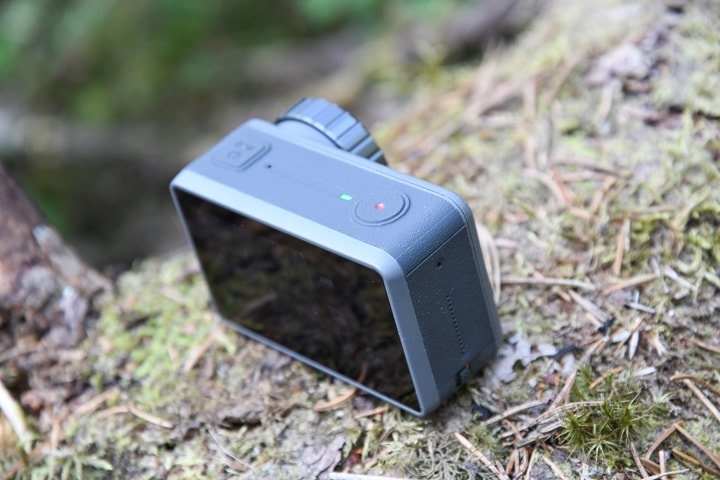 The trick to any action cam microphone is the waterproofing aspect. For example – many people praise Sony's mics on their (now few year old) action camera. Or the older GoPro Hero 4 mics. The problem is: None of those cameras are waterproof without a case (and once you added the external case, sound was crap). And as much as a sliver of a minority want non-waterproof action cameras, the overwhelming majority want waterproofing (like 99.95% majority). So, we find ourselves in the current situation.
GoPro significantly increased audio on the Hero 7 Black last fall – making it passable in most cases. They do offer an external microphone adapter, but that setup is roughly akin to attaching a Twinkie to the side of your GoPro. The USB-C GoPro Microphone adapter is massive – bigger in length than the camera itself. It's a non-starter for most people.
Meanwhile, we saw DJI add a tiny (by comparison) USB-C adapter for the OSMO Pocket back earlier this year, and that works great with 3rd party mics. Unfortunately, said adapter is *NOT COMPATIBLE* with the OSMO Action. Let me repeat: The OSMO Pocket adapter is NOT COMPATIBLE with the OSMO Action unit. Not only has DJI stated (and re-confirmed) this to me, but also, I simply tested it. It doesn't work.
But there's good news: DJI is coming out with a similar but slightly different USB-C microphone adapter for the OSMO Action. The details are still slim there, but we don't have the cost yet. The previous adapter is hard/non-flexible (and thus not ideal for an action camera).
From an audio standpoint, overall, it's passable in most cases, but there are still (just like GoPro) edge cases where you're going to get crap sound in windier (or fast moving) situations. Not all the time (most times it's great), but I've had a few where the audio was non-usable. With only two microphones, that greatly limits their flexibility for wind reduction unfortunately. I'd be very surprised if on a 2nd gen unit, we don't see them go to three mics.  Oh, speaking of which, there's a single setting in the settings menu for turning off the noise cancellation.
Again – check out my full comparison video which includes a bunch of audio samples.
It simply turns wind noise reduction on or off (in case it's causing you issues). There is no ability to record separate audio channels/files from each microphone like there is on the GoPro or Garmin action cams. Most people won't use that, but if you do – now you know.
Summary: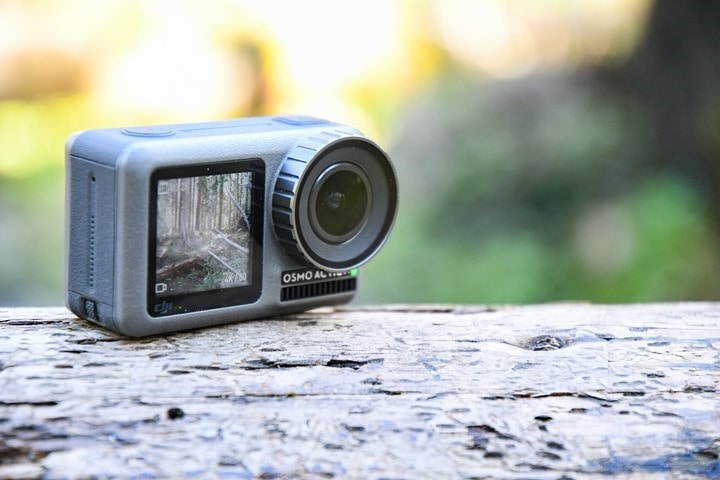 There's no question that DJI has made an impressive camera, especially for a first try at a pure action camera unit. It's without question competition for GoPro…but, I'd stop short of calling it a GoPro killer. It's not that today, though, I believe they have the majority of the right hardware in place to advance their position over time.
The things I like about the DJI OSMO Action would be the dual screen – which is tremendously useful for framing (though I wish it was just dual-on, versus having to keep switching them), the stabilization is as the name implies – rock solid, and the ability to have a non-fisheye mode for *every* resolution/frame rate is huge. On a GoPro I'm limited to 2.7K/60FPS for linear (non-fisheye), whereas on the DJI OSMO Action I can go to 4K/60 (with stabilization on too!).
On the downside, the smartphone app is a huge let-down, be it the lack of Bluetooth to kickstart WiFi downloading/control access, or that you can't even download certain videos from your camera (among other issues). I can't stress this point enough. Further, the lack of a super-wide option may be a downside to some, especially in certain sports, as is the slightly more cropped regular wide angle compared to a GoPro. And if you use burst photo mode, they totally missed the boat on the purpose of it.
But again – most of what I noted is fixable with software. Or at least, the things that frustrated me the most (smartphone app, photo modes). And if there's anything that DJI has – it's lots of software developers to throw at relatively trivial problems. If the smartphone app was at the same level as DJI GO 4 (their drone app), it'd help some.
Ultimately though – what's probably most interesting here is that GoPro finally has a legit competitor. Assuming GoPro sticks to their annual September release cycles (as their CEO has noted in numerous interviews they plan to do), I think we could see some nice back and forth for a while: All of which benefit consumers. And that's a good thing for all of us!
With that, thanks for reading!

Found This Post Useful? Support The Site!
Hopefully you found this review useful. At the end of the day, I'm an athlete just like you looking for the most detail possible on a new purchase – so my review is written from the standpoint of how I used the device. The reviews generally take a lot of hours to put together, so it's a fair bit of work (and labor of love). As you probably noticed by looking below, I also take time to answer all the questions posted in the comments – and there's quite a bit of detail in there as well.
If you're shopping for the DJI OSMO Action or any other accessory items, please consider using the affiliate links below! As an Amazon Associate I earn from qualifying purchases. It doesn't cost you anything extra, but your purchases help support this website a lot. Even more, if you use Backcountry.com or Competitive Cyclist with coupon code DCRAINMAKER, first time users save 15% on applicable products!
These are my favorite action cam accessories that I use day in and day out across all the action cams. They just work dependably, and are my go-tos!
And of course – you can always sign-up to be a DCR Supporter! That gets you an ad-free DCR, access to the DCR Quarantine Corner video series packed with behind the scenes tidbits...and it also makes you awesome. And being awesome is what it's all about!
Thanks for reading! And as always, feel free to post comments or questions in the comments section below, I'll be happy to try and answer them as quickly as possible. And lastly, if you felt this review was useful – I always appreciate feedback in the comments below. Thanks!