It's Friday, and late Friday for me in particular. Heck, it's already Saturday for those of you on the other side of the globe. As such, it's quickie post time.  Usually I just include my various YouTube videos in the topic-aligned post. So for example if I do a video on the Garmin MARQ watch, I include it in the Garmin MARQ post. But every once in a while I don't have a post here that's aligned to that video.
Such as is the case today. Well, actually, three days ago.
Either way – point being I did a bit of a fun unboxing that's a bit different than most of my other unboxing videos. Though, I rigidly follow the same structure this time by comparing it to like products – including trophies and awards from 10 years ago and my corporate 10-year recognition award. Weighing it in and all!
But what the heck is the subscriber award?
Well, for those unfamiliar it's the YouTube Silver Play Button. Except now it's called the YouTube Silver Creator Award or something like that. Either way, it's what YouTube sends you when you manage to cross over the 100,000 subscriber line. They also give out awards at 1,000,000 subscribers and 10,000,000 subscribers. Neither of which are concerns of mine at the moment.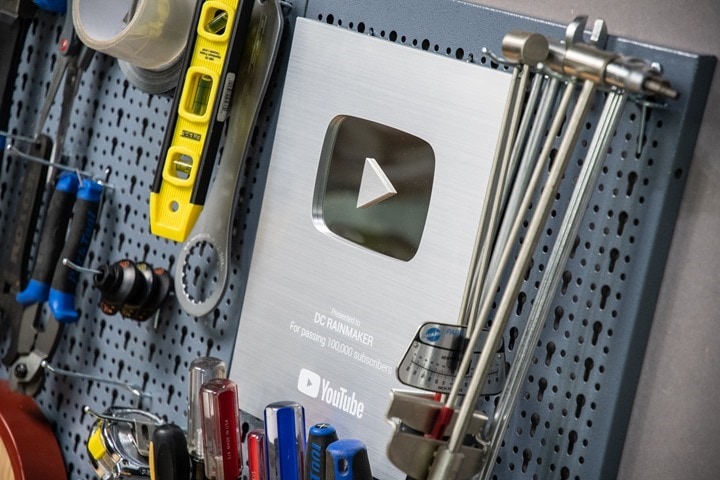 Now for many YouTubers, their adventure on the platform starts on that platform and then grows over time. But that couldn't be further from the truth for me. In fact, YouTube was in effect my dumping ground for the blog here. Specifically, my dumping ground for video files. Be it eating live octopus in South Korea or years of voiceless watch button pressing. Yup, that's right – for the majority of my YouTube career my videos were totally unnarrated.
I just needed a place to stash quick 15-30 second video moments and such for the site here, and YouTube was a free option. And it worked well.
So by the time I got around to paying any attention to the platform and what the heck 'subscribers' even were, I already had 15,000-20,000 subscribers. Somewhat funny – like finding a buried treasure chest in your backyard.
I think it was in the 25,000-35,000 subscriber range that I actually started to put some thought into videos. Of course, as the very video above proves – I still suck at producing videos. Chop my head off? No problem – I'm here for ya!
For me, it's always going to be a bit of a balance time-wise between writing a post and the photos that go with it, versus shooting and editing a video. But to that point, in the last year I've started to differ my content slightly for each platform. On YouTube, my action cam/drone related footage is what does super well. Whereas here on the platform it's my watch/bike computer/trainer content. Of course, both types still do reasonably well on either platform in the grand scheme of things – but when push comes to shove, I usually prioritize the time into the content based on which platform it does better in.
Similarly, I find it more and more common that subscribers to my YouTube channel don't even know the site here exists (and often vice-versa). Which…uh…if that's the case, you can Subscribe to my YouTube channel with one button press here. 😉
In any case, probably more than you wanted to know. But I figured I'd share some of that backstory here – since while y'all didn't know it – you here were the foundation for the award over there. With that – thanks for reading and watching, and have a great weekend ahead!