There's been lots of interesting tidbits in the sports tech world over the past week that's worth a quicker dive into…but as always with my tidbit posts, not quite a full-on standalone post. Here's what happened in the week that now was.
Send your cranks to Stages for power meter install: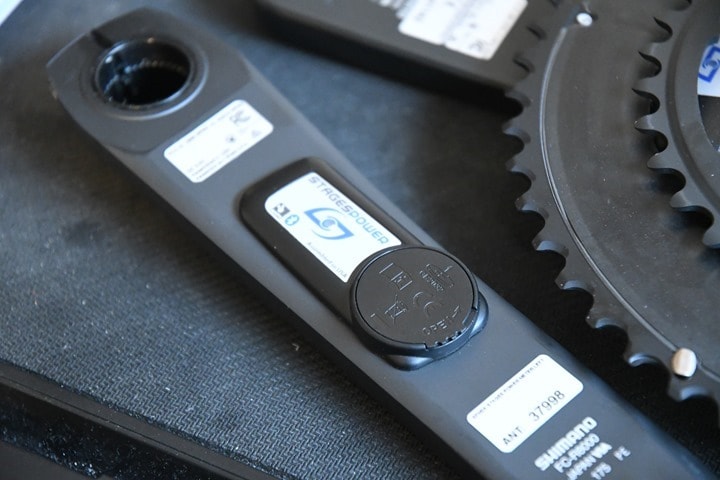 When Stages first started selling power meters years ago, you simply ordered which crankset you wanted online or at a local bike shop and then a short bit later a box would show up at your front door and you'd find a new crank inside, with the Stages power meter affixed to it.  Even when they went to their dual-sided Stages LR system, that model remained the same.
The reasoning behind that made some sense – when it came to the fickle installation process that was gluing a power meter to a chunk of barely bending aluminum, ensuring you had a known-good starting point was important. But over time their competitors started offering the ability to send in your crankset/crank arms and get a power meter installed on it. 4iiii and Pioneer being the leaders in this particular foray, though many other smaller firms have joined them over the last year or two.
In any case, as of this past week you can now send in your crank arm and get a power meter installed on it for $399 (single-sided), or $749 (dual-sided). This price includes ground shipping both ways. So you print out the shipping label they send you, plop it in the random Amazon box you have lying around, and then under two weeks later you get your crank arm back with a Stages power meter on it – just like the picture on Stages site (below) shows: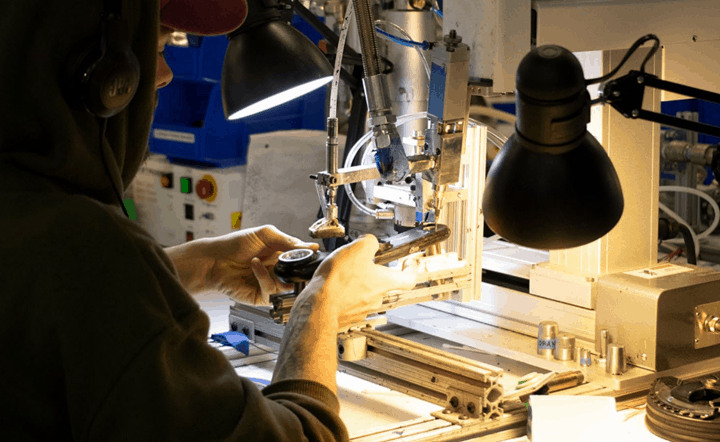 Right now the service is only available in the US market, but the company says they're looking to expand to Canada and Europe "in the near future".
When I first saw the PR blurb, I presumed it'd be limited to basically Shimano crank arms, but surprisingly after looking at the website they actually support a number of cranksets from Shimano, SRAM, Campagnolo, and Cannondale.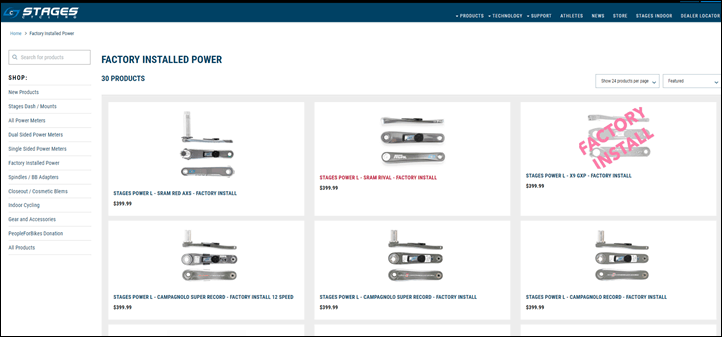 And most interestingly, in the highly unlikely event you have any cash left over after purchasing a new SRAM RED AXS groupset, they can install their power meter on that crankset as well. Not only that, but you don't even have to throw away your power meter each time you change the chainrings. So there's that for you.
I don't plan to re-review this series – and I'm not entirely sure it'll work out super well for folks to be without a crankset on their bike for upwards of two weeks. But if you're going on a non-cycling vacation or something, then it'll probably do just fine.
As for Stages Dash bike computers? It sounds like the answer continues to be a variant of 'very soon', whereby the definition of 'very soon' is always "within the next few weeks". I am looking forward to reviewing that, once it transitions from 'very soon' to 'here now'.
Apple ECG Support in Europe:
Back in December Apple added ECG capabilities to their Apple Watch Series 4 watches via firmware update. That update was mostly released based on various regulatory hurdles being met, alongside of course whatever internal testing gates Apple had.
However, that feature was only enabled for US Apple Watches. Specifically, Apple Watches purchased in the US. Myself for example – with my Series 4 unit being purchased in the Netherlands, was crap outta luck. Even with having a US iTunes account and a US credit card, and a US everything – it was the point of purchase that mattered here. So no ECG for me.
But this week Apple released ECG support to Europe (and Hong Kong). These appear to be largely based on (again) various regulatory approvals within the EU that allowed Apple to release this capability in Europe. Since this puts the device within the medical realm (to a varying degree), hence the need for the approvals.
(Specifically this covers:  Austria, Belgium, Denmark, Finland, France, Germany, Greece, Hungary, Ireland, Italy, Luxembourg, Netherlands, Norway, Portugal, Romania, Spain, Sweden, the UK, and Switzerland…and Hong Kong)
So if you've got an Apple Watch in Europe, you'll need to first ensure you've got the latest iOS update installed (the one that came out earlier this week). And then after that it'll offer you the Apple Watch update. Chicken and egg thing. Once you've done that, go into the 'Watch' app on your phone and update the Apple watch.
After that's done you will need to enable the feature on the watch by going into the Watch App and then configuring it under Heart Rate:
It'll then kick you over to Apple Health for a quick brief before giving you some warning messages:
After that you simply crack open the ECG app on your Apple Watch and then hold the digital crown with the other hand: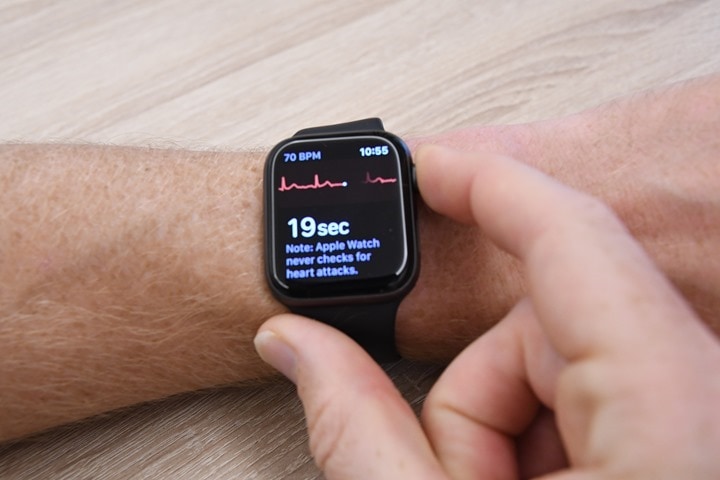 After 30 seconds you'll get a quick overview. And then in Apple Health you'll get more details:
In addition, within the phone app you can grab a PDF of your test, and spit that off to smart medical people for their thoughts if required.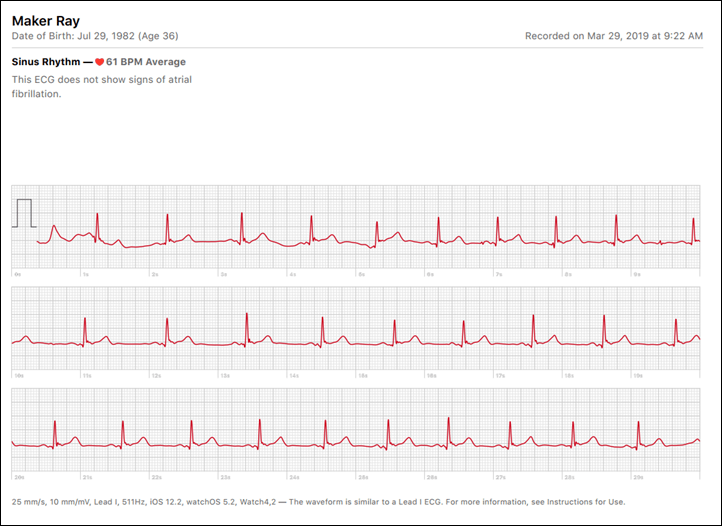 Good to see this making its way to Europe (and HK), hopefully we'll see it expanded elsewhere – though I suspect that'll be much more of a slog since each additional country from here on out will be one at a time (versus the batch that is the EU).
COROS adds in Navigation:
Finally, COROS has added in navigation as previously announced to their APEX series. This allows you to follow a breadcrumb trail of a route on the watch itself.
You've got a few options for how you create routes:
A) You can create a route from an existing activity using the COROS App
B) You can import a .GPX file on your phone, opening with the COROS App
While the company doesn't yet have a way to create routes from scratch within the app, you should be able to use my Garmin/Wahoo route post and simply export as a .GPX file instead, and then select the COROS app:
I say 'should', because it wasn't quite working for me yet. But, in theory it should work and their video I linked below illustrates it using another app. I suspect a minor bug there.
Once that's done you'll sync the route over to your watch. From there you can choose to get basic directions to the start of the route, and of course navigate the route itself. You can also change routes mid-activity as well as show elevation information. It's pretty straightforward.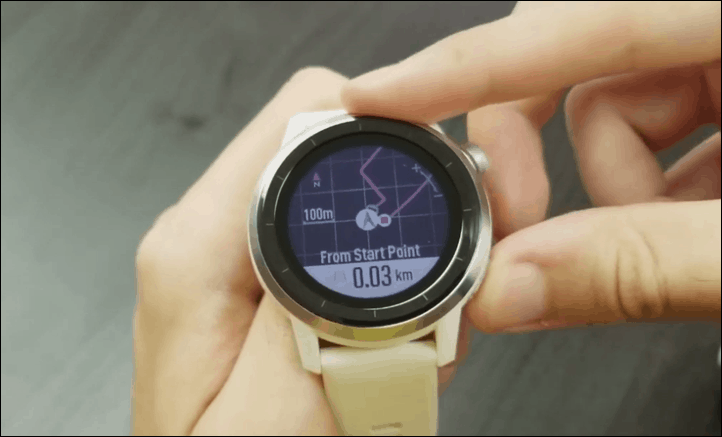 (Above is a screenshot from their published How-To video on navigation.)
Unfortunately, by the time this news had dropped I was already on the way to Mallorca for the week and didn't include the COROS APEX in my bag of tricks, so I haven't had the chance to test it out yet in the flesh.
This update was of course expected, and doesn't really change the APEX picture too much in my opinion. Instead, I'm more interested in some of the other items that I outlined in my review (cleaning up language stuff, fixing physio related stuff, and fixing accuracy). In talking to COROS, it does sound like all those are in the works, and some of them already in recent firmware updates. Like I said when I published the review about two months ago – I'm looking forward to seeing where they stand (both at the platform level and at the watch level) by fall or so.
As noted it could be super compelling (and hyper-competitive), once they clean up those rough edges.
With that –thanks for reading, and stay tuned for my full Mallorca recap in the next day or so!  Or hit up Instagram for a sneak peek!