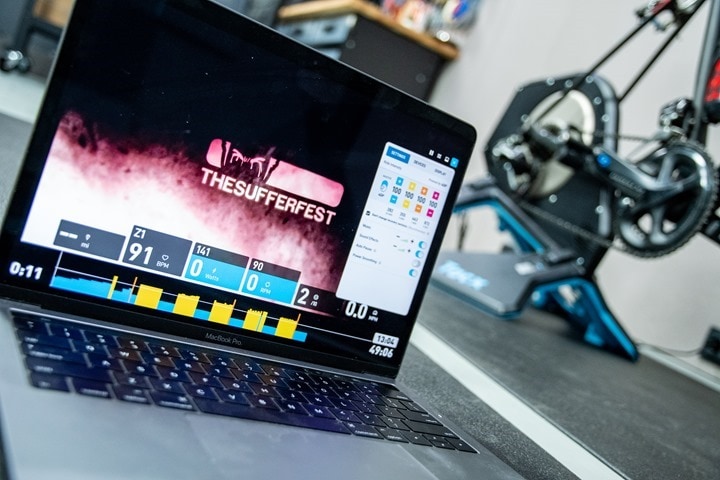 One of the coolest things about the indoor trainer industry is how many apps there really are. Sure, you know the big-name ones that seem to dominate the news cycle. But there's tons of really tiny apps that you (or even I) may never have heard of.
But then there's those apps that sorta sit in the middle in terms of subscribers. And one of these apps has persisted longer than anyone else out there. I don't believe there's any indoor training apps that are still being updated as 'old' as The SufferFest. Of course, in this industry 'old' only means 9 years old. But hey, that's all good! It predates TrainerRoad by 2 years, and Zwift by many more. BKool was formed the same year as SufferFest.
(Funny aside, I found this old interview from 2012 with the CEO of SufferFest, lots of interesting/funny industry trainer industry tidbits in there, if you're looking to kill some time on this 'morning after' Boxing Day.)
In any case, SufferFest has come a long way since that interview – most notably in the graphics and usability department. I've often talked about how critical the user interface is within apps and platforms. Even more so in the indoor training world. I believe it's one of the key reasons why a given app will succeed or fail today, even more so than the features themselves.
I don't really even have to defend that point. After all, there are apps with more and better-executed feature sets in the indoor training space but with poorer user interfaces than the big names. They have fewer users as a result of that. Most people won't know why they like an app less than a prettier app – but ultimately a super clean user interface is what draws people in.
SufferFest was a prime example of that. Their user interface prior to a few years ago was…erm….painful. It was 1990's in feel (never mind that the app was written in late 2009). Then they brought onboard one of the original founders from TrainerRoad and the ship quickly changed directions.  As a result, they've seen pretty explosive growth in subscribers since.
Of course, some of that is likely also due to the slate of new features they've added over the past year.  From the whole 4DP power thing to yoga workouts and mental training stuff. Well OK, almost nobody is buying it for the mental training bit. But I have at least tried yoga…once.
Anyway, in this roundup let's talk about what's been recently added and what's coming over the next few weeks.  Since some things are more easily illustrated in video format (such as the new video functionality) – then go forth and watch this quick overview of the newness:
Else, read on for more text and photos.
Coming in January:
The vast majority of changes coming to the app mid next month are on the desktop side of the house.  First up is that you'll be able to enable/disable the associated video for a given workout. While of course a key part of SufferFest videos is…well…the video 'experience', the reality is that plenty of people may want the structured workout without watching bits of cycling.  You'll see the option titled 'Play Workout Without Video', as well as a few other options for which data metrics to show overlaid down below.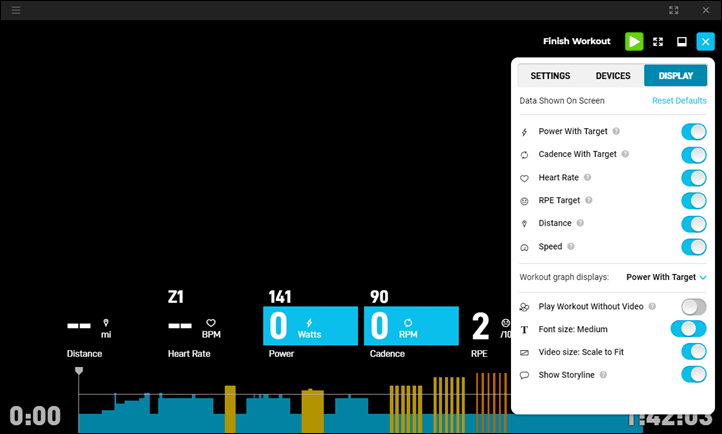 For example, maybe you're into an awesome YouTube Channel. Or perhaps you just want to enjoy the latest 50 Shades of Grey movie. Now you can do that while still executing the workout, including getting instructions (which you can also toggle if you want).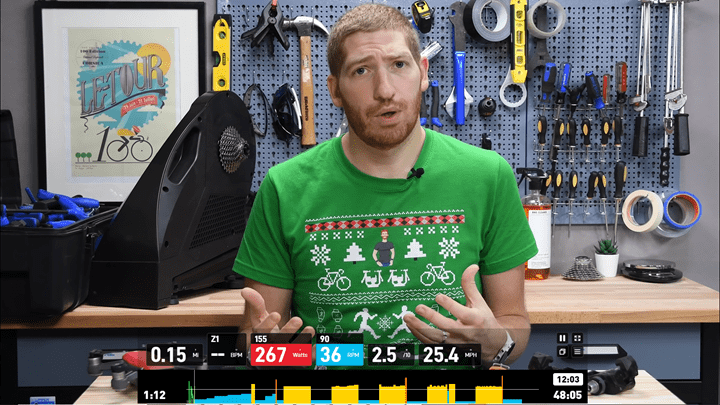 You'll still see the workout graph at the bottom, along with the various wattage targets, as you iterate through sections of the workout. You'll also see the metrics from your trainer as well – for example cadence and power, and of course HR sensor data too.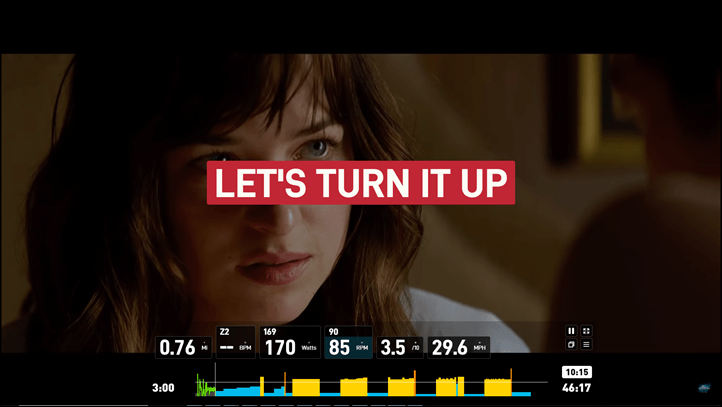 Mid-workout instructions still overlay, as the above perfectly timed instruction atop an escalating moment in 50 Shades demonstrates.
The company says they're working on creating what they call 'NoVid' workouts as well, with the goal to "fill in the gaps" in their library. You'll see a filter up top that allows you to select these: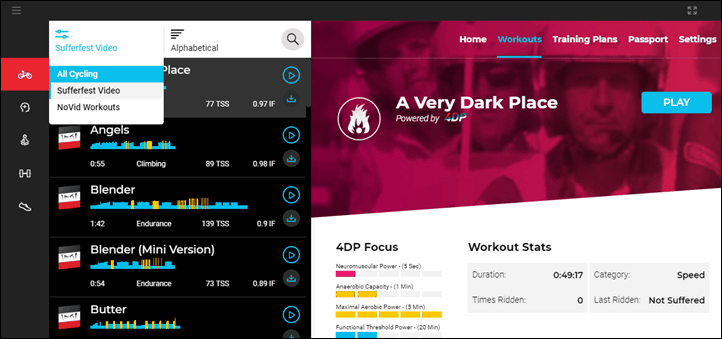 Most of the other changes are cleaning up the interface.  For example how you customize a given portion of their 4DP values. 4DP is what they call 'Four Dimensional Power', or essentially a multipronged approach to determining your top power in certain categories. Many other apps use FTP, which is a singular point roughly equating to your peak 60-minute power (or a reduced duration test to get an approximation).  I talked about this last year in more detail.
Previously you dove around a bunch of tabs/pages updating this. Now it's just on a single cohesive page: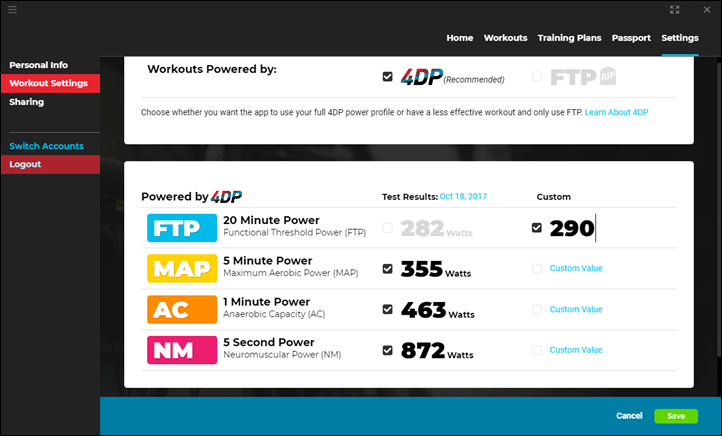 This is handy where you have no desire to re-take the 4DP test, but know that your 20-minute power has increased (or decreased).  For example, a triathlete wouldn't really care about tweaks to their 5-second power, but would be more interested in the lower value power numbers.
However, this actually gets a bit deeper on the new app. Here you can tweak the specific portions of the workout that target the 4DP values.  Note the color coding of the values to the right matches those on the bottom. So if I decrease from 100 the orange value, it'll reduce the targets in the workout itself that correlate to that particular intensity.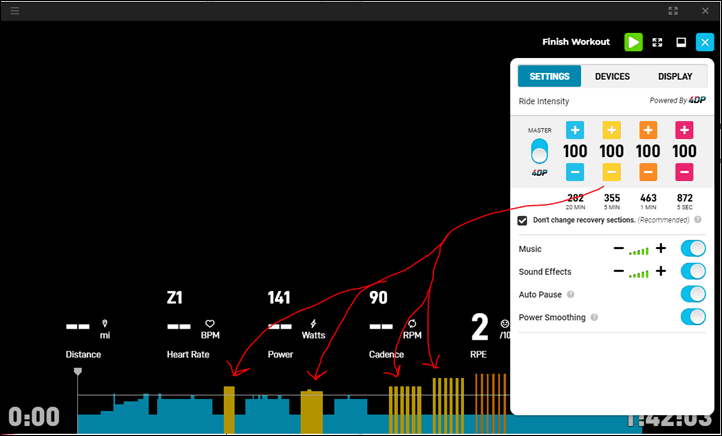 Also, you can now tweak the music and sound effects volume levels right from the workout settings page.
In addition, they've also revamped their sensor connection page. Now you can pair multiple sensors and then select the exact source for a given metric.  For example, say you've got a trainer that transmits cadence but that trainer's cadence is a bit wonky (as is often the case). Here you can select a different cadence sensor by just tapping on the icon next to the other sensors.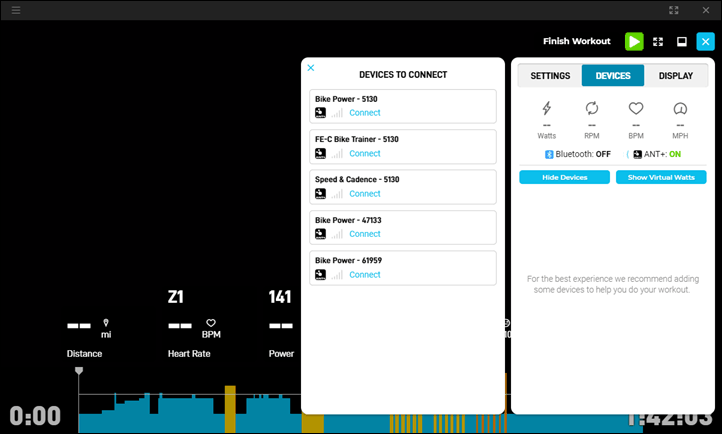 The end result isn't all that much different than what Zwift or some others do today (allowing you to mix and match sensor data sources), but the key thing is you've got the choice to do so.  You can see how below I've selected the power source to come from Vector 3 (sensor ID 61959) as opposed to the FE-C trainer (5130). Once I toggled the lower green power icon, it disabled power from the trainer.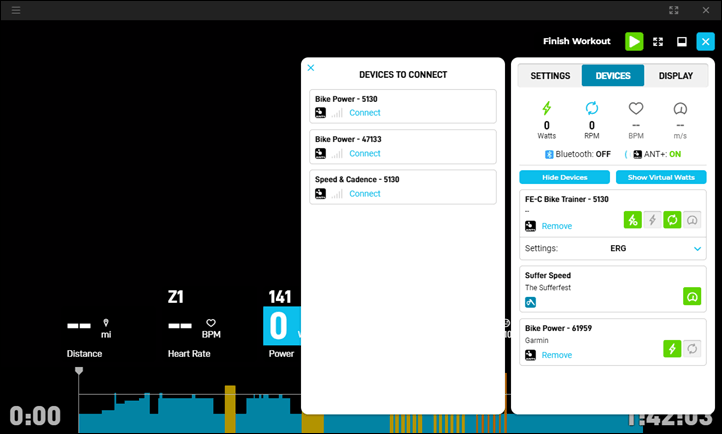 Ultimately the player is a lot cleaner than before. Of course, almost all of these options are specific to the desktop side of life (Mac and Windows) rather than the mobile (iOS) side of the house.
Which is another important item to point out. Still, somehow, unexplainably, there isn't an Android app yet. Now those of you that are regulars here know I'm first to debunk usage of the stat that 'Android is 86% of smartphones', and yes, that's true, if you count budget Android devices in China and India that are never going to use SufferFest.
They aren't the target market. One must always cater to your actual target market.
Instead, most companies I talk with have stats that roughly mirror the stats here on the site: A 62%/37% split in favor of iOS devices (mobile user only stats for last 7 days for DCR). Oh, and there's just under 1% of people using all the other craziness you see below.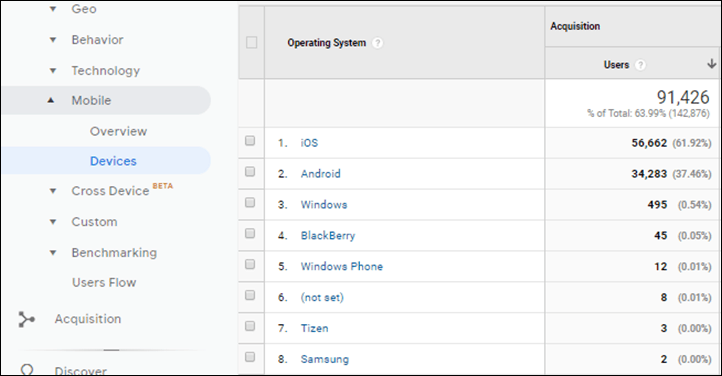 That's just the reality of the target consumer for smart trainers/apps/devices. It doesn't match worldwide usage, and that's OK.
Still, that's not an excuse anymore. It's 2018 going on 2019 and there's no current plans for Android on the docket. That's a problem.
A lot of people don't want to use a desktop to run their trainer apps, along with all the headaches that come with getting them up onto a big screen. Heck, I think SufferFest would be even better positioned saying they were rolling out an Apple TV app (which, I think they should). That's done incredibly well for Zwift, and others should pay attention.
But even Zwift is (ever so slowly) rolling out an Android specific app (beyond the Companion app). In Zwift's case, the bar is much higher due to the gaming aspect. And of course, they have more subscribers. But like the stats above: The reality is today it's not acceptable to have no near-term Android plan at all.
Recently added – Strength Workouts:
Lastly, before we wrap things up I do want to note that the company did implement strength training into their lineup this past fall. Most of these are body-weight driven workouts, primarily around core strength and they say that they're focused on aspects that benefit a cyclist specifically.  Note that these are different than the yoga and mental strength training features that were implemented a year ago during that rollout.
Within the strength training workouts you can choose beginner or intermediate, and then pick from a page full of workouts: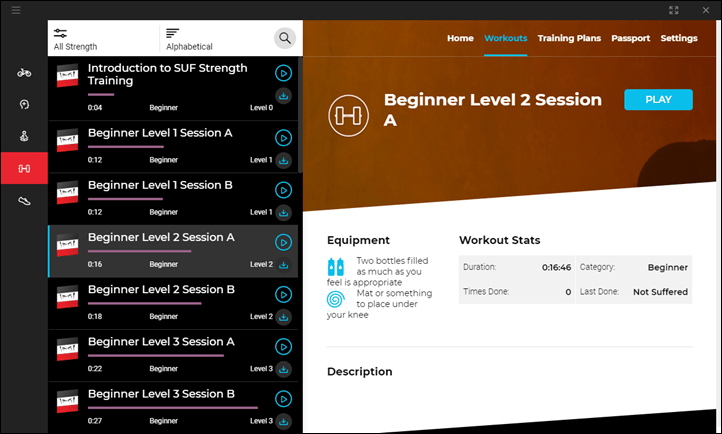 Once you've launched a workout it'll iterate through and show you the exact moves that you're supposed to do next, followed by repeating the move while the countdown timer is running.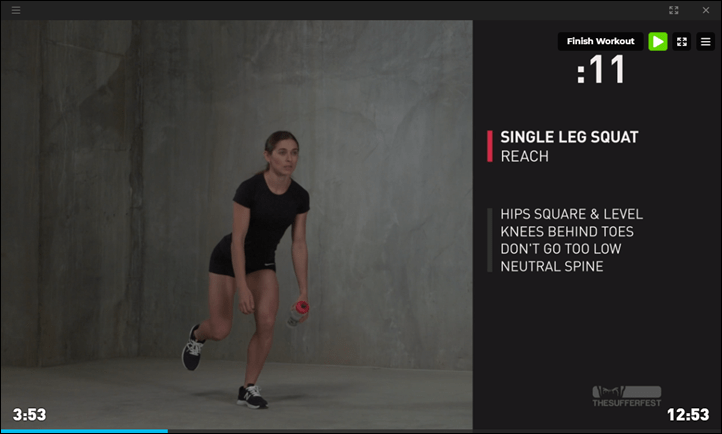 During the recovery period it'll show you the next move you'll be completing.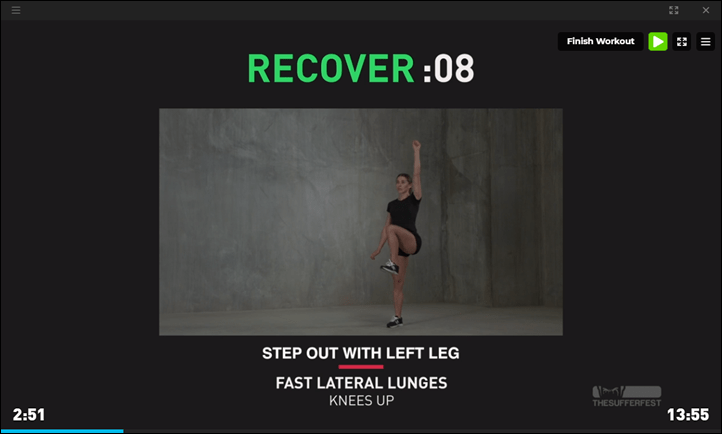 I did one of these (marked as a beginner one), which was probably a bit too easy for me. At the gym I'm used to most of these being 60-second moves as part of a circuit workout, so doing a 15-second plank is kinda…yeah.
But, I'll probably try one of the intermediate ones and see if that improves things a bit.  Still, I appreciate this – and it's especially useful not just for cyclists but even more so triathletes.   The fact that most of these workouts are quick addendums is ideal. They aren't really designed as total standalone workouts, but rather to be appended to the end of a cycling workout.
It's cool stuff, and makes a bunch of sense.
Wrap Up: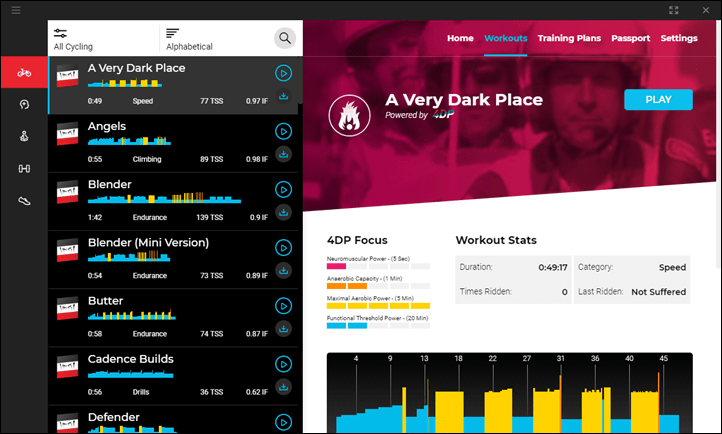 SufferFest is without question improving upon the app and overall experience – and adding in some legit useful features. I appreciate the ability to watch my own content (or the very best that Grey Enterprises has to offer), and I also appreciate the fact that I can toggle these video options mid-ride too without even stopping.  That was super useful today during my lunch when I ran out of 50 Shades of Grey Trailers and other YouTube videos, and just switched back to the original SufferFest video for that workout for the last 10 minutes or so.
The strength training is good stuff, though I do feel like there's an opportunity there to lead-on the athlete a bit more.  For example, as you wrap-up a cycling workout, why not offer a core or yoga workout as a cool-down? You know, like when Amazon suggested other products you might enjoy.  That would not only help the athlete, but also increase the 'stickiness' factor of their platform, as it's something that nobody else provides.
I do think it's going to be hard for SufferFest to continue ignoring Android. Market focus numbers aside, there's a very real portion of the population that will instantly ignore any app that's not available on Android (even if they have another compatible device). And no matter how small that portion may be, they're going to make more negative noise for a company about that fact.
Still, I do like the fact that SufferFest hasn't ignored innovating on the desktop platform. In fact, for this very feature there's really no other way to deliver it. iOS apps can't be overlaid onto another app (thus enabling trainer stats over videos) – so the only valid route they had was desktop – even if overall desktop usage for other trainer apps continues to decrease.
With that – thanks for reading!