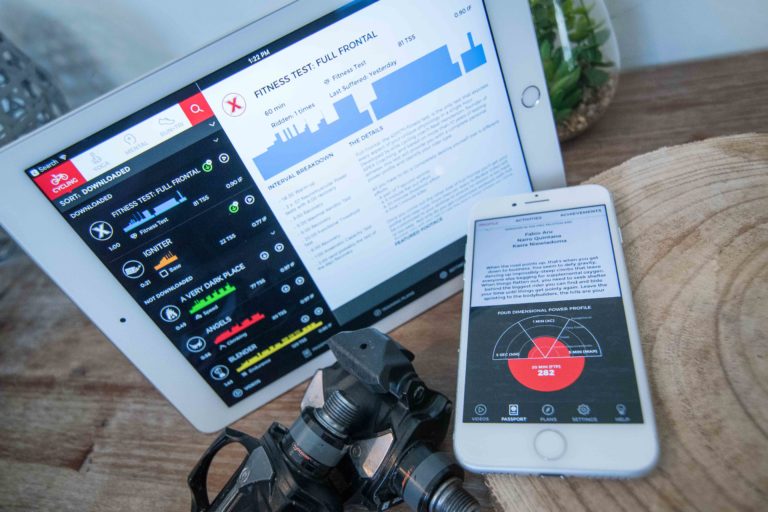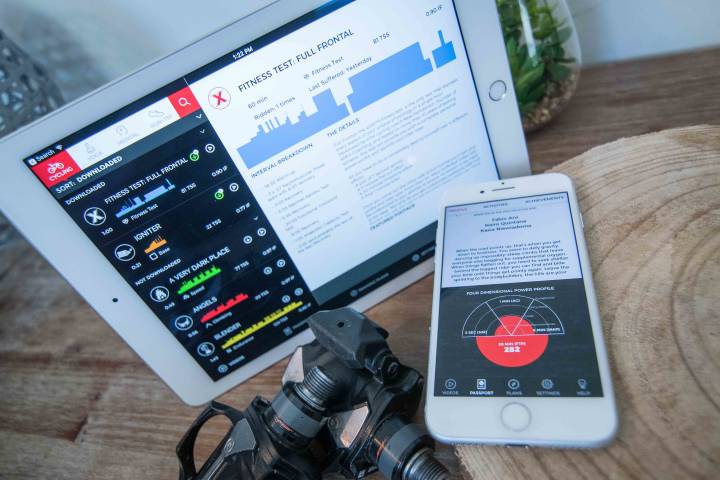 Earlier this week The Sufferfest rolled out a pretty significant change to its indoor trainer app.  The platform has been around for a number of years, but has really honed its focus in the last 1-2 years and reinvented itself.  In doing so it's become quite a competitive indoor option to leading apps like TrainerRoad and Zwift.
The main change was shifting to something they call '4DP' – for Four Dimensional Power – which essentially defines your cycling power profile into buckets.  This 4DP profile is generated after you complete a 60 minutes of fun called the 'Full Frontal' test.  All of which is then used with their included training plans and videos to give you more specific targets for workouts.  Said differently, it's becoming more like a coach than just an app with exciting videos and workout targets.
Oh, and before we get too far along, I totally get that The Sufferfest gets all bent out of shape when it's shortened to Sufferfest (sans 'The'), but because I think writing The Sufferfest over and over again is annoyingly pretentious (like saying 'The DC Rainmaker" or "The Google"), I'm shortening it to just 'Sufferfest' for the remainder of this post.  With that, let's get started.
The General Concept: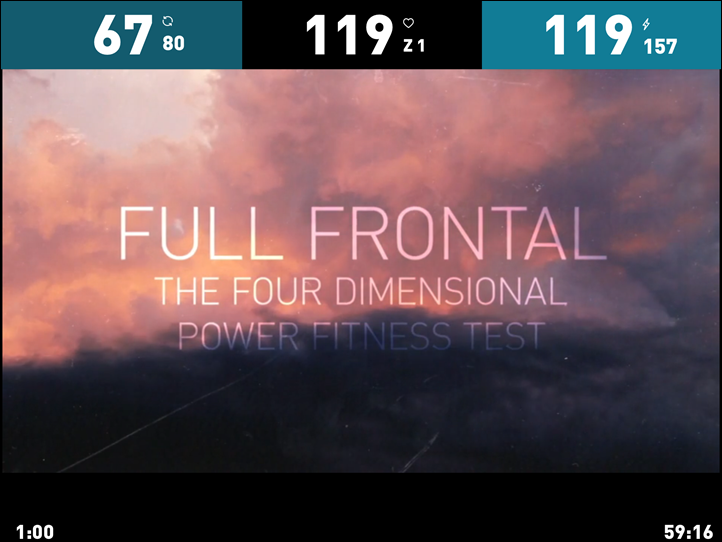 Now, there's a lot of concepts behind the whole 4DP thing, as well as some marketing claims made.  I'm going to attempt to step through many of them.  First, one of the biggest claims is 'FTP is dead'.  Once you get past the marketing hyperbole there in that statement, the underlying concept (as they detail at length in numerous posts/videos), is simply that one single number (your FTP) can't define you as a cyclist.  Remember, FTP is generally defined as your peak power output for roughly one hour.  There are different ways to test it, but like politics, everyone thinks their way is best.
Now, while the 'FTP is dead' notion may sound like hyperbole, many platforms already agree with this.  Various companies and entities have been doing bucketization for quite some time.  Some automated, some manual.  For example, we saw Xert do this within their training platform, and WKO4 within theirs.  Coaches and organizations have been doing this type of stuff for years as well.  Sufferfest notes their work is driven by Apex Coaching, a well known/respected firm that's produced a number of Olympians.
Anyway, back to the 4DP part.  The 4DP refers to these four specific power profiles, which they discuss in more detail in this video: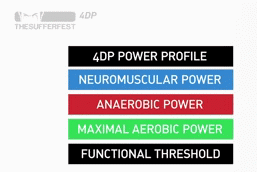 As you can see above in my awesomely created animated GIF, the different buckets are formed from specific max powers for given timeframes within this single test.  For example, if you're a triathlete, you probably don't train/focus as much on sprint power, and thus, your numbers will be lower in something like the neuromuscular power bucket.

The point of all this is that each cyclist tends to have different things they're good at (or can improve).  Using a single number that's basically how long you can hold wattage for an hour doesn't translate as well as multiple data points.  And the industry has largely agreed here for a while.  But to say FTP is dead?  Well, that's a stretch – since the Full Frontal test still includes an FTP test within it, and one of the four buckets is very much still labeled FTP.  I suppose "Using FTP as a number is less important now, but not dead yet!" or "FTP is dead and we used the carcass inside of 4DP as a data point" isn't exactly a super sexy marketing slogan.
Their goal is to show that two people can have the same FTP, yet vastly different power profiles.  And tons of past research by many people agrees with this.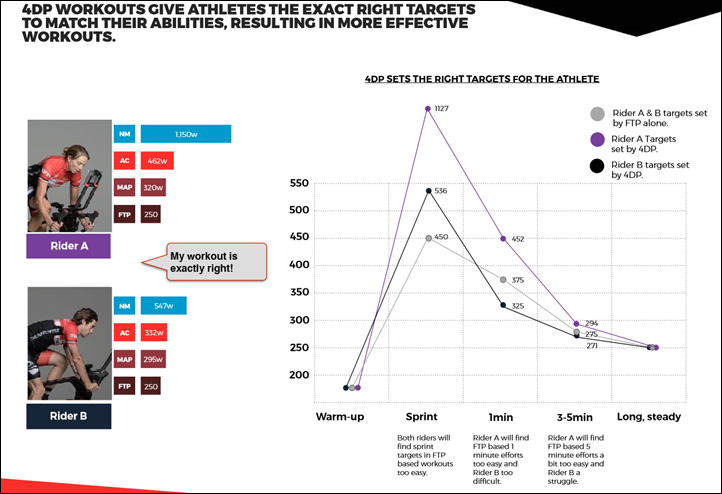 But I think a lot of conversation I've seen online about 4DP has glossed over the really important part: This goal here isn't just to find a set of numbers that define you (a new FTP-like thing if you will). The whole point of 4DP and what Sufferfest is doing is to then give you very specific guidance for your training.  Actual workouts with an actual training plan, based on these data points.
And that's super critical to understand.  There are analysis apps (e.g. TrainingPeaks, Today's Plan, Xert, WKO4, SportTracks, Strava, Golden Cheetah, etc…), and then there are core trainer apps (e.g. TrainerRoad, Sufferfest, Zwift, Kinomap, etc…).  Some of these apps even cross, such as Xert, which does have a trainer app aspect to it (which is quite advanced).  The same with Golden Cheetah.
But wait – I'm not done yet.  Within any of these apps there are then some apps that provide specific coaching-style recommendations, plans, and workouts.  For example, TrainerRoad has workouts and plans and can determine your FTP.  As can Zwift.  Can they do it in a multi-level way like Sufferfest and Xert does?  No, not today, and that's fine.  They are adding value in other ways that many feel is more beneficial to them.  In Zwift it's the entertainment/race factor, and in TrainerRoad it's likely the library of workouts and depth of devices/sensors they support.  Meanwhile, almost none of the analytics apps offer any sort of training plans.
Oh, speaking of devices, before I start the test, note that Sufferfest currently runs on iOS, Windows, and Mac. No Android today. Which, makes it just like Zwift (for the time being).
Doing the test: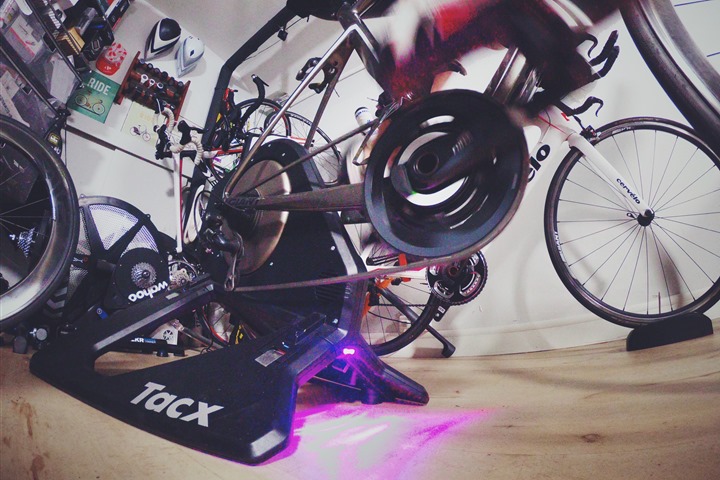 In order to get 4DP data, you have to do their Full Frontal Test.  You can't simply input your own max power numbers for 5s/1m/5m/20m.  The overall test takes 1 hour long, and includes four sub-tests, one of which you do twice.  These are, in order:
A) 5 Second Test
B) 5 Second Test Again
C) 5 Minute Test
D) 20 Minute Test
E) 1 Minute Test
The goal for all of these tests is painfully simple: Go as hard as you can for that period of time.  The reason they give you the 5-second test twice is more about figuring out the logistics of it than anything else.  They just take the highest of the two values.
I should point out that they have an entire video on how to prepare for this test, including what to do in the week beforehand to prepare.  I ignored all of this advice and trained normally.  In fact, I didn't even decide to do this test until eating cereal yesterday morning.  90 minutes later, I was on the bike.  My preparation game was strong!
To start things, I connected my iPad to my trainer and HR strap.  I decided to use the Tacx Neo and the Wahoo TICKR-X HR strap.
Next, it'll ask you to confirm your trainer is in standard/level mode, not ERG mode.  This is because you need to be controlling your power for this test, as opposed to the trainer doing it for you.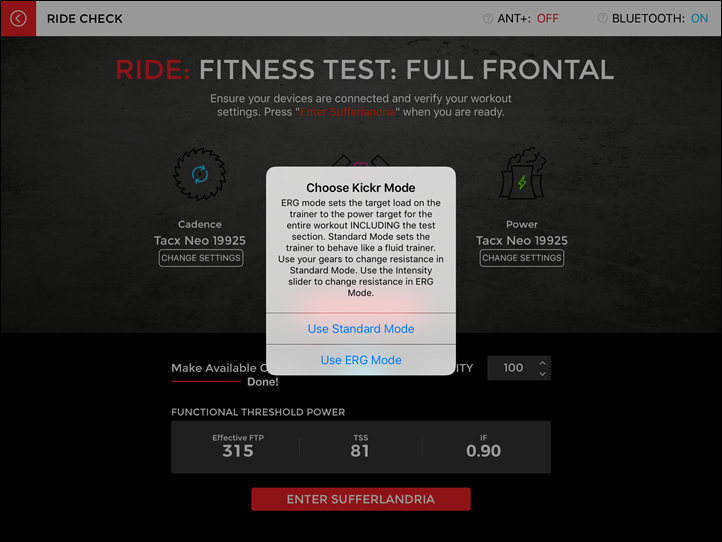 From here you'll go through a bit of a warm-up, as well as an explainer of what's to come.  Note again, the term FTP test is included here.  Thus, it's not dead yet.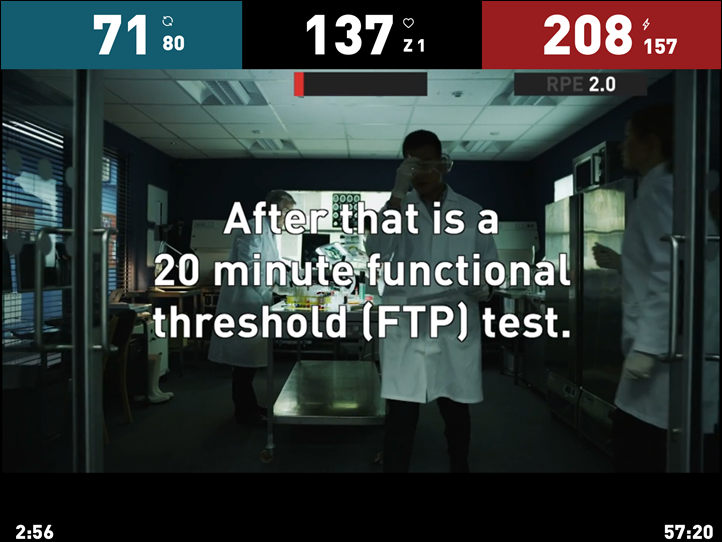 Here's the overview of what'll happen:
The app will count-down to the start of all sections, as well as give you specific guidance on what to do during that section.  You'll see that red bar at the top there, which is the count-down timer.  It'll show the actual minutes/seconds left occasionally, but otherwise just leave the red bar.
Along the very top you've got your current cadence/HR/power numbers in big text, and then the little text is your targets.  Note that if you had an FTP specified in the app previously, it uses that for all targets for this test, though it does warn you to just use that as a suggested guide, and not a hard/fast rule.
In the case of the 5 second max sprints (which are 7 seconds of timed duration in the app), you'll probably get a bit better on it the second time around.  Figuring out your cadence and gearing to nail just those seconds is a bit tricky, and is different on every trainer (in terms of how it spins up).
You can see here on the screen my targets and current wattages for the 5-minute section.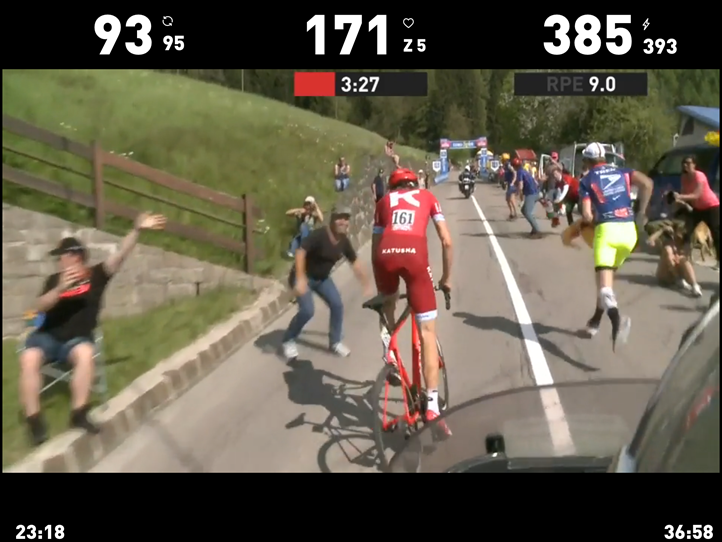 (Fun side note: There was approximately a 15w difference (at 300w) during the test between my power meters and the Neo, with the Neo reporting lower.  Whereas the FTP number I had set was assuming a power meter number.  So, I had to mentally adjust to the Neo number.  Or inversely, my Sufferfest numbers will look 15w or so lower than reality.)
After the 5-minute test (which follows the 5-second tests), it actually tells you to go for a short walk for a minute or so.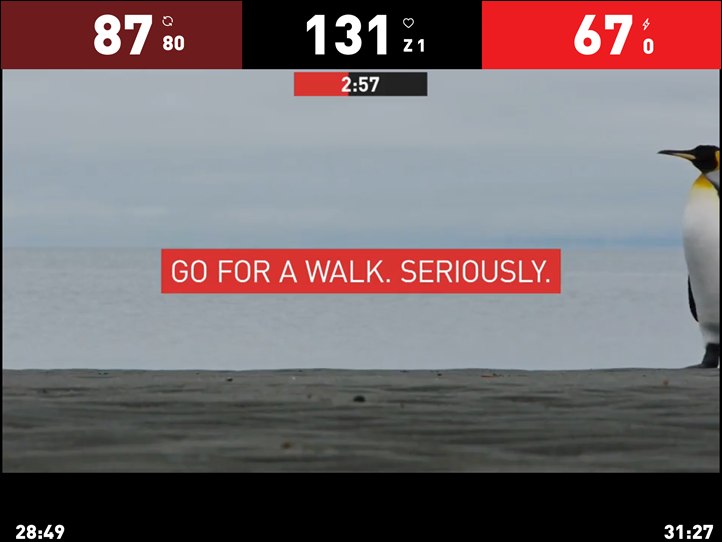 Soon after that the real suck starts, which is the 20-minute test.  It gives you some suggested text on what to target: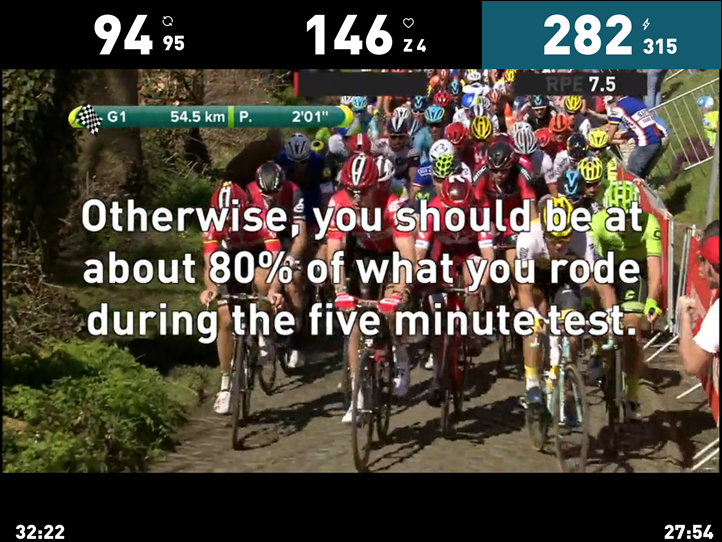 The problem with the above text is that it's not super helpful.  Since they don't actually show you the average power mid-ride for your test sections, I had no specific idea what that 5-minute test ended up at.  Was it 350w?  360w? 380w?  I was floating in that region.
Why not just simply show that on this screen, like this:
"Otherwise, you should be at about 80% of what you rode during those five minutes: 80% of 355w = 284w"
No reason to play guessing games here when my brain is operating on limited blood flow.  Instead, it just showed my manual FTP number from before (315w, from a power meter, not Neo).
In any case, off to start my test I did.  Here's the count-down timer for the last 57 seconds: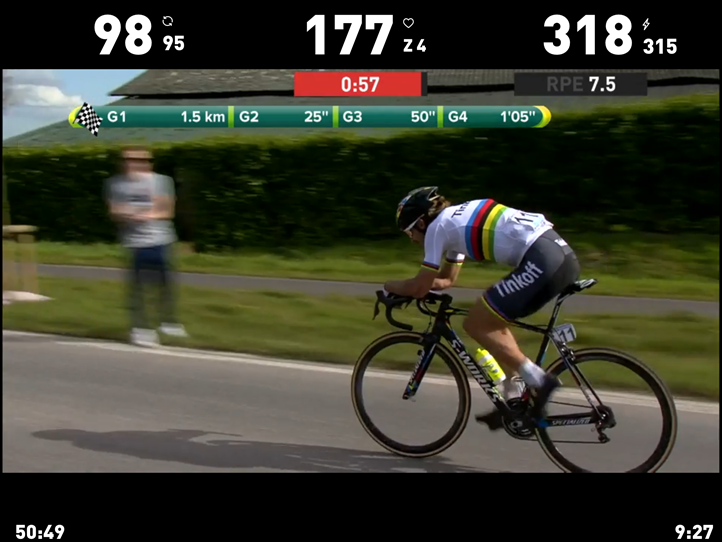 After finishing all that fun, you have a short recovery again before starting the 1-minute test: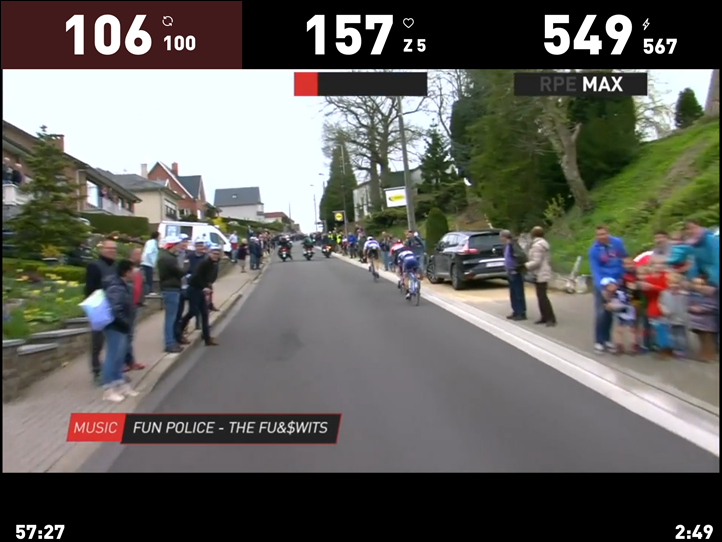 And then a short bit later, I'm done: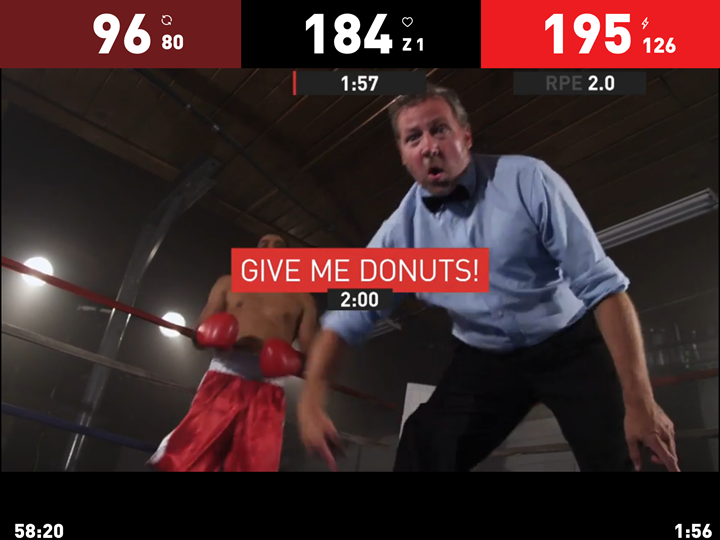 Upon completing the test it'll first show you the standard ride completion screen.  It's this screen that allows you to automatically upload to Strava, TrainingPeaks, Garmin Connect, and shoot an e-mail with the file.  Here's mine on Strava from yesterday.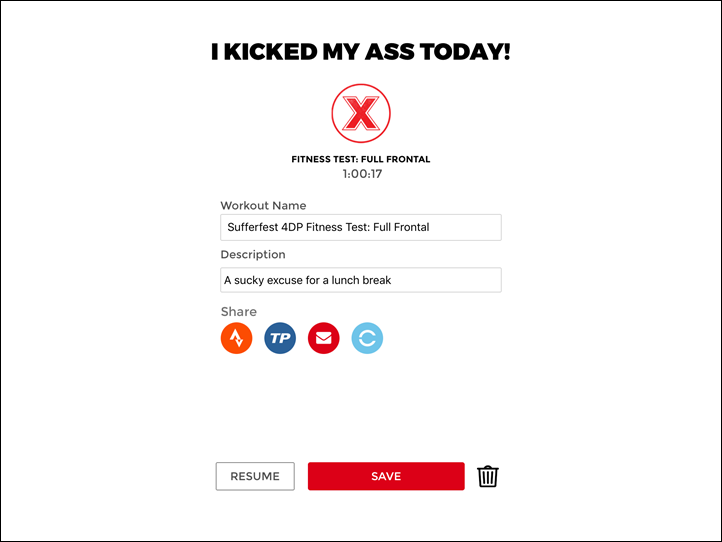 Then from there it loads up your 4DP profile data, which is a great time to start the next section of this post.
The Results:
Once completed, the full frontal test results are available within your 'Activities' page under the passport.  You'll see the various max power levels that you hit for 5-second/1-minute/5-minute/20-minute power: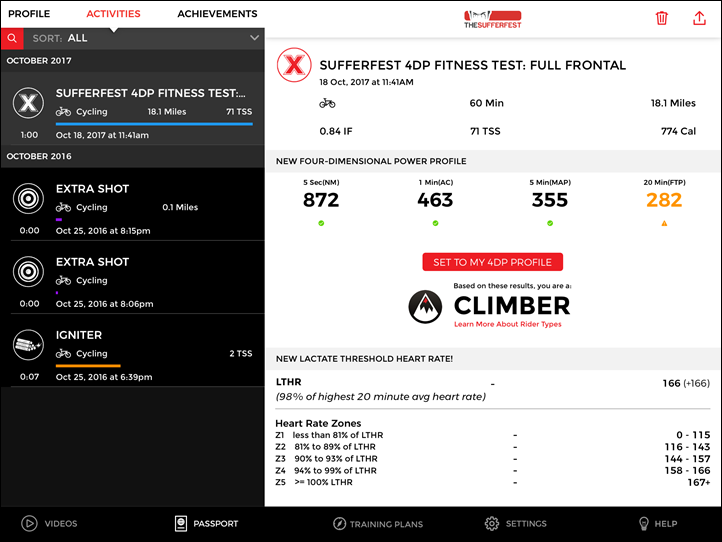 It'll also specify your lactate threshold heart rate, and then below that you've got various graphs from the test: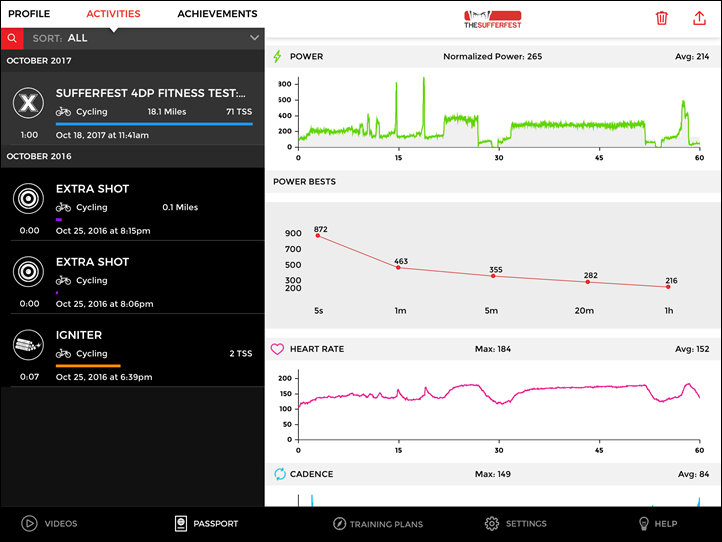 Meanwhile, if you tap on the 'Profile' tab, you'll see your new 4DP profile data.  On the left side is your ride type (climber in my case), and on the right side you've got how you rank for different categories.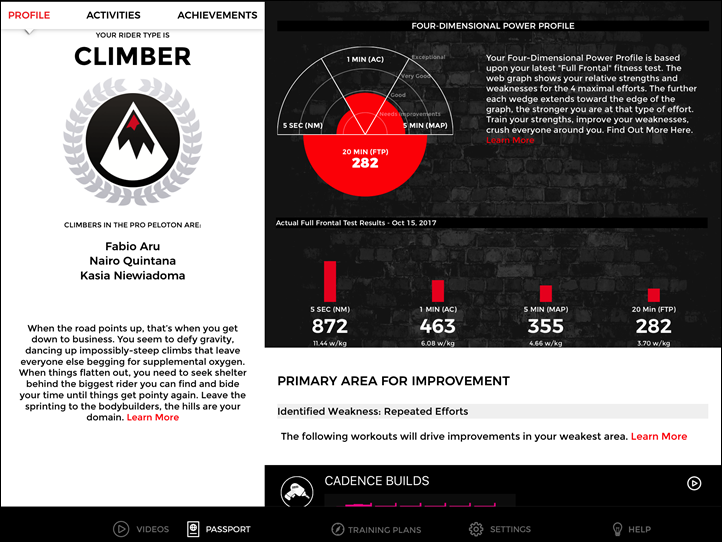 I can then scroll down and it'll suggest a primary area for improvement, and then specific workouts that I can leverage to improve those areas.  The production app had a bug for my rider type where this showed blank for me, so they sent over two screenshots using my profile on the latest beta build: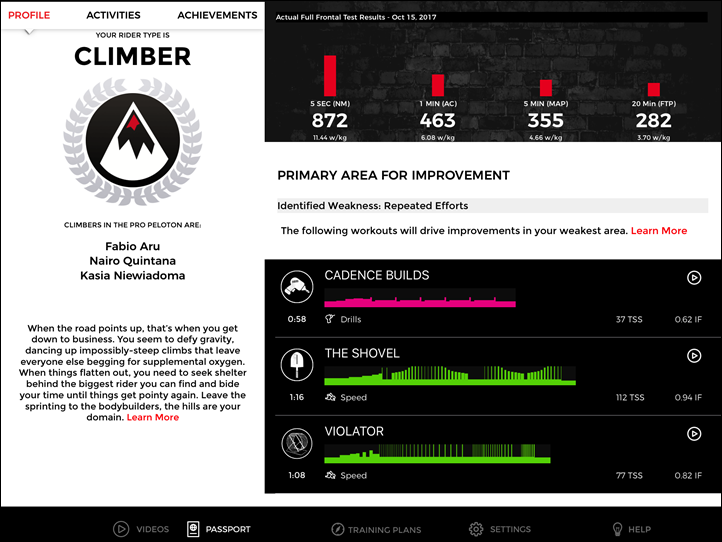 Then a second section shows additional workouts you can use to improve your strengths: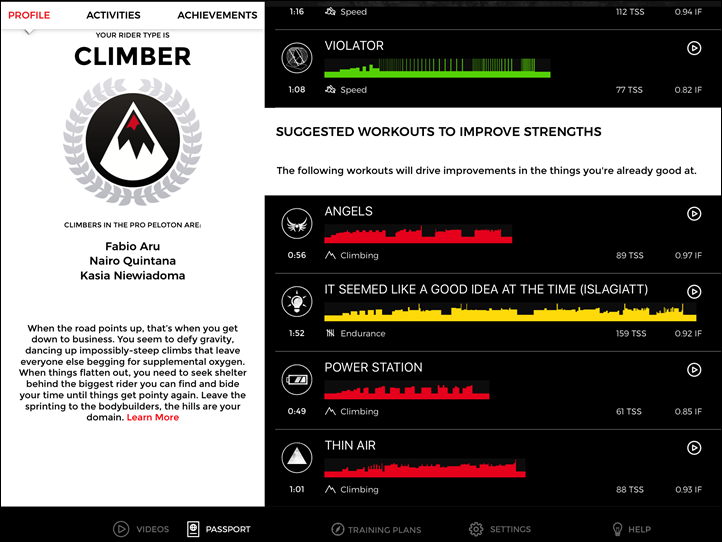 So what happens next?
Well, depends on what you want.  You can go into their training plans, which are included, and then just cook away on whatever multi-week plan you want: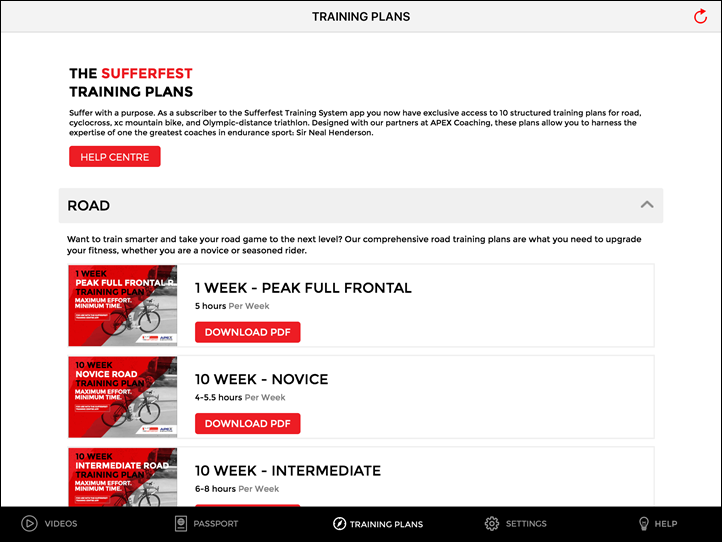 The only downside here is that none of these plans are electronically in the app.  Instead, it's a PDF schedule that correlates to workouts in the app.  So you can't just open the app and have the correct workout for the day listed.  The company says that's on the radar, but for now it's kinda clunky.  On the flip-side, the PDF's are incredibly detailed, just like a coach would give you.  So that is positive.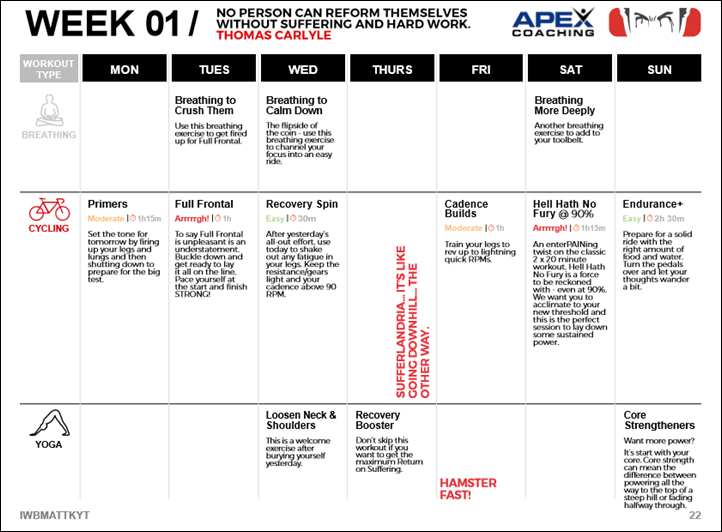 Next, any workouts within the app will no longer use the FTP number, but instead your new 4DP number.  This means it'll change intensities based on 4DP instead of FTP.  You can toggle in the settings to see these differences, for example, here's how The Shovel workout looks comparing the two side by side:
Note the look of the 'bell curve' on that first chunk, and how for my 4DP profile, it's got less super-high sprints, and a bit more meat lower instead.  I still hit the high wattages, just not as much as if I was using the straight FTP number.
This concept carries through the rest of the workouts as well.  Note that each workout has a specific focus, and is shown according to a set of stars:

And again, as is probably obvious by now – only Xert to my knowledge is doing any sort of live/reactive shifting of structured workouts automatically based on the test data, beyond just the FTP value.  Hence, the main value of 4DP here for folks without a coach.
The core difference though between Xert and Sufferfest in relation to that then is that Xert is doing this both live mid-workout based on your ability to hit targets, as well as updating your power profile after every ride (both inside and out).  Whereas Sufferfest only accounts for things in the app, and only based on the test.  Inversely of course, Xert lacks any of the motivating and entertaining videos that Sufferfest has.
Oh, and yoga: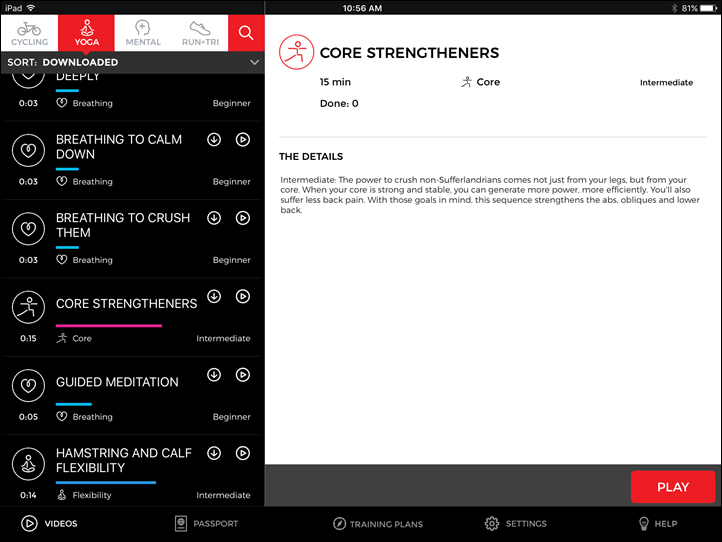 What's funny about most cycling apps is that they attempt to be coaches without being a coach.  Which is to say that most really good coaches will give guidance in other areas of your athletic journey aside from just the timed structured workout.  For example, my coach would/will give me some prescriptive guidance on various core and stretching exercises I should be doing, as well as nutritional tidbits, primarily related to race day or long training days.
He isn't trying to be a nutritionist or Cirque du Soleil coach, but he is imparting some useful knowledge that I may not be aware of.
And in a sense, that's what Sufferfest is trying to do on the whole here – replicate parts of a coach.  And one part that most endurance athletes screw up is flexibility and core strength.  Which isn't that we don't know it's important.  We do.  It's just that we never usually fit it in.  Sufferfest is aiming to address that gap by appending it to workouts in short bite-sized pieces.  They know that if it's 'only 5 minutes' to complete a quick yoga session, or 15 minutes to do some core strength, you're likely to do it. Versus a larger 30-40 minute routine, where it's unlikely you'll complete it.
After my 4DP test, I did one quick meditation session.  Mostly because the session involved lying on the ground and staring at the ceiling.  Which seemed perfect, given the situation.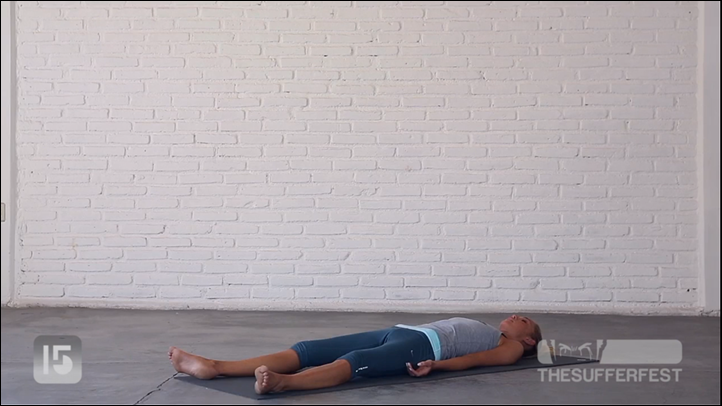 Afterwards, you can upload the session to any of the connected platforms like before, except that it doesn't record any sensor (HR) data.
In addition, the company is also doing mental conditioning related exercises.  These are a set of videos (really just audio, as far as I can tell), but have incredibly detailed workbooks alongside of them.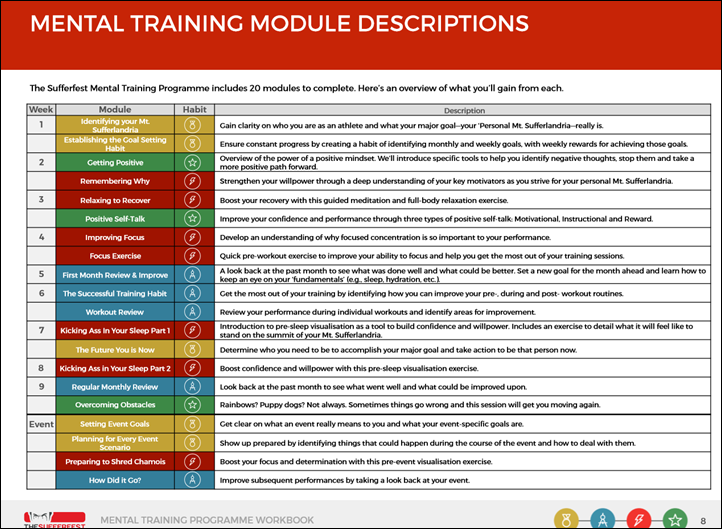 For those that want to tap into it, it's definitely unique in this segment and again goes a ways towards trying to give people things that coaches might provide (but that many people can't afford).
As an aside, I've been long meaning to read 'The Brave Athlete: Calm the F*ck Down'; one of these days I will (I bought it on Kindle already…it's just…well…waiting for me).
Wrapping up:
Now, power meter training veterans will likely say that what Sufferfest is doing isn't anything different than what came before them.  Or that they're using others' work.  And there are elements of that which are true.  But it's also true to say that anyone in the sports field is using the work of those that came before them; it's building blocks.  It's not much different than Boeing not mentioning the Wright Brothers on every marketing slide.
More importantly though, there are core differences between what Sufferfest is doing and others.  Those differences may not matter to some people, whereas they may make all the difference to others.  For example, if you're fine reading through hundreds of pages of power training literature, or if you can work magic in various analytics suites – then yes, you can largely do this same thing as Sufferfest in terms of the 4DP portions (obviously the app and videos are still huge).
But if you can't (and the reality is, most people can't or don't want to), that's the gap Sufferfest is trying to fill.  They're trying to elevate the discussion for the majority of people from a simple number (FTP), to a more personalized set of guidance.  In other words, they're trying to be your coach.  Because (and this is the important part some detractors forget), that's exactly what your coach is doing.
Your coach (if you have one) is taking data in about you, and prescribing workouts on what is hopefully a more personalized level than just FTP.  They're looking at your specific goals and your various power profiles, and generating something personalized. Just like Sufferfest.
Of course, from an automated prescription and analysis standpoint, Sufferfest isn't entirely first here.  Xert started doing elements of this earlier this year, such as categorization and smart real-time adapting workouts that leveraged current numbers.  But Sufferfest has seemingly taken it a bit further with entire plans and more custom tailoring (again, like a coach would do).
All of which is different than TrainerRoad and Zwift, which are more static in their approach to training plans.  They assume a specific input number (FTP) and then base workouts and training plans from that.  Of course, that approach has worked well for years, and both those applications have other selling points too.
But ultimately there's sorta a hidden secret here: For the majority of the population, you're going to get faster with almost any well laid out and structured training plan, which all these companies give you.  If you find a specific app that works better for you because you enjoy using it, then it's likely you'll see gains with that app and its structure.
With that, thanks for reading.
—
Preemptive unique warning: Like any of the other 2,659 posts here on DCR, it's all about a civil discussion in the comments section.  Insults, attacks, and anything of the sort will not be tolerated.  I will be zapping non-constructive posts instantly, regardless of how important you think you are.  You can have a difference of opinion on any topic you want here, just don't be a dick about it.  Got it?  Good. Enjoy, go forth, and discuss!