This past May we saw a new power meter pedal entrant announced onto the market, the SRM EXAKT pedals. Of course, SRM is well known for their power meter wares, which until now have been confined to cranksets and indoor bikes.  But this time SRM partnered with LOOK to introduce a dual-branded SRM EXAKT power meter pedal that took the body of a customized LOOK pedal and added new custom SRM power meter innards, producing what both companies touted as the most accurate power meter on the market (price be damned).
But would it be?
Well, it checked off the box of the most expensive power meter to date (sometimes higher-end complete cranksets can cost more, but not for the power meter piece specifically).  But would it be the most accurate pedal?
I set to find out. I've been testing the EXAKT pedals (dual-sided) since June across three different pedal sets, against a pile of other power meters concurrently. Be it top-end trainers like the Tacx Neo or Wahoo KICKR, as well as against industry trusted power meters including the PowerTap G3 hub and Stages LR dual-sided units. And many more.  I've included more data in this in-depth review than ever before, with sets analyzed and downloadable stretching over a 5 month period, all on final hardware and final software.
As always, once I wrap things up here the media loaner sets of pedals and associated tools will get boxed back up and go back to SRM. Just the way I roll. With that – let's dive into it.
What's in the box:
You've got three choices for your EXAKT pedals purchase acquisition, they are:
EXAKT DUAL + SRM PC8: Dual-sided power meter pedal sets with SRM PC8 head unit (2,179EUR/$2,199USD)
EXAKT Dual: Dual-sided power meter pedal sets (1,399EUR/$1,699USD)
EXAKT Single: Single-sided power meter pedal, with a matching 'empty' pedal (799EUR/$899USD)
Float-wise the options are 0°, 4.5°, and 9°.
For the purposes of this box I've got the full dual set, all parts included. Here's what the box looks like: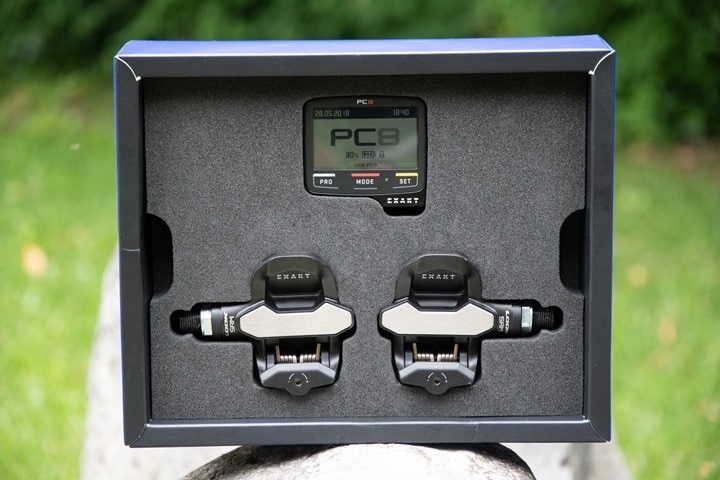 Inside you've got:
A) Pedals (dual or single)
B) SRM PC8 head unit (if bundle purchased)
C) LOOK Keo cleats
D) SRM EXAKT charging cable (one cable, regardless of whether single or dual is purchased)
E) Two custom installation tools for installing the SRM EXAKT pedals
F) One regular hex wrench
G) Calibration card
H) Some random paperwork
All in all, it's more or less like most other power meters on the market.  I don't have a super-fancy unboxing set of photos as I was traveling when the initial box came and they had consolidated it down to just the core parts to keep things simple for me. You'll see all the parts below in the review.  I have re-validated though with SRM that only a single charging cable is provided, regardless of whether it's a single or dual set.
Installation and Configuration: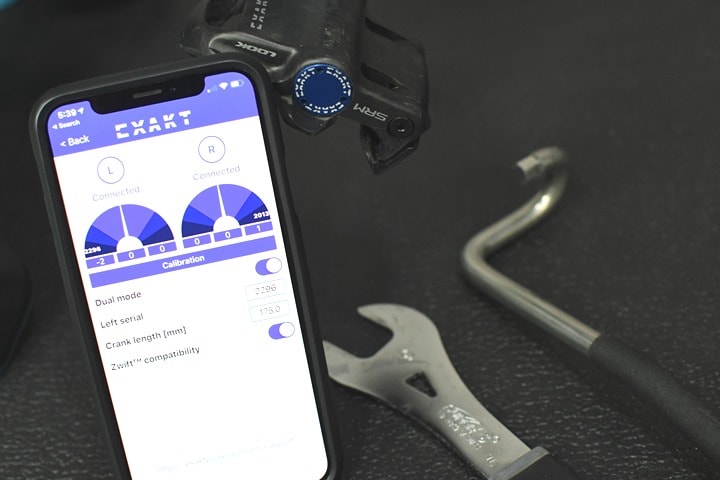 If there's one aspect of the SRM EXAKT pedals where you want to bang your head against a wall – it's getting them installed. Which is somewhat ironic because that's somewhat the entire appeal of going to a pedal based power meter: Portability and ease of installation. SRM offers neither here.
Oh sure, you can technically move it between bikes. But as you'll soon see – there's not a chance in hell you'll want to do it again once you've got it correctly installed the first time.  Part of this is because of the fact that as much as SRM and LOOK talk about having a new pedal power meter design not based on the previous LOOK design, that's clearly untrue. After all – only one other power meter in the entire market has a similar setup – and that's LOOK's previous design that they did standalone and with Polar. Same exact installation tools as before and all.
To begin, you'll need four things to install the pedals (even if you're traveling):
A) The pedals (duh)
B) Your smartphone with the SRM EXAKT app installed
C) The funky twisty sorta-hex wrench tool
D) The locking wrench
If any of those four things are missing, you will not be successful in installing them. Seriously: Don't try – they won't be accurate without all four things.  Technically you also need the standard hex wrench seen in the photo below, but you can make due when traveling by just carrying the funky one.
First, you'll insert the pedals most of the way into the crank arm. What's important here is to note on the inside the little blue line. This eventually needs to be in-line with the crank-arm (so pointing at the bottom bracket). Like this: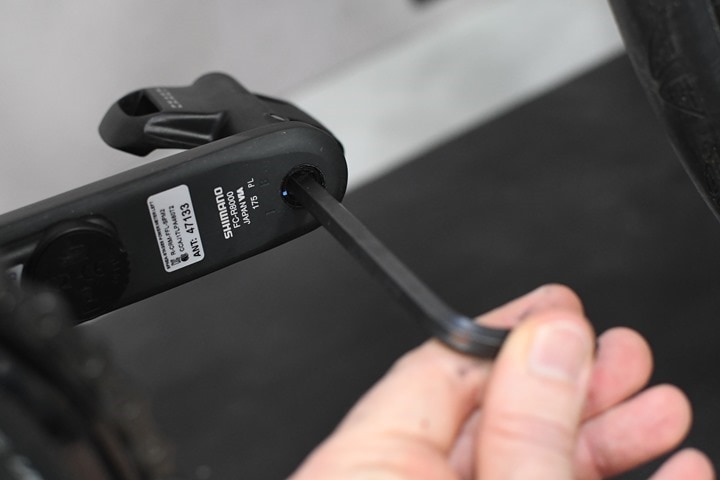 Doing so means you'll need to toy slightly with the nut on the backside of the pedal. It's this nut that you'll eventually tighten using the secondary tool to get pedal on nice and snug. Oh, and make sure that little blue line doesn't move during the whole process. Next, insert the hex-style funky wrench into the pedals in such a way that keeps the blue-line pointed at the bottom bracket and perfectly aligned. Once you've got that sorted now get the other tool and slowly tighten the nut on the back so that everything becomes nice and snug: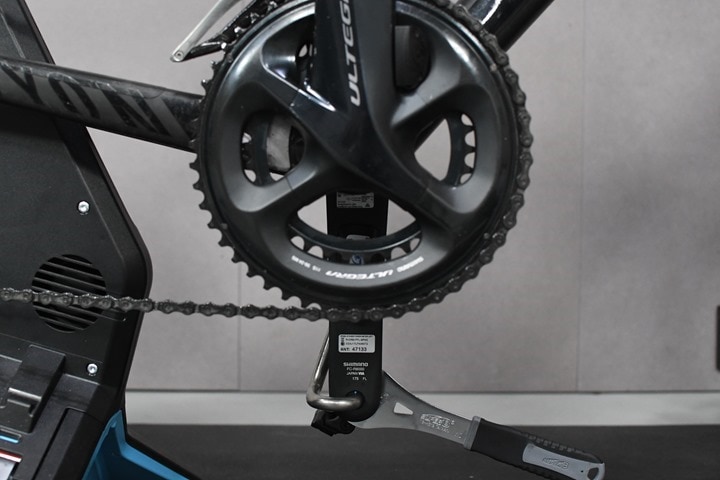 Do ensure that as part of this the blue line doesn't move.  Once all that's done you'll repeat the process for the other side:
Next, you need to grab your phone out for the installation app. This is where things get a bit tricky. The basic goal here is to get the app to read a value on a gauge that doesn't move when you put pressure on it. If it does, you need to repeat the tightening process until it doesn't anymore.
You can see below in my photo that the left gauge needle is almost totally flat to the left side of the gauge, this means that while applying pressure (using my hand), I have to rotate the inside of the pedal using the funky hex wrench until it aligns on zero. Because I only have two hands I couldn't both take a photo of that and align at the same time. But you can watch their entire video on it here.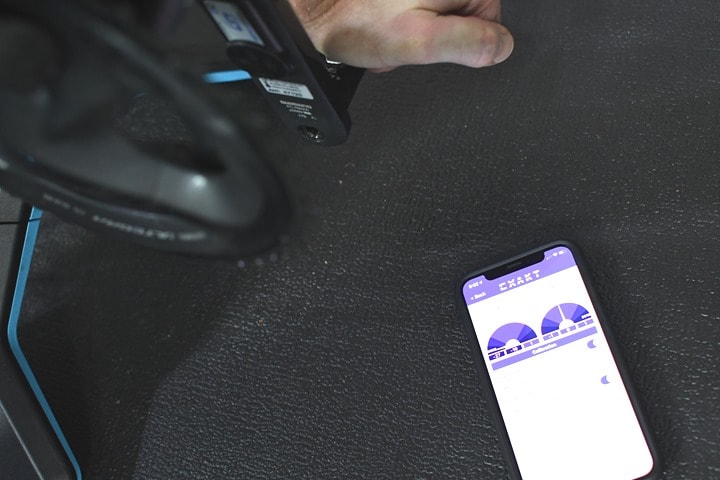 This sounds easy, and in some ways it's physically easy. But it'll likely take you a few tightening attempts (per side) to get right. So it ends up being more of an annoyance than anything.  This screenshot from their video explains it and shows all the hand positions/directions fairly well.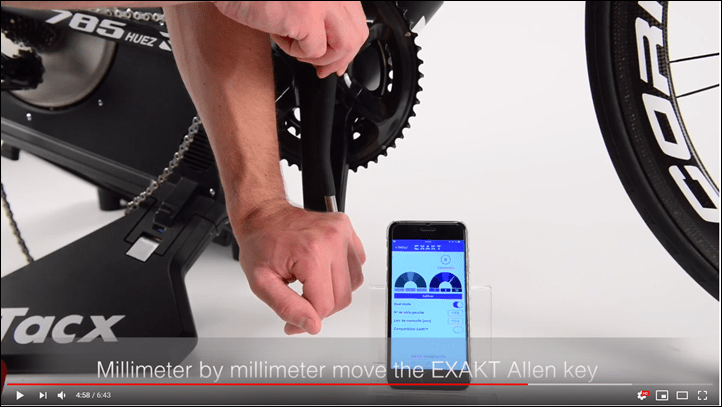 Once everything is done, you should be able to apply pressure to the pedal and then not have the gauge move. Again, if it moves, go back a few steps and repeat. Also again, be sure not to have the blue line move. Note, expect to get some grease on you during this process, because you're basically having to bear-hug your crankset from both sides to make this work.
Now some will say that I'm making this out to be a big deal. But may I remind you that other pedal platforms don't require this. The Favero Assioma pedals that came out a year ago and cost half as much as the SRM pedals require simply using a hex wrench to spin on.  No special tools, no fancy gauges, no nothing. It just works. Installing Garmin Vector 3 or PowerTap P1/P2 pedals are the same. I don't understand how/why SRM thought the current installation process is acceptable in 2018.
It's not so much that the installation is annoyingly messy, but rather, it's prone to introducing accuracy errors. Even when you think it's right – I find that if you come back a short bit later, then you've got to do it again. So you think it's perfect, but in reality it isn't. It's without question the most frustrating part of the SRM EXAKT experience.  And lest you think I'm alone in this – one of the only a handful of actual reviews out there notes precisely the same frustration, as well as the accuracy issues that ensue.
General Use Overview: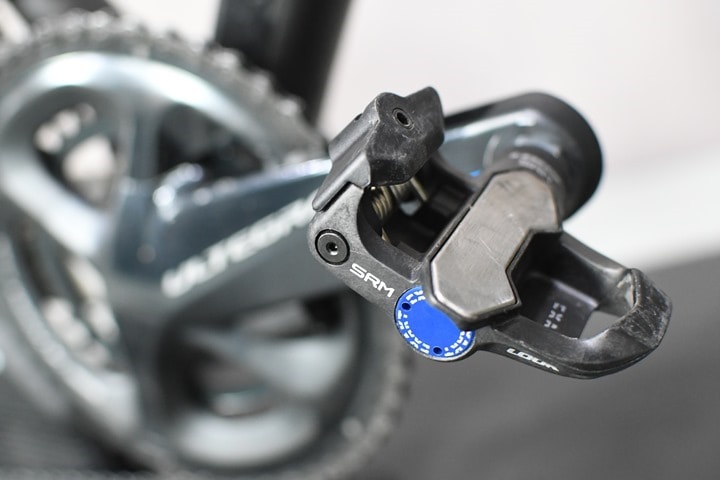 Once you've got the SRM pedals installed, they act more or less like any other dual-sided power meter out there.  It's got dual ANT+ & Bluetooth Smart broadcast functionality, as well as the capability to broadcast power, cadence, and power balance as you'd expect.  It also supports standard zero-offset commands from head units like a Garmin device.  I say that not to skip over the details, but to state what these days has become largely the norm: power meters following standards. And SRM seems to be doing a good job here in all my testing over the last 6 months.
Of course, one of the first things you'll need to do is charge up the pedals. SRM has included both a reasonably long micro-USB cable as well as a tiny little pod that attaches to it. This allows you to charge one pedal: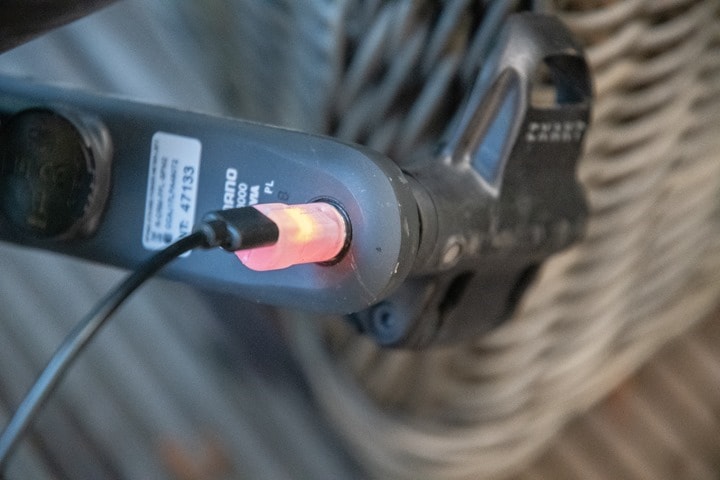 The fact that they don't include two charging cables for a dual setup is bizarre to me. Favero includes two charging cables, one for each pedal. People just want to be able to come back from a ride, plug both pedals in and then forget about it for another few weeks again. Having to remember which pedal you charged or coming back a few hours later feels cheap to me.
Given Favero is about 1/3rd the cost of the SRM system, there's really no excuse for SRM not including two sets of charging cables. Another company (WatTeam) included two sets of charging cables with their even less expensive system. When you charge the most for any power meter out there, you need to back it up with the level of product parts people expect.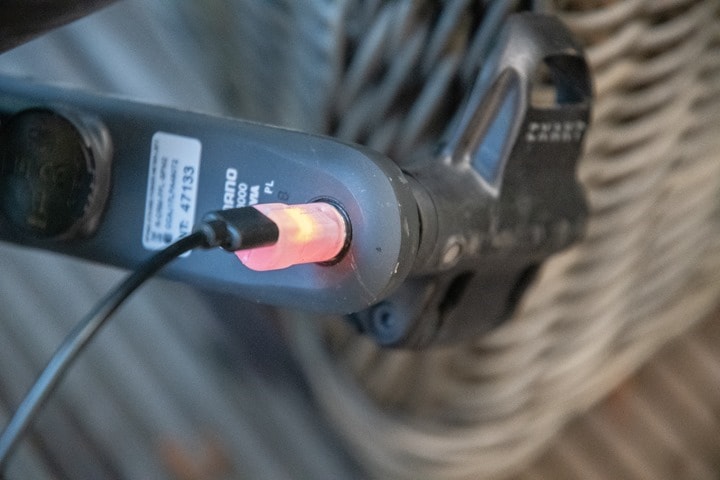 Next, I will note that I did have substantial battery drain issues with the SRM EXAKT pedals over the summer (it would only last a single ride). However, with the latest set I've had for a month or two, I haven't had any unexpected battery drain issues.  I'll presume that's been worked out at this point.  The spec for the batteries is 100 hours.
When discussing the SRM EXAKT, it's likely best to start with the partnership aspect.  The pedal is the child of two parents – SRM and LOOK.  Both companies have fairly equal responsibility for it.  The production starts with LOOK, in their factories in France, where the carbon pedal bodies are made.  The pedal body is almost identical to that of their existing Blade product, though I'm told the stack height is just a tiny bit higher at 11.9mm.  The Q-Factor comes in at 54.6mm.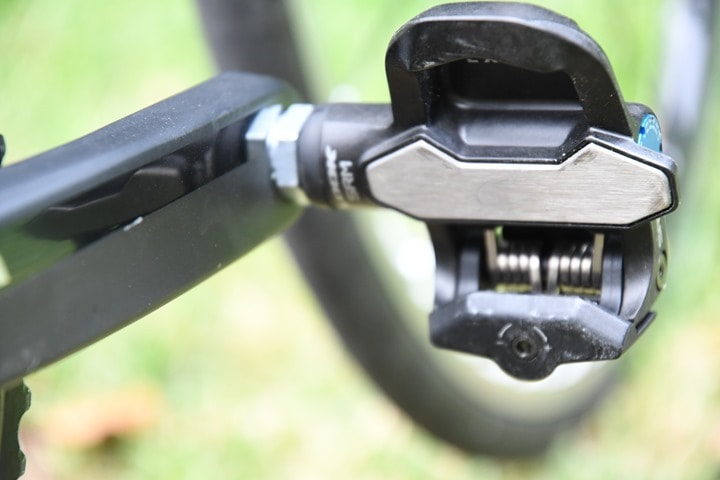 Once the pedal body is made, it's shipped across the border to SRM in Germany. It's there that the SRM-manufactured steel spindles are placed within the body of the pedals.  These spindles are where power meter 'goods' are, including the four strain gauges per pedal in a fairly traditional Wheatstone bridge design.  The spindles do not use an accelerometer for cadence, but rather a small magnet you can see on the exterior of the pedal body.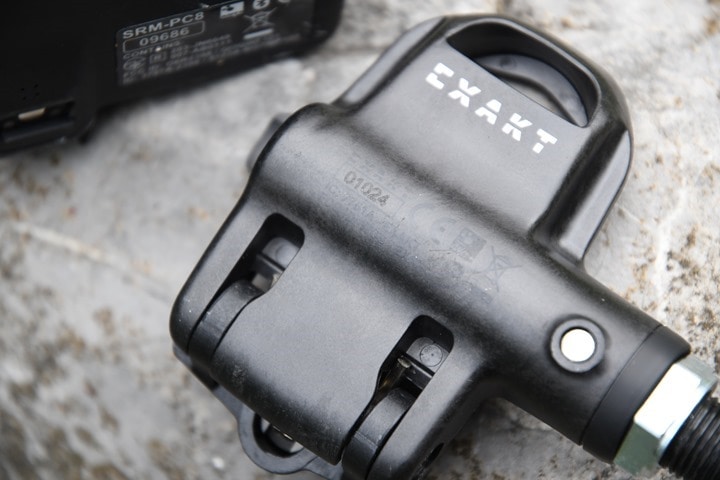 This magnet rotates past the spindle, allowing them to track its precise location (more on that aspect in a moment).  In theory, this also reduces accelerometer-driven accuracy issues that used to be an issue in the power meter industry (but realistically, aren't an issue in 2018).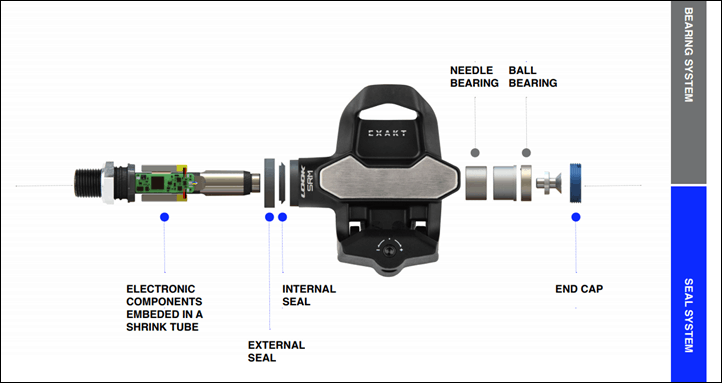 The pedal body and spindle can be replaced.  While the operation isn't technically difficult, it's something that SRM/LOOK will likely limit to their dealers for now.  It simply requires opening that little blue cap you see below and swapping out the spindle inside.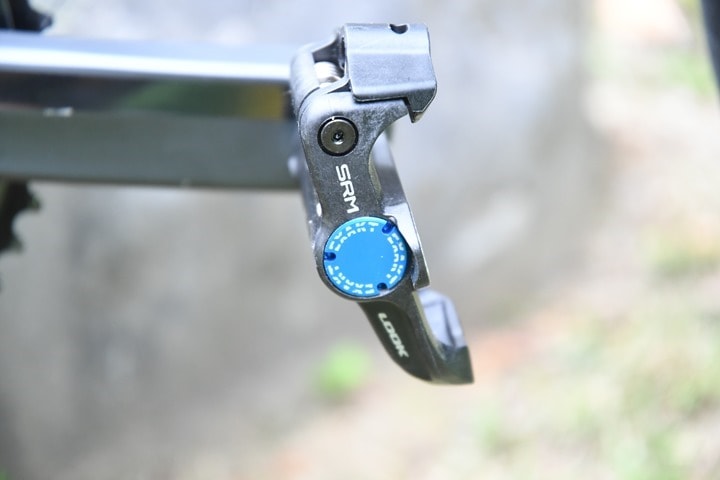 In any case – back to manufacturing.  After the pedal body is inserted into the unit and tested by SRM in Germany, the pedals are shipped back across the border to France, where LOOK packages them up in a pretty box.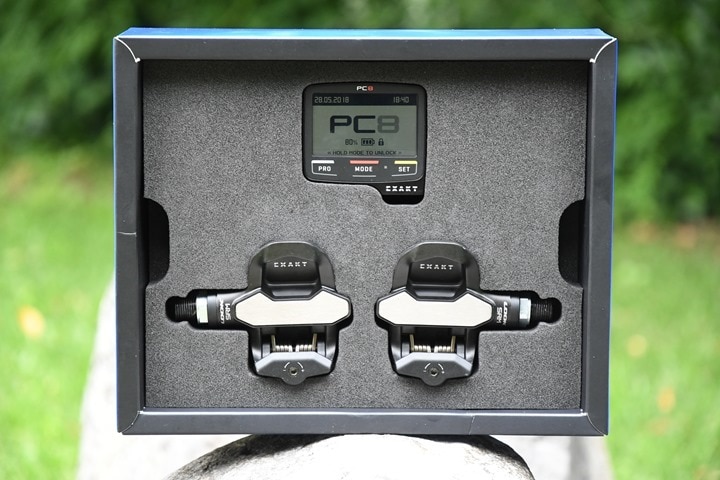 The completed pedal body is IPX7 waterproof (30 minutes at 1-meter), similar to most other power meters in the industry.  It claims an official weight of 155g per pedal, inclusive of the stainless steel contact surface inlaid into the pedal body.  In my case, I weighed them in at slightly more than that at 156 and 157 grams for all my sets (even at the event). Perhaps my scale is wrong or something. Most of us won't notice that gram or so one way or another.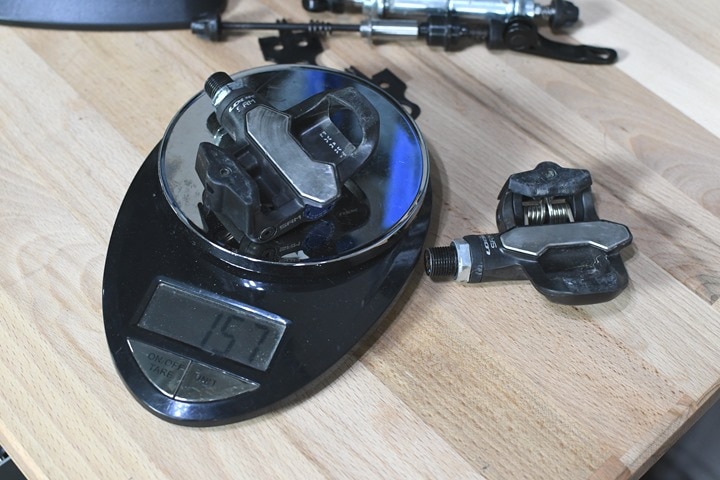 Once installation is all taken care of (per the earlier section), the app has a couple other functions beyond that setup piece. Most notably there's the option to toggle a Zwift compatibility switch as well as a crank length (which you'd have wanted to do during setup).
That Zwift option will blend the two Bluetooth Smart channels (left and right pedals) together into a single cohesive total power stream. This is also useful for Suunto watches too – which don't support multi-channel power meters.  Otherwise, you're just connecting to either the left or right pedal and only getting half your data. Nobody only wants half the cookies, or data.
The app also shows a bunch of nifty data from your pedals, mostly just diagnostic data. Though I do appreciate the more exact battery status than you get on some apps/head units. I also like that it clearly shows each set of data side by side for each pedal, rather than buried down in different pages in the app.
The app also has a high-speed data transmission mode via Bluetooth Smart, at 200hz, so 200 times per second.  As of now though, that data isn't recorded, but only displayed for viewing live.  They're looking at user feedback to see if there's any demand for recording that data (Stages does something similar, and I've yet to hear of many people actually using that in real-life…mostly just woulda/coulda type statements).
Note that while the ANT+ Cycling Dynamics spec is now out there and being integrated into products, SRM hasn't announced any plans to support it yet. Garmin is supporting it, and Favero has announced they plan to very shortly as well (probably in a matter of weeks by the sounds of it). Wahoo has also stated their goals of supporting it.  Hopefully we'll see SRM join the club (along with PowerTap).
Ultimately, while this sort of advanced data is interesting, I don't think it's that useful from anyone when it's either non-recordable or isn't recorded in a standard and useful way that other app platforms can take advantage of.
Once you're ready to ride you'll pair it up to your head unit via either ANT+ or Bluetooth Smart.  Both are supported concurrently.  I've paired it successfully to the SRM PC8, as well as to a Garmin Edge 520 Plus, Edge 1030, Edge 520, a Garmin Fenix 5, and Zwift.  All without issue (and the data from all matched).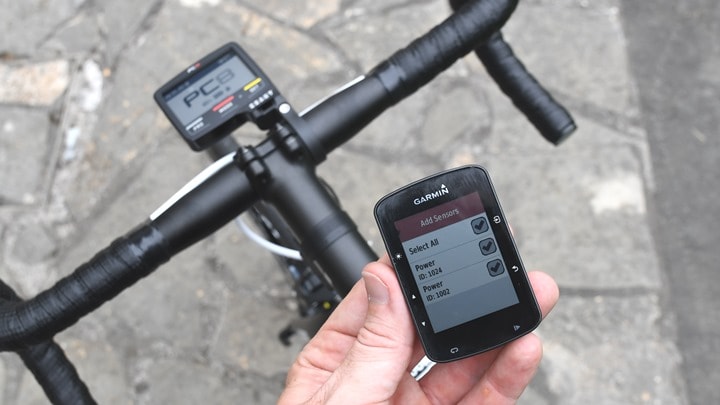 From an ANT+ standpoint, the unit also broadcasts power balance, ANT+ pedal balance, ANT+ pedal smoothness, and ANT+ torque effectiveness. Here's a link to a Garmin Connect activity recorded on an Edge 1030 yesterday showing all the data you'd get during a ride: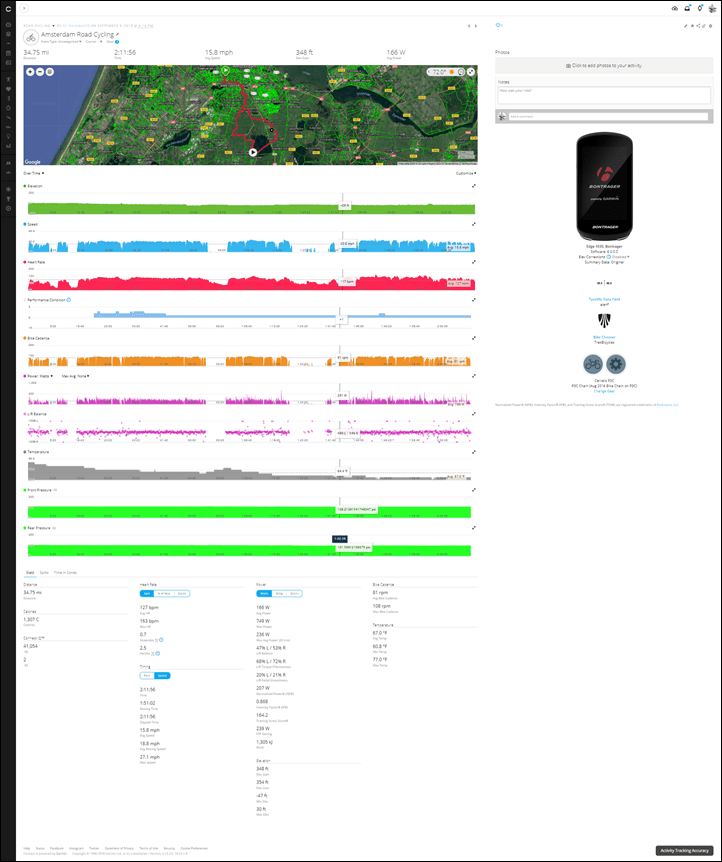 (Note: You won't get tire pressure, that's coming from the Quarq TyreWiz.)
Moving along to calibration and zero offset, you can perform both via ANT+ or via the smartphone app over Bluetooth Smart, using a compatible head unit to zero-offset your unit.  In general, I do this before every ride, as a quick validation that things are working as expected.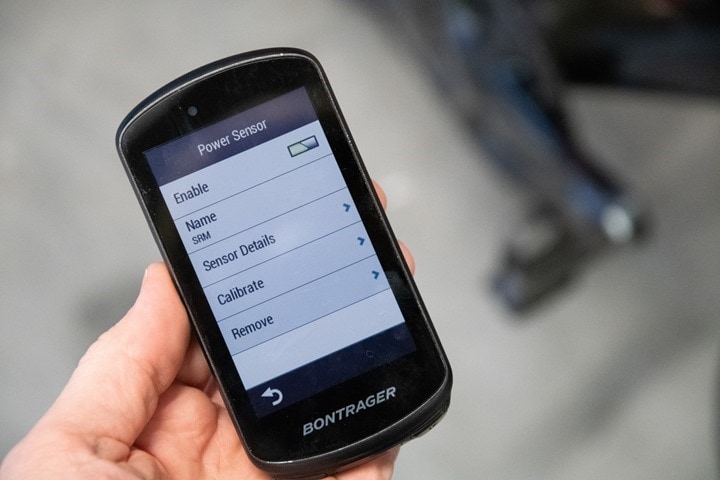 You'll trigger a calibration just like you would on other power meters by going into the 'Calibration' comment on your head unit.
The SRM unit will then report back the offset as seen in the app. While it reports two values back on the app (one for each pedal), it actually only reports a single value back via ANT+, so 3rd party head units like a Garmin won't show all those values.  Note that SRM could transmit both values; for example, 4iiii and Specialized both do this.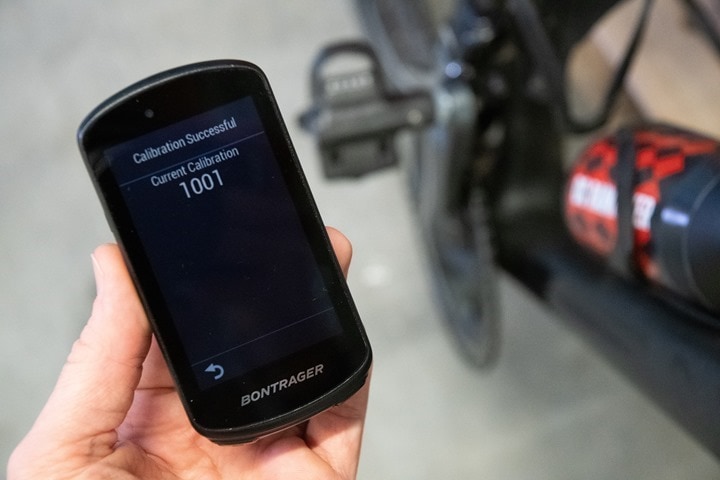 In general, I've seen the offset remain pretty stable throughout different table ranges. I've tried both doing rides where I did and didn't do an offset ahead of time, and it seems to make no difference to accuracy. That tells me that SRM's temp compensation algorithms are doing a good job at accounting for temp shifts (remember, these are new to SRM, no other SRM products have active temperature compensation in them yet).  The company says they're looking to add both the active temperature compensation (which requires new hardware) and Bluetooth Smart support to their crankset lineup likely next year.
With that, let's dig into the most awaited section – the accuracy pieces.
Power Meter Accuracy Results: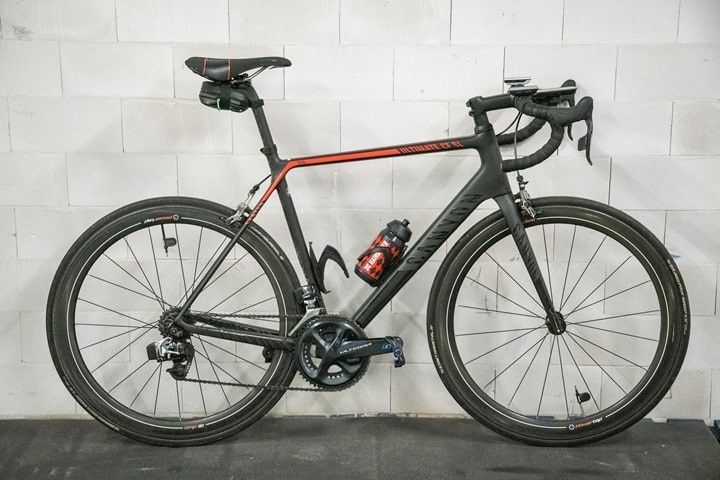 I've long said that if your power meter isn't accurate, then there's no point in spending money on one.  Strava can give you estimated power that's 'close enough' for free, so if you're gonna spend money on something it shouldn't be a random number generator.  Yet there are certain scenarios/products where a power meter may be less accurate than others, or perhaps it's got known edge cases that don't work.  Neither product type is bad – but you just need to know what those use/edge cases are and whether it fits your budget or requirements.
As always, I set out to find that out.  In power meters today, one of the biggest challenges is outdoor conditions.  Generally speaking, indoor conditions are pretty easy to handle, but I still start there nonetheless.  It allows me to dig into areas like low and high cadence, as well as just how clean numbers are at steady-state power outputs.  Whereas outdoors allows me to look into water ingest concerns, temperature and humidity variations, and the all-important road surface aspects (e.g. vibrations).  For reference, SRM has a claimed accuracy rate of +/- 1.5 for the EXAKT pedals.
In my testing, I generally use between 2-4 other power meters on the bike at once.  I find this is the best way to validate power meters in real-world conditions.  In the case of most of these tests with the SRM units (dual) I was using these other power meters or trainers concurrently over the course of the last 6 months:
Stages LR (dual-sided crankset)
PowerTap G3 (hub)
Avio single-sided crank arm
Wahoo KICKR CORE Trainer
Wahoo KICKR 2018 Trainer
Elite Drivo II Trainer
Elite Zumo Trainer
Tacx Flux S Trainer
Tacx NEO 2 Trainer
Kinetic Smart Control 2018
Said differently – I have a crapton of data and comparative products that are well trusted to compare against. Plus, there are undoubtedly other units I'm forgetting
In general, my use of other products is most often tied to other things I'm testing.  Also, when it comes to data collection, I use a blend of the NPE WASP data collection devices, and a fleet of Garmin head units (mostly Garmin Edge 520 Plus, 820, and 1030 units for SRM pedals). I also did a few rides with an SRM PC8, but all comparison data here I'm showing is from the Edge .FIT files.  Note all of the data can be found in the links next to each review.
First, let's start indoors with a Zwift session to get warmed up (full data here), compared against a Tacx Neo 2 and a Stages LR (dual).

Of course, at that level it's sorta tough to see anything, so let's zoom into some random sections:

The above chart roughly encapsulates much of my SRM EXAKT experience into a single chart. In some cases, it's pretty close to spot on, but in other cases it reads low. I can't seem to figure out the exact pattern as to why that is. I've got three sets of units, and I've seen this pattern on and off a bit over time.
One might think it might be something to do with perhaps one side being offset (since in dual-power systems, the power is simply the total of the two individual left/right power meters – so if one is off, everything is off).  But that's not generally the case, or at least, consistently the case.  Check out the below for example, which is pretty close to the same zoomed in section as above. It shows left/right balance of multiple power meters at once (since the Stages LR is also dual). It allows me to see when a given side is off.
In the first yellow arrow, you can clearly see the left side of the SRM pedal is abnormally lower than the others – that tells me that's the driver to the overall total being low.  Yet just a few minutes later, the left side comes back into alignment, and shortly after that arrow you can see both sides read low.

Is it perhaps that the SRM unit got this right and the others missed it? Sure, but that's what's kinda neat about testing against so many different power meters.  When I see a trend that exists over numerous well-respected trainers (and other power meters), it becomes less likely that the EXAKT pedals are correct and instead, that there is something amiss.
I could analyze the rest of that file, but let's look at another instead. This is another Zwift ride, with the same lineup. Except one key change: This is a new set of EXAKT pedals that SRM sent over.  Calibrated and installation perfected a gazillion times using the app until perfection.  Here's that data set.
Now I'll give the pedals a pass on the random dropouts I see above. I haven't seen that on any other rides at all, so that's likely just some indoor interference. No biggie. Instead, I want to focus on what I highlighted above: The fact that sometimes it's good, and sometimes not so. In this set, things are actually pretty good across the board (again, ignoring the dropouts). There are some quirks though, and you see it slightly below everyone else in some cases  As a casual reminder, the Neo should read lowest, then Stages, and then SRM. Reality dictates that within a certain accuracy range it's rarely that perfect, but by and large the Neo should be the lowest, not the SRM pedals.

And, for the most part throughout this set, that's usually what happens. The Neo tends to be the lowest, though sometimes during transitions of power (like going into a sprint or coming off), we see some variability. That's also normal due to differing transmission/recording rates.
For example, let's look at this TrainerRoad 30×30 test. Now, this was using a pre-prod Elite Zumo trainer, which was incorrectly transmitting the 'set power' as opposed to the 'actual power'. While not ideal, this actually is a neat chart because it shows just how close the Stages LR and SRM can be when they want to be. On this ride, both are very very close to each other (here's that data set):

And switching up trainers again – here's the Tacx Flux S on a Zwift workout where the SRM pedals were reading low again (lower than both units):

Ok, let's head outside. Starting with a ride a few days ago, against a PowerTap G3 hub and a Stages LR (data sets here):

This is actually a really fascinating set. Not because of the SRM, but rather, the PowerTap G3. The SRM itself was basically matching the Stages LR and for most of it, and roughly the PowerTap G3 as well (which should be slightly lower). But there's one section of about 10 minutes from the 14-minute marker to the 24-minute marker where the PowerTap G3 read unexpectedly higher than the others. Before and after that, it was spot-on.
Why that one section?
Well, not sure exactly, but I suspect I know what was triggered.  Before that 10-minute section we stopped to take a picture of a windmill (because, Netherlands). And after that section we stopped at a light for a few minutes. My bet here is that there was a bad auto-zero, and then it fixed itself the next time. I actually can't remember the last time I saw something like this – it's so incredibly rare.  Alternatively, the other two were concurrently wrong.  The rest of the time things mostly agree though.

It's probably about now that someone will say: "Why not put a calibrated weight on it and see what it says to determine accuracy?"
And here's the challenge with that: It doesn't tell you anything these days.
It's no more effective at determining accuracy than pedaling without another power meter to compare to.  Power meters are far more complex now than a decade ago, and the underpinnings of most power meter accuracy errors come from temperature drift, cadence accelerometer inaccuracies, and installation issues.  Or, just poor implementation for lateral and twisting on the strain gauges.  None of which a calibrated weight will account for.  Gone are the days that means much of anything.
Someone else will then say: "Well, how does it compare to a SRM crankset?"
And that's valid as an interesting test, but not as a validation of accuracy. Specifically with temperature compensation shifts, which existing SRM cranksets can't account for without another manual zero. As I noted earlier, during my discussion with SRM's founder, he noted this was a key reason they added temp compensation into the EXAKT pedals, and were looking to add it into the cranksets soon.  Plus, I've got plenty of other power meters and trainers that are reliable and known good for total power (it's the distribution across left/right that's more challenging).
And that's part of the challenge I have with the EXAKT pedals. No matter how many other sets I look at (extending all the way back to late June, and none of those are sets I've shown in graphs above), it's either hit or miss. Some days it's like 'Ok, great, things were happy today'. And then the very next day it'll read low.  After nearly five months and three sets of pedals later, I don't have a concrete feeling on whether or not it's accurate.  I've spent weeks trying to figure out how to write this section and re-writing it, and adding new data sets, and it never really changes.
I can go back and forth troubleshooting it with SRM, but I don't see that changing the results. I just wish I could decide on what these results are.
(Note: All of the charts in these accuracy sections were created using the DCR Analyzer tool.  It allows you to compare power meters/trainers, heart rate, cadence, speed/pace, GPS tracks and plenty more. You can use it as well for your own gadget comparisons, more details here.)
Pedal Market Comparison: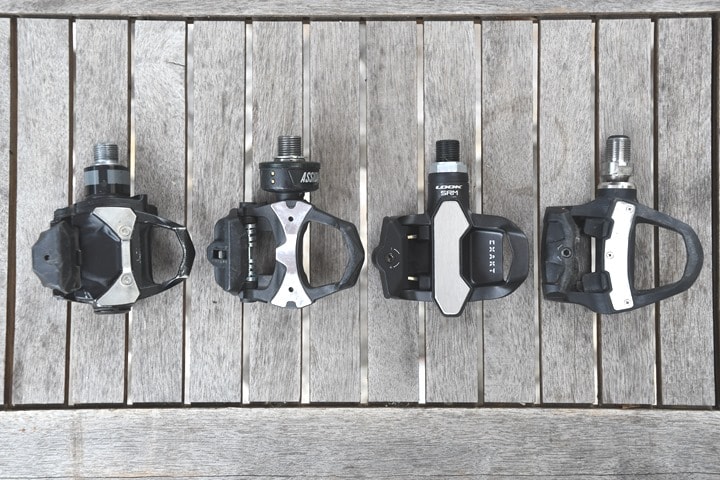 Last year upon the release of the Vector 3 and Assioma pedals, I stacked those two up against the existing PowerTap P1 pedals in a sprawling post with more details and specifics than I can throw a stick at.  Or a lot of sticks.  Seriously, it got out of control.

(Left to right: PowerTap P1, Favero Assioma, SRM EXAKT, Garmin Vector 3)
Since then, the PowerTap P2 has been released, but aside from slightly decreased internal weight and slightly increased battery life, there are no other changes to the units.
Toward the end of that crazy post, I had a bit of a simplified table that took all of the details of the umpteen sections and simplified it.  So, in order to help compare some aspects, I've added the SRM EXAKT pedals to that table and placed it below.  Note that I haven't had a chance to re-determine cornering angle yet. I did that on a specific bike of mine with a specific crank length. Thus I need to re-compare all pedals on the same bike to ensure it's equal.
As for a non-data driven comparison, I'd probably guess you could summarize the downsides in the most distilled manner as possible:
Favero Assioma Downside: Pod design is not as aesthetically pleasing
Garmin Vector 3: Battery cap/pod fiasco
PowerTap P1/P2: A bit of a chunker, needs a diet
SRM EXAKT: Expensive, super-clunky mounting
There's no question the Garmin and SRM pedals take the cake in terms of beauty, but I'd say that the Favero Assioma pedals are probably the ones I'd trust the most out of the three in terms of just nailing accuracy every time with virtually no complications.
Summary: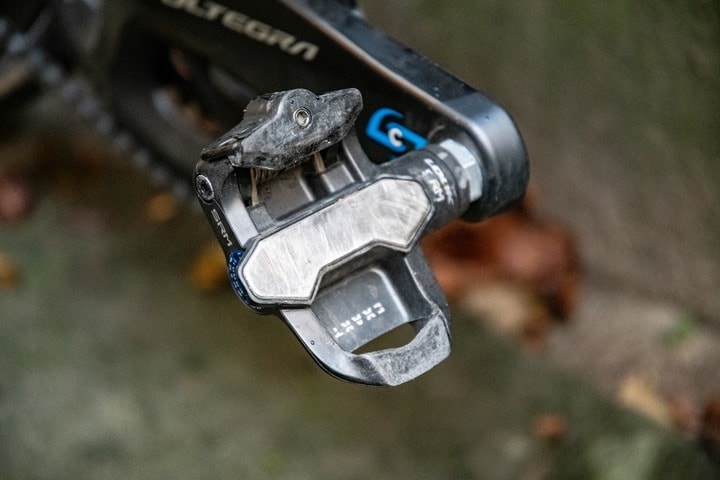 I've never really been at a loss for how to wrap-up a review as much as I am on this one.  Undoubtedly someone will say I did something wrong (I didn't), or that I need to try (yet another) unit.  Or that…well, I have no idea what other excuses someone will make up.  In fact, SRM/Look themselves tried a variant of that approach with another reviewer, telling them:
"In life, the easiest things are not always the best."
I guess.
Actually, no. No, that's not correct.
It's wrong.
(It's also wrong in ice cream too – I can go to the corner store and easily buy a container of Ben and Jerry's, versus trying to recreate it, which won't generally yield a better result, even if you buy their recipe book. Though, the book is awesome. I have it.)
This isn't some mystery magic sports tech of the 1990's. It's a power meter that costs almost three times the leading Favero Assioma pedals, and 70% more than the Garmin Vector 3 pedals. And more than twice that of the PowerTap P1 pedals.  All of which install super easy and are fundamentally more consistent and accurate.  All of them 'just work', and install in under 20-30 seconds.
When the tediousness of the installation process becomes a core driver for accuracy – then blaming the user is as elitist as you get. No, the issue isn't the user here. It's re-branding and re-using an installation system from LOOK that ultimately degrades the user experience and introduced accuracy issues.
But wait – that's not even my accuracy issues here. I managed to get the installation happy per SRM's colorful app graph widget.
So where does my on and off again accuracy issues come from then? I wish I knew.
SRM's entire foundation for why the EXAKT pedals should cost so much more than their competitors is that you're paying more for 'greater accuracy'. But I've seen nothing in my testing, anyone else's testing, or even from SRM themselves (in the form of whitepapers, studies, or such) that demonstrates greater accuracy than their competitors.
But let's set that aside for a second. Let's assume that they were just as accurate as anyone else. Why on earth would I still pay 2-3x as much for something that's far clunkier to install (and even transmits less data than everyone else)?  The entire point of a pedal-based power meter is almost always ease of moving between bikes. There's no power meter that's more difficult on the market to move between bikes than EXAKT. I'd much rather swap an SRM, Power2Max, or Quarq crankset power meter between bikes than move EXAKT pedals between bikes. One takes a couple of minutes and works every time, the other requires constant back and forth fiddling.
Ultimately I was hoping that SRM would have nailed their entrant into the power meter pedal market, but at this point it's missed on too many marks to be a viable competitor in the space. The company needs to refine the hardware to eliminate the installation challenges, while concurrently working to address some of the unexplained accuracy issues.
With that – thanks for reading!