And just like that – it's Friday! If you're reading this prior to 11AM US Eastern Time/5PM Central European time – then don't miss out on my YouTube Livestream today (Friday) with GPLama and DesFit – here to answer all your sports tech questions.
But, on to the round-up for the last 24 hours. Oh, and I was going to include the Apple Watch ECG features in this, but still having some challenges with my US-account tied unit getting it to work. So more on that later.
Interbike Cancelled: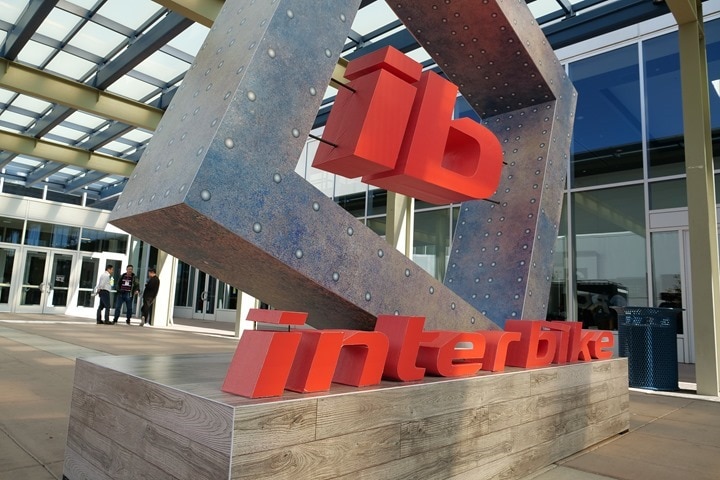 Going forward into next year, Interbike will be canceled for 2019.  The organization says it may make a comeback in 2020 in a different format, but not for next year.  In a detailed piece with Bicycle Retailer, the organization noted that the decision was made after taking feedback from the industry following this September's show in Reno (a move from Las Vegas). A core reason cited by the industry was that it needed to be more cost efficient with the entire event being less expensive for retailers especially.
They also noted that with the rise of bike-company specific events, there was simply less money to go around to travel to more bike shows.  That's, of course, a reference to many of the big bike brands (such as Trek) hosting their own events and inviting bike shops to travel to them.  While these events no doubt provide for a more direct and intimate event for that bike brand, they come at the cost of retailers being unable to attend larger industry events.  But more on that in a second.
I'm actually somewhat surprised by the decision to cancel next year.  While it's no secret that most were concerned going into Interbike this year, I'd argue that most people were actually really happy with how Interbike went off this year in its new home.  I thought the Outdoor Demo venue was fantastic (minor first time-locale issues aside).  There was something for everyone and the scenery was stunning.  It was awesome.
The main convention center was also great in that it was super easy to access and didn't require going through massive Casino's or even paying for parking. Quick and efficient, and only like 2 minutes from the airport.  I will say that having the venues separated by so far was a bit of a pain, but the structure made it work out so that it mostly didn't matter to people. Food trucks outside was also awesome.
Now while there were fewer vendors this year, people seemed pretty excited to be in a refreshed location – and as a result I expect we would have seen an uptick in registrations for next year.  At this point though it'd have been too soon to really see that, since the show was too fresh.  For example, I know some trainer brands, like Elite, had initially not planned to do Interbike 2018 this past fall, and then decided at the last minute to get a show booth.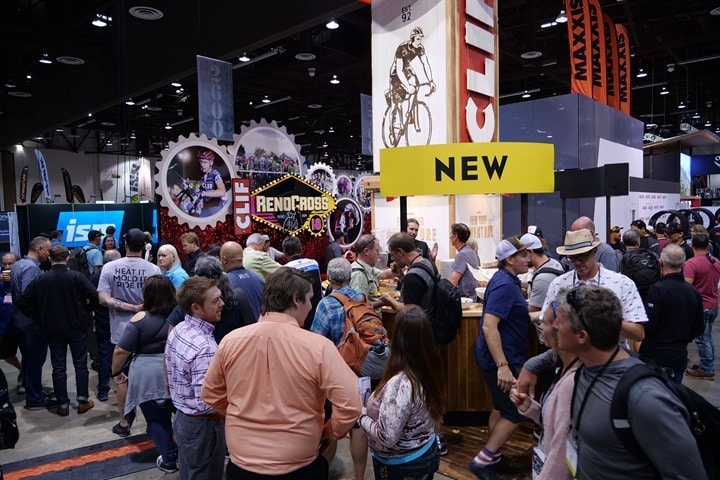 But back to a key point here: Lack of major brands.
Companies like Trek, Specialized, Cervelo and many other bike brands aren't there.  Well, actually, they are. Virtually all of these companies send employees to the show – either under the bike brands name, or simply under various other names.  That means that these companies are there conducting business, but aren't actually truly supporting the event as a legit exhibitor.  So when a retailer looks at an exhibitor list, they won't find these companies on it – even if those companies are actually present.
Mind you, this is hardly limited to the biggies either. Nor is it limited to Interbike. It's common for companies of all sizes to skip exhibitor space in favor of side meetings in hallways or dedicated hotel suites just offsite (or even onsite). This is often driven by cost, due to an event's exhibitor space simply being too pricey to justify.  Though, I haven't heard that to be a major driver in the case of Interbike specifically (whereas in the case of CES, it most definitely is).
Finally, the last bit of trouble for Interbike was the explosive growth of Sea Otter as a key industry meeting place (which takes place in April).  That show has become popular not just with industry, but consumers alike. It bills itself as a cycling festival that happens to have an industry/conference component.  And that's definitely true. It's no-doubt festival first (which is why everyone enjoys it).  But that also means that it's actually not a great place for industry and behind closed door meetings. Virtually all booths are open-air tents that water and wind easily penetrate. Nor are there great spots for private conversations.  This isn't a knock on Sea Otter, but rather making it clear that it's not really a good replacement for Interbike – at least in its current form.
In any case – I'll be bummed to miss going to Reno/Tahoe again next year, if for no other reason than the riding and hiking itself. Awesome spot for it.  But I'm hoping that Interbike will be able to figure out in 2020 an event time and locale that works better for the industry. And I'm hoping the industry itself remembers that if they want an event to succeed, it's gotta be diverse and include players big and small.
Zwift adds new social features: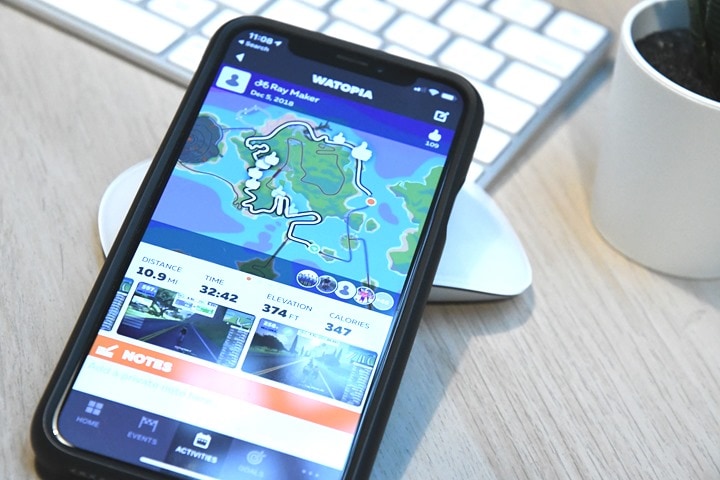 It's been an interesting few weeks for Strava, and this time they didn't even do anything to get themselves in trouble.  Instead, it's been other companies innovating around them that I'd hope is causing someone there to re-think what a product roadmap is. First, we had Specialized last week announce a new group-ride planning and tracking app (that's free, btw), and then today we've got Zwift announcing a significant increase of social features in their companion app. Both of these moves are squarely aimed at Strava – even if all companies pretend they're still friends (which they will of course).
So what'd Zwift add? A pile of features mostly within the new companion app.  In summary, it now does the following:
– Adds a new social feed within the app with the ability to add comments to your and other workouts, as well as choose which photos (screenshots are attached) to that feed
– Adds a new map to the activity feed in the app, so you can see where you rode
– Shows in the activity feed where exactly on that ride your friends gave you a 'Ride On' (like a kudos mid-game)
– New post-activity analytics including graphs on speed/power/heart rate. Runners also get running splits.
– Ability to schedule rides with friends/followers, including the route and distance – up to 7 days in advance
– New race results page directly within the app (more on that in a second)
– Ability to see scheduled training plan events further in advance
So, all but the bottom three are direct competes with Strava. It can't get any more Strava than that. Again, I'm sure Zwift would say they're not competing with Strava, blah, blah, blah. But ultimately, they are. People are absolutely deciding where to spend that monthly sports platform 'allowance', and if they realize that they can get much of the same experience in Zwift, why spend more for Strava?
Of course, as it sits today I wouldn't say that Zwift's new companion app features are a replacement for Strava's.  As of today Zwift doesn't account for outdoor workouts off the platform (something that competitor TrainerRoad does however), and Zwift doesn't account for other sport types like skiing or swimming.  And, and, and.  Lots of reasons.  But ultimately, you can't boil the ocean overnight, and Zwift has piles of money to throw at these sorts of things.
The new analytics feeds are another example of that – with more detail than before.  Again, Strava has more detail than this today, but these sorts of metrics are trivial to expand upon.  We've seen more training platforms do something like this, the key here is making it more and more social.
Now some of you might ask how's this any different than Polar, Garmin, or Suunto and their activity feeds with similar functionality. Does that compete with Strava? Of course it does. Many of you have stated exactly that.  You've noted that you get 'good enough' analytics from those companies, and that you just use Strava for cross-device social elements.  Which…is exactly that Zwift is aiming for here.
Next, we've got the race results feature.  As of now, racing on Zwift can be a bit perplexing. That's because while the race itself has been on Zwift, much of the post-race features weren't.  Inexplicably you couldn't see the race results after a race unless you stayed in-game on the screen.  Now you can see them directly within the app later on:
Now, some would say to use ZwiftPower for some of this – and I think ZwiftPower is doing cool stuff.  But ultimately I think it's a huge mistake for Zwift to half-load some of that to a 3rd party platform. Zwift should be putting in place an API that allows 3rd parties to do things within an approved framework (be it better organization, managing results, etc…). But fundamentally the end-state results of who placed where and whether someone was DQ'd should absolutely reside on Zwift.
Trying to say that an athlete has to go to a 3rd party site to find out where they actually placed is frankly the dumbest thing I've ever heard of.  Can you imagine if Ironman or the Tour de France did that?  That's nuts.  Yet, that's actually what happens today.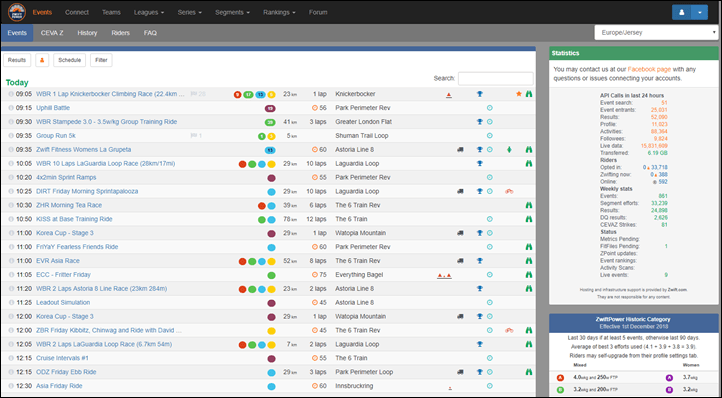 Again, some will probably get all upset and misunderstand me: I'm not saying do away with ZwiftPower.  In fact, I'm saying the opposite: Give them more power, but do it through actual legit API's.  Make it truly above-board.  But also don't force users there.  Heck, the above screenshot even shows the confusion itself. It notes some 33,000 registered riders. Yet Zwift stated just yesterday that they have 500,000 registered riders (note: Definitely not active, but that's fine, we're comparing registered to registered here).  So, only 6% of Zwifters know about this 3rd party site.
Races should have specified organizers within the Zwift platform, and that organizer (an actual person, not an uncontactable bot) should be making DQ decisions. If a racer wants to appeal that decision, then it should be to the specified organizer of that event.  All of which should be tracked within Zwift.  That takes Zwift out of the feedback loop, but also keeps racers within the platform for final results.  Again, there's tons of ways 3rd party platforms could do incredibly cool analytics (à la Dimension Data for the TdF), but ultimately the final results are always within Zwift.
Oh, and finally – I'd note that for people like myself the new race registration bits don't really work or scale (nor do I think they work for most teams).  Right now I have to actually specify and select exactly who is in the event:
This isn't really practical or scalable. Even if looking at a typical cycling or tri team, you might have hundreds of registered members, of which only a portion will attend.  It's limited to 50 people as well.  So you manage to go in and manually invite 50 people, and of course only 10 of them show up.  Ideally this would simply be an event with a URL I could post somewhere else, or subscribe to a concept of teams or groups within the app.  I'd love to be able to publish a URL to Twitter or such for people to join up.
Again, they'll get there – the whole boil the ocean thing at play. Anyway, interesting stuff from Zwift for sure.
And don't forget about the DCR Livestream coming up in a few hours here! Update: Stream's over, but you can watch the whole thing on replay below! Note: The audio is less than ideal until about the 8-minute marker, then our brainpower figures it out. Enjoy!
With that – have a great weekend ahead!