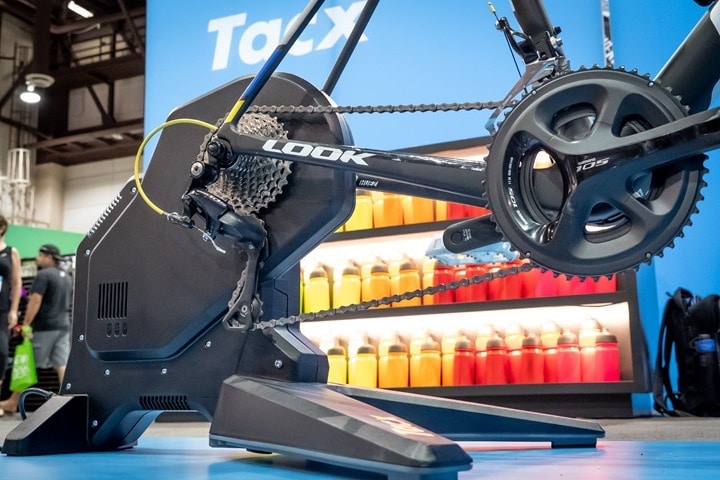 (** Update: There has since been a Tacx Flux S In-Depth Review. Follow the link for the most up to date information**)
Last week at Interbike, Tacx announced the Flux S, making it the second Flux trainer announced in almost as many months.  The first Flux trainer was announced this past summer at Eurobike, the Flux 2.  The Flux 2 was designed to be a beefier upgrade to the original Flux trainer that came out two years ago.  It added a number of internal specs including accuracy and the ability to simulate steeper grades for heavier riders.
So now you might ask "what's the Flux S?" Well, in one sentence or less it's basically a rebranded Flux 1 that has better support for long derailleur cages. And some internal goodness. Oh, and it's $150 cheaper now. And one more thing: Unlike the Flux 2, it's available now.
I was able to poke at it during Interbike, and will definitely dive deeper into it later this fall. In the meantime, here's what you need to know about the Flux S.
The Tech Specs and Changes: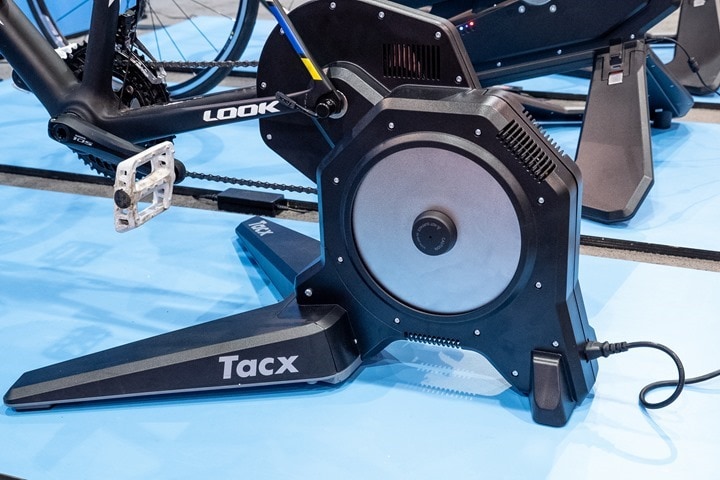 Let's be clear about this, the Flux S smart/interactive trainer is nothing more than an original 2018 Flux 1 with different legs. But is it really that simple? Not entirely. As a Facebook relationship status might say: It's complicated.
See, when I use the term '2018 Flux 1', that in itself is confusing. As there's actually a substantial difference internally between an original '2016 Flux 1', and a new 2018  Flux 1. Even after that clarification it can remain confusing, as a 2018 Flux 1 manufactured in January will vary in comparison to one made in June 2018. I say June, because that's when most of the changes were incorporated into the product line. And now, finally, the original Flux model will be discontinued, likely as making way for the Flux S. The product you're actually interested in today.
Like most products, over time the manufacturing line has quietly introduced changes that make usually minor and largely unseen changes. In the case of the Flux 1 which got off to a rocky start two years ago with manufacturing quality issues, there were a slew of changes made early in the cycle. Again, mostly related to QA issues in the manufacturing process to ensure the product was produced as actually designed.
However, this past spring Tacx started implementing a handful of changes into the Flux 1 units that would eventually serve as the basis for not just the Flux S but also the Flux 2 as well (which isn't set to ship for a bit longer).  Specifically, the following mechanical changes were done:
– Improved internal tension roller (which results in slightly improved road feel and accuracy during sprints)
– Improved internal alignment (nothing meaningful to consumers, purely manufacturing)
Like I said, not much in the grand scheme of things you can write on the outside of a new product box.  These were applied to the Flux 1 inline over the course of spring.
However, there's one change that's coming exclusively to the Flux S:
– Long derailleur cage support (they dropped the legs lower so that it fits)
And that's it.  With that change, you've gone from Flux 1 to Flux S.
Oh, and the price dropped.  Back in June they dropped the price to $799 for the Flux 1, whereas now we saw at Interbike the Flux S has been dropped even further to $749USD/599EUR (also: 999CAD, 549GBP, 725CHF, 5919NOK, 4619KK).
I do a quick walk-through of the trainer here at Interbike in this nice and efficient video:
Now, if you aren't familiar with a Flux trainer to begin with, I've probably gotten a bit off-track. Essentially, the Flux series is a smart/interactive trainer that works with virtually all apps out there (Zwift, TrainerRoad, Rouvy, SufferFest, etc…). It changes the resistance based on what the app sends it, such as 10% grade or 325 watts.   The Flux S maxes out at a 10% grade, which is normal for this price point, and maxes out at 1,500w. If you're unsure whether or not you can put out 1,500w…the answer is likely no.
They aren't silent, but they aren't loud either. There's no sound differences between the Flux S and Flux 2.  The main differences between the Flux S and Flux 2 are that the Flux 2 (at $150 more) can simulate 16% grades and has an increased simulated flywheel mass (32.1kg vs 24.7kg). Also, it can resist 2,000w versus the 1,500w. The Flux 2 provides thru-axle adapters in the box whereas on the Flux S you need to pick them up separately ($29-$39).  Power accuracy for the Flux S is +/- 3%, versus +/- 2.5% for the Flux 2. And finally, the Flux 2 has a lower resistance floor, so it can better simulate low-speed climbs than the Flux S.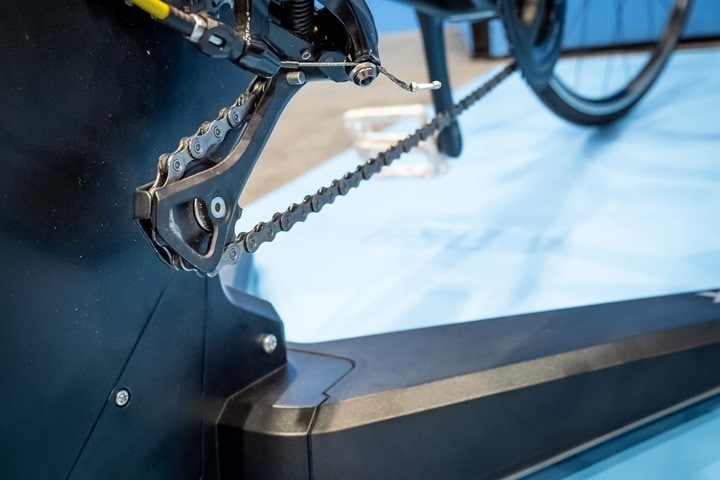 Both Flux 2 and S trainers connect over ANT+ & Bluetooth Smart like before. They both support the following transmission types:
ANT+ FE-C Trainer Control
ANT+ Power Meter Broadcast (with cadence/speed baked in)
ANT+ Cadence/Speed Sensor Broadcast (standalone)
Bluetooth Smart Trainer Control
Bluetooth Smart Power Meter Broadcast (with speed/cadence baked in)
Bluetooth Smart Cadence/Speed Sensor Broadcast (standalone).
Both trainers require that they be plugged in (unlike some of the other Tacx range which can operate in the middle of a corn-field sans-power).  Both have LED's on the side of the trainer so you can double-check connectivity status.  And neither have foldable legs like some other trainers on the market. Though, I find the Flux series fairly 'skinny' in terms of footprint compared to some other options.
How does it stack up:
Now at this point your head may be spinning as to all the differences, not just to the Flux S, but also other trainers in this price point.  It is here that you see the genius of the Tacx move.  Knowing that they can't really compete on the sound of silence front with the Wahoo KICKR CORE, they've dropped the price even further than what the Tacx Flux 1 was originally at.  Not only that, it's actually available now – whereas the KICKR CORE will likely continue to be heavily back-ordered throughout the fall (if you didn't place an order earlier).  It also undercuts on price the slightly updated 2018 Elite Direto (which now includes a riser block and slightly increased accuracy claims).
Here's how they all stack up.  Keeping in mind that minor nuances like 'improved internals' don't really show up on this comparison chart.  Gotta draw the line somewhere:
Function/Feature

Tacx Flux S
Tacx Flux 2
Elite Direto (2018)
Wahoo Fitness KICKR CORE
Copyright DC Rainmaker - Updated June 15th, 2023 @ 8:13 am New Window
Price for trainer
$749USD
$899
$849 ($799 for 2017 models)
$899
Trainer Type
Direct Drive (no wheel)
Direct Drive (no wheel)
Direct Drive (No Wheel)
Direct Drive (No Wheel)
Available today (for sale)
YEs
YEs
Yes
Yes
Availability regions
Global
Global
Global
Global
Wired or Wireless data transmission/control
Wireless
Wireless
Wireless
Wireless
Power cord required
Yes
Yes
Yes (no control w/o)
Yes
Flywheel weight
6.7kg (simulated 25kg)
7.6kg (simulated 32.1kg)
4.2KG/9.2LBS
12.0lbs/5.44kgs
Includes cassette
No
No
No
No

Resistance

Tacx Flux S
Tacx Flux 2
Elite Direto (2018)
Wahoo Fitness KICKR CORE
Can electronically control resistance (i.e. 200w)
Yes
Yes
Yes
Yes
Includes motor to drive speed (simulate downhill)
No
No
No
No
Maximum wattage capability
1,500w @ 40KPH
2,000w @ 40KPH
1,400w @ 40KPH / 2,200w @ 60KPH
1800w
Maximum simulated hill incline
10%
16%
14%
16%

Features

Tacx Flux S
Tacx Flux 2
Elite Direto (2018)
Wahoo Fitness KICKR CORE
Ability to update unit firmware
Yes
Yes
Yes
Yes
Measures/Estimates Left/Right Power
No
No
9EUR one-time fee
No
Can directionally steer trainer (left/right)
No
No
No
No
Can simulate road patterns/shaking (i.e. cobblestones)
No
No
No
No

Motion

Tacx Flux S
Tacx Flux 2
Elite Direto (2018)
Wahoo Fitness KICKR CORE
Whole-bike physical gradient simulation
No
No
No
With KICKR CLIMB accessory
Can rock/tilt side to side (significantly)
No
No
No
No

Accuracy

Tacx Flux S
Tacx Flux 2
Elite Direto (2018)
Wahoo Fitness KICKR CORE
Includes temperature compensation
Yes
Yes
N/A
Yes
Support rolldown procedure (for wheel based)
Yes
Yes
Yes
Yes
Supported accuracy level
+/-3%
+/-2.5%
+/- 2% (Sept 2018 models, +/- 2.5% for earlier models)
+/- 2%

Trainer Control

Tacx Flux S
Tacx Flux 2
Elite Direto (2018)
Wahoo Fitness KICKR CORE
Allows 3rd party trainer control
Yes
Yes
Yes
Yes
Supports ANT+ FE-C (Trainer Control Standard)
Yes
Yes
Yes
YEs
Supports Bluetooth Smart FTMS (Trainer Control Standard)
Yes
Yes
Yes
YEs
WiFi or Ethernet
No
No

Data Broadcast

Tacx Flux S
Tacx Flux 2
Elite Direto (2018)
Wahoo Fitness KICKR CORE
Transmits power via ANT+
Yes
Yes
Yes
Yes
Transmits power via Bluetooth Smart
Yes
Yes
Yes
Yes
Supports Multiple Concurrent Bluetooth connections
No, just one
No, just one
No, just one
Yes, 3 Concurrent
Transmits cadence data
Yes
Yes
Yes
Yes
Bridging or re-transmission
No
No

Purchase

Tacx Flux S
Tacx Flux 2
Elite Direto (2018)
Wahoo Fitness KICKR CORE
Amazon
Link
Link
Link
Link
Backcountry.com
Link
Competitive Cyclist
Link
Link
Link
REI
Link
Link
Link
TPC
Link
Link
Link
Wiggle
Link
Link
Link
Link

DCRainmaker

Tacx Flux S
Tacx Flux 2
Elite Direto (2018)
Wahoo Fitness KICKR CORE
Review Link
Link
Link
Link
Link
And don't forget you can mix and match and compare any trainer you'd like within the product comparison chart here.
Wrap-Up: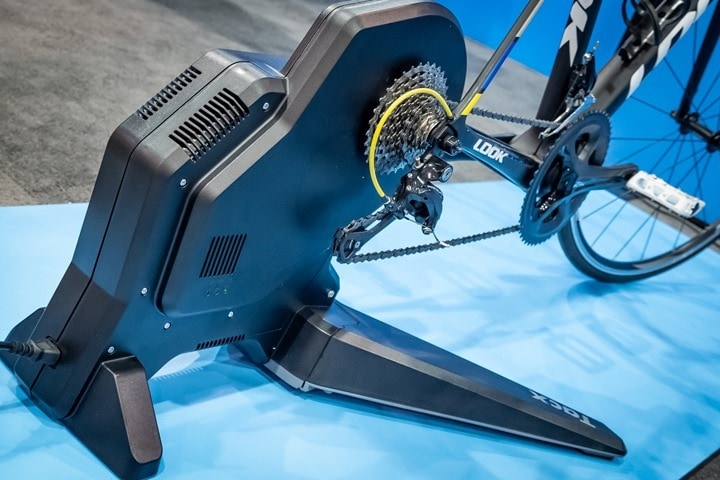 The Flux S is a creatively executed trainer 'update'.  In another Interbike round-up post I'm going to talk a little bit about this trend of slightly updating trainers and calling it a new model (or not even updating them at all, but just putting new branding on them).  But for now, I think the Tacx scenario is slightly different than the others.  First off, Tacx actually dropped the price. It's now $150 lower than it was back in May. That's substantial. Second, even if we ignore the probably meaningful internal changes, they did at least change the frame/base of the trainer to support more bike configurations.  Again, some other 'new' trainers on the market didn't physically change anything.
But most of all – they've added an option to the price landscape that makes you stop and ponder. Up until recently most of these 2018 mid-range direct drive trainers were $899: Wahoo KICKR CORE, Elite Direto, and the Tacx Flux 2.  Now there's one floating down at $749 that you've definitely gotta consider. Essentially the conversation boils down to whether or not you want to pay $150 more for the silence of the CORE (some would probably correctly also argue the CORE has better road feel).  Of course if you use a fan with your trainer, that overrides the sound of any of these trainers.
Ultimately I will review the Flux S sometime this fall. Given it'll have been two years since I last reviewed the Flux 1, I'm looking forward to seeing how things have changed. Not only with the changes made this past year, but also the changes made over the entirety of the last two years.
With that – thanks for reading and stay tuned for more!

Found This Post Useful? Support The Site!
Hopefully you found this review useful. At the end of the day, I'm an athlete just like you looking for the most detail possible on a new purchase – so my review is written from the standpoint of how I used the device. The reviews generally take a lot of hours to put together, so it's a fair bit of work (and labor of love). As you probably noticed by looking below, I also take time to answer all the questions posted in the comments – and there's quite a bit of detail in there as well.
If you're shopping for the Tacx Flux S or any other accessory items, please consider using the affiliate links below! As an Amazon Associate I earn from qualifying purchases. It doesn't cost you anything extra, but your purchases help support this website a lot. Even more, if you shop with TPC (The Pro's Closet), you'll save $40 on purchases over $200 with coupon code DCRAIN40! The Pro's Closet has been a long-time partner of the site here - including sponsoring videos like my cargo bike race, as well as just being an awesome Colorado-based company full of good humans. Check them out with the links below and the DCRAIN40 coupon!
And finally, here's a handy list of trainer accessories that most folks getting a smart trainer for the first time might not have already:
And of course – you can always sign-up to be a DCR Supporter! That gets you an ad-free DCR, access to the DCR Quarantine Corner video series packed with behind the scenes tidbits...and it also makes you awesome. And being awesome is what it's all about!
Thanks for reading! And as always, feel free to post comments or questions in the comments section below, I'll be happy to try and answer them as quickly as possible. And lastly, if you felt this review was useful – I always appreciate feedback in the comments below. Thanks!