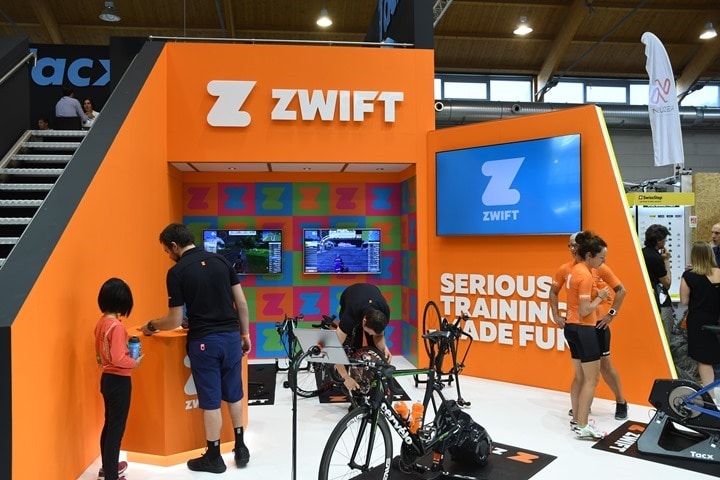 This won't be a long post, but darn-it, I went out and rode a beastly loop of the new Austrian course, and thus I'm determined to make something of that time spent in the saddle.  Thus, here we go.
As you may know, Zwift has two new courses planned for the upcoming months.  They've kinda announced these via various social media teases, but if you missed it you'll soon get a New York City course and an Innsbruck (Austria) course.  Zwift is pretty tight-lipped on details on both right now, but I did manage to get a few tidbits that are worthwhile noting, along with the exact route for the Austrian course.
Now you'll note that while Zwift was at Eurobike, they didn't have any major Eurobike-specific announcement per se.  The closest you could get to that was the announcement made a few days prior that Zwift was available on Android in beta. A very early beta.  I covered that here.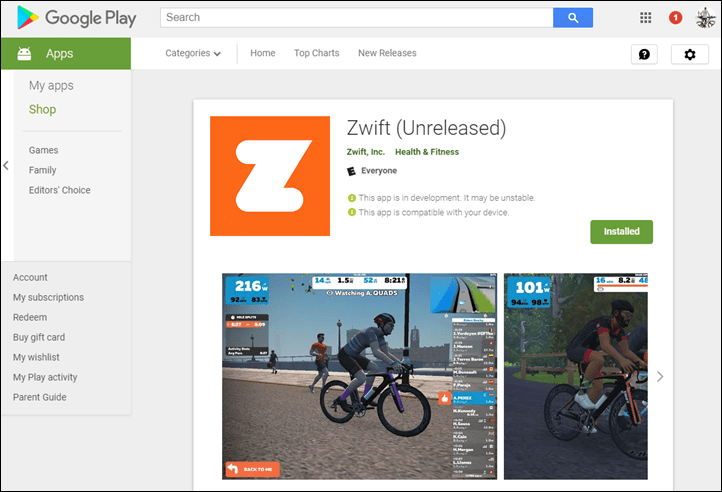 As a random tidbit, when I talked with Zwift's CEO Saturday afternoon about the Android bit, he noted that at that point in time the company had seen 4,000 downloads of the Android build in the first 48 hours.  I don't know whether to consider that high or low given Zwift's userbase (last year in September it was a bit over 100K).
Innsbruck Courses: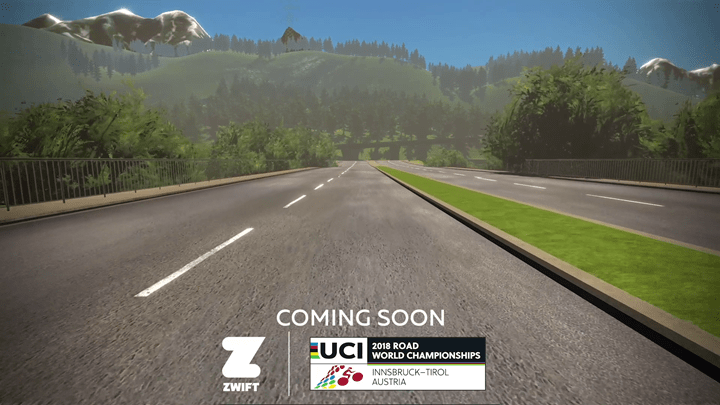 (Note: All in-game screenshots in these sections via Zwift)
As noted, there are two specific courses coming up, but each one is structured a little bit differently, and neither course has a ton of video/images available yet.  The first course up (both in my post and in real-life) is the Innsbruck course.  This course is modeled after the upcoming UCI Worlds Championship event to be held in September in said city.  Innsbruck sits nestled in the valley between mountains, where almost all routes lead to climbing pain.  Thus, the perfect place for a bike race.
Of course, Zwift is no stranger to UCI courses.  Everyone knows the existing UCI Richmond course is in Zwift, so this is essentially copying that model.  In the case of the Innsbruck course, it wouldn't make sense to replicate the entire set of courses.  There are different courses for men and women, and some of these routes start a long way out of town, as seen here on the Men's Elite course: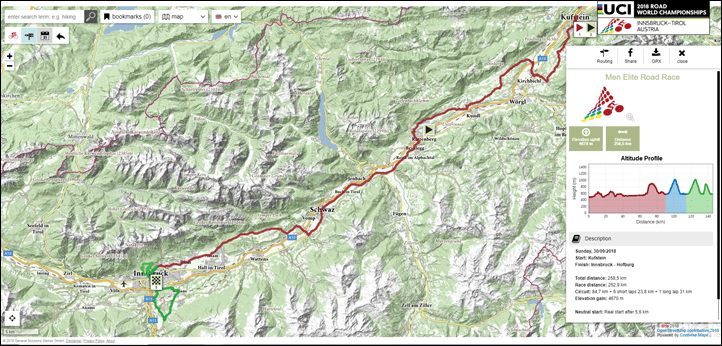 However, all bits of all the race variants include the 'Olympic Loop', which is a bit that goes through town and then up a large hill and back.  Everything in Blue is what Zwift is doing.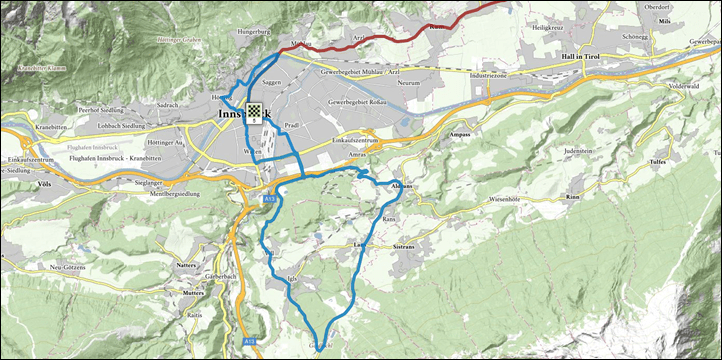 This specifically is the Women's Elite Road Race, minus the red part coming from out of town.  That first part isn't included in the Zwift course because…well…it'd probably be boring as a one-way effort.  Also, as an aside the crazy-steep section on the Men's Elite course isn't included either – thus, just the Women's Elite course seen above in blue. I've linked it here.
That is precisely the Zwift course being put together that's set to be released in 'late summer' (which basically means August, since the event itself is in September).  In talking to Zwift, they noted that when they go to create courses there's a bit of a scale for how realistic they are.  For example, Watopia (Zwift Island) is totally fictional, and thus all elements of it are make-believe.
Whereas the UCI Richmond course was meant to be super realistic, and people can see certain building/monument elements throughout the course that if they rode the real thing in real-life would match up. Obviously not every gas station and telephone pole is there – but the two match up.
Zwift says that when it comes to Austria, expect it to be closer to the UCI Richmond side – but not quite as period/geography specific as the Richmond course.  Meaning they're going to add in various graphical/structural elements to the course that won't really match in real-life.  I suspect this is probably more on the mountain loop portion where there isn't really a lot to see there with the exception of a few villages.  But we'll have to see.  You can see below in the distance the tower of the ski jump center at Innsbruck.  In the case of our ride of this course, this would have been going the opposite direction than we did, so it was at our backs while descending.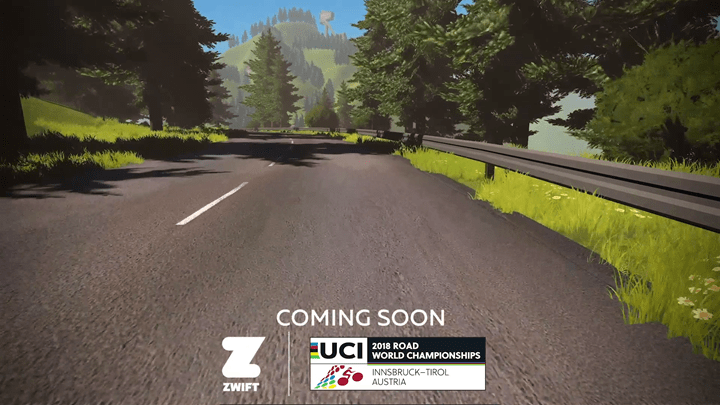 Zwift has released a small teaser reel.  And by small, I'm talking only 15 seconds between the Austrian and NYC courses.  That's it.  I've uploaded a higher resolution version below – but again, I'm warning you there's not much there.
So what's it like to ride the Innsbruck route from a terrain standpoint?  Well, on the way back from Eurobike, Shane Miller and I decided to take a detour and find out.  We arrived early afternoon on a weekday, which meant that it immediately became clear to us that doing the city portion of the event was going to be impossible – since in real-life the streets aren't closed down to miniature pelotons of two cyclists.  So instead, we focused on the mountainside loop instead.  I've circled it below: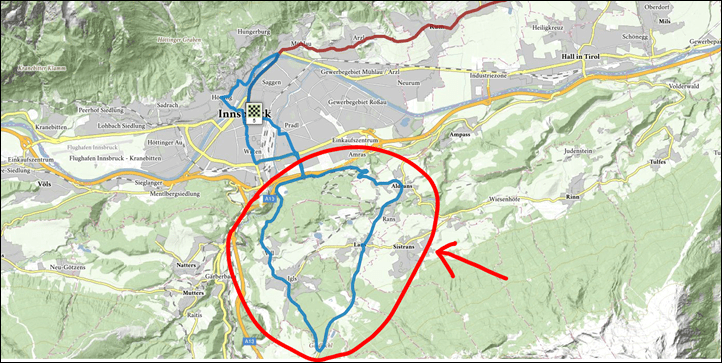 We parked the RV about a mile or so up the hill (and in fact, you can see it in the video wedged on a random turnoff), and got to work.  Here's the video we put together.  And by 'we', I mean Shane.  Well, technically the camera was on my bike – so the way I see it I did all the work in carrying that tremendous amount of weight.
As you can see, it's actually a relatively simple loop.  You go up, and then you come down.  The climbing isn't over the top, but it is consistent.  At a nice clip (doing it the day after we did the Stelvio), it took us about 27 or so minutes to get up, and then about 8-10 minutes to get back down again – including being stuck behind a city bus and other traffic for a portion of it.
It's a nice workout though – and I think would be perfect as a weekday after work workout with about 10-15 minutes of warm-up 'in the city' on the flats, and then hit up the climb for a loop.  Plus, the best part is you don't have to pedal on the way back down if you've got one of the fancier smart trainers that drives the wheel for ya. 🙂
The NYC Course: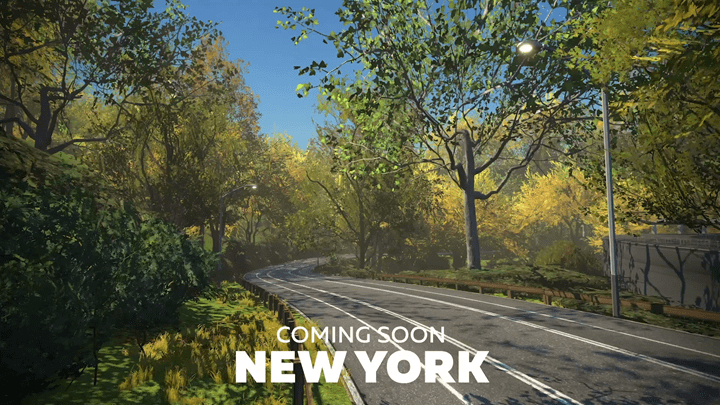 When it comes to the NYC course, details are much slimmer – in part because the release timeframe is also further out.  Officially this is slated as 'Fall 2018'.  My guess is we won't see it before October though, since UCI Worlds happens September 22nd-30th, 2018 – and it'd make no sense to launch that prior to then, since the attention would largely be on worlds.  Though, Interbike is the week prior – and that could be interesting for that setting.  But again, I'd suspect October sometime.
In any event, Zwift says the NYC course will definitely have Central Park in it as a key centerpiece, that's of course seen in the tidbits of clips that have been released.  But they noted that the Zwift course will extend beyond that.  They also noted that in the realism scale, this will be less realistic than the UCI courses in terms of the visual aspects around it.  Certainly some elements look very realistic in the screenshots (like the banners and exact road markings of that section in central park), but they plan to have a bit more artistic freedom beyond that.
Personally, this would be one of the few places I could actually imagine 'getting into' Zwift running.  At present, I just find Zwift running mostly boring (though, when I did it outside it was kinda fun).  But when it comes to running loops, the main NYC Central Park loop is among my favorites, especially because of the variances in terrain – and how close it is to 10KM – again, making it perfect for a weekday type quick workout.  But as you can expect, that simply isn't enough roadway for a cycling course – hence the company's plans to extend beyond that.
It'll be interesting to see where specifically they go.  There's lots of options depending on whether they want to make it more city-focused, or if they want to perhaps head out of Manhattan and go elsewhere.  I'd be surprised if we don't get more teasers along the way till release.
A Sidebar:
[Ok, this next section is a sidebar for industry stuffs, I didn't think it'd get as long as it did when I started typing it, so I moved it to the end.]
Lastly, Zwift did hold another annual summit of Zwift partners the night before Eurobike started. An off-site of sorts.  They talked about all sorts of trainer-like things, but alas everything at that event was under NDA – so I can't discuss it.
Interestingly enough though, a more open trainer event was held two nights later (with much the same players, except also other trainer software apps).  That one dove into how to better coordinate between software and hardware manufacturers and the need for some sort of industry alliance/organization to help the indoor training scene.  Things like firming up some standards, perhaps ways to coordinate so that trainer companies can have trainer apps notify users their firmware on their KICKR is 5 years old, and so on.
Both Shane Miller and I spoke briefly at both events.  Without speaking for Shane, I think I can summarize that we think there's tremendous upside to these organizations actually working together, especially to specify standards on a number of areas:
A) How trainer marketing specs are listed (e.g. grade, max wattages, what constitutes grade, etc…)
B) Specific usages of standards (e.g. not all FTMS or ANT+ implementations seem to be the same)
C) Having trainer firmware updates presented to the users (or at least notified) via their main app (i.e. Zwift, TrainerRoad, Rouvy, SufferFest, etc…)
D) What exactly constitutes a 'smart trainer' from a marketing standpoint (is one that doesn't control but does broadcast metrics like power or speed, still a 'smart trainer'?)
In our discussions, trainer companies were especially on-board with A&D above.  These would be most likely to benefit them from a sales standpoint, because it's most likely to push people into higher-end trainers to avoid disappointment. Disappointment in finding out the trainer they thought could simulate a 14% grade can't for their body weight, or disappointment that the $300 'smart trainer' doesn't change resistance.
They weren't seemingly opposed to B&C either, because that makes their lives easier. Trainer companies don't want to fight these battles for each app, and app companies don't want to fight them either.
Interesting times ahead for sure for trainers.  With this season having more trainers than ever on the cards having been announced, or to be announced, there's certainly demand for this kind of standardization and collaboration to expand – all of which will be good for end users in my opinion (as well as being beneficial for the companies themselves).
With that – thanks for reading!