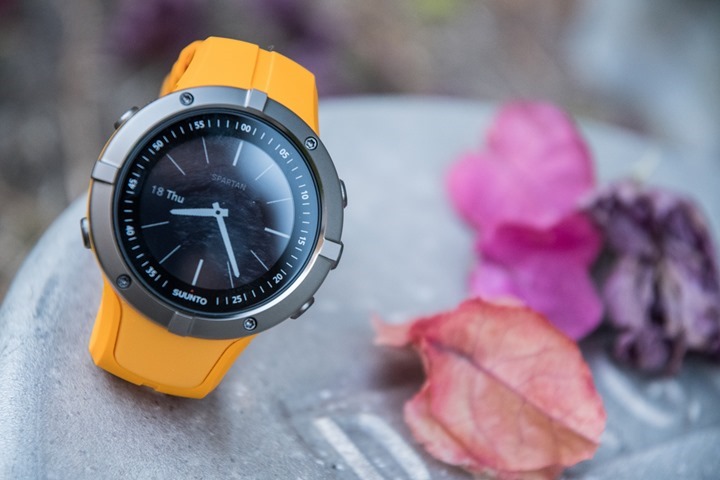 Over the last few days Suunto has announced another new device this year (beyond the Suunto 3 Fitness from CES), this time adding a further model to the Spartan series.  This new model is in many ways exactly like the previous models, except…well…it's barely different
But what's more interesting than this traffic-cone colored variant, is the changes they're rolling out to all existing Suunto Spartan users, including finally having both displayable and customizable heart rate zones, even per sport.  And while that by itself may sound relatively mundane (since most other platforms have had it for years), where they want to go next with it is more interesting.
First though, let's talk about that traffic cone.
Suunto Spartan Trainer Wrist HR Outdoor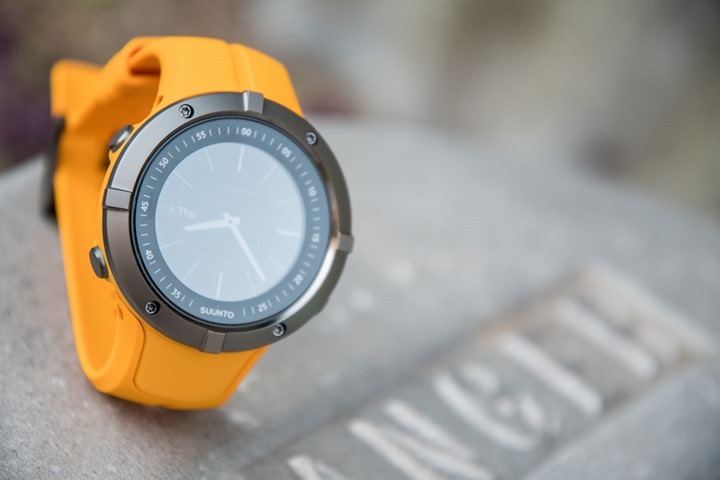 This new variant can be summed up in exactly one line:
They changed the name from 'Trainer' to 'Outdoor', and made it look slightly more outdoorsy.
How does one make something look more outdoorsy than the original Suunto Spartan Wrist HR Trainer you ask?  Simple:
– You add time tick marks to the outer edge of the display
– You add a steel bezel
– Which increases the weight slightly to 66g
– You slightly change the band material to be thicker
– You change the display to be legit glass, versus plastic
– Oh, and you increase the price, now $329USD/329EUR
To demonstrate this a bit, here's the two variants side by side, a non-premium version of the Spartan Trainer, and the more premium Spartan Trainer Outdoor: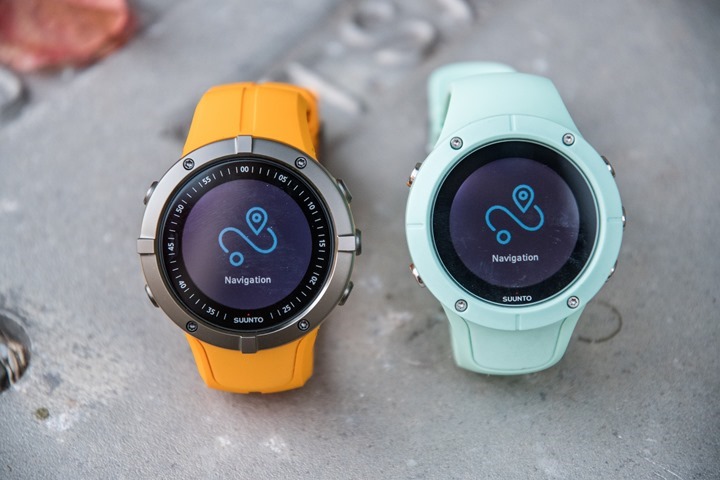 And because I shot a bunch of photos, here's some more close-ups of the new Outdoor variant. Let no photo go to waste.
As far as things like accuracy go, I haven't noticed any GPS issues within my recent runs and rides with it.  Nor have I noticed any changes to the existing optical HR sensor accuracy of the unit, which still maintains a Valencell sensor.  The unit is light and small enough still that it doesn't share some of the issues I saw with optical HR on the heavier 'Suunto Spartan Sport' series.
But talking about this unit would be remiss if I didn't state the elephant in the room: Suunto's naming has gotten out of hand.  It's confusing as fudge.
And I suspect it's starting to impact sales.  I suspect it's also starting to impact media coverage.  Even I was confused/struggling to figure out what the heck the difference was on this unit when I received it.  And other media outlets considering covering Suunto's products are likely in the same boat.
If we look at their Spartan series units, here's all the potential variants (which also ignores glass/band/etc variants):
Suunto Spartan Ultra
Suunto Spartan Sport
Suunto Spartan Sport Wrist HR
Suunto Spartan Sport Wrist HR/Baro
Suunto Spartan Trainer Wrist HR
Suunto Spartan Trainer Wrist HR Outdoors
I'd struggle to be able to give you the correct differences in terms of things like battery life and quirks between all those units.  Certainly a running shop person would be in the same boat.  Which isn't to say that Garmin's 'throw every model against the wall and hope it sticks' methodology is much better.  But at least the model numbers are different enough we can figure it out.  With the Spartan Series, it's become a game of the longer the name the less features it has.
And most of these changes are because Suunto is still differentiating units based on whether it includes a barometric altimeter or not.  The challenge is, tech has moved on.  In 2018 (and even 2017), the baseline is any device over about $150 or so will have a barometric altimeter.  Even $120 Fitbit units do.  That's because it's used for counting stairs, thus, it's included.  Just as optical HR sensors are now considered baseline for anything over about $150.
Variants like the 'Outdoor' shouldn't have a special name.  They should just be color options that you can select.  Garmin, Apple, and Fitbit all operate that way – and it makes it easier to figure out what is what.  By doing that and making barometric standard, Suunto would basically be back to 2-3 models – a manageable naming number.
And fear not, this news isn't new to them.  I delivered this same message in person during our CES chats.  And in their defense, they noted part of the challenge was clearing new model names for commercial viability globally.  Meaning, making sure they aren't infringing on someone else.  Which is fair, but also sidesteps when I'm saying: Stop adding more words to your model names.
Just my two cents.
Oh – and again, in case it wasn't clear above: I have no issues with the accuracy/etc of the new Outdoor version.  I love the existing $279 multisport Trainer variant, so if you want to spend another $50 to get a different looking unit – go forth – it's all the same software goodness inside.
The New Firmware: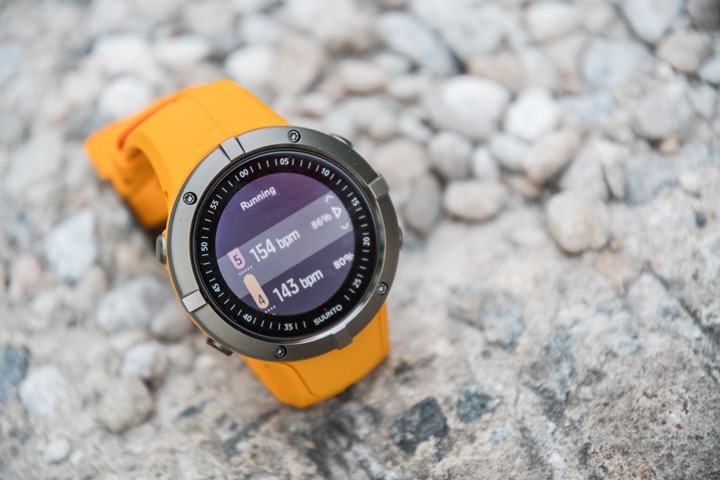 Speaking of that software, all Suunto owners should now have access to a new firmware version that brings heart rate zones to the unit.  This update started rolling out on January 18th, but should now be available to all Suunto Spartan owners as of January 22nd (yesterday or today, depending on your specific time zone).
The update allows you to define a single set of heart rate zones that's applicable across all sports.  You can then define custom zones for running or cycling.  All of which is set via the watch itself (Settings > Training > Intensity Zones ).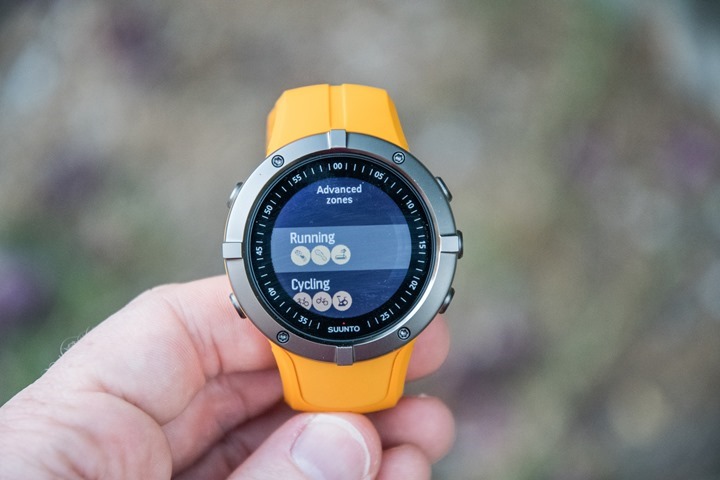 When looking at the custom zones for 'Running', that technically covers 'Running, Trail Running, Treadmill', and for 'Cycling', that technically covers the sports of 'Cycling, MTB, Indoor Cycling'.
I appreciate that you can set them on the watch itself, since many of the sport-specific settings on Suunto's watches have to be done via the website.  So this is a good change.  To adjust these zones you're basically setting the minimum of a given zone, and then it automatically adjusts the adjacent zone: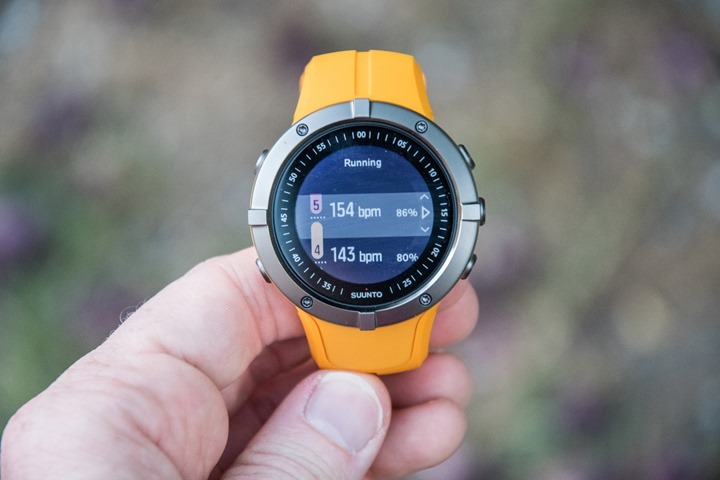 Suunto offers 5 specific zones, so if you use more zones than that, or a different naming scheme (I.e. Zone 4A/4B/etc…), then you're in a bit of a pickle.  Though I think you'll find that no one device out there is perfect for all the various training methodologies that exist.
While working out you can see your specific zone, which also shows a color-coded zone indicator.  And then afterwards in the activity summary you'll see a little chart of those same zones: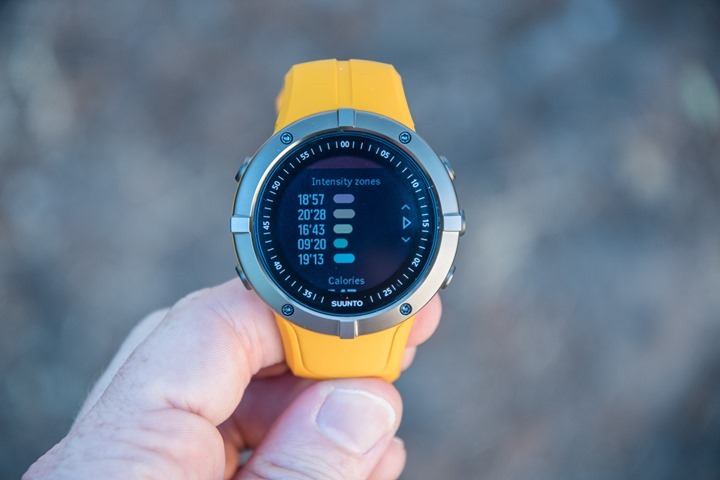 You'll find the same online as well in your activity summary: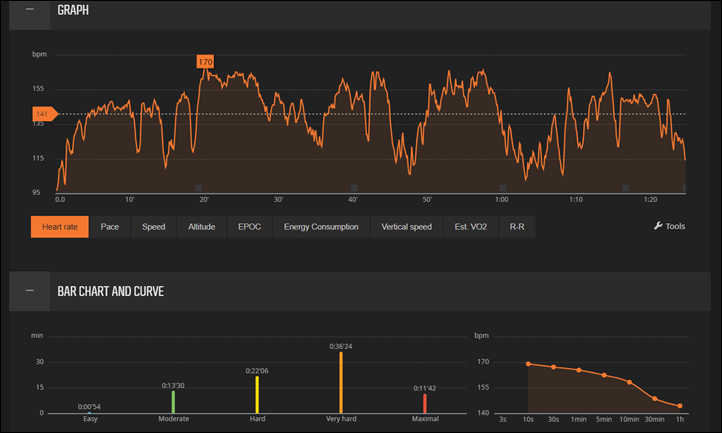 And that also carries through to your dashboard view (see right side):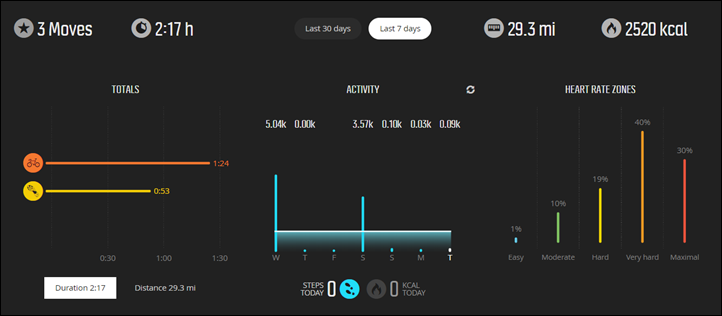 Of course, in many ways (all ways), this is playing catch-up with what others already have done for a long-long time.  But Suunto's goal is twofold here.  First, they want to start expanding the zones beyond just these two bike/run modes.  And that's something that most of their competitors don't support either.  So if you can define a different zone for Cross Country skiing or Yoga, that would be largely unique within the Suunto realm.
Additionally, they see this as a precursor to defining areas such as power zones, including for running (running power).  As most know, running with power today is tricky because it's treated as the red-headed step-child in terms of power zones, whereby most devices can't handle/display anything like that.  So that too would be quite unique if implemented natively.
Finally, beyond that, the firmware update fixes Thai fonts in Android notifications, along with fixing some bugs related to paired heart rate sensors at startup, mobile app connectivity bugs, and some undefined bugs were squished.
With that – go forth and get your update and report back below.  Thanks for reading!