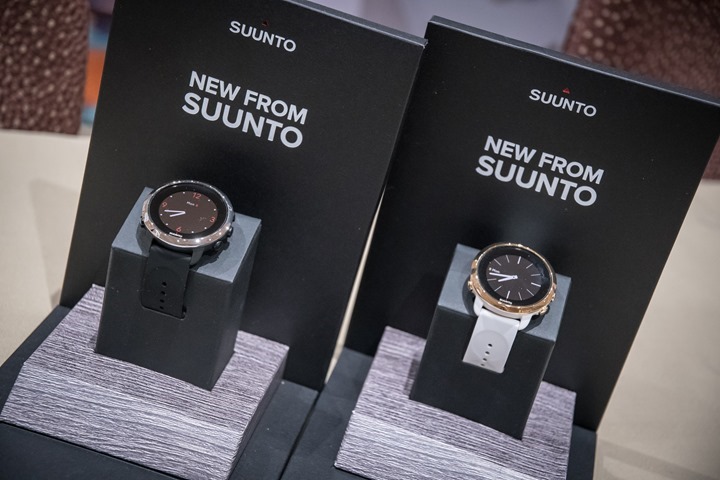 Today, on the eve of CES opening its doors, Suunto cracked the lid on their latest watch, the Suunto 3 Fitness.  These small and incredibly lightweight watches are somewhat aimed to compete with the likes of Polar's M430 watches, as well as Garmin's Vivomove HR series, and Fitbit's Blaze.
The main difference though to past Suunto watches? The Suunto 3 Fitness doesn't have GPS, but does have a very competitive price tag ,given it's more fancy looks. The watches will retail for $199, with some color variants costing $229 (USD or EUR).
Now, while they had them on hand at a media event, the units are still fairly beta, so some features couldn't fully be shown. And, since it was indoors sitting atop a glorified card table – it's hard to really run through anything in any meaningful detail.  Still, I'll quickly whip through what's new here.
Keep in mind that this is probably one of the least detailed product announcements we'll see this week.  Many questions ended with answers that roughly translated to "To be announced".  Thus, you might not get all the answers you want on the product quite yet.
The Details: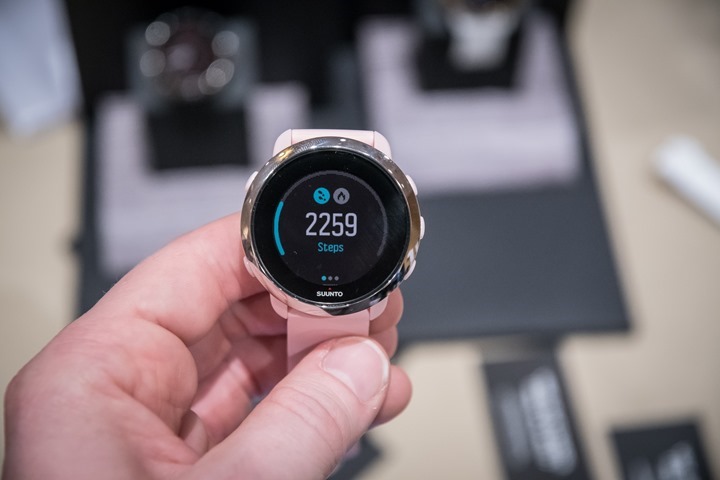 Before I dive into everything, if you want this whole post delivered in just under four minutes, complete with a walk-through of the user interface, then this video's for you!  It's my one-shot wonder, as efficient as a DCR Video Production™ gets!
Next, let's talk about what we do know about the Suunto 3 Fitness (or more accurately: What they're willing to tell us).  Here's the highlights of new things:
Price: $199-$229
Release Date: Spring 2018
Weight: Really damn light
New Feature: Sleep Quality metrics
New Feature: Intensity-based guided workouts (automated)
New Feature: HR zone focus for workouts
New Feature: VO2Max Estimator
Battery: Suunto isn't ready to disclose this yet
I realize this is a bit thin, but hey, it's all I've got to work with (all they're willing to say).  For the weight, they aren't ready to give a precise final weight yet, and I didn't bring a scale with me this evening.  However, I did have a FR645 with me, and it's without question lighter than that (which is 42g).  Easily the lightest watch Suunto has ever made.  My guess would be about 30g, give or take.  But again, it's just a sleep-deprived guess.
The price range is dependent on which color models you pick.  Some of them are more pricey at $229 (like the copper/gold bezel one), whereas the base is at $199.  All in there's a few variants: Aqua with silver bezel, White with gold bezel, pink with silver bezel, black with silver bezel, and black with black bezel.

The key focus of this watch as told by Suunto folks is on intensity based workouts, which are guided workouts aimed at increasing your fitness level (which is judged in this case based on your VO2Max).  That explains why the new VO2Max estimator plays such as prominent role here.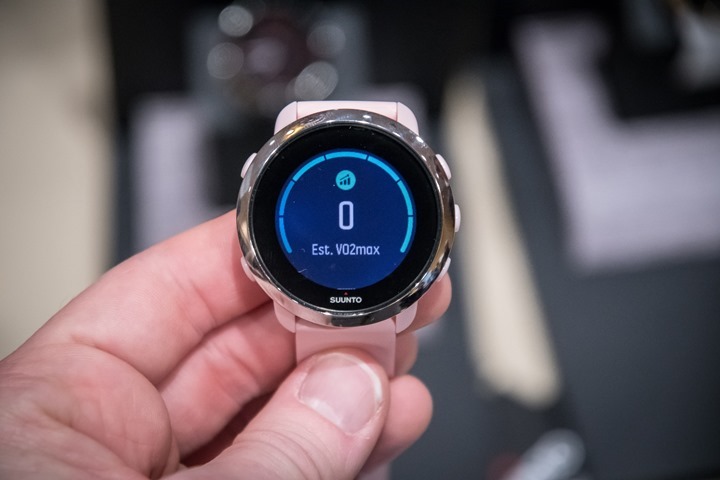 You'll see the planned workouts show up in a calendar-like view on the watch, allowing you to see what pain is coming in the days ahead.  If a workout is scheduled for today, then it shows up within the given sport profile.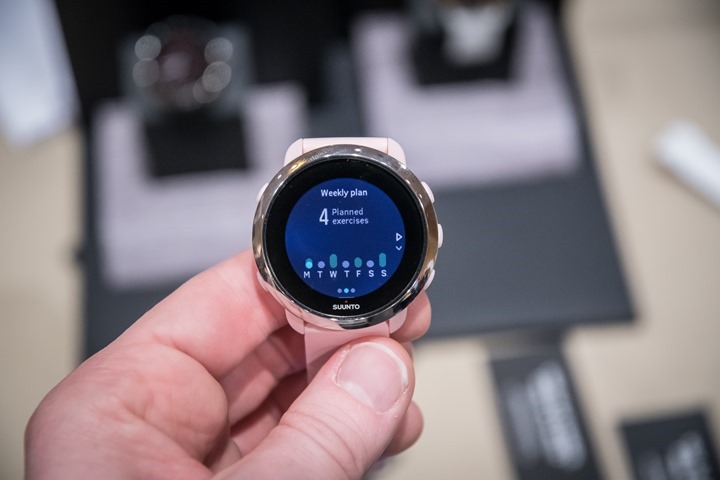 Speaking of which, the unit is clearly aimed at runners and not so much multisport athletes.  It has an optical HR sensor in it (from Valencell), and it can connect to external HR straps.  But Suunto isn't ready to specify if it'll connect to cycling sensors (like a speed/cadence sensor).  It's a safe bet it won't connect to power meters though.  From a sport perspective it seemed to have numerous sports listed, including swimming.  But it wasn't clear if that swimming profile will also track distance/pace/laps, or just a time placeholder.
Note that of course without the GPS piece, if the watch didn't support sensors during cycling, it probably wouldn't be terribly useful except for tracking time.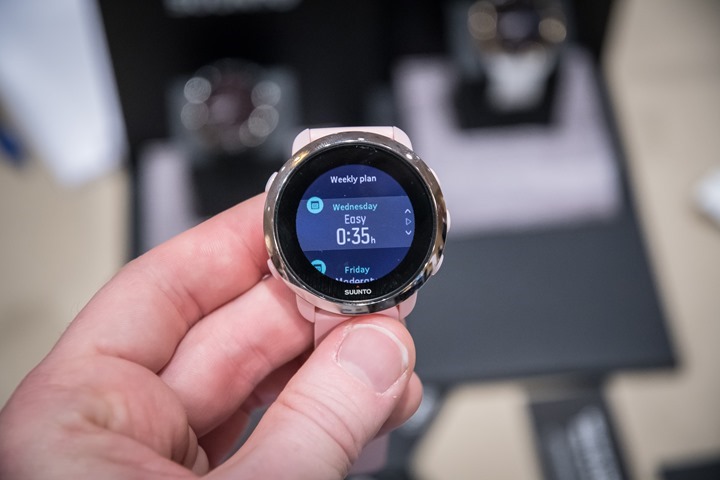 Ultimately though, it's still a Suunto Spartan series watch from a feature standpoint (sans-GPS).  So all the common features you'd expect like activity tracking (steps/sleep), as well as interaction with mobile phones, and of course historical sport stats are all there.  And Suunto says there's quite a bit more phone-based integration coming down the pipe that they'll detail in the future.
The real question is whether the exclusion of GPS is the right choice here.  I think had there been GPS, this would have been a killer unit, meant to easily compete with the Polar M430, Garmin Vivoactive HR (and Vivoactive 3), and easily Fitbit Ionic. But without it, it ends up in kinda a weird competitive landscape competing against mostly non-fitness variants (since most fitness variants have GPS these days).  It might work, but not as well as if it had GPS in it.
Wrap-Up: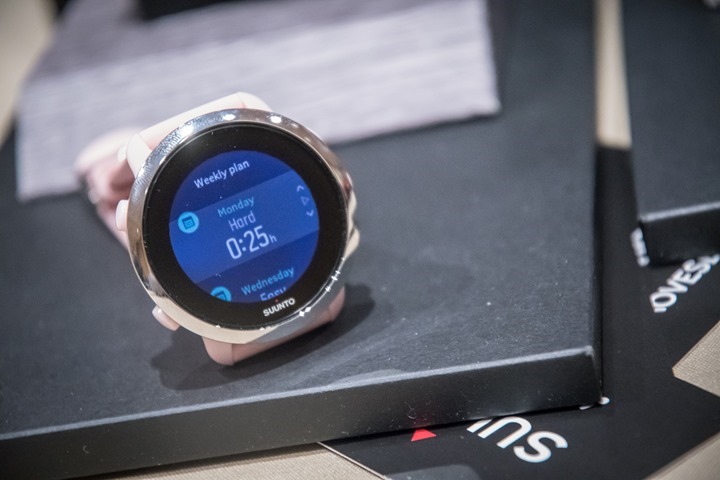 GPS inclusion aside, I think the Suunto 3 Fitness shows Suunto is really getting a good grasp on what product areas might best play to their strengths, in much the same way that they nailed the Suunto Spartan Trainer Wrist HR product last summer.  And which strengths would those be precisely? Making lower material cost devices that pack higher software value into them.
With it becoming harder and harder to compete with Garmin on features at the higher end (I.e. Fenix 5/FR935), Suunto appears to be turning to delivering less expensive options from a hardware standpoint at the mid-range, but that still pack in almost all the software features of their higher end watches.  The previously released Spartan Trainer has plainly shown that.  And more importantly than getting 'just customers' with these new models, is getting 'happy customers'. People who believe (correctly) that they're getting incredible value for their money.  The question becomes will the Suunto 3 Fitness be able to achieve that without GPS.
I'd wager the more stylish design and super lightweight design will definitely appeal to people who want a smartwatch, but don't necessarily care about GPS (similar to Garmin's Vivomove HR series, but with far more features).
Next though, as with any product on a multi-month release plan, the hard part now is delivering on that.  Though, given much of the base for the product already exists, I don't see this being too outlandish.  It's just a matter of cleaning up some of the new features, and then pushing it out the door.  Easy, right?
With that – thanks for reading!
Update April 2018 – here's an unboxing gallery to enjoy!  My In-Depth Review will release later in April, as it nears shipping.
Found This Post Useful? Support The Site!
Hopefully you found this review useful. At the end of the day, I'm an athlete just like you looking for the most detail possible on a new purchase – so my review is written from the standpoint of how I used the device. The reviews generally take a lot of hours to put together, so it's a fair bit of work (and labor of love). As you probably noticed by looking below, I also take time to answer all the questions posted in the comments – and there's quite a bit of detail in there as well.
If you're shopping for the Suunto 3 Fitness or any other accessory items, please consider using the affiliate links below! As an Amazon Associate I earn from qualifying purchases. It doesn't cost you anything extra, but your purchases help support this website a lot. Even more, if you use Backcountry.com or Competitive Cyclist with coupon code DCRAINMAKER, first time users save 15% on applicable products! Or, with TPC (The Pro's Closet), you'll save $40 on purchases over $200 with coupon code DCRAIN40!
And finally, here's a handy list of accessories that work well with the Suunto watches. Given the unit pairs with standard Bluetooth Smart sensors, you can use just about anything though. I'd recommend the Garmin bike sensors over the Wahoo ones, merely because the Garmin have two concurrent Bluetooth channels versus one for the Wahoo RPM/SPEED sensors.
And of course – you can always sign-up to be a DCR Supporter! That gets you an ad-free DCR, access to the DCR Quarantine Corner video series packed with behind the scenes tidbits...and it also makes you awesome. And being awesome is what it's all about!
Thanks for reading! And as always, feel free to post comments or questions in the comments section below, I'll be happy to try and answer them as quickly as possible. And lastly, if you felt this review was useful – I always appreciate feedback in the comments below. Thanks!