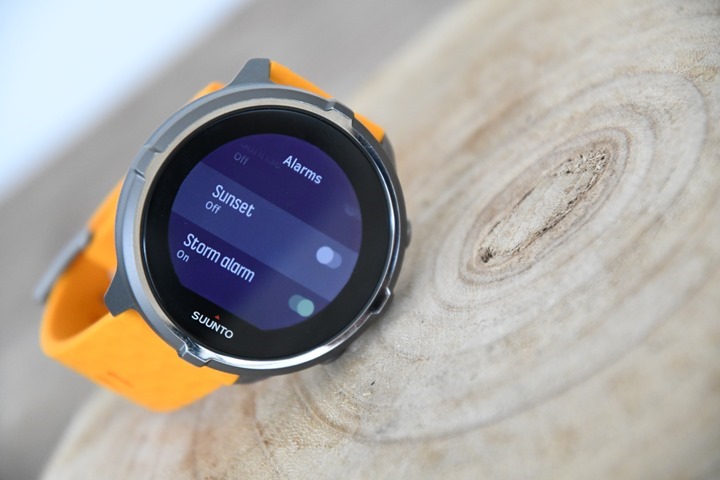 Just under a month ago, when Suunto announced the new barometric altimeter equipped Suunto Spartan Sport Wrist HR Baro (yes, that's really the name), it also hinted at some upcoming firmware updates.  Some of these were casually referenced within the release of the Baro, while others were just left to your imagination. Now though, Suunto has unwrapped the full list of what's new in a packed firmware update that starts rolling out today to all Suunto Spartan Units.
But in addition to all that, you can now build your own Suunto watch using various parts/bands.  It's sorta like a build a bear workshop, except with the bear being an expensive GPS watch.  Also, it's not soft and cuddly.
Building your own Suunto:
Suunto's now rolled the ability for you to build out your own watch, selecting everything from the buttons to the strap.  All of which they'll happily do up in whatever colors you want.  Here's how it works.  First, you start by picking a compatible product: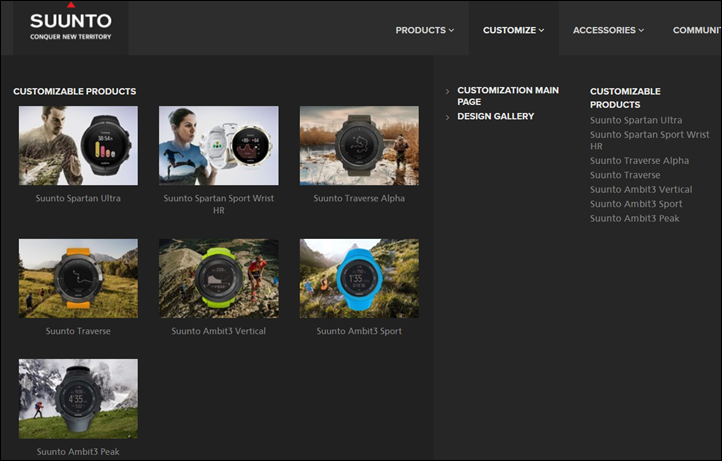 For the fun of it, I selected the Spartan Ultra.  After all, go big or go home!  Once you do so, you're brought to a page with a ton of options.  You'll note on the left side are all the things you can customize, and the right side are the color/material options for that specific component.  I started off with tweaking the buttons and making them copper.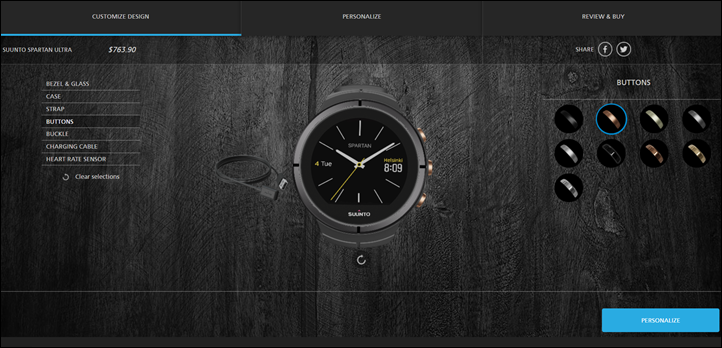 Then I went back to the glass and selected Sapphire glass for the display, and copper for the upper bezel.  That set me back another $70.
Then I changed the strap to white.  At present, the strap options are somewhat limited to just being colors.  That'll change soon I'm told.  I also changed the case (basically the backing) to white too, just cause.  None of these pieces cost anything extra.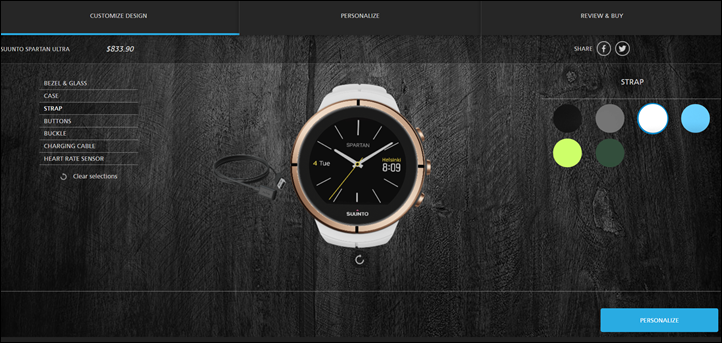 Then I changed the buckle (on/of the strap) to copper, to match everything else.  That was also free.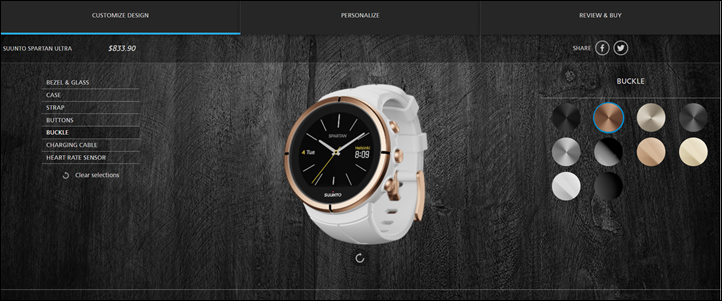 In case you're wondering at this point, here's the simplified version of the things that currently cost money to add/change.  Ones without a price are free, as are the various color changes for the bands/case.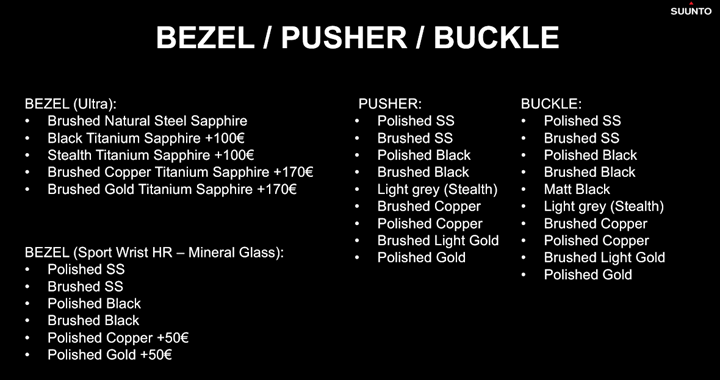 Next was an important decision, but obviously, I changed the charging cable to match the case.  Can't have any sort of fashion incident here.  Regrettably they don't have things like orange charging cables, else I'd have gone back and made an orange watch.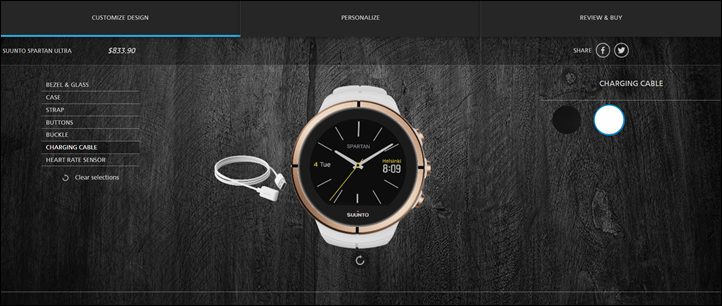 They do however have the hideously ugly lime green heart rate strap you can add to it.  Which I did, for $50.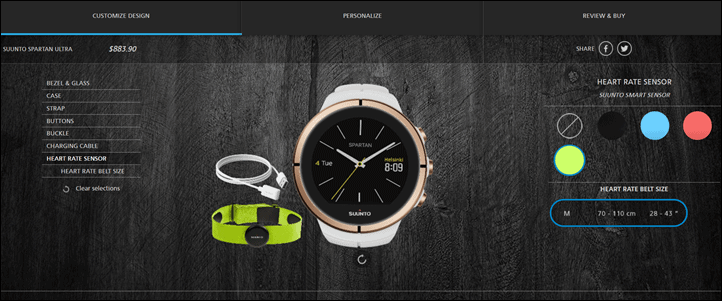 And then the holy balls moment, I can customize the back of the unit: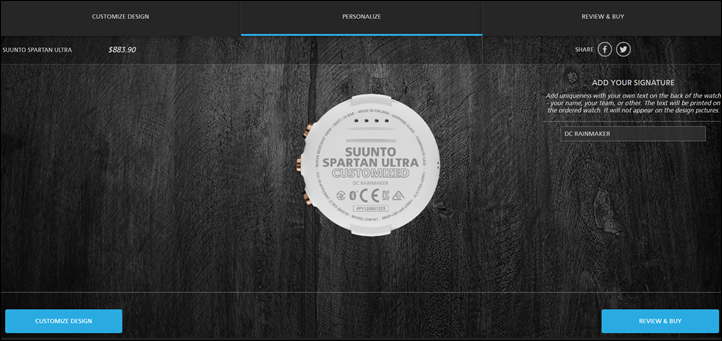 Ok, that can be hard to see, let me zoom in: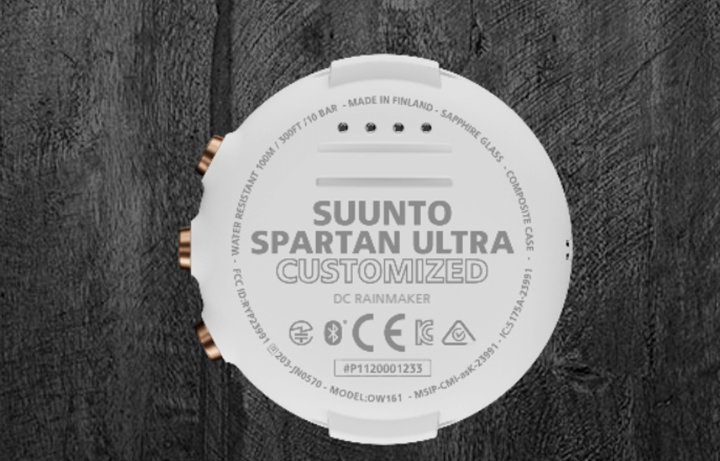 Suunto isn't actually the first company to allow customization of the back of the unit.  Quarq did so with their Qollector, and indeed when I ordered one later on I customized it for free
Once all that's said and done it shows me a purchase page and says a delivery time of 5-10 days.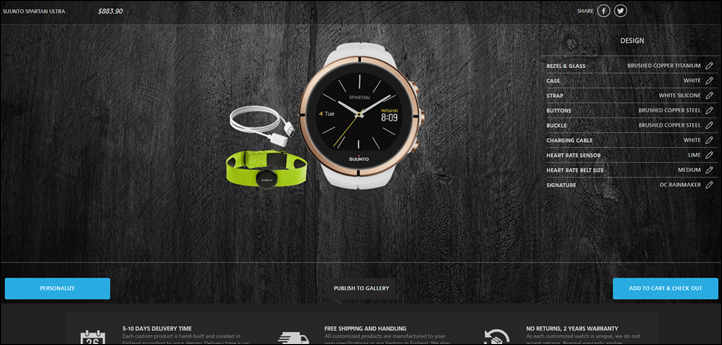 In other words: Dude, you're getting' a Dell Suunto!

In seriousness, this is neat stuff, and is definitely going to be appealing for those that want a specific look on their unit and don't mind waiting a few extra days for it.  Do note however that at the very bottom it says 'No returns', but that the normal warranty applies.
The Firmware Update:
Here's the quick listing of what ya need to know, with some of my comments after each one, start off with some new data fields that you can add.
New Data fields: Interval average pace, vertical speed, run counter (skiing and snowboarding), estimated time to POI, estimated time to route end, % of max HR, Sunrise and Sunset
Most of the above are pretty standard on other watches, though, what's really interesting is the 'run counter' item.  As noted there, that's for skiing and snowboarding.  So yup, your Spartan will now count skiing runs (and probably could also be used to count downhill mountain biking runs as well).   Which, is a good time to talk about skiing…
New skiing/snowboarding focused data fields:
These include downhill distance, grade, speed in both current run and total in day variants. And in summary mode: Total run count, total downhill distance, total downhill descent, longest run distance, average sped and max speed, and total downhill duration.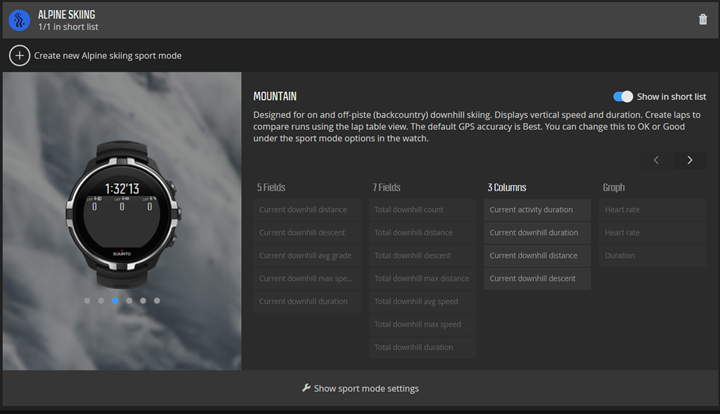 These new fields are available for any of the snowy related sport fields: Alpine skiing, snowboarding, and telemark skiing.
The thinking here is much like we saw Garmin roll out a while back with their ski mode, which figures out when you're descending and when you're going up a chairlift.  It's something I use a ton when I'm skiing, as it's generally surprisingly dependable and handy.  It's a bit early in the ski season to get some testing in (except for my brother, who I saw was hiking this weekend to the tops of ski areas to get in some early turns), but it's definitely something I'll do once I find snow and operating chairlifts.
Extended Sleep Tracking: Added sleep summary, 7 days sleep history, 7 days sleep HR average (for optical HR units)
We saw Suunto wander into the sleep realm a bit earlier this year with some firmware updates, but the functionality was fairly limited.  In many ways, it's still kinda limited compared to most activity trackers, but this hits the core requirements for what most people are looking at (the last week's worth).
Note that this data is still kept only on the watch, and isn't enumerated anywhere yet online or via the app.  Hopefully, we'll see that soon.  And of course, also note that the heart rate tracking is only for the optical-HR enabled models.
Navigation Updates: A bunch of new notifications
Suunto has added a smattering of new waypoint and point of interest (POI) focused changes.  These are primarily around navigating to a waypoint/POI, and specifically include:
– Waypoint and POI approach notification in route navigation (based on distance/proximity)

– Estimated time of arrival (ETA) or en route (ETE) added to POI navigation (in POI view)

– Notification showing ETE to next waypoint or POI on route has been added to route navigation
All of which will make it easier to know when you've reached your POI, as well as to determine how long or hopelessly lost you are in search of your POI.
New Watch Face: Shows moon phases, sunrise/sunset, and battery %
Here ya go, this is what it looks like: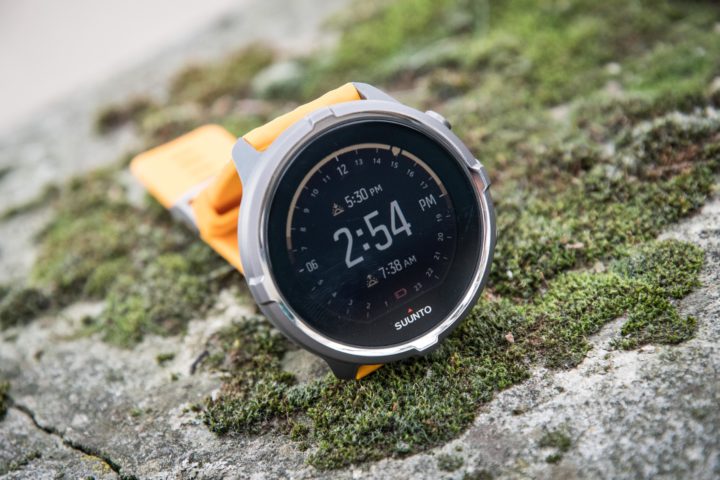 I'm still hoping we'll see Suunto add the ability to do some basic picture-focused watch faces, whereby I can take a picture from my camera roll and make it a watch face.  This would seem to play well into their hands of having a higher quality screen.
New Alarms and Timers: Sunrise/Sunset alarms, as well as Storm Alarm and Countdown Timer
These fall into the camp of bringing things back from the Ambit series, all of which were present previously either natively or with apps on that platform (since Spartan doesn't have apps).  Note that the storm alarm is only available on units with a barometric altimeter (Spartan Ultra, Spartan Sport Baro).  Whereas the Sunrise/Sunset alarms and countdown timer are for all units.
New Languages: Turkish is available on all models, Thai on region-specific models, and notifications can now be shown in Hebrew.
Regrettably, I speak none of these languages, thus, I have no further items to add here on this one.
And a huge pile of bug fixes and tweaks:
Finally, a large bundle of bug fixes and performance improvements.  I'm just going to copy and paste this big list here, because that's probably the most valuable way to do it:
HR belt connection reliability: addressing instances of HR belt losing connection and not re-connecting during activity
Now see power with Stryd also when paired as a foot POD
Ascent/descent calculation fixes
Bug fix for when GPS fix is lost while in 'Good' mode, but reconnected with 'Best' mode. Now returns to 'Good' mode as it should.
Watch usability enhancements: additional options in shortcut menus
Following software update, settings and sleep data are saved
Do not disturb mode enhancements
Failing sync scenarios fixed
Navigation usability improvements
Localization fixes
Notification reliability improvements
POD auto calibration can be disabled now in POD settings
Stability improvements
Phew, got all that?  Good.
I do want to call out this one specifically "power with Stryd also when paired as a foot POD"
This is a biggie in some circles, as previously in the Ambit series you could do this, but that functionality was lost in the Spartan series.  Now it's back, which makes things a little bit cleaner when running with Stryd and whereby you also have another power meter on your bike.  That's because until now you had to choose one or the other.  So if you were doing an Ironman race, you actually couldn't get power data on both the run and the bike, you had to decide which one was more valuable.
Okey doke – all-in a pretty solid update from the company.  Certainly many of the software updates are more catch-up to what they had previously, but still, they're appreciated and ultimately help to make the Suunto Spartan series more competitive.
I do think the customization thing is a good example of thinking outside the box.  We've seen Suunto mostly 'follow' for the last few years in terms of industry competitiveness.  Whereas this is really a good example of them doing something nobody else has done with respect to the major fitness players, and doing a pretty darn cool job of it.
With that – thanks for reading!