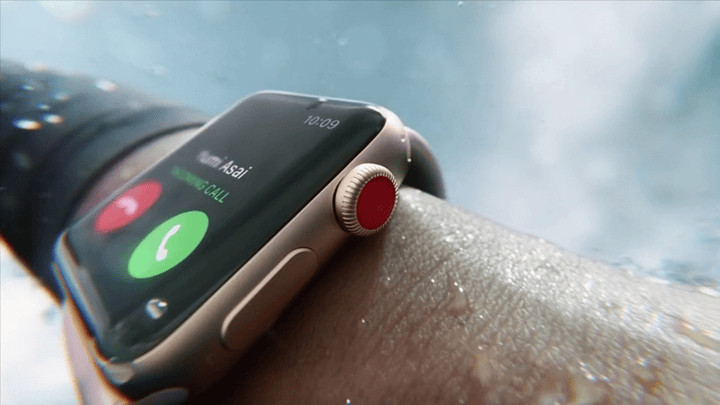 Today Apple announced their 3rd generation Apple Watch, simply named Apple Watch Series 3.  This new watch is nearly identical in form factor to their 1st and 2nd generation Apple Watch, but now packs in cellular capabilities as well as a far faster processor.
Alongside that, Apple formalized changes coming in their watch operating system (WatchOS), which include new sports features like interval support as well as more general health updates like resting HR tracking/trending, and medical-aligned items like high heart rate notification.
While I don't yet have a unit on my wrist (soon…very soon), I figured I'd run through the changes quickly and leave this post as a bit of placeholder for discussion until my full in-depth review in likely the near future.
Apple Watch Series 3 with Cellular: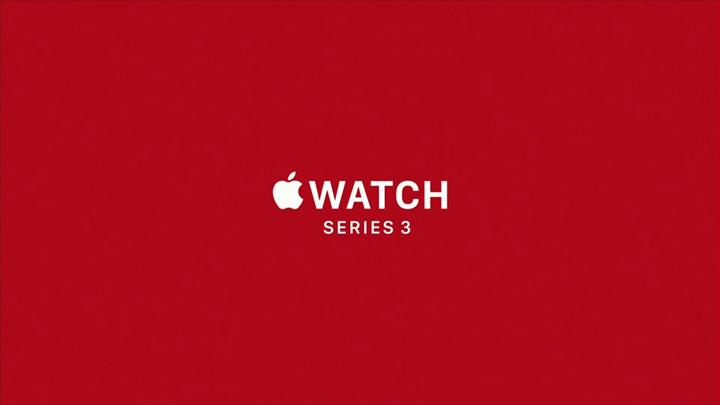 First, let's start with the hardware, and then we'll dive into some of the software changes that take advantage of that.  From the outside, the new Apple Watch Series 3 is identical in outer casing, but does increase the back depth by .25mm (yes, a quarter of a millimeter).  Apple says that's the thickness of two sheets of paper.  I'll take their word on that one, but if you want.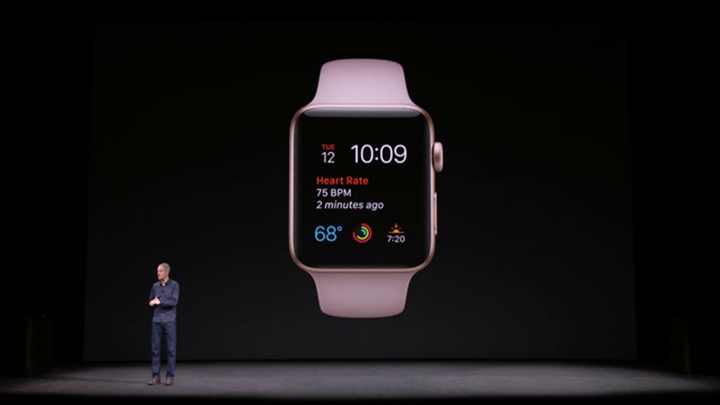 However, internally things are swapped around a bit.  They've gone with a dual core processor that increases performance by 70%.  Additionally, they've added in WiFi on a new combined WiFi/Bluetooth chipset they're calling the W2.  They say this is making WiFi 85 percent faster and WiFi/Bluetooth 50 percent more power efficient.
Further, the Series 3 unit now has a barometric altimeter in it.  This is being used for things like stair flight tracking, as well as down the road with apps for skiing and snowboarding.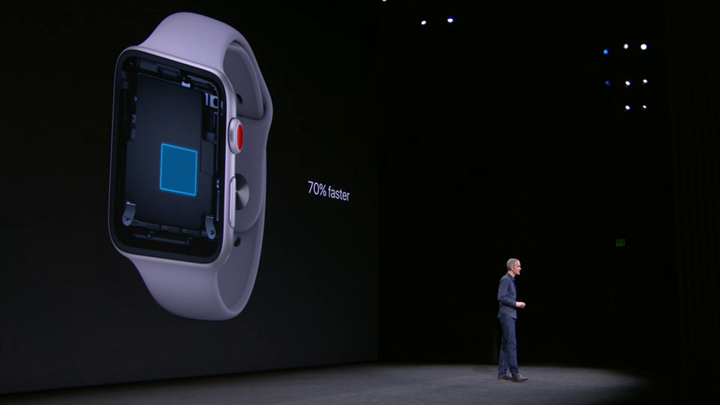 But of course – the main event here is the cellular capabilities.  Rather than putting in a physical sim card, which would take up too much space, they went with an electronic SIM (eSIM), which is a SIM card without the physical card part.  Meanwhile, the antenna for the watch is the front of the display.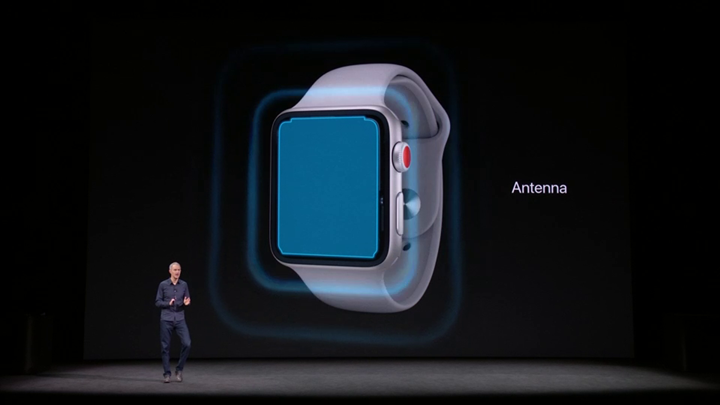 Of course with a SIM card (of any type), you get a phone number.  That's true today of Android Wear watches and any number of other SIM-based devices you may have in your life today.  But what's mostly unique here is that with their eSIM, your phone number is shared with your phone.  Thus you have one single phone number no matter where you are.
With that phone number you can take a call directly on the watch itself without any phone nearby.  The watch includes both a speaker and microphone.  To demonstrate this they had an employee stand-up paddle boarding out on a lake and took the phone call live using her watch.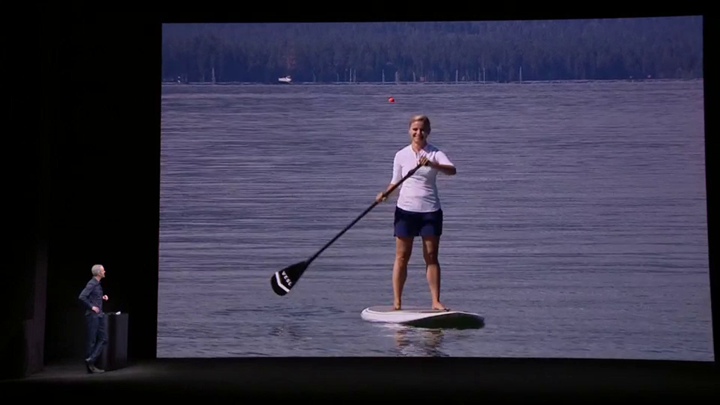 It was a great demonstration of the technology, and the call quality sounded like…well…cellular.  They had a live camera feed zoomed in on her and you could see that as her paddle (and thus wrist) went further from her mouth the audio would fade slightly as expected.  But still quite audible.
Of course, Apple is hardly the first company to put cellular capabilities in a watch.  There are countless examples prior to this, including Android Wear devices, Timex, and even Bia back in the day.  But without question this is the cleanest looking implementation.  As Apple themselves said, most of the existing solutions: "Looks like a house arrest bracelet, and you're not going to want to wear it."
Which, was/is true.  That was likely the leading cause of device death of the older Timex One+ GPS.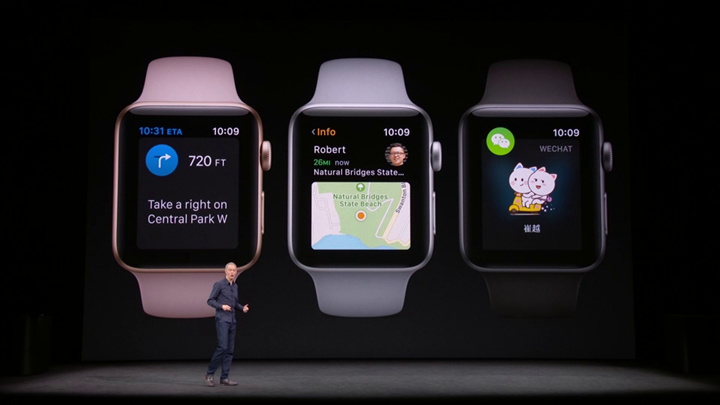 With the cellular functionality you'll get a bunch of features that would typically require a phone attached, but sans-phone.  For example:
– You can display and get routing on maps live
– 3rd party apps can take advantage of cellular
– Apple Music will be able to stream songs to the watch
– 'Find my Friend' will automatically update based on your watch location (like out for a run)
– Siri can now respond back on the watch
All of these are specific to the cellular functionality within the Apple Watch Series 3 cellular variant.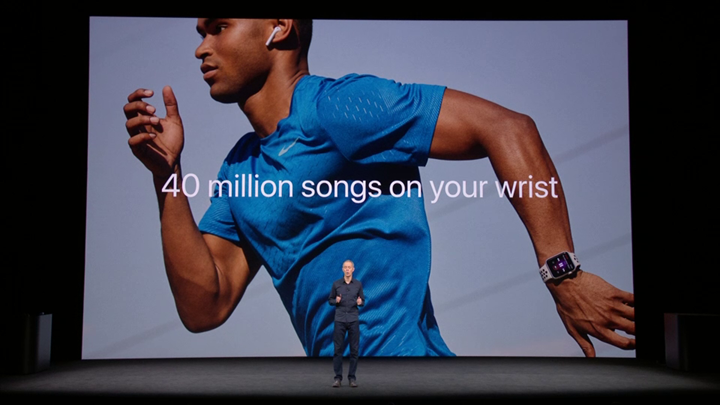 But there are actually two versions of Apple Watch Series 3: Cellular and non-cellular.
The cellular version will set you back $399 (same as Series 2, sans-cellular), and the non-cellular version will set you back $329.  Interestingly though, the cellular version appears to take a solid whack in battery life, as Apple noted only "18 hours with LTE enabled", compared to what is normally accepted at 36-48 hours today for the Apple Watch without cellular.  So we'll have to see if perhaps this is more variable based on actual usage if you also have a phone nearby.
Apple is also releasing a bunch of new colors/finishes, new bands, and new watch faces.  That includes new variants from Nike as well.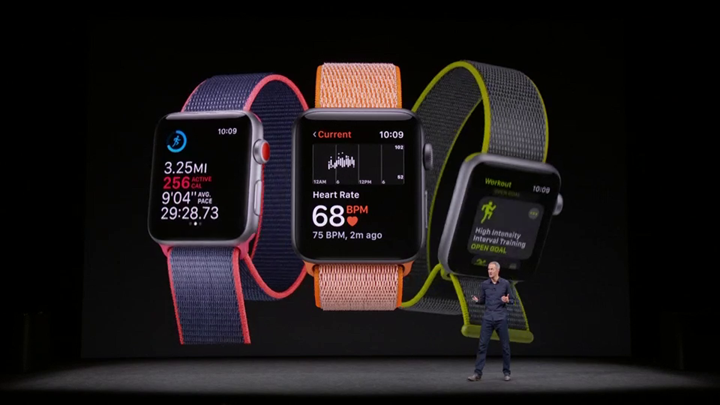 You'll be able to order Apple Watch Series 3 on September 15th for delivery on September 22nd.  Cellular capabilities will be limited initially to the below countries/carriers: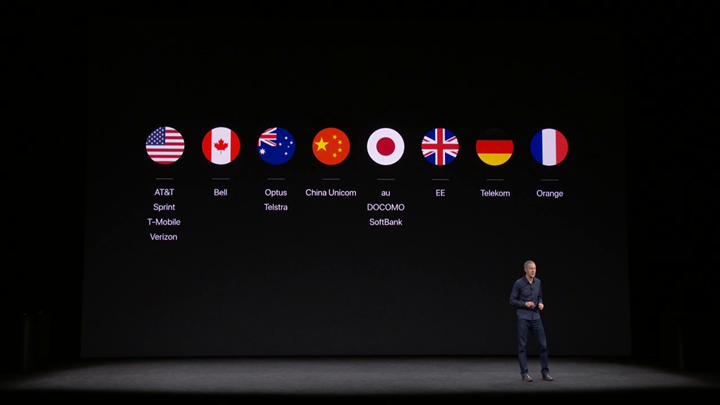 Oh, and while we're at it – they'll be dropping the price of Apple Watch Series 1 to $249, or roughly the price you'd find it on sale much of the time.
General WatchOS 4 Updates: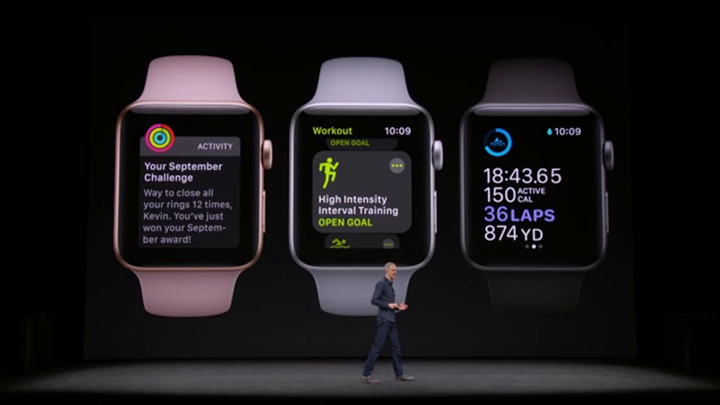 Earlier this summer Apple announced WatchOS 4, which is applied to all existing Apple Watch units, not just new watches.  There's a bunch of fitness and health focused things in there, alongside boatloads of non-fitness things.  For examples of non-fitness things, I'd start at this video.
Meanwhile, here's a quick summary of fitness items that Apple highlighted:
– Smart activity coaching: This is aimed at helping you hit various daily goals (rings in Apple parlance).  Smart coaching is, of course, all the rage these days.
– Redesigned workout app: High interval training is now highlighted here, an area that Apple previously lacked
– New features for swimmers: Lap sets are now recognized, versus previously being just one gigantic set.
– GymKit: Allows Apple Watch to pair with a piece of gym equipment and count reps automatically.  This is different than what we've seen from ANT+ & Bluetooth Smart for similar functionality.
– Addition of Resting Heart Rate: It'll now track resting heart rate throughout the day.  Readers know I'm a big fan of using RHR to predict excess fatigue and incoming sickness.
– Addition of Recovery HR: This is shown within the HR page depicting your HR as your recovery (time and HR range)
– Addition of daily HR graph: Pretty straightforward, and something long seen on other company's devices.
– Addition of HR on main watch face: This will show as soon as you raise your wrist, again, something we've seen before for years elsewhere, so good to see here.
Finally, Apple also announced work in the medical focused realm with detection of excessively high heart rates while at rest.  The unit will now notify you when it detects an abnormally high heart rate when not active (at rest).  This is something that other members of my extended family have been looking for, for years, and could be hugely impactful to certain individuals.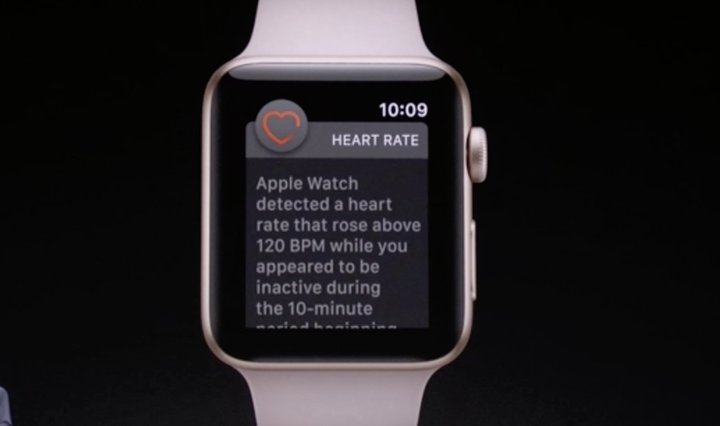 Further, the company has announced a study, Apple Heart Study, with Stanford and the FDA that's focused on atrial fibrillation, which they believe they can now detect.  In many ways this type of work is similar to what we're seeing with what Fitbit is talking about as well.  But keep in mind it's one thing to collect data for a study, and a totally different thing to become a certified medical device.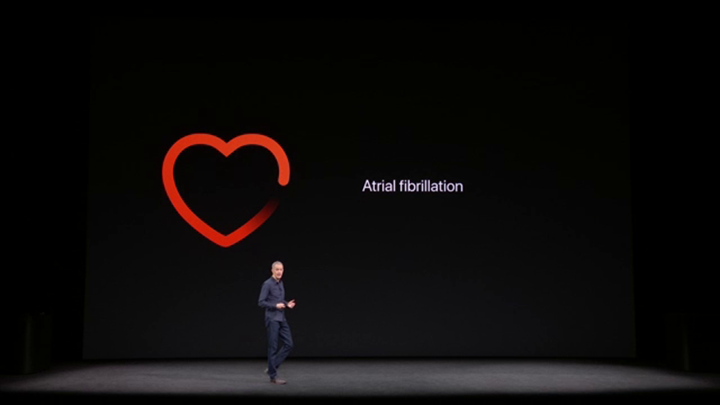 Medical pieces aside, all of the Apple WatchOS 4 changes will be available to all Apple Watch units on September 19th, regardless of which Apple Watch you're on.
Wrap-up: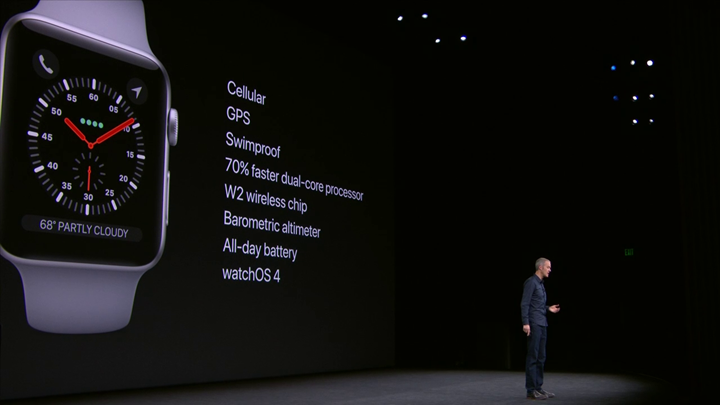 It's easy to think in the hype of (any) Apple Watch event that Apple will instantly wipe all the competitors off the face of the watch earth.  After all, Apple proclaimed to be the "#1 watch brand in the world" (of any type, not just tech watches).  And likely that's true. They also noted they've got the most used heart rate monitor in the world, and that's probably true on the technicality of a single watch model – but I'd wager that Fitbit probably has more of a single sensor type.
But keep in mind that since Apple announced the first Apple Watch, other brands have had blockbuster years.  Fitbit's sold more devices than ever before, as has Garmin.  In effect, a rising tide lifts all boats.  And what everyone has come to realize is that with greater interest in smart watches, everyone in the industry is winning – especially consumers with greater choice.  For hardcore endurance athletes, the Apple Watch still likely won't be your first choice.  But for many others the option gets more and more compelling.
Most of what Apple showed today is seen on other units.  Almost all of it (resting heartrate, cellular) has been done elsewhere in the industry, albeit usually with less finesse. But what Apple is really good at is that finesse, the cellular is a prime example of that. This finesse is why people buy and love their devices.
What I'm most interested in though is seeing the accuracy of some of the new technology in the Series 3.  For example – with the movement of the cellular antenna to the display, will that impact GPS accuracy?  Or how will the addition of the barometric altimeter improve things?  And has Apple made any quiet changes to optical HR accuracy behind the scenes?
All of which are things I'll dive into in my full in-depth review.  So stay tuned for that soon.  Wait…update! Here's my unboxing video!
With that, thanks for reading!