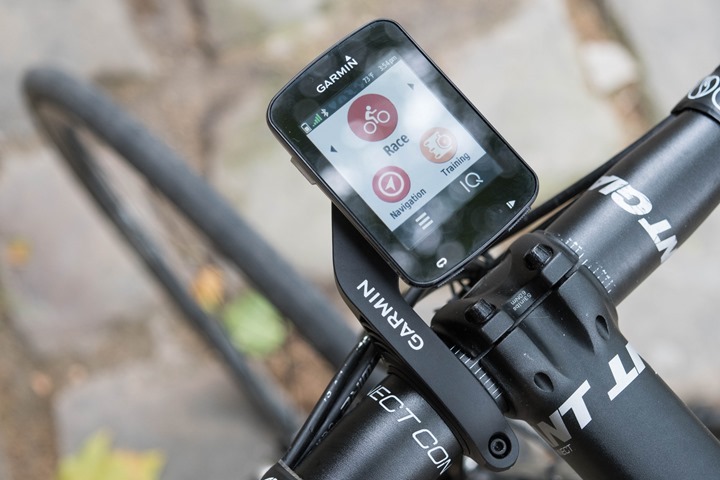 Today Garmin announced their latest cycling computer – the Edge 820.  Well, actually, they announced two cycling computers: The Edge 820 and the Edge Explore 820.  The Explore is simply the dumbed down version of the 820.  While the Edge 820 is basically an Edge 520 and Edge 1000 that's had a baby that's smarter than both of them.
I've been using a nearly-final Edge 820 for a short bit now, and so I've got some preliminary thoughts on how it works.  But I'll also dive into how the various models are different and some of the minor nuances that might not be so apparent.
Wait…what's that? You said you subscribed to Garmin's YouTube feed and a month ago you got a sneak peak about the Edge 820 before they realized following their summer solstice morning after party and delisted them?  No worries – now I'm here to explain all!  For realz this time.  Let's get started.
(Oh, as the title suggestions…this isn't a review. I haven't used the device long enough. Come back in August for a full in-depth review.)
What's new & different: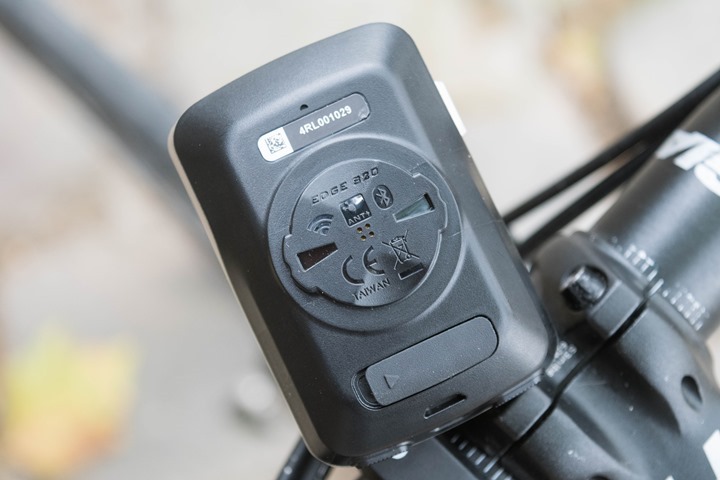 As regular readers of my preview posts (what happens prior to an in-depth review), I'm a fan of using bulleted text and simplicity to cut through all the marketing fluff.  Let's start by talking about what the Edge 820 is in most basic terms:
The Edge 820 is an Edge 1000 in the shell of an Edge 520, except that it's got a new personality (user interface) and a number of new software features found on neither the Edge 520 or Edge 1000.  Oh, and it can stalk your friends for you.  No really, it can.
As you can see below – the Edge 520 & Edge 820 are identical in outer shell size (though differ in buttons):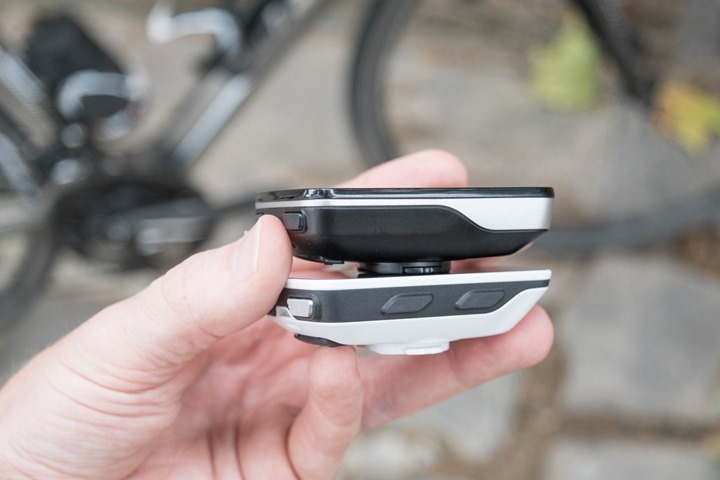 Here's precisely what's new on the Edge 820 (and if it's found on other Garmin units):
– Adds in Group Tracking (stalking your friends)
– Contains full/detailed mapping/routing (like Edge 1000)
– Contains 16GB of internal storage (no micro-SD card slot though)
– Adds in phone-based audio prompts (like Garmin wearables)
– Adds in Incident/Emergency Detection/Notifications (like Edge Explore 1000)
– Adds in new Stress Score (seen on wearables)
– Has WiFi (on Edge 1000, but not Edge 520)
– Has a touch screen (like Edge 1000)
– Has a cool new 'Battery Save mode' (never seen before)
So are there any things not found on the Edge 820 that are on the Edge 1000?  Just a few:
– Doesn't have landscape mode (for rotating screen)
– Doesn't have the micro-SD card slot (for more than 16GB of maps)
– Has a smaller screen than the Edge 1000
And…that's it.
As for the Edge Explore 820, here's how it's different than the base Edge 820:
– No WiFi
– No Ambient Light Sensor
– No ANT+ Power Meter or Shifting Support
– No Structured Training Support (i.e. structured workouts)
– No advanced metrics like performance indictor, FTP, etc…
Most importantly though is that you can easily play the $100 game between the three most popular units:
Edge 520: $299
Edge 820: $399
Edge 1000: $499
Super simple math.  I mean, as long as you ignore the Edge 20 at $129, Edge 25 at $169, the Edge 820 Explore at $349, the Edge Explore 1000 at $449 or any of the other Edges out there.  Let's just keep focused on the Big Three above.  Mmmk?
What's that? You want a 15 minute overview video instead of text and pictures? Hmmm…ok. Seriously, I don't know how this ended up as 15 minutes – but it covers everything under the sun on the Edge 820. You'll be able to be a product support technician for Garmin after this:
Diving Deeper on the New Stuff: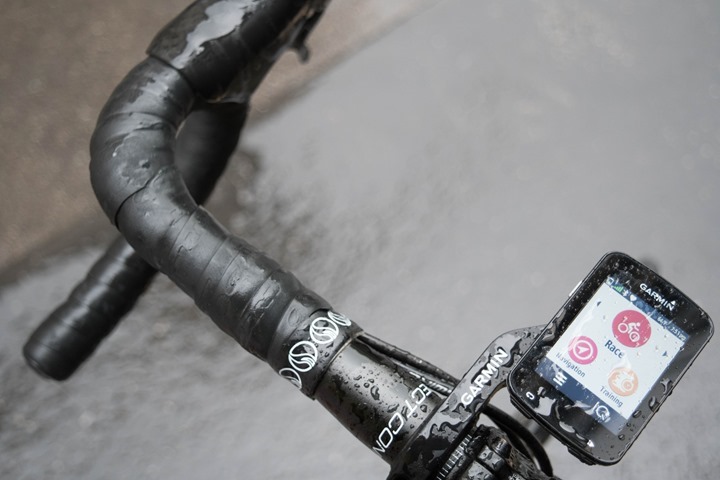 By and large the unit has virtually all the same features you've come to expect from the Edge series.  So it'll of course use its internal GLONASS capable GPS chipset to track your rides, and it has a barometric altimeter for proper elevation record keeping.  And it'll allow you to do Strava real-time segments as well as connect to ANT+ sensors like power, heart rate, speed, cadence, eTAP/Di2/etc…  And then all of that is uploaded to Garmin Connect wirelessly via Bluetooth Smart or WiFi (or, via USB cable).
That's all the baseline things found on all the new Edge units these days.  Instead, for now let's focus on what's new here – starting with the most obvious – the user interface.  You'll see it's quite changed: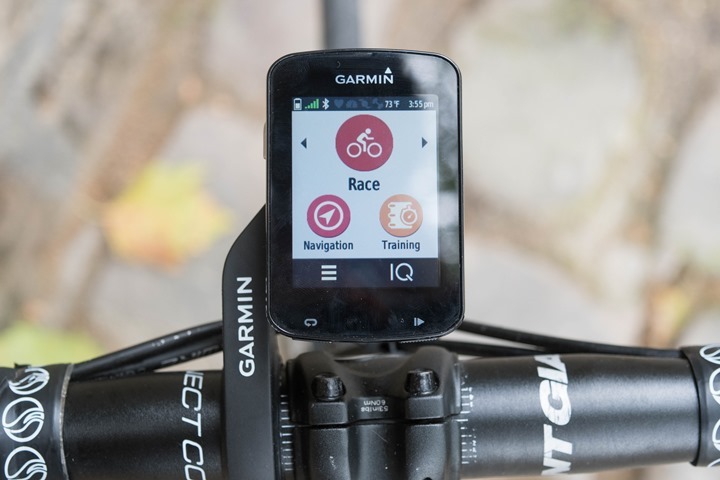 Now the differences are actually interesting – it now looks a lot more like the past Edge Explore editions with a simplified user interface.  You've got essentially three core paths to take: Just ride (top option), navigate somewhere (lower left), and training (structured training options).
You've still got settings of course – which is accessible via the lower left taskbar area.  And then on the lower right you've got dramatically increased prominence of Connect IQ (the 3rd party app platform).  Also, you can still swipe down from the top to get status information like WiFi/GPS/Bluetooth/Sensor connectivity states.
If you want to change activity profiles, you can do so by simply tapping the left/right arrows at the top.  The default activity profiles align to Train, Race, and Indoor.  With the indoor option turning off the GPS automatically.  You can create and customize your own activity profiles.  These control things like data fields and settings for that ride.  So you might have a different one for mountain biking than touring or racing.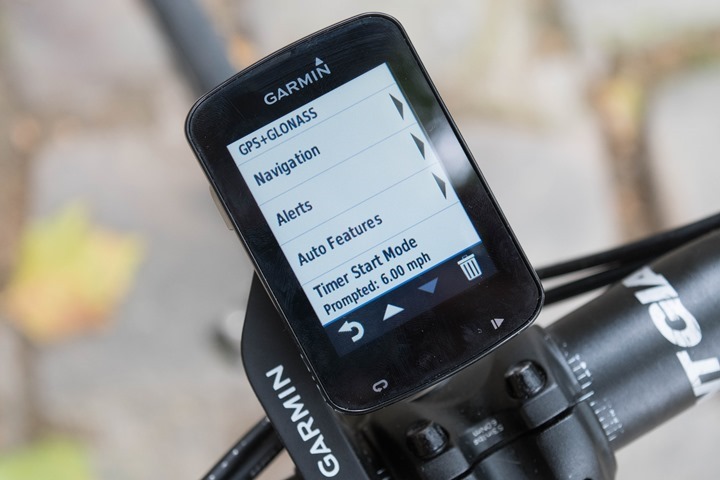 Next we've got the addition of Group Track.  The idea behind this is that you can see your pre-established connections (friends in Garmin Connect lingo) on your unit in real-time as they ride.  Garmin put together an entire (well shot) video showing how one friend stalks two others and then joins them for the last portion of the ride.  It's a cool concept, albeit one that Wahoo introduced with their ELEMNT.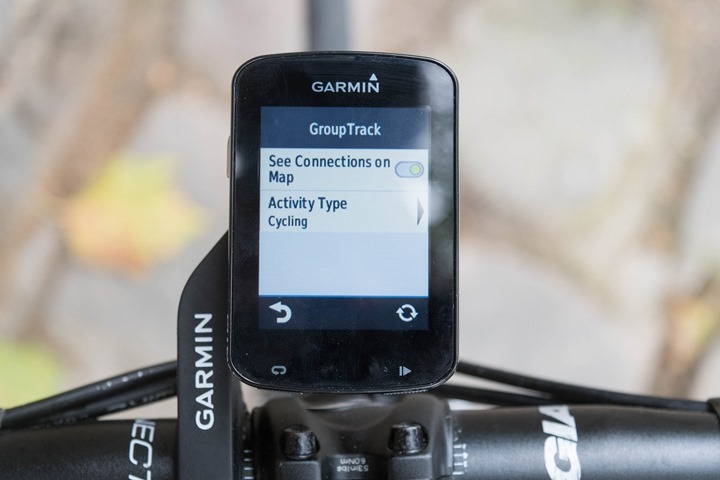 Since I don't have any other friends with Edge 820's in the area yet, you'll have to settle for Garmin's screenshot on this and how it looks on the unit itself: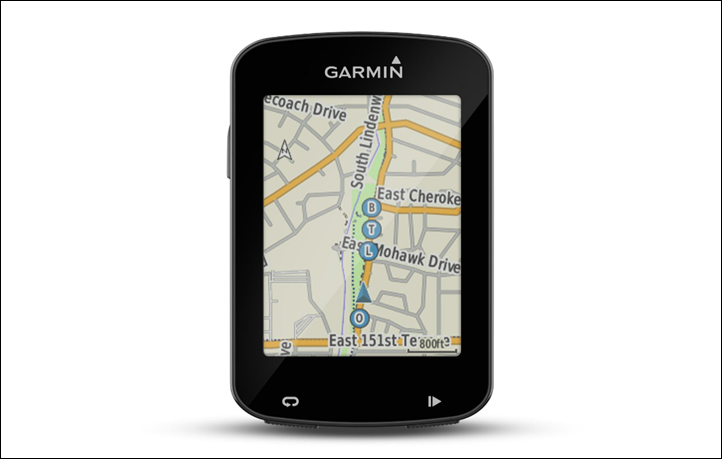 Now what's interesting here is that there's actually two options in the menu for Group Track, as seen below.  Funny…given there's no running wearable in the Garmin line-up that supports the just announced Group Track.  Looks like Garmin is giving a bit of a hint on where things are going.
[Update] However, it may just be because Garmin states that any device that has Live Tracking capability (which is basically every Garmin device for the last 3ish years) can participate in broadcasting its position.  It's only the Edge 820 (for now) that can see it.  So if your friends enable live tracking with their device/app – it'll show up on your screen.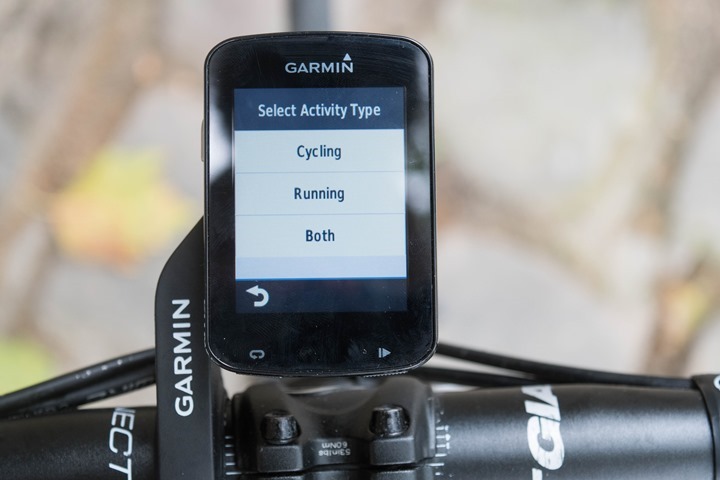 Speaking of places they're going – it's the Edge 1000.  That's the only other device Garmin has committed to bringing Group Track to.  And even then, it won't be until later 2016/early 2017.
Next we've got incident detection.  This was introduced last year on the Edge Explore 1000, and it allows you to specify emergency contacts that can be notified in the event you crash.  It uses a combination of accelerometers and seemingly GPS data to determine whether or not you ran into a camel.  If so, it then gives you a 30-second countdown to cancel the notification of your emergency contacts: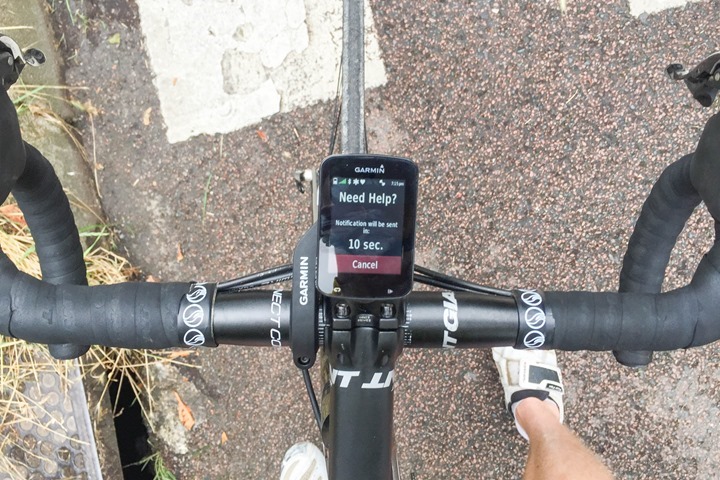 It contacts them via text and e-mail message, like below (my phone left, her phone right):
Now in my experience with the almost-final device, it seems to trigger some false positives – of which The Girl was not pleased about.  For example it triggered as I simply slowed at an upcoming stoplight/sign.  Also while I was just holding the bike taking a picture.  On the first, I had seen the countdown warning from 30 seconds – but of course had decided to take a picture of the screen.  Turns out though that you need to not only tap the button, but then release and long hold again to validate you're OK.  By time that happened I ran out of time, which resulted in this near immediate freak-out message from her: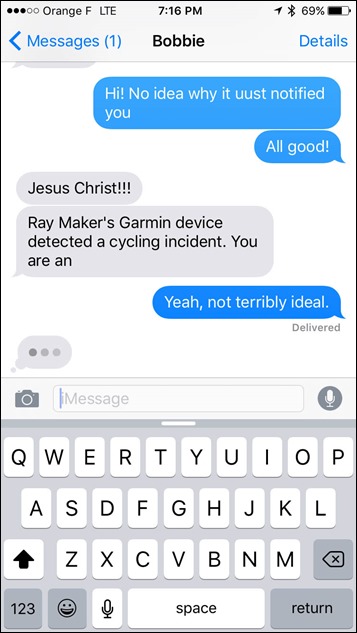 So…on one hand, it works well on the notification part (remember it uses your cell phone for the cellular network).  On the other hand, I hope false positives aren't as common as I'm seeing them on this beta device – else people will just disable it.
Next, we've got a nifty battery saver option.  This is kinda like the battery saver feature we've seen on some cell phones lately, which will help you eek out the last little of your ride when battery power gets unexpectedly low.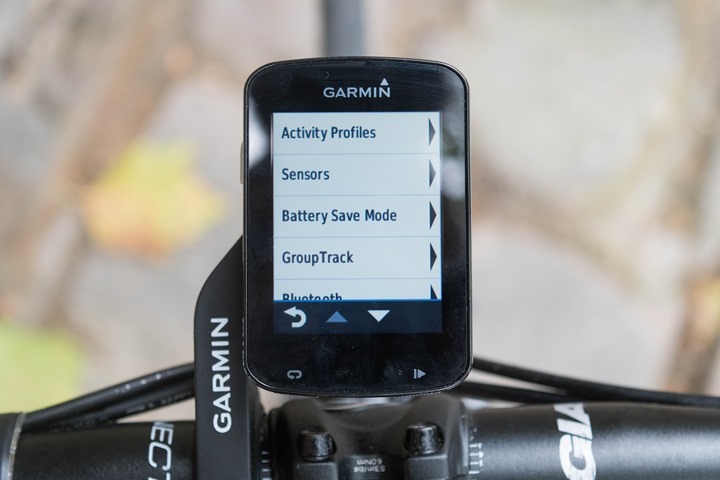 Once enabled it'll turn off the screen, but still notify you of various events such as upcoming turns and incoming messages.  You can configure these within the options.  The important thing here is that it's still recording your ride/sensor data behind the scenes.  It just turns off the display to save battery, increasing battery life by about 50%.
I'd be remiss to not mention mapping with the Edge 820 – after all, that's a key reason (if not THE major reason) you'd get the unit.  But in many ways, the mapping is pretty close to what you've seen before in Garmin units.  With the Edge 820 it uses the internal fully detailed mapset that's found on the 16GB of internal storage (it still has 6.1GB free though, and about 2GB unusable space for overhead).
For starters you'd tap the navigation menu option from the home screen, which brings you here: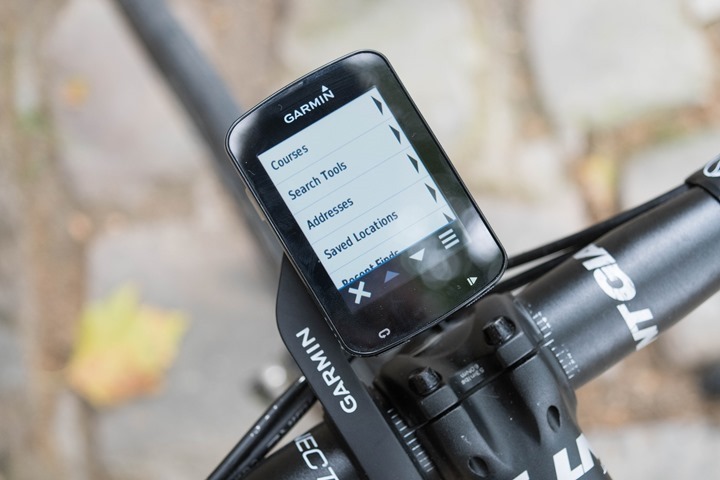 You'll see that you can load saved routes (from Garmin Connect), or simply enter in an address somewhere.  You can also search for points of interest and then do things like have it create a random bike-friendly route for you.  That feature has been previously found on some past units and is handy if you just want to go ride something new and different.
Once you've selected the route it'll begin loading it (calculating).  On my non-final unit this process took about 90 years, though Garmin says the units being shipped should be dramatically faster and take about 1 minute to calculate/prepare about each 20 miles of routing.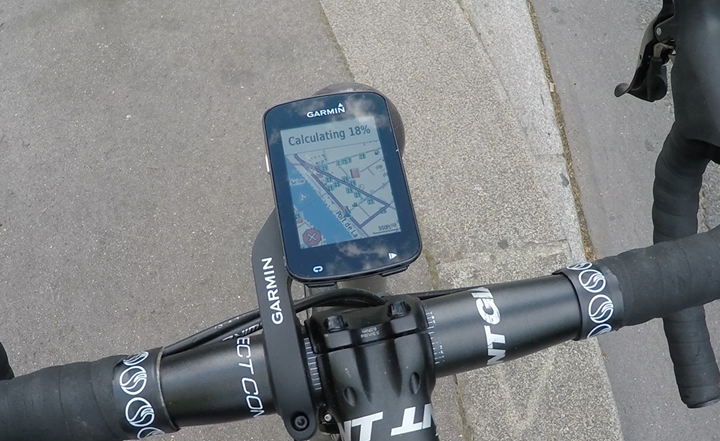 Once it's done it'll give you turn by turn directions using true street names (not just generic turn left/right).  If you're on a regular data page it'll pop-over a small text box at the bottom with the turn direction, distance, and street name: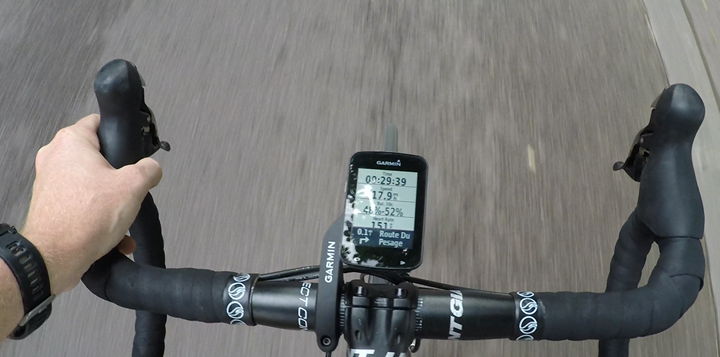 Meanwhile, if you're on the map page you'll see your route (both the future and the past), and you can also tap to bring up a cue sheet of all turns on the route:
Garmin also says it'll automatically recalculate routes if you miss a turn, though for some reason that wasn't working on my unit.  Otherwise, it worked just fine for me in terms of routing through/across Paris.
In relation to this is the new feature for getting audio prompts, which was introduced on the wearables last fall.  This allows you to pair to your smartphone, which in turn will use the speaker/headphones to give you additional stats and in the case of the Edge 820 – directions.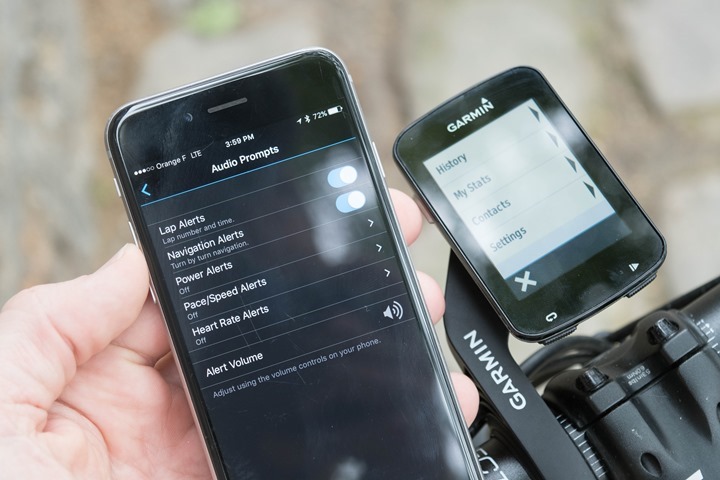 Again to be clear here – the Edge 820 is NOT pairing to Bluetooth headphones directly.  Instead, it uses whatever audio device your phone has (the speaker, wired headphones, wireless headphones).  On the Garmin Connect Mobile app, you can configure the different options:
Oh, and in case you were wondering about that touch screen – it works just fine in rain or with gloves.  Yesterday gave me ample opportunity to test out the rain compliance.  Pretty much every time I brought out my camera it dumped on me.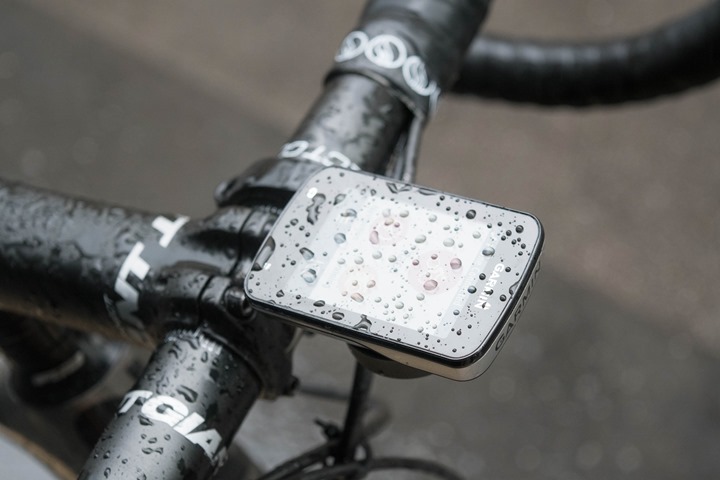 Here's a video of the touchscreen I shot while the sky was crapping on me:
(Uploading…please hold)
Last but not least, Garmin has 'normalized' the different personal metrics on the Edge 820, bringing in some of the additional stats found on a variety of Garmin units over the past year.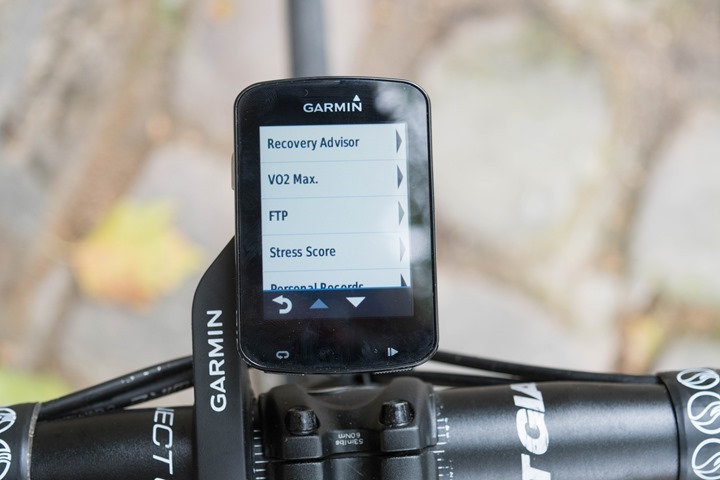 So while we've seen FTP and Recovery Advisor features before on the Edge series, we haven't seen the Stress Score before – which is now seen here: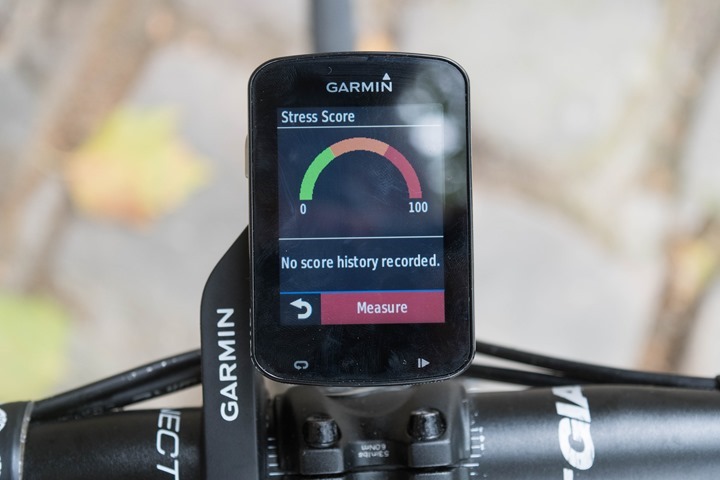 This feature does require a heart rate strap though – so just keep that in mind.
There's undoubtedly a bunch of smaller new tweaks/features that I didn't list here as I may not have found them all yet.  But I do cover a few more within my exceedingly long YouTube video in the earlier section.
What's in the box: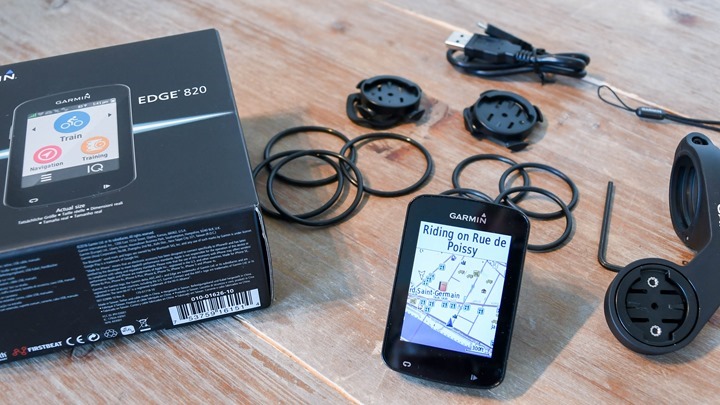 Ahh yes, the unboxing.  This time I'm giving such lurid details to you in two different flavors: Video and photos.  The unboxing video is down below, where I also compare sizes with units including the Edge 520, Edge 1000, Polar V650, and Wahoo ELEMNT.
But first, a quick unboxing gallery of the standard base edition of the Edge 820:
And if you're now looking for a much longer version of that, here's my unboxing video along with a detailed size comparison of the Edge 820 to the Edge 520, Edge 1000, Polar V650 and Wahoo ELEMNT.  Sorry about the slight echo on the audio, my microphone port on my phone broke, so my lav mic didn't pick up properly.
Product Comparisons:
I've added the Garmin Edge 820 to my product comparison tool which means you can compare it to other items I've reviewed or had hands-on time with.
If you want my full product comparison tool, you can use that here and make your own comparison charts with any products in the database (like the Wahoo ELEMNT or Polar V650).  For the purposes of this post, I'm just using the Edge 520/820/1000:
Function/Feature

Garmin Edge 1000
Garmin Edge 520
Garmin Edge 820
Copyright DC Rainmaker - Updated November 27th, 2020 @ 7:14 am New Window
Price
$599
$229
$399
Product Announcement Date
Apr 9, 2014
July 1st, 2015
July 13th, 2016
Actual Availability/Shipping Date
May 2014
July 31st, 2015
Mid-July 2016
GPS Recording Functionality
Yes
Yes
Yes
Data Transfer
USB, Bluetooth, WiFi
USB & Bluetooth Smart
USB, Bluetooth, WiFi
Waterproofing
IPX7
IPX7
IPX7
Battery Life (GPS)
15 hours
15 hours
15 hours
Recording Interval
1-Second or Smart
1-Second or Smart
1-Second or Smart
Quick Satellite Reception
Yes
Yes
Yes
Alerts
Sound/Visual
Audio/Visual
Sound/Visual
Backlight Greatness
Great
Great
Great
Ability to download custom apps to unit/device
Yes
Yes
Yes
Acts as daily activity monitor (steps, etc...)
No
No
No

Music

Garmin Edge 1000
Garmin Edge 520
Garmin Edge 820
Can control phone music
No
No
No
Has music storage and playback
No
No
No

Connectivity

Garmin Edge 1000
Garmin Edge 520
Garmin Edge 820
Bluetooth Smart to Phone Uploading
Yes
Yes
Yes
Phone Notifications to unit (i.e. texts/calls/etc...)
Yes
Yes
Yes
Live Tracking (streaming location to website)
Yes
Yes
Yes
Group tracking
Yes
No
Yes
Emergency/SOS Message Notification (from watch to contacts)
No
Yes
Yes
Built-in cellular chip (no phone required)
No
No
No

Cycling

Garmin Edge 1000
Garmin Edge 520
Garmin Edge 820
Designed for cycling
Yes
Yes
Yes
Power Meter Capable
Yes
Yes
YEs
Power Meter Configuration/Calibration Options
Yes
Yes
Yes
Power Meter TSS/NP/IF
Yes
Yes
Yes
Speed/Cadence Sensor Capable
Yes
Yes
Yes
Strava segments live on device
Yes
Yes
Yes
Crash detection
No
Yes
Yes

Running

Garmin Edge 1000
Garmin Edge 520
Garmin Edge 820
Designed for running
No
N/A
No
VO2Max Estimation
(CYCLING YES THOUGH)
(CYCLING YES THOUGH)
(Cycling Yes though)
Recovery Advisor
(CYCLING YES THOUGH)
(CYCLING YES THOUGH)
(Cycling Yes Though)

Triathlon

Garmin Edge 1000
Garmin Edge 520
Garmin Edge 820
Designed for triathlon
No
N/A
No

Workouts

Garmin Edge 1000
Garmin Edge 520
Garmin Edge 820
Create/Follow custom workouts
Yes
Yes
Yes
On-unit interval Feature
Yes
Yes
Yes
Training Calendar Functionality
Yes
Yes
Yes

Functions

Garmin Edge 1000
Garmin Edge 520
Garmin Edge 820
Auto Start/Stop
Yes
Yes
Yes
Virtual Partner Feature
Yes
Yes
Yes
Virtual Racer Feature
Yes
Yes
Yes
Records PR's - Personal Records (diff than history)
Yes
Yes
Yes
Day to day watch ability
No
N/A
No
Hunting/Fishing/Ocean Data
No
N/A
No
Tidal Tables (Tide Information)
No
N/A
No
Jumpmaster mode (Parachuting)
No
N/A
No
Geocaching
No
N/A
No
Weather Display (live data)
Yes
Yes
Yes

Navigate

Garmin Edge 1000
Garmin Edge 520
Garmin Edge 820
Follow GPS Track (Courses/Waypoints)
Yes
Yes
Yes
Markers/Waypoint Direction
Yes
Yes
Yes
Routable/Visual Maps (like car GPS)
Yes
Yes for maps (but not routable)
Yes
Back to start
Yes
Yes
Yes
Impromptu Round Trip Route Creation
Yes
No
Yes
Download courses/routes from phone to unit
Yes
Yes
Yes

Sensors

Garmin Edge 1000
Garmin Edge 520
Garmin Edge 820
Altimeter Type
Barometric
Barometric
Barometric
Compass Type
GPS
GPS
GPS
Optical Heart Rate Sensor internally
No
N/A
N/A
Heart Rate Strap Compatible
Yes
Yes
Yes
ANT+ Heart Rate Strap Capable
Yes
Yes
Yes
ANT+ Speed/Cadence Capable
Yes
YEs
YEs
ANT+ Footpod Capable
No
No
No
ANT+ Power Meter Capable
Yes
Yes
Yes
ANT+ Weight Scale Capable
Yes
Yes
Yes
ANT+ Fitness Equipment (Gym)
No
No
No
ANT+ Lighting Control
Yes
Yes
Yes
ANT+ Bike Radar Integration
Yes
Yes
Yes
ANT+ Trainer Control (FE-C)
Yes
Yes
Yes
ANT+ Remote Control
Yes
Yes
Yes
ANT+ eBike Compatibility
No
No
Yes
ANT+ Muscle Oxygen (i.e. Moxy/BSX)
With apps
With apps
With apps
ANT+ Gear Shifting (i.e. SRAM ETAP)
Yes
Yes
Yes
Shimano Di2 Shifting
Yes
Yes
Yes
Bluetooth Smart HR Strap Capable
No
No
No
Bluetooth Smart Speed/Cadence Capable
No
No
No
Bluetooth Smart Footpod Capable
No
No
No
Bluetooth Smart Power Meter Capable
No
No
No
Temp Recording (internal sensor)
Yes
Yes
Yes
Temp Recording (external sensor)
No
No
No

Software

Garmin Edge 1000
Garmin Edge 520
Garmin Edge 820
PC Application
Garmin Express
Garmin Express
Garmin Express (PC/Mac)
Web Application
Garmin Connect
Garmin Connect
Garmin Connect
Phone App
iOS/Android/Windows Phone
iOS/Android/Windows Phone
iOS/Android/Windows PHone
Ability to Export Settings
No
No
No

Purchase

Garmin Edge 1000
Garmin Edge 520
Garmin Edge 820
Amazon
Link
Link
Link
Clever Training - Save with the VIP program
Link
Link
Link

DCRainmaker

Garmin Edge 1000
Garmin Edge 520
Garmin Edge 820
Review Link
Link
Link
Link
Remember that you can create your own product comparison charts using the full product comparison tool here!
Wrap up & Availability:
I think Garmin has a pretty solid unit on their hands here.  I suspect there's a lot of people that have been waiting years for an Edge 520 sized device that does true routable mapping.  And, for that unit to be far more affordable than some of the craziness of the past mapping units.  At $399, that's finally getting to that ballpark.
The group track could be cool once it reaches critical mass.  Garmin plans to expand it to the Edge 1000 (but oddly not the Edge 520) later this year or early 2017.  Which, is a heck of a long ways away.  Still, better than not I suppose.  In my case, I didn't have any other friends nearby with Edge 820's to try it out…so I'll have to wait a few weeks for that to occur.
It's nice to see the incident detection shift from the niche Edge Explore series into the mainstream units (Edge 820).  However, in my rides thus far, I'm seeing some false positives that aren't really explainable.  I know the technology has been in place for almost a year now on the Edge Explore 1000 – but that's just not a unit I've really spent much time with.  So it's hard to say if my limited issues were just one-offs or more common.  Still, I know that The Girl does appreciate the idea of getting a notification if something happens – especially given I live/ride in a foreign country.
Finally, when it comes to availability – Garmin is following the same model that they did with the Forerunner 735XT two months ago: Immediate availability.  Units should be shipping from select retailers by the end of the week, or Monday at the earliest.  So that's good news.  No long waits required.
Oh, it should be noted I don't expect to see an Edge 1000 hardware refresh this year, there's just no reason to do so.  They've kept continual software updates on the unit and there's basically no competition in that portion of the category.  Thus no reason for Garmin to rev a new hardware platform.  And of course, with the Edge 520 being out precisely 1 year, there's no reason to revamp that either.
With that – thanks for reading and feel free to drop any questions below!
—
FYI on pre-orders:
Clever Training US now has stocks of base Edge 820's arriving on Friday or Monday.  For the bundle versions (with sensors and stuff), those won't be in stock till early August or so.  The Edge Explore 820 will also be in stock Friday/Monday depending on whether the UPS man gets distracted with Pokémon Go.
Clever Training Europe is expecting stock of the Edge 820 in mid-August for both the bundle and base versions.
By using Clever Training you help support the site!  Plus, they've got a pretty sweet US VIP program here to get points back, and a European discount code here.