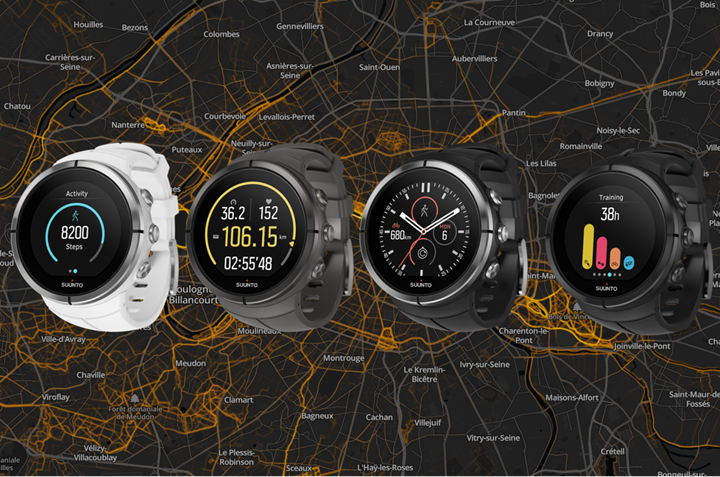 Today Suunto's refreshing both its website as well as its flagship multisport GPS watch series.  With the website, they're making it a bit easier to find and plan new routes, while with the watch they're giving it a color touchscreen.  Let's go ahead and briefly dive into things.
Movescount Site Refresh:
Movescount is Suunto's web platform that your training data is stored on. Every activity you do on your Suunto device must go through Movescount first, even if you end up syncing the data to Strava or exporting to another 3rd party.  The platform has been around a while but hasn't seen too many substantial changes.  The platform currently has over 100 million activities within it, which I thought was kinda interesting as I don't believe either Garmin or Polar have ever listed even roughly how many activities they have in total.
Today brings the first set of changes, which includes a simpler user interface, as well as a heat map.  To begin from your main dashboard you'll see a listing of activities below.  This is mostly re-arranged from the past: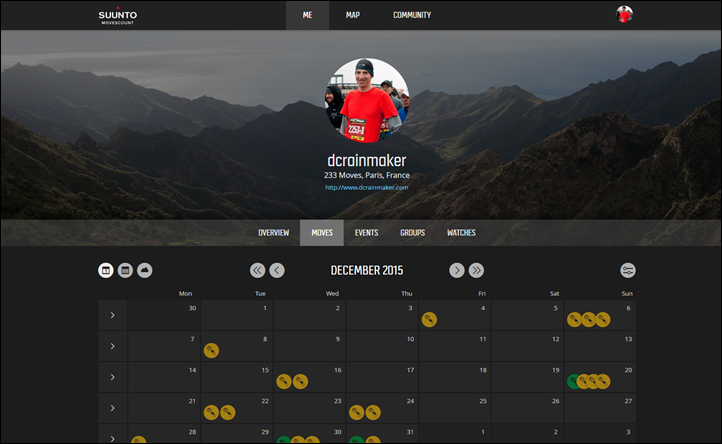 In addition, they've added in a heat map feature.  This allows you to sort by sport in a number of major cities.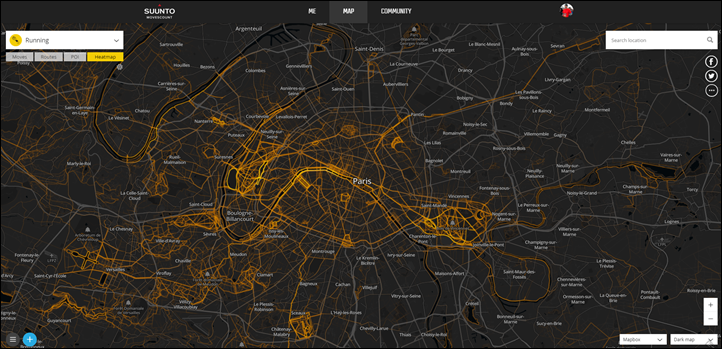 You can also select to show just your own activities, which is a pretty cool concept since most other platforms only generalize it for everyone.  Though, I'll have to wait a few hours to show you that, since it's not 100% cookin' on the test site yet.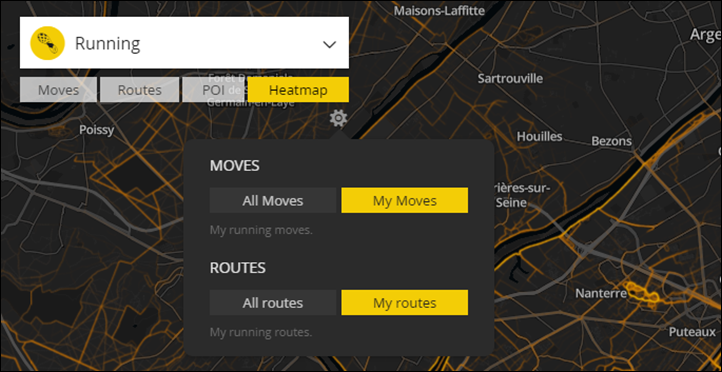 What I like about the heat map is the sport sorting capability on any activity type.  For example, I can sort by the 'triathlon' activity type, which is handy for finding where people are doing brick workouts that might include an openwater swim: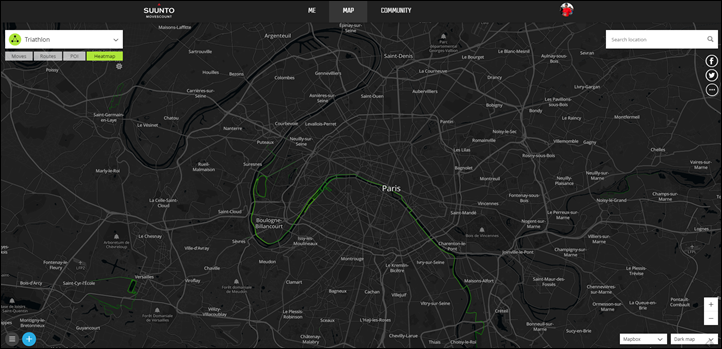 In addition, you'll get a new Movescount Training Insights section that'll give you a quick glance at totals and allow you to specify how you're feeling, which can be used for general trending.

These changes will be made available today (within the next few hours) for all existing users, and then later this month on the mobile apps (Android/iOS) as well.
Suunto Spartan Ultra GPS Watch:
Today Suunto also announced their Spartan Ultra GPS multisport watch.  This watch is seen by Suunto themselves as the successor to the Ambit series (as noted in their press release).  You'll remember the Ambit series started out a number of years ago being a hiking/running GPS watch, and then morphed into a multisport watch with the Ambit2 lineup.  The Ambit3 two years ago was a minor update, while then Suunto branched out with the Traverse and Ambit3 Vertical options this past fall/winter.  Those two watches got rid of the satellite bump on the wrist that was found on previous Ambit series.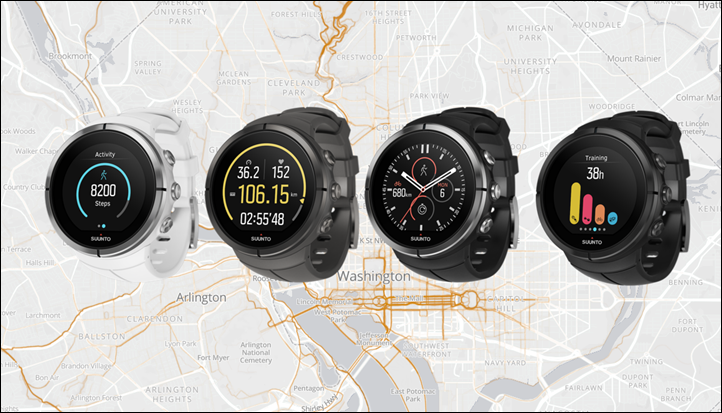 With the Spartan Ultra, the physical form factor changes.  The satellite bump remains gone, and we got a color touchscreen with three dedicated buttons (down from 5 buttons).  The retention of buttons is important for multisport athletes, especially in swimming activities where pressure on touch screens underwater makes them unusable.
From a software standpoint, the unit adds in daily step tracking (with actual steps counted/shown) – a key feature that was missing from the Ambit series but added to the Traverse this past winter.  They've also refreshed a bit of how the interface works around recovery time as shown on the watch.  It retains a barometric altimeter and is waterproof to 100m.  It also includes sapphire crystal glass and a stainless steel or titanium bezel, depending on the model.
But aside from those two brief paragraphs, we actually know next to nothing about the watch in terms of actual features.
Seriously, nothing.
Suunto doesn't plan to release further information until July 6th, 2016, as part of a "phased launch".  Then they'll begin shipping the watch sometime in August, at which point they'll give us further yet details about the watch and future update plans.
Such a strategy seems rather peculiar to me, especially in the summer months.  It's over the next few weeks (early June) that any remaining watch buyer hold-outs will be purchasing new watches for the popular summer sport months.  Those are the same folks that could be tempted to wait till the end of summer to upgrade if the specs are good enough.  Else, they'll likely go to competitive devices versus waiting for an unknown.  By not releasing the full specs of the device now, Suunto is effectively making it easy for people to decide.  After all, you can buy a very capable new Ambit 3 Peak for less than half the cost of the upcoming Spartan Ultra, which will start at $699USD/649€ for the base model, and then escalates to $799/749€ for the Titanium models.  A heart rate strap is also available for $50/50€ more when bundled with either model.
Thus when I release my 2016 Summer Recommendations roundup next week, you definitely won't find the Spartan Ultra on there.  How could I?  After all, I've not had any hands-on time with it, nor do we even have simple battery life specs for it.  When I pressed for clarity on that, I was simply told it will be 'competitive'.  We also don't know about GPS accuracy, an area the recent bump-less Suunto Traverse and Vertical have struggled with compared to the rock-solid Ambits.  Basically, we don't know anything more than 2-3 sentences worth of specs and a few pretty pictures (though…it does look pretty).
Thus…stay tuned.  Thanks for reading all!
Update: New Suunto Spartan Details!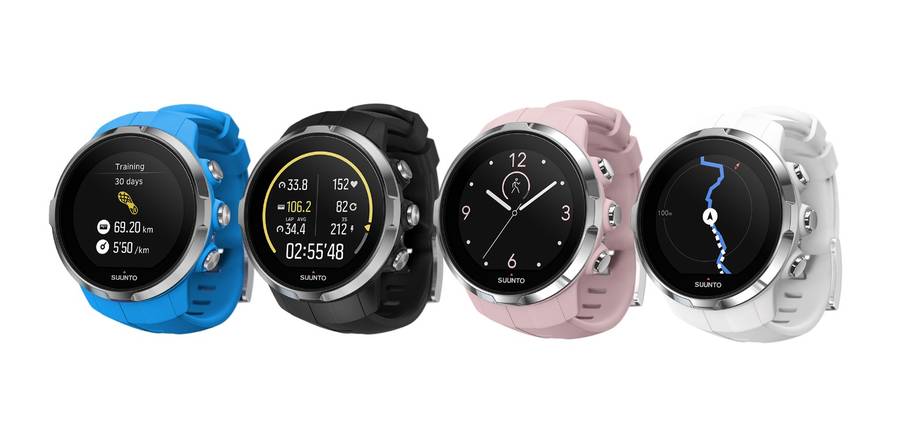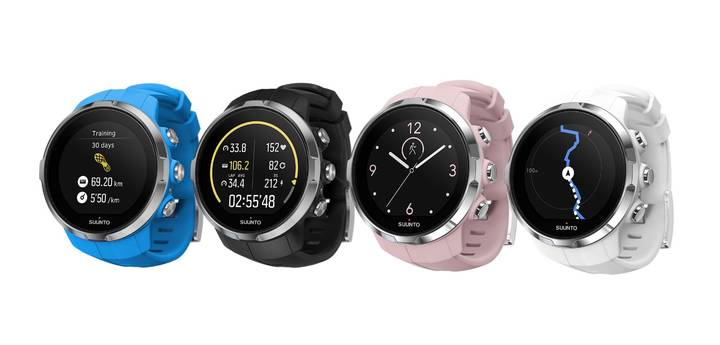 (Added July 7th)
Today Suunto released a bit more detailed information around the Spartan, including expansion of the series with the Spartan Sport (joining the Spartan Ultra).  This follows the same pattern that Suunto has used in the past of two price levels, with the major differentiator typically being the (lack of) barometric altimeter and usually slight changes to exterior build materials (case).  In the case of the Sport, it comes in at 150€ cheaper than the Ultra at 499€.
As part of this planned announcement update, we got more details around battery life of both units, as well as general specs.  Here's the key things you need to know:
Cost: Starting at 649€ for Ultra, 499€ for Sport
Vibration Capabilities: Yes for Spartan series – Compared with no for Ambit3 Peak/Sport
Waterproofing: 100m for Spartan series – Just like Ambit3 Peak
Battery (GPS-on): 26hr for Ultra, 16hr for Sport – Compared with 30hr for Ambit3 Peak
Display Resolution: 320×300 for both Sport/Ultra – Compared to 128×128 for Ambit3 Peak
Color touchscreen: Yes for both Spartans – Compared with neither color or touch for Ambit3 Peak
Apps/Watch Faces: Watch faces on Spartan series, but no apps – Compared with Apps on Ambit3, but no watch faces
Altimeter: Barometric for Ultra, GPS for Sport – Compared with barometric for Ambit3 Peak, GPS for Ambit3 Sport
Sport Modes Saved on Watch: 100 for Spartan Series – Compared with 10 on Ambit3 Series
Data Fields: 2-7 fields per page + charts/graphs/curves on Spartan series – Compared with 1-3 fields on Ambit series
Purpose Specific Sport Fields (i.e. intervals vs racing, but still running): Yes for Spartan series, no for Ambit series
Display of rest/recovery/active/training/rest days on watch: Yes for Spartan, no for Ambit series
Optical HR sensor version coming in late 2016: Only on Spartan series (TBD exactly which one), and no for Ambit series.  Full details here.
Now it should be obvious that most of the changes here are really hardware focused with a new user interface.  Meaning, the majority of software-focused changes are in the changing the look/feel of the watch's user interface.  Versus adding in a ton of new features or functions.  And in some cases, some features won't be implemented until various points in the fall.  An example of that would be stroke type while swimming, which won't be there initially.
Here's a quick 4-page Excel screenshot gallery that outlines the changes between the different versions:
The one big ticket item that we kinda knew was coming was right now existing Ambit series apps won't convert/work on the Spartan platform.  Additionally, at launch there won't be a way to create any apps on the Spartan platform.  However, Suunto says they're looking at what their options are for adding in that functionality down the road.
You'll also notice (if looking at the slides gallery below) that a vast number of changes are more on the Movescount website platform, rather than the watch itself.  So you see aspects like coaching and peer groups being rolled out this fall as well.
Still, the display changes are impressive, especially the customization of it all.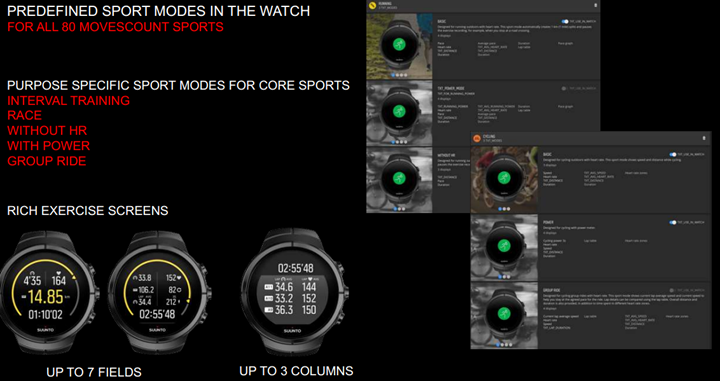 No doubt battery life is the one many will focus on (for good reason). Suunto sent over some 91 slides, and two in particular do a good job of explaining both the top-line battery stats, but also how they arrive at those determinations.  You can click to expand the slides.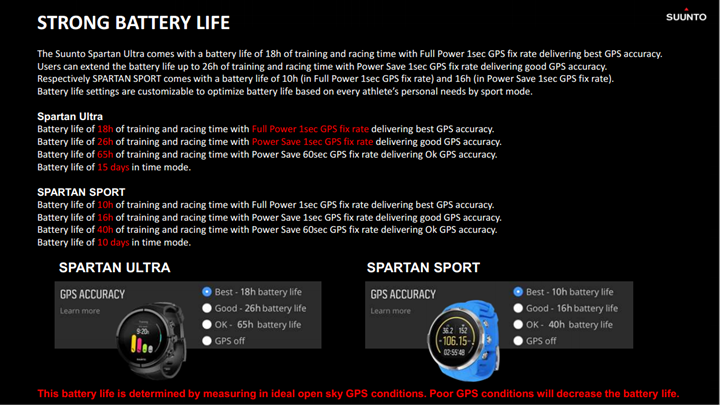 What's that? You want to look at the 91 slides?  No problem.  I've uploaded them all into a massive gallery below.  You can click to expand one, and then just tap the arrows left/right to iterate through.  Roughly speaking the first section talks about the watch, and the last half talks about the Movescount changes.
More later this month once I've got a unit in-hand!  Thanks for reading!
Update: Want some videos of the Suunto Spartan Ultra? No problem – I've been shooting a bunch with the unit I now have.  Check out my Suunto Spartan Ultra playlist below:
—
Update: You can now pre-order either the Suunto Spartan Ultra or Suunto Spartan Sport from Clever Training.  In doing so you support the site, and save yourself 10% using the DCR Coupon Code DCR10BTF.  Plus, there's free US shipping!