I've been in Park City (Utah) since Sunday night, having all assortment of meetings and (perhaps more importantly) getting in plenty of time running around the mountains.  And riding.  And bobsledding.  But, let's not get ahead of ourselves.
I figure it'd be a fun Friday exercise to share a bunch of photos from the week with merely a small paragraph or two below each.
Somehow I got a gigantic hotel room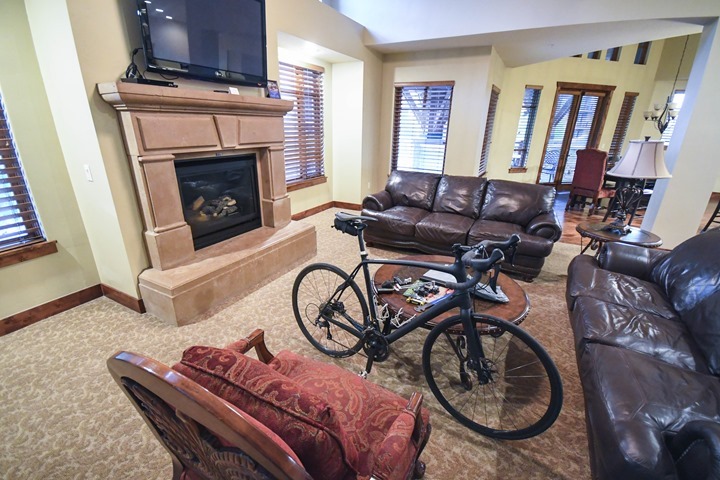 The hotel upgrade room gods were apparently smiling on me, as my hotel room was about 2-3 times larger than that of our apartment.  Seriously.  It contained a Wolf range/oven, and a Sub-Zero fridge.  It had a living room with a far larger TV than mine, and more than ample room for my rental bike.  Oh, and a wine bar. Albeit minus the wine.
In related news, it'd take me about 36 minutes to find where all the light switches were to turn off the lights the first night.
Went for a 12-mile mountain trail run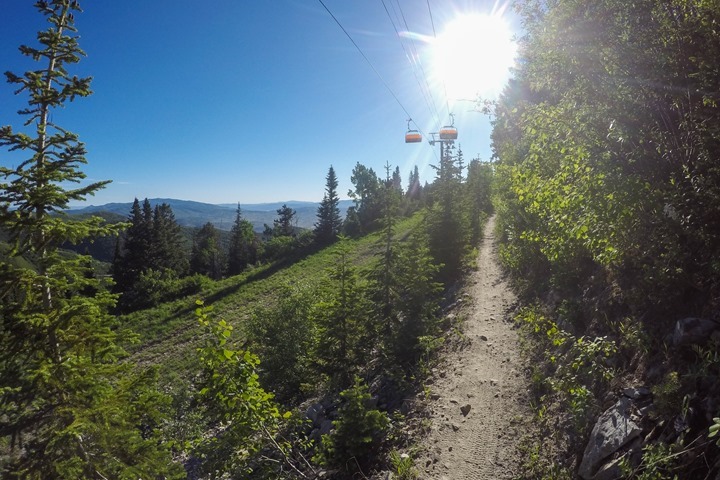 I very much didn't intend on going for a run this long.  I figured it'd be a few miles up, and a few miles back down again.  Somehow around 2 hours later I finished up.  I sort of had planned to run upwards towards the top of the mountain until I found snow.  But when I got to the top of the first trail, the snow required more trails.  Obviously, I had come this far – so I had to keep on going.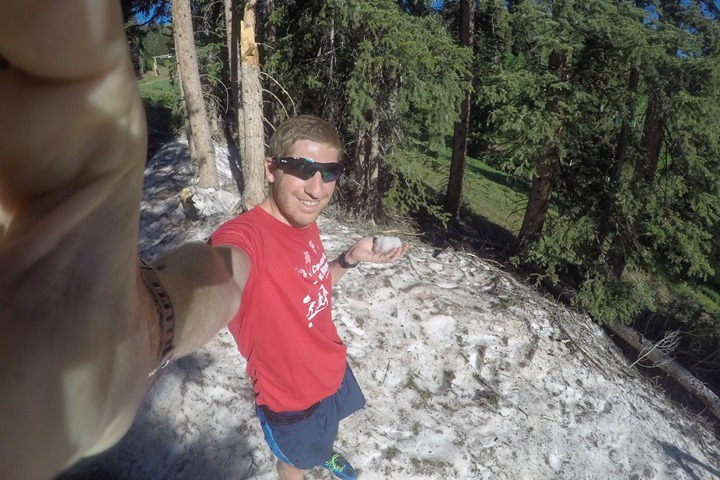 I started early enough in the morning that it was beautifully peaceful and quiet up there.  I only saw two other people as I neared the base area again.
Got in a group gravel ride
Later on that day after my run, I met up with a few folks from a local bike shop/fitter Mountain Velo and headed out for a gravel/dirt road ride.  Or basically a ride that you could do easily with a cross bike.  In my case I had rented a mountain bike for the first two days from a different place – so that's what I used as my steed.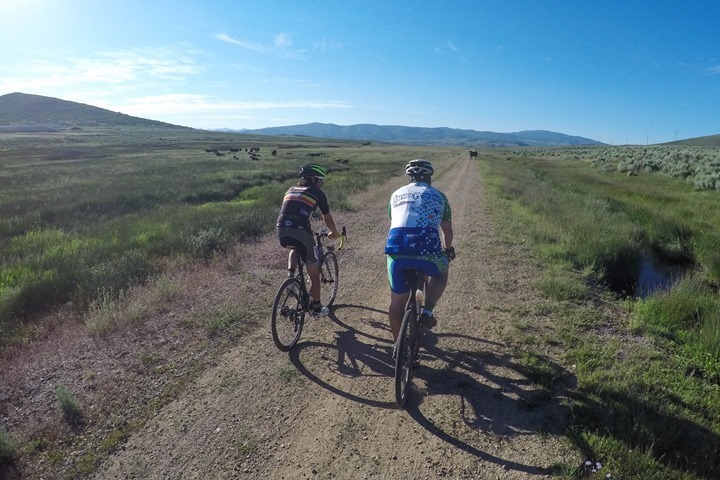 Thanks again to Dan for inviting me along.  No better way to spend the first evening of summer than a warm ride just prior to sunset.
Listened to lots of people talk
Given I had numerous meetings, it was largely listening to people talk and a bit of pitching ideas and new products.  Some interesting stuff coming down the pipeline, as always of course.  I don't really have a picture of those meetings.  Sorry! Fear not – in due time!
Went for a mountain bike ride: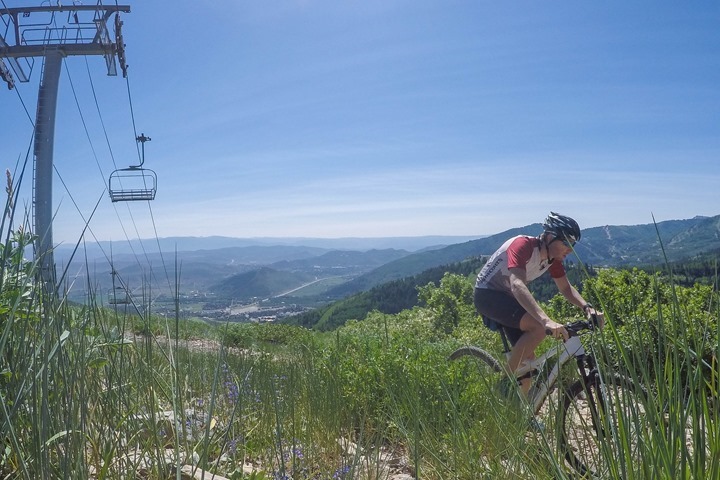 With my rental mountain bike I headed up early the next morning for some more trail wandering.  I had a rough plan, but was kinda just wandering a bit.  I know lots of folks like to do downhill mountain biking (and taking up the chairlift/gondola), but for me I actually probably prefer the uphill part over the downhill part.  In fact I think at times I was going faster uphill than downhill.
One of the disadvantages of living in a city is that my mountain bike skills only get utilized about twice per year.  Usually once at Interbike in Vegas, and once at the ANT+ Symposium in Alberta.  Neither of which really prepare me for the rather impressive drops/descents that were included in some of the downhill trails I stumbled down.
Mac & Cheese: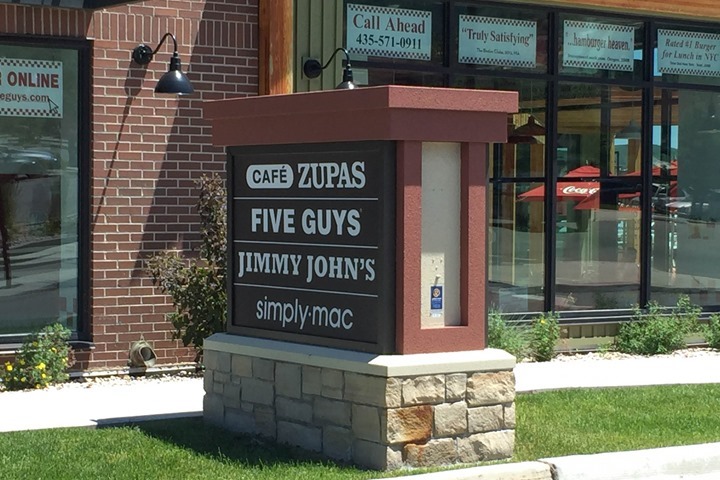 I saw this store across the parking lot while looking for food one day.  Given the rest of the places on the sign were food establishments, I thought that 'Simply Mac' was as well.  I assumed it would be the awesomeness that is an eatery dedicated to 'Mac & Cheese' exclusively.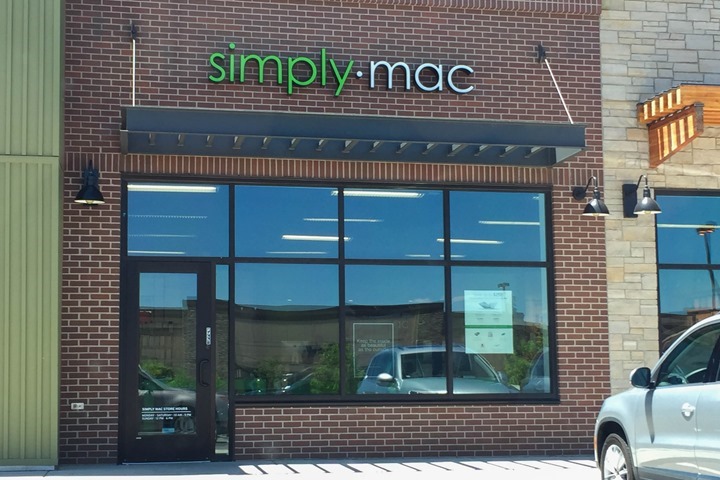 Turns out I was wrong.  The store only sells Mac computer stuff.  As disappointing as someone cutting the cheese.
Road riding up to Guardsman Pass: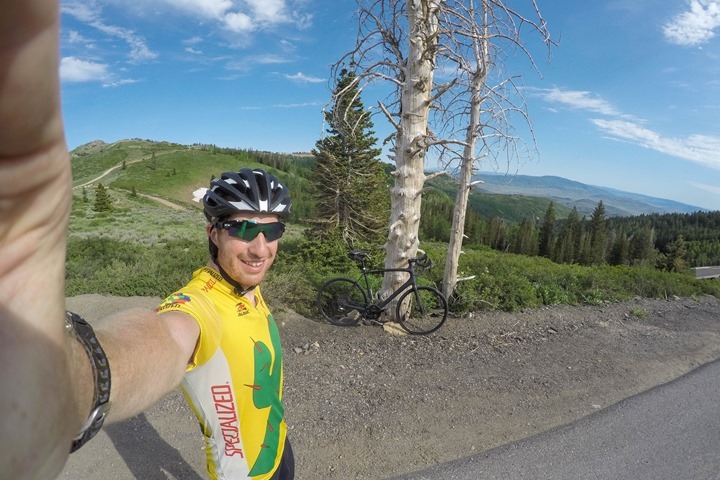 On Tuesday evening I went back to a large local bike shop and swapped my mountain bike for a road bike.  I had brought more road bike stuff to use/test, so I definitely wanted to get some road riding in.
I did some Strava searching and found a sweet little route folks use right out of Park City that was pretty much 100% climbing to the top of the pass on relatively quiet roads.  I tagged on the few miles from my hotel to Main Street in Park City and I was good to go.  Ended up being an awesome ride to the top of the pass, where there was still a tiny bit of snow left.  Plus some pretty nice steeps near the summit.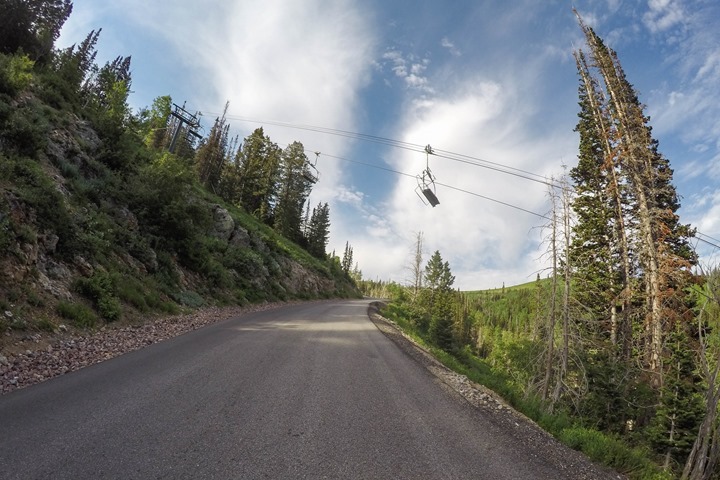 I've been using Xert lately on my rides and analysis afterwards, trying it out with the Connect IQ app.  The only disadvantage being it doesn't really account for fatigue from runs.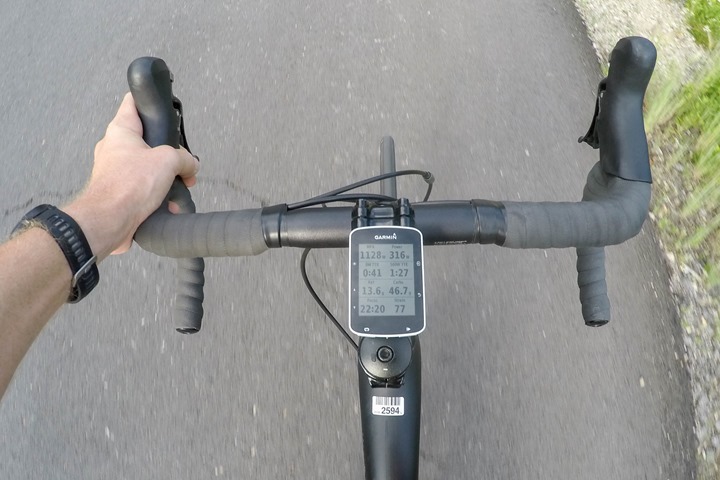 As a side note, I was a bit disappointed with the bike shop in terms of the maintenance of the road bike.  Given it's a multi-thousand dollar rather nice road bike that I'm spending $60 a day to rent (the cheapest option there is), it should at least be tuned up upon rental.  Front shifting was out of whack, and the back disc brakes were setup nowhere near as much braking power as the front (actually, they were pretty weak-ass as I found out descending).  I briefly mentioned it upon return, but got nothing more than a shrug.
Opened boxes of goodness: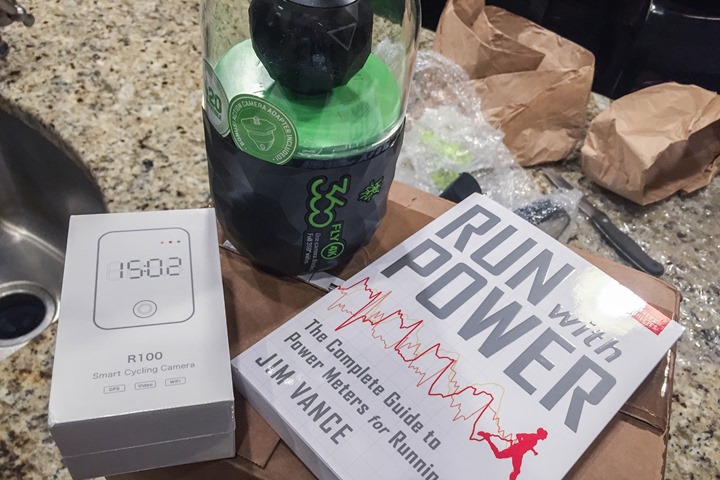 Instead of shipping stuff from my US forwarding box to Paris, I just shipped it to Salt Lake City.  Far cheaper that way, since I'll pay nothing to take it on the plane compared to air shipping.
In addition, I also got a Gear Fit 2 I ordered, and a few other random non-sports tech items like additional portable hard drives (I go through 2-4TB portable USB drives like Halloween Snickers bars).
Watched little kids fly off big jumps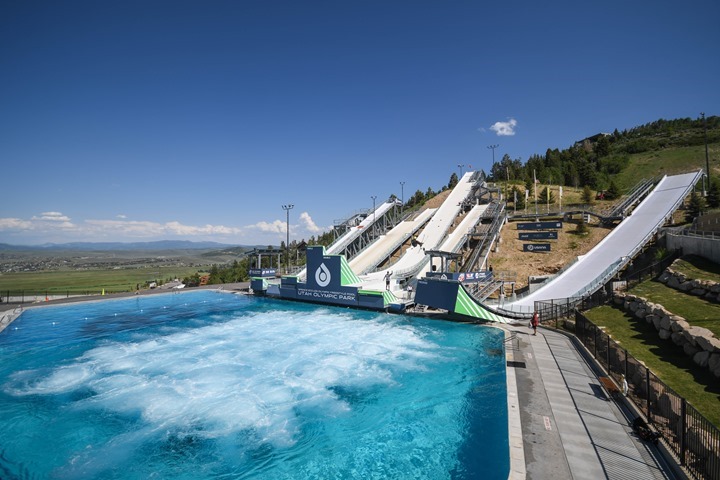 The Utah Olympic Center is open to the public to wander around, and there's often many things going on there.  One of which was kids flying off these huge aerial jumps into the even bigger pool.  The pool had a bubble system which would turn on right before someone jumped in to aerate the pool, providing both a more cushioned landing as well as better depth perception for height/location.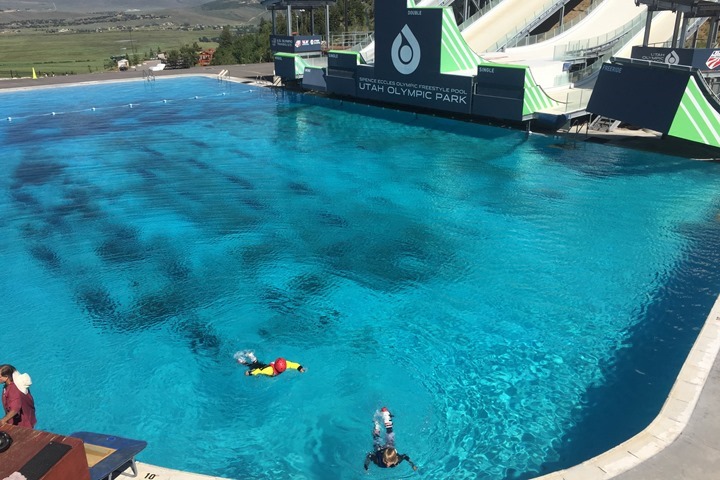 You can also sign-up to take anywhere from 1-day classes to multi-day classes where they teach you the basics and let you go off the jumps, which is pretty cool.
Rode in a Bobsled.  Twice.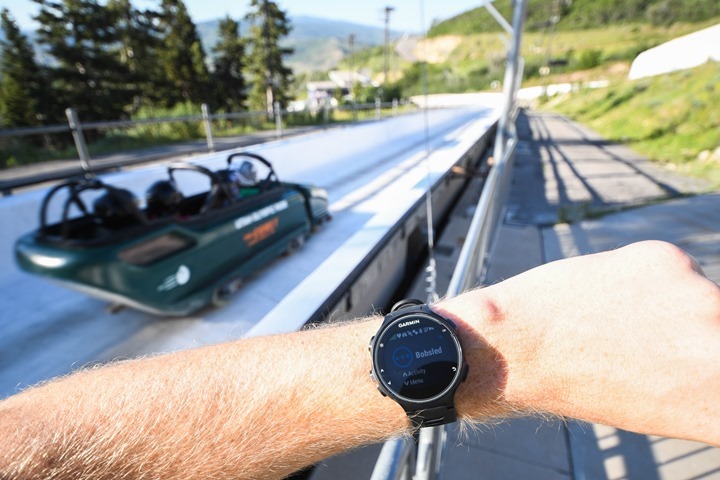 At the Olympic center you can also ride a bobsled.  It's a four-man sled, and you start from the top of the track, the same track used in the Olympics.  In fact, I watched the bobsled event at the 2002 Salt Lake City Olympics many years back, so it was neat being there again.
The driver of the sled is a professional, all being current athletes and/or retired athletes.  Whereas the other three people in the sled were average Joes like moi.  It takes about 57 seconds to complete a run, which is a bit under a mile long.  There are 15 turns, which reach up to 5g's of force. Crazy pants.
Here's a video I shot during my first ride.  The forces were so strong the camera mount kept bending back towards the end (I shot multiple rides).  This was shot on a GoPro Hero4 Black.
I was planning on putting on the new 4K 360° action cam from 360Fly (fairly similar to the non-4K one I reviewed), but after feeling the forces and the incredible vibrations – I'm about 99.99% sure the unit would have snapped off.
Watched big kids fly off big jumps: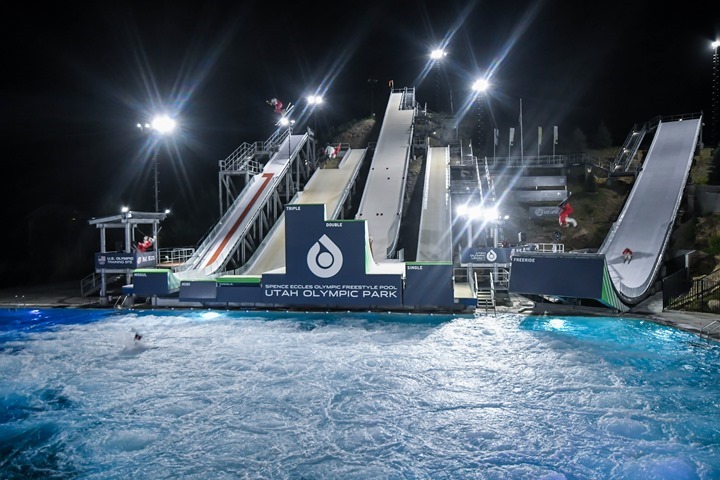 Later on that night the 'Flying Ace All-Stars' were performing.  These are prospective, current, and former Olympians from various aerial focused disciplines (i.e. could also be mogul skiing) that put on a kick-ass night show.  Incredibly cool.
The emcee of the night is also a multi-Olympian and talked through many of the different tricks/jumps being done as well as a bit of background on each of the athletes.
As a fun activity, try and count how many people are in the air or on the ramps in the above photo.
Got a BOB: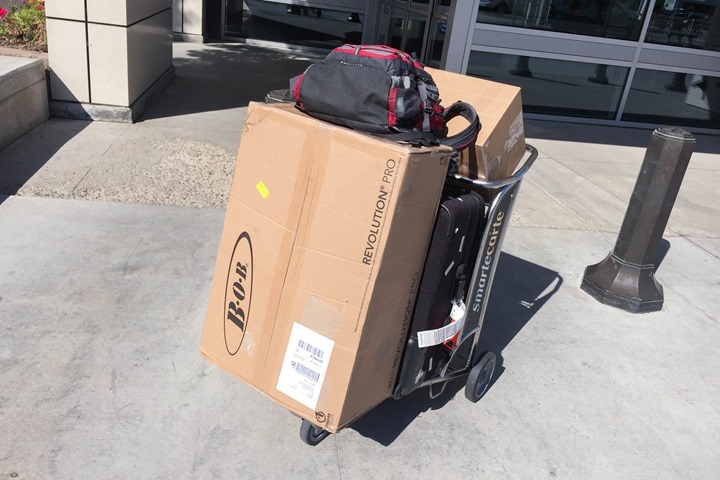 Yes, a running stroller.  The Clever Training folks were awesome enough to send it over to us as a bit of a baby shower gift.  Worked out perfect that I was in the states as opposed to shipping to Europe.  I know both The Girl and I are eager to run with it
And even better: The Girl didn't have The Peanut while I was away.
Flew Back on Home: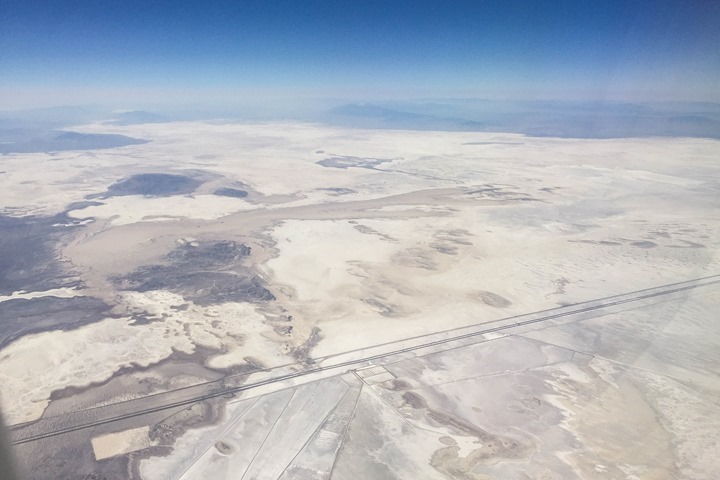 I've now just landed back in France at Charles de Gaulle Airport.  I was reminded on the airplane while reading the inflight magazine as to how crazy expensive wine is in the states.  I didn't realize that a $20 bottle of wine is considered a budget option.  For us in France $3 is our budget option, and $7 is going all-out for the night.  You pull out a $20 bottle of wine and people will look at you all crazy.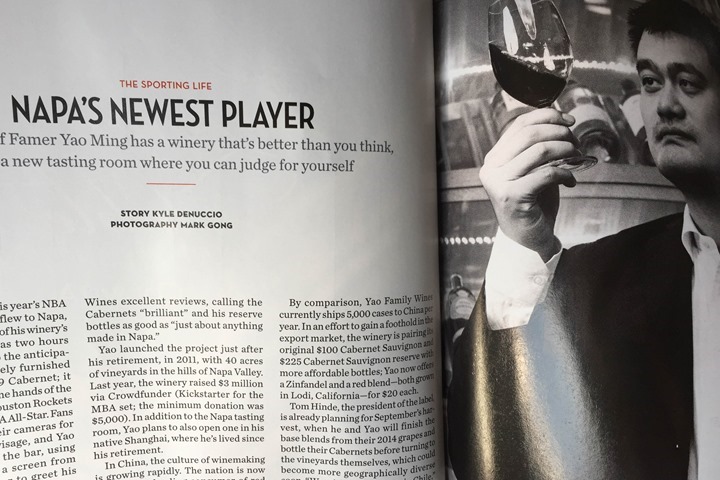 As such – good to be back home!  Have a great weekend all!