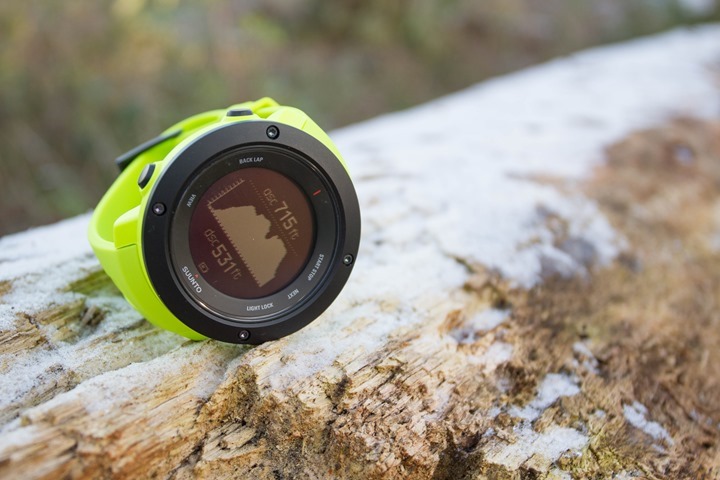 About 10 days ago Suunto announced the Ambit 3 Vertical, making it the latest high-end watch from the company, and a continuation of the Ambit lineup.
However, with the announcement has come a bit of confusion around what exactly is different about the Ambit3 Vertical from the existing Ambit series.  Or, for that matter – how it's different from the sorta newish Suunto Traverse. Another watch unit that doesn't take the name of the Ambit series, but still sorta looks like it.  It started shipping a couple months ago.
Well, I'm here to try and explain it all to you. Just like my recent post on the Garmin Tactix Bravo, if you've come here hoping for massive differences and changes you'll likely be disappointed.  Instead, these are more subtle, but still in some cases badly needed changes.
The Suunto Ambit3 Vertical – What's Different: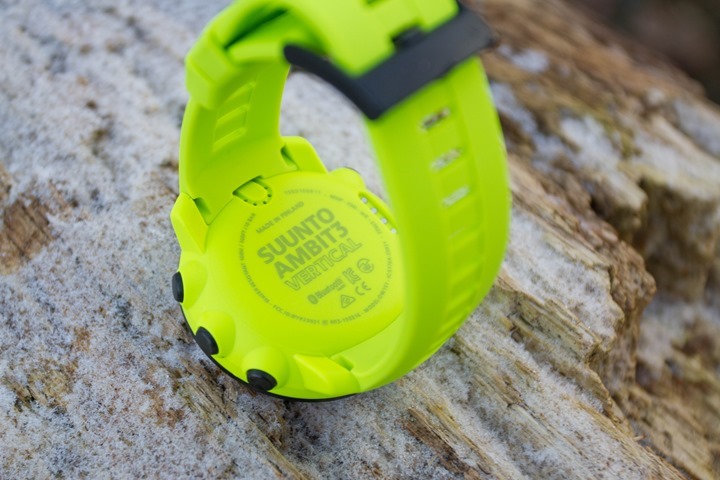 So while it has the same name as the Ambit3 series, it's got this new suffix tagged onto it 'Vertical', which gives away a little bit of how it's different.  You'll remember that the other three suffixes for the Ambit3 include the Ambit3 Run (running focused), Ambit3 Sport (budget multisport) and the Ambit3 Peak (high end).  Well, the Vertical model is aimed to slide in right between the Sport and the Peak, almost right against the Peak, but without a handful of software features of the Peak (yet it adds others the Peak lacks).  Further, they've added numerous features that really target those doing lots of climbing on a regular basis.  If you live in the majority of Florida, this watch is not for you.
First up, the physical difference between the Ambit3 Sport/Peak and the Vertical:
– Adds in vibration alerts
– Adds in GLONASS GPS capabilities
– Adds in barometric altimeter (not seen on Ambit3 Sport, but on Ambit3 Peak)
– Removes the satellite hump found on the wristband of the Ambit1/2/3
– Reduced battery life compared to Peak, same as Sport
So as you can see, the physical features aren't terribly different.  What you see is that they've changed up the GPS portions in order to miniaturize and move it to the main watch pod versus a secondary bump on the wrist band (just like the Suunto Traverse). Note that none of the above can be added to the existing Ambit3 units because they are physical hardware changes.
Next, the software is where things were added compared to the Ambit3 Peak.
– Ability to show current vs route elevation profile on watch
– Dashboard ascent graphs/details (i.e. weekly/monthly ascent graph)
– Ability to show 3D distance (default is enabled)
Whether or not these software features are ported to the more expensive existing Ambit3 Peak (or the Sport), remains unknown.  Suunto says they haven't decided yet on what, if any, of the features might be added to existing units.  Here's a quick gallery of what the different new dashboard views look like:
There are three features though that didn't make the cut on the Ambit3 Vertical that are present on other models:
– Storm warning
– Weather trends
– Sea level pressure
Now it's probably worth going back to the route profile for hills feature, as that's kinda cool.  What you'll do is to create a route first up, using Suunto Movescount (online, not via phone).  Note, that as I found out later if you create a map you'll want to ensure your NOT using Google Maps, but rather Mapbox maps, since otherwise you won't get altitude information during your activity.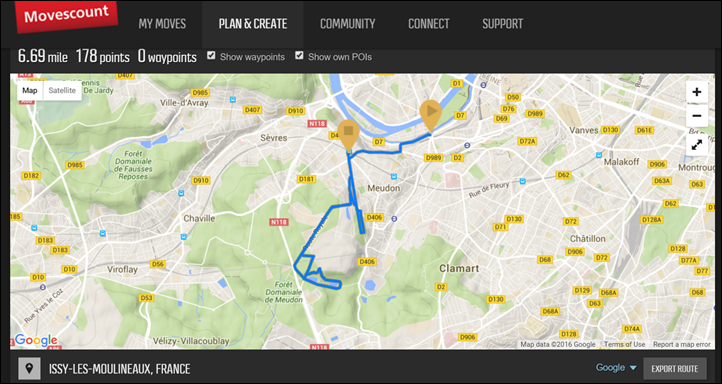 Then, you'll select to send this to the watch.  At this point you can then sync via either USB or Bluetooth Smart.

From there, it's available on the watch to select and open up from within the navigation options under routes:
Now one feature that's still oddly omitted is the ability to track daily steps walked.  A feature that's as basic as dial-tone on any smart-watch these days.  While some have made arguments that such a 'basic' feature doesn't belong on a 'sport' watch, or that adding such a feature would clutter the UI, those arguments are pretty shallow.  Every other company in the space has managed to add step-count in a pretty and usable way, Suunto is more than capable of doing so here as well.
A Brief Price Overview:
Just to help illustrate better where things stand on the whole lineup.  Below are the retail prices for each:
Suunto Ambit3 Peak: $500USD
Suunto Ambit3 Vertical: $469USD
Suunto Ambit3 Sport: $400USD
Suunto Ambit3 Run: $300USD
There are also other variants, such as the Sapphire glass options, which generally bump the price of a given model up by $150.  But for the purposes of keeping things simple, I just went with the above core models.
And, for lack of other place to stash it – here's a quick unboxing gallery of the Ambit3 Vertical:
As you can see, the components are the same as found in other Ambit3 units, with the charging clip remaining the same (thank you Suunto!).
A First Few Runs & Rides:
So let's head out on a run or two with it, to give it a whirl.  I've done both an interval workout with it, as well as a hill run and into the forests.  This isn't an in-depth review, it's just a quick look of sorts.
For this post, I'll start with discussing it for the hill/forest run first, and then I've given brief mention to the GPS track within the interval/park run.  In my case, I pre-created the route you saw above for my workout.  Once getting all situated, I loaded up the route via the 'navigation' menu.  I could select to utilize the route forward or backwards.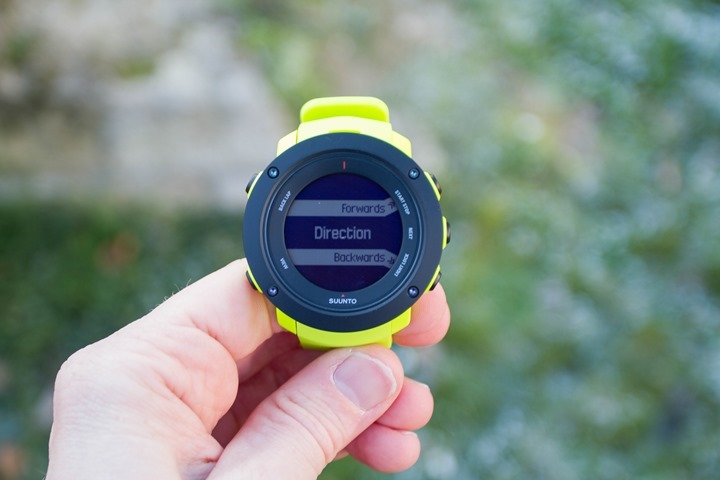 It then shows me my route, and I'm ready to roll: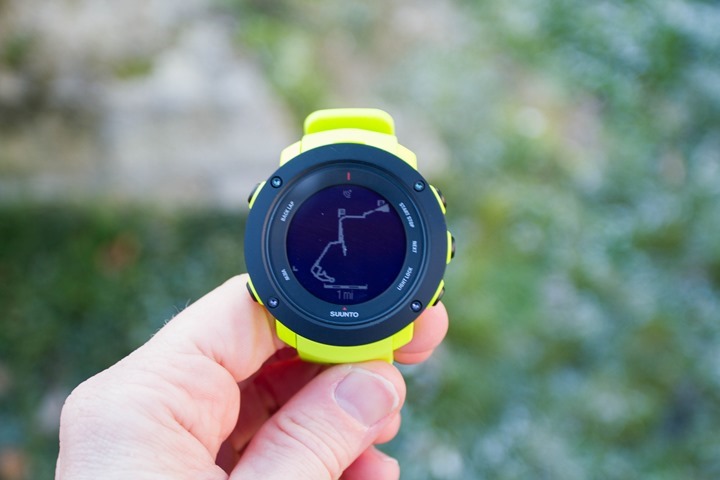 The first portion of my route was neighborhoods as I climbed away from the city and into the forest.  The majority of the climbing was during this section.  After which, I got myself into the woods for some wandering.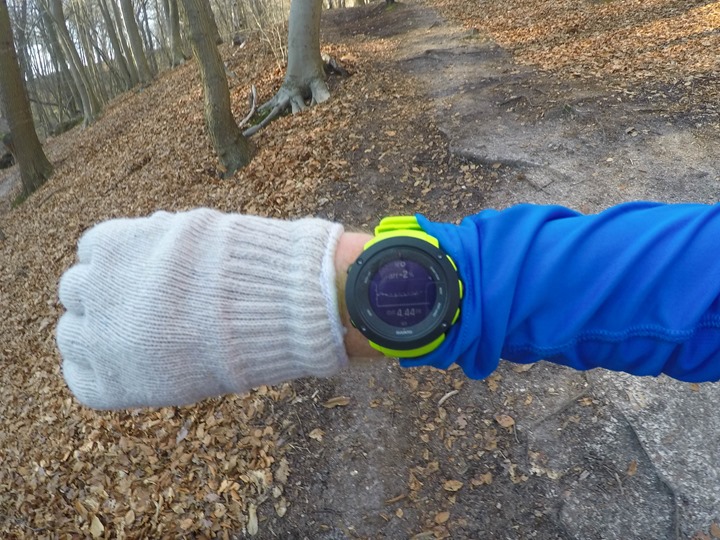 In my case I was mostly just following the little course route line.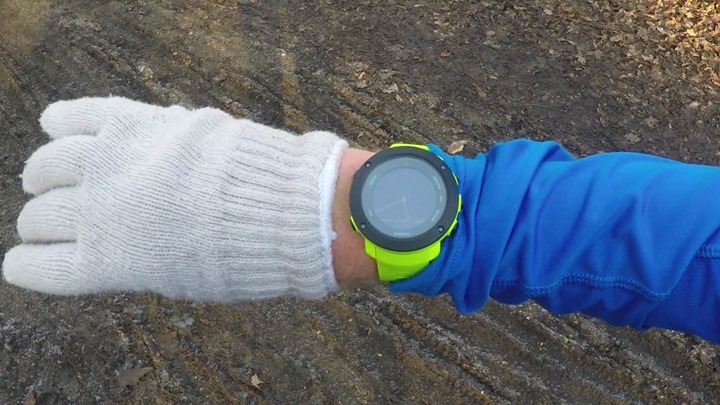 During the run I got the performance indicator.  If you're above the line, you're doing good, below the line, things are fading.  For a long run, you'd expect to fade over time, showing a slow decline in performance.  In my case, coming off intervals yesterday and trying to do a large hill run today – I was below a bit.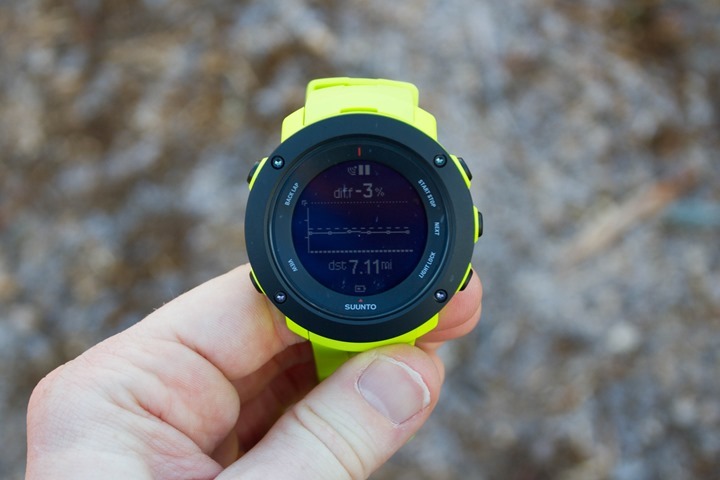 Now in my case, I was expecting to see the main feature of the Ambit3 Vertical – the ability to see your current altitude track overlaid against the planned route.  In theory, it would look like this:
However, in my case, it was always blank.  I'm not entirely sure why, and neither is Suunto.  They're digging into it – but noted that there's a bug fix release planned shortly around some of this functionality. (Update: Turns out this is because I used Google Maps on Suunto Movescount to create my route, as opposed to selecting Mapbox maps.  Suunto says they'll find a way to make this noted/clear, otherwise as was my case I didn't know there would be any difference.  They also noted they'll work to ensure down the road it won't matter what map I use to create the route.  But for now, just use Mapbox.)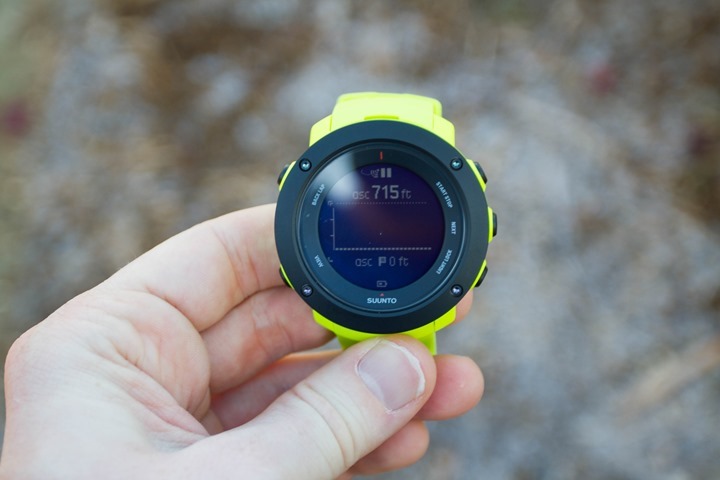 Now, once I finished my route, I did get the full elevation plot, as seen below: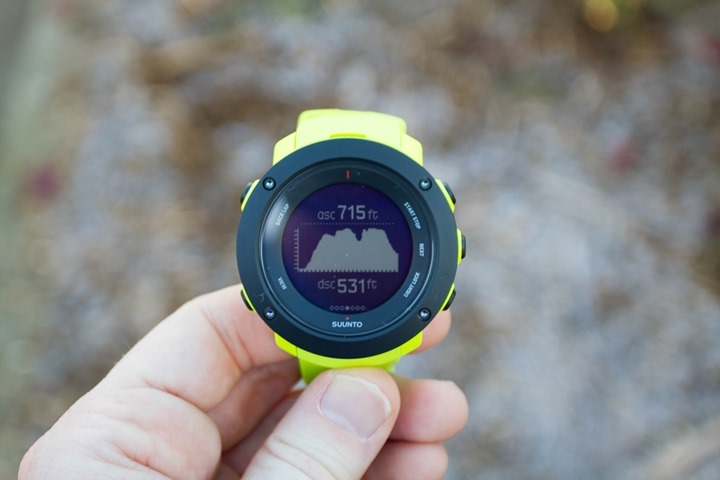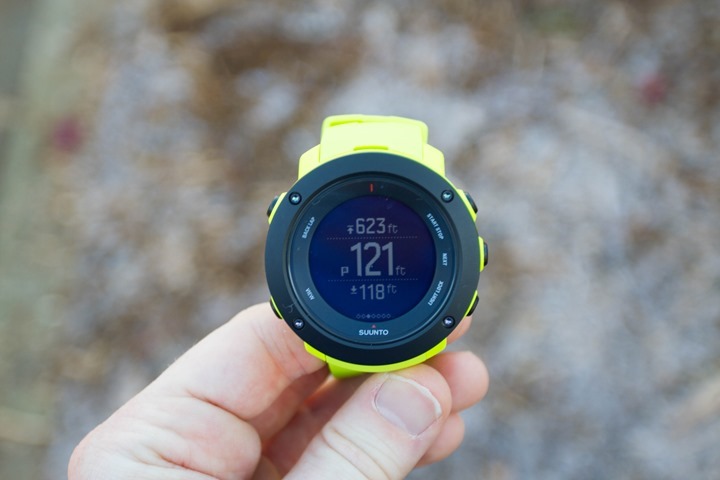 Speaking of things I got, I was using Stryd with the Ambit3, to gather running power (as in, power meter).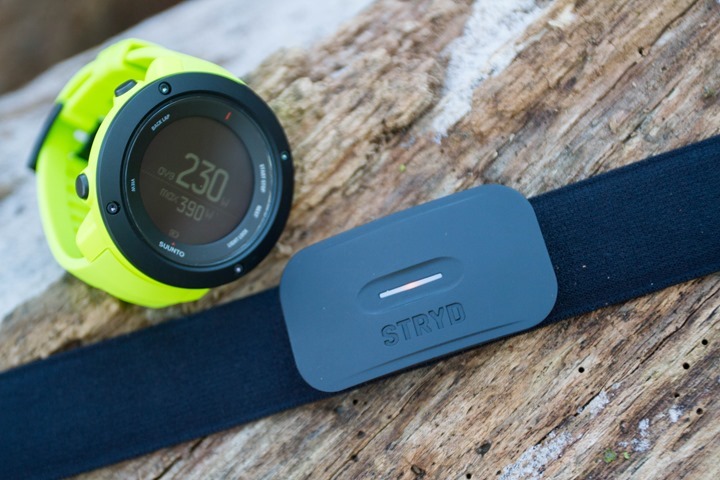 The Ambit2 & Ambit3 (Peak/Sport/Vertical/Run) are the only GPS watches that actually fully supports Stryd.  With the latest update, you no longer need to pair the power portion separately, it just does it automatically when you pair the HR strap.  You can see your power data during the run, as well as afterwards on Suunto Movescount: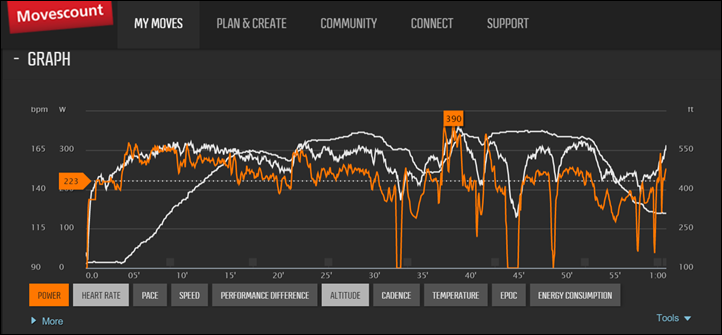 The Styrd worked well with the Ambit3 Vertical, and it's so much easier to use on the Suunto platform (device + web), than it is on Garmin's platform, due to Garmin making life difficult here in not supporting a power meter while running.  So props to Suunto for nailing this.  Note however that the power data was/is not enumerated on Strava from Suunto (you can see my full Strava activity file here).
As for the GPS track, on the majority of the route, it did quite well.  However, in two sections within the woods – it struggled where none of the other devices struggled (a blend of FR630 and Fenix3 units).  You can see it swing through the trees in one section, and another where it went for a brief swim (the Ambit3 Vertical is the green line).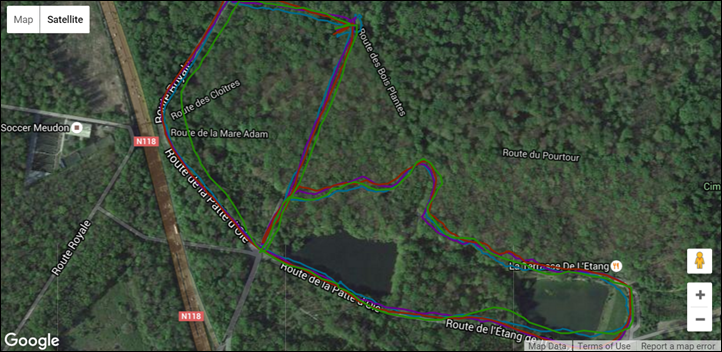 As for the interval workout, things generally worked out well.  I ran down to a local park where I was doing 800m repeats around it.  On two of the loops, the watch did suffer some sort of GPS accuracy issue.  As you can see below, it shorted one end, while traversing across the other.  It's unclear to me why.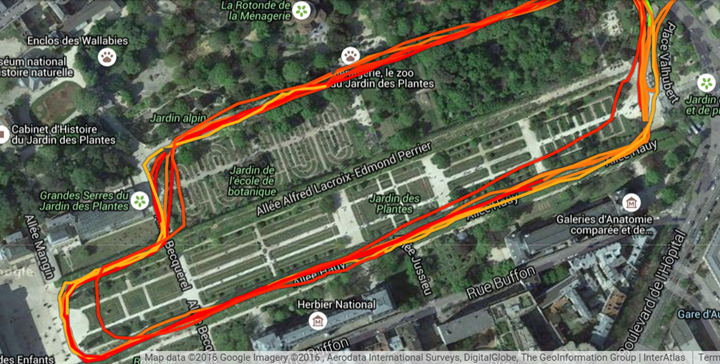 To compare, here's the track from the Fenix3 on the same run: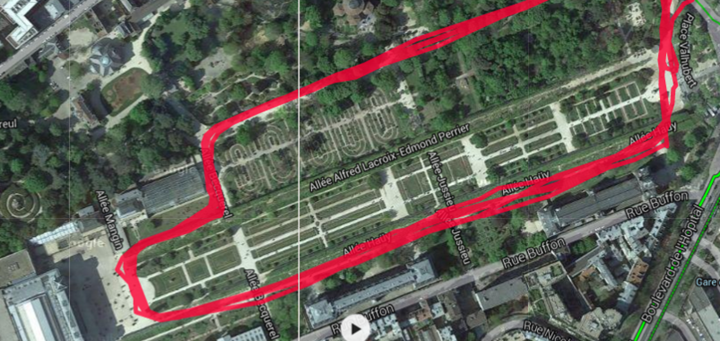 This is one area on the Traverse (which shares a similar hardware design) that has caused some pain.  Folks (including myself) have seen lesser GPS accuracy than the usually stellar Ambit3 Peak/Sport units.  It's unclear if this is due to the new antenna location, different GPS chipset, or just bad luck.
If I look at my road ride from last week however, I don't see any GPS track issues.  However, in my GPS testing experience – it's generally very rare for GPS units to get wrong road rides, since the higher speed tends to produce more accurate results.
(Updated note: You can download the various tracks here in this .ZIP file)
So what about the Traverse?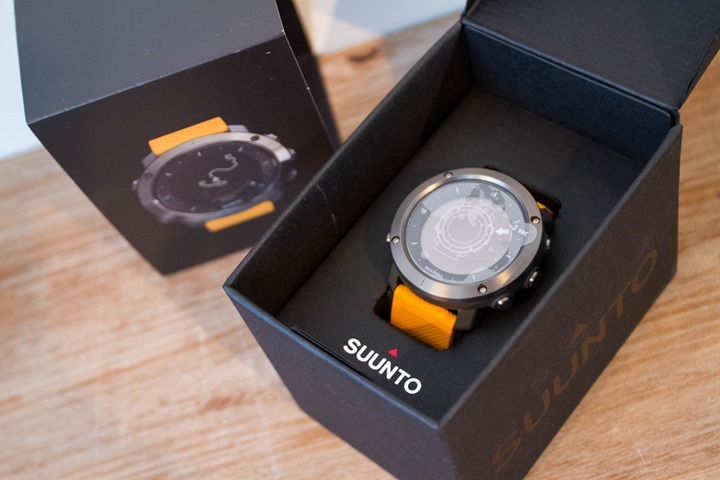 Ahh yes, the mysterious Traverse.  The unit was semi-announced this last summer by Suunto.  Then re-announced in the fall, and started shipping in late fall.  The unit comes in at $450, so just under the Ambit3 Vertical (which costs $469).  When it was announced, the Suunto Traverse was sorta the new kid on the Suunto block in terms of being bump-less (no satellite bump), and having vibration alerts.  Further, it gained GLONASS functionality.
It also gained some minor software features, such as:
– Automatic daylight savings time functionality
– Dedicated flashlight mode
– Route altitude graph (like the Ambit3 Vertical)
– Daily step counts
– New breadcrumb navigation system
However, while it gained those hardware components, it lost numerous software features (seriously, a boatload of them).  Gone was the multisport functionality found in the Ambit3 series, or even the ability to have more than a handful of sports.  Here's a non-complete list of reduced functions compared to the Ambit 3 Sport:
– Reduced to 3 sport modes from 5 sport modes
– Removed Cycling with sensors & swimming metrics, as well as multisport modes
– Removed Running footpod support (cycling sensors removed too)
– Removed Recovery/EPOC information
– Removed Autoscroll, workout planner, interval mode, training plans
Beyond those specific features, there are some odd quirks like it automatically starts an activity when it completes searching for GPS, and also repeatedly would struggle to find satellites for me when I moved to a new location. Further, I do find it has a rougher time with GPS accuracy than the Ambit 1/2/3 does.
I've been using the Traverse for the past two months, and in general I'm lost for a specific target audience now that the Ambit3 Vertical is out.  Prior to the release of the Vertical, it was basically for folks who were new to Suunto and didn't need the multisport capabilities.  Now, it's just overpriced compared to the Vertical.
(Below, you can see the difference between the Ambit3 Peak and the Traverse, notably the front bump that's missing)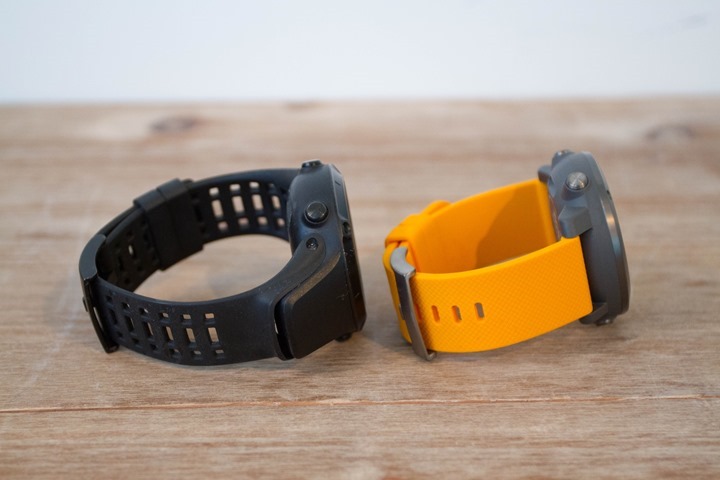 I'd expect that Suunto will have to drop the price of the Traverse to be slightly above that of the Ambit3 Run, which is basically the feature-set it mirrors – albeit with the barometric altimeter included (hence why I think it should have a slightly higher price).
Final Thoughts: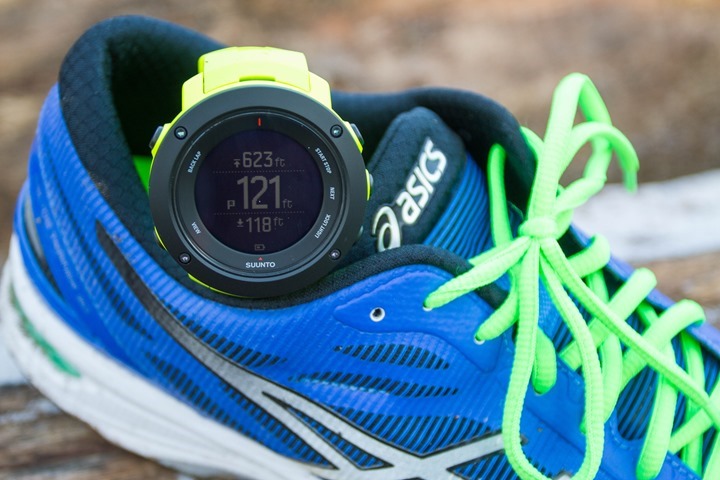 Overall, the Ambit3 Vertical seems like a good stop-gap model for the company.  It's essentially what an Ambit4 could have been, had Suunto kept their roughly annual release of new products.  However, I suspect Suunto knew that releasing something called an 'Ambit4' without significant new features would be challenging.
In this case, they've reduced the exterior of the unit to make it more in line with the competition, adding in improved GPS capabilities (plus vibration alerts), while adding a few minor software features to slightly differentiate it.  Again, not enough to call it an Ambit4, but enough to give it a new model half-way in between on price.  I essentially look at it as a slight price cut from the Ambit3 Peak, but with better hardware (and very minimal missing features for most people).
So if you're set on an Ambit3 series unit, then I'd probably look at the Vertical as the next-gen Ambit3, rather than the original releases.
With that – thanks for reading, and if you've got any questions, feel free to drop them below.
—
FYI: Note that you can order the Suunto Ambit3 Vertical from Clever Training, and by using the DCR coupon code of DCR10BTF you'll save 10% off your order (and free US shipping).  This same deal is also valid on the Suunto Traverse too.  So you can get a whole cartful of colorful watches (or, you can just get the black versions too). Alternatively, you'll find links to the Ambit3 Vertical listed on Amazon on the sidebar.  All of which supports the site and generally makes you awesome!