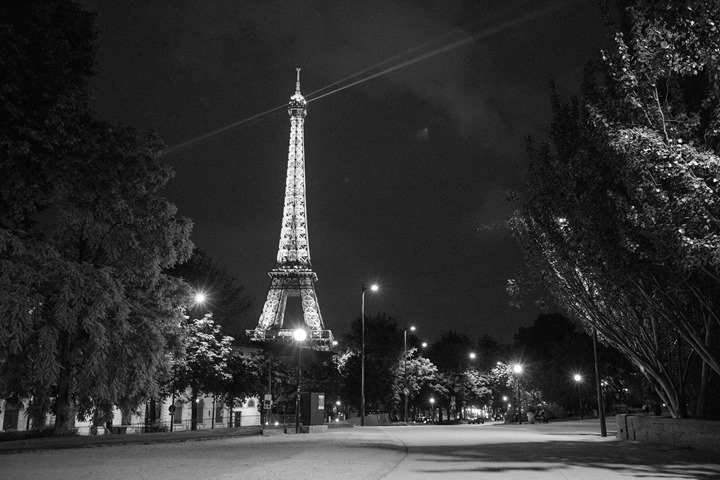 It's hard to sum up the last two days into just a few paragraphs of text.  Mostly because it's nearly impossible to convey the emptiness and sadness that we now feel.
For The Girl and I, we were lucky.  We were spending the evening at the Studio working on various projects late into the night.  It would be harder for the triangle that is our home, office, and shop to be any more central in Paris.  The official 'Center of Paris' marker actually sits on one of the legs of that triangle.  Given we are surrounded by major police buildings, sirens are common to us.  We hear them so often we don't notice them anymore.
But something was different about the 3rd or 4th police car that went flying by at high speed Friday night.  Soon the 10th became the 20th police car rushing across the river only about a mile away.  The sirens would never end that night.  From our apartment, we'd hear them echo across the otherwise silent city, all the way until sunrise.
It only took about 15-20 minutes until concerned texts, e-mails, and calls started to flood in from around the city and around the world. We quickly tried to account for all of our local friends and The Girl's staff, some of whom were at concerts that night.  Given we've only been here a few years, it wasn't a huge list of people to track down.  Still, the Facebook Safety Alert system was incredibly valuable for not just us, but also for our friends and family outside the area trying to check in on us.
In our case, all of our immediate friends and employees were accounted for as safe.  But there were close calls, and the night could have easily ended up very much different for our friends and employees.  The world can seem so big, yet so small at the same time.
In time normalcy will return, but for now – we hear the sirens again.  Each and every one of them a reminder of the fear and sadness of Friday night.  We wonder if something else has happened, with the rest of the city equally jumpy and on edge with every loud noise, scream, or shout.  Still, we know in time the sirens will fade, and the city will come alive again.
Both The Girl and I would like to thank you for the outpouring of e-mails, tweets, and text messages checking in on us over the last two days.  It really means a lot to us that so many of you reached out to check on our safety.