This weekend Zwift rolled out the first iteration of their new workout mode.  This is a bit of a departure from their past claim to fame, which is the 3D world known as Zwift Island (or more recently, the Richmond UCI Road World Championships).  In that world, you race hundreds of others in real-time around a looped course.  You can go as hard or easy as you like, but like Strava – you're continually being judged against others and yourself on segments and efforts.
Where the workout creator differs is that instead of racing against others, you're effectively racing against your ability to nail a specific workout as close to the prescribed steps as possible.
Selecting a Workout:
First up is the decision that you're going to do a structured workout versus just riding around in a circle within Zwift (though don't worry, you'll still do that).  To choose a workout simply click the 'Select Workout' button at the top right; before you'd otherwise select to just 'Ride'.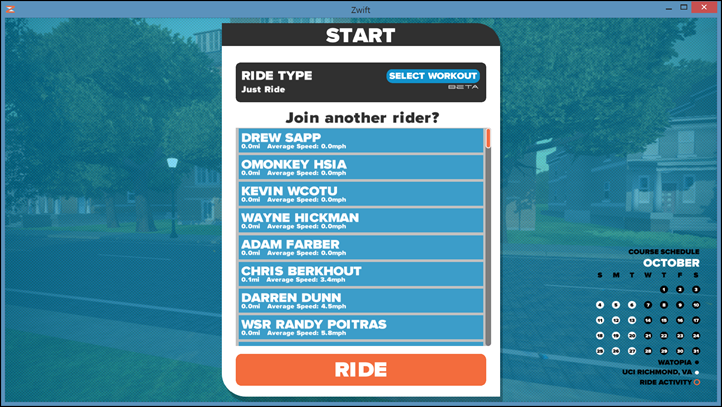 Next, you've got a boatload of choices. Far more than Zwift implied was coming.  These are categories into a few different areas.  First are ones by various coaching groups or training entities – such as Marco Pinotti and Hunter Allen (Peaks Coaching Group).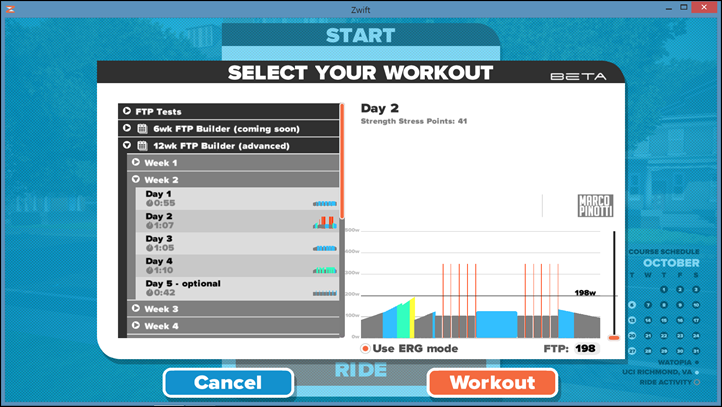 Then you've got another pile sorted by length.  So you have under an hour, 1-2 hours, and so on.  For most of us, we're trying to match a block of time we have to a workout that fits that.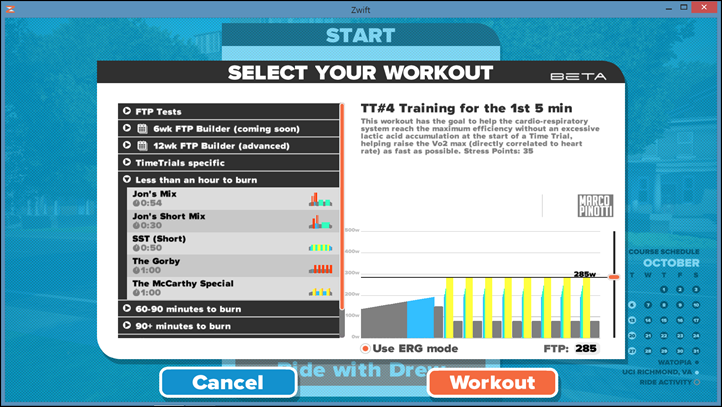 Then, on the right side you'll see a profile of the workout.  You'll also note a small text box that allows you to specify your FTP (Functional Threshold Power).  By default Zwift will auto-calculate your FTP for you and stick it in the box.  But in my case it was far too low.  So I manually overrode it (to a number that I low-balled and was also too low).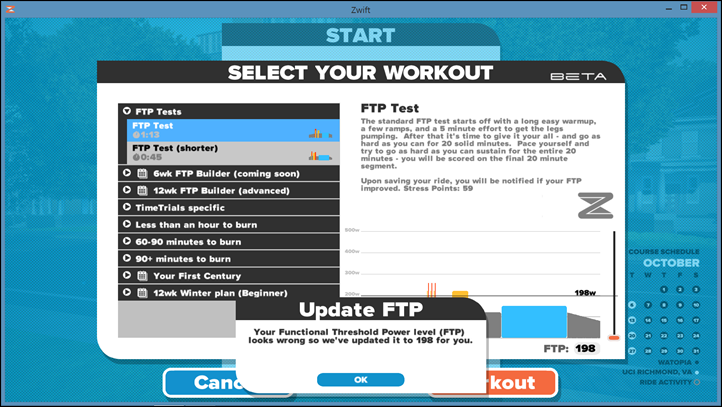 But, if you'd like to know for certain, you can take one of their FTP tests and then suffer for an extended period of time to get that number.  Your choice.  Either way, once done go ahead and select the workout and let's get this party started.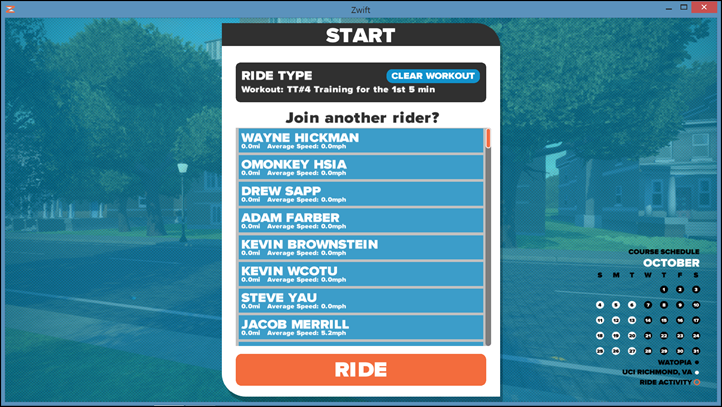 (Note: If you're looking for a listing of all of the workouts to date, reader/blogger Titanium Geek has painstakingly taken screenshots of them all.)
Riding the Workout:
With selection taken care of, it's time to start the workout.  The first thing you'll notice is that you'll be plunked down on the Course du Jour (i.e. Zwift Island or Richmond, as it may be), just like everyone else.  In fact, you'll be riding alongside of everyone else…just sorta in your own parallel universe (The Girl tells me the same thing all the time).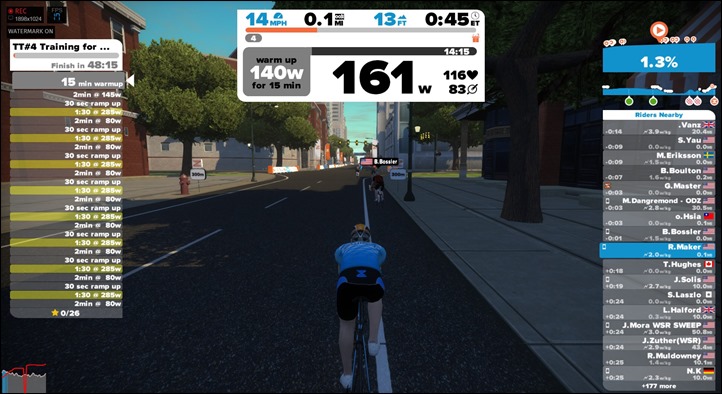 Once you start pedaling you'll notice a slew of differences.  First is that along the bottom you've got a graph of your power as well as your heart rate.  The power graph along the bottom is color-coded based on your power zones.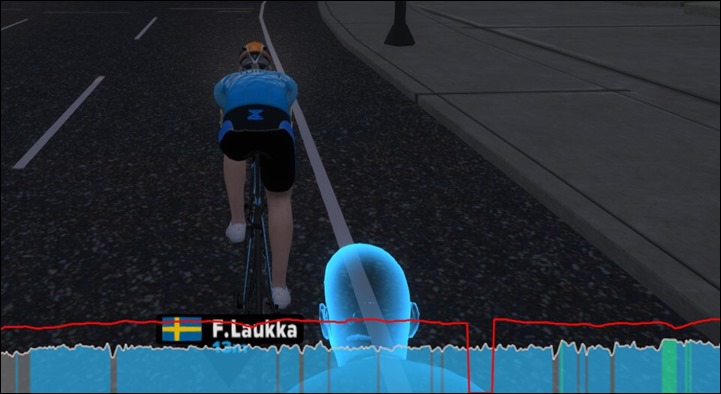 On the left side you've got your workout structure, all itemized like a test.  And in a way, it is.  See, you're actually graded on each piece of the workout – from the hardest of the hard, to the easiest of the easy.  Like a child, you're given little stars for those that you do successfully.  And half-stars for those done half-assed.  You can see this below on the 5th line down: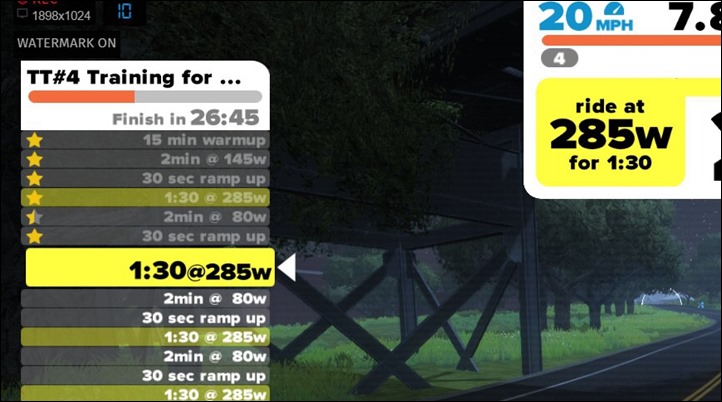 For example me, I had a problem going easy.  Those 80w easy recovery sections, I pushed too hard – and thus got two cases of half-stars.  And one case of no-star.
The listing of sections is pretty self-explanatory, though the harder sections are highlighted.  These are the ones that'll suck more.  Meanwhile, up in the middle is a banner chunk that updates you on progress through each section (or segment) of the workout.  This includes the target for each section (a specific wattage), your current wattage, the time remaining for that section, and your current heart rate and cadence.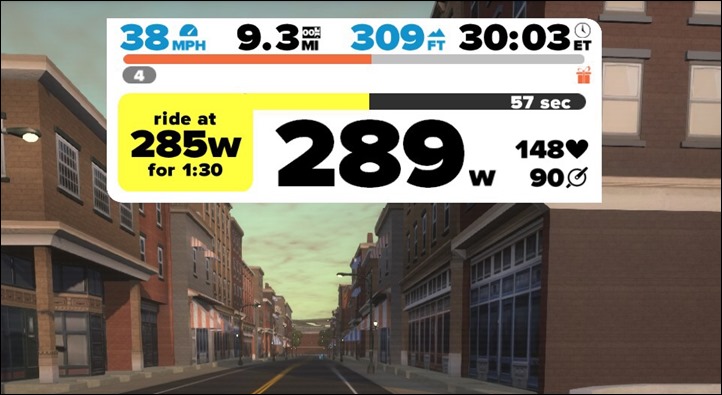 Now in my case I was riding on the Tacx NEO, which is an electronically controlled trainer (like the Wahoo KICKR, PowerBeam Pro, CompuTrainer and many others).  That means Zwift controls my resistance level.  But it doesn't actually control it as tightly as some other workout apps would.  In this case, it actually gives me a bit of play.  So I could overshoot or undershoot, and then ultimately lose my stars.  So basically: It gives me just enough rope to hang myself.  And it reminds me of that as I go along: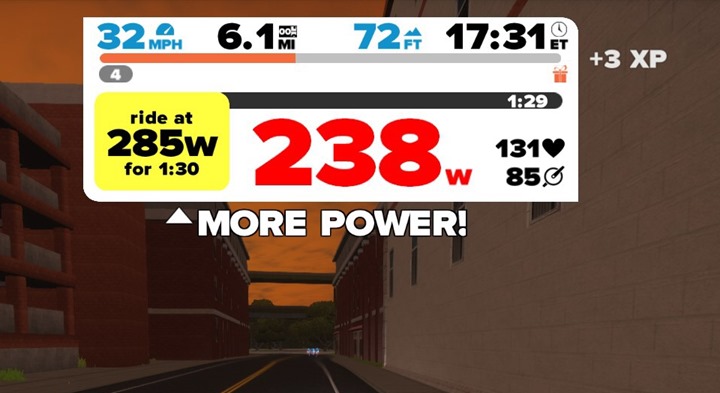 As you've probably noticed by now – I'm riding on the same course as everyone else, and can hear and see everyone else at the same time.  The only difference is that I don't get the impact of the hills (up or down).  Instead, it's all equalized against whatever my target wattage is.  This was sorta interesting actually on one of the steeper hills in the Richmond course.  Here I had an interval end mid-hill, and my speed went from being slightly faster than everyone to exceptionally slower (2MPH).  All tied to wattage of course (or rather, Watts/KG).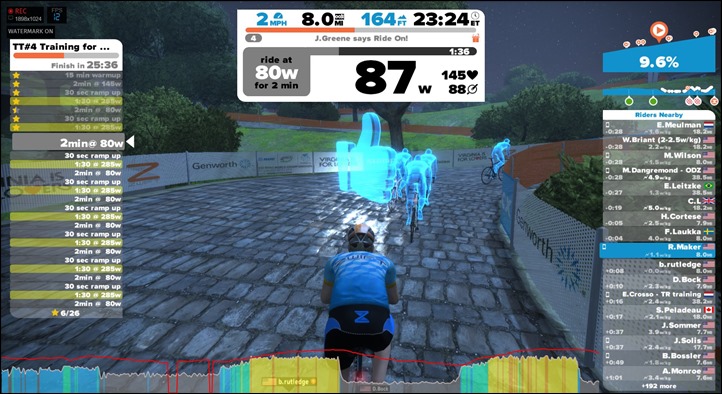 However, course aspects like sprint zones and other segments aren't triggered as normal (except when later uploaded to Strava).  Instead, you'll get your own set of banners, placed at the start and end of each interval.  You'll see them as giant halo's/arches over the course: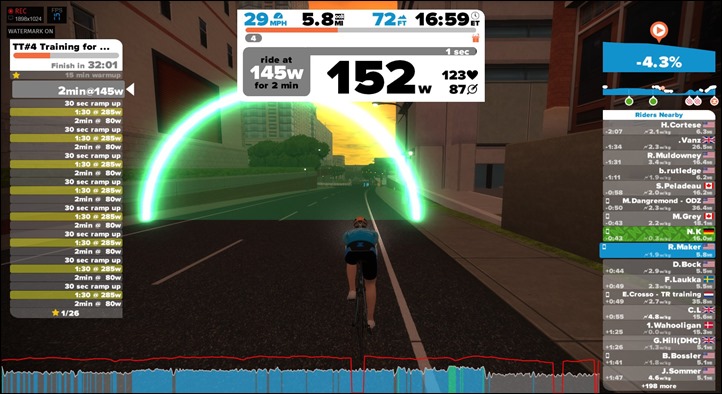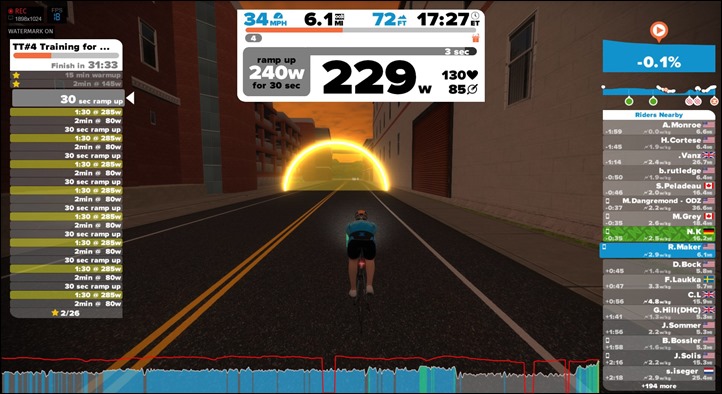 The actual finish of the entire workout is sorta anticlimactic.  I didn't get anything else special, other than the usual Zwift completion screen.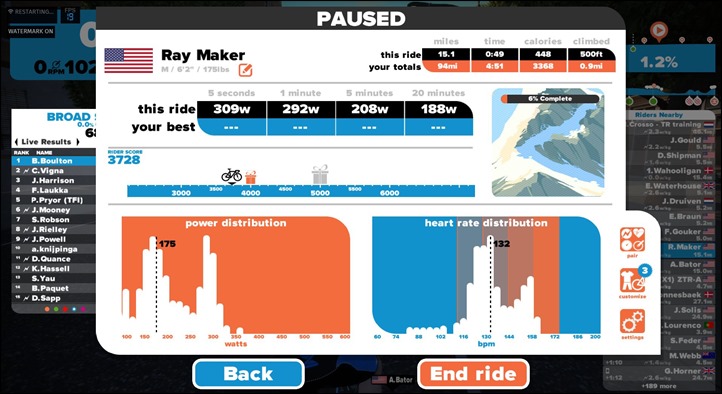 However, I did think it was interesting to note that the second you complete the structured workout you're dumped right back into regular Zwift mode.  So if you want to cool-down, or do a few extra miles you can.  And once back in regular Zwift mode you're back to competing for segments, etc…
Wrap-up:
Overall I'm pretty impressed with things.  It's far more detailed than I expected, and actually – far more structured workouts than I expected.  Without question, it's the fastest I've ever felt 50 minutes go by on a trainer before (actually, even faster than regular Zwift).  I think that's because I'm the kinda guy that actually prefers a structured workout more than not.  In other words, I typically prefer TrainerRoad style workouts (or structured workouts from my coach rather than just Zwift roaming around.  However, this was sorta that perfect little blend, with the secret sauce being that I could still see and communicate with others on the course.  For example, three folks yelled out to me during the ride (Hi!).  So it made it a bit more community driven than just a pure solo workout.
It had the significant benefits of a true structured workout with the social aspects of a group ride.  I'll certainly be looking forward to being able to create my own workouts, which is coming down the road in a Workout Creator mode (something that TrainerRoad has had for quite some time).
Of course – the real test will be later this week when Zwift finally turns on the credit card readers and starts requiring payment.  It'll cost $10 per month (but £8 if in the UK).  How many of those tens of thousands of beta users will stick around once they've got to start putting quarters in the machine?  That's the real question.  This weekend's workout mode update certainly seems to be aimed at priming the excitement ahead of that cutover.
Thanks for reading!