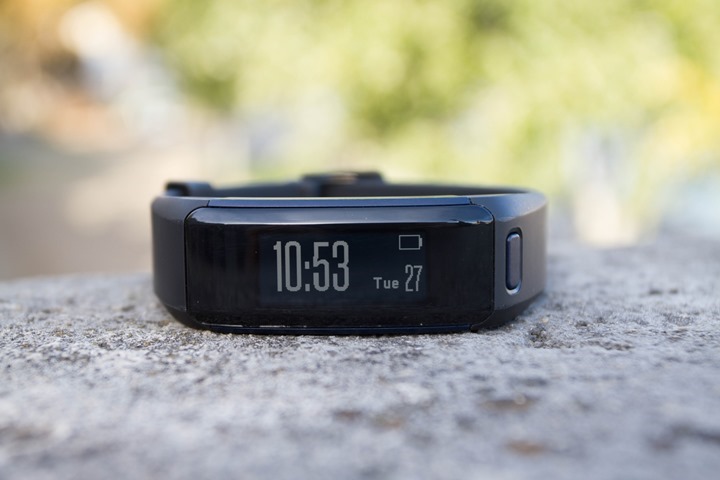 Update! See my in-depth review of the Vivosmart HR – now located just one click away here!
Today Garmin rolled out their latest wearable, the Vivosmart HR.  This new wrist-bound device takes the Vivosmart band that they announced slightly over a year ago, and adds in an optical sensor.  Along the way it got a fancy new crisp display and a few new features.
The Vivosmart line isn't new, and actually started last year with the original Vivosmart, which blended the activity tracking features of the Vivofit with many of the smartphone connected features of newer devices, like notifications.
Now it's important to note the device name and what each one looks like, especially if purchasing.  That's because many retailers used 'Vivosmart HR' as the name of the product last year when they included the bundled heart rate (HR) strap.  In theory, the official product name then should have been something like "Vivosmart with old-school bundled HR strap", but alas, it was shortened to 'Vivosmart HR' by some retailers.  Whereas this year, the Vivosmart HR is truly an optical HR sensor inside the Vivosmart.  So, for comparison purposes, here's the two units side by side: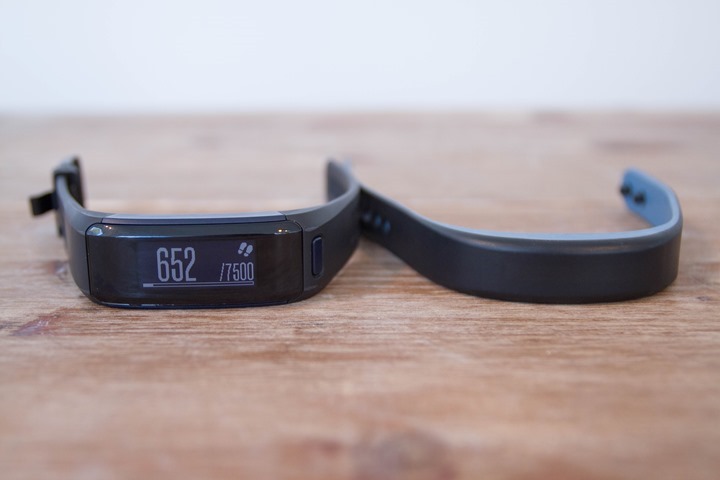 To the left is the Vivosmart HR, to the right is the old Vivosmart not-HR.  If you see anything looking like the right, it's not the new unit.  And for fun, here's the Vivofit with the Vivosmart HR: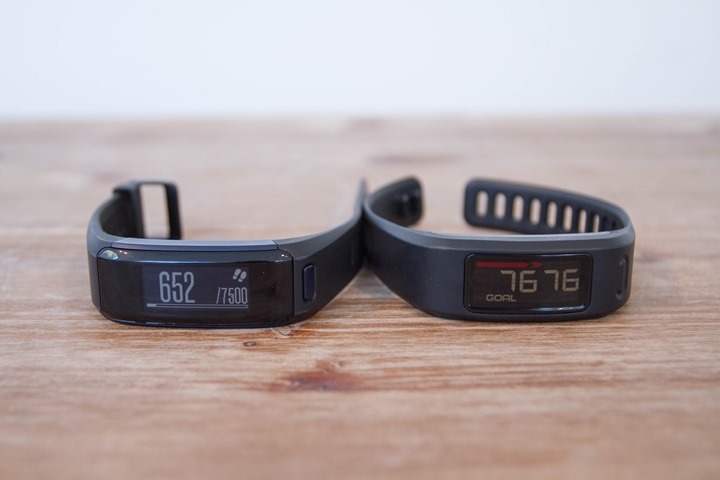 And just for fun, here's two shots of the front/back as worn on my wrist:
Phew. Let's get onto the device itself.
What's new: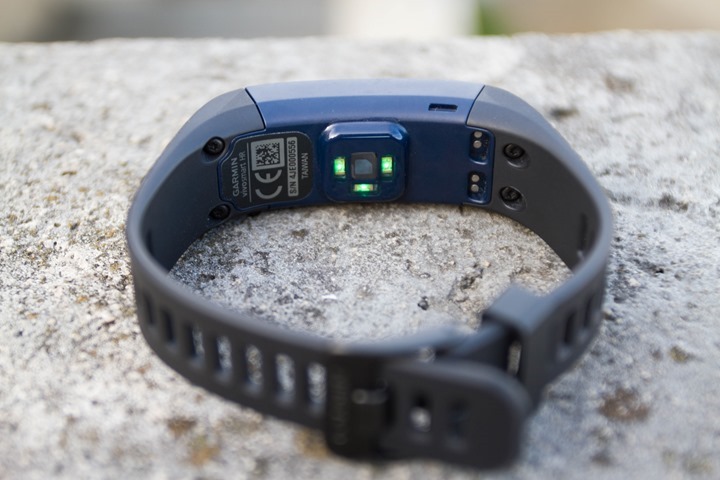 Since time's limited (I've got 57 minutes until announcement!), and thankfully the feature-set is pretty similar to last year, we're going to cook right into bulleted points of what's new.  And then I'll go through each new item later in the post.  Here's what's new/different on the Vivosmart HR:
– Internal optical HR sensor
– 24×7 heart rate recording (continual resting HR, and average resting HR)
– Counts stairs (flights of stairs)
– Displays intensity minutes (against a goal of 150min/week)
– Backlit display
– Slightly reduced battery life – 5 days instead of 7 days on original Vivosmart
– Rebroadcasting of your HR over ANT+ (so other devices can pick it up)
– Does NOT connect to ANT+ cycling sensors (like the original Vivosmart did)
– Does NOT connect to external ANT+ HR strap (like the original Vivosmart did)
It still does all the same jazz as last year such as:
– Tracking steps, daily distance walked, calories burned
– Inactivity alerts & Move Bar
– Tracks workouts separately
– Time alarm
– Smartphone Notifications (i.e. e-mail, text, Twitter, etc…)
– Music Controls
– Find your phone option
– Vibration alerts
But did I hear you say you wanted a quick preview video of the device, complete with new and old features? No problem, here's a rundown of everything in just a few minutes:
Now, just to be super-clear, the Vivosmart HR does NOT have GPS within it.  It also can't pair to your phone for GPS data (sorta a disappointment).  So for distance it uses your stride length, which you can tweak if you know it (or use a treadmill to figure it out).  This will help increase accuracy. Additionally, for cyclists, it can pair to an ANT+ Speed sensor to get speed/distance while cycling – just like the original Vivosmart. Update…apparently not – that was pulled.  As was also the ability to connect to a separate strap.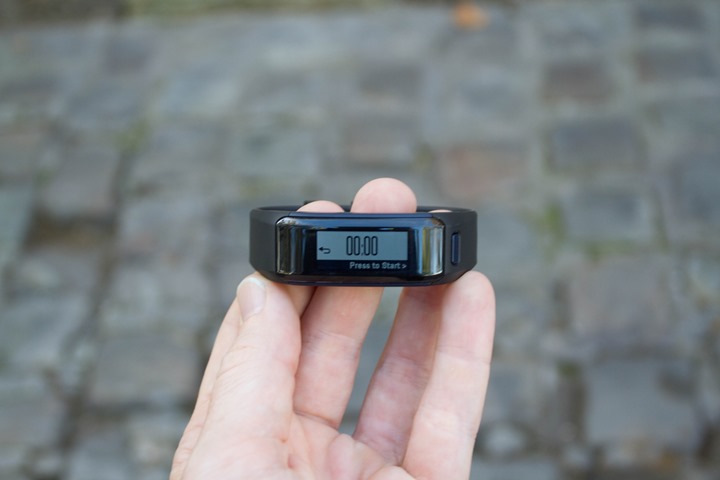 Of course, the big news is indeed that new optical sensor developed internally by Garmin (not licensed).  Which, btw, Garmin is officially branding as 'Elevate'.  So, the Vivosmart HR has Elevate technology in it.  Or, to the rest of us, it has an optical sensor.  I'll decide whether or not it earns the name Elevate if it actually works in my forthcoming testing.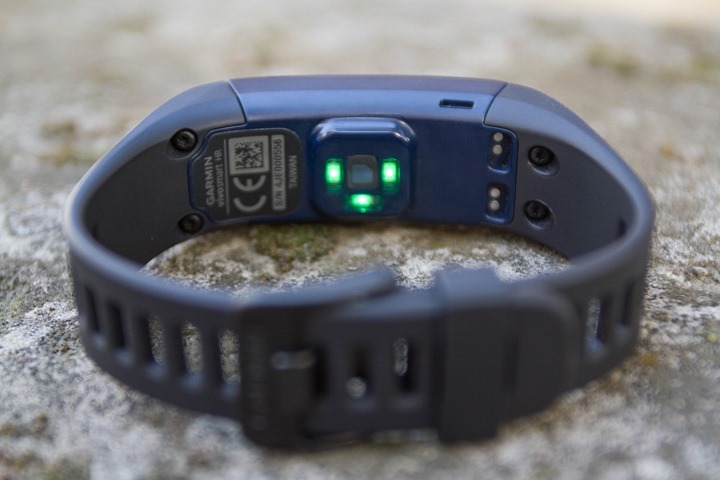 In non-workout mode you'll see a data page on the display when you swipe to the side that shows you your current HR, as well as your average resting HR.  In my case, I haven't quite been wearing it long enough for the average HR to show up.  I assume by this afternoon it will, in which case I'll update the photo below.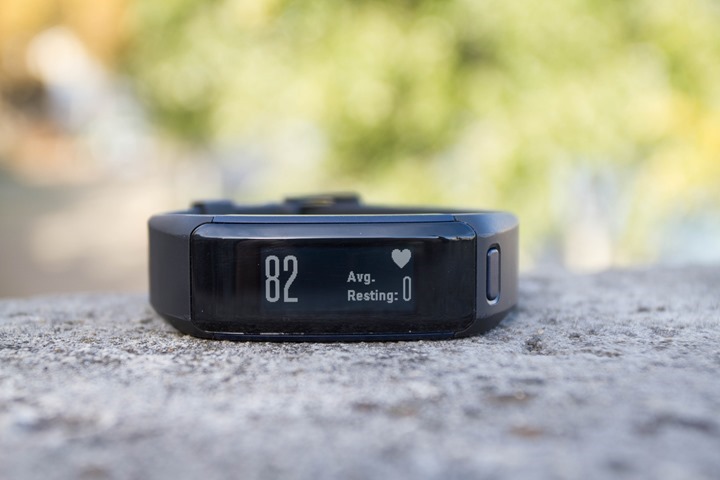 The HR tracking is done continuously, 24×7, in addition to HR tracking during a specific workout using the optical sensor.  While this is the second Garmin product in a week to include the in-house optical sensor, I don't expect to see it rolled out to additional products this year, but likely more into new products next year sometime once it's optimized a bit more.
As for the sensor accuracy? I don't know yet. I haven't run with a final production unit yet, though I have run with a prototype unit.  As with the FR235 last week, I'm going to withhold judgment on the optical sensor until I've had at least a few runs with it.  However, given it's new and unproven, I'm going to say the same as last week: All optical sensors are guilty of sucking until proven otherwise.
To be clear, there are many great optical sensors out there.  But those sensors had to prove they were accurate.  Garmin will have to do the same – for both workouts and 24×7 HR data.
Note that the 24×7 optical HR data is then recorded to Garmin Connect via the Garmin Connect Mobile app (or to your desktop via Garmin Express).  On the mobile app side it uses Bluetooth Smart to connect to the device, on iOS and Android.  You can pair that via the settings menu:
As alluded to earlier, this is the first Garmin unit to display stairs climbed.  It does this utilizing an internal barometric altimeter.  You'll then see the goal flights of stairs listed, next to how many you've actually done: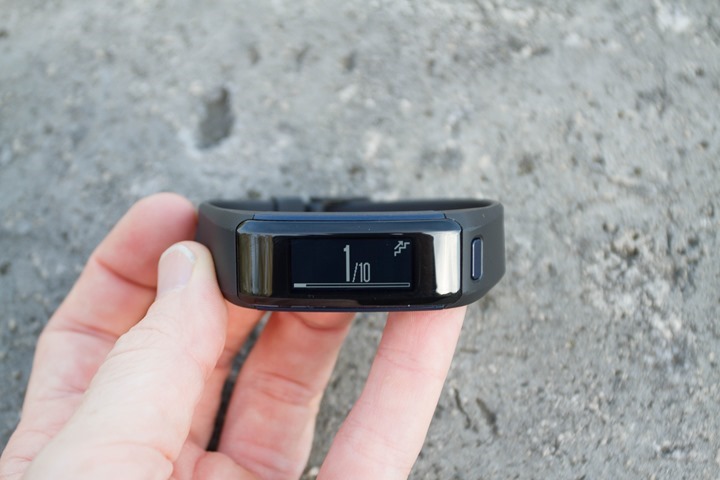 In addition to stairs, Garmin adds in 'Intensity Minutes', which is basically a fancy way of saying 'Workout Minutes'.  Except, it sounds intense.  The goal here being to get you to 150 intense minutes per week, with the unit tracking this on a weekly basis rather than a daily basis.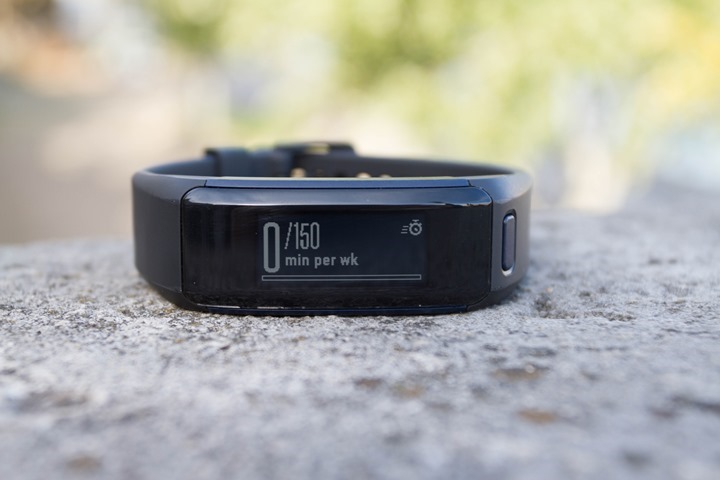 This 150-minute suggestion of course comes from a multitude of health organizations that recommend 30 minutes of exercise 5 times a week.  So Garmin totaled it up and called it done.
Initial Thoughts: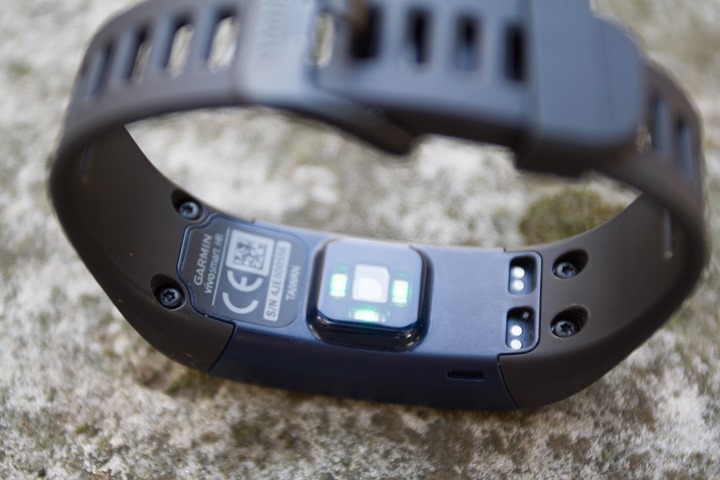 At $149USD, it's actually fairly well priced.  It's roughly in the same ballpark as the Fitbit Charge HR in terms of price and base features, but the Vivosmart HR includes a far better display, far better waterproofing (50m vs none) and way better workout tracking.  By almost every metric the Vivosmart HR is more capable than the Charge HR (except perhaps battery life).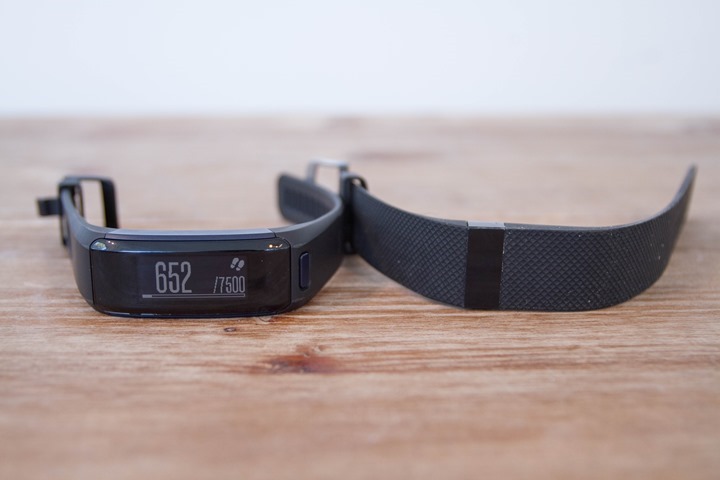 The real proof will be in whether or not the optical sensor is accurate.  In the case of Fitbit that answer is 'Sorta…it depends'.  So hopefully Garmin's accuracy will, Elevate, above that bar (yes, I went there).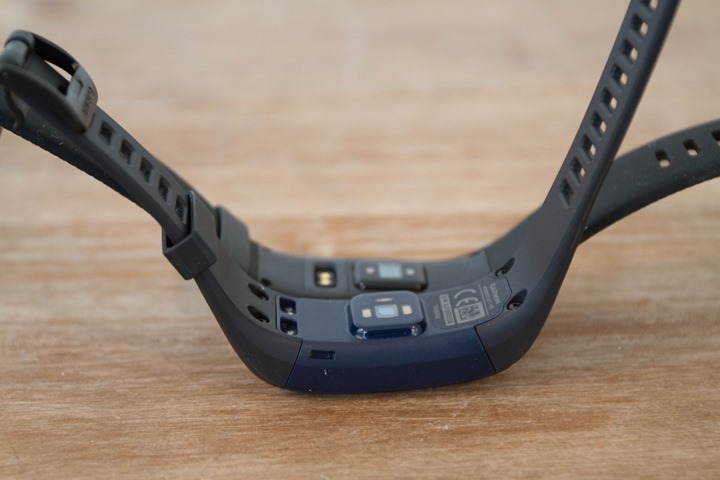 Note that the Vivosmart HR is available in three colors – a black, deep purple, and dark blue.  Quite honestly you can't tell the difference between them from more than a few feet away.  However most notable is that the Vivosmart HR will only be available to Best Buy exclusively from November 1st to January 1st.  This means that other retailers can't carry it.  On the flip side, it means that in theory it's available to pickup this Sunday at a Best Buy store near you.  Why is that notable?  Because it's going to be interesting to see if the optical sensor is ready for prime-time.  That was likely a hard-set date, versus one where Garmin could say push back until ready.  Maybe they're already ready.  We'll see.
With that – thanks for reading, and feel free to drop any questions down below – I'll try and get them answered.
–
Heads up! You can now pre-order the Vivosmart HR from Clever Training.  Doing so supports the site, and makes you awesome.  Also, you can use your DCR-Clever Training VIP benefits, as described here.  Here's the link:
Garmin Vivosmart HR (all colors & sizes)
Do remember though that Best Buy does have an exclusive 60-day period ending January 1st, 2016. Thus all shipments will occur starting in January.
Thanks for the support, it helps the blog here!