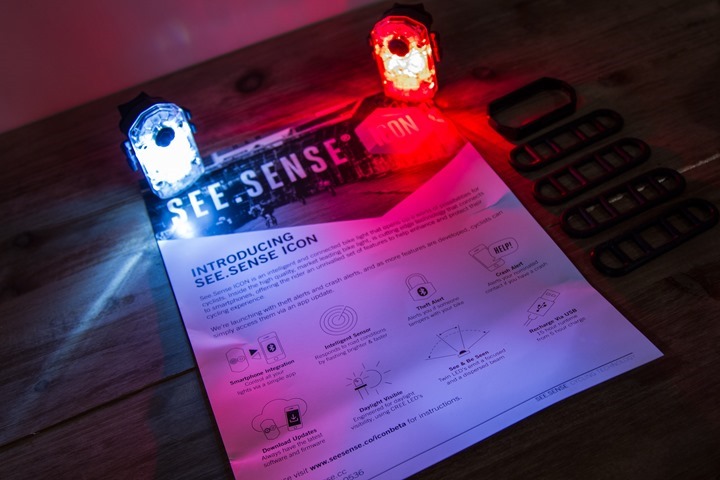 (Before we begin, I should note upfront that the Kickstarter campaign for this project ends in about 2 days.  So, if you're thinking of reading this post this weekend, you'll have missed the boat.  That delay in posting is totally my fault in just getting swamped the last few weeks.  Nonetheless, it's cool stuff and I wanted to get it out before the campaign closes.)
Back about three weeks ago a small Irish company, See.Sense, launched their second Kickstarter project focused on lights.  Their first Kickstarter project was rather successful, pulling in some 500+ backers for their first smart bike light.  That rear taillight would react to road and environmental conditions – such as increasing brightness in darker area, or flashing more quickly as cars approached.
Their second product is also off to a solid launch (already surpassing funding goals) and builds upon the first generation unit with new functions. Most notably however, it adds in a slew of smartphone integrated features.  Let's dive into it.
Connected Features: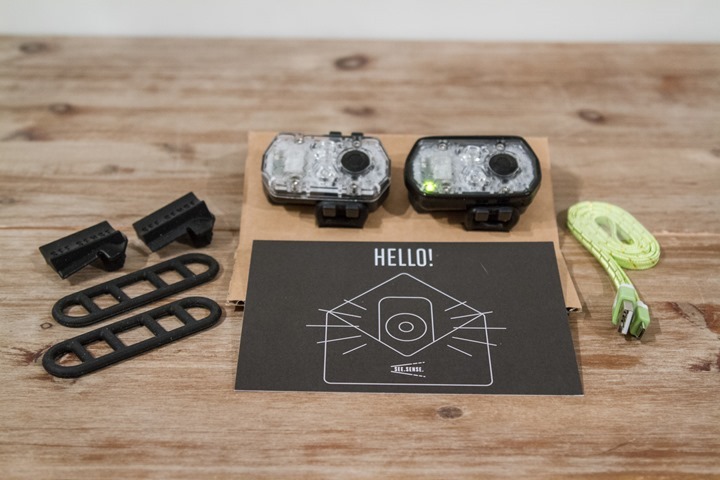 They sent over a unit a few weeks ago to toy with.  It's a prototype unit, but it's still pretty solid from a manufacturing standpoint (note: the swanky green USB cable is not what the final unit will come with).  It's really more the app pieces that are still being fleshed out development-wise.  So some of them I was able to try out, but many of them are being added as we speak.  Still, for a Kickstarter project it's well ahead of where most companies tend to be.  Plus, it's re-assuring that they've been around the block doing this once before.
The unit includes a bunch of core features, which the company handily attached a nifty icon to each one.  So rather than re-invent that (bike) wheel, I'm going to use their graph: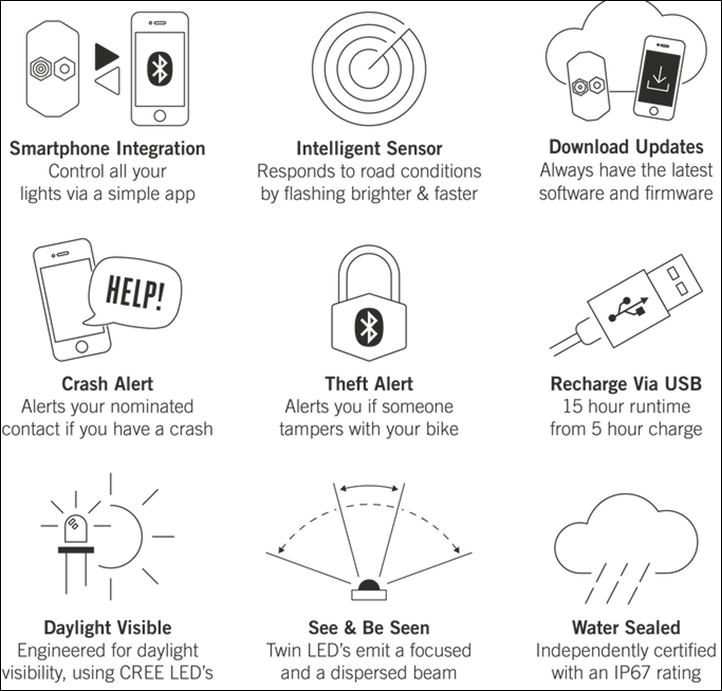 Some of these features are ones that fall into the 'duh' category, for example:
Water Sealed: Sure, that's obvious enough. I'd hope so (and certainly expect so from a company in the UK)
Recharge via USB: Yup, also the norm today in bike lights.  However, 15 hours is nothing to sneeze at.  Solid number there.
Download Updates: This is the norm for any connected bike light these days, but in the grand scheme of regular bike lights globally – it's pretty rare.
Then we've got what are more core illumination functions, similar to what we saw in their past products:
Daylight Visible: This is notable because not all bike lights are great during daylight (while still being awesome at night)
See & Be Seen: This simply means that it splits up into two beams.  One that is focused illuminating just what you need to see on the ground in front of you, while another one is wider so that cars, moose, and camels can see you coming.
Intelligent Sensor: This is really their secret ingredient in their first-gen lights, in terms of reacting to the environment.  This means that it knows when you're going through a tunnel during the daytime, and responds accordingly to increase brightness.  Or that as it detects cars approaching, it increases flashing to attract attention.  In addition, it reacts when you approach a junction or roundabout by flashing brighter and faster as well (the same is true when you brake).
From a light brightness standpoint the company upped the lumens on both front and rear lights with the Icon series.  They've also slightly split the product into two tiers, an Icon and Icon+ line, which simply has more lumens.

The lights themselves look nearly identical when powered off (however, new color gaskets on the most recent units now make it much easier):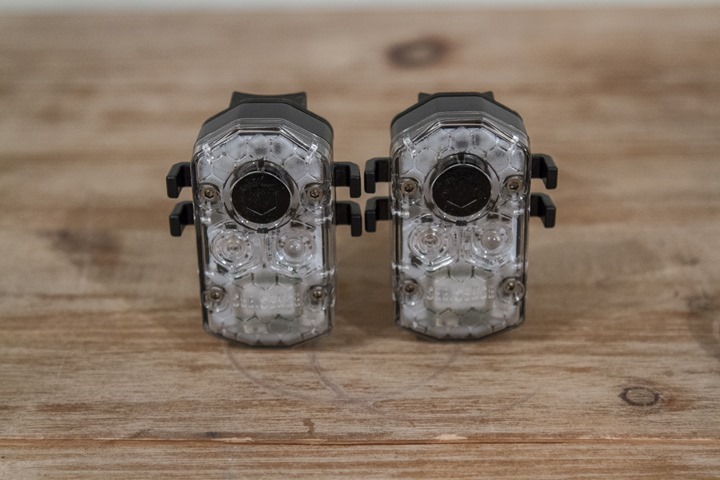 However once turned on, it's quite apparent who's who.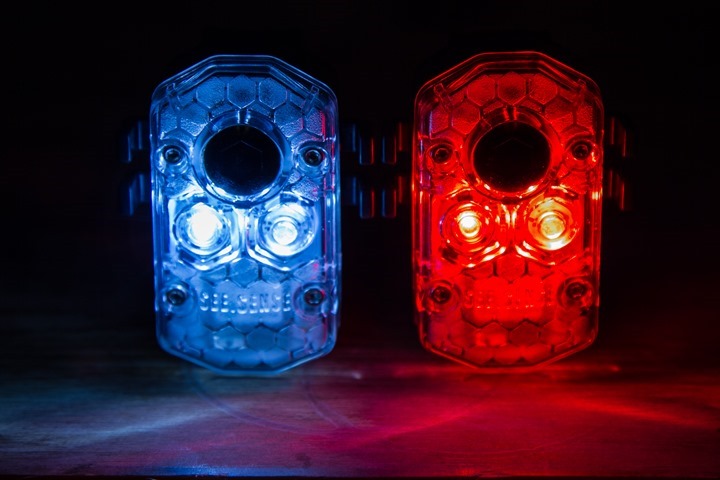 From a mounting perspective you'll use a nifty little industrial strength rubber mount system, sorta like the Cycliq Fly6 system.  It works mostly well and allows you to mount it easily to front or rear locales.  Also included in one of the Kickstarter pledge levels is an aero seatpost mount.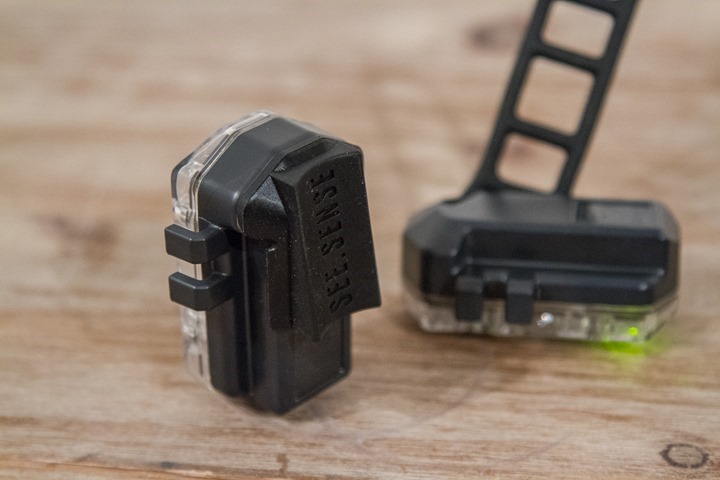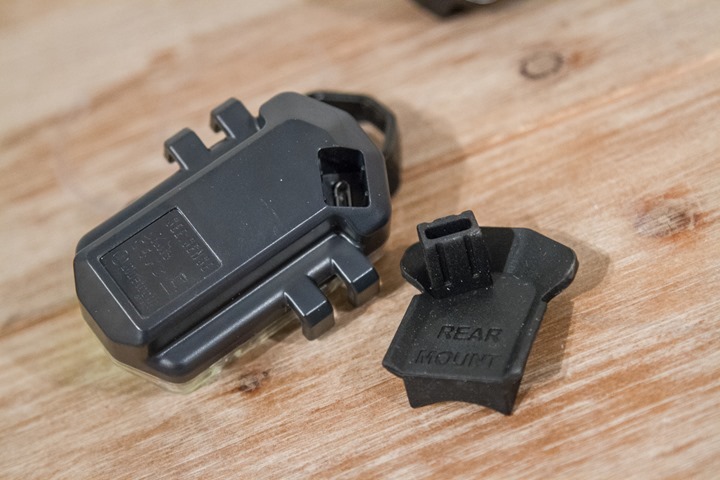 The only slight downside I found was mounting it on the front of one of my bikes basically put it right behind all the cabling, so I had to go with the sideways/horizontal orientation, which then resulted in the beams being a little wonky.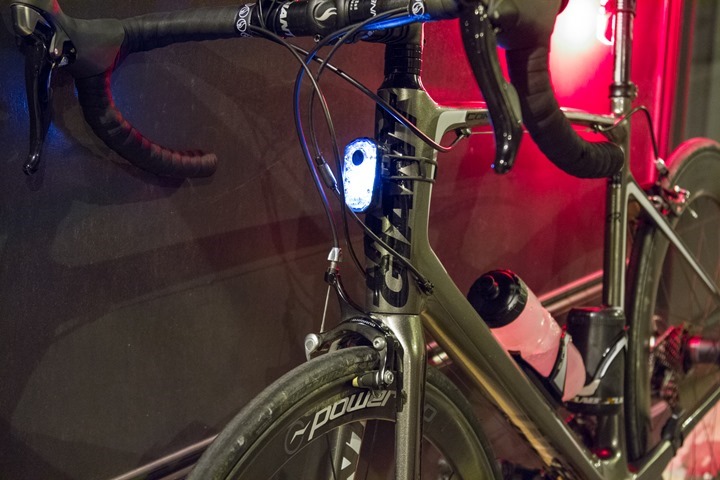 Btw, here's another shot with the brightness turned all the way up: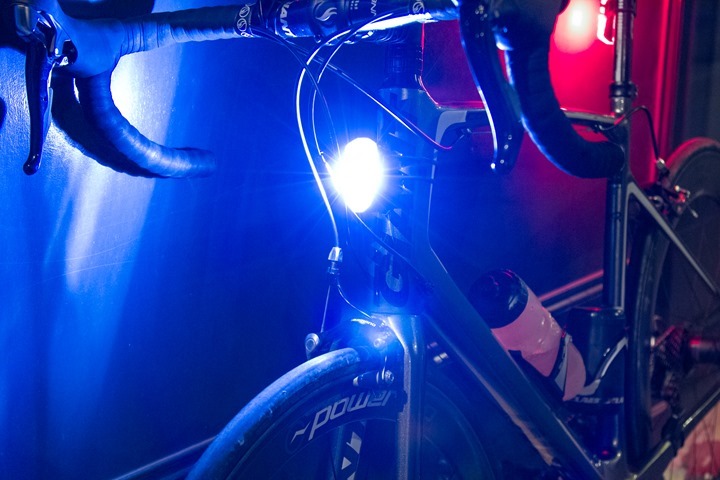 But what about the connected features?  That's honestly why I'm interested – and what's new about these lights compared to past units.  First up is that the lights connect to your Smartphone via Bluetooth Smart.  On their provided app (iOS & Android) you can then search for your lights and save them to the app.  You can see that below: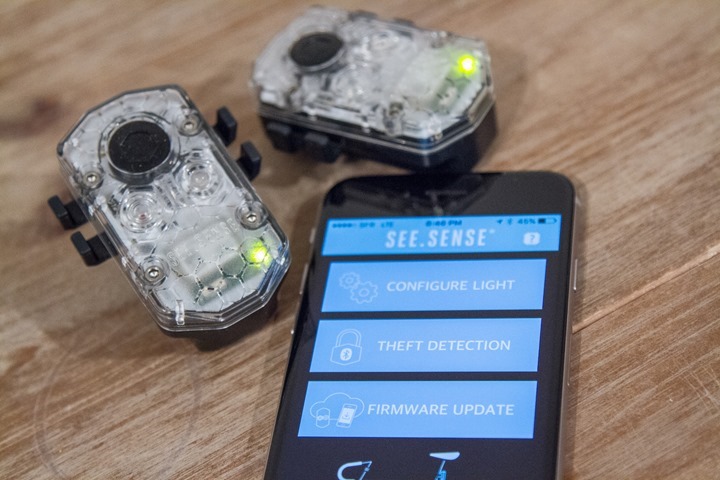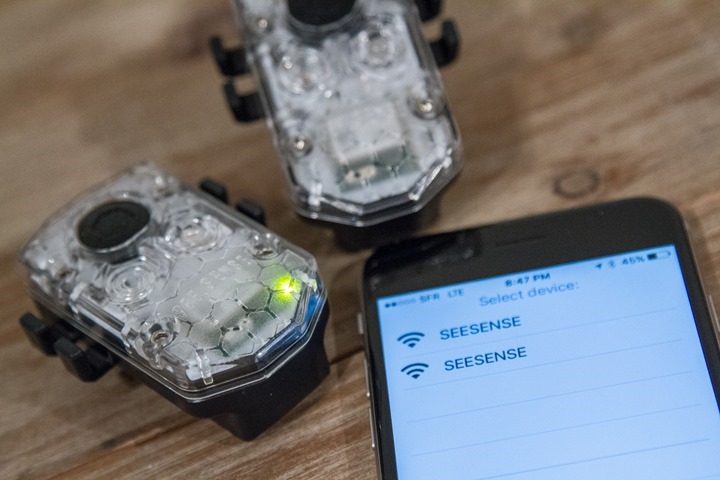 Here's a look at the firmware update capabilities – note of course this will look more polished, but was able to demonstrate the functionality.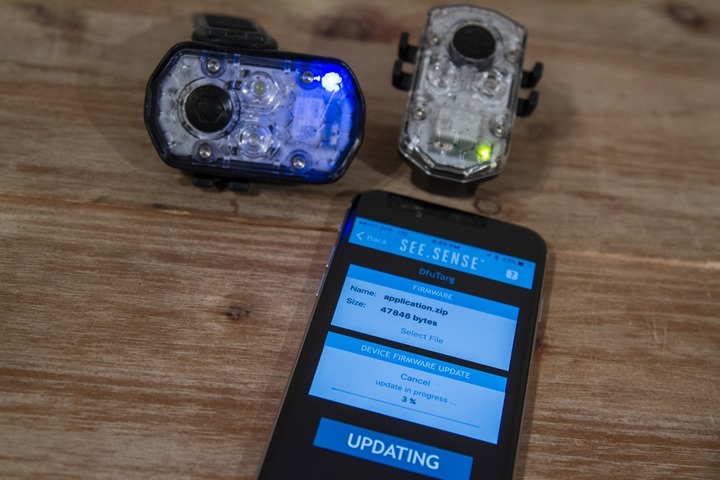 Once connected to the app you can check status such as battery level or changing modes (i.e. flashing to constant).  Additionally, you can control any of the lights (simple on and off), as well as have the lights automatically turn off when you stray more than 3 meters from your bike.  Hopefully that's simply because you got off your bike, and not because you flew over the railing of a ditch and are now down an embankment somewhere.  Still, at least the bike is saving energy…
On the bright side (get it, bright?), if you do fly over that ledge, the app on the phone (hopefully still in your back pocket) will notify emergency contacts automatically for you.  We've seen a few implementations of this from a variety of companies over the past few years, such as ICE DOT, Garmin and others.
Building on that connectivity between the lights and the phone is the ability to have the lights act like a security system for your bike.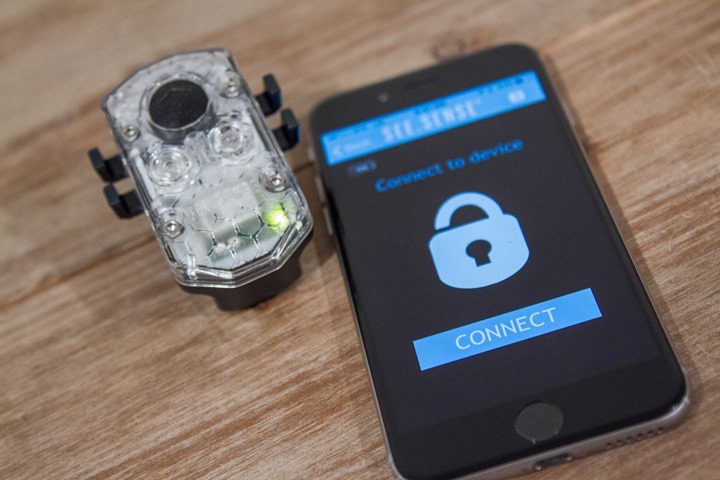 The unit can be enabled into a alarmed mode that will cause your phone to crap itself with loud noises if the bike goes out of range or is moved (uses accelerometers).  Or, you just might crap yourself from the sounds.  Seriously, it's astoundingly loud.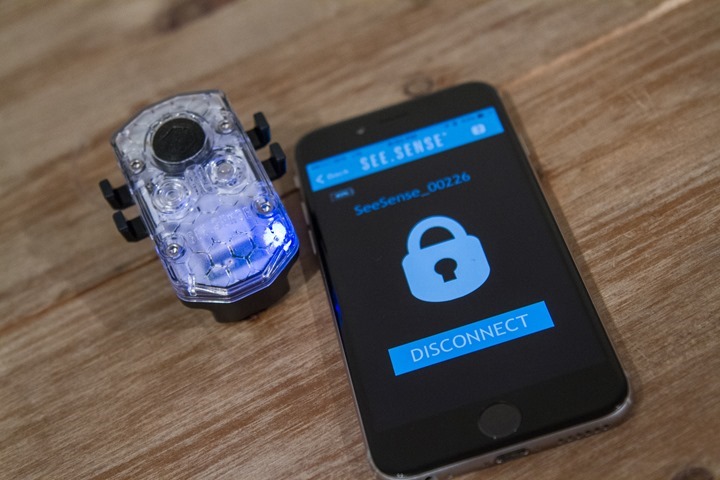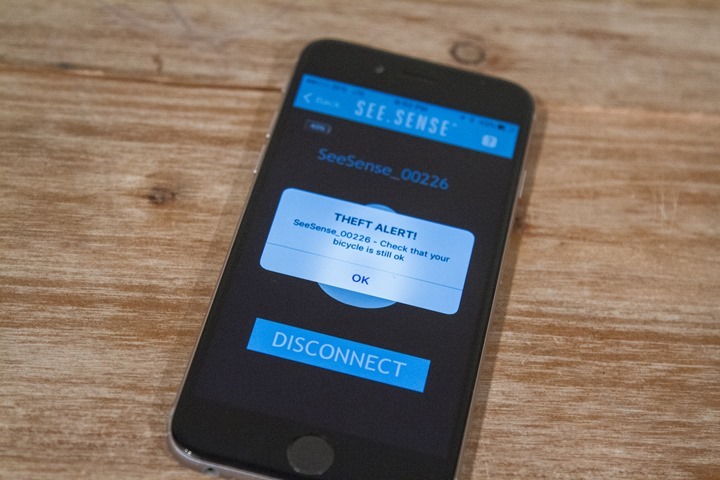 Now the limitation here is that the connectivity is over Bluetooth Smart, and not via 3G, WiFi or anything else longer range.  That means this is basically limited to a café type scenario, and not a downtown office building.  But it did work reasonably well.  I tested it at the DCR/Bertie's Cake Studio and was able to essentially leave the bike outside on a pole and it didn't lose contact within that 30m from the bike through walls/glass/etc…
Obviously you'd want to still lock your bike, but the core benefit here is that the motion sensing will alert you if something is rotten in Denmark.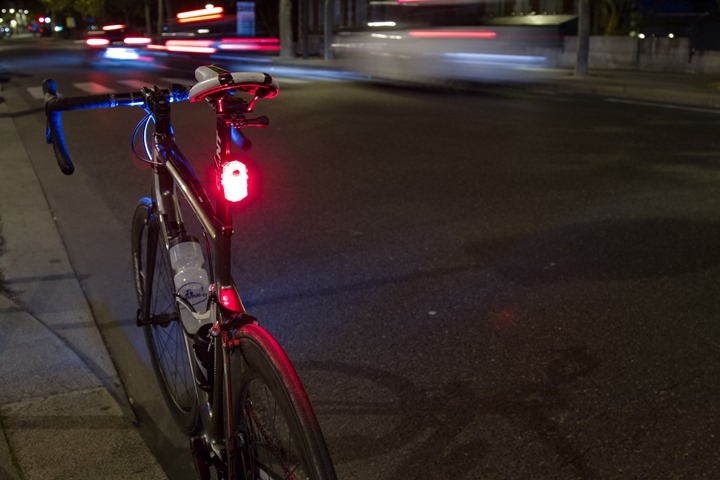 Lastly, some of the pieces they want to enable aren't yet visible today – and frankly won't ever be visible to you as an end user.  Rather, they want to assist local cities in mapping out road conditions for cyclists.  We've seen Strava start to do this with their local government program to provide bulk cycle-route data.  But with ICON, they're looking to give more specific feedback on road quality.  By leveraging the accelerometer sensor data and merging that with GPS data from your smartphone, they can pin-point potholes and start to develop maps of which roads might need some tender loving care.  You can of course opt out of this program too, though doing so is bad karma for finding yourself in a pothole the next day.
Initial Thoughts: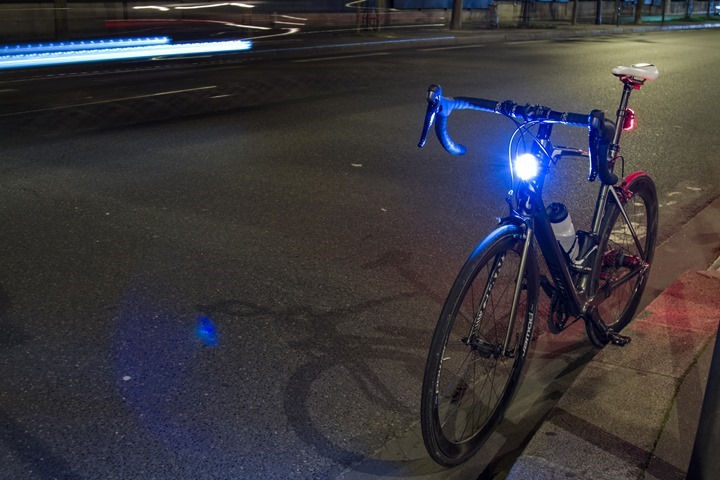 Overall, I'm impressed – it's got cool features and I was surprised with how well the theft pieces worked so far (not everything is done there yet).  But the range was far better than I expected.
I think their challenge on the municipality data sourcing side will be just getting enough people in a city to matter.  For major cities they might, but for these sort of metrics it's really about vast user counts.
Additionally, right now they've got Bluetooth Smart support to phones – but if I were them I'd cash in on the new Edge 520/1000 (and soon Edge 510/810) support for ANT+ lights.  By doing so they'd be able to claim integration with the most popular bike computers out there today, and probably ride that wave a bit.  This would put them in the same group as Garmin's Varia lights, as well as Bontrager's Flare lights – but with the leg-up of being Bluetooth Smart connected.  It's possible their existing chipsets may already support ANT+ with a simple firmware update.
But as I said – overall it's cool stuff.  And I'm happy to see they're once again manufacturing locally (in Northern Ireland), and the fact that this isn't their first BBQ means that we'll likely see them hit their claimed timelines.  Especially since the unit they sent to me weeks ago is surprisingly far along.  And of course, remember the campaign ends in two days.
With that – thanks for reading!