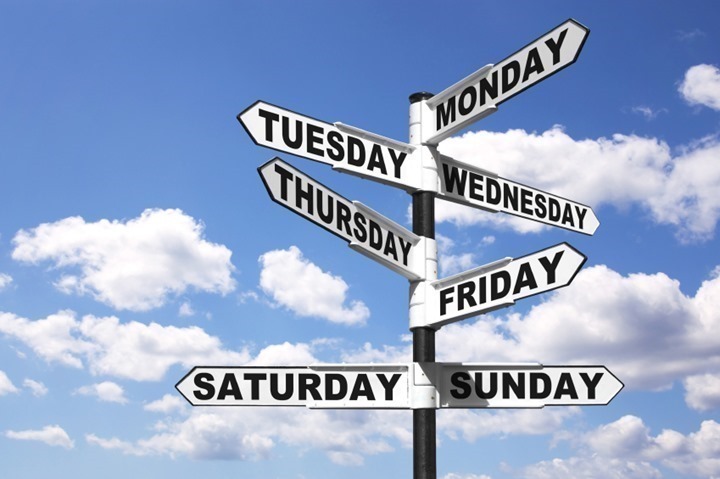 The Week in Review is a collection of both all the goodness I've written during the past week around the internet, as well as a small pile of links I found interesting – generally endurance sports related. I've often wondered what to do with all of the coolness that people write, and while I share a lot of it on Twitter, Facebook, and Google Plus, this is a better forum for sending it on to y'all. Most times these different streams don't overlap, so be on the lookout at all these places for good stuff!
So with that, let's get into the action!
DCRainmaker.com posts in the past week:
Here's all the goodness that ended up on the main page of DCRainmaker.com this past week.
Monday: A look at Canyon's new Android Wear based Smart Bike Computer
Monday: Eurobike Power Meter Tidbits: SRM, Limits, 4iiii, Verve, Pioneer, Look
Tuesday: Kinetic announces new 'Smart' trainer lineup, and subscription service
Wednesday: The Tacx NEO Smart Trainer: Everything you ever wanted to know
Wednesday: Zwift rolls out first real world course: UCI 2015 Road World Championships in Richmond
Friday: An Esbjerg (Denmark) Runaround
The DCR Podcast:
Here's the low-down on what was covered this past week in the DCR podcast:
– Interesting things I saw at Eurobike
– Apps for synchronizing data between platforms
– Comparing training log sites
– Whether or not bike fit apps are worth it
– Plus, we'll both be at Interbike doing a show together, details on that!
Thanks for listening! Subscribing and rating in iTunes is much appreciated, and be sure to send in your questions via the voice mail widget at the bottom of the podcast page!
Labor Day Weekend Gadget Deals: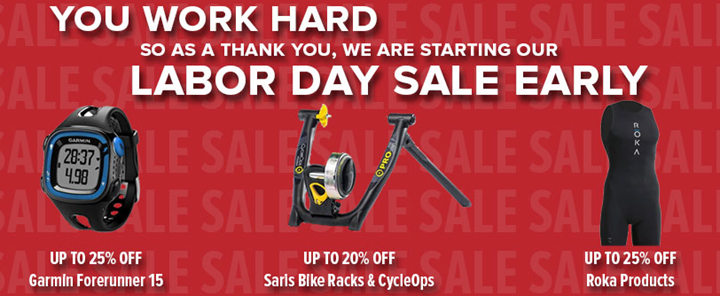 There's a handful of deals that I'm super-late on posting, that have popped up for basically the last few days and ending at the end of Monday.  All of these are available at Clever Training, and include free US shipping.  But they aren't combinable with the usual DCR 10% off coupon.
CycleOps Trainers 20% off: This is most likely because of all of the other competitive trainer models announced at Eurobike.  While CycleOps makes good trainers (no issues there), the single issue for me is the lack of dual ANT+/BLE right now, which is tough when apps are so heavily split on which sides they support (iOS on BLE/Android), ANT+ on PC and Android).  CycleOps currently makes a BLE-only model, and a ANT+ only model.
All Saris Racks also 20% off: Generally speaking when CycleOps runs a trainer sale, they throw the Saris racks in there as well.
Garmin FR15 Running GPS for $105: This is down from $169, which was definitely previously overpriced.  But I find $105 a very good price-point for this combo GPS & activity tracker.  Garmin just announced their newer FR25 last month, but if you're looking to get some fall running in and want a very good priced GPS, this is a solid deal.  My full in-depth review here here.
Stuff that I found interesting around the interwebs:
Here's a not-so-small smattering of all the random things that I stumbled on while doing my civic duty to find the end of the Internet:
1) Course cutting is the new doping: Or, at least it is for this one athlete from BC who's been doing it for years on world-stage triathlons and getting Kona tickets too!  I've been following this over the past few weeks via Slowtwitch Forums.  Absolutely crazy stuff to read.
2) What did you learn being a USA Pro Challenge Sport Director: Pretty interesting little look at all of the random things one has to coordinate being a director on a pro cycling team. 
3) How pro cyclist agents work and how deals are negotiated: A small look behind the scenes at three of the players for some of the biggest riders out there.
4) New Warren Miller video: While Warren Miller's annual ski movies may be fading a bit in popularity compared to others out there, it's still the one ski film as a kid I always looked forward to going to.  The trailer is out for this year's movie. (via Gear Junkie)
5) Mountain Bike Photo Contest at Crankworx – impressive stuff: Really cool to see this kinda mash-up contest at events.  Would be neat to see something similar at places like Ironman Kona and others.
6) TomTom releases new Cardio Spark GPS with wireless music: Definitely looks like an interesting device – and many of you have asked for a reason I haven't posted on it.  The answer is simple: I haven't touched one.  My general rule of thumb is that unless I've had some level of hands-on time, I won't create a post on it.  This is especially true here where they've changed the optical sensor from Mio to a relatively unknown brand.  It's easy to make the optical sensor work on a show floor of IFA – but getting out and running intervals with it is where it counts.  Same goes for Bluetooth connectivity on earphones (something that devices like the Adidas Smart Run GPS struggled with early on).
7) Pro Triathlete Andrew Starykowicz in SI on Recon Jet: While a bit marketing-like, it's an interesting little snippet into a pro triathlete actually using the heads up display product day in and day out.  I've known for quite some time he's been very active in development, but this is one of the few times that's been shown outside of some circles.
8) Philips introduces smart watch for medical reasons: I'd watch this space over the next 6-12 months, I'd be willing to bet Philips makes a play to try and get into consumer fitness devices as well.  One has to remember that the Mio optical sensor is licensed from Philips.
Crowd Funded Projects of Athletic Note:
I regularly sift through Kickstarter and Indiegogo (plus a few others on occasion) looking for sports projects.  If you're unfamiliar with projects, read my detailed post on how I decide which projects I personally back.  Note that as always with crowd funded projects, assume the project will be late and will under-deliver on features. Thus far, on the numerous products I've helped 'fund' (except a leather bike handle), that's been the case.
REMOVU S1 – GoPro Gimbal Stabilizer with Remote: Pretty cool looking product.  Though, I just purchased a few days ago something similar and should have it in my hands in the next few days (I've previously used the handheld version of it with great luck).  Also a little bit concerned on this Indiegogo project that they don't have any actual footage from it (nor is the prototype unit working at IFA as seen in their videos that posted). Still, cool concept.
ShockStop: The Shock-Absorbing Bike Stem: This is from the folks behind the Redshift aero system that I've previously reviewed (and liked).  Another interesting product.
Scottoiler CYCLE S1 – Automatic Bicycle Chain Lube System: I saw this at Eurobike and talked with them a fair bit, definitely interesting (you'll see a bit more in a post tomorrow on it).  As one though who almost never lubes their bike chain, I'm not 100% convinced though I need a product to do it every day, all day.  Still, for some it probably makes sense.  And they've done some testing around reduced losses in wattage in the drivetrain transfer, which would definitely be real from a power transfer standpoint.
Sports Technology Software/Firmware Updates This Week:
Each week I quickly highlight some of the new firmware, app, software and website service updates that I see go out. If you're a sports technology company and release an update – shoot me a quick note (just one liners is perfect, or Tweet it at me is even better) and I'll make mention of it here. If I don't know about it, I won't be able to post about it. Sound good?
Recon Instruments adds new features to Jet: Lots of new stuff here, including much appreciated changes to the way the camera works.
SportTracks adds Epson partnership: You can now sync directly from Epson's activity log platform to Sport Tracks. Nice!
SportTracks adds Moxy support: Cool to see this added to various platforms.
Sport Tracks adds GPS elevation correction: SportTracks has been busy the last little while, also adding in elevation correction for imported activities.  Don't worry, you can turn it off.
Polar V650 Mapping Support: Rolls out previously communicated mapping for V650.
Garmin FR920XT Beta Firmware: Minor tweaks.
Garmin Edge 20/25 Firmware Updates: Fixes some bugs.
Garmin Forerunner 25 Firmware Update: Fixes some bugs
Garmin Fenix3 Firmware Update: Adds in ability to use footpod for pace/distance instead of GPS while outdoors, also a bunch of other features and fixes.  Epix is also getting this capability too.
–
With that – thanks for reading!