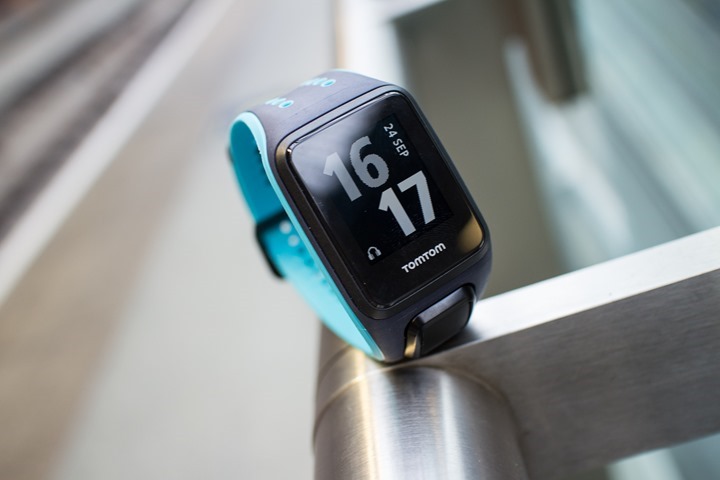 Earlier yesterday I had the opportunity to test out the new TomTom Spark GPS watch.  This unit is unique in that it includes not only a new optical HR sensor, but also adds in music playback via Bluetooth headphones.  Further, as part of the upgrade from the units of past, they added in daily activity tracking (steps and sleep).
So rather than wait for a full in-depth review a few weeks from now, I figured I'd get you the details you're looking for and a place to hold some discussion.  Plus, everyone likes pretty pictures.
I spent a chunk of the day at the TomTom fitness team's headquarters in London getting the technical low-down from them.  Then we had a video conference call with the folks behind LifeQ (which are key to the new optical sensor), and finally, we went for a run around London's Regent's Park.  As usual, I paid for my own travel (just a quick 2hr 15min train ride from Paris).  They've provided a production unit for me to do testing on, which eventually I'll send back to them (also like usual).
With that, let's dive into things.
The Device Details:
To begin you'll notice that the unit looks a fair bit like the existing TomTom Runner & Multisport units.  And in many ways it is, but it also differs a little.  For example, they changed the way they do the bonding on the screen to get brighter whites and blacker black text, as well as making it a bit crisper.  Additionally, the strap is significantly sized down from the larger straps of the TomTom Cardio.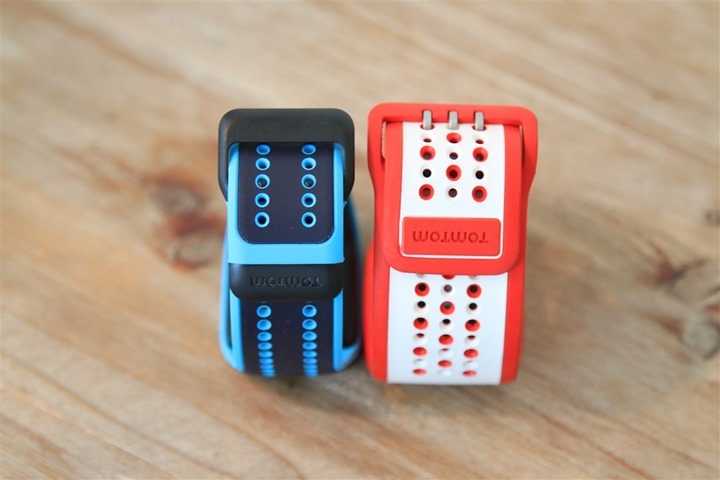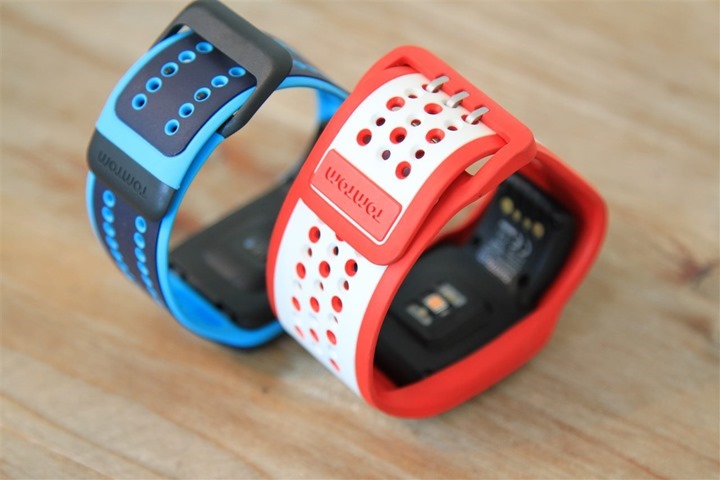 Speaking of straps, the unit can be bought in a few different strap colors.  First up is the larger teal color seen below, as well as the smaller purple color, and then a black variant.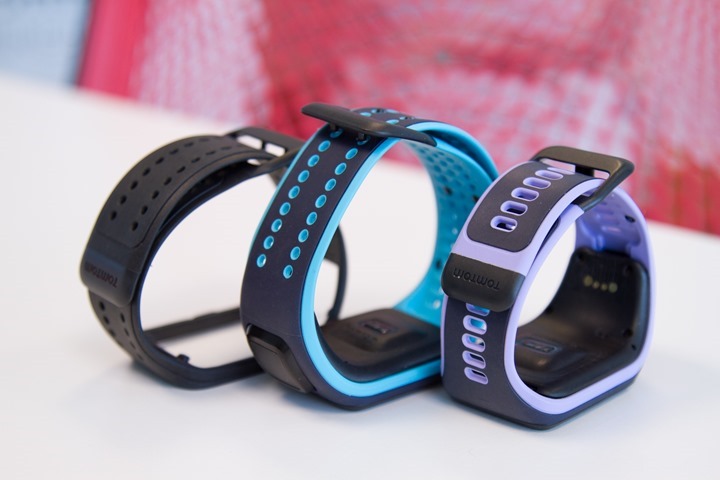 For the black strap options, they've got both large and small.  It should be noted that in order to slightly increase confusion, the Spark will also be sold under a slightly different product name (Runner 2) at some specialty stores.  It's the exact same watch, just a different black strap and a different box/packaging focusing on the black strap (because it has a different name, Runner 2).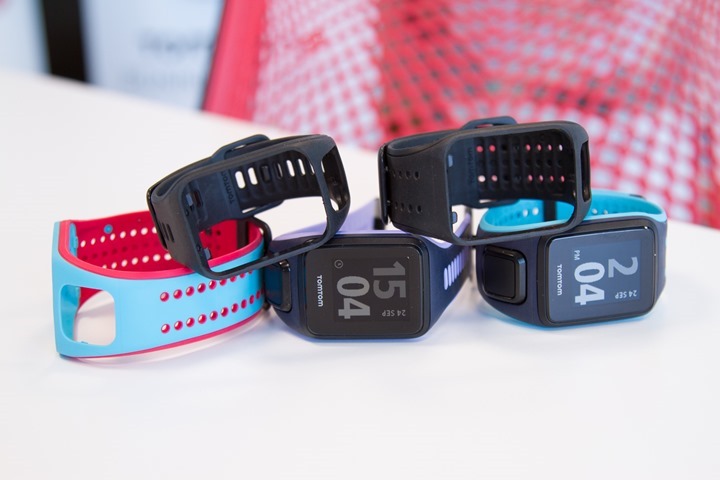 On the bundle front, there are a bunch of different models for the Spark (plus those other Runner 2 models).  They are based on the features included.  You've got:
TomTom Spark GPS Watch: €149/$TBA
TomTom Spark Cardio GPS Watch: €199/$TBA
TomTom Spark Music GPS Watch: €199/$TBA
TomTom Spark Cardio & Music GPS Watch: €249/$249
TomTom Spark Music GPS Watch with Bluetooth Headphones: €249/$TBA
TomTom Spark Cardio & Music GPS Watch with Bluetooth Headphones €299/$TBA
Note that only the USD pricing for the combo Cardio & Music option has been announced. The remaining USD pricing should be announced next week.
Now if you flip over the Spark you'll see the new LifeQ driven optical sensor in there.  I'll get back to that in a minute.  For now just gaze into the lights.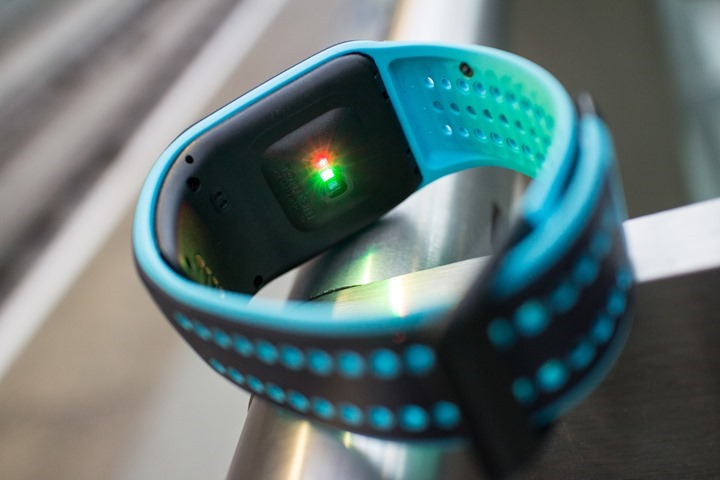 Next you'll see the addition of activity tracking.  Like every other connected watch on the planet it now counts steps, distance, and calories from those steps.  You can also set a goal too.  But unlike every other device, it actually also shows you totals towards a weekly progress level.  This is notable because most people (especially athletes) have days where they run/walk more, and then other recovery days.  This heptagon helps to balance that picture out: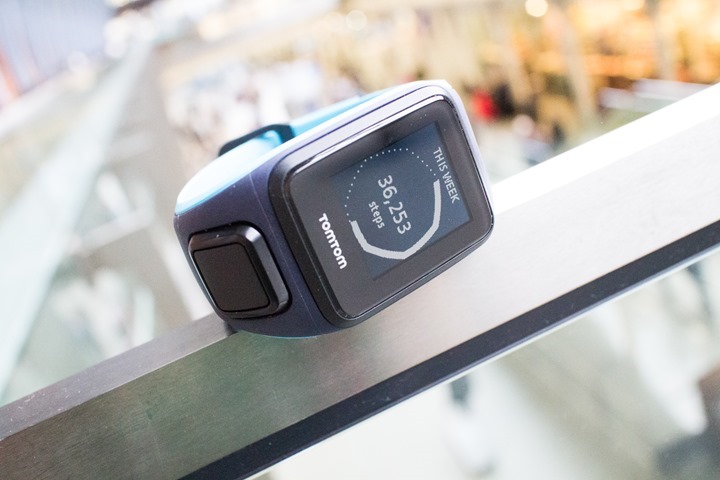 You can tap up/down on the screen to see your other metrics including calories, steps, distance, and sleeps.  These aren't shown on the home screen (I sorta wish they were), but only on a secondary screen.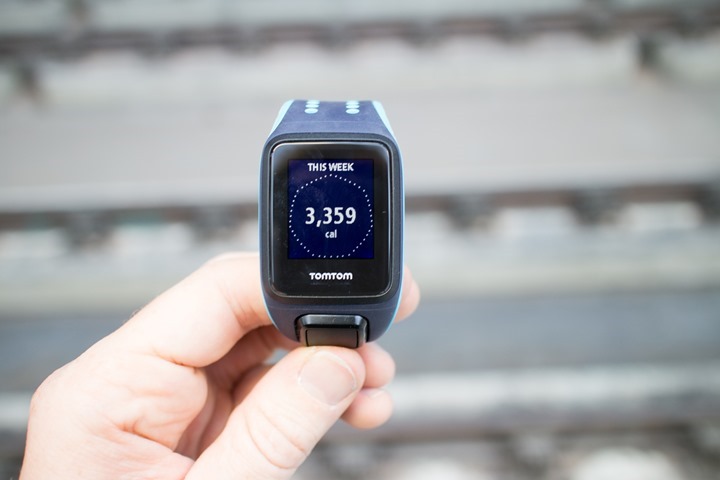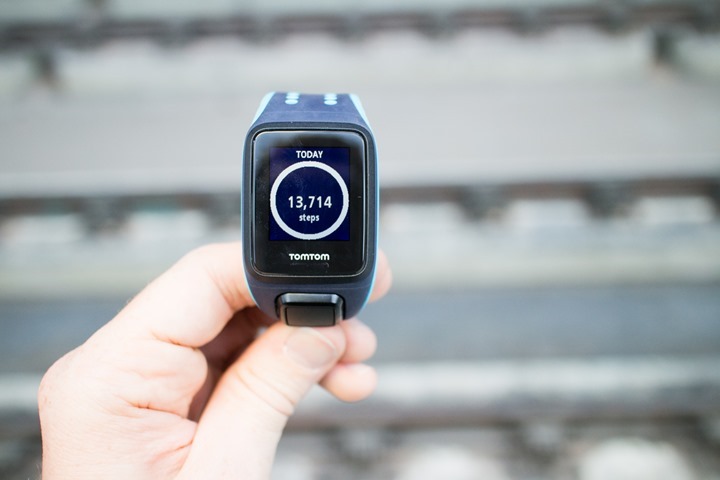 Rounding out the list of new features, we've got the addition of the music player.  This is done via an included 3GB of storage (technically there's 4GB, but only 3GB accessible to music).  The Spark then allows you to connect Bluetooth audio headphones or devices to the unit, via a simple pairing process: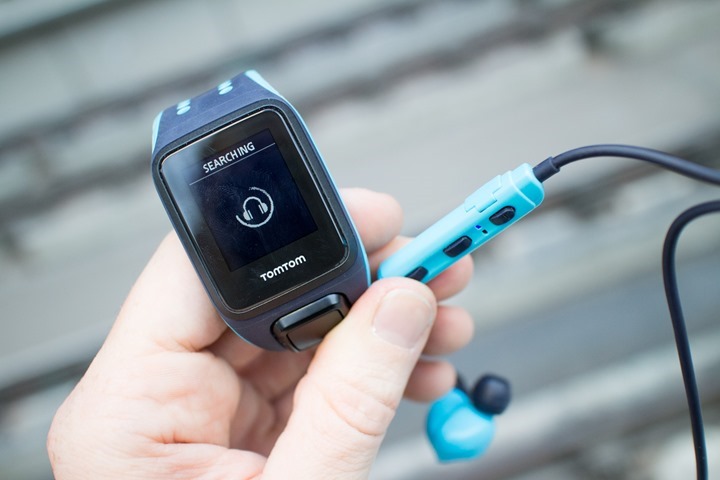 Depending on the model/version you buy, it'll include a pair of wireless (duh) Bluetooth headphones with it, as seen below: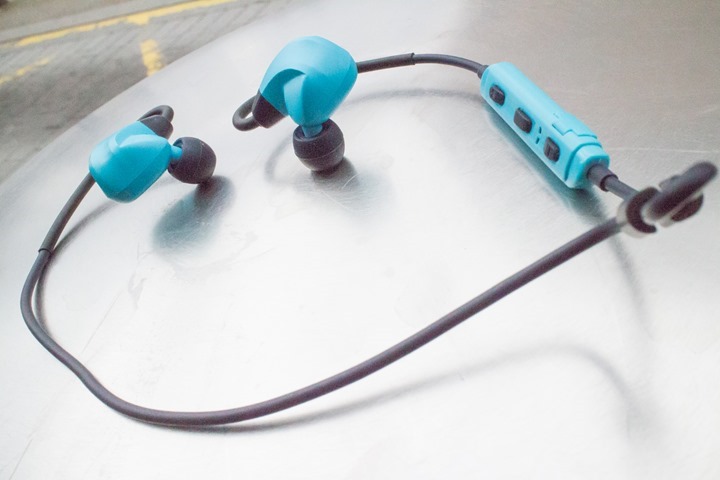 During my run, these seemed to work fairly well, and fit well too (they include a small packet of earbud tips).  You can also use any Bluetooth audio device you see fit.  Heck, you could even pair it to your Chevrolet Spark car – for the ultimate in sparkiness.  Or Bluetooth Panda speaker.  Or Hootie, the Bluetooth Owl speaker.  Yes, I can find Bluetooth speaker animals all day long.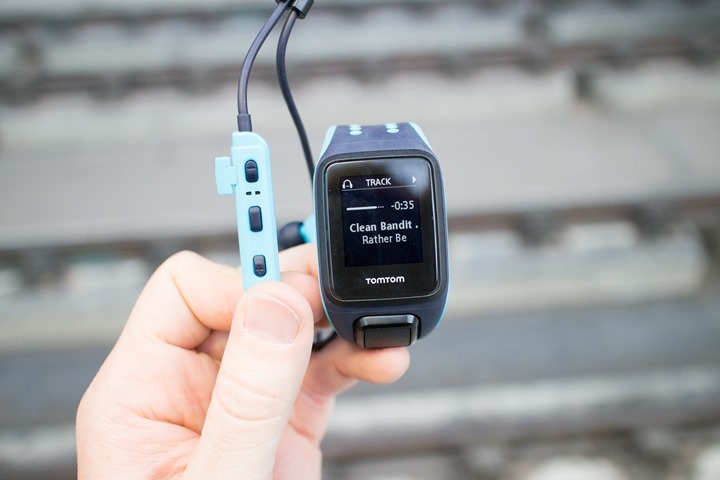 The unit also comes with 11 songs as part of an upbeat running playlist.  They're actually pretty good tracks, and songs you've actually heard many times before (even if you don't know the artist's names).  For the fun of it, I created a Spotify Playlist with the same songs here (must have a Spotify account).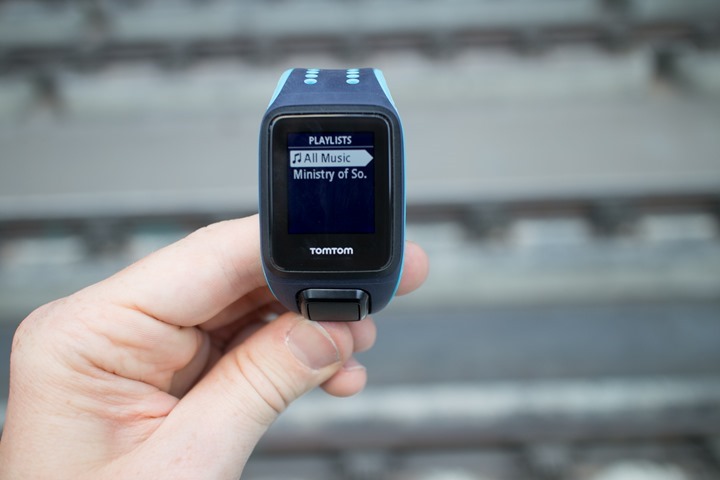 When it comes to the user interface, that's pretty much unchanged from the existing TomTom wearables.  The menus are all about the same.  The icons are slightly different for the different sports though: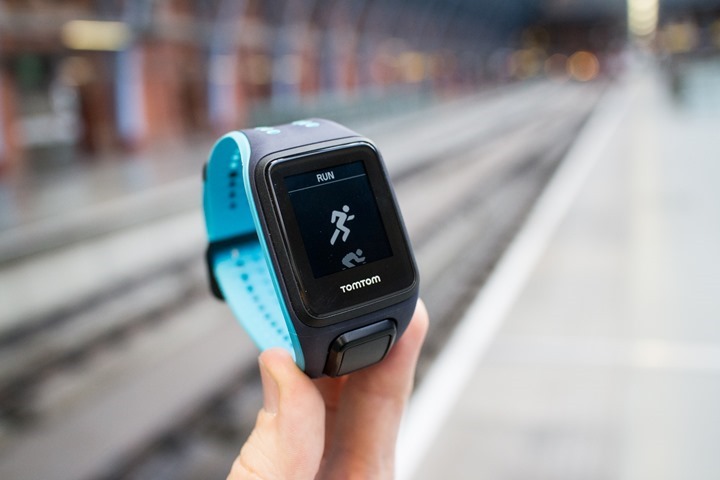 And soon they'll breakout a new lap mode that'll allow you to run laps concurrently with sport modes like intervals and a pacer function.
Today the unit gets the following battery life levels:
Music/GPS/Optical HR Enabled (aka Everything): 5 hours
GPS/Optical HR enabled: 9 hours
GPS only: 11 hours
Watch mode: 2 weeks
They're looking at rolling out continuous HR monitoring (i.e. 24×7 HR monitoring) by the end of the year to the Spark, which will undoubtedly impact battery life in watch mode (they expect about a 50% hit).  They haven't decided on a specific recording rate, as they're still working on battery tests to see what makes the most sense.
Also on the near-term list for later this year is the addition of smartphone notifications for text and phone alerts.  This will display who is calling and texting, but they don't plan on allowing you to answer the phone at this stage from the device.
Lastly for this year, they'll be pulling in all data from the TomTom MySports mobile app into Apple Health.  This will include both daily activity data as well as workout data.  Google Fit support will follow early next year.
Over the next year plans include the ability to re-broadcast the optical HR signal over Bluetooth Smart.  This would allow other devices & apps to connect to the TomTom Spark and get the HR data from it in real-time.  Additionally, they're working on enabling HR during swimming – but that's dependent on it actually working well.  Today that effort is in feasibility/research mode.  Lastly, expect to see VO2Max at latest by early next year, but it might make it by the end of this year if Santa and his elves are cooperative.
LifeQ & The Future: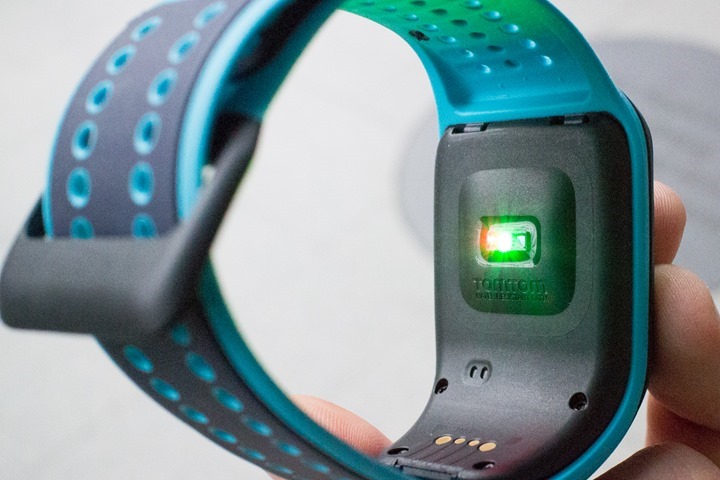 The key theme when talking to TomTom about the Spark was really about them building a platform for the (or their) future.  This was both on the device side, but also on the web platform.  They noted that while cost of the LifeQ optical solution was certainly less than the Mio/Philips offering, it was actually the deeper integration and future potential that was the major driving factor.  With Mio/Philips, the sensor was essentially plug & play – providing just heart rate as an output to the watch.  That was great for the Cardio, and worked well.  But they were concerned that long term it wouldn't be as competitive as other companies added more and deeper features.
Whereas with the LifeQ solution they felt that they'd be able to get more 'out of' the solution.  In discussing their roadmap during the conference call with LifeQ, I can't argue with that approach.
To begin, LifeQ is a mostly South African based company that has offices in Atlanta and soon Boston & San Diego.  At 70 employees strong, it's certainly not four guys in a garage somewhere.  Their focus is really on the bio-mathematical algorithms that are behind the sensor packages they put together.  They don't actually sell sensors, or hardware.  Rather, they are mostly about algorithms and down the road, big data-esque type solutions.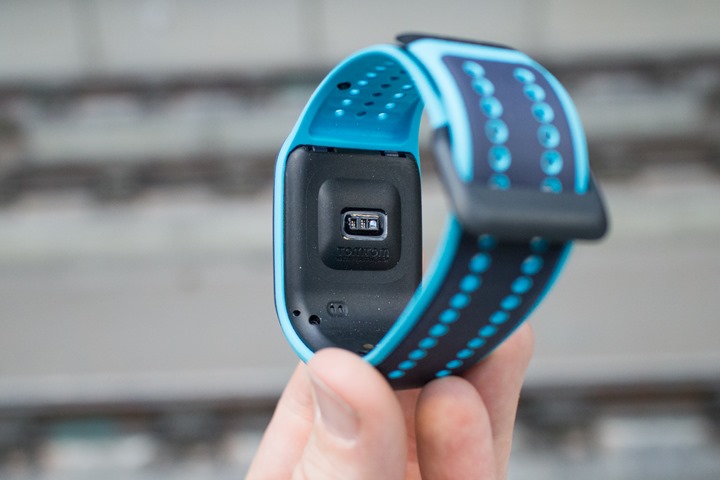 That said, this is LifeQ's first product.  That's both good and bad.  On the obvious-bad front, it means that they lack the real-world user usage that can only come with deploying thousands of units.  No amount of studies or test runs (no matter how many years they've done them) will replace that.
On the flip side (the good side), with what is effectively one customer (TomTom) deciding their future as a company, they're incredibly motivated to ensure they get it right.  They noted they really wanted to partner with TomTom, versus various knock-off brands seen across the CES floor, due to TomTom's specific baseline requirement that it be just as good (or better) than the existing Mio sensor (in their current Cardio lineup).  The agreement between LifeQ & TomTom is not exclusive, and LifeQ certainly sees a world of potential partners down the road outside of TomTom.
As I alluded to earlier, LifeQ doesn't make the sensors.  Instead, they take off the shelf components and put forth reference designs to companies like TomTom.  TomTom could if they wanted to come to LifeQ with a preferred set of chipset and sensor partners, but in this case they let LifeQ run with what they specialized in (a wise move).  As such, the TomTom Spark uses an multi-wavelength PPG (photoplethysmography) optical sensor from Osram (the SFH-7060).  That sensor includes 1xRed LED, 3xGreen LED, plus a single IR sensor.  That set of multicolor LED's helps them to ensure greater accuracy across more skin tones.  For example, some companies (i.e. Valencell) use a yellow LED in addition to the green.  LifeQ specifically selected the red over yellow, because it would give them more flexibility down the road for blood oxygenation levels.
You can clearly see the different colored LED's here. The 1xRed LED to the left, the 3xGreen LED's in the middle, and then the IR to the right.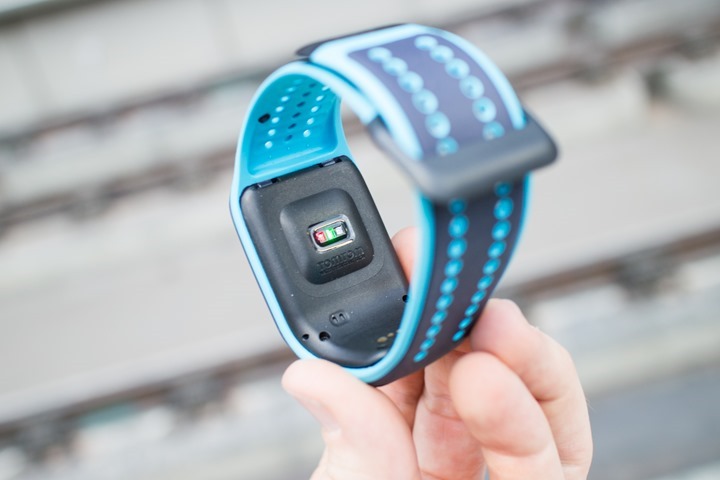 Finally, they layer in a Texas Instruments AFE 4404 to manage the optical sensor, before calling it done on the hardware layer.  Now it's really important to note that the firmware that LifeQ has is probably more important than the sensor set selected.  Meaning, just because you have a good sensor does not mean you have good data.  The hard work is taking that raw data stream and making something pretty out of it.  An area that the vast majority of optical sensors within cheaper fitness products today hose up.
As I noted numerous paragraphs ago before we got distracted on company background, a significant reason they selected LIfeQ was for the future expandability.  For example, LifeQ is able to measure RR, and then calculate HRV (while resting).  Further, they're able to calculate VO2Max and VO2 (continuous).  And down the road they're able to measure lactate threshold, sorta similar to BSX.  All features that could make their way into the TomTom Spark through firmware updates.
Right now TomTom has committed to getting VO2Max and the recording of HRV/RR data into the .FIT files by early next year.  Whereas features like oxygenation levels and lactate threshold probably aren't on the near-term update list for TomTom, even if LifeQ is able to deliver them.  I'd suspect that any inclusion of those features would probably target a different (more advanced) user audience than the current TomTom watches aim for.  Fwiw, you can actually dive into many of LifeQ's white papers on their site. Obviously it's biased in that they've published it, but still interesting nonetheless.
Finally, one of the chief complaints myself and many others have had has been TomTom's MySports website being about as functional as a pinecone.  When TomTom first started out, they leveraged MapMyFitness as their backend web platform.  That's common for companies with new watches, as they can skip the complex and redundant development associated with building out a sports platform.  And that's great, it offers a cheaper way to get started.
But it's also limiting in terms of future development, and limits how much customization TomTom can do.  So over the last year they've built out a 25-person web development team in Edinburgh, and actually created a new web platform.  In fact, they did it so silently you probably didn't even know it.  Today it runs in parallel to the existing MapMyFitness platform, but down the road you'll be able to select to board the new platform fully.
That new platform is where you'll start to see features such as fully web back ended sync to 3rd party services.  For example, today they support Strava, but soon they'll add in TrainingPeaks and SportTracks, along with MyFitnessPal.  Don't worry, MapMyFitness will remain as well as an option.  They'll also revamp the user interface to be…well…useful.
Expect to see that fully rolled out by the end of the year.  They seem to understand that the web and mobile platforms are a significant part of the user experience in today's devices – and if that piece is messy or incomplete, it throws off balance the whole value proposition.
The First Run: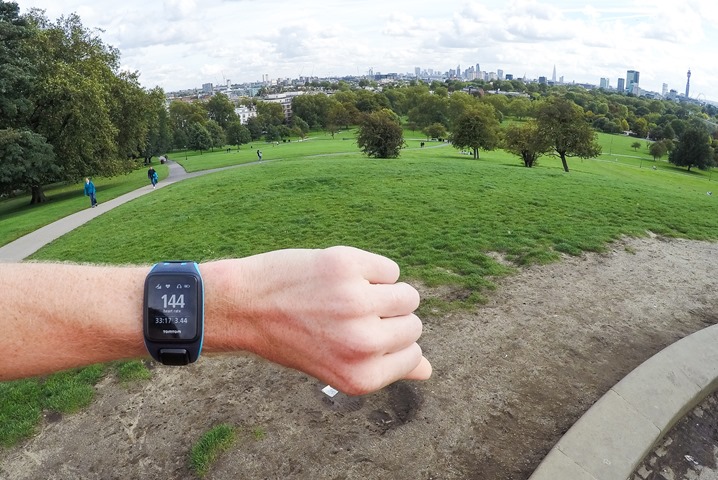 We headed out for our first run right from the TomTom building, which is in a fairly dense downtown-ish kinda area.  The buildings are tall (upwards of 30+ stories) and tightly clustered together, which makes for excellent GPS testing grounds (for them and me).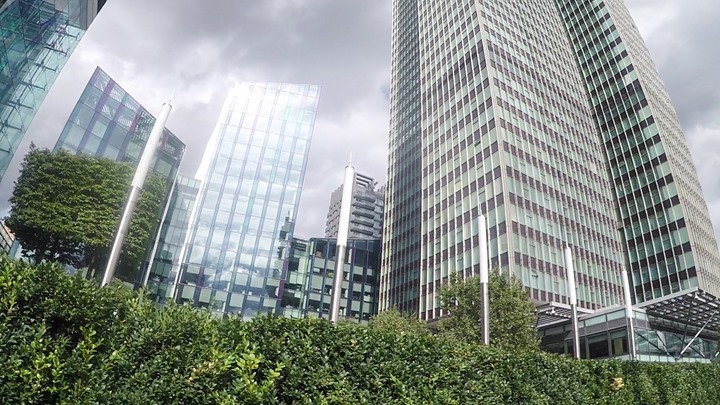 In order to have some comparison data for the run, I used a Garmin FR920XT paired to a Garmin HRM-TRI strap.  I selected this watch simply because when I pulled out three watches this morning at 6AM before the train from my luggage, it was the one that still had battery left (I note this because often folks will overthink my watch selections, 99% of the time it's just whichever one I have closest and has juice).
Anyway, after heading out we did a lazy loop around the park for about 5K.  I say 'lazy' in the casual sense, not in the pace sense – that was rather brisk at about 7:00/mile (4:21/km).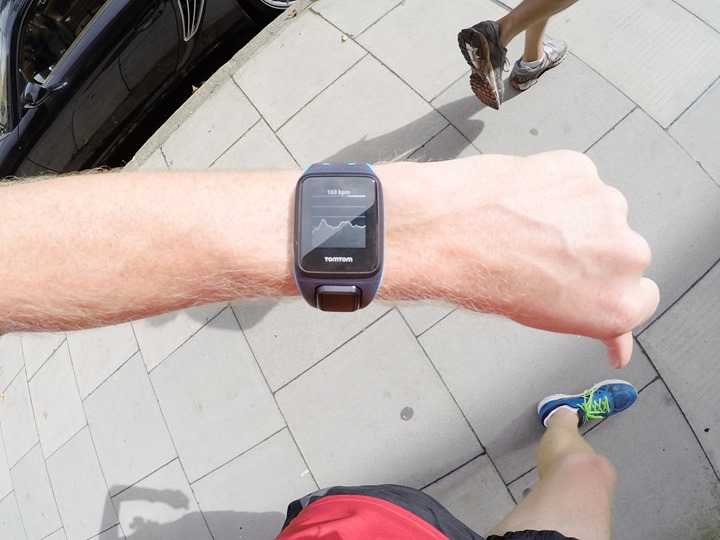 During this section, the optical HR and total distance tracked very well.  The optical HR actually tracked better than the heart rate strap, especially in the first 3-5 minutes.  I had wet the HR strap a bit, but not a ton.  As such the connectivity wasn't so great there, so you see it slacked off in the 120BPM range, versus my actual HR that the TomTom Spark captured at 140-160bpm:

Distance wise, the TomTom and Garmin units matched spot-on for these sections.  Each time the Garmin chirped a mile lap, the TomTom was within .01mi of that – so definitely in the ballpark of expected.
We arrived at the base of a hill and waited for the group to catch-up (or, become un-lost as it might have have been).  We ended up waiting 6 minutes and 23 seconds.  I note the time, because I think it played a factor in what happened next.  Typically during a run I never stop and wait 6 minutes.  The most I'd ever do during a rest period of an interval would be 2mins and 30secs.
After waiting a bit at the base, we decided to start the hill.  We stood within 1 meter of the start of the incline, and took off pretty quickly.  No build into it, no warm-up.  Just run hard.  Meanwhile, the TomTom Spark decided it wanted to rest longer, resulting in the optical HR sitting there in the 90-100bpm range, while the HR strap tracked as one would expect when dying going up a hill:

By time I reached the top of the hill, the Spark hadn't really changed much, though about 60 seconds later you see it realize it lost the plot and quickly played catch up.
We left the hill behind and went across the park for a while.  Along the way I did some variance in pace including one interval to see how the unit would react (when going from steady state to hard). Outside of an initial change in pace, it seemed to align itself back onto things and then follow along well.

Now, I'm actually not terribly worried (yet) about the random oddity with the lack of tracking on the hill.  In years of testing heart rate devices, I don't think I've ever gone from what is effectively a resting HR level to an instant sprint up a steep hill.  It's just not something any athlete would normally do.  Rather, normally you'd have been at a recovery heart rate level in between intervals, or gone from steady-state running to an interval.  Both of which tested just fine when I did that.
Either way, the TomTom folks did seem genuinely freaked out that it happened and were interested in getting to the bottom of it.  Normally they'd have had much deeper levels of tracing available on the optical sensor, but in a bit of a freak-occurrence the specific firmware build loaded on my unit didn't.  The firmware unit this weekend did, and next weekend does.  But in between had no love.  By time we left, it does ow – so if it happens again they'll have the raw sensor data to see why.
(Update: TomTom reached out this morning and has been working since I left last night to reproduce the issue and seems to have figured out the case and plans to have a fix next week at the latest.  It appears related to an edge case around high cadence that caused it.)
That one 60-second section aside, the rest of the run was pretty close, and generally better than the HR strap.  As noted, the first few minutes the HR strap was late to the game, whereas the optical sensor was spot-on.  And the rest of the run it was right-on as well, including through the other intervals (minus the first hill).
Lastly, on the GPS path, the units (Garmin 920XT & TomTom Spark) the units were very similar.  I've included links to the GPS tracks at the end of the next section.
The Second Run: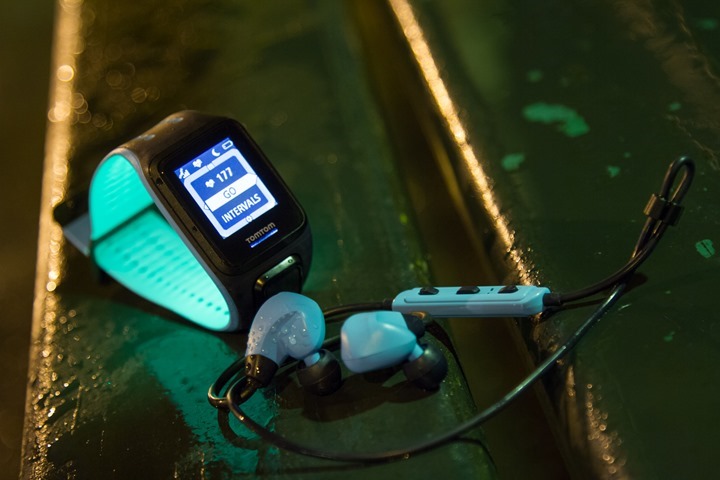 After taking the train back home, I decided I wanted to take the Spark out for another test.  This one would be heavily focused on intervals, since that's an area that most optical HR watches struggle.  Additionally, I decided to try and recreate the circumstances around the hill situation.  Regrettably, it was raining like a waterfall.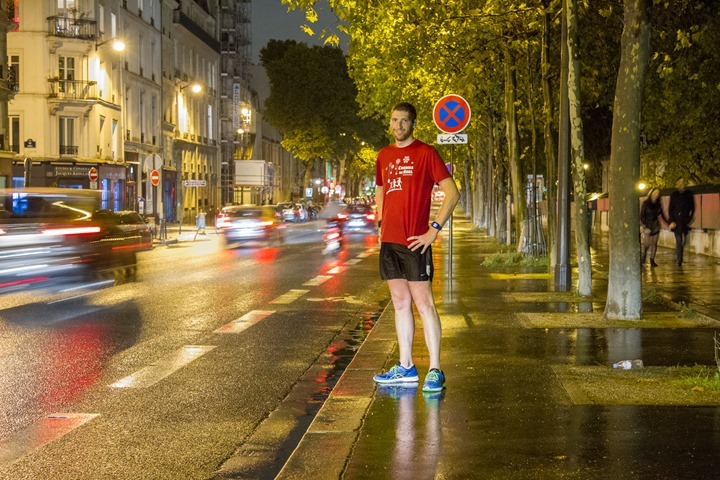 Still, out I went.  I decided on doing a 10-minute warm-up, and using TomTom's interval feature within the watch.  Somewhat annoyingly in statute mode I can't set 400m (aka .25mi), but rather only increments of .10 miles.  So it was either .20 miles or .30 miles.  I went for .30mi, and then decided on 8 repeats.  I again had the Garmin FR920XT with the HRM-TRI heart rate strap.  As noted, the weather was rainy, and cool, but not cold.
This time during the warm-up the roles were basically reversed.  The TomTom had issues tracking the HR initially, whereas the Garmin strap nailed it.  At about 6-7 minutes in, I adjusted the TomTom Spark a slight bit and after I did that, it instantly seemed to re-acquire my HR and was good to go.

A few minutes later I started into the intervals.  And then rinsed and repeated.  Literally…in the rain.
As you can see, it generally tracked well during the first 7 of the 8x.30 miles (done at about a ~6:20/mile ~4:00/km pace).  You can see it is a tiny bit slow on the rest portion (taking about 10-15 seconds longer each time to start dropping).  Not perfect, but hardly a deal killer.  It typically tracked fairly well on the increase side.  Here's zooming in on one.

As for the #6 repeat? I'm not quite sure there, though I wonder if the high-cadence bug snagged again, since that was a downhill section I believe, which means my cadence would have increased, thus causing it to trip up slightly.
Then I just got back to an easy pace for a few minutes heading home.  It's as I neared home that I wanted to test the same conditions as before, where I had a prolonged rest bringing my heart rate down to low levels before doing an instant hard effort.  From the hill earlier, that was about 95BPM, and about 6 minutes.  In this case, I did just under 5 minutes, and then the same 95-98BPM.  Once the waiting period elapsed, I ran like a bat out of hell – aiming to spike my HR to 170-180BPM as fast as possible.  The result below.

Basically, it did the exact same thing as earlier.  Though notably, this time I couldn't get it to re-find the HR after that segment during my jog back to the house.  I tried twice to slow down/lower it to see if it'd catch, and no luck until the last 30-40 seconds.
Now again – TomTom has stated that they believe they've found the issue – so I'll wait to see there and will update accordingly here.  But like any other product, I think it's only fair until that point to show the test results – especially with it starting to ship next week.
Now, as I noted before – I've honestly never done this specific variant of a test.  As you can see within the regular intervals, things look (mostly) as expected.  As that's how 99.99% of people would normally run.  You normally wouldn't just go from standing still for 5 minutes to a flat-out sprint.  At least not endurance athletes, perhaps sprinters – but even then I think you're still looking at a higher HR going into it.  That higher HR in turn is really just warming of the skin and body temperature in that area, so 5-minutes of standing around is basically telling the body you're done.
Anyway…as for GPS tracks, they largely look pretty good on both tracks and both runs.  I see a case where the FR920XT swerves through a 30+ story building adding a tiny bit of distance in London, and then TomTom does more or less the same later in the run. So that kinda evens out.  In Paris, the 920XT gives a better track where at one point the TomTom goes on a slight adjacent diversion offset perhaps 20-25 meters, for a length of 100m or so.  Nothing huge though.
TomTom Spark Comparisons
| Activity Description | Date | TomTom Spark | GPS Device #2 | GPS Device #3 | Comparison Link |
| --- | --- | --- | --- | --- | --- |
| London Park and City Run | Sept 24th Day | 5.33mi | 5.40mi (Garmin FR920XT) | N/A | Link |
| Paris City Run | Sept 24th Night | 6.07mi | 5.93mi (Garmin FR920XT) | N/A | Link |
You can click on either of the links above to use the MyGPSFiles site to compare the tracks.  Note that the FR920XT on the London run was accidentally left on after I went into the building.  Thus I used a separate tool to chop off that extra 'elevator' distance for the distance noted in the table above.  But the raw file isn't chopped, hence why you'll see squiggles at the end when I go inside the massive building.
Note that the distances I include in the table above are the official distances reported on the companies websites.  Whereas MyGPSFiles recalculates the distances.  Interestingly, in the Paris Run case, the recalculated TomTom distance is nearly spot-on with the 920XT.  Whereas the one reported on the TomTom site is a bit longer.
Wrap-up: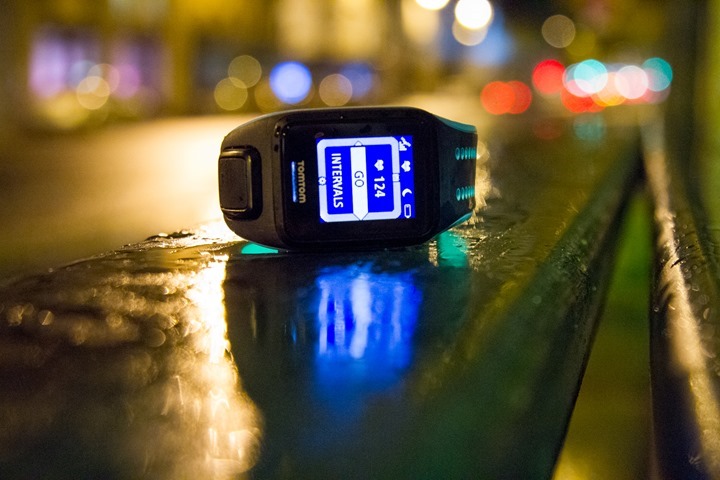 Phew – so that was a bit longer than I anticipated.  But basically, it was just written up in the time I had on the train coming back from London, plus a short snippet after the 2nd run at home.
Overall I think things are actually trending positive for the watch.  The two scenarios where the unit lost the plot are frankly edge cases I've never even considered testing before.  So it's hard to judge it too hard there (and really, had the 2nd group run a bit faster, I'd never have stumbled on it

).  Plus, the company says they've identified a fix for it.
The GPS accuracy is within the expected/acceptable range and overall pretty good for a city environment.  On the music front, I'm actually impressed with the bundled wireless headphones – they're pretty solid sound-wise.  Heck, I'm now regretting buying $400 worth of various expensive Bluetooth headphones to test with it.  And I like the slightly different take on things with the weekly trends in activity tracking – I think that may just be a better way to look at goals each week.
Additionally, I'm optimistic about where LifeQ can take the sensor technology – and as such, I think the first 3 months of promises will be key for setting the tone for the product.  Especially if they can incorporate continuous HR into the unit, as that seems to be the rare-bird that the only units out there with the capability have a rougher time of athletic tracking.
Obviously, there are still some minor kinks to work out – but I think things are generally trending in the right direction.
With that – thanks for reading!
—
Update! You can now pre-order the TomTom Spark from Clever Training (all models of it). In doing so you'll save 10% on your order and support the site here by using coupon code DCR10BTF. Plus, folks in the US get free shipping!